Pages 125-133
A History of the County of Chester: Volume 5 Part 2, the City of Chester: Culture, Buildings, Institutions. Originally published by Victoria County History, London, 2005.
This free content was digitised by double rekeying. All rights reserved.
COLLEGIATE CHURCH OF ST. JOHN
A late tradition, unverifiable but not implausible, ascribes the foundation of St. John's to Æthelred, king of Mercia (674–704), in 689. (fn. 1) Other information on the pre-Conquest church is scarce. King Edgar is said to have prayed in the minster (monasterium) of St. John in 973, and in the reign of Edward the Confessor it was enriched with 'precious ornaments' by Earl Leofric (d. 1057). (fn. 2) To those details may be added the survival of some scraps of physical evidence: some 40 coins from the reign of Edward the Elder (899–924), found just west of the present church, (fn. 3) and fragments of several crosses, probably memorials dating from the 10th century, recovered from St. John's churchyard and among the rubble of the collapsed tower in the late 19th century (Fig. 68, p. 126). (fn. 4) The crosses, and others from Wirral and north Wales, were probably made at a workshop based on St. John's, using stone from the nearby quarry. (fn. 5) Such evidence suggests that St. John's was an important church in later Anglo-Saxon Chester. Certainly by 1086 it was a collegiate foundation served by a dean (matricularius) and seven canons, who held eight houses in the city exempt from customary dues. (fn. 6) It was sited in the episcopal manor of 'Redcliff', and as the bishop's principal church in a city where he had considerable rights and possessions before 1066 it may already have housed an episcopal stool. (fn. 7)
A further indication of the early importance of St. John's is its possession of burial rights within the city and its environs. (fn. 8) In the late 12th century agreements were made with the monks of St. Werburgh's to preserve their common privileges. The two communities allowed St. John's hospital outside the Northgate to have a graveyard but restricted burial there to the brethren and poor of that house. The nuns of Chester were permitted to bury within their precinct on condition that the two communities provided the ministers and took two thirds of the offerings, and that the nuns did not invite Chester residents to be buried among them. Similar agreements were made with the friars as the occasion arose.
Those burial rights presumably dated from before 1100, and together with the fact that the church was collegiate by 1086 imply that St. John's was a church of high status, founded at an early period, and probably royal, with income from and pastoral duties initially over a large territory. (fn. 9) The extent of that early 'parish' is uncertain, but almost certainly it was mainly extramural. When first recorded, St. John's parochial responsibilities within the walls were restricted to a small area around the Newgate, presumably the location of the eight houses mentioned in 1086; outside the walls, however, they included much of the eastern part of the liberties around Boughton, besides a few fields in Hoole township outside the city boundary. (fn. 10)
After the Conquest St. John's became briefly the principal church of Lichfield diocese. In 1075 Bishop Peter formally moved his see to Chester, but by 1102, and probably as early as 1087, his successor Robert de Limesey had removed to Coventry. (fn. 11) Nevertheless, the bishop and archdeacon retained residences within the precincts of St. John's; (fn. 12) presumably it was not immediately clear that Limesey's move had definitively ended the bishop's close association with the church, though by the time of Bishop Stavensby (1224–38) the chapter of St. John's had abandoned any rights in episcopal elections. (fn. 13) St. John's remained the headquarters of the local ecclesiastical administration: ordinations were usually held there, and one of the canons was often archdeacon. In the 16th century wills were usually proved at the church before the archdeacon's official, and in 1386 it was the location of a sitting of the Earl Marshal's court hearing the heraldic dispute between Sir Richard Scrope and Sir Robert Grosvenor. (fn. 14)
By the 12th century the precinct included other churches and chapels as well as the bishop's residence. A 'basilica' dedicated to St. Mary, outside the walls and near St. John's, to which in the late 12th century there was a choral procession from St. John's on Sundays and holy days, was presumably the minster (monasterium) of St. Mary which in 1086 lay in the same area. (fn. 15) Another apparently subordinate institution was the chapel of St. James, which by the late 12th century was associated with an anchorite and believed locally to be the last refuge of King Harold after his defeat at Hastings. (fn. 16) Its status is uncertain. Described as a chapel and held by the dean in 1341, (fn. 17) in 1589 it was termed the 'old parish church or chapel'. (fn. 18) Anchorites were supplied to a hermitage 'by the church' or 'below the graveyard' between 1342 and 1363 by the Cheshire monasteries of Vale Royal, Norton, and Birkenhead. (fn. 19) The anchorite's chapel was held in 1549 by Robert Bowyer, the first vicar of St. John's after the Dissolution. It was probably the earlier 14th-century oratory on a rock beside the quarry south of St. John's (Fig. 69), which was reputed an anchorite's cell in the later 16th century, by which time the Chester Shoemakers' guild met in it. (fn. 20)
The early endowments of St. John's are difficult to determine. In 1086 it apparently had only the small manor of 'Redcliff', but that may simply reflect the integration of the church's holdings with the bishop's. (fn. 21) Fresh grants are recorded in the 13th century. (fn. 22) By the later Middle Ages the church had intramural property near Bridgegate and in the Crofts, as well as around Newgate, (fn. 23) but the bulk of its possessions lay around the precinct in St. John's Lane and Foregate Street, (fn. 24) or scattered through the town fields. (fn. 25) The church's annual income in the early 13th century was probably over £250, and it benefited also from local patronage. (fn. 26) Philip of Orby, justice of Chester c. 1208–29, founded a chantry with two chaplains. (fn. 27) Later tradition ascribed to his foundation the grant of the churches of Overchurch, Guilden Sutton, and two in Chester, St. Martin's and St. Bridget's, though at least some of them may already have been connected with St. John's. (fn. 28) Orby's family was long associated with the church. In 1258 or 1259 his son Philip gave three salt-houses in Northwich, and the family continued to appoint chantry priests until the death of Sir John Orby before 1354 left his daughter and heir Joan as a ward of the Black Prince. (fn. 29)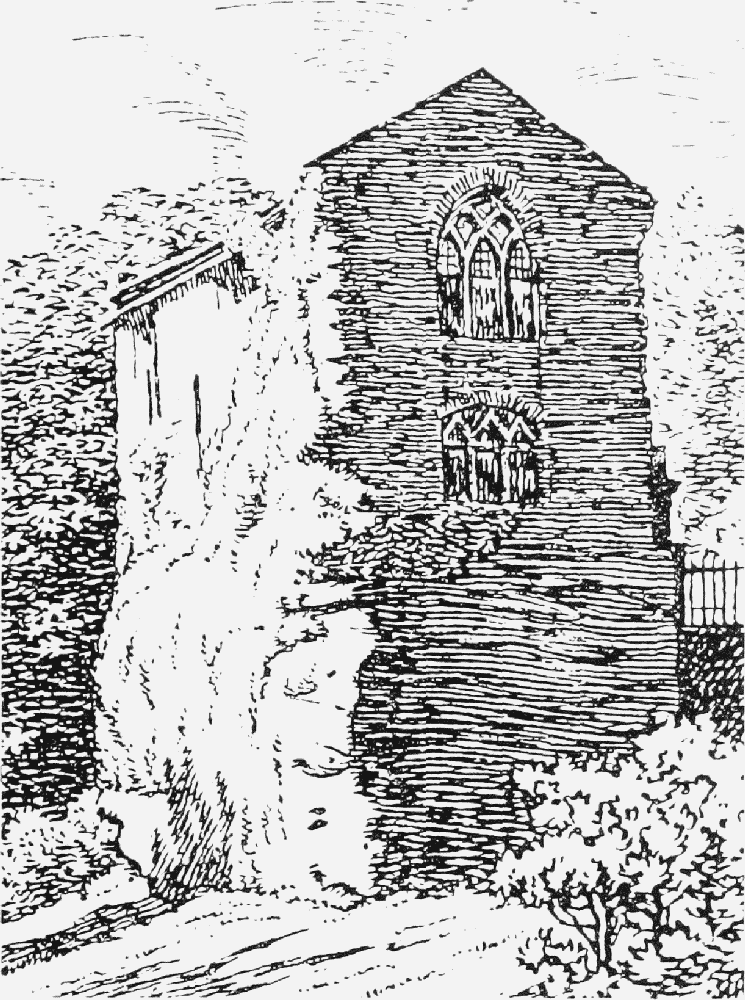 Although in the 12th century canons of St. John's subscribed local charters, by the 14th they had become largely absentee and appeared at visitations only by proxy. Their choir duties were performed by eight vicars. (fn. 30) By the 13th century there was also a sacristan appointed by the dean and responsible for the discipline of the vicars. (fn. 31) The senior of the two cantarists of the Orby chantry, the petty canon as he became known, came to be regarded as the leading figure among the lesser clergy. He enjoyed a large income and was often of the same social standing as the canons. (fn. 32)
From the 13th century St. John's reputation was enhanced by the possession of an important relic, the so-called Rood of Chester. It existed by 1256 or 1257, when Fulk of Orby provided a mark of silver annually for lights before it, (fn. 33) and appears to have been enshrined in a golden cross-shaped reliquary adorned with an image. (fn. 34) It was so greatly venerated both in the locality and much further afield that in the late 13th and early 14th century St. John's was known as the church of the Holy Cross. (fn. 35)
In 1291 St. John's derived its income almost wholly from spiritualities. (fn. 36) By 1318 it held the appropriated benefices of Farndon, Holt (Denb.), Shocklach, Guilden Sutton, and Overchurch, and of St. Martin's, St. Bridget's, and St. Chad's in Chester. (fn. 37) Three or four of those had been acquired in the 13th century with the establishment of the Orby chantry, and others probably much earlier; in 1352, for example, the dean alleged that Farndon and the chapelries of Holt and Shocklach had been annexed to his deanery 'time out of mind'. (fn. 38) All except Holt and St. Chad's remained attached to St. John's until the Dissolution. (fn. 39) In addition the college acquired the Cheshire benefices of Stoke, appropriated in 1349, (fn. 40) and Plemstall, transferred by Shrewsbury abbey in 1382 and appropriated in 1393. All the livings were served by stipendiary curates drawn from the lesser clergy, except Plemstall, where the bishop ordained a vicarage a decade after the appropriation. (fn. 41)
Other sources of income included the parish tithes, glebe, (fn. 42) and offerings to the Rood, which in the 14th century amounted to perhaps £70 a year and constituted the biggest single item. (fn. 43) From the late 13th century there were also occasional profits from ecclesiastical justice, some of which involved payments to maintain the fabric. (fn. 44)
The canons were paid from a common fund, and there were increasing difficulties about their entitlements. In 1318 income was divided into three main groups: the great tithes, annexed to the deanery, and the profits from the glebe, divided equally between the dean and the canons of the fifth and sixth stalls; offerings to the Rood and the altarage of St. John's, devoted primarily to the vicars' stipends and the resident canons' commons, with the remainder distributed weekly among the chapter; and revenues from the appropriated churches, divided among members of the chapter resident in the previous year. (fn. 45) Provision for the lesser clergy was inadequate, and in the 14th century the bishop increasingly intervened on their behalf. After his visitation of 1331, Bishop Northburgh enjoined that the vicars should be removed only with his consent, that their salaries be paid at the customary times, and that they be provided with a common dwelling and meanwhile have the right to lodge in the canons' houses. He also ordered that part of the offerings to the Rood be set aside to buy new vestments and ornaments. (fn. 46) In 1346 he further directed that the vicars' stipends be increased and that four choristers be appointed to assist them in singing the offices. (fn. 47) Those injunctions were disregarded, and by 1348 the canons' determination to maintain their incomes had brought the fabric to near ruin and reduced the vicars' stipends to such an extent that services were endangered. (fn. 48) In his visitation of that year Bishop Northburgh found the church in disrepair, the books, vestments, and ornaments consumed with age, and his regulations about the vicars ignored. He restricted the incomes of the dean and canons for the following 10 years, and ordered that each newly installed member of the chapter should contribute to the cost of new vestments and ornaments. He also attempted to reform the college's finances, and annulled the long leases by which the chapter had farmed out not only the appropriated rectories but also their shares of the common fund. (fn. 49)
In 1349, perhaps in response to the bishop's strictures, Sir Peter Rutter, lord of the manor of Thornton le Moors, granted the dean and chapter the church of Stoke in return for the establishment of a perpetual chantry. Its two chaplains, to be chosen by the dean, were also to join the vicars in celebrating the offices. (fn. 50) After complaints by some of the vicars, the bishop made further injunctions in 1353 to ensure that their incomes were paid regularly and improved, (fn. 51) but the matter was clearly not entirely settled and was the subject of additional regulation at the metropolitan visitation of 1400. (fn. 52)
Such pressure from the bishop provoked dissension within the chapter. In 1347 the dean ordered, with the bishop's approval, that the offerings and small tithes of Farndon, Shocklach, Holt, St. Bridget's, and St. Martin's were to be devoted to augmenting the vicars' stipends. (fn. 53) His action changed the arrangements of 1318 and brought to a head the question of the dean's rights over the appropriated churches. The two or three canons apparently resident at the time claimed that the revenues from those churches should be collected by one of their number and divided among them. The dean disagreed, and both sides appealed to the Black Prince. The disputed revenues were seized into the prince's hand, and the collegiate clergy, left without income, threatened to leave St. John's. (fn. 54)
Conspicuous in the lawsuit was the assumption, also made in 1318, that Overchurch, Guilden Sutton, and the Chester churches were to provide for the college as a whole and not simply for the Orby chantry; but in 1352 the cantarist sued at Canterbury for his full rights as a canon of St. John's and the court gave sentence in his favour. (fn. 55) In 1354 the Black Prince intervened as guardian of the Orby heiress to protect the chantry's interests, ordering that the salary of one of its chaplains be paid, but conceding that the churches associated with Orby's grant were never exclusively appropriated to the chantry. (fn. 56) The dean eventually won a partial victory. In 1397 he still retained Farndon, Shocklach, Overchurch, and Plemstall, leaving the canons only Guilden Sutton and the Chester churches. (fn. 57) Thereafter, however, his position was eroded, and by the 1530s only Plemstall remained appropriated to the deanery. (fn. 58)
In 1353 and 1354, in the midst of those disputes, two successive deans exchanged the deanery for other benefices. The beneficiary of the later transaction was challenged in 1357 by Alexander Dalby, a royal clerk who based his claims on a papal provision and was confirmed in the deanery in 1359. (fn. 59) Dalby came to a church facing increasing financial difficulties. Income fell to c. £220 by 1393 and to little more than £100 in the early 15th century. (fn. 60) The chapter's continued leasing of the tithes of the appropriated churches probably contributed to that decline, for it seems rarely to have received a fair rent. (fn. 61) Another factor was the reduction in offerings to the Rood, which had fallen to c. £50 by the early 16th century. (fn. 62) In the circumstances it is not surprising that some of the institutions for which the dean and chapter had earlier been responsible apparently lapsed. One such was the grammar school, in existence by 1353 when the master and boys attended services in a chapel dedicated to the Virgin situated in St. John's churchyard and popularly known as the White chapel. (fn. 63) Nothing further is recorded of the school, which had disappeared by the 16th century. (fn. 64)
Despite such difficulties, St. John's retained its role in civic life. Apparently from the 13th century it was the scene of ceremonies connected with the licensing of minstrels, and in the 15th century the guild procession for the feast of Corpus Christi finished at the church. (fn. 65) The Rood was still venerated in the 15th century, and the cult had even spread to Bordeaux. (fn. 66) At home, gifts continued to be made to it throughout the later Middle Ages: a ring in 1467, £20 from the son of a former mayor in 1489, and five large candles from an alderman in 1505, for example. (fn. 67) Its advocacy was still valued in the early 16th century, when a man from Winwick (Lancs.) left 6s. 8d. to anyone willing to undertake a pilgrimage to the Rood on his behalf, and the courtier William Smith caused three gold marks to be offered for the soul of his late master, Henry VII. (fn. 68) As late as 1518 Nicholas Deykin made provision for a priest to celebrate at the altar of the Holy Rood for eight years after his death. (fn. 69) The relic remained sufficiently important for three or four of the canons' stalls to be known as prebends of the Holy Cross. (fn. 70)
St. John's also continued to attract chantry endowments, presumably because the vicars could readily be employed for services commemorating the dead. (fn. 71) By the 16th century the vicars had accumulated considerable holdings given to finance such services and known as the obit lands, (fn. 72) though many bequests were for temporary commemorations. In 1398, for example, John Hatton gave £20 for a chaplain to say mass for four years, and in 1518 Nicholas Deykin left £45 for a priest to celebrate at St. Catherine's altar. Both probably expected collegiate vicars to be employed as cantarists. (fn. 73)
The guild or fraternity of St. Anne, which had close links with the vicars, was apparently founded in 1361 and refounded in 1393. (fn. 74) The wardens or masters seem often to have been drawn from the clergy of St. John's: between 1396 and 1420, for example, they included Ranulph Scolehall, chaplain of the Orby chantry. (fn. 75) The fraternity's own chantry seems originally to have been within the collegiate church, but presumably after the refoundation a separate building was established in the precinct east of St. John's. (fn. 76)
In the 1530s the college's income was somewhat over £150, still principally from the appropriated churches and the Rood, the latter contributing a third of the total. The value of the canons' prebends had fallen, and the position of the vicars was relatively improved; by then they drew more than the canons from the common fund. The petty canon, with almost £16 a year, enjoyed an income second only to the dean's. The canons thus had little incentive to reside. (fn. 77) In the mid 1530s the college sustained a major financial loss with the removal of the Rood. (fn. 78) In response Bishop Rowland Lee, at the instance of Thomas Cromwell, in 1539 reduced the lesser clergy to two conducts, four vicars choral, and four chantry priests. (fn. 79) The changes improved the lot of the remaining vicars, (fn. 80) but also occasioned resentment. Two of them 'withdrew certain plate' and obtained a letter from Cromwell supporting their claim to have been wronged by the dean and chapter. The petty canon's chantry suffered especially; in 1539 Peter Brereton, the petty canon, complained that revenue was wrongfully withheld and that one of the chantry priests had been unjustly expelled. He petitioned the king, and c. 1542 the dean, Richard Walker, replied alleging that he had suspended the disputed payments since the removal of the Rood and the loss of the oblations. (fn. 81) The petty canon's chantry seems to have been suppressed in 1543, when its endowments were leased to the founder's heir, Richard Brereton, in whose hands they remained in 1557. (fn. 82)
Standards of behaviour among the lesser clergy were not exemplary in the period before the Dissolution. In 1536 four of the vicars were found to be unchaste, (fn. 83) and probably in the 1540s the two chantry priests of St. Anne's, William Horseman and Thomas Pyncheware, (fn. 84) allegedly broke into and damaged houses adjoining the fraternity's building. (fn. 85)
The creation of the bishopric of Chester in 1541 provided a fresh threat to St. John's. The archdeacon's court, hitherto held in the collegiate church, was removed in that year to the cathedral. (fn. 86) Although the dean's claim to be exempt from the authority of the new bishop was recognized in 1542, the privilege was soon lost. (fn. 87) Thereafter, the college seems to have feared the worst, and disposed of property in a series of very long leases. (fn. 88) Finally in 1547 or 1548 the college, with its staff of dean, seven canons (five with livings elsewhere), and four vicars, was dissolved. The appropriated churches, the prebendal lands and other property in Chester, the obit lands, the chantry rents, and the possessions of the fraternity of St. Anne were all taken into the king's hands. The whole east limb of the church and four bells also fell to the king. (fn. 89)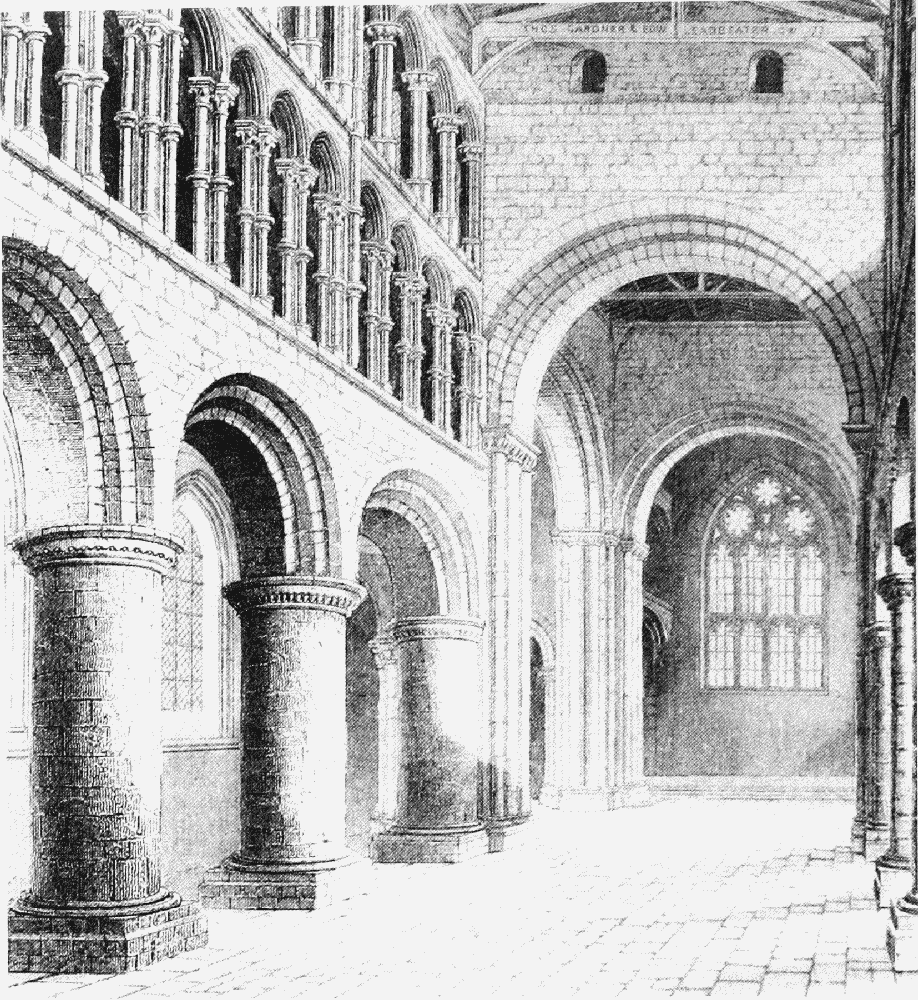 The design of the Romanesque east end, probably of four bays with eastern towers terminating in three apses, suggests that it was begun c. 1100 under Bishop Limesey; it is related to other west Midland churches of that date, such as Shrewsbury, Hereford, and Much Wenlock. Work was then interrupted, to resume between c. 1125 and c. 1150, perhaps with a reduced scheme incorporating a central tower, transepts, a nave of six bays, and a west bay with north and south towers. By 1200 construction appears to have reached roof level as far as the east end of the nave, but further west only the arcades and perhaps the lower parts of the aisle walls had been built. The nave triforia appear to date from c. 1200, and the clerestories, surviving aisle windows, north doorway, and porch from the early 13th century. (fn. 90)
In the late 13th century a square building of two storeys was built in the angle between the chancel aisle and the south transept; perhaps a chapter house, in the 16th century it was described as the house of the 'church priests'. (fn. 91) After its completion, however, the fabric of the church seems to have been neglected, and in 1349 repairs were deemed necessary. (fn. 92) It was perhaps about then that the east end was remodelled, probably to accommodate the increasing number of chantries. The work comprised a polygonal Lady chapel flanked by square-ended chapels to north and south; stonevaulted and richly carved, it was closely related to contemporary work in the south transept of the abbey and to parts of the chancel and north transept at Nantwich. (fn. 93)
St. John's seems generally to have remained in poor condition, and in 1415 the dean and chapter were granted a royal licence to collect alms for the rebuilding of the church and college, then described as ruinous. (fn. 94) Building and repair continued almost to the Dissolution: in 1463 and 1471 the church roof was referred to as newly covered, (fn. 95) and between 1518 and 1523 the north-west tower was rebuilt. (fn. 96) The church, however, probably remained incomplete. There seems never to have been a central tower, and it is unlikely that the west front was finished to the original designs, which would not have accommodated the spiral staircase inserted south of the northwest tower. Nevertheless, the nave was certainly longer than at present by at least one bay, for the west wall cuts through the arches of the triforium and arcade. (fn. 97)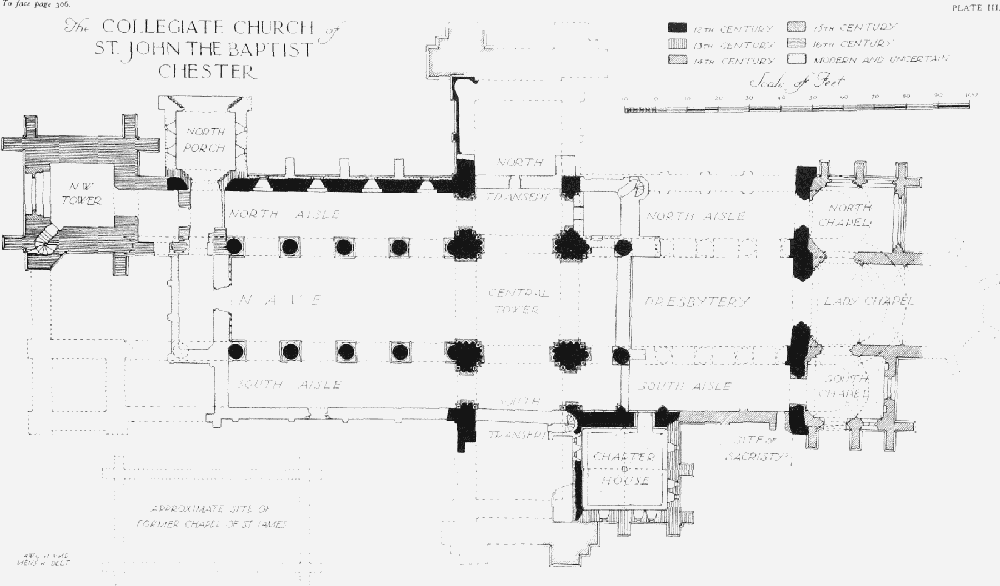 At its dissolution the church stood in a sizeable precinct (Fig. 72, p. 132), which included to the east the irregular and perhaps courtyarded building of the St. Anne's fraternity, and to the south the large chapel of St. James and a small anchorite's cell. A further chapel, the Calvercroft chapel, was also probably a separate structure. (fn. 98) All around were the clergy houses, including those of the bishop, dean, canons, vicars, and cantarists; other houses for the vicars lay just outside the precinct on Vicars Lane. Most of those buildings survived the dissolution. The chapels of the anchorite, Calvercroft, and St. James, the last put to use as a store, were held by the first parochial vicar; the fraternity house passed to Sir Hugh Cholmondeley, one of the royal commissioners; the dean's house was taken by Hugh Glazier, mayor of Chester 1602–3; and another clergy house was occupied by Alexander Cotes, an early lay rector. All later disappeared, probably destroyed in the Civil War siege of Chester. St. John's itself survived as a parish church after the Dissolution. (fn. 99)
R. de Verdun, occurs c. 1187 (fn. 101)
Bertram, occurs temp. Richard I and John (fn. 102)
Simon, fl. c. 1226–41 (fn. 103)
Richard Aldcroft, ? (fn. 104)
William Brickhill (or Birchills), by 1287–1308/9 (fn. 105)
Randle Torald, 1309–10
William Wish or Wych, 1311 (fn. 106)
Adam Ayremynne, 1321–?
Stephen Kynardesley, 1323–?
Thomas Clopton, 1325–8
Nicholas Northburgh, 1329
Peter Russell, 1329–34
William Appletree, 1334–9
John Marsh, 1339–53
Richard Birmingham, 1353–4
Hugh Threekingham, 1354–5
Alexander Dalby, 1355–66/7
disputed succession, c. 1357
Richard Birmingham (reappointed?), 1357
John Woodhouse, by 1370–1395
John Leyot, 1395–1422/3
Roger Leyot, 1423–31
Walter Shirington, 1431–8
Humphrey Rodeley, 1438
Thomas Heywood, 1438–44
Roger Asser, 1444–71
Thomas Milly, 1471–88
Christopher Talbot, 1489–92/3
Hugh Oldham, 1493–4
Thomas Mawdesley, 1494–?
Robert Lawrence, occurs 1500 (fn. 107)
Ralph Cantrell, 1505–?1531
Geoffrey Blythe, 1531–40/1
Richard Street, 1541
Richard Walker, 1542–8