Pages 285-293
A History of the County of Durham: Volume 3. Originally published by Victoria County History, London, 1928.
This free content was digitised by double rekeying. All rights reserved.
HURWORTH
Hurdewurda (xii cent.).
The parish of Hurworth lies on the north bank of the winding Tees, and comprises the townships of Hurworth on the west and Neasham on the east, the former having an area of 2,438 acres and the latter of 1,636, making 4,074 acres in all, of which 74 acres are inland water. It is bounded by Darlington on the west, where the Skerne forms part of the boundary, Haughton le Skerne on the north, Dinsdale on the east, and Yorkshire on the south. The surface is mostly over 100 ft. above the ordnance datum, but there is a considerable expanse of lower land in the centre, between the villages of Hurworth and Neasham, and through it Cree Beck and another stream flow south to the Tees. This river makes several sharp turns through the lower lands, though its banks usually rise steeply from the river on one side or the other, and are in many places clad with trees. The village of Hurworth is pleasantly situated on one of these steeper banks. It has the Grange on higher ground to the west, Pilmore and Rockliffe in the river bend to the south; the Moor is in the north. To the east the Tees turns sharply to the south and north again, and then passes Newbus Grange and the site of Neasham Priory. Further to the east it passes below the village of Neasham, behind which the surface rises to 180 ft. above the ordnance datum. The river again bends south, passing the Hall and then east towards the Sockburn peninsula. In the north end of the township are houses called Low Maidendale and Hunger Hill. (fn. 1)
The old north road from Yorkshire over Croft Bridge towards Darlington passes through the west end of the township. The bridge was built on the site of an older one (fn. 2) in 1673, and has seven arches, of which two are within Durham. (fn. 3) A village called Hurworth Place sprang up by the bridge about the time of the making of the railway in 1829. (fn. 4) From the bridge a road goes eastward through both the villages on to Dinsdale, with a branch south-east to Sockburn. The main line of the London & North Eastern railway runs north through the west side of the parish; it crosses the Tees about half a mile below Croft by a bridge made in 1840, and has a station called Croft Spa close to the public bridge; the old railway from Darlington to the same place runs alongside to the west. At the east end of Hurworth village there is another bridge across the Tees, and there are fords near Neasham village called High Wath and Low Wath.
The soil is various, with clay in some places. Two-thirds of the land, i.e., about 2,600 acres, were arable seventy years ago, (fn. 5) but now the agricultural land is divided into 1,015 acres of arable, 2,270 of permanent grass and 279 of woods and plantations. (fn. 6) Barley is grown, also potatoes and turnips and fruit. Bricks used to be made near Croft and draining-tiles at Skipbridge. There was formerly some weaving of linen cloth, and the red sandstone in the river bed was worked. (fn. 7)
An old subscription pack, the Hurworth Foxhounds, has kennels about a mile north of the village. (fn. 8) There are rifle targets in Neasham.
There is a village hall and reading room, built in 1864.
The Tees being liable to sudden and violent floods, there used to be a man appointed to 'warn the water,' i.e., to give the inhabitants lower down the river notice when a flood had reached Neasham. (fn. 9)
The history of the parish has been quite uneventful. Of the families holding manors in the parish in the 13th and following centuries only the Chartenays are known to have resided here. (fn. 10) Neasham was probably the place where Margaret, daughter of Henry VII, in her bridal journey to Scotland in July 1504, paused on her way from Northallerton to Darlington: 'She was met by Sir Ralph Bowes and Sir William Aylton, well appointed, with a fair company arrayed in their liveries, to the number of forty horses, well appointed and well horsed. In the said place of [Neasham] was the said queen received with the abbess and religious with the cross, without the gate; and the bishop of Durham gave her the cross for to kiss.' (fn. 11) At the Dissolution the 100 acres of demesne lands of the priory lay scattered among the common fields; the house had a grange at Little Burdon, a tenement and a cottage or messuage in Neasham, while close by the gate of the house stood nine cottages, probably for the labourers. (fn. 12) Among Neasham place-names in the 17th century were Haire close, Tan flatts, Middleton Mouth and Little Ox closes. (fn. 13)
Six Hurworth men joined the Northern rising of 1569, and one of them was executed. (fn. 14) The protestation of 1641 was signed here. (fn. 15)
The chief celebrity is William Emerson, a mathematician. He was the son of Dudley Emerson, a school-master, and was born at Hurworth in 1701. Educated at Newcastle and York, he afterwards took pupils at Hurworth, and then devoted himself to mathematics. He died at Hurworth in 1782 and has a monument in the church. His wife died two years later; there were no children of the marriage. (fn. 16)
A parish council elected in each of the townships of Hurworth and Neasham regulates local affairs.
Names of certain portions of the 16th-century common fields have been preserved, for among the lands assigned to the maintenance of the church lights were buttes in the Greendike within the Castle field, buttes in Crakehall Dike, an acre in Goslinge Myres and an acre in Skiton. (fn. 17)
The Wesleyan Methodists and Primitive Methodists have chapels at Hurworth, and the former have another at Hurworth Place (Croft), built in 1870.
There was a school at Hurworth before 1770, when it was refounded.
MANORS
HURWORTH, which was in the wapentake of Sadberge, (fn. 18) was held in the 12th century in thegnage with Hepple in Coquetdale, Northumberland. (fn. 19) The earliest thegn of Hepple whose name is known is Waldef, whose daughters held land, apparently of their father's gift, in Hurworth and Neasham. (fn. 20) Waldef's son William was the tenant in 1161. (fn. 21) He was succeeded before 1177 by his son, another William, (fn. 22) who left three daughters and co-heirs. Of these Elizabeth married William Bardulf, who in 1200 paid 30 marks to hold the Northumberland lands for one knight's fee instead of in thegnage. (fn. 23) Hurworth continued to be held by a money rent. According to the 14th-century inquisitions the tenants also owed the service of custody of the gaol at Sadberge. (fn. 24)
In 1206 the king authorized the marriage of Elizabeth widow of William Bardulf with Ivo Tailbois, who was chamberlain of Robert de Vipont. (fn. 25) Ivo and Elizabeth and Elizabeth's sisters held the thegnage lands in Hurworth in 1212 for a rent of 60s. (fn. 26) The sisters married Richard de Chartenay and Roger de Butemont respectively, who performed their service by the hands of Ivo. (fn. 27) The name of Elizabeth wife of Ivo Tailbois occurs in 1211 and Ivo in 1213. (fn. 28) In 1218–19 it was found that the marriage of the widow of Ivo Tailbois was in the king's donation and that she had married Nicholas de Farendon. (fn. 29) Shortly afterwards it was stated that Robert Tailbois ought to be in the king's wardship, but his mother held the land and had made fine for his custody. (fn. 30) In 1229 Roger de Butemont claimed in Hepple against Nicholas de Farendon, Elizabeth his wife, Richard de Chartenay and Maud his wife. (fn. 31) About 1235 Nicholas de Farendon and Elizabeth held the lordship of Hepple in her right. (fn. 32) Roger de Butemont held a third part of Hepple of Nicholas and Elizabeth, with other lands, by a rent of 16s., and Maud de Chartenay held the remaining third by the same rent. (fn. 33) The conditions at Hurworth were probably identical, but there are no means of tracing them in detail.
Elizabeth Tailbois in 1252 obtained a grant of free warren for Hepple, (fn. 34) and died about 1256 holding the knight's fee in Northumberland and leaving a son and heir Robert, aged forty, (fn. 35) who paid 100s. relief and had livery. (fn. 36) Robert died about a year later, leaving a son Robert, of full age, (fn. 37) who paid the same relief. (fn. 38) Robert Tailbois is recorded to have made certain exchanges of land in Hurworth, viz., in Gesslingmir with Richard de Cabury and in Grimwathflat with Walter de Butemond. This Walter sold other land to Richard de Cabury. (fn. 39) It is probable that about that time the Butemond or Butemont share fell to the other partners for lack of issue, for Robert Tailbois in 1281 was found to have held a moiety of Hepple; his son Luke was twenty-three years of age. (fn. 40) In 1275 the elder Robert Tailbois had possessed right of gallows and assize of bread and ale at Hepple, (fn. 41) while in 1293 Luke Tailbois and Richard Chartenay had infangenthef, gallows and assize of ale there by ancient custom. (fn. 42) Luke Tailbois was employed by Edward I as collector of subsidies, justice, and otherwise, (fn. 43) acting as Sheriff of Northumberland in 1303–4. (fn. 44) He died about 1316 holding a moiety of Hepple and leaving a son William, aged thirty, as heir. (fn. 45) In 1337 Sir William Tailbois had licence to grant certain lands to his son Henry and his wife Eleanor, daughter of Sir Gilbert de Boroudon, (fn. 46) through whom Henry's descendants became possessors of Kyme, Lincoln, about 1436. (fn. 47)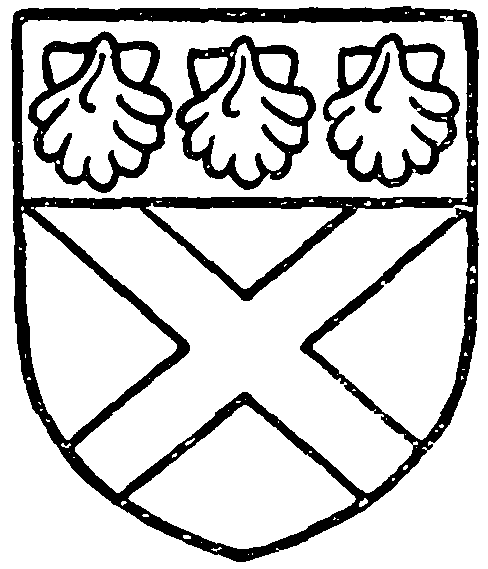 Sir William Tailbois chivaler died in or before 1366 holding a third part of the manor of Hurworth by a rent of 8s. and keeping the gaol of Sadberge, receiving 22s. rent for the manor of Neasham and for two-thirds of the manor of Hurworth; he also had two-thirds of the advowson of the church. His heir was his son Henry, thirty years of age. (fn. 48) From this it would appear that Sir William was, like his ancestor Ivo in 1212, responsible for the whole service of the manor. Henry Tailbois died in 1369 holding the manor of Hurworth and 5 oxgangs of land there of the bishop by the twentieth part of a knight's fee and suit of court at Sadberge; also three cottages and 11 oxgangs of land by a rent of 8s. 6d. and keeping Sadberge gaol. His son and heir Walter was eighteen years of age. (fn. 49) This return was corrected by another taken in 1373 recording that he held the capital messuage, 16 oxgangs of land, &c., half the advowson of the church, and a third part of the mill, by a rent of 9s. and suit of court and keeping with his partners the gaol at Sadberge. (fn. 50) Eleanor the widow of Henry received her dower after taking the oath not to marry without the king's licence. (fn. 51) Walter, the heir, having proved his age, received his lands from the escheator in 1371. (fn. 52)
Walter Tailbois in 1386 made an exchange with Robert de Ogle by which he received the second moiety of Hurworth for his lands in Hepple, (fn. 53) thus putting an end to the divided lordship in both places. The second moiety had descended with half of Hepple in the Chartenay family. The immediate heir of Richard and Maud de Chartenay was perhaps Philip de Chartenay, who with Nicholas de Farendon witnessed a charter touching Hepple (fn. 54); his son Richard made a grant of land in Hepple to Luke Tailbois in 1287, (fn. 55) the deed being dated at Hurworth. He seems to be identical with the Sir Richard Chartenay living at Hurworth in 1264 (fn. 56) whose name occurs in 1293. (fn. 57) He had a brother Robert, to whom he granted the manor of Hepple, (fn. 58) and it seems probable that the latter adopted the name Hepple as a surname. In 1304 Robert de Hepple had died seised of half the manor of Hepple, leaving a son Robert, (fn. 59) and in 1315 Luke Tailbois and Robert de Hepple held jointly the advowson of Hurworth Church. (fn. 60) In 1331 Robert de Hepple had licence to settle his moiety of Hepple on Robert de Ogle and Joan his wife. (fn. 61) A similar settlement was probably made for Hurworth, since ten years later it was among the lands of Robert de Ogle mentioned in a grant of free warren. (fn. 62) In 1355 Robert de Ogle the younger was found to have held a moiety of the 'manor' of Hurworth on Tees jointly with Ellen his wife by grant of Robert de Ogle the elder; it was held of the bishop in socage by a rent of 18s. and a sixteenth share of the custody of Sadberge gaol. Robert son and heir of the younger Robert, then three years of age, (fn. 63) subsequently made the exchange with Walter Tailbois.
Walter Tailbois was a knight in 1389 (fn. 64) and died 21 September 1417 holding the manor of Hurworth (except half an acre) with the advowson of the church by knight's service, suit of court, keeping the gaol, and a rent of 25s. 6d.; his heir was a son Walter, aged twenty-six. (fn. 65) The younger Walter Tailbois had livery of his Durham lands in 1417 (fn. 66); he died in 1444 holding the manor and advowson, and leaving his son William, aged twenty-six, to inherit. (fn. 67) William Tailbois and Elizabeth his wife complained of the finding of the jury in the inquisition, and judgement was given in their favour, the manor of Hurworth being restored to them. (fn. 68) The family had for more than half a century been associated with Lincolnshire. (fn. 69) Walter Tailbois and his son Walter were described as 'of South Kyme' in 1439, (fn. 70) but do not seem to have been summoned to Parliament as barons of Kyme.
Sir William Tailbois, son of the younger Walter, was an adherent of the unpopular Duke of Suffolk, and was in 1450 charged with an attack on Lord Cromwell in the Star Chamber. (fn. 71) He took the Lancastrian side in the Wars of the Roses, was made a knight at the second battle of St. Albans, 17 February 1460–1, by Prince Edward, son of Henry VI, (fn. 72) and was shortly afterwards attainted. (fn. 73) In May 1464 he fought at Hexham and he was beheaded at Newcastle on 20 July. (fn. 74) Before this he was styled Earl of Kyme. (fn. 75) In 1462 the manor of Hurworth and other estates were granted to trustees for Elizabeth his wife, daughter of the Yorkist Lord Bonvill, for her life. (fn. 76) Their son Sir Robert was restored in blood in 1472, (fn. 77) and at his death in 1495 (fn. 78) was recorded to have held the manor of Hurworth and the advowson of the church and rent from the manor of Neasham. (fn. 79) His son and heir George, aged twenty-four at that time, was made a knight at the battle of Blackheath in 1497, (fn. 80) but about a year later was found to be a lunatic. (fn. 81) He must have recovered, for in 1499 he obtained pardon for any intrusions made upon the manor and vill of Hurworth. (fn. 82) In 1512 he had licence to alienate the manor of Sotby, (fn. 83) and made his will 18 January 1512–13, (fn. 84) after which he joined the expedition to France with a retinue of twenty-five men. (fn. 85) In 1517 he was again a lunatic, (fn. 86) and appears to have remained insane to the end of his life, (fn. 87) about twenty years later. (fn. 88) At the Durham inquisition in 1539 it was found that he had held Hurworth; the heir was his grandson George, Lord Tailbois, aged sixteen years, being son of Gilbert, Lord Tailbois, son of George. (fn. 89) This Gilbert had married ' the beautiful Elizabeth Blount,' a mistress of Henry VIII, (fn. 90) and he was styled Lord Tailbois, though in the Parliament of 1529 his name is recorded among the knights as a representative of Lincolnshire. (fn. 91) He died in 1530, (fn. 92) and his son George died in 1540, (fn. 93) leaving a younger brother Robert as heir. (fn. 94) He also died without issue in 1541, and the inheritance passed to his sister Elizabeth, Lady Tailbois, wife of Thomas Wymbish, (fn. 95) who had livery of the manor of Kyme, &c., in May 1542. (fn. 96) Elizabeth had no children, (fn. 97) and in 1550 joined with her husband in the sale of the manor of Hurworth and advowson of the church to Sir Leonard Beckwith of Selby, the dower of Elizabeth widow of Sir George Tailbois being preserved. (fn. 98)
Sir Leonard Beckwith died on 7 May 1557, (fn. 99) and his son and heir Roger, then sixteen years of age, in 1577 sold the manor of Hurworth, but not the advowson of the church, to Henry Lawson of Neasham and George Ward of Hurworth. (fn. 100) The Lawson moiety descended with the Neasham Priory estate (fn. 101) to the Jenison family; in 1727 it was sold by John Jenison, who had registered his estate here as a Papist ten years before, to John Bland. (fn. 102) The successor of John Bland was apparently the James Bland of Hurworth who died in 1770, and whose daughter and heir Barbara married William Wrightson of Cusworth (Yorks.). (fn. 103) William Battie Wrightson, her son and heir, was a landowner in Hurworth in 1855. He died in 1879 and was succeeded by his brother Richard Heber Wrightson, on whose death in 1891 the estate devolved on his nephew William Henry Battie Wrightson. Mr. Robert Cecil Battie Wrightson, son of the latter, succeeded his father, but owing to questions between him and the rector as to the ownership of the lordship, all rights in the manor of Hurworth have been made over to the Parish Council. (fn. 104)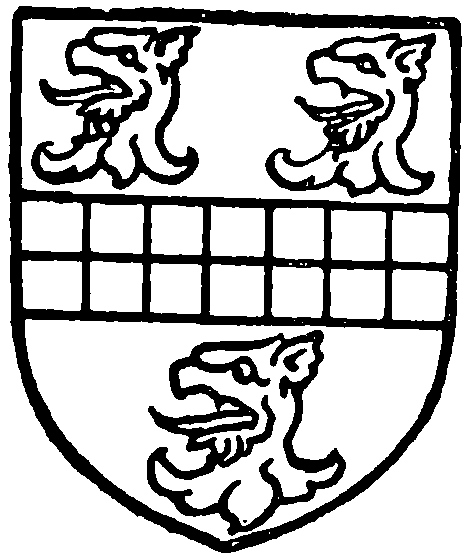 George Ward did homage to the bishop in 1578 for his moiety of the manor, and took the oath of supremacy. (fn. 105) This moiety, which consisted of 10 oxgangs, descended in January 1607–8, after the death of George Ward, to his son John, then aged fifty, in accordance with a settlement made in 1579 on the occasion of the son's marriage with Joan Charnley. (fn. 106) John Ward was in 1631 succeeded by two granddaughters, namely his son George's children Frances wife of Francis Anderson and Anne Ward, aged fifteen and eleven. (fn. 107) Francis Anderson and Frances his wife leased land in 1637 to John Burnett for 4 years (fn. 108); and Anne with Cuthbert Appleby her husband conveyed meadow land to Anthony Lodge in 1661. (fn. 109) Francis Anderson, Thomas Aislaby and Elizabeth his wife were vouchees in a recovery of a fourth part of the manor of Hurworth in 1660, and eight years later Cuthbert Appleby and Anne his wife conveyed a messuage and land here to William Place. (fn. 110) A fourth part of the manor was sold to Robert Hilton in 1702 (fn. 111) by the heirs of Cuthbert Marley and Anne his wife and by John Pemberton and Mary his wife, daughter of Christopher and niece of William Place who had died without issue. In 1751 Mary Harrison conveyed a fourth part of the manor with four messuages, 300 acres of land, and £40 rent to William Hutchinson. (fn. 112) There does not seem to be any later record of this part of the manor. The capital messuage with lands, &c., sold in 1750 by George Hobson and his daughters by Mary Pyatt his late wife to Francis Murgatroyd may have been attached to it. (fn. 113)
Sir Thomas de Ingleby and Katherine his wife had the bishop's pardon in February 1376–7 for acquiring half an acre in Hurworth held in chief. (fn. 114) It was probably at about the same time that Sir Thomas acquired the land held of the lords of Hurworth, which was subsequently known as INGLEBYS MANOR. Thomas died in or before 1380, and it was found that he had held in conjunction with Katherine his wife half an acre in Hurworth of the bishop and eight messuages and eight score acres of Walter Tailbois by fealty. Henry his son and heir was of full age. (fn. 115) Henry de Ingleby, clerk, was in 1383 found to have held land in Sadberge; his brother John, aged twenty-four, was heir. (fn. 116) John Ingleby of Ripley, Yorks, in 1409 was recorded to hold the half-acre of the bishop and six messuages, 31 oxgangs of land, &c., of Walter Tailbois by fealty; his son Thomas was of full age. (fn. 117) Thomas died in 1415 holding the same estate; his son and heir William was eight years old. (fn. 118) William, son and heir of Thomas son and heir of John Ingleby, in 1442 held land in Hurworth of Walter Tailbois; his heir was a son John aged eight. (fn. 119) John Ingleby died 21 September 1456, just after coming of age (fn. 120); he left a son and heir William, who came of age in 1476 and had livery of his lands. (fn. 121) He took part in the expedition into Scotland in 1482 and was made a knight there by the Duke of Gloucester, afterwards Richard III. (fn. 122) He died in 1501 leaving a son John, aged twenty-four, as heir. (fn. 123) John died in 1502, his heir being his son William, aged nine. (fn. 124) The wardship was granted by the bishop to Thomas Berkeley and Eleanor his wife, widow of John Ingleby. (fn. 125) William died in 1528 holding lands in Hurworth of George Tailbois and the bishop; his son and heir William was ten years of age. (fn. 126) Cecily the widow, a daughter of George Tailbois, had dower assigned to her. (fn. 127) John Fawcett, clerk, sold an estate in Hurworth, perhaps Ingleby's manor, to Henry Lawson of Neasham in 1567. (fn. 128) Henry Lawson in 1607 held the manor in Hurworth late of William Ingleby and 8 oxgangs belonging to it. (fn. 129) The manorial rights subsequently descended with the Lawson estates.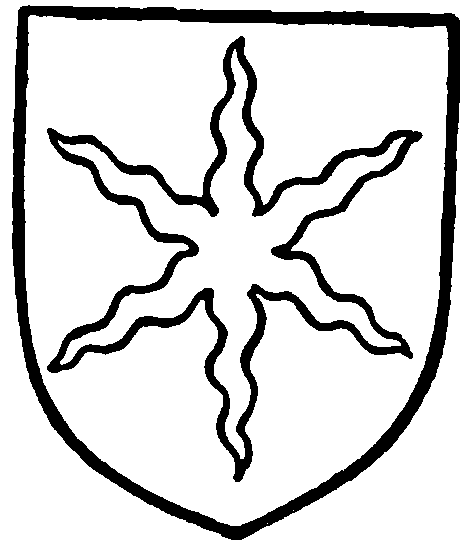 Another part of the land attached to the Ingleby Manor was acquired by William Wormeley, who in 1603 died seised of 4½ oxgangs 'late of Ingleby.' (fn. 130) He had also bought from Ralph Tailbois in 1567 an estate of 14½ oxgangs, (fn. 131) probably including the 13 oxgangs of which Henry son of Henry Tailbois had died seised in 1444 (fn. 132) leaving a son John. This junior branch of the Tailbois family held of the lords of Hurworth. (fn. 133) William Wormeley left a son Robert, who in 1628 and 1634, with Margaret his wife and William Wormeley his son and heir, mortgaged his estate to Thomas Thompson, rector of Hurworth, and to Sir John Lister respectively. Robert being a papist, his lands were sequestered in 1644. (fn. 134)
Other tenants of land in Hurworth were Christopher Foreman (d. 1621) (fn. 135) and Richard Thompson (d. 1628), (fn. 136) who held of James Lawson, and Ninian Kirsopp (d. 1631) who held 4 oxgangs of the heirs of James Lawson and John Ward. (fn. 137) John Lister died in 1642 holding 12 oxgangs in Hurworth, of which 5½ oxgangs were held of the Ingleby Manor, (fn. 138) receiving manorial rents from certain houses in the township. (fn. 139)
According to Surtees the rector was lord of ' a small copyhold manor ' at the beginning of the 19th century, (fn. 140) but nothing is known of its history.
Engelais, sister of Emma de Tees and daughter of Waldef the thegn, gave one ploughland in Hurworth to Neasham Priory on its foundation, (fn. 141) and in 1535 a rent of 5s. was paid to the bishop for the priory's lands in Hurworth. (fn. 142) The house itself received at this time £4 yearly from their lands here from ' the heirs of Thoreby.' (fn. 143)
In 1684 the freeholders were Hamond Beaumont, Cuthbert Bore, Thomas Bromley, Francis Buckle, Thomas Bulman, John Burnett, Anne Byerley, Ninian Gresham, James Hamilton, Michael Harrison, William Jennison, Timothy Kitchingman, Benjamin Lister, Anne Marley, Judith Richardson, George Slaney, Robert Smith, William Walker, and Robert Ward. (fn. 144) Pilmore House was owned by Gordon Skelly about 1820 (fn. 145) and by Robert Surtees of Redworth about 1855. (fn. 146)
NEASHAM
NEASHAM (Neshaim, Nesham, Nessham, c. 1160) was evidently part of the original fee held in thegnage by Waldef the thegn of Hepple. He appears to have given it to his daughter Emma, whose descendants subsequently held it of the lords of Hurworth. (fn. 147) Emma daughter of Waldef and wife or widow of Ralph de Tees founded about 1150 the priory of Neasham. (fn. 148) Ralph her son, also called Ralph son of Ralph, consented and added to her gift. (fn. 149) This Ralph also married an Emma, and in 1198 she as his widow claimed dower in Neasham, Grimthorpe and other places against his son, William son of Ralph. (fn. 150) This William was also a benefactor of the priory, Sir William Bardulf attesting the charter, which must therefore be earlier than 1206. (fn. 151) William son of Ralph died in or before 1218 when his heir was given up to the king by Robert de Roos. (fn. 152) Ralph son of William paid relief and had livery of his father's lands in Yorkshire and Durham in 1227. (fn. 153) William son of Ralph occurs in 1253 (fn. 154) and 1254, (fn. 155) and in conjunction with Joan his wife in 1269. (fn. 156) Joan was daughter of Thomas son of William de Greystock, and was thus aunt of John Lord Greystock, who in 1297 obtained licence to enfeoff Ralph her son in the manor and barony of Greystock. (fn. 157) This Ralph son of William married Margery, widow of Nicholas Corbet and daughter and co-heir of Hugh de Bolebeck, thus greatly increasing his possessions (fn. 158); he was a benefactor to Neasham Priory, granting land called Milne-hills between Kent and the nuns' land, and free milling; Luke Tailbois was a witness to one of his gifts. (fn. 159) He took part in the Scottish wars of the time and did other public service, being summoned to Parliament in 1295. (fn. 160) He died, well stricken in years, in 1316 holding the ' manor' of Neasham of William Tailbois by a rent of 16s. a year, and was buried at Neasham. (fn. 161) His son and successor, Robert, then a man of about forty, died before the following April. (fn. 162) The family having obtained the Greystock estates now assumed Greystock as a surname and the descent has been traced in the account of Coniscliffe (q.v.). The rent paid for the manor is generally given as 16s., but Sir Walter Tailbois is said in 1417 to have received 20s. for it from Ralph Lord Greystock. (fn. 163) In 1436 the service of guarding onefifth of the gaol of Sadberge was said to be attached to 24 oxgangs held of the bishop. (fn. 164) The manor was extended at 10 messuages, 200 additional acres of land, 20 acres of meadow, 100 acres of pasture, and a water corn-mill; the fee included a passage or ferry over the Tees, with its boat, worth 6s. 8d. a year, and the advowson of the priory of Neasham. (fn. 165)
The manor descended to the Dacres and Howards (fn. 166) and incurred forfeiture and sale under the Common-wealth with the other estates of Sir Francis Howard. (fn. 167) In 1651 complaint was made that the horse boat formerly at Neasham for the accommodation of the neighbourhood was missing, to the prejudice of the common packet; it was maintained by Sir Francis as lord of the manor. (fn. 168) The manor was sold to Lord St. John, afterwards Marquess of Winchester, and by him to Sir William Blackett, (fn. 169) who in conjunction with Julia his wife sold it to Charles Turner in 1699. (fn. 170) It descended to Charles Turner's great-grandson Sir Charles Turner, second baronet. (fn. 171) He sold it to William Wrightson in 1803, on whose death in 1826 it descended to his eldest son Thomas. Thomas about 1850 sold the hall (which he had built) and part of the estate to Col. James Cookson, but retained the manor. The manor descended in 1872 to the eldest son of Thomas, the Rev. William Garmondsway Wrightson, who lived at the Old Hall. The new hall was purchased in 1892 from Joseph the son of James Cookson by Sir Thomas Wrightson (who was made a baronet in 1900), son of the above-named Thomas, who also purchased the Neasham estate from his nephew, son of the Rev. W. G. Wrightson, and so became lord of the manor. (fn. 172) Sir Thomas died in 1921, and was succeeded by his son Sir Thomas Garmondsway Wrightson, the present owner.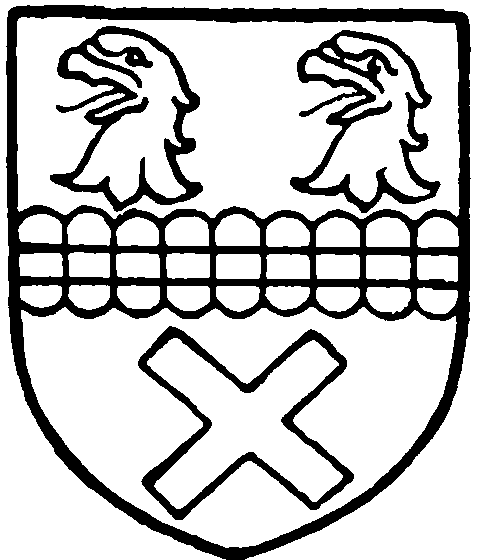 NEASHAM ABBEY
NEASHAM ABBEY, as the priory estate is now called, was acquired from the Crown by James Lawson of Newcastle, brother of the last prioress, in 1540. (fn. 173) The prioress continued to live at Neasham, and her will, dated 1557, has been printed. (fn. 174) In 1543 the purchaser had licence to grant the priory with its lands in Neasham, Hurworth and Dinsdale to trustees, to be settled on himself for life, with remainder to his son Henry Lawson and his male issue, and in default to his other sons, Edmund, William and George. (fn. 175) Henry Lawson died in 1607 holding the site of the monastery of the king and various lands in Neasham, Hurworth and other places. (fn. 176) James his son, aged thirty-six, was heir. He had livery of his lands in 1610, (fn. 177) and died in 1631 holding the same lands as his father. (fn. 178) His son James, on whose marriage with Frances daughter of Sir William Vavasour he had settled his estates, had died in February 1628–9. (fn. 179) James son of the latter was four years old at his grandfather's death, when he was found to be the heir. (fn. 180) He died, aged sixteen, about 1643, and his co-heirs were the representatives of his aunts—Frances, married in 1617 to Richard Braithwaite, by whom she had a son Thomas, and Anne wife of Henry Jenison, who had a son William. James's mother, a 'Papist,' married Philip Dolman, a 'delinquent.' (fn. 181) The estates were sequestered by the Commonwealth authorities, and in 1652 Thomas Braithwaite's estate was in the third Act for Sale, but he was allowed to compound for his moiety of the estate at a fine of £793 7s. 2d. He was described as a 'recusant delinquent.' (fn. 182) His father Richard, of Burneside near Kendal, was the author of Drunken Barnaby and other pieces; he was a Royalist and compounded for his sequestered estates. (fn. 183) Two-thirds of William Jenison's estate was sequestered for his religion, and it does not appear that any other 'delinquency' was alleged against him. Jenison died in 1655, and a complete survey of the estate was made. It included the ' house called Neasham Abbey otherwise Neasham Nunnery,' with various closes called Flowerpiece, Heathan Slacks, Brankinholme, Birkcarr, &c.; Hungerhill, now in Neasham, was then considered to be in Hurworth. (fn. 184) He left a son and heir Thomas, aged eight, who died without issue in 1677, when a brother William succeeded. William's son John in 1727 sold the manor of Hurworth to John Bland, as stated above. (fn. 185) The Neasham estate, however, appears to have been successfully claimed by Sir John Lawson under a settlement of 1544, or another of 1623. (fn. 186) He was made a baronet in 1655, (fn. 187) and in 1666 sold two-thirds of the estate to John Ramsay and one-third to Nicholas Pearson, who may have been acting for Thomas Jenison. In 1672 this third part was sold by Thomas Jenison, Jane Jenison and Nicholas Pearson to Thomas Cooper, under whose will it passed to Jane Hargrave. Her son Thomas Holme afterwards owned this portion. (fn. 188) The owner of the abbey in 1855 was Thomas Wilkinson (fn. 189); Mrs. Wilkinson now holds it. It is at present the residence of Mr. George Tristram Edwards.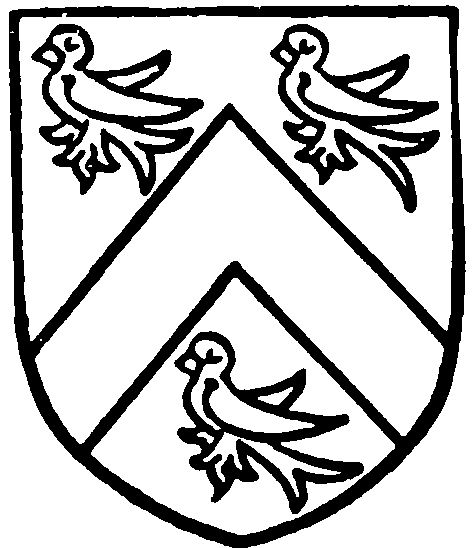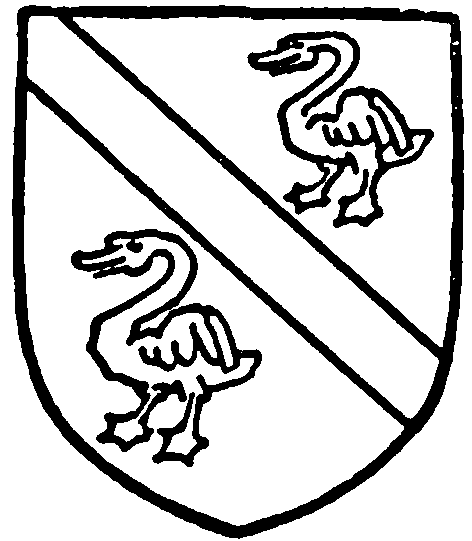 Gocelin Surtees in 1367 held land in Neasham of John de Aislaby, which had been mortgaged to him by Thomas son of Adam de Neasham. (fn. 190) The overlordship of this land belonged to the Surtees family of Low Dinsdale (q.v.). (fn. 191) Henry Tailbois of Hurworth (d. 1444) held his land here of Thomas Surtees. (fn. 192) Thomas Coundon of Neasham (d. 1498) held his lands, jointly with Margaret his wife, of Thomas Surtees. (fn. 193) His son Thomas, then thirty years old, who died in 1526, held similarly, (fn. 194) and his son, another Thomas Coundon, succeeded. In 1545 he died, leaving a son Thomas, aged seven in 1548. (fn. 195) His son, also Thomas, recorded a pedigree in 1612, when his son Thomas was eight years old. (fn. 196) William Sayer (d. 1531) held lands in Neasham of the prioress. (fn. 197) John Sayer (d. 1635) left as heir his niece Dorothy Bulmer. (fn. 198) Lawrence Sayer's sequestered lands in Neasham were rented at £20 in 1645. (fn. 199) Mention of Lawrence Sayer and Gilbert Crouch's land occurs in 1670. (fn. 200) According to a plea of 1604 George Browne was in possession of a capital messuage and land here which he leased before 1593 to William Greenwell. (fn. 201) William may have subsequently bought the property, for he certainly held lands in Neasham partly of the Crown and partly of the heirs of Thomas Surtees; his widow married Marmaduke Wyvill before 1604, and by 1619 his daughters Eleanor and Jane had married John Taylor and Ralph Hedworth respectively. (fn. 202)
The freeholders in 1684 were Sir John Lawson, bart., Robert Burnett, Miles Garry, the heirs of Thomas Lumley, Thomas Mowrey, Noah Pilkington, the heirs of George Sayer, and John Waite. (fn. 203)
CHURCH
The church of ALL SAINTS stands near the east end of the village on the south side of the main street close to the bank of the Tees, and when seen from the opposite side of the river, grouping picturesquely with the irregular roofs of the houses on and along its steep bank. The site is an ancient one, and a fragment of a pre-Conquest cross was found in 1871, (fn. 204) but the building is almost entirely modern and of little or no antiquarian interest. The whole body of the church was rebuilt in 1831–2, hardly any ancient features being left save the piers of the arcades and some portions of the outer walls of the nave. In 1871 the church was again almost entirely rebuilt, the old piers being still retained together with some portions of the 1831 building. The fabric, however, is practically of 1871 date, and consists of a chancel with short north and south aisles, north and south transepts, nave with north and south aisles, south porch, and west tower. (fn. 205) There is also a small chapel at the east end of the north aisle. The building is in the late Gothic style, and is faced with ashlar, the roofs being covered with blue slates. The tower has an embattled parapet with angle pinnacles and a vice in the north-east corner.
Surtees, writing before 1831, describes the old building as consisting of chancel, nave, north porch, and low west tower, the nave having regular aisles each with three pillars supporting round arches. Two of the pillars of the south aisle were plain cylinders and the rest octagonal. (fn. 206) The east window was square-headed and of four lights divided by a transom. The other windows were modernized and irregular. The chancel arch was pointed, and on the west front of the tower were three shields with the arms of Nevill, Tailbois and Dacre. (fn. 207) Hutchinson, at an earlier date, describes the building in much the same terms, (fn. 208) from which it would appear that part of the nave, at any rate, belonged to a 12th-century church, which had been considerably altered, perhaps at the end of the 15th century. The two cylindrical piers, which have moulded capitals, now stand one on either side of the nave at the west end, and the semicircular arches have given place to pointed. The three shields are built into the west wall of the new tower outside.
The church contains two interesting effigies, now in modern recesses at the west end of the nave aisles. One of these has the head encased in a cylindrical helmet and the sword is unsheathed and held erect. The feet are broken, and on the left arm is a shield charged with three water bougets on a fesse. The figure, which is of Frosterley marble, was discovered in excavating the foundations of a house near the site of Neasham Abbey. (fn. 209) The second effigy is that of Robert Fitz William, who assumed the arms of Greystock and died in 1316. The figure is in complete mail, with sleeveless surcoat, and the head rests on two cushions. The hands are folded in prayer and the feet rest upon two lions in combat. The shield bears the arms of Greystock, and is supported by a jewelled belt passing over the left shoulder. Along the sides of the monument is carved foliage, and below the legs are two or three heads, apparently of dogs. The effigy was originally in Neasham Abbey, whence it was brought to Hurworth, and it is probable that the other figure was originally in the abbey also.
Transepts were first built in 1831–2, each containing a gallery, and there was a gallery also at the west end across the first bay. The chancel as then built was considerably less in length than at present. (fn. 210)
The font and all the fittings are modern. The quire stalls are of oak taken from an old tithe barn pulled down about 1879. (fn. 211)
There is a monument with Latin inscription to William Emerson, the mathematician, who died in 1782. The inscription has been recut. (fn. 212)
There is a ring of six bells, by Taylor of Lough-borough, cast in 1872, given in June of that year by Lucy Jane Colling in memory of her husband, Thomas Colling. An old bell by Samuel Smith of York has been preserved: it bears the inscription, 'Gloria in Excelsis Deo. Leonard Wastell Rectour 1682. S: O: C: E: churchwardens.' (fn. 213)
The plate is all modern, and consists of two chalices, a flagon, and an almsdish of 1869 and two patens of 1873, all presented by the Misses Williamson in memory of their father. (fn. 214) There are also two chalices, two patens, a flagon and an almsdish presented in 1889 under the will of Robert Henry Allan of Blackwell Hall, Darlington.
The registers begin in 1559.
In the churchyard is a memorial cross to those who fell in the Great War which was erected from subscriptions raised by the women and children of the parish.
ADVOWSON
The advowson of the church was anciently appurtenant to the principal manor of Hurworth. Thus Luke Tailbois and Robert de Hepple joined in presentation about 1315 (fn. 215); the king in 1363 presented a rector by reason of his wardship of the heir of Robert de Ogle (fn. 216); and in 1479 Sir Robert Tailbois obtained a recognition of his right as patron. (fn. 217) The advowson was included with the manor in the sale by Wymbish to Beckwith in 1550, (fn. 218) but excepted in the sale by Roger Beckwith to Lawson and Ward in 1577. (fn. 219) A moiety was, however, probably sold to Henry Lawson at that date, for 'Lawson of Neasham' was the patron shortly afterwards, (fn. 220) and in 1607 Henry Lawson was said to have held the advowson, (fn. 221) as was his son in 1631. (fn. 222) The Jenisons inherited the Lawsons' share, (fn. 223) which was acquired in the early 18th century by Dr. Johnson, the rector from 1714 to 1761. (fn. 224) Thomas Johnson, presumably his representative, presented in 1784. (fn. 225) This part was later held by William Hogg, who sold it to the Rev. R. H. Williamson, rector 1832–91. (fn. 226) The other moiety was acquired by Robert Byerley of Middridge Grange, to whom in 1693 Edward Beckwith of Elvet in Durham, described as grandson and heir of Roger Beckwith, released all right in the advowson. (fn. 227) Robert Byerley presented in 1712. (fn. 228) This moiety was afterwards acquired by the Carr family, and Ralph Carr of Cocken presented in 1761; it descended to the Milbankes, and was then sold to Robert Hopper Williamson of Whickham, who was one of the patrons in 1823, — Johnson being the other. (fn. 229) Mr. Williamson's son was the rector named above who purchased the other moiety, and thus became sole patron. He died in 1891, and was succeeded by his nephew, Mr. W. H. Williamson. The patronage was acquired by Mr. T. H. Faber in 1899 and is now in the gift of the Church Association Trust. (fn. 230)
The chapel of St. Oswald in the parish church was endowed with a bovate in the common fields, where other pieces of ground were assigned to the maintenance of lights; all these plots were granted by the Crown in March 1579–80 to Edward Earl of Lincoln and others. (fn. 231)
In 1291 the benefice was taxed as worth £54 a year, (fn. 232) but after the Scottish devastations of the time of Edward II this was reduced to £30 6s. 8d. (fn. 233) In 1535 the estimated value was £27 7s. 4d., of which 2s. was paid to the archdeacon. (fn. 234) The tithe of hay belonged to Sherburn Hospital. (fn. 235)
CHARITIES
The Poor's House Charity formerly consisted of the Church Row House, acquired in 1730 for the use of the poor. The property was sold in 1840, the proceeds being invested in £182 8s. 9d. consols.
William Andrews—as stated in the Parliamentary Returns of 1786—left £20 for the poor, now represented by £21 13s. 9d. consols.
The sums of stock belonging to these charities are held by the official trustees. The annual dividends, amounting together to £5 1s. 8d., are distributed to the poor in sums of 10s. each.
The Mingay Fund.
In 1859 Mary Mingay by her will bequeathed £100, the income thereof to be distributed in warm clothing at Christmas to poor old men and women. The legacy, less duty, was invested in £94 14s. 9d. consols, with the official trustees. The annual dividends, amounting to £2 7s. 4d., are distributed in articles in kind.
The National school has been dealt with already. (fn. 236)