Pages 321-343
A History of the County of Durham: Volume 3. Originally published by Victoria County History, London, 1928.
This free content was digitised by double rekeying. All rights reserved.
SEDGEFIELD
Ceddesfeld (x cent.); Seggefeld (xii cent.).
The parish of Sedgefield included in 1831 the townships of Bradbury, Butterwick, Embleton, Fishburn, Foxton with Shotton, Mordon and Sedgefield, and had an area of 17,480 acres. (fn. 1) The township of Foxton with Shotton was united for ecclesiastical purposes with Stillington in 1886, and that of Embleton was transferred to the parish of Grindon in 1908. The old parish area occupied the north-west corner of Stockton Ward, and was bounded on the north-west and west by Bishop Middleham and Aycliffe parishes, on the south by Stainton le Street and Redmarshall, on the south-east by Grindon, the east by Elwick and the north by Trimdon and Kelloe. Most of it is level ground, in no place rising higher than 400 ft. above the ordnance datum. It is watered by the River Skerne and its numerous tributaries, and the subsoil near the streams is Alluvium. Throughout the rest of the parish it is Magnesian Limestone. The soil is clay. About thirty-five per cent. of the total area of the parish is under cultivation, oats, wheat, barley, potatoes and turnips being the chief crops. The remainder is given up to pasture.
The small town of Sedgefield is on the main road from Stockton to Durham and near the centre of the parish. It stands on a low gravel hill, and is built round a large square in which there stood in 1794 the market cross. (fn. 2) Sedgefield became a market town in 1312, when the bishop, while reserving to himself the tolls and customs, granted his tenants a Friday market and a five days' fair yearly on the vigil and feast of St. Edmund the Archbishop and the three days following. (fn. 3) Before 1343 the Friday market had fallen into neglect, and unauthorized buying and selling took place on Sundays. At the request of the rector of the parish the bishop prohibited this custom. (fn. 4) A market was still held on Fridays in 1794 and a yearly fair on the Friday after the feast of St. Edmund the Confessor. (fn. 5) In 1830 the market was 'but nominal.' (fn. 6) A fair for the sale of swine was held on the first Friday in each month. (fn. 7) The market-place is mentioned in the 15th and 16th centuries as the 'Market gate' or 'Town gate.' (fn. 8) During the rebellion of 1569, in which the inhabitants of this parish seem to have taken an active part, the church books were carried to the 'cross in the town-gate,' and there burnt. (fn. 9)
The church of St. Edmund is on the east side of the market-place. Its churchyard is entered at the west end by a lych-gate erected in 1906, near to which is a stone cross erected in 1920 as a War Memorial. The church has associations with the rebellion of 1569, when various inhabitants set up a high altar there, brought in holy water and said mass. The high altar was afterwards destroyed by the queen's soldiers. (fn. 10)
The rectory, which stands to the south of the church, was described in 1634 as consisting of ' a hall, a parlour, certain chambers, with other houses adjoining upon the same house, a gallery, a study, a chamber fallen down, a coach house, a gatehouse, a house at the west gate, a pigeon house, a stable, a barn, an oxhouse, a hide house, a windmill, and other houses.' (fn. 11) It was almost entirely destroyed by fire in 1792, but was rebuilt for the Rev. George Barrington, rector. Over the doorway on the north side is a tablet inscribed: 'Munificentia Samuelis et Shute Barrington Quorum Unus Classis Britannicæ Præfectus Alter Ecclesie Dunelmensis Episcopus Uterque Summo Omnium Præconio.' The house is a large stuccoed building of two stories with stone slated roofs.
Cooper's Almshouses, standing on the north side of the church, form a one-storied yellow-washed brick building erected in 1703 and restored in 1868.
The manor-house, a large well-designed three-story brick building on the west side of the market-place, now used as District Council offices, has a mural sundial dated 1707. Over the mantelpiece in the boardroom is a carving attributed to Grinling Gibbons.
Adjoining the almshouses at the north-east corner of the square is the site of the old school-house of Sedgefield. A new building was erected in 1826. (fn. 12) Front Street, running east from this corner of the square, contains the Parish Institute, founded in 1849. (fn. 13) From the north-west corner of the square North End runs north and becomes the road to Durham. In West End, a street which leaves the square at the south-west, is a Wesleyan Methodist chapel, built in 1856, apparently on the site of a building dating from about 1800. (fn. 14) There was in 1857 a Roman Catholic chapel in Sedgefield dedicated in honour of St. Joseph, (fn. 15) which has now disappeared.
The curfew is still rung. There is an ancient custom to play yearly a football match between the agricultural labourers and the artisans of the town, the football being provided by the parish clerk. (fn. 16) The game is still played on Shrove Tuesday. The 'bull ring,' through which the ball has to be passed three times by the sexton before being thrown to the players, is at the end of the green. The goals are called 'alleying places' and are about a quarter of a mile apart. If the ball is not 'alleyed' by six o'clock it becomes the property of the sexton. (fn. 17)
The common fields of the township of Sedgefield were inclosed in 1636. (fn. 18)
Adjoining Sedgefield village on the north-west are the grounds of Hardwick Hall, the seat of Viscount Boyne. Amanorhouse with a 'great chamber,' a dovecot and a domestic chapel existed here in 1449, (fn. 19) and the Hebborne family had a capital messuage in 1570. (fn. 20)
Hardwick Hall is of no architectural interest, being a plain two-story building with cornice and slated hipped roofs. It stands on a slight eminence facing south, overlooking what was formerly a lake of nearly 40 acres in extent. The lake was formed about 1754 by John Burdon, who spent large sums of money in laying out the park and gardens. He formed a terrace and erected several ornamental buildings on a most sumptuous scale. These are still standing, and are of some interest as examples of the taste of the time. They include a bath-house, a temple and a banquetinghouse, all in the classic style, together with a pseudo-Gothic hermitage or library and a sham ruin representing the gateway of a mediaeval castle. This is 'furnished with a turret containing a stone newel stair by which the roof can be reached. According to the fashion of the time real ruins were robbed and mutilated to make sham ones, and Guisborough Priory was laid under contribution to supply Hardwick with Gothic details.' (fn. 21) In the bath-house, which stands at the west end of the lake, the Roman Doric order is used, in the temple the Roman Ionic, and in the banqueting hall the Corinthian and Ionic. The 'temple' stands on high ground on the south side of the lake, opposite the house, and consists of a single room 17 ft. 9 in. square inside, surrounded by a colonnade and surmounted by an octagonal leadcovered dome. In the interior occurs the inscription, 'This Temple Begun By Iohn Burdon Esq in the Year 1754 and Finished in 1757.' The banquetinghouse consists of a room 50 ft. 3 in. long by 26 ft. 3 in. in width, with a bay window at each end and an entrance hall and two smaller rooms on the north side. Over the fireplace is a portrait of John Burdon, but the marble mantelpiece and the painted ceiling have been removed, the latter to Brancepeth Castle. The hermitage is a stuccoed castellated structure of rubble and brick with a sham tower at each end. It is two stories in height, the upper floor having been the 'library'; the shelves with their dummy books remain. The lake has been drained and is now overgrown, but a piece of ornamental water of serpentine form remains on the east side of the grounds, crossed by a bridge leading to the 'ruins.'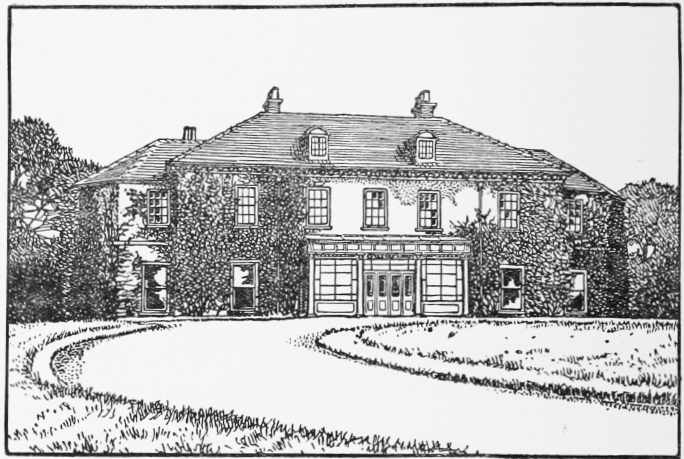 There was in 1754 no manor-house. (fn. 22) The kennels of the South Durham fox-hounds were in the grounds of the hall, before they were removed in 1922 to Rockcliffe Park. To the north-west is Hardwick Mill, now disused, on a branch of the Skerne. Hardwick millrace is mentioned in a charter, possibly of the 13th century, made by the Prior of Durham to his almoner. (fn. 23) A windmill in Hardwick is mentioned in 1573–4. (fn. 24)
South of Hardwick Hall and on the other side of a road running west from Sedgefield to Bradbury is Sands Hall, which belonged to Mr. Richard Ord, who died in 1920, and is now owned by Mrs. G. F. Hastings-Ord and Miss Muriel Ord, his daughters. This house, which stands in a park of 40 acres, was acquired by the Ord family in 1738, (fn. 25) and has since descended with the manor of Bradbury. Sands Farm, to the south-west of the hall, is mentioned as the property of Ralph Ord in 1771. (fn. 26) Near it is a race-course on which steeplechases are held yearly in March.
The road running west from Sedgefield passes on its way to Bradbury first Sedgefield station on the Ferry Hill, Stockton and Middlesbrough branch of the North Eastern railway and then Bradbury station on the main line. The small village of Bradbury, containing a Wesleyan chapel, is separated from the River Skerne on the north and west by the low ground called Bradbury Carrs. The road to Chilton and Ferry Hill crosses the stream at Bradbury Bridge. There has been a bridge here when a holding in Bradbury was charged in the 15th century towards the repair of the bridge of the vill. (fn. 27) In a grant (of the 13th century ?) made by the Prior of Durham to his almoner the following place-names in Bradbury occur: Holden Flatt, Munknowl, Renesden, Catlawe, Wineneleche, The Braches, Brademere. (fn. 28) A fish-pond and the 'infirmary' near the road to Sadberge are also mentioned. (fn. 29) 'The Braches,' or Brakeles as it was called in the 16th century, (fn. 30) is probably the farm now called Brakes on the eastern boundary of the township and near the grounds of Hardwick Hall. At the Dissolution Finchale Priory had land at 'Bradbury Hall,' its three tenements here being held by various tenants. (fn. 31)
To the south-west of Bradbury is the tract of land called The Isle, inclosed by the River Skerne and its tributaries. The house called Great Isle, now a farm-house, was for centuries the residence of the lords of Bradbury and The Isle. A survey of the 16th century describes it as containing 'a fayre hall … a fayre chymney, with one chaymer above covered with slayte, a fayre parloure, well syled and in good case of glassinge, and on it a great chaymer covered with slayte, a lobbye … a galerye covered with leade … a goodlye barn and stables.' (fn. 32) A dove-house belonging to the manor is mentioned in 1471 and 1567. (fn. 33) A water-mill existed in 1471 and two water-mills in 1636. (fn. 34)
East of The Isle is the township of Mordon, with a small village built round a green. It contains a Wesleyan chapel. Mordon Carrs, a stretch of low ground which formed the pasture of the manor in 1476, (fn. 35) lies between the village and a small stream which is the southern boundary of the township and parish. There was a capital messuage attached to the manor in 1476, (fn. 36) perhaps the messuage in the tenure of William Hixon in 1635. (fn. 37) This township was inclosed by agreement among the freeholders in 1618 (fn. 38).
Another small beck separates Mordon from the township of Foxton with Shotton to the east of it. There is no village here. A group of five farms forms the hamlet of Foxton, while Shotton consists of two. In the 16th century the estate called Shotton consisted of nothing but a capital messuage and the land attached to it. (fn. 39) In 1752, however, there were two messuages or farmholds here. (fn. 40) All the land with the exception of 12 acres was turned to tillage shortly after the Rebellion of the Earls. (fn. 41) The farms called West Layton, East Layton, Layton House and Far Layton, which lie to the north-east of Shotton in the southern part of Sedgefield township, represent the old manor of Layton. (fn. 42) A witness in 1586 declared that fifty years before there was a 'town' at Layton, and he had heard that there were six or eight houses there, though but one at the date of the inquiry. (fn. 43) In 1570 there was a capital messuage here called Layton Hall, 'built with walls of stone and roofed with slate'; it was described fifteen years later as standing east and west, but as being 'decayde and taken away utterlie.' (fn. 44) It was the seat of the Conyers family till the 18th century. Among the fields of the manor were the Wheatfield, the Hall Garths, 'Thowtefeild,' 'Westfogg' and the 'Mylneclose.' (fn. 45) No mention of a mill has been found. Two dovehouses were attached to the manor in 1635. (fn. 46)
In the West Field were Barbell leche, commonly called Knightesley close in 1585, riggs amounting to 3 acres lay on Bromerstone Hill, in the South Field, Thorney close, full of great and tall thorns, the Well leche, Stayne and Dawcken furlongs; mention is also made of Blindwell Hill, Ingersley, Cutley and Ludwell meadows. (fn. 47)
The next township to Sedgefield on the north-east is that of Butterwick and Oldacres. Here also there are only a few farms, one of which, Oldacres, was once a manor. There was a capital messuage in Butterwick in 1564. (fn. 48) In 1752 East Farm and North Farm are mentioned. (fn. 49) In 1183 the township of Butterwick paid a due of malt to the bishop. (fn. 50) There is no later reference to the malting industry.
In the extreme east of the old parish area is Embleton. The deep valley of a beck, in which were once the elm trees which are said to have given the place its name, (fn. 51) crosses the township to the east and then turns south to form the eastern boundary. St. Mary's Church, on the site of the old chapel of ease, is on the edge of the beck. Half a mile to the north-west of it is the farm-house called Embleton Old Hall, once a manor-house of the Bulmer family. The mansion-house of High Embleton is mentioned in 1653, (fn. 52) Embleton Hall in 1667. (fn. 53) Whinhouse, some distance to the west, is mentioned in 1644 as a part of Low Embleton. (fn. 54) The scattered farms of Low, Middle, and High Swainston, which lie to the south-west of Embleton Church, represent an ancient manor, (fn. 55) as do the farms of Murton and West Murton in the north of the township. (fn. 56) There was a capital messuage in Swainston in 1613. (fn. 57)
The remaining township of Fishburn lies to the west of Embleton, and is separated from Sedgefield and Butterwick by the River Skerne. The village of Fishburn has a street running east and west along a hill sloping to the south. In 1622 there were two capital messuages here, the East Hall and the New House. (fn. 58) The former was probably identical with Fishburn Hall at the east end of the street. A little further to the east is a disused mill. The mill-pond of Fishburn is mentioned in 1183 (fn. 59) and about 1384, (fn. 60) but this was probably on the Skerne to the south of the village. A messuage here called 'Carter house,' mentioned in 1570, (fn. 61) was probably the same as the Charterhouse which belonged to the Wilkinson family in 1857. (fn. 62) The temporary church of St. Catherine was dedicated 18 October 1922. The village contains a Wesleyan Methodist chapel, dating from 1846. A colliery was opened at Fishburn in 1911 by Messrs. Henry Stobart & Co., which has caused a rapid increase of population.
Between Fishburn and Sedgefield is the County Lunatic Asylum, built in 1858.
MANORS, & c.
The vill of SEDGEFIELD was purchased or repurchased by Bishop Cutheard (900–15) with money belonging to St. Cuthbert. (fn. 63) All its appurtenances, except the land held by Aculf, Ethelbriht and Frithlaf, were included in the purchase, and over the excepted land the bishop had sac and soc. (fn. 64) About 1183 the vill was held by twenty villeins, whose tenure and services corresponded to those of the villeins of Boldon, and twenty farmers, each holding 3 oxgangs, paying 5s., and doing various services roughly corresponding to those of the farmers of Wardon (fn. 65) (q.v.). There were besides five bordars who held 5 tofts and the various officers of the vill who each held a small amount of land. John the reeve, who was a farmer, had 2 oxgangs, the smith had 1 oxgang, the carpenter had 12 acres, the pinder also 12 acres. (fn. 66) The mill, which was probably in the hands of a farmer, rendered 6 marks. (fn. 67)
The statement made under Butterwick in 1183 that each plough team of the villeins there ploughed and harrowed 2 acres at Sedgefield (fn. 68) seems to indicate that Sedgefield had at that date a demesne, though none is mentioned under the special entry for the vill. It is clear, however, that in the 14th century all the services of the villeins were performed on the demesne of Bishop Middleham. (fn. 69) Halmote courts were held at Middleham or Sedgefield for Middleham, Sedgefield and Cornforth. (fn. 70) The tenure of the vill was somewhat altered between 1183 and 1384. Free tenants in 1384 held 148 acres and 'exchequer' tenants 168 acres. Twenty-five farmers or 'malmen' held 40 oxgangs instead of 60 in holdings varying from 1 to 3 oxgangs. There were still twenty bondage or villeinage tenements, each consisting of a messuage and 2 oxgangs, but in many cases a single tenement was shared by two tenants. The water-mill, a windmill and the toll of ale were in the hands of the tenants. The common oven, kiln and forge and two dove-houses were farmed by separate individuals. (fn. 71) There are many instances of leases of the mills and the forge and the oven to separate tenants from the 14th to the 16th century, and as late as 1589–90 it was maintained that the copyhold tenants must maintain and repair the mill at their own expense. (fn. 72)
The Ecclesiastical Commissioners are now lords of the manor of Sedgefield; a large part of the land is still copyhold. The freehold estates are not important. (fn. 73)
BRADBURY
BRADBURY (Brydbyrig, x cent.; Bradbery, xiv cent.) was among the vills which Snaculf son of Cykell granted to St. Cuthbert in the time of Bishop Aldhun (990–1018). (fn. 74) It is not mentioned in Boldon Book, (fn. 75) but probably formed with The Isle part of the knight's fee in Durham held by Adam de Musters in 1166. (fn. 76) Walter de Musters made a grant of land here to the almonry of Durham in the time of Bishop Hugh Pudsey. (fn. 77) Walter had three sons, Robert, Nicholas and William de Musters. (fn. 78) Robert purchased land in Bradbury and granted it to the almonry of Durham in the lifetime of his father, who confirmed the grant, as did Nicholas and William de Musters. (fn. 79) The brothers seem to have succeeded in turn to the manor, which William probably held in the early years of the 13th century. (fn. 80) The knight's fee belonged to William de Musters between 1249 and 1260, and Sir William de Musters witnessed a local deed in 1256. (fn. 81) In 1264 Sir William de Musters of Bradbury was among the knights of the bishopric. (fn. 82) In 1326 Bradbury was among the manors of William de Ayermin, Bishop of Norwich, then in the king's hands. (fn. 83) The next tenant whose name is recorded is William de la Pole, who had a grant of free warren here in 1347. (fn. 84) He settled the manor, which was held for a quarter of a knight's fee, (fn. 85) on himself and his wife Katharine in tail, (fn. 86) and died in 1365 or 1366, leaving a son and heir Michael. Katharine died before March 1381–2. (fn. 87) Michael was summoned to Parliament as a baron in January 1365–6, and was created Earl of Suffolk in 1385. (fn. 88) He was found guilty of high treason by Parliament in 1387–8. (fn. 89) His son Michael in 1391 claimed the manor of Bradbury under the settlement on William de la Pole, (fn. 90) and was created Earl of Suffolk in 1399. (fn. 91) He conveyed the manors of Bradbury, The Isle and lands in Foxton, Stillington, Fishburn, Bolum, Preston on Skerne, and Great Chilton to feoffees in 1396, and died at Harfleur in 1415, his son Michael surviving him by only a month. (fn. 92) The younger Michael had three daughters and co-heirs, Katherine, Elizabeth and Isabel. His heir male was his brother William. (fn. 93) When Isabel died in 1421 the manor was in the bishop's hands on account of the minority of her sisters and herself. (fn. 94) Elizabeth died in 1422, (fn. 95) and in the next year Katherine, at the age of thirteen, entered the house of the Minoresses in Brusiard as a nun. (fn. 96) William finally succeeded, and released the manor in 1434 to Roger Thornton the younger of Newcastle. (fn. 97)
Roger Thornton died seised of the manor in 1471, leaving a daughter and heir Elizabeth, the wife of George Lumley, (fn. 98) afterwards Lord Lumley. Her right to her inheritance was disputed by her bastard brother Giles Thornton, who was slain by Lord Lumley in a quarrel. (fn. 99) Bradbury followed the descent of Little Lumley till 1569, when John Lord Lumley and Jane his wife conveyed it to Sir George Bowes of Streatlam. (fn. 100) Sir George Bowes did homage for the manor in 1578. (fn. 101) His son Sir William surrendered it to the Crown about 1586, (fn. 102) and in 1606 it was granted to John Ramsay and his heirs. (fn. 103) This grant was superseded by another made in 1616 or 1617 to Thomas Emerson for 1,000 years. (fn. 104) Emerson's interest was acquired by Edward Manning, to whom a fresh grant was made in 1637–8. (fn. 105) A fee-farm rent of £550 was reserved on the manors of Bradbury and Hilton. (fn. 106)
In 1653 Edward and Henry Manning sold Bradbury to John Farrer, who with his son of the same name sold half of it in 1670 to Thomas Farrer, brother of the younger John. (fn. 107) Thomas Farrer, son of Thomas, sold this moiety in 1719 to Benjamin Ord of Sedgefield, (fn. 108) who also acquired the mansion-house in Sedgefield called Sands. (fn. 109) He died in 1741, his fourth son Robert succeeding him at Sands and Sedgefield. (fn. 110) Robert's son Ralph (fn. 111) was one of the landowners of Bradbury in 1771, the other being Richard Wright. (fn. 112) Richard Ord, fourth son of Ralph, purchased the Ord moiety from the devisees of his father, who died in 1806, (fn. 113) and, having already acquired the Wright moiety, (fn. 114) took the name of Wright in 1814. (fn. 115) He died intestate in 1851, his heir being his brother the Rev. Ralph Ord, who agreed to sell the manor of Bradbury to his nephew Mark son of Mark Ord. Mark Ord died in 1863; his eldest son Mark died unmarried in 1876, and was succeeded by his brother Richard, (fn. 116) who died in 1920; the present owners are his daughters, Mrs. G. F. Hastings Ord and Miss Muriel Ord.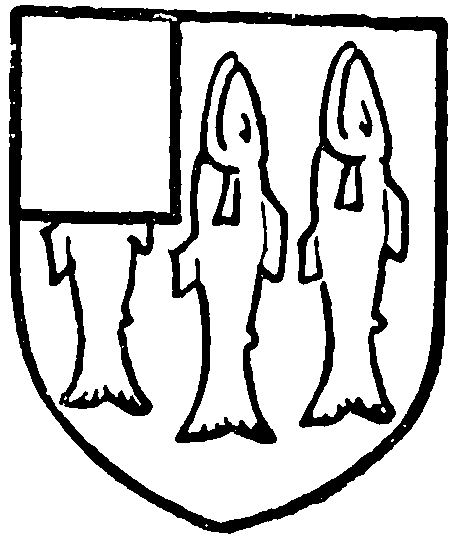 The second moiety was inherited by Rebecca daughter of John Farrer the younger and wife of Robert Wren of Binchester. (fn. 117) Her son and heir Farrer Wren sold it to Richard Wright of Sedgefield, by whose will it was left to his grand-nephew Richard Ord, fourth son of Ralph Ord of Sands. (fn. 118) Richard united the first moiety to this by purchase about 1806. (fn. 119)
John Claxton died seised of a messuage and 100 acres in Bradbury in or before 1392, the reversion of which belonged to William de Claxton of Claxton and Isabella his wife. (fn. 120) Before the death of Isabella a certain Thomas Cook claimed and entered upon this land. (fn. 121)
About 1183 BUTTERWICK (Buterwyk, xii cent.) was held of the bishop in drengage (fn. 122) by a tenant whose name is not given in the entry in Boldon Book dealing with Butterwick itself. Under Sedgefield, however, it is recorded that Utred de Butterwick paid half a mark for the land which he held there. (fn. 123) It seems probable that Utred was the dreng, and that he was responsible to the bishop for the services of the villeins—that is, 32s. 9d. cornage, one milch cow, 8 scot chalders of malt and the same measure of meal and oats; he also owed certain hunting services. (fn. 124)
At some time in the first half of the 13th century the drengage tenant, Roger son of William de Butterwick, released all claim to the vill to William son of William de Sadberge. Bishop Nicholas Farnham (1241–9) took this opportunity of changing the tenure, and granted the vill to William at a free rent of 10 marks. (fn. 125) William de Sadberge granted the vill to his nephew Robert son of Richard de Hoton, his brother Hugh confirming the grant. (fn. 126) About 1335 John de Hoton died seised of the manor of Butterwick, held in chief for 10 marks rent. (fn. 127) His heir was his brother Robert, possibly identical with the Robert de Stainton whose widow Joan held a third of the manor in dower in 1378 of the inheritance of John son of Robert de Butterwick. (fn. 128) John de Butterwick was dead in the next year. (fn. 129) His heirs and the heirs of Joan were Joan the wife of Henry Pillok and her sister Anne the wife of John de Rome. (fn. 130) Joan Pillok died a few months later seised of a moiety of the manor, which passed to her sister. (fn. 131) Anne probably married as her second husband William de Horsley, for in 1408 land in Butterwick was held of William de Horsley and Anne his wife, (fn. 132) and in 1428 they conveyed the manor to William Bellasis and Cecily his wife, who agreed to pay them an annuity of 4 marks during the life of Anne. (fn. 133) William Bellasis granted Butterwick in 1436 to his sister Catharine and her husband William Young of Acklington (co. Northumb.) and the issue of Catharine with reversion to himself. (fn. 134) William Belasis of Henknowle granted the reversion in 1462 to Richard Bainbridge, (fn. 135) to whom in 1469 Roger Young, son of Catharine, conveyed the manor. (fn. 136) Richard Bainbridge, who died in 1498, (fn. 137) had a son and heir John Bainbridge of Snotterton in Staindrop parish. Butterwick then followed the descent of Snotterton in the Bainbridge family (fn. 138) till 1573, when George Bainbridge conveyed it to Gerald Salvin of Croxdale. (fn. 139) Since that date Butterwick has remained in the posses sion of the Salvins of Croxdale (fn. 140) (q.v.), Mr. Gerard Salvin being the present owner.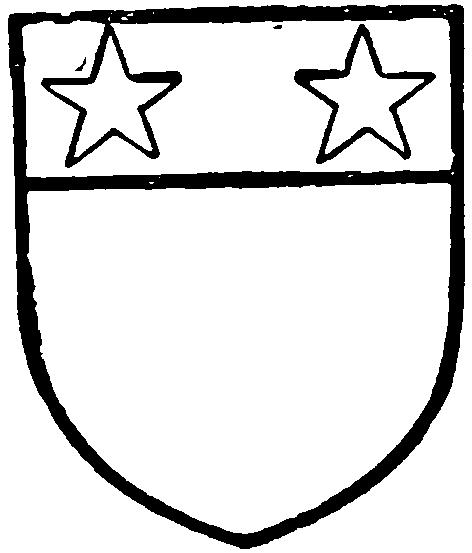 The land of St. Katharine's chantry in Butterwick was granted in 1591 to Edmund Downing and Roger Rant, the fishing grantees. (fn. 141) They sold it to William Fisher, who conveyed it to Anthony Wood of York. (fn. 142) In 1612 Anthony Wood sold his estate in Butterwick to Ralph Butler, (fn. 143) lord of Oldacres (q.v.). It subsequently descended with Oldacres. (fn. 144)
In 1199 King John confirmed EMBLETON (Elmedon to xvii cent.) to Gilbert de Hansard, whose father Gilbert had held it by grant of John de Lacy, Constable of Chester. (fn. 145) The descendants of John de Lacy, afterwards Earls of Lincoln, (fn. 146) retained an overlordship. (fn. 147) In 1290 Gilbert Hansard granted to his son Robert the manor of Newton Hansard with the vills of Embleton and Swainston. (fn. 148) A large part of the vill must have been already in the hands of free tenants, one of whom was probably the William son of Jordan de Embleton who witnessed this deed, (fn. 149) but twenty messuages, 40 oxgangs, 80 acres of meadow and 100 acres of moor followed the descent of Newton Hansard into the possession of John Nevill of Raby. (fn. 150) He granted this holding before 1400 to the Embleton family, (fn. 151) who thus became tenants of practically the whole vill.
The first Embleton about whom anything definite is known was William, who died in or about 1339 seised of one messuage 5 oxgangs in Embleton held of the Earl of Lincoln, one messuage 3 oxgangs held of the heirs of Gilbert de Heworth, and one messuage, 10 oxgangs, a garden, and eight messuages, 16 oxgangs, all held of the heirs of Gilbert Hansard. (fn. 152) His son and heir William (fn. 153) married, apparently as his second wife, Joan, one of the daughters and co-heirs of John Randolf, (fn. 154) and it was her inheritance in East Brandon, Holywell (q.v.) and elsewhere which was granted to John Nevill in exchange for his land in Embleton. (fn. 155) In 1366 William made a settlement on himself and Joan and their issue of the manor of Tursdale in Kelloe parish, with remainder to his sons William and Thomas and their issue successively. (fn. 156) John, another son of William, released all claim on Tursdale to William and Joan in 1371. (fn. 157) It appears from the inquisition on William's death taken in or about 1400 that twenty-four messuages, 80 oxgangs and 50 acres of meadow in Embleton had been settled in tail like the manor of Tursdale, while the land purchased from John Nevill was held by William for life only, as of the inheritance of Thomas de Embleton. (fn. 158) Thus, of William's three sons, John, the heir at his death, was disinherited; William must have died between 1366 and 1399, for Thomas son of William and Joan had livery of his father's lands in May 1400. (fn. 159) He was dead in August 1416, leaving a son and heir William, (fn. 160) who granted the manor in 1440 (fn. 161) to William Bowes and other trustees without licence. William Bowes and his co-feoffees regranted the manor to William Embleton before 1447, when he died seised, leaving a son William, a minor. (fn. 162) In 1450 the manor was conveyed for assurance of title by William Bowes and his co-feoffees to the bishop, who in the same year granted it to William Embleton and his issue. (fn. 163) The younger William married Margaret Claxton before 1450 and made a settlement on himself and his issue in January 1489–90. He was succeeded by his son another William, who died in 1505. (fn. 164) Elizabeth wife of William Bulmer, daughter of the last William, was his heir. (fn. 165)
Embleton now followed the descent of Tursdale in the Bulmer family till 1628, when Sir Bertram Bulmer and his son William sold 60 acres of arable, 100 of meadow and 160 of pasture to Sir Thomas Tempest, (fn. 166) a further alienation of 100 acres of arable land and a considerable amount of meadow and pasture being made to Sir William Gascoigne in 1681. (fn. 167) In 1638 Isabel widow of Sir Bertram Bulmer, her son William and Dorothy his wife alienated to John Smith, husband of William's sister Margaret, (fn. 168) 60 acres of arable and 400 acres of meadow and pasture. (fn. 169) His estates in Embleton, known as Low Embleton and Whinhouse, were sequestered in 1644–5. (fn. 170) They belonged in 1667 and 1689 to his son Sir Edward Smith, first baronet, of Esh. (fn. 171) Their later history is uncertain.
The rest of the manor, known as High Embleton and including the manor-house, belonged in 1644–5 to Anthony Bulmer, younger brother of William, for whose delinquency it was sequestered. (fn. 172) Anthony seems to have held for life only, for High Embleton belonged in 1667 to his nephew Anthony Bulmer, son and heir-apparent of William, (fn. 173) who in that year conveyed to John Hickson, Robert Surtees of Ryton and George Surtees of Colt Parke. (fn. 174) Crosier Surtees (fn. 175) sold his part in the late 18th century to William Wrightson of Sedgefield, who sold it to John Willis. (fn. 176) George Willis, son of John, was the owner in 1823 (fn. 177) and his representative in 1857. (fn. 178) The Marquess of Londonderry is now the principal landowner.
The family of Fishburn which held the manor of FISHBURN (Fissheburne, xiv cent.) were presumably the heirs of William de Fishburn, who had a knight's fee in the bishopric in 1166. (fn. 179) Ranulf de Fishburn witnessed charters of the late 12th century, and Ralph de Fishburn answered for the knight's fee in the middle of the 13th century. (fn. 180) Sir Ranulf de Fishburn was living in 1256 and was possibly identical with the Sir Randolf de Fishburn, living here, who was one of the knights of the bishopric in 1264. (fn. 181) In 1339 land in Fishburn was held of John de Fishburn. (fn. 182) Ranulph de Fishburn, presumably his heir, died in or before 1349 seised of one messuage and 100 acres with the 'lordship' held in chief by homage and fealty and half a knight's fee. (fn. 183) His daughters and co-heirs were Margaret and Elizabeth, who paid relief in 1350. (fn. 184) They seem to have sold Fishburn to William Claxton of Claxton (q.v.), who died in or about 1380 seised of the reversion of the manor, of which he had enfeoffed John de Claxton for life. It was charged with an annuity to Elizabeth and Margaret de Fishburn. (fn. 185) Robert de Claxton, William's grandson and last male heir, (fn. 186) granted the manor in 1476 to Ralph Claxton and Elizabeth his wife for their lives. (fn. 187) Elizabeth survived Ralph and lived till 1500, when Fishburn reverted to the daughters and co-heirs of Robert Claxton. (fn. 188) It was subsequently held in thirds by the representatives of three of the daughters, Margaret wife of William Embleton, Elizabeth wife first of Richard Conyers and then of Robert Pilkington, and Phyllis wife of Ralph Widdrington. (fn. 189)
The share of Margaret followed the descent of Embleton (q.v.) into the possession of the Bulmer family. In 1602 Bertram Bulmer conveyed it to John Ord, (fn. 190) who died in possession in 1625, leaving a son and heir Bertram. (fn. 191) In 1649 Bertram Ord granted all his lands in Fishburn to Clement Woodifield of Mainsforth. John Woodifield acquired 60 acres of meadow and pasture land from William Crags and Margaret his wife in 1658. (fn. 192) In 1695 John Woodifield and Jane his wife conveyed a messuage, a mill and 2 acres in Fishburn to Laurence Sourby, and in 1709 John Woodifield of Fishburn acquired the manor of Trimdon (fn. 193) (q.v.). His daughter and heir Elizabeth married William Beckwith, (fn. 194) and this part of the manor has descended with Trimdon to the present owner, Mr. H. J. Beckwith of Millichope Park, Salop. (fn. 195)
Elizabeth Claxton had by her first husband a son Robert Conyers, who succeeded her in 1507. (fn. 196) In 1530 her part of the manor was held by Christopher Conyers of Horden, son of Robert. (fn. 197) Before 1559, however, it was alienated by the Horden branch to Cuthbert Conyers of Layton. (fn. 198) It followed the descent of Layton, and was left by Ralph Conyers (fn. 199) in 1642 to be sold for the benefit of his daughter Eleanor, who was both 'a papist and a recusant.' (fn. 200) It was still unsold in 1644, when it was sequestered among the possessions of Colonel Cuthbert Conyers. (fn. 201) In 1658 John Conyers of Layton and Nicholas Conyers of Bowlby, his cousin, (fn. 202) sold all their land in Fishburn, late of Sir Ralph Conyers, to John Woodifield and Richard Wright. (fn. 203) The estate was still under sequestration, (fn. 204) and it is not certain that the purchasers came into actual possession. It seems probable, however, that this sale united the Conyers' share of the manor to that of the Bulmers and that it subsequently descended in the Woodifield and Beckwith families.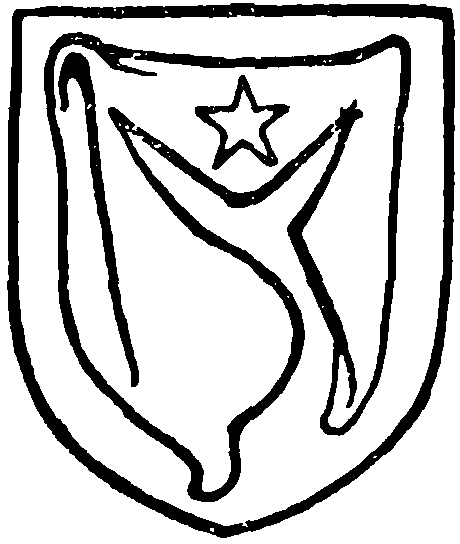 The third share followed the descent of Haswell in Easington (q.v.) in the Widdrington family. (fn. 205) John Widdrington died seised of it in 1571, leaving a son and heir Henry. (fn. 206) In 1572 a settlement was made by Henry and his brothers Robert and William Widdrington. (fn. 207) In 1581 or 1582 Robert Widdrington did homage for this third. (fn. 208) It was perhaps sold by him to Robert Farrow, who held it in 1618 and died seised in 1622. (fn. 209) His son Robert died a few months later, leaving a son and heir another Robert, (fn. 210) who, according to Surtees, made a settlement of his Fishburn lands in 1632 and died in 1674. (fn. 211) He is said to have been succeeded by a son Nicholas who died in 1688, a grandson Nicholas who died in 1710, and a greatgrandson Nicholas who died in 1759. (fn. 212) Nicholas Chilton, nephew of the last owner, inherited the estate, (fn. 213) which in 1834 belonged to Farrow Chilton. (fn. 214) Miss Chilton of Fishburn Hall died in 1839. (fn. 215) Her estate belonged in 1857 to Robert Hall Nayler and John Giles. (fn. 216) In 1878 the property was acquired by the Chaytor family. Sir Walter Chaytor, bart., of Croft, was succeeded in 1913 by his brother Sir Edmund H. Chaytor, who is owner of Fishburn Hall, now a farm house, and land here.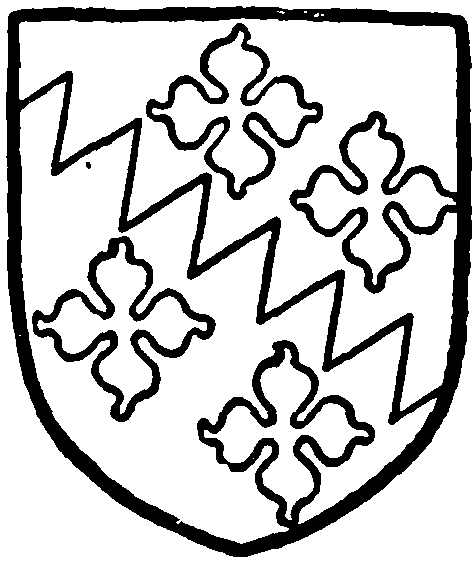 A holding in Fishburn consisting of 100 acres of arable land and 2 acres of meadow belonged in the middle of the 14th century to William de la Pole, who held it of the Fishburn family for a pound of pepper. (fn. 217) It followed the descent of Bradbury (q.v.) in the de la Pole, Thornton and Lumley families (fn. 218) till January 1557–8, when John Lord Lumley granted his estate here to Robert Ayton. (fn. 219) Ten years before Robert Ayton had had a grant of 660 acres of arable land, meadow, pasture and moor here from Thomas Burton and Grace his wife and Ralph Fishburn. (fn. 220) He died in 1558, leaving daughters and heirs Alice and Elizabeth. (fn. 221) Alice was the wife of Robert Farrow, who later acquired one-third of the manor, and her share was settled on Robert Farrow jun., son of Robert, in 1571. (fn. 222) It subsequently followed the descent of the Farrow lands as above described. Elizabeth married William Heighington, (fn. 223) and left a son and heir Richard. (fn. 224) In 1599 Richard and his wife Eleanor with John Girlington and Christian his wife sold six messuages and 800 acres of arable land, meadow and pasture to Joan Lee, widow, (fn. 225) whose son was described as 'of Fishburn' in 1615. (fn. 226) John Lee with Robert Ridlington and Jane his wife in 1629 conveyed some 590 acres of arable, meadow and pasture land here to Sir Robert Bindloss kt., whose lands here were sequestered in 1645. (fn. 227) The later history of this estate is uncertain. Some land in Fishburn was retained by Richard Heighington, who settled it on his son Henry in 1601. (fn. 228) Jane daughter and heir of Henry married Robert Mason. (fn. 229) Land here charged for a charitable purpose by William Mason in 1696 belonged in 1830 to John Chilton, John Richardson and William Beckwith. (fn. 230) Jane, Anne and Joan Mason, spinsters, conveyed 120 acres in Fishburn to George Wardell in 1722. (fn. 231)
In or about 1350 John Heron died seised of a messuage and 6 oxgangs in Fishburn held of the lord of Fishburn by a rent of 2s. (fn. 232) This holding subsequently descended with the manor of Great Chilton in Merrington parish (q.v.) in the families of Boys and Bowes till the 16th century. (fn. 233) In 1524 Margery Bowes died holding the Bowes moiety in dower, the reversion belonging to her grandson George Bowes. (fn. 234) Before 1558 this had been acquired by Robert Ayton, (fn. 235) the descent of whose lands (fn. 236) it subsequently followed. Robert Ayton was also seised of a messuage and 80 acres held of the heirs of Robert Claxton for a rent of 12d., which may represent the Boyes' moiety. (fn. 237)
Two messuages and 230 acres of arable, meadow and pasture in Fishburn were acquired in 1633 by Richard Read, sen. and jun., from Thomas Bone and Margaret his wife, who had purchased them from John and Margery Eden. (fn. 238)
Another unconnected conveyance is that of two messuages and 600 acres made by Edward Shipperdson and Margaret his wife in right of Margaret to William Pye in 1741. (fn. 239)
Land in Fishburn which had belonged to the collegiate church of St. Andrew, Auckland, was conveyed in 1607 by Anthony Cradocke and William Williamson to Lionel Ord of Fishburn, (fn. 240) who granted it in the next year to his son Mark Ord. (fn. 241) In 1699 part of this land was sold by William Ord to Richard Thompson of Billingham. (fn. 242)
In 1359 the 'lordship' of the vill of FOXTON (Foxden to xvi cent.), with 20s. rent from free tenants, was held in chief by Thomas de Seton, (fn. 243) whose grandson John de Carrow died in possession of the rent in or about 1386. (fn. 244) His heirs, the families of Seton and Sayer, (fn. 245) continued to hold the manorial rights here. (fn. 246) Thomas Seton conveyed his share to William Hoton of Hardwick in 1426. (fn. 247) John Sayer of Worsall (Yorks.) received a rent of 9s. from land in Foxton as late as 1635. (fn. 248)
William de la Pole received a grant of free land on his land here and elsewhere in 1346, and the tenants in demesne of the land in the vill of Foxton in 1387 were Michael de la Pole, who paid a rent of 2s., John Elstob, who paid 6s. 6d., Robert Elstob, who paid 7s., and Richard Raper, who paid 4s. 6d. (fn. 249) The Elstob family, the nucleus of whose holding may have been land granted by Walter and his son Robert de Berveclose to John Elstob in 1302, (fn. 250) seem to have acquired by degrees most of the vill. In the early 15th century (fn. 251) John Elstob bought a messuage and 36 acres of land from Walter de Beaulieu and a messuage and 24 acres from Thomas Dyson. (fn. 252) These lands were given by a John Elstob (fn. 253) to his son Robert, who in 1454 conveyed them to John Chapman. (fn. 254) William Elstob, probably an elder son of John and head of the family, then put in a claim. The matter was submitted to arbitration, with the result that John Chapman retained the lands for life, with reversion in default of his issue to William Elstob. (fn. 255)
Between 1470 and 1535 the lands in Foxton held in 1387 by Michael de la Pole, which amounted to 115 acres and 2 oxgangs and had descended with the manor of Bradbury (fn. 256) (q.v.), came into the possession of the Elstob family. Ralph Elstob, son of Robert and perhaps grandson of William, married Elizabeth daughter of John Sayer of Worsall and was the tenant in 1535. (fn. 257) John his son and heir (fn. 258) made an agreement in 1542 not to dispose of his lands without the consent of John Sayer. (fn. 259) John Elstob died in 1600 or 1601, leaving a son and heir also called John (fn. 260); his lands in Foxton were extended at 228 acres and 2 oxgangs. (fn. 261) Charles Elstob, son of the younger John, (fn. 262) compounded for his estates here in 1645. (fn. 263) He died in 1666 and was succeeded by his son John, (fn. 264) whose son John died unmarried in 1726. (fn. 265) Anne, only surviving sister of the lastnamed John, married Humphrey March, and, after cutting an entail in 1732, she in or about 1746 joined with her only son John March (fn. 266) in selling the Foxton estate of the Elstobs to Carlton Carr of Haughton le Skerne. (fn. 267) Carlton Carr left it to his wife Elizabeth for her life with remainder to his nephew Robert Bates. (fn. 268) Elizabeth purchased the reversion, (fn. 269) and with her second husband William Alexander, M.D., sold Foxton at some date between 1794 (fn. 270) and 1823 (fn. 271) to William Russell of Brancepeth. It has since descended with Brancepeth (q.v.), Viscount Boyne being the present owner.
In 1609 it was found that Ralph Elstob, third son of Ralph and Elizabeth Elstob, (fn. 272) had died seised of two messuages, two husband lands and 115 acres of land, meadow and pasture in Foxton, perhaps the ancient holding of the Poles. His grandson and heir George was outlawed for the murder of Robert Robinson, and these lands were in January 1609–10 bought by Robert Laverocke. (fn. 273) In 1618 Robert Laverocke died, leaving them to Robert Elstob, his daughter's son, (fn. 274) with contingent remainders to his brother and sister, Ralph and Mary Elstob. Robert and Anne Elstob in 1637 sold two messuages and land here to William Power and Thomas his son and heir. (fn. 275)
The Templars had a holding in Foxton which possibly originated in a grant made by Adam de Elstob in 1304. (fn. 276) In 1312 it was in the king's hands owing to the dissolution of the order. (fn. 277) It afterwards passed to the Knights Hospitallers, and seems to have been attached to the preceptory of Chibburn in Widdrington, Northumberland. John Watkinson held a messuage and 3 acres here of the Master of the hospital of Chibburn in 1391. (fn. 278) At the Dissolution, however, the Foxton lands were attached to the preceptory of Mount St. John. They were leased by Edward VI to Richard Smith, and by Elizabeth to John Baptist Chastillion in 1561, and to Ralph Westhrope in 1577. (fn. 279) In 1590 they were granted with the manor of Hardwick (q.v.) to George Freville, who died in 1619 seised of a messuage, 80 acres of land, 50 of meadow and 200 of pasture in Foxton. (fn. 280) His nephew Nicholas (fn. 281) conveyed land here and in other places, including Shotton, to Sir John Calverley, Gerard Salvin and John Calverley, gent. (fn. 282) It is probable that the Foxton lands followed the descent of Shotton, and so came ultimately to William Russell of Brancepeth; Viscount Boyne now owns the whole of Foxton.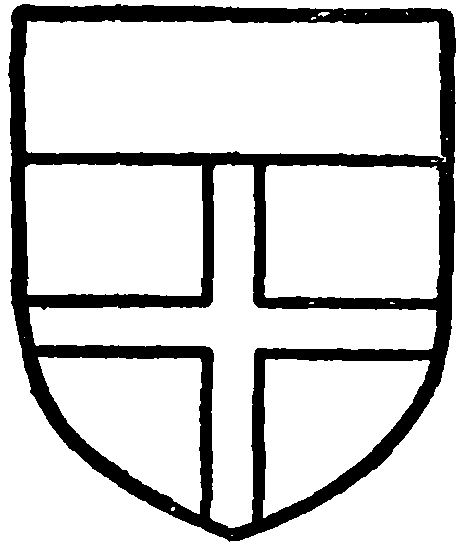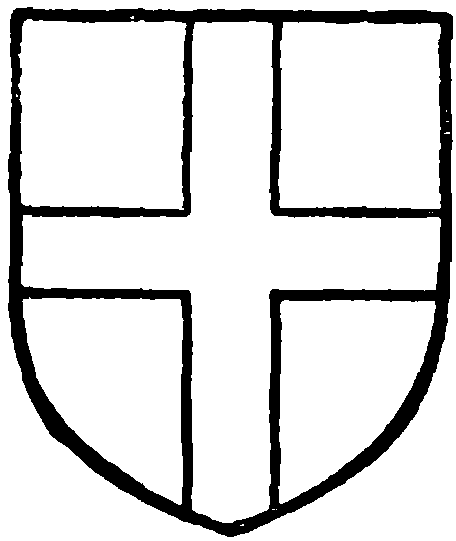 HARDWICK
HARDWICK (Herdewyk, xii cent.) was held of the bishop in 1183 by a free tenant William for a rent of 10s. (fn. 283) This was perhaps the William de Hardwick who gave 5 acres and a toft and croft in the western part of his vill of Hardwick to the priory of Durham. (fn. 284) This holding was granted by Prior Thomas de Melsamby (1233–44) to John de Hardwick and his heirs to hold at a yearly rent. (fn. 285) John was probably lord of Hardwick at that date. His successor seems to have been Peter de Hardwick, whose son Peter made an agreement with the almoner of Durham in 1267 with regard to the almoner's access to his tillage ground over a plot 'betwixt Wulriging and Herdwyk marsh.' (fn. 286) Peter was still living in 1294 and 1299. (fn. 287) John son of Peter de Hardwick was in prison at Beverley in 1313, (fn. 288) and Peter de Hardwick and his son William were jurors in a suit concerning land in Sedgefield in the following year. (fn. 289) It seems probable, therefore, that the John de Hardwick from whom William de Hardwick acquired the manor of Oldacres (q.v.) in the first half of the 14th century was William's brother. In 1315 Roger de Butterwick was pardoned for acquiring the lands of William de Hardwick in Hardwick without licence. (fn. 290) It appears from the inquisition held in 1343 on the death of William that Roger had acquired a life interest in the manor. (fn. 291) He enfeoffed of it Adam Kalinghird, chaplain, who conveyed it to Iseult de Hardwick, mother of William. (fn. 292) On the death of Roger before December 1343 the manor passed to Lucy and Alice, twin daughters and heirs of William de Hardwick. (fn. 293) John de Woodham (Wodom), husband of Lucy, had livery in that month of his wife's moiety. (fn. 294) In the inquisition taken on the death of Roger de Butterwick the free rent of the manor is given as 6s. 8d., (fn. 295) though in the writ of seisin it is given as 10s., (fn. 296) the rent in Boldon Book. (fn. 297) This confusion is perpetuated in later inquisitions, where the shares of the representatives of Lucy and Alice are said to be held by a rent of 3s. 4d. each, (fn. 298) a fact which probably accounts for their being sometimes called thirds instead of moieties of the manor. (fn. 299)
Lucy wife of John de Woodham is said to have had a son Robert who granted her land here and in Oldacres to John Elstob. (fn. 300) John Watkinson of Elstob died seised of half these manors before September 1391, his kinsman and heir being John Elstob, probably of the family of Elstob of Foxton. (fn. 301) In 1404 John Elstob, rector of Woodeaton in Oxfordshire, released to Thomas Cramlington and his grandson Thomas Burton all right to land here held by the elder Thomas. (fn. 302) Thomas Cramlington was dead in 1408, when a 'third' of the manor of Hardwick appears among his possessions. (fn. 303) His heir was his daughter Alice wife of Robert de Burton, (fn. 304) who probably sold her lands here to the owners of the second moiety of the manor, since the whole was in the hands of William Hoton in 1441. (fn. 305)
Alice the second daughter of William de Hardwick married John de Shotton, (fn. 306) but it seems probable that her interest was conveyed to another family bearing the name of Hardwick. As early as 1308 Richard son of John de Hardwick and Isabel his wife had obtained from Richard son of Robert de Hardwick a release of all claim to land held by Robert at his death, and also of all claim to the land held by Castilia widow of John de Hardwick in dower. (fn. 307) Richard de Hardwick died in or about 1341, when John his son and heir was but eighteen months old. (fn. 308) John de Hardwick was a free tenant here about 1384 (fn. 309) and died in or about 1396 seised of one messuage, two tofts, 100 acres of land and meadow and a toft and 3 acres called Harpor Place in Hardwick, all held by a free rent of 3s. 4d. (fn. 310) His heir was his daughter Agnes, wife of Gilbert de Hoton, (fn. 311) whose heir at his death about 1400 was a son John. (fn. 312) Agnes's second husband was John de Killinghall, who was holding in her right at his death about 1416. (fn. 313) John de Hoton must have died without issue, for William son of Gilbert de Hoton succeeded to his father's lands (fn. 314) and was in possession of the manor of Hardwick in 1441. (fn. 315) William executed a settlement of the manor, except the great chamber, the chapel and certain lands and buildings, on his wife Alice for life, with remainder to his daughter Isabel and her issue, Thomas Hoton, chaplain, his brother, William Hardwick of London and others. (fn. 316) William Hoton was dead in 1449. (fn. 317) Alice lived till February 1500–1, when the manor descended according to the settlement to John Hebborne, son of her daughter Isabel. (fn. 318) The part reserved by William Hoton for himself was naturally also inherited by the Hebbornes. (fn. 319) John Hebborne was succeeded by his son Richard, (fn. 320) who died in March 1559–60, leaving a son and heir Anthony, (fn. 321) attainted in 1570. (fn. 322) The manor was then farmed by Henry Lawson. (fn. 323) In March 1573–4 George Freville obtained a lease of it for twenty-one years, (fn. 324) and after a subsequent lease for life he received in 1590 a grant of the reversion. (fn. 325)
George Freville died childless in 1619, leaving his lands to his younger nephew Nicholas. (fn. 326) In 1645 Nicholas compounded for his Hardwick estate. (fn. 327) He died in 1674, (fn. 328) leaving three daughters and co-heirs, Elizabeth, Mary, and Margaret widow of Thomas Lambton. Freville Lambton, son of Margaret, had Hardwick by the will of his grandfather. (fn. 329) He and his mother, then the widow of Nicholas Conyers of Biddick Waterville, made a settlement of the manor in 1687. (fn. 330) His son and heir Thomas had six daughters and co-heirs, Barbara, Dorothy, Thomasina, Philadelphia, Margaret and Elizabeth. (fn. 331) They sold Hardwick in 1748 to John Burdon, (fn. 332) who in 1780 conveyed it to William Russell, retaining a life interest. The manor has since belonged to the owners of Brancepeth Castle.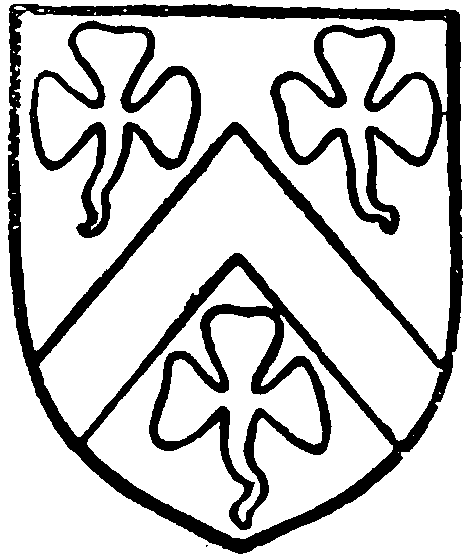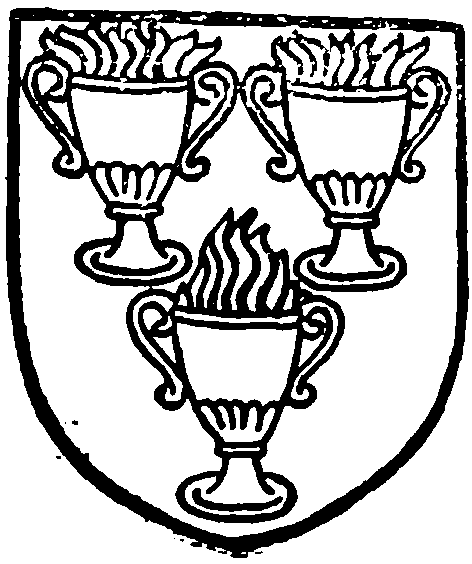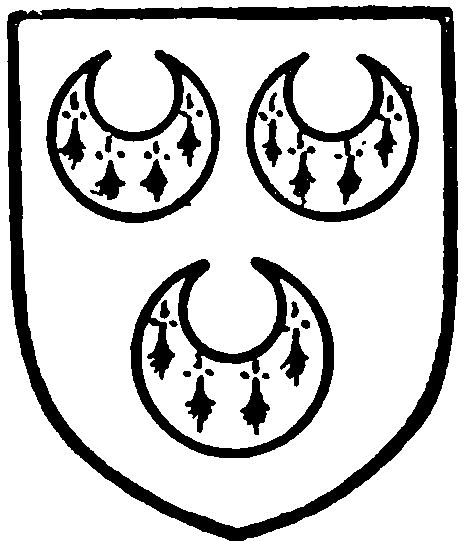 THE ISLE
THE ISLE is first mentioned as 'the island of Bradbury,' which about 1183 Gilbert the chamberlain was bound to warrant to the bishop, receiving in return the service of Ralph Canute of Bushblades. (fn. 333) From the 14th century onwards The Isle appears as a separate manor held by the lords of Bradbury, who perhaps had a residence there, for a quarter of a knight's fee. (fn. 334) In 1471 the manor was extended at 100 acres of arable land, 20 acres of meadow, 100 acres of pasture, a water-mill and a dove-cote. (fn. 335) In 1567 John Lord Lumley conveyed The Isle to Sir Thomas Wharton, probably for the purpose of a sale to Sir George Bowes of Streatlam. (fn. 336) Sir George and his son Sir William in turn held this manor, which was sold by the latter to Cuthbert Buckle. (fn. 337) Christopher son of Cuthbert Buckle succeeded his father in 1594; (fn. 338) he conveyed it in 1635 to William Lambton and others, trustees for Thomas Tempest, who settled it in 1642 on himself for life with subsequent provision for the payment of his debts, and remainder to his son John and his issue by Elizabeth Heath. (fn. 339) John Tempest and William his son and heir conveyed the manor and land here to William Bigg in 1680, and four years later it was bought by John Turner of Kirkleatham, Yorks., (fn. 340) who in September of the same year settled it on the marriage of William his younger son with Mary daughter of Sir David Fowlis. (fn. 341) Mary Turner of Stainsby, widow of William, and John her son made a conveyance of the manor in 1706, and in 1709 it formed John's marriage settlement. John Turner died in 1741 leaving as his co-heirs his sisters Catherine wife of Charles Slingsby, Mary, Elizabeth wife of Joseph Storr, clerk, and Anne wife of George Buckley. (fn. 342) The co-heirs sold the manor in February 1741–2 to John Tempest and The Isle then descended with Old Durham until 1823, when the Marquess and Marchioness of Londonderry sold it to John first Lord Eldon. (fn. 343) The present Earl of Eldon is now the owner.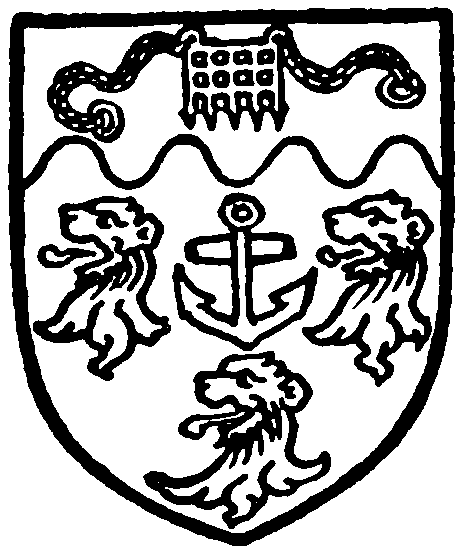 The overlords of LAYTON (Laton to xv cent.) were the family of Amundevill. The manor was said to be held of Robert de Amundevill in 1348, (fn. 344) of John Amundevill in 1435 and of his heirs in 1499. (fn. 345) Usually the 'heirs of Mundevil' are said to be overlords. (fn. 346) The tenants in demesne rendered as relief to the Amundevills one barbed arrow. (fn. 347) These tenants were probably in the 13th century the Laytons, lords also of Hetton le Hole. Gilbert de Layton, a knight of the bishopric in 1264, lived at Layton and was succeeded by a son William, lord of Hetton in 1268. (fn. 348) The manor of Layton appears to have been settled on Cecily widow of a Layton of Hetton who married as her second husband Peter de Brackenbury. (fn. 349) She died in or about 1370, when it was inherited by William de Layton, son of her son Thomas. (fn. 350) William married Isabel, lady of Horden (q.v.) and widow of William de Claxton, and had a daughter and heir Elizabeth, who married Peter Tylliol. (fn. 351) On the death of Peter in January 1434–5 his son Robert Tylliol succeeded. (fn. 352) Robert died in the following autumn; he left two sisters and coheirs, Isabel wife of John Colville and Margaret wife of Christopher Moresby, (fn. 353) who held the manor in moieties. (fn. 354) Isabel in 1439 left a son and heir William, who seems to have taken the name of Tylliol. (fn. 355) He died in 1479, leaving two daughters and co-heirs, Phyllis and Margaret. (fn. 356) Phyllis married William Musgrave, (fn. 357) and Margaret his brother Nicholas Musgrave. (fn. 358)
The three shares in which the manor was held in the 16th century were loosely called thirds, one of which belonged to the Moresbys and one to each branch of the Musgraves. Cuthbert Musgrave, son of Phyllis and William, died seised of one third in 1533. (fn. 359) His son and heir Mungo (fn. 360) was succeeded in March 1540–1 by his son another Cuthbert, (fn. 361) who probably sold his lands here to Cuthbert Conyers, seventh son of Sir William Conyers of Sockburn. (fn. 362) The share of the other branch of the Musgraves has not been traced, but was probably also bought by the Conyers family. (fn. 363) The remaining third was inherited by Christopher Moresby, son of Margaret and Christopher, in 1460, (fn. 364) and by his son Christopher in the next year. (fn. 365) The younger Christopher died seised of a third of the manor in 1499, leaving a daughter and heir Anne, who married Sir James Pickering. (fn. 366) This share must also have come into the possession of Cuthbert Conyers, who by will dated 1559 entailed his lands including the manor of Layton on his sons in succession. (fn. 367) His eldest son and heir was Ralph Conyers, (fn. 368) who was attainted for his part in the rebellion of 1569. His life interest in the manor was consequently forfeited to the Crown. Leases for twenty-one years were made in February 1572–3 and February 1574–5 to Thomas Cotton, and in December 1575 and May 1593 to Ralph Conyers himself, who had acquired Cotton's interest. (fn. 369) The manor was charged with annuities to George Conyers and to Mary Conyers, widow of Cuthbert. (fn. 370)
Ralph Conyers died in January 1605–6, when the manor passed to his nephew Ralph, son of his brother John, who acquired a messuage and land here in 1612 from John Eden, Margery his wife, John Machell, Margaret his wife, and Anne Babington. (fn. 371) Ralph's son Cuthbert (fn. 372) fought for the king, and his lands were under sequestration in 1644. (fn. 373) His son John (fn. 374) was in possession of Layton in 1662 (fn. 375) and died in 1690, (fn. 376) leaving a son and heir Thomas, who married Elizabeth Thomlinson of Birdforth, Yorks. (fn. 377) Their son George died without issue, as did his brother John, a recusant, in 1748. (fn. 378) The heirs of John were the representatives of Anne and Helen, sisters of the Royalist Colonel Cuthbert Conyers. (fn. 379) Helen was the wife of Thomas Maire of Hardwick, and her grandson Thomas was her representative in 1748. (fn. 380) The representative of Anne at that date was George Baker, her great-great-grandson. (fn. 381) In 1771 John Maire, younger son and ultimate heir of Thomas, (fn. 382) sold his moiety to George Baker, (fn. 383) who conveyed the whole manor to William Russell of Brancepeth in 1793. (fn. 384) It descended with Brancepeth to Viscount Boyne. (fn. 385)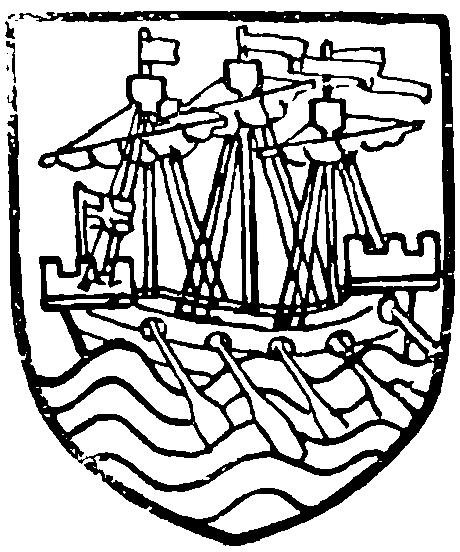 The vill of MORDON (Mordun, x cent.; Mor den, xvi cent.) was granted with Bradbury (q.v.) to St. Cuthbert by Snaculf son of Cykell. (fn. 386) The Harpyns and their successors, tenants of most of the land in the vill, held in chief.
In the middle of the 13th century Richard de Harpyn held half a knight's fee here and half a knight's fee in Thornley (q.v.). (fn. 387) In 1312 Lora widow of Richard de Harpyn claimed dower in the manor of Thornley and in twelve messuages 12 oxgangs and 17d. rent in Mordon against William, Nicholas and John de Kelloe, guardians of her husband's brother and heir John. (fn. 388) John may probably be identified with John son of Richard Harpyn whose name occurs in 1321. (fn. 389) This holding seems to have represented two-thirds of the vill of Mordon. John son of Henry de Kelloe, who had apparently obtained some interest in land here as in Thornley (q.v.), settled 'three parts' (fn. 390) of the manor of Mordon on himself and his sister Elizabeth in February 1344–5. (fn. 391) Three years later John and Elizabeth established a chantry of three priests in the church of Kelloe, charging their lands here and in Thornley for the purpose. (fn. 392) John de Kelloe granted the knight's fee here to John Harpyn at some time before his death in or about January 1348–9, (fn. 393) and Elizabeth in 1352 made an agreement with Thomas Harpyn, son of John Harpyn, whereby she confirmed her land in Mordon to John Harpyn, father of Thomas, and to John his son, they undertaking the support of two of the chantry priests. (fn. 394) John Harpyn, father of Thomas, died seised of twothirds of the manor, said to be held in chief for half a knight's fee. (fn. 395) Thomas, according to an inquisition of 1353, died seised of the same amount burdened with the rent-charge. (fn. 396) A later inquisition stated, however, that he possessed the whole manor for a third part of a knight's fee, (fn. 397) the additional third being probably the part acquired from Elizabeth de Kelloe. Mordon followed the descent of Thornley (q.v.) in the Harpyn, Lumley and Trollop families. (fn. 398) Robert Tempest of Holmeside must have had some interest in the manor in 1561 when Cuthbert Conyers held land in Mordon of him and John Trollop. (fn. 399) In 1570 both John Trollop and Robert Tempest were attainted. The manor of Mordon was surveyed among the lands of Trollop, and three tenements 11 oxgangs in Mordon among the possessions of Tempest. (fn. 400)
Queen Elizabeth seems to have made an immediate grant of the manor, for in July 1570 Sir George Bowes and Edmund Smithson, clerk, had a grant of half of it from Stephen Skilbecke and Anne his wife and Miles Lonsdale and Ellen his wife and the heirs of Anne and Ellen. (fn. 401) Rents and services from free tenants in Mordon were due to Robert Bowes of Aske in Yorkshire in 1594, (fn. 402) to the heirs of Robert Bowes in 1615, (fn. 403) and to the heirs of Ralph Bowes ten years later. (fn. 404) The Bowes family probably sold the manor to the Martins of Durham. (fn. 405) Dorothy wife of Nicholas Fewster and her co-heir Anne Martin conveyed 55 acres of arable, meadow and pasture land to John Martin in 1677. (fn. 406) John Martin left land in Mordon to his son Joseph in 1713, (fn. 407) and in January 1724–5 Joseph Martin and Eleanor his wife conveyed the manor to John Hodgson (Hodshon) and Read Hodgson his son. (fn. 408) Four months later John Hodgson of Witton le Wear with his wife Mary and Read Hodgson conveyed it to William Hustler and John Hodgson of Bishop Auckland, (fn. 409) perhaps for the purpose of a settlement. William Hodgson, son and heir of Read, succeeded in or about 1738 and sold it in 1766 to John Ward of Billingham, (fn. 410) whose daughter and heir Ann married William Sleigh of Stockton, captain in the 19th Regiment of Foot in 1785. (fn. 411) Ten years later William acquired a messuage and lands in Mordon and Bradbury, once the property of John Elstob, from Thomas Austin of Durham, son and heir of the Rev. Thomas Austin by Anne Watson his wife. In 1806 Sleigh bought part of the Reed estate, and he further purchased 20 acres in Mordon from George Hutchinson and Charlotte Barbara his wife in 1814. The property thus obtained he bequeathed to his wife by his will of 1825. She, by her will of 1833, bequeathed both the manor and this additional land to her trustees for sale, and the whole was purchased in 1858 by the trustees of Lord Eldon. The present Lord Eldon is now lord of the manor. (fn. 412)
In 1790 Richard Wright had land here that may have formed part of the estate of William Sleigh, and in that year he bequeathed it to Margaret his wife for life with remainder to his godson Richard, fourth son of Ralph Ord, which Richard Ord took the surname of Wright. This land then followed the descent of Bradbury and was sold by the Rev. Ralph Ord to Mark Ord in 1852, Mark selling it in 1861 to the trustees of the Earl of Eldon. It still forms part of the Eldon estates. (fn. 413)
Ten oxgangs of land here seem to have formed part of the heritage of Agnes wife of Robert de Burnigill and probably daughter and co-heir of Sir Walter de Andre, another portion being held by Emma wife of Walter de Craumers as another co-heir. (fn. 414) In 1259 Robert and Agnes exchanged their land with Roger son of Sir William de Lumley by Julian the third coheir, the transaction being completed in the following year. (fn. 415) The Burnigills, afterwards lords of South Biddick in Houghton le Spring, retained the lordship of a manor of Mordon that was held of them in the 14th century by a family taking its name from the place. William de Mordon died about 1361 seised of this manor, which he held for a quarter of a knight's fee, and of 1 acre of land in Mordon held in chief by one-hundredth part of a knight's fee. (fn. 416) His son and heir William (fn. 417) died eight years later, leaving a son William, a minor. (fn. 418) The younger William appears to have granted the manor, charged with an annuity of 2 marks to his son John, to Peter de Mordon, who died in possession in or about 1419. (fn. 419) Peter's heir was his nephew John de Spence, son of his sister Elizabeth, who died in 1421, (fn. 420) leaving a brother and heir Robert. No later mention of this manor has been found, however. Very little land was attached to it, and there is nothing to show what services were due to its lords.
Several small estates in Mordon passed during the 17th and 18th centuries into the possession of the Reed family. A messuage and 3 oxgangs held in socage were sold by Bartholomew Hetherton and Alice his wife to Edward Rey or Raye in 1599. (fn. 421) In 1602 they were conveyed by Edward and William Raye to William Sayer of Houghton le Spring, (fn. 422) perhaps the William Sayer who was concerned in a dispute with John Welbury about land in Mordon in 1619. (fn. 423) A William Sayer died in 1620 seised of a messuage and 180 acres of land here, leaving a son Samuel. (fn. 424) The messuage and 3 oxgangs purchased from the Rayes, however, were granted by Elizabeth widow of William Sayer to James Wood of Layton and his wife Catherine Sayer, daughter of William, (fn. 425) and this property is identified by Surtees (fn. 426) with a messuage and 3 oxgangs granted in 1673 by John, Elizabeth and Bryan Harrison to Richard Reed of Mordon. (fn. 427) The Reed family also acquired land from Thomas Martin before 1689. (fn. 428)
In 1615 John Wheatley died seised of a messuage and 4 oxgangs, including the Croft Hill and Mill Hills, (fn. 429) in Mordon, formerly parcel of the possessions of John Trollop. (fn. 430) His son and heir William (fn. 431) left them to his nephew, Wheatley Garthorne, who in 1697 granted them to William Reed. (fn. 432)
The Shutwell family were said to be tenants by indenture under John Trollop in 1570, (fn. 433) and John Trollop and Robert his son sold land here to Robert Shutwell in December 1544. In 1586 Thomas Shutwell granted two messuages and 52 acres in Mordon to his son Thomas, (fn. 434) who was succeeded in 1622 by his son Bartholomew. (fn. 435) Thomas Shutwell of the Red House with Isabel his wife, Robert Shutwell his son, and other members of his family were parties to an indenture with Robert Reed of Framwellgate in 1686, and in 1692 Robert Shutwell conveyed Mordon Red House to William Reed of Framwellgate. (fn. 436) A further conveyance was made by Robert Shutwell and his step-sister Margaret to Thomas Thompson in 1706, and three years later Thompson conveyed the property to Peter Marley jun. of Gateshead. The trustees of the will of John Marley of Gateshead sold it to Thomas Reed of Framwellgate in March 1736–7, (fn. 437) and this land also came into the possession of Lord Eldon.
Richard Elstob of Mordon bought a messuage and 2 oxgangs from Robert Bowes in 1575–6. (fn. 438) Robert Elstob, perhaps his heir, purchased a messuage and 21 acres in or before 1602 from Cuthbert Robinson. (fn. 439) In 1692 the Elstob estate was left by John Elstob to his son John, who conveyed a part of it about 1750 to John Reed of Framwellgate. (fn. 440)
Richard Reed of Mordon died in or about 1680 having left part of his estate at Mordon to his son Nicholas. (fn. 441) In 1723 Richard Reed of Ferry Hill, son of Nicholas, and Anne his wife conveyed two messuages and 200 acres in Mordon to Richard Reed of Durham, (fn. 442) who appears to have been the representative of the older branch. This land formed the marriage settlement of William Reed of Holywell and Hannah Reay in 1757, William being son and heir of Thomas Reed of Framwellgate and nephew and devisee of John Reed. (fn. 443) In 1771 Mrs. Reed was an important landowner in Mordon. (fn. 444) The estate was broken up in the early years of the 19th century by the widow and co-heirs of William Reed of Holywell. Part of it was purchased by William Sleigh, as mentioned above, and partly by William Russell of Brancepeth, (fn. 445) whose representative, the present Viscount Boyne, still holds land here. Another part, afterwards known as the Harpington Hill estate, was acquired in 1804 by George Barrington, afterwards Viscount Barrington. (fn. 446) He died in 1829, and after the death of his widow Elizabeth his trustees sold the estate in 1846 to Lord Eldon (fn. 447); this estate is now held by the present Earl of Eldon.
A grant of two messuages and 320 acres of arable land, meadow, pasture and marsh was made by William and George Mordon in 1564 to Edward Hixon. (fn. 448) In 1632 William Hixon of Mordon died seised of a capital messuage and 4 oxgangs. (fn. 449) The possessions of his son and heir Augustine were under sequestration in 1645, (fn. 450) as were the lands here of Richard 'Hickson.' (fn. 451) In 1736 the land of William Hixon in Mordon was mortgaged to John Reed, but it was redeemed by William son of William Hixon in 1749. William acquired other land in 1763 from Robert Chaloner, grandson and heir of John Hodshon. By his will of 1808 William bequeathed his estates to William his son, who obtained probate in 1810. William died intestate in 1842 leaving two daughters and co-heirs, Elizabeth Anne Arrowsmith and Mary wife of John Corner. They sold the property to John Earl of Eldon in 1869. (fn. 452)
In 1732 George and Joseph Smith and their wives conveyed a messuage and 300 acres in Mordon to William Randolph. (fn. 453)
The manor of EAST MORTON (East Murton, xvi cent.), which was held of the Hansards of Walworth (q.v.) by a rent of 1d., (fn. 454) was purchased by William de Embleton from Robert de Wassingley before 1339. (fn. 455) It followed the descent of Embleton (q.v.) in the Embleton and Bulmer families (fn. 456) till 1623, when Sir Bertram Bulmer and his wife Isabel and William Bulmer sold it to Christopher Byerley and Richard Lockwood. (fn. 457) The lands here of Christopher Byerley, a delinquent, are mentioned in 1644. (fn. 458) Robert, one of his twin sons, had a daughter and heir Jane, who married Gilbert Clarke of Somershall, Derby. (fn. 459) This may be the Clarke who was in possession of the manor in 1670. (fn. 460) Jane and Gilbert had a daughter and heir Elizabeth, (fn. 461) probably that Elizabeth Clarke, called a widow, who held the manor in 1689. (fn. 462) She married Thomas Jervoise, and in 1729 inherited Middridge Grange (q.v.). East Morton was probably alienated by her or her descendants, tenants of Middridge Grange. Before the end of this century the manor came into the possession of the Maires of Lartington (fn. 463) (q.v.).
The earliest known tenant of WEST MORTON is Jordan de Escolland, who lived at the end of the 12th century (fn. 464) and granted this manor in free marriage with his daughter Marjory to Roger de Valoignes. (fn. 465) He may, however, have retained the rent charge of 20s. in lieu of all services which from 1401 to the forfeiture of Charles Earl of Westmorland in the 16th century was received by the Nevills of Raby. (fn. 466) John son of Roger de Valoignes succeeded, and granted two parts of a toft and croft here to Hugh de Valoignes, his son and heir. (fn. 467) Hugh de Valoignes of West Morton, who gave a plot of land here to his brother John, was perhaps the same as the Hugh de Valoignes who in 1314 gave all his land in West Morton to Richard de Park, lord of Blakiston, for life. (fn. 468) Between 1323 and 1328 Richard de Park surrendered his interest to John son of John de Park, knight. (fn. 469) The next owner was Roger son of William de Trykyngham, who in 1337 granted his lands here to William de Egglescliff. (fn. 470) Richard de Egglescliff, kinsman and heir of William, granted his reversionary interest in West Morton after the death of Margaret de Egglescliff to John Botiller in 1358, and Margaret quitclaimed her right to John in the next year. (fn. 471) John Botiller's heirs alienated the manor to William Embleton, (fn. 472) who before 1426 appears to have sold it to Thomas Claxton of Old Park. (fn. 473)
Thomas Claxton of Old Park, father of the Thomas of 1426, had died in 1401 in possession of a life interest in one messuage and 100 acres in West Morton. (fn. 474) The reversion of this belonged to Sir William Claxton of Claxton, (fn. 475) with which manor it descended for three generations. (fn. 476) In 1426, however, the 20s. rent of the Earl of Westmorland in West Morton was said to come from the land of Thomas Claxton, (fn. 477) who must therefore have acquired the manor between 1401 and 1426. He died in 1461 seised of the manor with 2 tofts 144 acres of land, and a meadow called Maldesmyre 'lately acquired from William Embleton.' (fn. 478) From this date the manor descended with Old Park (q.v.) in the Claxton family. (fn. 479) The greater part of it, owing to settlement, (fn. 480) escaped forfeiture at the attainder of Robert Claxton in 1570, (fn. 481) and belonged to his grandson John in 1644. (fn. 482) It was sold by him in 1649 to Thomas Todd of Newcastleupon-Tyne, (fn. 483) whose trustees ten years later mortgaged a third of the manor to George Wilkinson. The remaining two thirds they conveyed in 1663 to Mark Milbanke and Christopher Nicholson, who conveyed them in 1669 to Richard Stote. Bertram Stote, son and heir of Richard, succeeded him, and in 1704 acquired the remaining third from Ralph Jenison and Henry Holmes, who had purchased the interest of George Wilkinson. He died without issue, his sisters and heirs being Margaret wife of John Tong, Frances wife of William Shippen, and Dorothy wife of the Hon. Dixie Windsor. Frances and Dorothy and their husbands conveyed the manor to John Nesham in 1740. John Nesham, his grandson, sold it in 1808 to John Griffith of Durham. (fn. 484) The present owner is Mr. J. C. Backhouse of Darlington.
In 1622 Robert Robson, Elizabeth his wife, and Thomas his son and heir conveyed 2 messuages, 180 acres of arable, meadow and pasture with moorland and furze, to John Bainbridge. (fn. 485) John Bainbridge and Frances his wife in 1629 conveyed 300 acres in West Morton to George Wardell. (fn. 486) John Wardell made a settlement of land here in 1689, and his grandson John mortgaged his estate to John Nesham in 1742. Nesham acquired the fee simple in 1754. (fn. 487)
In 1183 OLDACRES (Aldacres, xi–xvi cent.) was held by a free tenant William de Oldacres, who paid for it a rent of 16s. (fn. 488) This William may have been identical with William de Hardwick. (fn. 489) In the early 14th century the manor was acquired by William de Hardwick from John de Hardwick. (fn. 490) The daughters and co-heirs of William paid fines in 1359 for livery of their respective moieties, one of which followed the descent of a moiety of Hardwick (q.v.) till at least 1408, when it belonged to Thomas de Cramelyngton. (fn. 491) Both shares were acquired before 1413 by the Fulthorpe family of Tunstall. (fn. 492) Thomas Fulthorpe died seised of the manor of Oldacres in March 1467–8, and Ralph Booth, son of his daughter and co-heir Philippa, held it at his death in 1505. (fn. 493) The two daughters and co-heirs of Ralph Booth then held it in moieties. (fn. 494) The share of Anne Booth descended with Tunstall (q.v.) in the Fulthorpe family (fn. 495) till 1611, when Nicholas Fulthorpe, grandson of Anne, (fn. 496) while retaining certain land here, granted his manor of Oldacres to Christopher, his son and heir. (fn. 497) Nicholas and Christopher with Edward Blakiston and Thomasina his wife conveyed their share in 1612 to Ralph Butler, (fn. 498) who acquired the second moiety in the same year. (fn. 499) He died unmarried about 1647, when his estate here passed to his nephew, William Butler. (fn. 500) Thomas Butler, son of William, settled it in 1683 on his marriage with Mary Hilton. (fn. 501) His son William died unmarried in 1708, leaving sisters and co-heirs Mary and Margaret, who became the wives respectively of James Butler and the Rev. Petherick Turner. (fn. 502) In 1715 James Butler, who held a moiety of the manor in right of his late wife, conveyed it to Robert Spearman, who bought the other moiety from Petherick Turner in the same year. (fn. 503) Robert Spearman died in 1728, his son Robert in 1761. (fn. 504) Charlotte daughter of the younger Robert, who married Thomas Swynburn, (fn. 505) was in possession of Oldacres in 1832; her representatives held the manor in 1857. (fn. 506) It now belongs to Mrs. Sophie Pace, widow of Mr. Henry Pace of London, and Mrs. Ethel Maude Stourton, wife of Everard Stourton of Marcus, co. Forfar.
The second moiety of the manor was inherited by Jane daughter of Ralph Booth, who married George Smith (fn. 507) and had a daughter and heir Anne wife of John Swynburn of Chopwell. (fn. 508) A 'tenement' in Oldacres was among John Swynburn's lands at his forfeiture in 1570. (fn. 509) In February 1574–5 Elizabeth granted this to Edmund Gresham and Percival Gunson, trustees for Robert Bowes, who granted other lands to the Crown in exchange. (fn. 510) A month later Bowes and his trustees granted the premises to Gregory Butler, who in 1612 released them to his son Ralph. (fn. 511) This moiety of Oldacres was thus joined to the Fulthorpe moiety, and afterwards followed the same descent.
The first mention of SHOTTON (Schotton, xiv cent.) is in a charter of 1335 by which William de Seton enfeoffed Roger Mauduit and Eleanor his wife and the heirs of Roger of a third part of the manor, which he had himself acquired from Edmund Dawtry. (fn. 512) Edmund Dawtry was probably the ancestor of Alice sister and heir of John Dawtry of Shotton and Rogerley in Stanhope parish (q.v.) who is mentioned in 1396, but held no lands. (fn. 513) Neither the Dawtrys nor the Mauduits are again mentioned in connexion with the place. The descendants of William de Seton continued for some generations to hold land here, which is not again called a manor till 1441. It is sometimes said to be held of the bishop, sometimes of the Lumley family. (fn. 514) In 1353 Thomas de Seton leased his lands in Shotton to Thomas de Layton. (fn. 515) Dower was assigned to Isabel widow of Thomas de Seton in 1387. (fn. 516) The heir of Thomas was his daughter Alice, wife of Thomas de Carrow (Karrowe). (fn. 517) John de Carrow, her son, died in 1387 seised of three messuages and 100 acres in Shotton, his heirs being William Sayer and Joan wife of John son of Laurence Jombys of Seton. (fn. 518) The Sayer family of Worsall (q.v.) held land here till at least 1448–9, (fn. 519) after which date it was probably acquired by the holders of the second moiety.
John son of Laurence Jombys had a son Thomas, (fn. 520) who in 1426 granted his lands here to William Hoton of Hardwick. (fn. 521) In 1441 William Hoton held the 'manor' of Shotton of Thomas Lumley. (fn. 522) It followed the descent of Hardwick (q.v.) in the Hoton and Hebborne families, (fn. 523) and was forfeited among the estates of Anthony Hebborne in 1570. (fn. 524) In January 1571–2 the 'capital messuage called Shotton' was granted to Sir William Drury and his heirs. (fn. 525) Drury's interest perhaps passed to William Bowes, who, however, is described as the 'farmer' in the beginning of the year 1582–3; he is said to have conveyed Shotton to George Freville. (fn. 526) George Freville died in 1619 seised of three messuages, 200 acres of land, 100 of meadow and 300 of pasture here, which he left to his nephew Nicholas. (fn. 527) In 1637 Sir John Calverley, Gerard Salvin of Croxdale (q.v.) and John Calverley, gentleman, purchased from Nicholas Freville an estate, including nearly 3,000 acres in Hardwick, Shotton, Foxton, Sedgefield and Bishop Middleham. (fn. 528) This may account for the fact that Shotton was afterwards held by the Salvins of Croxdale until the early 19th century, (fn. 529) when William Thomas Salvin sold it to William Russell of Brancepeth, (fn. 530) whose descendants have continued to hold it. Shotton is now the property of Viscount Boyne.
SWAINSTON
SWAINSTON (Swyneston, xiii cent.) is first mentioned in 1290, when it was granted with the manor of Newton Hansard in Elwick Hall parish (q.v.) by Gilbert de Hansard to his son Robert. (fn. 531) The vill followed the descent of Newton Hansard into the possession of John Nevill (fn. 532) in January 1370–1. From that date it remained in the hands of the Nevills of Raby (q.v.) (fn. 533) till the forfeiture of Charles Earl of Westmorland in 1570. In 1574 it was granted by Elizabeth to Thomas Calverley and Henry Anderson. (fn. 534) Thomas Calverley died in possession in 1613, (fn. 535) leaving a son John, who before August 1631 sold Swainston to trustees for Thomas Tempest. (fn. 536) In 1642 a settlement was executed on John Tempest, son of Thomas (now a knight) and his wife Elizabeth Heath, with remainder to Sir Thomas himself for life, the issue of John and Elizabeth and the right heirs of Sir Thomas. (fn. 537) Swainston followed the descent of the manor of Old Durham (q.v.) in the Tempest family, and in 1857 belonged to the Marquess of Londonderry. (fn. 538)
CHURCH
The church of ST. EDMUND THE BISHOP consists of a chancel 52 ft. 6 in. by 20 ft. 6 in. with vestry and organ chamber, north transept 31 ft. by 17 ft. and south transept 30 ft. by 17 ft., nave 70 ft. by 22 ft. 6 in. with north and south aisles 10 ft. 6 in. wide, south porch and west tower 17 ft. 6 in. square. All the measurements are internal.
It stands on or near an ancient site, but no part of the existing edifice is older than about 1245, to which period the nave and aisles belong. The 13th-century church consisted of a chancel, nave of three bays with aisles and west tower. The 13th-century work still remaining in the nave arcade differs from that of the same period in other neighbouring churches, but is of similar character 'o that in the chapel of the Nine Altars at Durham and at Fountains Abbey. Hence it has been suggested (fn. 539) that Bishop Nicholas de Farnham and John Abbot of Fountains both possibly employed Richard de Farnham 'tunc architector novae fabricae Dunelm,' (fn. 540) and that the same Richard also designed Sedgefield. The foundations of the former west end of the north aisle were uncovered in 1884, showing the aisle to have been originally 7 ft. 6 in. longer than at present, and similar foundations remain in part on the south side. The 13th-century church had no clearstory. Towards the end of the century, about 1290, the transepts were added and a new chancel built, the chancel arch being placed further east by reason of a bay being added to the nave at the crossing. The work seems to have been more or less continuous, beginning probably with the south transept and finishing with the north, and no doubt extended over a number of years. The two former eastern responds were transformed into compound piers, each with three attached shafts carrying the arches of the nave and those between the transepts and aisles. About 1350 a new east window was inserted in the chancel, but no further change occurred in the church till late in the 15th century, when the tower was rebuilt on a larger scale and the old west wall of the nave and aisles destroyed. The new wall was built close up to the spring of the western arches of the arcades. From the fact that the arms of Thornton and Rhodes occur on one of the bells it has been inferred that the erection of the tower was due to the munificence of these families, probably in the time of the second Roger Thornton, who died in 1483. (fn. 541) The nave clearstory, which was destroyed in 1850, belonged to this period, and consisted of a range of three-light windows on each side with obtusely pointed heads, (fn. 542) and the south doorway was also reconstructed. The chancel was stalled and panelled in oak during the rectorate of Dennis Granville (1667–91), who was a son-in-law of Cosin, and the chancel screen erected. About 1754 a gallery was erected in the north transept, the approach to which was by a staircase inclosed by a brick wall built outside the transept on the west side, which was removed in 1915. Flat ceilings were also inserted, and the church underwent the changes usual in the 18th and early 19th century. Surtees, writing before 1823, describes the windows of the nave (two on each side and six in the clearstory) as 'all modern.' (fn. 543) The chancel was restored in 1830, and in 1848–9 considerable repairs and alterations were carried out, the ceiling of the chancel being removed and the roof opened out and renewed. (fn. 544) In 1850 a new high-pitched roof was erected over the nave, the clearstory being destroyed for the purpose, and the plaster was stripped from the walls inside. The outer walls of the south arm of the transept were described in 1862 as 'stuccoed and its windows of debased character,' (fn. 545) but these have since all been renewed. There were repairs in 1871, and the south end of the transept was restored in 1876–7. In 1913 the chancel was repaired. New windows were inserted in the north and south walls; a vestry and an organ chamber, in which the organ presented by Rector Pickering in 1707 was rebuilt, were erected on the north side. The floor was at the same time paved with black and white marble. The north transept was in 1915 restored by Viscount Boyne, the gallery pew there having come into his possession with the Hardwick estates. The gallery, under which was formerly the vestry, was taken down, but its front, with the Burdon arms carved on it, was preserved.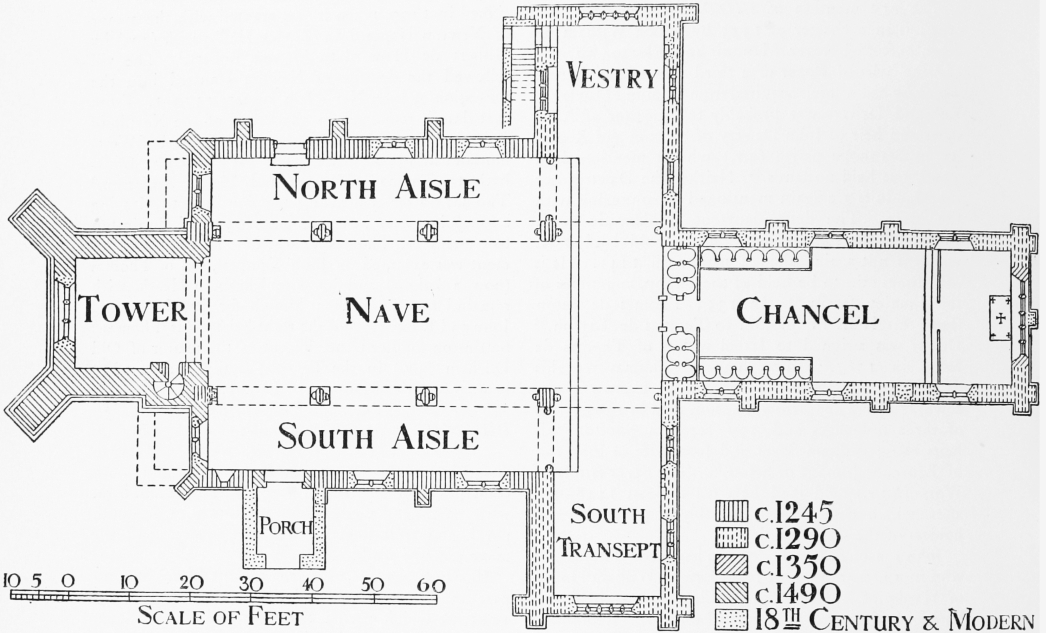 The chancel is built of rubble masonry, and has a modern flat-pitched roof covered with green slates overhanging at the eaves. Externally it is divided into three bays and has a chamfered plinth and a double-chamfered string-course all round at the sill level, lifted up on the south side above the priest's doorway. The whole of the north wall and the south wall above the string is stuccoed, and has at one time been lined to represent stone. The windows in the north and south walls are new. The original priest's doorway, with pointed head, is in the first bay from the east, but is now built up. A new round-headed doorway has been inserted below the window in the middle bay. The east window is of five trefoiled lights with flowing tracery, and has double-chamfered jambs and head. It is of similar type to that at Houghton-le-Spring, though the general effect is not so fine, the four outer lights being simply pointed and the middle one having an ogee head. The two inner mullions go the full height of the opening, inclosing the two outer lights on each side under a pointed head filled with quatrefoil tracery. The central vertical shaft of the tracery, which rises from the ogee head of the middle light, has a small quatrefoil at the apex and divergent lateral ones, full and rounded, below. Internally the chancel walls are plastered, and the roof is of seven bays. No traces of ancient ritual arrangements are now visible, but the walls are panelled to a height of 8 ft., and it is therefore possible that some of the original features remain. The chancel arch, which is the earlier one moved eastward, was formerly of two orders, but the inner order has been removed, probably when the screen was erected. The opening is the full width of the chancel and the arch dies out into the jambs, which are quite plain and form a square angle with the east walls of the transepts. The inner order probably sprang from attached shafts, the capitals of which would be carved. The remaining outer order is chamfered on the chancel side, but towards the nave has a moulding of the same section as the outer order of the nave arches, and a hood mould with dentil ornament. Over the arch are two large corbels which supported the rood beam. (fn. 546)
The chancel fittings are of similar character, but of superior workmanship, to those at Brancepeth, the design consisting of a mingling of Gothic and Renaissance detail, the former very late and poor in character. The work appears to have been done in the early years of Granville's rectorate, a letter of Cosin's in reference to there being no seat for his daughter (Mrs. Granville) being dated 21 March 1670. (fn. 547) There are seven stalls on each side of the chancel and three on each return in front of the screen facing east. The stall work is all canopied with a straight cornice supported by turned balusters, the heads of the openings being filled with Gothic tracery. The bench ends are of Renaissance character, similar to other work in the county of the same date, and the fronts of the stalls have Gothic panelling. The undersides of the seats are quite plain. The chancel screen is of very elaborate character, and consists of seven openings, each surmounted by a tall gabled canopy, the middle one, which is 4 ft. in width, having heavy double-hung oak doors. The canopies are carried on pairs of baluster shafts, and the openings have Gothic tracery in the heads. The wainscot round the walls is of late Gothic character.
The north arm of the transept was built for the chantry of St. Katharine, and later became the burialplace of the families of Hoton and Freville. The south arm contained the chantries of St. Thomas of Canterbury and of the Blessed Virgin, the two piscinae of which still remain. Both arms are built of rubble masonry, and have slated roofs behind straight parapets. There is also a three-light window in the west wall of the north arm, and an earlier three-light lancet was found in this wall in 1915. The corresponding wall on the south side is blank. The south arm has been almost wholly restored externally, and all the windows are modern copies of the old. The original end window of the north arm is of five sharply pointed trefoiled lights with geometrical tracery and doublechamfered jambs, while the east window is of three trefoiled lancets under a single arch with external hood mould. These two windows have now been restored, (fn. 548) and externally the stonework is very much weathered. A window to the east of this wall, now removed, was a plain two-light opening apparently of the same date as the windows of the chancel, but no doubt took the place of an older window similar to the one adjoining, the design of which is followed in the modern east windows of the south arm of the transept. The end window of the south arm is a copy of the corresponding one opposite, the tracery of which consists chiefly of quatrefoils, and though at first sight later in date than the windows in the east walls, which are contemporary with the transept walling, probably belongs to the end of the same period of building, the end walls being perhaps left to the last. The character of the tracery, however, is early of its kind, and some years prior to that of the east window of the chancel. Each arm is separated from the middle portion or eastern bay of the nave by a pointed arch of two orders, both moulded on the inner and chamfered on the outer sides towards the arms. The inner order springs from responds consisting of engaged shafts with moulded capitals, bands and bases, and the transept is open to the nave aisles by awkwardly shaped pointed arches of two orders, the springing of which is raised on the nave side. The inner order is chamfered and the outer moulded on the east towards the transept, but simply chamfered towards the aisles. The two piscinae in the south arm are apparently of the same date as the wall, but they have been much damaged and very little detail remains. That nearest the south end has a trefoiled head, but the head of the other, which is much smaller, is plainly pointed. Both bowls have been cut away. There is also an aumbry. The east wall of the north arm is hid by panelling, but a piscina was found during the recent restoration. In the end wall of the south arm, below the window, are two sepulchral recesses, the arches of which have been renewed, containing male and female effigies. The male figure is decayed and mutilated and no detail is recognizable, but the lady is in a good state of preservation, the costume pointing to the period 1340–60. The head has a wimple and veil and rests on two cushions, and in front of the figure is a brass without inscription representing a small kneeling female figure with a shield on each side. (fn. 549) The transept walls are plastered internally and the floor tiled.
The nave as it now exists, with its extension eastward into the transept and its western curtailment, consists of four bays. The original north and south arcades consist of three pointed arches of two orders, moulded towards the nave and chamfered to the aisles, springing from piers of four clustered shafts and from detached shafts as responds at each end. The arches have dentilled hood moulds towards the nave, and the piers have moulded bases on square plinths with bands of bold section at mid-height. The capitals of both piers and responds are all richly carved with conventional foliage and other patterns, the whole being in an excellent state of preservation and of great beauty of design. In the responds variety is introduced in the south arcade by treating the capitals of the shafts separately and springing the outer order of the arch from corbels carved as grotesque heads on each side. In the north arcade the capital is treated as a whole, the part below the outer order being represented as if growing out of the middle capital. (fn. 550) The capitals of the four piers are of great beauty. The two westernmost have conventional foliage only, that on the south being the richer, but its proximity to the south doorway has caused considerable weathering. (fn. 551) The design consists of trefoil-shaped leaves arranged in groups of four all round the bells, with clusters of fruit beneath and between the leaves. The capital of the north-west pier is the more boldly designed of the two, having two sprays of leaves to the capital of each shaft instead of five in the other. The capitals of the two eastern piers are still more elaborate in character, and contain birds and human heads, that on the north having two laughing faces on the south-west side to the nave, and two dragons in combat to the aisle, with a bird pecking foliage facing north-west. The capital of the south-east pier has lacertine bird and animal forms devouring each other amidst foliage in the capitals of the north and north-west shafts, with foliage only in the other two.
The aisles have modern windows. The old north doorway, which is pointed and of two orders, is now very much weathered. The arch springs from moulded imposts, below which both orders are continued down the jambs. The outer order has a roll moulding on the angle, but the inner is simply chamfered, and the hood mould has a large nail-head ornament and carved terminations. The original lancet window in the south aisle is 7 ft. high, and is without hood mould. The east jamb of another lancet of richer character with roll moulding and two quirks on the inner angle has been discovered near the west end of the north aisle wall. (fn. 552) The aisles are under modern slated lean-to roofs with overhanging eaves and of slightly flatter pitch than that of the nave. The nave roof is of high pitch and stands well above that of the chancel, the east gable having been rebuilt. The porch is very plain, and may be a rebuilding of the same date as the chancel windows.
The tower is of three stages with large diagonal buttresses of five stages at the west angles and a vice in the south-east corner. The walls, which are 4 ft. thick in the lower story above the double plinth, are reduced above at each stage by external set-offs, and terminate in an embattled parapet with octagonal angle turrets. The lower stage is open to the nave by a pointed arch of two hollow-chamfered orders, the outer dying out at the springing and the inner going down to the floor. The modern west window is of three lights with segmental head and perpendicular tracery, and is said to represent no ancient feature. On the north and south sides are small squareheaded openings high up in the walls immediately below the first set-off. The doorway to the vice contains some re-used material from the former tower. The middle stage has a small square-headed window east and west, the former now hid by the nave roof, but the north and south sides are blank. The upper stage has on each side a window with flat arch, originally of two lights subdivided into four in the head, but the mullions and tracery have been destroyed and modern louvre boards inserted. The heads of the tracery openings with trefoil cusping remain. The parapet has broad merlons and high embrasures, and the angle turrets finish with moulded cornices, battlements and stone spirelets. It is possible that the tower was originally intended to be crowned by a lantern on four flying arches as at St. Nicholas, Newcastle. (fn. 553)
The font is of two dates, the earlier, or 15th-century portions, consisting of a broad octagonal step, base, and shaft of Frosterley marble, and the later of an elaborate bowl of grey Italian marble dating from the rectorate of the Rev. Theophilus Pickering, D.D. (1705–11). On each of the eight sides is carved a shield of arms, one of which, facing north-west, is the coat of Dr. Pickering, who was probably the donor. The other shields bear the arms of his contemporaries and predecessors, and are as follows: east, Lawson; south-east, Butler of Oldacres; south, Thornton impaling Greystock; south-west, Hoton; west, Elstob; north, Wright impaling Johnson; north-east, Lambton impaling Wright. (fn. 554)
On the floor of the chancel close to the north wall is a large slab to Andrew de Stanley, first master of Greatham Hospital (1272–c. 1300), with the matrix of a brass cross with chalice on the stem carried by the Holy Lamb and bearing the inscription: 'Sir: Andrew: de: Stanelai: Metir: de: Gretham: git: ici: pvr: dev: priez: pvr: li.' (fn. 555) There is also a floreated grave slab of 13th-century date near the south wall, and in the tower three portions of sepulchral slabs.
The brass below the female effigy in the south arm of the transept has been already mentioned. Another brass on the north side bears the inscription in Gothic characters: 'Hic jacet Willms Hoton qui obijt xvj° die Septēbr Anno dñi Millmo cccc°xlv° cuiq [animae] [pro]picietur deq amē,' together with helm, crest and mantling.
At the west end of the north wall of the north aisle is a brass with the inscription, also in Gothic characters: 'Orate k[]mi [pro] [animabus] Th[ome] Dyk huic ecclie singularis b[enefact]or' ql obijt xxvj die men[si]; Januarij A[nno] d[omini]l Mi[llessi]mo cccc lxiiijto et Bar[tolomeus] Herbotell armig'i ql obijt vjto die Januarij A[nno] d[omini]l Mi[llessi]mo cccc lxxiiij quore [animabus] [prop]icietur om[nipoten]s Deus Amen.'
At the east end of the same wall are two brasses with representations of shrouded skeletons, male and female, now separate and without inscriptions, but formerly on one slab with a shield and ribbon above, and a border, probably with inscription round the edge. (fn. 556)
The organ, which is at the west end of the north aisle and was the gift of Rector Pickering, has a good 18th-century oak case. The pulpit, seating and fittings generally are modern.
There is no ancient stained glass remaining, but formerly there existed some pieces in the windows of the south arm of the transept, on one of which was a portion of an inscription in Gothic characters, 'Jo[h] de Henle Rector (fn. 557) eccle[s] fecit hanc fenestram,' with a fleur de lis and other ornaments below. In another window was a 'head with a coronet.' (fn. 558)
There is a ring of five bells, four of which are by Samuel Smith of York, 1707, and the fifth is the late mediaeval bell already referred to as bearing the arms of Thornton and Rhodes. It is inscribed '+ Trinitate Sacra Fiat Hec Campana Beata.' (fn. 559) The other bells bear the inscriptions: (1) 'Cantate domino canticum novum'; (2) 'Laudate dominum cymbalis sonoris'; (3) 'Theophilvs Pickering D.D. rector. Te Devm Lavdamvs 1707. Bryan Harrison, Martin Dunn, Thomas Smith, Richard Smith, Churchwardens'; (4) 'Nathaniel Lord Crewe Lord Bishop of Dvrham 1707. Anno feriæ et mercatus maximæ villæ de Sedgefeild restaurationis.' A clock with dials facing east and west was placed in the tower in 1897. There was formerly a brass plate dated 1478 recording the benefactions to the church. (fn. 560)
The plate consists of a chalice and cover paten of 1681–2 with the maker's mark IM; a 17th-century chalice without date letter, but with the mark of Pierre Platel (entered 1669); a chalice inscribed 'Donum Curiae Archidiaconalis Dunelm Ecclesiae de Sedgefeild 1716,' with a hall-mark F or Fi; and a paten presented in 1732, the date letter of which is effaced, but bearing the mark of Edward Vincent and the inscription: 'The gift of Mr. John Ball to Sedgefield Church.' There is also a pewter almsdish. (fn. 561)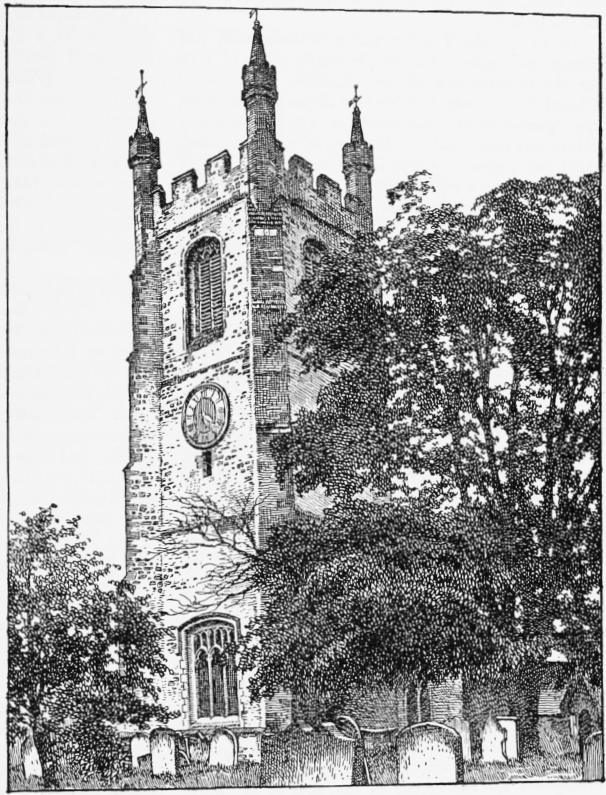 The registers begin in 1580.
ADVOWSON
There was probably a church at Sedgefield in the time of Bishop William de St. Carilef (1080–96), one of whose charters was witnessed by Ulchil the priest of Sedgefield. (fn. 562) The Bishop of Durham has always been patron of the rectory. (fn. 563) In 1399 the king claimed the advowson on the ground that Bishop Richard de Bury (1333–45) had allowed the living to remain vacant for some years before his death, and that the advowson lapsed finally to the Crown when the temporalities of the see came into the hands of Edward III. (fn. 564) During this dispute Thomas de Weston sought papal provision to the church, which he was apparently allowed to retain. (fn. 565) The final result of the case must, however, have been to restore the advowson to the bishop.
In 1379 John Henley, rector of Sedgefield, had licence to acquire lands to the yearly value of £10 for the maintenance of two chaplains in Sedgefield Church. (fn. 566) It seems possible that these chaplains were the 'prebendaries' mentioned in 1551–2 when a return was made that 4s. the rent of a house called Akill and 4 acres of arable land were set aside for the sustentation of a prebendary. (fn. 567) To this chantry of St. Katharine the same John Henley with William de Lanchester, vicar of St. Oswald's, and William del Hill, chaplain, granted in 1392 a garden and 33 acres in Hardwick, a messuage and 33 acres in Butterwick and the same in Oldacres. (fn. 568) In March 1434–5 William Hoton of Hardwick received licence to add to its endowment five messuages and 170 acres in Sedgefield. (fn. 569) At the Dissolution the chantry was said to be of the foundation of William Lanchester, the object being to find a priest to perform divine service and pray for his soul and to distribute 20s. yearly to the poor in alms. (fn. 570)
In 1547 the possessions of the chantry included closes called Connynge, Whynney and Meadow closes, and rent-charges on the manors of Hardwick, Oldacres and Hotton. (fn. 571) A Crown lease of these lands was made to Ralph Tailboys in 1568. (fn. 572)
A second chantry dedicated to St. Thomas existed in the church in the reign of Edward VI. (fn. 573) Its endowment consisted of 106s. 8d. in rents of lands and tenements, this sum including a rent of 13s. 4d. from the West Spittle or Spittle meadow in Newcastle (fn. 574); the date of the foundation of this chantry is unknown. The chantry of St. Mary is mentioned in the will of Robert Kerr, chaplain of St. Katharine's, who died in 1478. (fn. 575) Lands in Sedgefield and Butterwick which had belonged to it are mentioned in 1564. (fn. 576) It was probably connected with the gild of St. Mary mentioned in 1409 and 1416. (fn. 577) An indulgence for the repair of the altar of St. Mary was granted in 1500. (fn. 578) The gild house of Sedgefield is mentioned in 1417 and 1479. (fn. 579)
A chapel of ease has existed at Embleton since at least 1553. (fn. 580) In 1578 services were 'imperfectly' performed there by a curate, John Martin. (fn. 581) The building was granted to Sir Henry Lindley and John Starkey in 1605, and to Francis Braddock and Christopher Kingscote in February 1636–7. (fn. 582) It seems, nevertheless, to have remained in use, and is returned as a chapel to Sedgefield in 1786. (fn. 583)
A chapel at Fishburn is mentioned in 1501. (fn. 584) It was 'decayed' in 1586, when it was granted to John Awbrey and John Radcliffe. (fn. 585) John Awbrey sold his interest to John Richardson in 1599. (fn. 586) The chapel was included, however, in the grants of Embleton chapel above mentioned. A 'house called the Chappel' was in the possession of Robert Farrow in 1622. (fn. 587)
The chapel of Bradbury, dedicated in honour of St. Nicholas, is first mentioned in the charter to the almoner of Durham, which seems to be of the 13th century. (fn. 588) William Lanchester was its curate in 1381. (fn. 589) John Lord Lumley (1510–44) endowed this chapel with a close of 4 acres to support a priest. (fn. 590) It was granted with Fishburn chapel to John Awbrey and John Radcliffe, and was 'decayed' in 1599, (fn. 591) but seems to have been served by a priest as late as 1623. (fn. 592) It was destroyed before 1794. (fn. 593)
The chapel in the manor of Hardwick which existed in 1449 (fn. 594) is not again mentioned.
CHARITIES
An account of the Church of England school at Sedgefield has already been given. (fn. 595) The charities connected with this school are now regulated by a scheme of the Board of Education of 1 December 1909, under the title of the Sedgefield Educational Foundation, and include the following:—
(1) The school (including the School Stock charity) with endowments, 5 a. 1 r. on Beacon Hill let at £11 a year, and a rent-charge of £5 out of the rents of Howle Hope estate in respect of a sum of £52, the old school stock (see below), and a sum of £600 5 per cent. War Stock, representing accumulation of income;
(2) The charity of Richard Wright, founded by his will proved at Durham in 1780, trust fund, £400 consols;
(3) The charity of John Lowther, founded by his will proved at Durham in 1782, and the charity of John Drake Bainbridge, founded by his will proved in 1811 at Durham, trust funds, £700 consols;
(4) The charity of Mr. Soulsby, who died in 1832, trust fund, £340 18s. 2d. consols.
The several sums of stock are held by the official trustees. The total income of the charities amounts to £66 0s. 4d. a year. The scheme directs that the school premises shall be used as a Sunday school, an evening school and library and reading room, in connexion with which £10 a year, being the income of Wright's charity, may be expended, and the residue of the income in exhibitions, &c. The National school, comprised in a deed of 12 April 1866, was used for the boys' department of the aforesaid school before Council schools were built.
In 1630 Dame Elizabeth Freville, by her will, directed her executors to purchase lands of the yearly value of £20, to be disposed of for the charitable purposes therein mentioned, applicable within the parishes of Sedgefield and Bishop Middleham. The land so purchased, consisting of 86 a. copyhold of the manor of Middleham, was sold in 1911 for £5,500, which was invested in £6,753 13s. consols with the official trustees, who also held a sum of £160 15s. 10d. consols, arising from accumulations of income. In 1914 £250 12s. 1d. consols were sold to provide Increment Value Duty. The holding is now £6,663 16s. 9d. consols. The annual dividends, amounting to £166 11s. 8d., are, under the provisions of a scheme of the Charity Commissioners of 3 April 1901, applicable in the payment of £8 yearly in apprenticing boys and girls of the ancient parish of Sedgefield, and £4 for the like purpose in the ancient parish of Bishop Middleham, and three quarters of the remaining income for the benefit of the poor of Sedgefield and one quarter for the poor of the ancient parish of Bishop Middleham. The distribution is made in doles of money.
Thomas Cooper's almshouses and subsidiary endowments are regulated by a scheme of the Charity Commissioners of 1 February 1895, including the following charities, namely:—
(1) The charity of Thomas Cooper, founded by his will, 1702, trust fund, £1,257 2s. 11d. India 3 per cent. stock, representing the redemption in 1901 of a rent-charge of £44;
(2) The charity of William Wrightson, being, as stated on the table of benefactions, a rent-charge of £5 issuing out of a field near Beacon in Sedgefield;
(3) The charity of Thomas Forster, founded by his will, 1814, trust fund, £3,415 10s. 9d. consols;
(4) The charity of John Lamb, founded by his will proved at Chester in 1808, trust fund, £454 9s. 9d. consols.
There is also a sum of £148 14s. 2½ per cent. Consolidated Stock, representing accumulation of income.
The several sums of stock are held by the official trustees, producing £144 9s. yearly. The almshouse buildings are situated in the village street and are occupied by five poor men and five poor women.
The following charities are regulated by a scheme of the Charity Commissioners of 3 April 1901, namely:—
(1) The Howle Hope estate, consisting of a farm-house and 28 a. of land, a moiety of which appears to have been purchased in 1705 with £100 poor stock, and the other moiety in 1734 for £140, arising from benefactions for the poor by Bryan Harrison and others, and with £52 school stock (see above). The property is let at £65 a year, and the official trustees also hold £250 2½ per cent. consols, representing accumulation of income, producing £6 5s. yearly. The net income is distributed in doles of money after payment of £5 to the school charities;
(2) The charity of Thomas Forster, for bread, trust fund, £936 10s. 10d. consols, with the official trustees, producing £23 8s. yearly. The distribution was made on Saturday nights in lieu of Sunday mornings;
(3) The charity of Bryan Harrison, recorded on the table of benefactions as a gift in 1663 of £100, the interest to be given to the poor every Sunday. The sum of £80, part thereof, was laid out in the purchase of a house and a field, and £20 added to the poor stock. The trust property now consists of 8½ a. known as Whitebread Field and four cottages with garden known as the poor cottages and garth, together with £245 0s. 3d. consols, accumulation of income, the whole producing £82 0s. 4d. yearly, which was applied in the distribution of bread on Saturday nights during the winter months;
(4) The charity of Rebecca Wren, being a gift for the poor of £30, which was applied in 1759 in repairing a house purchased with part of Bryan Harrison's gift. The Poor's Garth of 2 r. 20 p. would appear to be the endowment of Rebecca Wren's charity, for which the official trustees also hold £72 6s. 7d. 2½ per cent. consols, producing £1 16s. yearly. The Poor's Garth is let for £6;
(5) The charity of Jane Mason, founded by her will proved at Durham in 1662, being a rent-charge of 20s. for the poor, charged on a close called Shotton Newkes.
The scheme provides that the trustees may apply the income of the charities in such manner as they should think fit for the benefit of the deserving poor bona-fide residents of the rural parish and township of Sedgefield.
The Wesleyan Methodist Chapel, comprised in an indenture dated 26 October 1812, is regulated by a scheme of the Charity Commissioners of 18 July 1913 (Wesleyan Chapel Model Deed).
Embleton.
In 1728 William Lamb, as stated in the table of benefactions, gave £5, the interest to be given to the poor. The principal sum is being accumulated in the Post Office Savings Bank.
Fishburn.
In 1696 William Mason, as stated on the table of benefactions, charged his lands in the township with an annuity of £1 4s. for the poor and 6d. apiece at Christmas, Easter and Pentecost to every poor widow. The rent-charge has been apportioned as follows: 8s. out of the Town Land, 8s. out of land known as Richardson's Land and 8s. out of land known as the Hall Farm. The income is distributed among three widows.
The Church of England school, (fn. 596) erected on land taken from the village green, is possessed of a field attached thereto containing 3 r. 19 p. let at £2 a year.
The same school is also endowed with a sum of £179 19s. consols, with the official trustees, representing a legacy of £200, less duty, by the will of Miss Marianne Chilton, proved in the P.C.C., 3 June 1839.