Pages 104-107
A History of the County of Essex: Volume 10, Lexden Hundred (Part) Including Dedham, Earls Colne and Wivenhoe. Originally published by Victoria County History, London, 2001.
This free content was digitised by double rekeying. All rights reserved.
COLNE ENGAINE
THE parish of Colne Engaine (2,478 a. or 1,003 ha.), (fn. 1) which takes its name from the 13th- century lords of its principal manor, lies on the river Colne between Earls Colne and Halstead, 10 miles north-west of Colchester. (fn. 2) The roughly rectangular parish is bounded on most of the south by the Colne, except on the south- west where it extends south of the river, and on all other sides by field boundaries; by the 16th century there were two detached areas, one in White Colne and one between White and Wakes Colne. (fn. 3) The part of the parish south of the Colne, almost entirely belonging to Parley Beams farm, was administratively in Stansted in Halstead until the early 18th century or later. (fn. 4) Boundary disputes with White Colne in 1805 and 1806 and with Earls Colne between 1836 and 1838 may have encouraged the fairly regular perambulations between 1800 and 1837. (fn. 5) In 1882, under the divided parishes Act, a detached part of White Colne (39 a.) was added to Colne Engaine, but the two detached parts of Colne Engaine (67 a. and 21 a.) were transferred to White Colne, reducing the parish to 2,430 a. or 983 ha. (fn. 6) In 1985 part of Colneford hill was transferred from Colne Engaine to White Colne, and land at Countess Cross and Colne Park from White Colne to Colne Engaine, increasing the area of Colne Engaine to 987 ha. (fn. 7)
The land reaches 65-70 m. in the northern half of the parish, rising to a high point of 71 m. just east of Booses green, and falls to c. 25 m. along the Colne. The slope is cut by two small tributaries of the Colne which have created a rolling landscape of steep hills and valleys. The eastern stream was known in 1998 as the Peb brook, a back-formation from the adjoining parish of Pebmarsh. The higher ground, includ- ing the main areas of settlement around the church and Colne Engaine green, Buntings green, and Booses green, is boulder clay. Along the Colne and its tributaries are bands and larger areas of Kesgrave sand and gravel, but only along the Colne and the Peb brook are there bands of alluvium. (fn. 8) The parish, which contains woods of small-leaved lime and hornbeam, is within the Colne Valley Special Landscape Area, and the part along the north bank of the Colne is also within a nature conservation zone. (fn. 9)
Woodland clearance has left several greens or tyes. Ases tye, later Asteys or Buntings green, was recorded from 1400; French's (later Tot- man's) green, from 1461, and Langley, Golding- tons, and Gores (later Parsons or Booses) greens from 1526. (fn. 10) Gaines or Street green north of the church was not recorded until 1612, but was presumably much older. (fn. 11) Half of Colneford green, later White Colne green, was in Colne Engaine until 1985. By 1600 Goldingtons green was being identified with Asteys green, although it may earlier have been a separate green a little further south; any traces of that probably disappeared when the road through it was closed in 1833. (fn. 12) Langley green was being encroached on by 1682, and most of it was inclosed by a neighbouring farmer in 1850. (fn. 13) By 1876 only parts of Colne Engaine, Booses, Buntings, and Langley greens survived. (fn. 14) In 1964 J. L. Beaumont, lord of Little Colne manor, claimed manorial rights over Colne Engaine or Street and Booses greens; in 1966, under the Commons Registration Act, Goldingtons or Asteys (formerly Langley) and Buntings greens were registered as common land, Booses and Street greens as village greens. (fn. 15)
The Halstead-Colchester road runs through the extreme south-west corner of the parish. A network of minor roads, including those to Pebmarsh, Bures, and Halstead, converges on the church and nearby green and links the farms and greens to each other. A road to Pebmarsh was called Pellesden street in 1515; (fn. 16) it or another road to Pebmarsh was repaired by the parish in 1758. (fn. 17)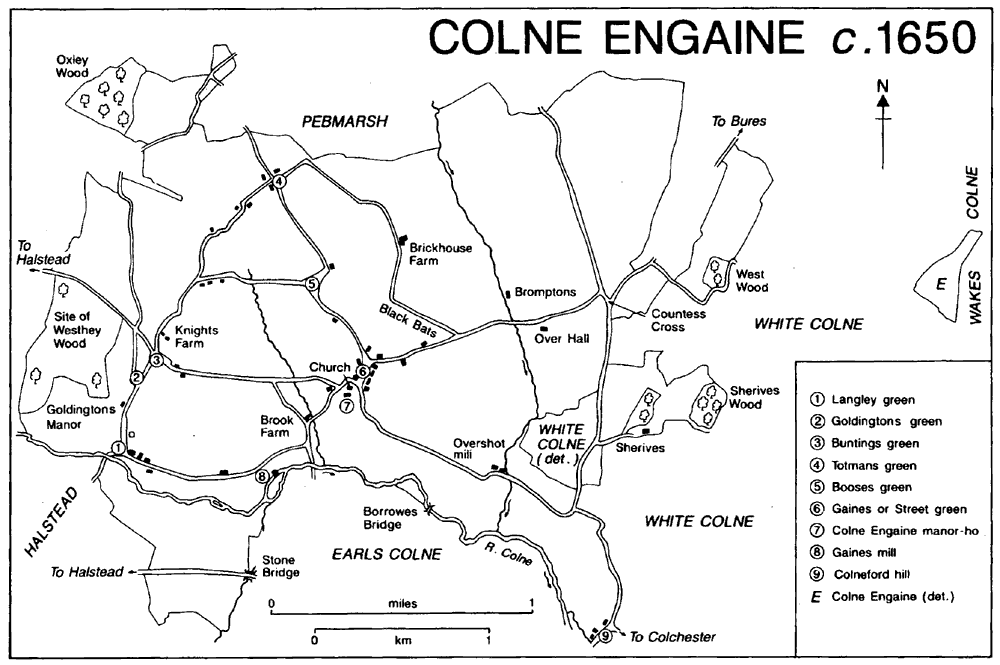 Two road bridges and a footbridge cross the Colne, and the parish boundary, to Earls Colne. (fn. 18) In 1624 the lord of Bromptons manor was responsible for the repair of a cart bridge called Bromptons bridge, (fn. 19) presumably over the brook beside the manor house.
Evidence of possible Roman settlement has been found at Countess Cross, near the church, and near Knight's Farm. (fn. 20) In 1066 there were 32 recorded tenants; in 1086, a total of 38. (fn. 21) Minor names, like Westhey or western inclosure used as a surname in 1269, and Hamstall and Bridgewick fields recorded in 1501 and 1502, suggest scattered farmsteads. (fn. 22) A 12th- or 13th- century settlement has been excavated at Black Bats, east of the modern village, where the frame of an early 14th-century aisled hall survives in No. 1 Brickhouse Road. There is evidence for other small medieval settlements or farms at the north end of Brickhouse Lane and at Booses green. (fn. 23) The parish was called Little Colne in 1086 and 1327, presumably to distinguish it from Earls Colne. In 1377 only 109 people paid poll tax, implying that the population, although higher than those of Wakes and White Colne, was one of the lowest in the hundred. (fn. 24)
The population seems to have grown in the late 16th century and the early 17th when several cottages were built on the waste. (fn. 25) Epidemics between 1637 and 1639, in the winter of 1647-8, and in 1670, 1681, and 1686, as well as the small- pox recorded in 1651 and 1652, (fn. 26) presumably reversed that growth. Although 33 households were assessed for hearth tax in 1671 and a further 35 were exempt, only 80 adults were reported in 1676. (fn. 27) Rectors estimated the popu- lation at c. 40 families in 1723 and at 453 persons in 1766, and reported 76 houses or cottages in the parish in 1790. (fn. 28) The population rose from 523 in 1801 to 685 in 1841, then fell to 501 in 1901. It rose again to 583 in 1911, then remained fairly steady until it rose from 581 in 1961 to 888 in 1971. By 1981 it was 947, and in 1991 it was 925. (fn. 29)
Some farms, like Nightingales, Munns, and Peverels, may take their names from 14th- century landowners. (fn. 30) The surviving 17th- century and earlier houses are mainly of two storeys, timber-framed, and plastered. Night- ingales in Brickhouse Lane, incorporates, in much late 20th-century work, the eastern two bays and central stack of a three-bay late 16th- or early 17th-century house. Peverels, north of Countess Cross, incorporates a three-roomed, later 16th-century house, with chamfered beams, flat joists and a brick stack between the central and east bays; it may have been built by Roger London (d. 1570) or his son Roger. (fn. 31) It was raised and reroofed in the 19th century when a parallel range was added on the north. A third parallel range was added in the 1980s. Orchard House, Pebmarsh Road, comprises three bays of a long-jettied house built c. 1500 with a later, unjettied, range of three bays at right angles to it. Goldington's Cottage, near Buntings Green, of one storey with attics, was probably built in the late 15th century or the earlier 16th as a hall-house with an in-line storeyed north-east end. In the late 16th century or the 17th the hall was floored and a stack was inserted, probably into the cross-passage. The service end was later demolished. The house has been greatly altered in the 20th century. The Grove, Booses green, formerly the Gores from its 15th-century owner Thomas Gore, bore the modern date 1684, although it appears to date from c. 1600. It was extended in the 18th, 19th, and 20th centuries by the Sewell family who have owned it since c. 1750. (fn. 32) The Croft, a 16th- century house on the west side of the Green, was adapted as the parish workhouse in the 18th century, and was encased in white brick and greatly enlarged by the Pudney family in the 19th century. (fn. 33) The nearby Burches Farm, of four bays and two storeys, was built in the mid 16th century; it has a fragmentary crown-post roof and a large, now subdivided, west room which has chamfered joists with lamb's tongue stops. The main, south front was given sash win- dows and a porch in the early 19th century. A north-east wing was added in the late 19th cent- ury or the early 20th.
Knights Farm, Buntings green, may derive its name from Henry Knight (fl. 1300), (fn. 34) but the surviving house is of the early 17th century. (fn. 35) The house was doubled in size in the 18th cent- ury, perhaps by James Brown, its tenant in 1770. His grandson Isaac Baker Brown carried out early 19th-century improvements, including the new, white brick, facade on the south front. (fn. 36) The house was further altered and extended by Miss K. M. Courtauld and her successors between 1878 and c. 1950. In 1602 the later Elms Hall, (fn. 37) near Langley green, comprised three ranges of buildings round a courtyard open to the south. Parts of that structure, with a 17th- century house and dairy in the east range and north-west corner, were probably incorporated into the 18th-century house of the same plan, perhaps built by Thomas Baker (fl. 1788). (fn. 38) About 1810 a broad staircase hall was built on the courtyard, most of the south-west part of the west wing was rebuilt over a cellar, and a brick facade was added to the south front, probably by Isaac Brown and his wife Mary Baker. (fn. 39) The neighbouring Mayflower House was built as a lobby-entrance house in the early 17th century (fn. 40) and was restored and extended c. 1985.
Nineteenth-century buildings include several brick cottages, some of them probably built by 1867 when a few new, brick, cottages were reported, (fn. 41) and two or three larger houses round the church. Outside the village are The Lodge, Mill Lane, built in 1848, (fn. 42) and Countess Cross House, (fn. 43) in White Colne until 1985.
Abbot's Shrubs, near the western boundary of the parish, was built in 1927 by Miss K. M. Courtauld; its large grounds contain some very rare trees and plants. (fn. 44) Other 20th-century build- ing has created a nucleated village round the church and the nearby green. Council houses were built in Green Road in 1950. From 1963 onwards new residential streets were developed off Station Road, Brook Street, and Green Farm Road. In the 1980s land in the village left vacant by the closure or departure of building and haul- age firms was infilled. (fn. 45)
The village was served by carriers to Colchester in the mid 19th century. (fn. 46) The Colne Valley and Halstead Railway was built through the parish in 1858, with a station just across the boundary in Earls Colne. The line closed to passenger traffic in 1961 and to goods traffic in 1965. (fn. 47) R. H. Johnson started a bus service to Halstead in 1932, and in 1937 Eastern National began a Saturday service through the parish to Colchester. (fn. 48)
In 1924 water was supplied from 17 different sources, at least three of them polluted. Miss K. M. Courtauld paid for a water works in 1930, but by 1936 the supply was inadequate and pol- luted. In 1938 Colne Engaine was connected to the Earls Colne mains. (fn. 49) The builders Pudney and Co. had a private electricity supply by 1905 and the village hall had electric light in 1922, but the East Anglian Electric Supply Co. Ltd.'s mains did not reach the parish until 1932. (fn. 50) Part of Colne Engaine was connected to the Earls Colne drainage system in 1938. (fn. 51)
A victualler kept a disorderly alehouse in 1689, and another between 1691 and 1695. (fn. 52) There were two licensed inns in 1766, the Three Cups and the Five Bells. (fn. 53) The Five Bells, some- times called the Bells in the earlier 19th century, was still open in 1997. (fn. 54) A friendly society met there from 1840 to 1855 or later. (fn. 55)
A village hall in Station Road just below the church, given by Miss K. M. Courtauld, was opened in 1922. The adjoining land was bought by the parish as a recreation ground. (fn. 56) There was an agricultural society in the parish in 1848. (fn. 57) The 15 clubs and societies in the parish in the 1970s had been reduced to 10 by c. 1990, including a dramatic society, football club, and history society. (fn. 58)
The Essex historian William Holman died in the church porch in 1730. (fn. 59) During the Second World War there was an army camp at Colne Park; bombs fell on the parish and a German plane crashed there in 1940. (fn. 60)