Pages 161-165
A History of the County of Essex: Volume 10, Lexden Hundred (Part) Including Dedham, Earls Colne and Wivenhoe. Originally published by Victoria County History, London, 2001.
This free content was digitised by double rekeying. All rights reserved.
DOMESTIC BUILDINGS
TOWN CENTRE. The houses built in Dedham before 1800 are timber-framed and most of them have plastered walls and tiled roofs. The largest medieval houses, and those of highest status, occupied prime trading positions near the church and manor house. (fn. 1) Only rich fragments remain. Open halls, which probably ran parallel to the street, have gone, some of them probably having been superseded by two-storeyed late medieval houses. Several cross wings survive, for example the oldest part of the present Dedham Book- shop (fig. 28, no. 8) which seems have been an unheated wing of c. 1500, with a jettied south front and contemporary cellar. A south-east hall range was perhaps demolished between 1777 and 1801. One two-storeyed jettied bay of c. 1500, possibly a cross wing, survives well behind the present front of the building now the Shake- speare Gallery (fig. 28, no. 11).
Long rear ranges of some buildings facing High Street may have been built or used in con- nection with the cloth trade. The house that became the Marlborough Head and the west bay of Loom House formed a single L-plan property with jettied fronts, facing High Street and extending down Mill Lane (fig. 28, nos. 22 and 23). The central two bays of the north-west range, the upper floor of which was served by an external stair on the east, may be 14th-century. The contrast between the plain framing of the north-west range and the late 15th century south-east block, containing ground and first- floor rooms with intricately moulded beams and joists, suggests that sophisticated accommo- dation was added to commercial or even public premises, perhaps over shops. The north-east range of the L-plan building now the Essex Rose tea-shop and Co-operative store is also jettied to Mill Lane and may also have incorporated shops (fig. 28, no. 18). Its two-storeyed south end was probably built in the later 15th century, perhaps with one room on each floor. Formerly detached ranges behind High Street premises, for example those north of the 16th-century Loom House and behind the Merchant Weaver's House (fig. 28, no. 12), may have originated as detached kitchens or independent properties. The 16th- century detached rear range, the so-called Old Candle Factory (fig. 28, no. 15), behind a house of c. 1600 in the centre of the High Street (fig. 28, no. 14), may also have had an industrial use.
Renovation was widespread in the later 16th century and the 17th. Some buildings in the High Street were extended north, for example the Marlborough Head (fig. 28, no. 22) and a cross wing at the Dedham Bookshop (fig. 28, no. 8), also improved by the insertion of a large north stack. At an early 16th century L-plan house called Wards, converted into a tavern by 1667 and known as the Sun inn from 1762 or earlier (fig. 28, no. 13), (fn. 2) 17th-century work involved the extension of the north-west wing and the addition of an external staircase (fn. 3) to serve a gal- lery round the inner faces of its two ranges. The early 16th-century Mill House in Mill Lane was given c. 1630 a large new east chamber block with carved bargeboards and a single-storeyed porch.
New, or predominantly new, 16th- and 17th- century buildings in High Street were two- storeyed. Brook House (fig. 28, no. 27) is prob- ably the 'new house at the brook' bequeathed by the clothier John Webb in 1523. (fn. 4) It runs parallel to the High Street and has two two-storeyed heated bays and a room over a passage east of them. The main room has heavily moulded beams and joists and may have been entered via a rear passage incorporating four-centred door- ways. A west cross wing, now part of Brook House, but perhaps originally part of the prede- cessor of Dalebrook House, was built in the late 16th or early 17th century. On the east, Brook House is attached to No. 1 High Street, an L- shaped two-storeyed house (fig. 28, no. 28). The rear has some medieval timber-framing, but the front range may have had a single large mid 16th- century ground-floor room, an arrangement also found at the Old Exchange (fig. 28, no. 7). The main section (No. 3) of Brook Cottages (fig. 28, no. 30), 2½-storeyed late 16th-century house with a central stack flanked by rooms of two bays, has a long-wall jetty underbuilt in brick. Its roof was raised to increase living space in the mid 17th century. Little Garth cottages in Princel Lane is also of long-wall jetty type (fig. 28, no. 5). (fn. 5)
Some 16th- and 17th-century decoration survives. The large central stack of the 2½-storeyed, three-bayed south range of the 17th-century Merchant Weaver's House has three fireplaces with depressed heads within surrounds with strapwork detailing. Strapwork pargetting on the east external wall repeats a pattern on one of the fireplaces. (fn. 6) A nearby house built c. 1600, now the chemists shop, has a similar hard-plaster overmantel and first-floor panelling. Parts of a fine Jacobean fireplace, possibly brought from elsewhere, survive in the Marlborough Head's parlour, and there is a plaster ceiling with vines and roses in the late 16th- or early 17th-century bay that was added to the south end of the build- ing now the Essex Rose tea-shop. One late 16th- century building with three-bay façade to High Street and an (underbuilt) jetty continuing onto the east side, now an estate agent and florist and gift shop, has contemporary wall painting on the first floor (fig. 28, no. 9).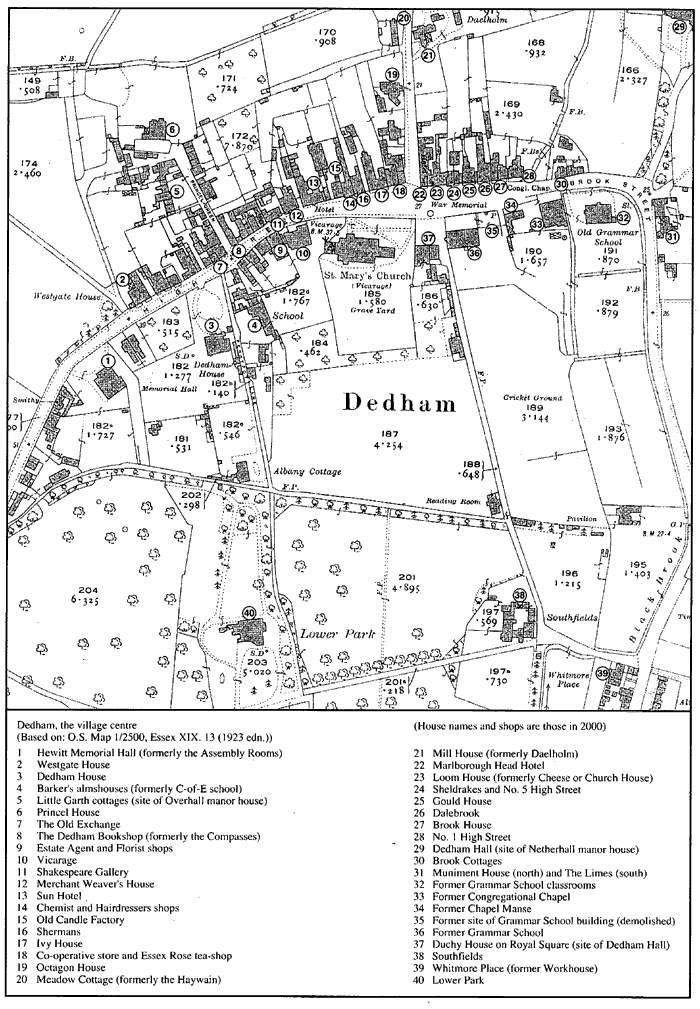 In the 18th century, timber-framing made way for brick, though usually only for façades. The ambitious Baroque fronts of two schoolhouses close to the church employed white Suffolk and rubbed red brick in the 1730s. Both Shermans (fig. 28, no. 16), formerly the English school, and the east block (schoolroom) of the Free Gram- mar school (fig. 28, no. 36) have round-headed ground floor windows and aedicules above the doors. The latter has a plainer double-pile west block (the Master's house with dormitories) with a five-bayed west front. (fn. 7) In the mid 18th century a few houses were plainly built in red brick: the four-storeyed Gould House (fig. 28, no. 25), the two-storeyed Ivy House (fig. 28, no. 17), and Westgate House (fig 28, no. 2) all have five bays and pedimented central doorcases. From c. 1800 completely rebuilding in gault or white Suffolk brick was usual. Dalebrook, rebuilt in the early 19th century, is five-bayed with a Greek Doric porch (fig. 28, no. 26); its original plot may have included part of Brook House.
Renovation, extension, and refitting were more common than rebuilding and most was done in the 18th century. Such work was frequently associated with shop fitting and providing new windows and brick cellars and in two instances may have been connected with conversions to inns. At the Marlborough Head, converted c. 1704, a bolection-moulded chimney piece was fitted on the upper floor, which was subdivided; jetties were underbuilt and sash windows installed. (fn. 8) At the present Dedham Bookshop, a cellar was excavated and considerable refitting done. The front of the west wing of Brook House was rebuilt in the 18th or early 19th century and a bay window was added, probably for a shop. Eighteenth-century work survives in shop windows and stair-well panelling at the present estate agents and florist and gift shop (fig. 28, no. 9), and the front of the present chemists and hairdressers shops (fig. 28, no. 14) was extended and rebuilt in brick, perhaps c. 1752. (fn. 9) Remodelling of the house now occupied by the Co-operative store and Essex Rose teashop, was followed by modification in the 19th century, both probably associated with shop usage. (fn. 10) The building now shared by Sheldrakes and No. 5 High Street was rebuilt in the mid 18th century and given a red-brick five- bayed, roughly symmetrical façade; the double shopfront at Sheldrakes was probably inserted later in the century (fig. 28, no. 24). Loom House was remodelled; it was described as 'lately rebuilt' in 1784 when the shop front may have been added. (fn. 11) Renovations at the Merchant Weaver's House included sash windows, one with Gothic tracery, new doors, and internal walls. Part was converted to a shop in the 19th century and a small bay window added; dom- estic and commercial usages were reversed in the later 20th century when more bay windows were added. At the present Dedham Bookshop the site of the demolished hall range was apparently replaced by a single-storeyed shop extension in the late 19th or earlier 20th century.
OUTLYING BUILDINGS
Many 16th-cent- ury or earlier houses are incorporated in the dis- persed settlement pattern of hamlets and farms. (fn. 12) Medieval houses with halls include Rye Farm, the core of which dates from c. 1350- 1400. It comprises a two-bayed, two-storeyed cross wing (probably the chamber block) and one bay of a hall, both parts heavily framed and with a crown-post roof over the wing; there may have been an east cross wing. Winterfloods House (fn. 13) is L-plan, and has a two-bayed late 14th- or early 15th-century hall with a crown-post roof with moulded braces, and service doors into a cross wing which was mostly rebuilt in brick perhaps in the earlier 20th century. Maltings Cottage may preserve part of a former open hall of c. 1500 or earlier in the centre of its east-west range, where there is evidence for a large dia- mond-mullioned window and large open braces of a probable crown-post roof. The Cottage, Grove Hill, appears to be a medieval hall house, subsequently floored to create one storey with attics, with a two-storeyed cross wing. (fn. 14) The western half of Dalethorpe, a large house now divided into three, appears to be a north-south hall range and two cross wings. The oldest vis- ible parts may be in Middle Dalethorpe, which seems to contain remains of an early 16th- century cross wing. In the present kitchen is a very large chimney stack, possibly inserted in a hall range of which nothing remains; the entrance hall may preserve the position of the cross passage. An open hall of the late 15th or early 16th century survives in part as the core of Mill House on Mill Lane. It had a crown- post roof, with big curved braces to the tie- beam, and a storeyed end in line. The north- east corner of The Rookery probably dates to the early 16th century and is a fragment of some- thing larger.
The large size and courtyard form of South- fields seem related to its occupation by cloth- iers. (fn. 15) The earliest part, probably late 14th- century, is at the east end of the south range. The rest of the south range and the east and west ranges were built mainly in the late 15th or early 16th century, and as at the Marlborough Head, appear to be industrial ranges attached to very high-status accommodation. By 1583, when the property was divided between the sons of the clothier John Wood (d. 1577), it also had a north range with a gallery and a chamber over the gatehouse. The west range then included a hall, two butteries with cellars beneath, and a great parlour, as well as a weighing house and a burling shop (to remove knots from cloth). The plain industrial parts, perhaps with chambers over, lay at the north end, the other rooms at the south end of the range, which projects in a deep jetty to the south. The south range had a little parlour with cellar beneath and chamber over and other houses and rooms. Those extended into the east range, (fn. 16) whose upper floor may have been undivided. (fn. 17) In the 1580s South- fields was used as an inn, (fn. 18) but in 1610 was again owned by a clothier, Simon Fenn. (fn. 19) A wall painting, reproducing rich brocade and with an indecipherable date between 1600 and 1609, was found in a small south-west upper room in 1936. (fn. 20) In the period 1672-96 Southfields belonged to Henry Fenn, another clothier, (fn. 21) and from 1718 until 1824 it descended in the Sida and Blomfield families. (fn. 22) Henry Sida, the last clothier there, was bankrupted in 1744. (fn. 23) The gabled south projection had probably been built before then. By 1841 Southfields had been divided into cottages, whose occupants probably included the servants of Lower Park. From c. 1900 to c. 1935 there were 10 tenements, served by a large communal wash house and pump. (fn. 24)
Knights Manor, perhaps named for Ralph le Knyt recorded in the 14th century and the home of the clothiers William Littlebury in 1570 and Bezaliel Angier in 1670, was probably built in the early 17th century on a T-plan. A chimney stack with four octagonal shafts stands where the ranges meet, and another with two shafts towards the end of the rear range. One fireplace has a hard plaster surround with incised or moulded strapwork like that in the Merchant Weaver's House. (fn. 25)
Most early houses have been extensively remodelled, chiefly by the flooring of open halls, the insertion of chimney stacks and the improve- ment or addition of cross wings. At Winterfloods House a south cross wing, with painted decoration and incised plaster, perhaps replaced an earlier one in the early 16th century. Later a stack was built, apparently within the north end of the hall and not in the cross passage. The joists and the beams of the inserted floor are heavily moulded and have elaborate barred scroll stops. In the late 16th or early 17th century, the hall of Mill House was floored and given an east extension and second stack, as well as jettied gables with billet-decorated bressumers and a matching porch. A floor was inserted at Rye Farm and the cross wing extended north in the 16th century, and probably in the late 17th century the hall was truncated and its east wall rebuilt in brick with an end stack. The hall range of Maltings Cottage was also extensively rebuilt to include a floor on moulded beams and a large stack with two fireplaces on each floor and the south end of the jettied north-south range rebuilt.
Second cross wings seem to have been added in the late 16th or early 17th century at the north end of Dalethorpe (Dalethorpe End) and to an earlier 16th-century building at Castle House. At Mount Pleasant, where rebuilding was mainly later 16th-century, the cross wing has a plaster ceiling with fruit scroll borders and panels of square flowers, Tudor roses, and fleurs-de-lys divided by enriched ribs, probably of the early 17th century. The core of Le Talbooth, so named by the mid 17th century, (fn. 26) appears to be a 16th-century house with jetties on three sides. Nonetheless, the eastern two bays of the original three-bayed range may represent an earlier hall, to which a south-east bay has been added.
Complete or partial rebuilding of farmhouses continued after 1700. (fn. 27) By the earlier 19th cent- ury, the parish was chiefly noted for its 'genteel' residences, (fn. 28) a few of which were medieval in origin. Dalethorpe was renovated in the earlier 18th century, perhaps by Thomas Firmin c. 1740, (fn. 29) with (in Middle Dalethorpe) a staircase with alternating barley-sugar, open twist, and fluted balusters lit by a large window. In the earlier 19th century, probably c. 1831 when the house passed to the Ewen family, a two-storey east wing including entrance hall (Dalethorpe House) may have replaced 18th-century rooms, and the east and south fronts were made uni- form. More additions and alterations were made later in that century. Dalethorpe was divided into three in 1950, and its interior was sub- sequently modified. (fn. 30) At Castle House, owned by a clothier and bay-weaver until the later 18th century, (fn. 31) brick extensions and infilling on the north and east had created a roughly square building with a projecting porch by 1838. New internal walls formed a circular morning room. In the mid 19th century a bay window was added. The building was partially re-roofed and the central stair inserted or remodelled c. 1886. (fn. 32) The early 18th-century Hill House, two- and three-storeyed, was made into a larger country residence for Katherine Hurlock (d. 1804). The grounds were remodelled as parkland by William Downes the elder, later of Stoneylands, who married Katherine's grand-daughter, Anne Davey. (fn. 33)
Most houses of high status were built on new sites with good views. The Grove, rendered and painted and with an Ionic west portico and two south bows, was built c. 1811, (fn. 34) almost certainly for Stephen Tessier (d. 1816) to plans by David Laing (1774-1856), a pupil of Sir John Soane. (fn. 35) The gault brick three-bayed Dedham House was built c. 1830 apparently for Alderman Manning (d. 1848). (fn. 36) Lower Park had been built on the former lands of Southfield House before 1777, (fn. 37) and was enlarged in the early 19th century in gault brick and again by W. W. Hewitt after 1896. (fn. 38) On Gun hill, the Gothic, mainly single- storeyed Stoneylands of c. 1840, was probably built for William Downes the elder (d. c. 1887). (fn. 39)
Large houses continued to be built in the 1850s and 1860s. The gault-brick Highlands, set back from Coles Oak Lane, (fn. 40) Hillands (1850), Dedham Lodge (1868) later the Dedham Vale hotel, (fn. 41) and Stour House (1868) all have views of the Stour valley. The last was built of brick in showy Gothic style, with gilt Italianate ceil- ings in its three principal rooms, (fn. 42) for the seed merchant W. H. Dunnett on the former site of Pet or Pit House, a farm by the heath at Jupes hill recorded from the 14th century. (fn. 43)
The restoration of Dedham's timber-framed buildings began in the earlier 20th century and probably followed the development of tourism. When plaster was stripped from the Marl- borough Head in 1922, 18th-century timber and brickwork was found beneath the jetty, leading to the erroneous view that the sides of the build- ing had originally been open. (fn. 44) By the 1930s the re-medievalizing of Dedham was in full swing, apparently led by Mrs. G. F. Roper who re- stored threatened buildings to create an 'olde worlde' atmosphere. Her own Meadow Cottage (formerly the Haywain), single-storeyed with attic and perhaps of the 17th century, was almost entirely rebuilt and extended using salvaged timber. (fn. 45) At Le Talbooth she demolished a derelict lime kiln and two cottages and restored the remaining cottage between 1931 and 1935, probably introducing features including a porch with two doors with four-centred heads and two lancet windows. (fn. 46) Two north-west timber- framed bays were added in 1968 and 1987 to accommodate restaurant expansion. (fn. 47) Mrs. Roper also did work at Southfields, where she advised Sir Ralph Harwood on the restoration of the Master Weaver's House in 1935, and at Knights. S. Booth, who bought Southfields c. 1952, continued its restoration with salvaged materials over a period of 30 years, dividing the rest of the building into seven cottages and removing all additions extant c. 1920 and c. 1937 except the south one. (fn. 48)
Raymond Erith (d. 1973), who established his architectural practice in Dedham in the 1930s, designed many buildings in the town, mainly in a local classical idiom. Great House in High Street, built on the site of a medieval and later house that burnt down in 1936, is of white Suffolk brick in a severe Soanian style. He designed renovations and extensions for West- gate House (1937, 1973), and minor work at Dalebrook House (1968-9), Muniment House (1968-9), and St. Mary's church (1946, 1966). Other commissions included farm buildings at Lower Farm, cottages at Hallfields (1949) and Dairyfield cottages, East Lane (1956-7), and houses near Lamb Corner (Hillsborough, 1953- 4, Greystones, 1955, and The Mount, 1963). (fn. 49) He began seven houses for individual clients at Frog Meadow (1967, 1969, 1972), a develop- ment completed by his partner Quinlan Terry between 1977 and 1980. (fn. 50) A single-storeyed house with flanking pavilions designed by Erith in 1948 stood on Jupes hill until 2000. (fn. 51)