Pages 198-200
A History of the County of Essex: Volume 10, Lexden Hundred (Part) Including Dedham, Earls Colne and Wivenhoe. Originally published by Victoria County History, London, 2001.
This free content was digitised by double rekeying. All rights reserved.
EASTHORPE
THE ancient parish of Easthorpe, seven miles south-west of Colchester and nearly four miles north-east of Kelvedon, covered 921 a. (382 ha.). (fn. 1) Woodland clearance may explain some of the detached parts and the complex bouandaries, which sometimes cut across fields. (fn. 2) In 1883 and 1888 the boundaries were rationalized: three detached portions of Easthorpe on the south- east side totalling c. 23 a., including Cantfields (or Canfields) farm, were transferred to Birch; detached portions of Birch, one north of Easthorpe church and another south-east of Scotties farmhouse, and of Copford north-east of Easthorpe rectory, of Messing north-west of Fan Wood, and of Marks Tey west of Scotties farmhouse, totalling c. 96 a., were transferred to Easthorpe. (fn. 3) Easthorpe civil parish was abol- ished in 1949, most of its area (872 a.) being added to Copford, but 21 a. being transferred to Marks Tey and 99 a. to Messing-cum-Inworth civil parish. (fn. 4)
The two place-name elements, 'east' and 'thorp' signify the eastern farm or hamlet, which might mean east of the river Blackwater, or of the London-Colchester road, or of Feering and Kelvedon. (fn. 5) Domsey brook enters the parish in the north-west and flows south-eastwards to cross Easthorpe Road at the Wash, just west of the church, before it arcs round to leave the parish in the south-west towards the Blackwater. At the Wash, apparently called 'the flowde' in 1614, the water sometimes flooded the road during wet weather. (fn. 6) The land rises from just under 30 m. on the alluvium alongside the brook to c. 30-40 m. over most of the parish where the soil is fertile boulder clay. (fn. 7)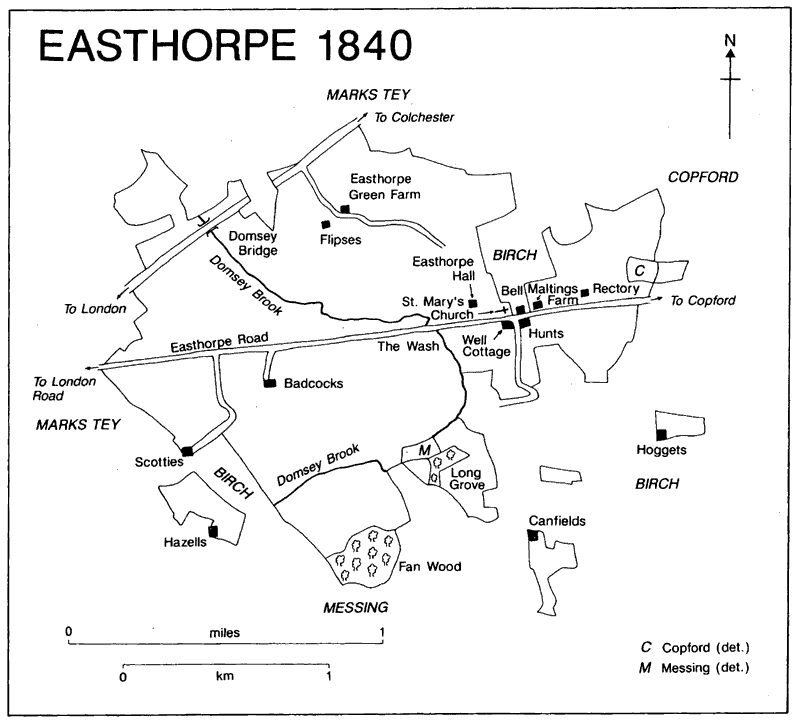 The London-Colchester Roman road runs for less than a mile along part of the north-west boundary. Easthorpe Road runs from that road E. by NE. across the parish towards Stanway; there is no evidence to support the view that it was a minor Roman road. (fn. 8) A lane runs south- wards from Easthorpe Road to Messing and also connects with lanes to Birch. Easthorpe has no railway station, but is only c. 3 miles from Marks Tey station and not much further from Kelve- don station, both on the main line from London to Colchester built in 1843. (fn. 9) There were four carriers to Colchester in 1912, but only one con- tinued in 1917. A carrier still went to Colchester three times a week in 1937, although there had been a bus service from 1924. (fn. 10)
Water was obtained from wells until 1930 when the South Essex Waterworks Co. allowed one tapping from its pipes near Winterfloods farm to supply a small area. About 1936 the Colne and Stour Valley water supply scheme was extended to Easthorpe. Electricity was pro- vided for parts of the parish from 1931, but in 1949 had still not reached the east end of Easthorpe Road. (fn. 11) Mains drainage was provided c. 1975. (fn. 12)
Between 1066 and 1086 the recorded total of tenants rose from 6 to 10. (fn. 13) In the Middle Ages the population, not taxed separately from Birch, presumably remained small. (fn. 14) In 1597 a man, just returned from France, died of the 'bloody flux' (dysentery) and apparently infected several others, of whom seven died. (fn. 15) There were 24 households in 1671, of which nine were exempt from hearth tax. (fn. 16) There were reported to be 18 families in 1723, and 17 houses in 1766. (fn. 17) The population was 171 in 1801, showed a downward trend in the 19th century, was 116 in 1901, and (fn. 18)
In the Middle Ages there was near the church a small settlement which included the adjacent Easthorpe Hall manor house; the rectory house was ¼ mile to the east. In 1637 there was a 'play- ing place' in an ancient cartway leading to two cottages near the rectory. (fn. 19) The few scattered farmhouses included Great Badcocks manor house. (fn. 20) The pattern of settlement remained similar in later centuries. (fn. 21)
The only known late medieval house in Easthorpe, apart from the rectory and Badcocks, is Well Cottage, which stands opposite the church on former glebe land in a close called Well close, recorded in 1637. (fn. 22) The house has a late 15th-century two-bayed hall with crown- post roof and two-storeyed east wing, jettied on two sides, which may have contained a shop. It was divided into two or three tenements from the 18th century; the exterior was plastered until c. 1940, (fn. 23) and about then the house reverted to a single dwelling. The hall may have survived unfloored until that time. Twentieth-century alterations have included the insertion of dor- mers, westward extension, refenestration, and the replacement of pantiles by plain tiles.
Little Badcocks, further east, stands on or near the site of a house formerly called Fennes, then Hewers, and then Maltings Farm. (fn. 24) The building, which was of its modern size in 1841, (fn. 25) is concealed by a 19th-century three-bayed street fa¸ade of grey and red brick. It has been much reconstructed, probably during reno- vations in 1937 when an elaborate early 16th- century chimney stack, the breast decorated internally with moulded brickwork, partly plas- tered and painted, was found; the stack has been moved to Colchester Museum. (fn. 26)
Near Easthorpe Green, Flipses, which be- longed to Bockingham Hall manor in Copford, (fn. 27) is of the later 16th century. Of five bays and two storeys, it is unusual in having a separate unheated bay of unknown purpose at the parlour end, accessible only on the ground floor. A chimney stack inserted within the cross passage replaced a lateral stack. (fn. 28) Scotties, a farm which comprises land in Marks Tey, Easthorpe, Messing, and Little Birch called Scotard in 1453, (fn. 29) has a later 16th-century house, probably that of the tenement with 10 a. in Easthorpe called Scottars, which was recorded in 1639. (fn. 30) It is three-bayed, with the remains of a crown-post roof, and a chimney stack inserted later into the cross-passage. The exterior was remodelled before 1835 when Scottlives Farmhouse was described as built of timber and slate, with an attached brick brewhouse, a double barn, poss- ibly the surviving eight-bayed thatched barn with two transepts. (fn. 31) The house was extended in the 20th century.
Easthorpe Green Farm, formerly called Foucher's, was presumably associated with Thomas and Robert Fowcher, recorded in 1417, (fn. 32) Hoggets at Porters Green, (fn. 33) Cantfields (or Canfields), probably associated with Robert Candenayn, recorded in 1322, and a house called Canvyns or Candewaynes in 1586, (fn. 34) and the No Name public house, (fn. 35) have three-bayed lobby- entry plans. The No Name public house, east of Well Lane, was formerly called Penrils or Goodwins, then Hunts, then Yew Tree Cottage. Once a shop, it became a private club in the 1950s and a fully licensed public house in 1962. (fn. 36) Bell Cottage, east of the church, and which was in the ancient parish of Birch, was from 1848 or earlier a beerhouse, and from c. 1890 until 1923 a public house. (fn. 37) Buildings that no longer survive include Hazell's farmhouse which disappeared between 1841 and 1876; (fn. 38) the farm, recorded in 1637, was in a detached part of Easthorpe, and in Messing and Birch. (fn. 39) A house called the Guildhouse reportedly stood opposite the Bell. (fn. 40)
In the 19th century and the 20th a few cott- ages were built next to Easthorpe Green farm, and some houses and bungalows in Easthorpe Road and Rectory Road. Three pairs of cottage- style council houses called Onslow Cottages, like others at Birch, were built near the church in Easthorpe Road in the 1920s. (fn. 41) After the Second World War two pairs of prefabricated concrete council houses were built nearby in Well Lane. Four pairs of council houses, called Mulberry Cottages, were built at Dawson's Green, where there is a pair of brick estate cottages dated 1950. The small amount of 20th-century private hous- ing, most of which has developed piecemeal, is mostly grouped with the council housing.