Pages 205-210
A History of the County of Essex: Volume 10, Lexden Hundred (Part) Including Dedham, Earls Colne and Wivenhoe. Originally published by Victoria County History, London, 2001.
This free content was digitised by double rekeying. All rights reserved.
FORDHAM
THE ancient parish of Fordham six miles north-west of Colchester covered 2,520 a. (1,020 ha.). The main area was a compact square shape north of the river Colne, with an area south of the Colne around Fordham Heath attached to its south-east corner. Part of the south boundary followed the river Colne, but elsewhere it fol- lowed field boundaries rather than natural features, and cut through fields where estates straddled the boundaries. (fn. 1) Little Fordham manor was in Aldham parish. In 1883 two detached parts, 6 a. and 4 a., of West Bergholt were transferred to Fordham. (fn. 2) In 1889 two small detached parts bounded by West Bergholt and Lexden were transferred from Fordham to West Bergholt. In 1949 all the land south of the Colne, comprising 641 a., together with 844 a. from Copford, 125 a. from Stanway, and 4 a. from Aldham, was transferred to the new civil parish of Eight Ash Green. (fn. 3)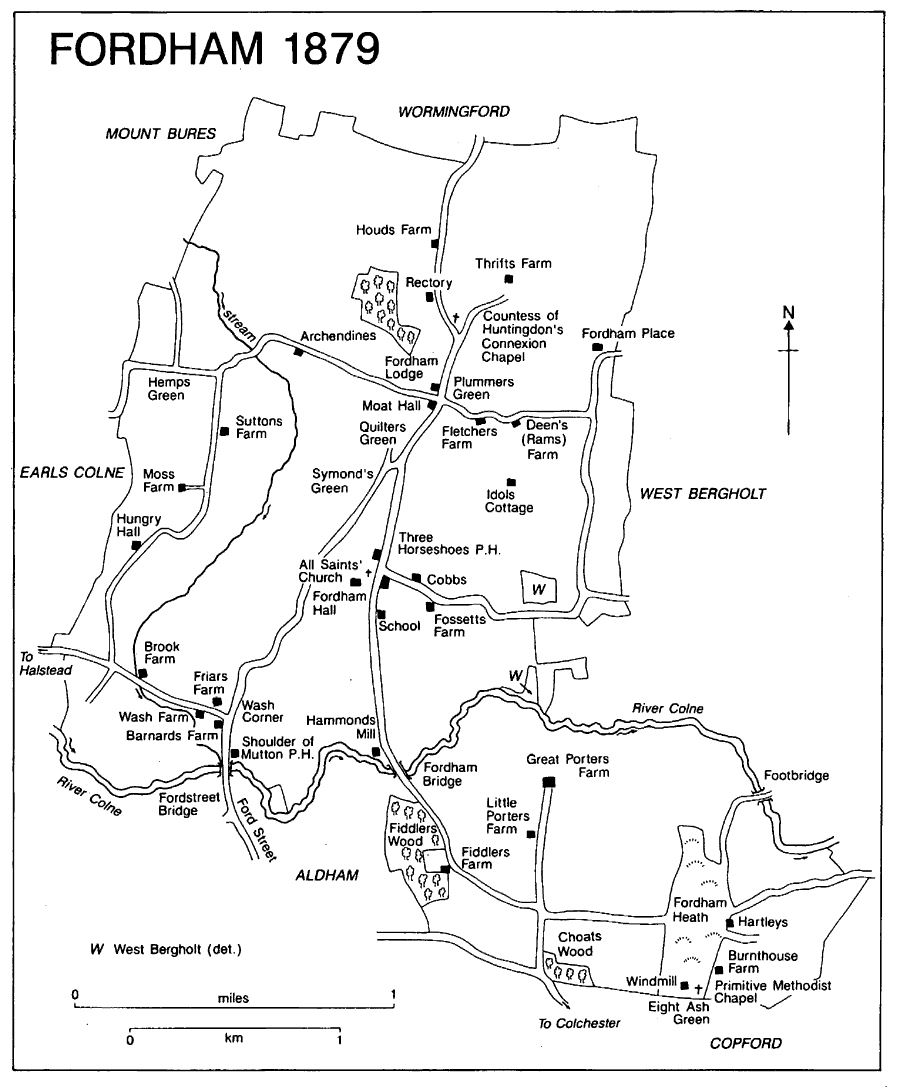 Fordham is in the Colne Valley Countryside Conservation Area. Described in 1916 as 'a pleasant and healthy district', the land rises northwards from the Colne to the low hills sepa- rating the Colne and the Stour valleys and reaching 58 m. in the north of the parish. It rises southwards from the Colne to over 40 m. at Fordham Heath. Tributary valleys of the Colne run inside the west border of the parish and just beyond the east border. The main soil type is fertile boulder clay found on the higher ground. Areas of London clay and glacial lake deposits reach along the east and west valleys and up to Fordham Heath. Pockets of sands and gravels occur south of Suttons Farm, south of Fordham Hall, and near Porters Farm. A band of alluvium and river deposits runs along the Colne. The 'ham(m)' element in the name Fordham means enclosure or water meadow. (fn. 4)
The ford was probably that at Fordstreet, called Fordham's ford in 1580, half in Fordham and half in Aldham, where the road from Col- chester to Cambridge crosses the river Colne. (fn. 5) There was another ford at Fordham bridge over the Colne, in Mill Road south of Fordham Hall, called Hammonds bridge in 1777. (fn. 6) That bridge was the shared responsibility of the lords of Fordham Hall and Great Fordham manors. In 1871, when it needed repair, it was a narrow timber bridge; it was replaced by a wider iron bridge c. 1910, and rebuilt in 1976. (fn. 7) Porters bridge, a footbridge across the Colne near Great Porters, was mentioned in 1571 and 1582. (fn. 8) The Colchester-Cambridge road, turnpiked in 1765 and disturnpiked in 1866, crosses the south-west corner of the parish. (fn. 9) Other minor roads and footpaths connect those roads with neighbouring parishes.
Fordham has no railway station, but there were two nearby: Marks Tey built in 1843, three miles to the south of the parish, on the London- Colchester main line, and Chappel, two miles west of the parish, on the Marks Tey-Sudbury line built in 1849. (fn. 10) Between 1848 and c. 1866 carriers from Halstead to Colchester stopped at Fordstreet three times a week. (fn. 11) By 1863 there was a daily carrier service from Fordham to Colchester, (fn. 12) and services continued several times a week until 1917 or later. (fn. 13) Thereafter bus services went to Colchester and other neigh- bouring places. (fn. 14) There was a sub post office in Church Road, north of the church, by 1876. (fn. 15)
Water was obtained from shallow wells (fn. 16) until 1937-8 when mains water was provided along Church Road, (fn. 17) and the supply was gradually extended. (fn. 18) In 1910 C. A. Green of Fordham Hall built a hydraulic ram near Fossetts farm. (fn. 19) From 1935 electricity was supplied to the centre of the village, and to outlying parts some years later. (fn. 20) Some street lighting was provided from 1957. Lexden and Winstree Rural District Council provided sewerage for council houses at Eight Ash Green from 1957, and in 1960 to the main built-up area of Fordham, but outlying parts were still without mains sewerage in 1997. (fn. 21)
Prehistoric finds at Fordham Place farm and Fordham Heath, and a Bronze-Age flint arrow- head found in Fossetts Lane, may indicate early settlement. (fn. 22) Two Roman burials, discovered c. ¼ mile north-east of Fordham bridge, suggest the existence of a fairly prosperous Roman villa with its own graveyard. (fn. 23)
A total of 23 free and unfree tenants and servi, recorded in 1066 increased to 25 in 1086. (fn. 24) In 1377 the poll tax was paid by 121 people. (fn. 25) Plague caused some of the 16 deaths in 1564, perhaps some of the 41 in 1626 and 22 in 1638, and 13 of the 16 in 1666. (fn. 26) There were 59 house- holds in 1671, of which 15 were exempt from hearth tax. (fn. 27) In 1723 there were reported to be c. 70 families, and in 1790 thirty-four farm- houses and 40 cottages. (fn. 28) Population increased from 539 in 1801 to 802 in 1871 and then, with agricultural depression, fell to 661 in 1901, and was 612 in 1931. (fn. 29) After 1949 population at Fordham was 576 in 1951 and 813 in 1991; at Eight Ash Green it was 668 in 1951 and 1,688 in 1991. (fn. 30)
The many greens were probably early wood- land clearings settled by a few people possibly long before the names were first recorded: Quilters Green occurs in 1569, Plummers Green in 1748, and Hazards Green in 1780 (called Hemps Green by 1918); Symons Green may have been connected with William Symonds's land, recorded in 1569. (fn. 31) There were two small concentrations of medieval settlement, one near the church and Fordham Hall, and the other at Wash Corner, Halstead Road, which was an extension of the main Fordstreet settlement south of the Colne in Aldham. Land held by St. John's abbey in the Middle Ages probably included the farms later known as Kettles and Suttons in the north-west and west of the parish, and the unidentified Coteler Street, let at various times to members of the Sutton and Ketyll families. (fn. 32) There was scattered settlement on Great Fordham manor in the east and south- east of the parish. (fn. 33)
Late medieval farmhouses include two on Halstead Road, Barnards and Wash. Barnards is two-thirds of an early 15th-century H-plan house. The surviving hall range and the north, chamber wing have crown-post roofs, the latter with prolific windbracing. Part of Wash farm- house, to its north, may be of about the same date. It appears to be the chamber wing of an otherwise demolished medieval house; it had two rooms on the ground floor and a single chamber above. Its three-bayed roof is notable for its raised-aisle construction, more common in Norfolk and parts of Suffolk. An experimental feature is the forked posts that rise axial with the ridge, from collar to ridge-plate; they are cut from one piece of timber and, though the rest of the roof is unmoulded, have well-cut cham- fer-stops top and bottom. The tie-beam has shallow arched braces. Attached to the east is an early to mid 19th-century brick wing, containing the main staircase.
Old Timbers, in Penlan Lane, and Idols Cottage and the core of Rams Farmhouse, both in Rams Farm Lane, are all late 15th-or early 16th-century, the first two with remains of hall and parlour in line; all have crown-post roofs over halls into which floors have been inserted. (fn. 34) Plummer's farm belonged to John Abell (d. 1524), clothmaker of Nayland, and a house was recorded there in 1559. (fn. 35) Plummer's farmhouse is mid 16th-century, two-storeyed with close studding, tension braces, and remains of three- light mullioned windows. It originally had two ground floor rooms divided by a stack, and two upper rooms open to a side-purlin roof with windbracing.
Fordham has several two- and three-roomed houses of the 17th century, mostly enlarged in the 18th, 19th, and 20th centuries. They include Well Cottage in Fossetts Lane, Suttons and Moss farmhouses, and Fletcher's farmhouse, refronted in the 18th century and with 17th- century outbuildings. (fn. 36) Oak House, opposite the church, comprises two 17th-century houses, both on a lobby-entrance plan. The north house, of one and a half storeys, was built first and may have become the service end of the second, two- storeyed, four-roomed house, built later in the century, and extended south by 1876. (fn. 37) In the early 19th century Archendines (fn. 38) and Fordham Place were each enlarged by the addition of a plain classical front range to an earlier house. At Fordham Place a three-bayed weatherboarded front range (later plastered) was added to a small hall house of the 16th century or earlier. Rams farmhouse still has weatherboarded and sash- windowed cladding and Fletcher's farmhouse has an early 19th-century brick exterior.
The larger domestic buildings include several moated houses. Houd's Farm, now demolished, about a mile north of the church, was a moated farmhouse associated with closes of land of that name recorded in 1569; (fn. 39) a barn remains, con- verted to a house. Cobb's Farm, east of the church, may be a medieval moated site, (fn. 40) though the earliest part of the present house is 17th- century. (fn. 41) The moat round the south and west sides of Moat Hall is still water-filled. The house is timber-framed and stuccoed but, apart from minor late 20th-century additions, is of the mid 18th century with a symmetrical five-bayed east range, a north-west service wing, and a dairy range incorporated later in the house.
At Fordham Heath and Quilters Green small pieces of manorial waste, usually of less than 1 a., were inclosed in the late 18th century and the 19th and some cottages were built. In 1895 the parish council allocated allotments to the cot- tages at Fordham Heath. (fn. 42) Great Porters and Fiddler's farmhouses, west of Fordham Heath, both appear to be later 19th-century, but farm- houses existed on those sites from the 18th cent- ury or earlier. (fn. 43)
In the early 20th century private building in the parish was mainly ribbon development and infilling along the main roads. Between the First and Second World Wars Lexden and Winstree rural district council provided a few council houses, for example, Ponders Cottages, Ponders Road. (fn. 44) Farm workers' cottages were sometimes provided by farmers, as were five cottages in two blocks in Plummers Road in 1922. A model cot- tage for farmworkers at Fordham Place farm was built in 1938, subsidized by the local authority. (fn. 45)
A small council estate was developed from 1948 around Porters Lane west of Fordham Heath. Between 1971 and 1991 the proportion of households in council accommodation, excluding Eight Ash Green, fell from 10 to c. 5 per cent, and at Eight Ash Green, which included the council estate, from 23 per cent to 21 per cent. (fn. 46) A private housing estate was built by Janes, builders, in the 1960s north of the church, and eight elderly persons' council bungalows were built there. (fn. 47) In 1978 seven farmworkers were still housed by the farmer at Fordham Hall. (fn. 48)
The House on the Heath, designed by Bryan Thomas as a single-storeyed house on three different levels on a sloping site, was built c. 1970 at Fordham Heath. (fn. 49) In the 1980s and 1990s there was further private housing devel- opment on the west side of Wood, Lane at Beech Grove, on part of Choats Wood, and at Quilters Green. (fn. 50) Wormingford airfield, developed from the First World War, extends slightly into the north-west of Fordham, where it was occupied in 1997 by small industrial units. (fn. 51)
An alehouse keeper was recorded in 1575, perhaps at the Shoulder of Mutton, recorded in 1754 as an inn. (fn. 52) It has a hall and cross wings: the north chamber wing projects towards the street, was jettied and has a large mullioned window; that wing and the hall were built in the late 15th century, the south service wing perhaps a little later. In the 17th century a chimney stack was built at the north end of the hall and a floor inserted. The elevations were altered in the 19th and 20th centuries. By 1866 there was a second inn, the Three Horseshoes, (fn. 53) which consists of two separate but adjacent timber-framed buildings, mainly of one-and-a-half storeys. The north one is the much altered two-bayed hall and parlour of a small 15th-century or early 16th-century hall house into which a floor was inserted probably in the late 16th century, the south one a small L-plan 17th-century house. By the late 19th century the timber-framing of both houses had been clad in weatherboarding and brick, and thatch replaced by tile. (fn. 54) The 19th- century Vulcan public house, Moat Road, was closed in 1998. (fn. 55) The Star, a public house at Fordham Heath, was enlarged in the early 1990s and renamed The Cricketers. (fn. 56)
One friendly society met at the Countess of Huntingdon's Connexion chapel between 1805 and 1843, and another at the Shoulder of Mutton inn between 1810 and 1831. (fn. 57) Fordham Prosecuting Association was established in 1801, and survived in 1811 when it met at the Shoulder of Mutton inn. (fn. 58) In 1916 Fordham was considered a 'good district offering good society, foxhunting, shooting and fishing'. (fn. 59) Between the World Wars there were socials, whist drives, dances, and concerts in the parish hall, (fn. 60) built in 1920, and there were church fetes and a horticultural show, (fn. 61) besides activities associated with the Countess of Huntingdon's Connexion chapel. From the foundation of the chapel until the early 20th century there was friction between nonconformists and leading Anglicans. (fn. 62)
The military authorities requistioned land on Fordham Heath during the Second World War. (fn. 63) In 1998 pillboxes and other Second World War defences remained south of the Colne and at Fordham bridge. (fn. 64)
In the later 20th century the many local organizations both at Fordham and at Eight Ash Green included women's, elderly persons', and pre-school groups, political associations, sports clubs, a rambling club, and a historical society. (fn. 65) In 1955 Fordham won the Best Kept Village competition in the north-east Essex area. (fn. 66) The St. Vincent de Paul Roman Catholic charity ran a youth holiday camp near Wash farm from 1986. (fn. 67)