Pages 219-223
A History of the County of Essex: Volume 10, Lexden Hundred (Part) Including Dedham, Earls Colne and Wivenhoe. Originally published by Victoria County History, London, 2001.
This free content was digitised by double rekeying. All rights reserved.
GREAT HORKESLEY
GREAT HORKESLEY is a large rectangular parish c. of 3,177 a. (1286 ha.) about 4 miles north of Colchester. Until 1955 the western quarter of the parish was intermixed with Little Horkesley, and the two parishes had presumably once formed a single unit. (fn. 1) Two detached portions of Little Horkesley (15 a. and 12 a.) were transferred to Great Horkesley in 1883. (fn. 2) In 1955 the boundaries between the two parishes were simplified by the transfer of 38 a. to, and 260 a. from, Great Horkesley. That boundary change moved Hay green and part of Westwood green, anciently in Great Horkesley parish, into Little Horkesley. (fn. 3)
The river Stour forms the northern parish boundary, but disputes over the ownership of meadows may indicate shifts in its course. In 1232-3 the demesne tenant of Little Horkesley disputed Laingefen with Hubert de Burgh, lord of Nayland and Great Horkesley, and in 1338 the men of Essex and Suffolk disputed Brunefen, perhaps the meadow in Great Horkesley where Nayland town held land in 1840. (fn. 4) The western boundary against Little Horkesley lay partly along a tributary of the Stour. The north-eastern and eastern boundaries against Boxted follow another small tributary of the Stour and field boundaries respectively, while the southern boundary with West Bergholt, Mile End, and the liberty of Colchester is formed by the Black brook and a tributary of St. Botolph's brook. (fn. 5)
The land rises gently from 10 m. in the valleys of the Stour and its tributaries to a plateau at 50 m., although it reaches 55 m. in the south at Westwood green and Pitchbury Ramparts. Most of the parish lies on loams or mixed soils over a substratum of glacial clays, sands, and gravels. Some areas were prone to waterlogging, especially near Horkesley Causeway and Horkesley heath. The Stour and its tributary have exposed further gravel, sand, and London clay, and deposited alluvium. There are large tracts of gravel and sand at Pitchbury; one at Woodhouse farm was being worked in 1894. (fn. 6)
In 1996 much of the north of the parish was a Countryside Conservation area, about half of it within the Dedham Vale Area of Outstanding Natural Beauty. Several ancient woods, including Slough Grove and Pitchbury, were Nature Conservation Areas. (fn. 7)
The name Horkesley, first recorded c. 1130, combines 'ley', a woodland clearing, with a word meaning either dirty or a temporary shelter. (fn. 8) Great Horkesley heath (c. 327 a. at its inclosure in 1815) (fn. 9) was a remnant of the medieval Cestrewald, the wood which also covered parts of neighbouring West Bergholt, Lexden, Mile End, Boxted, and probably Langham and Dedham too. (fn. 10) Before 1235 either the Crown or the lord of Nayland, created a park later the Horkesley Park estate, c. 220 a. in 1840, in the north-east quarter of the parish. In 1854 the house had fine oaks around it, and one near the house known as King John's Oak stood until it blew down in 1928. (fn. 11)
The line of a Roman road from Colchester to Nayland may survive along Horkesley Causeway, which was called Horkesley Street in 1443. Nevertheless, the size of the verges of waste on either side of the road, already partly encroached upon by 1777, suggests the remains of a linear green rather than a Roman agger. In that year there was a cross at the crossroads at the northern end of the Causeway. The waste was inclosed in 1815. Part of Nayland Road, either north or south of the Causeway, was improved by subscription in 1778. (fn. 12) Traffic calming measures, including mini-roundabouts, were placed along the Causeway in 1996.
Lesser roads branch east and west from Nayland Road and Horkesley Causeway leading to neighbouring parishes, minor settlements, and farms. Boxted Church Street, which follows the ridge overlooking the Stour to Boxted and Dedham, was probably an early route. Coach Road, branching from the Causeway towards West Bergholt, was part of the old route for coach traffic from Bury St. Edmunds to London. (fn. 13) Some of the lesser roads also had considerable roadside waste which was inclosed in 1815. (fn. 14)
The isolation of the heath may have encouraged highway robbery; Cut Throats Corner lies on London Road north of Westwood green, and Robin Hood's Oak, which lay next to the main road in 1691, perhaps marked either that or another dangerous spot. (fn. 15) After inclosure in 1815 the southern part of Nayland Road and other minor roads, such as Brick Kiln Lane, were built or improved from earlier trackways. (fn. 16)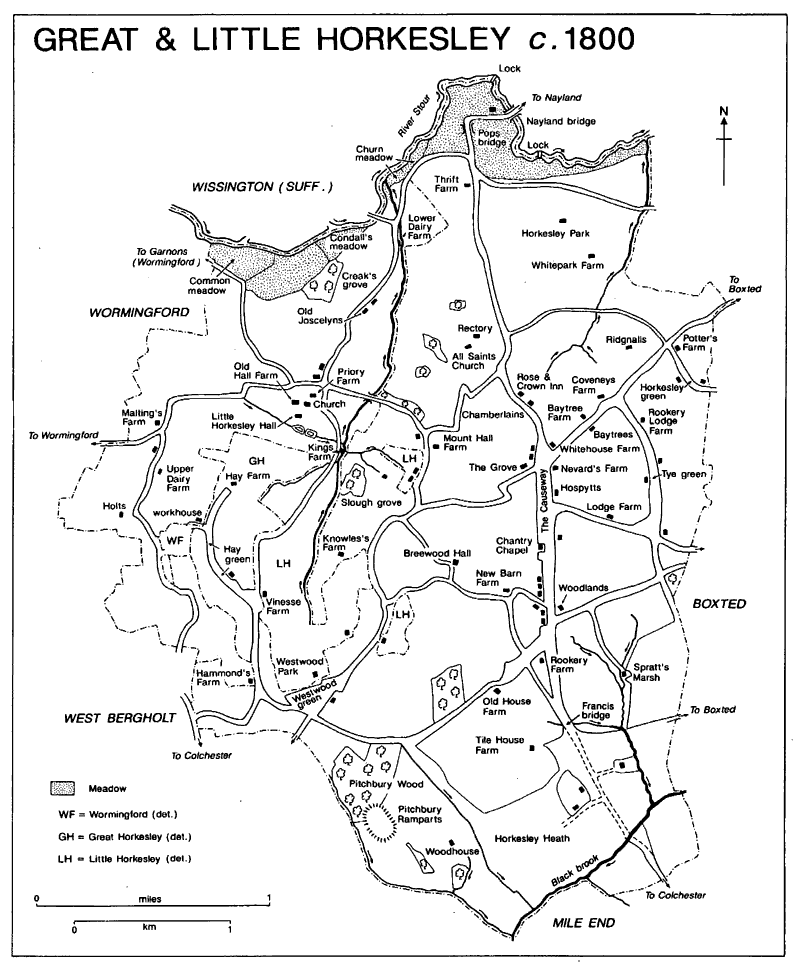 John Abell (d. 1524), of Cooks Hall in West Bergholt, left lands in Layer Breton to maintain Nayland bridge over the Stour. (fn. 17) By 1704 the trustees had passed responsibility for repairs to a joint body from the Quarter Sessions of Essex and Suffolk. The wooden bridge was rebuilt in brick in 1775 by the Essex county surveyor, William Hillyer. It had one large segmented arch and a keystone carved with a bell surmounted by the letter A, a pun on the surname Abell; the keystone gave rise to the local name Bell bridge. (fn. 18) The present concrete bridge incorporates the earlier keystone. The adjacent Bridge house has a late 18th-century brick casing to an earlier timber-framed building which has another timber-framed block to the rear. (fn. 19) The parish was ordered to repair Pop's bridge, a smaller bridge where Nayland Road crosses a stream south of the Stour, in 1589-90, 1598, 1617 and 1649. (fn. 20) In 1838 Nayland Road crossed the Black brook by another small bridge, Francis bridge. (fn. 21)
The Stour was canalized under an Act of 1705 and was navigable by 1713. (fn. 22) The River Stour Navigation Co. had locks, c. 250 m. north and 350 m. south of Nayland bridge. (fn. 23) Repairs to Horkesley lock were suspended in 1870 when the company considered removing it and deepening the river. The company was liquidated in 1913 and a New River Stour Navigation Trust Co. formed in 1918. The navigation was abandoned and the locks were removed c. 1920-1. (fn. 24)
In 1996 Anglian Water had a reservoir and water treatment works in Tog Lane. A pumping station at Pop's bridge supplied Colchester.
Cropmarks in the Stour valley, north of Old House Road, and near Woodhouse indicate prehistoric occupation. (fn. 25) Pitchbury Ramparts, the remains of a large Iron-Age bivallate hillfort much of which was levelled c. 1850, overlooks the Colne valley. (fn. 26) Excavations have produced Roman coins and Iron-Age pottery, but no evi- dence of intensive occupation. (fn. 27) Scattered finds in the parish include palaeolithic and neolithic implements, and Roman and Anglo-Saxon pottery, coins, and other material. (fn. 28) A total of 67 free and unfree tenants was recorded in 1086; there were 151 poll tax payers in 1377 and 200 'houseling people' in 1548. (fn. 29) The population may have grown further between 1558 and 1641 when baptisms were c. 30 per cent higher than burials, although some people probably migrated to Colchester. (fn. 30) In 1575 Great Horkesley, like Dedham and Langham, was described as a 'great town'. (fn. 31)
The Colchester to Nayland Road brought strangers into the parish, including, in the 17th century, people from Nayland, Polstead (Suff.), Birch, and a wandering 'innocent' from Colchester who died there. (fn. 32) The level of burials in 1597, 5-6 times higher than the annual average during the preceding quarter century, was probably caused by plague brought by travellers escaping the epidemic in Colchester. (fn. 33) In 1603 two plague victims from Colchester and Nayland were buried in Great Horkesley, and in the following year at least 9 of 14 burials were of plague victims, including 3 members of one family. (fn. 34)
There were 85 households in 1671, of which 41 had only one hearth, but only 30 households and several poor cottagers were recorded in 1723, 40 households in 1778, and 50 households in 1790. (fn. 35) The population grew steadily over the 19th century from 482 in 1801 to 844 in 1871, but then fell to 738 by 1901 perhaps because of agricultural depression. (fn. 36) Numbers increased slowly over the earlier 20th century, then more than doubled, from 983 to 2,136, between 1951 and 1991, most growth occuring in the 1970s. (fn. 37)
Although the manorial inclosure at Little Horkesley might be the original Horkesley, Great Horkesley was called 'Old Horkesley' in 1219 and 1227 (fn. 38) and remains of deserted house platforms suggest a small medieval settlement east of the church. (fn. 39) That area was perhaps abandoned when the focus of settlement shifted south to the crossroads at the northern end of Horkesley Causeway (Scarfe's corner). (fn. 40) The 16th-century Grove House and the Grove, and the 17th-century Nevards Farm, may occupy sites associated with Thomas of the Grove (fl. 1276) and Ellis Nevard (fl. 1314), but the earliest surviving house at that crossroads is Old White House (formerly Whitehouse Farm or Cockerills), which has a late medieval hall and two cross wings and three surviving crown-post roofs. The southern cross wing appears to have been built as a free-standing building, with an entry and windows on the north side. All four houses, like other early houses in the parish, are timber-framed. (fn. 41)
Settlement also stretched along the Causeway's wide linear green and the waste of neighbouring roads. Besides several 16th-and 17th- century houses, such as Hospytts, Ridgnalls, and Coveneys, four medieval buildings survive. At Woodlands, a late-medieval house with hall and two cross wings, the moulded beam in the room in the north wing next to the cross passage indicates that it was not a service room and such rooms may have been in the long rear extension to the wing. The western range of Rookery farm is a late medieval house with a three-roomed plan and a smoke-blackened crown-post roof of four bays. The 15th-century Baytrees and Baytrees House both have a hall and two cross wings. Barrack Yard, on the Causeway, another 15th-century house, was demolished in the 1950s. (fn. 42)
Medieval and early modern settlement in the remainder of the parish took the form of dispersed farms and small greenside settlements. (fn. 43) The farms include Lodge Farm, with its cross wing of c. 1600 or earlier, and the 17th-century Holly Lodge Farm, Potter's Farm, New Barn House, and Old House. (fn. 44) Martins Farm, which incorporates the cross wing and end of the main range of a late 16th- or early 17th-century building, probably took its earlier name of Chamberlains from the 14th-century Chamberlain family. (fn. 45) Thrift Farm, was perhaps occupied by William in the Frith (fl. 1276), Whitepark Farm by the Parker family in the 13th century or the earlier 14th, and Knowles Farm by Phillip at Knolle, reeve of Nayland in 1279-80. Spratts Marsh, a medieval inclosure on Horkesley heath, was probably named after its mid 14th- century inhabitants Robert and Richard Sprott. (fn. 46) The timber-framed part of the Cottage, Spratt's Marsh, is a one-bay hall and in-line end of 2½1/2; storeys, probably of the mid 16th century. It was floored, and a stack was added, probably later in that century. (fn. 47) Tilehouse farm may be identical with the tenement called Tyledhouse recorded in 1492. (fn. 48)
Hay green, a winding linear green, known as Heyestreet in 1328-9, gave rise to the surname 'at the heye' recorded in the late 13th century. It was still a green in 1777 and traces of its former width, but no early houses, remained in 1996. (fn. 49) Westwood green or tye, a large triangular green on London Road in the south-west corner of the parish, existed by 1385-6 and survived intact in 1777. Several 17th- or 18th-century houses survived on its former eastern edge in 1996. (fn. 50) Roadside encroachments by cottagers had created several other greenside settlements by 1777 when Green Lane led south into Horkesley green and Holly Lodge Road into Tye green; cottages stood on both greens in 1840. (fn. 51) By 1777 settlement had expanded at the junction of Horkesley Causeway with School Lane. Yew Tree Cottage, a late 17th- or 18th- century house with a room on either side of a central stack, may have been typical of the buildings erected. Yet more cottages on the roadside waste had been built there by 1815 and by 1840. Many agricultural labourers lived there, and there were several beerhouses, shops, and other businesses along the main road. After the inclosure of the heath in 1815 cottages were built there, especially along Brick Kiln Lane, extending settlement towards Colchester. In 1846, for example, the lord of the manor laid out 16 building plots along the eastern side of Horkesley Causeway between Manor Farm and Terrace Hall. (fn. 52)
Modern settlement has concentrated on the heath. The council houses on Coach Road were erected c. 1921-2 and others were built in the Crescent during the 1920s and 1930s. Local Authority flats in Ramparts Close were built in the 1950s. (fn. 53) In the 1960s the Keeler's Way estate was privately developed, and in the 1970s that on Black Brook Road. Private housing has been built in the Crescent in the 1990s. In 1971 c. 14 per cent of houses were council houses, a figure that had fallen to 7.2 per cent by 1991. (fn. 54)
Alehouses were licensed in 1573, 1591, and 1595. Three were licensed in the period 1605-7 and there were other, unlicensed, ones like the two which in 1644 allowed drinking on the Sabbath and fast days. All may have served the through traffic from Colchester to Nayland. (fn. 55) Under a restrictive licensing policy the number of inns fell from four to one between 1712 and 1769; the remaining one, in a 17th-century or earlier house, was the Crown and Chequer from 1769 and the Rose and Crown from 1787. (fn. 56) There were two beerhouses in 1848 and three after 1855; (fn. 57) one of them was probably the Yew Tree inn on the Causeway, first recorded in 1874. The Barrel inn of 1884 was presumably an early name of the Half-Butt on Nayland Road, recorded from 1927. (fn. 58) The Rose and Crown, Half-Butt, and Yew Tree were all open in 1996.
In 1764 a coach, presumably from Nayland, passed through the parish twice weekly. (fn. 59) In 1815 a new post coach ran from Colchester to Bury St. Edmunds via Nayland. Several carriers from Colchester to Nayland worked routes through the parish in the earlier 19th century, as did the daily Criterion coach from Colchester to Stowmarket in 1845. (fn. 60) F. Norfolk ran an omnibus service between Nayland and Colchester from the 1860s until 1917, and the parish was well served by W. Norfolk and Sons and several other motor bus companies between the World Wars. (fn. 61) In 1996 Colchester Borough Transport buses provided a regular service as far as Keelers Way, and Hedingham buses ran through the parish to Nayland and Boxted.
In the later 19th century and the earlier 20th E. J. F. Kelso of Horkesley Park, William Macandrew of Westwood Park, and C. E. W. Hawkins of Old House, supported local charitable clubs for, among other causes, an Aged Peoples Gift, children's boots, blankets, clothing, and coal. By 1898 a maternity club provided medical insurance. Kelso also sponsored such events as the Diamond Jubilee celebrations in 1897. Hawkins helped organize an annual horticultural show for Horkesley, Boxted, and Wormingford before World War I. (fn. 62)
Kelso supported the Working Men's club founded in 1878 in the former Methodist chapel. The building was enlarged in 1880, when the club had 100 members, a parish library, and savings bank. By 1902 the club's 200 members enjoyed billiards and bagatelle rooms, a bowling green, and football and cricket clubs as well as annual outings to such places as Clacton and the Crystal Palace. (fn. 63) The building was enlarged again in 1928, but by 1937 the club had only 150 members. (fn. 64) In 1960 the building was leased to the Royal British Legion and in 1964 became a village hall. (fn. 65) The local W.I., formed in 1919, erected a hall in 1920 which was still in use in 1997. (fn. 66)
A field beside the church was re-named Camping close between 1735 and c. 1800, after the ball game played there. (fn. 67) In 1909 it was claimed that in 1862 a new rector abolished the 18th-century practice of starting games after Sunday service and had planted trees on the pitch. Until 1909 a site near Spratt's Marsh was rented as a recreation ground. (fn. 68) In the early 19th century cricket matches were held at Horkesley Park, later home to the Nayland and Horkesley Park Cricket Club. The parish club was formed in 1920, amalgamated with Little Horkesley in 1922, and played on a recreation ground next to the church. Although its life has been discontinuous, the club was still running in 1997. (fn. 69) Among other sports clubs were a rifle club recorded in 1905 which was still meeting in 1922, and a tennis club which ran from 1924 until the late 1960s. (fn. 70) In the early 20th century horse races were held at Jockey Hill on the boundary with Mile End. (fn. 71) Clubs in 1997 included an indoor bowling club and a WEA branch. (fn. 72)
A friendly society which first met in Great Horkesley later moved to the White Hart, Nayland, c. 1785. There were 32 members of another friendly society in 1815. (fn. 73) The parish shared in the Horkesley and West Bergholt District Nurses Subscribers Fund from 1907. (fn. 74) During World War I Woodhouse farm was used by the Red Cross and Order of St. John as an auxillary hospital. It had 60 beds and treated 1,522 wounded soldiers before closing in 1919. (fn. 75)
In 1952 the Whitechapel Mission, a Methodist charity, bought Horkesley Park as a probation hostel for young men and re-named it Windyridge. The regime included farm work. By the 1980s it had been extended and was open to both young men and women. (fn. 76) The hostel closed in 1993 and Little Garth School, an independent preparatory school, purchased the building in 1994. That school was still open in 1997. (fn. 77)
In 1314 Great Horkesley was among the manors of Queen Margaret, widow of Edward I, looted by rioters. (fn. 78) In 1573 two clothiers and seven labourers from Nayland were among a mob which expelled a man, probably the lessee, from Nayland Park, and destroyed grass valued at £20, perhaps in an inclosure riot. (fn. 79) In 1608 another riot involving men from Great Horkesley, Little Horkesley, Wissington and Stoke-by-Nayland (Suff.) destroyed a rampart in Watery Lane which had flooded Nayland Road. (fn. 80)