Pages 54-59
A History of the County of Essex: Volume 10, Lexden Hundred (Part) Including Dedham, Earls Colne and Wivenhoe. Originally published by Victoria County History, London, 2001.
This free content was digitised by double rekeying. All rights reserved.
BOXTED
BOXTED parish (3,177 a. or 1,286 ha.) lies c. 5 miles north of Colchester. (fn. 1) The river Stour forms the northern boundary of the roughly rectangular parish, except where a change in the river's course by Boxted mill has left c. 11 a. on the northern bank. The western and eastern boundaries, against Great Horkesley and Langham, chiefly follow field boundaries, although the north-western boundary follows an unnamed tributary of the Stour, and a section of the eastern boundary another tributary, the Black brook. The southern boundary with Colchester follows the Salary brook, a tributary of the Colne. (fn. 2) There have been no known boundary changes. (fn. 3)
The land rises from c. 10 m. in the Stour valley to a ridge at c. 45 m. around Boxted Hall and the church. The gradient is steepest near Boxted Hall, becoming less pronounced further west. The rest of the parish forms a gently undulating plateau at c. 45-50 m. cut by the valley of a stream which flows from south-west to northeast across the parish. (fn. 4)
Most of the parish is composed of a glacial drift of sand, gravel, and loam. The underlying London clay is exposed in the valleys of the Stour and its tributaries, and there are small outcrops of river gravel amid the alluvium along the Stour. (fn. 5) Numerous springs give rise to streams such as the Black brook. (fn. 6) The extensive water meadows along the Stour (c. 300 a. in 1838) were liable to flood; tenants repaired drainage ditches there in the 1640s and uncontrollable floodwaters could cover the meadows as late as the 1870s. (fn. 7)
Boxted heath was contiguous with Great Horkesley heath and like it may have been part of Cestrewald; (fn. 8) in 1325 it was only worth 2s. to the lord of Boxted Hall because it lay within the royal forest. (fn. 9) When Colchester borough acquired Kingswood heath in Mile End, probably another part of the same forest, in 1535 it also acquired timber rights in Boxted. (fn. 10) The heath was called Boxted green in 1646. (fn. 11) Boxted Hall heath, described as a 200-a. 'wash' or common in 1585, was probably inclosed piecemeal before the 19th century, but the 360 a. Rivers Hall heath was inclosed with Great Horkesley heath by Act of Parliament in 1815. (fn. 12)
No main roads pass through the parish. A locally important ridgeway, Church Road, runs from Great Horkesley to Boxted village. A trackway crossed the heath from Boxted cross, earlier Oteland cross, to Mile End and Colchester; it was converted to Straight Road upon inclosure, and some of the other minor roads then created, such as Mill Road and Chapel Road, apparently follow earlier trackways. (fn. 13)
No ancient road bridge crossed the Stour into Suffolk, but a footbridge was rebuilt at Boxted mill in 1788 by the River Stour Navigation Co. Ltd. (fn. 14) From 1895 responsibility for the bridge was taken over by Essex County Council and West Suffolk Council. (fn. 15) A steel girder bridge built by Lexden and Winstree Union in 1900 over the Stour at Boxted mill was still in use in 1998. (fn. 16)
The River Stour Navigation Co.'s Boxted staunch or lock was rebuilt in a new location in 1780, perhaps at Stanch Hole. The lock was repaired frequently in the later 18th century, was replaced c. 1837, and was last used in 1916. (fn. 17)
The totals of 29 free and unfree tenants recorded in 1066 and 33 in 1086 are incomplete because Rivers Hall manor then formed part of Nayland (Suff.). There were 115 taxpayers in 1377. (fn. 18) Births consistently outnumbered deaths from 1559 until the 1610s, suggesting a rising population. Some inhabitants, presumably Protestants, emigrated to Massachusetts after 1637. (fn. 19) The 131 adult men in 1643, the 115 houses in 1671, the 250 communicants and nonconformists in 1676, and the 100 families in 1723, suggest a static population of perhaps 4-500 people. (fn. 20) The population had probably grown little by 1801 when it stood at 558 but it then rose quickly reaching 935, including four gypsies living in tents, by 1861. Thereafter it declined, gradually at first but then more rapidly, to 680 in 1901, presumably as a result of agricultural depression and emigration. (fn. 21) The foundation of a Salvation Army smallholding colony in 1906 contributed to an increase to 1,015 by 1911. There was only limited growth in the 20th century, to 1,276 in 1991. (fn. 22)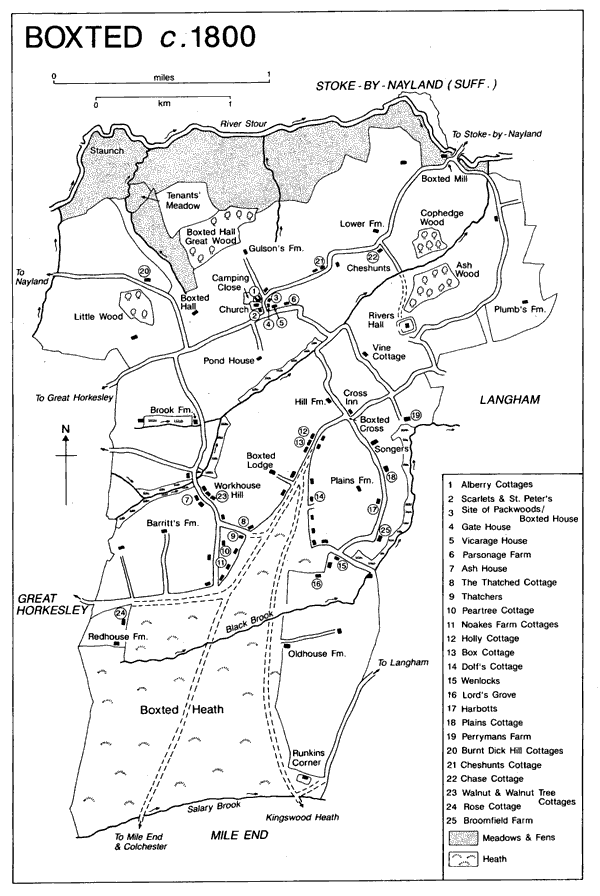 Prehistoric settlement apparently progressed south from the river Stour rather than north from Colchester. Cropmarks, including ringditches, trackways, linear features, and possible field systems, as well as scattered finds reveal activity beside Boxted Hall, along the Stour west of Boxted mill, on the high ground around Rivers Hall and towards Langham, south of Boxted Cross. (fn. 23)
The earliest settlement at Boxted, from 'boc' meaning beech trees and 'stede' a homestead, (fn. 24) may have been a clearing on the high ground overlooking the river. Topographical surnames such as Wood, Brook, Fen, Pond, Hill, and Down, suggest dispersed settlement in the earlier 14th century. (fn. 25) John at Heath (1250), Geoffrey at Heath (1272), and another John at Heath (1327) probably lived along the heath edge; (fn. 26) by 1586 there was extensive heath-edge settlement to the south-west and south-east of Boxted Cross. (fn. 27) The village was first recorded in 1460 when a house east of the churchyard was divided into four dwellings or shops. (fn. 28) By 1586 the village contained important houses, including Packwoods, but may once have been larger: an area of small enclosures north-east of the village then contained several small hall houses, since demolished, which reveal the extent of former settlement spread. (fn. 29) The small hamlets at Bowrede or Cheshunts green, east of the village, and Workhouse Hill, near the heath, existed by the 16th century. (fn. 30)
The 1815 inclosure focused building on the heath allotments. (fn. 31) Houses and bungalows were built in the 19th and earlier 20th centuries on Straight Road, Chapel Road, Mill Road, Workhouse Hill, Langham Road, and at Runkins Corner. Sixty-seven semi-detached houses were built for the c. 400-a. Salvation Army colony on Straight Road and Langham Road c. 1907, some of brick and tile and others of concrete blocks. The scheme failed and there were ugly scenes when smallholders were evicted for nonpayment of rent in 1912. In 1916 the Salvation Army sold the land, some to sitting tenants and the remainder to Essex County Council who added Red House farm, Enfield's farm, and Old House farm to the estate. (fn. 32)
Lexden and Winstree District Council erected 10 council houses in 1919 on Straight Road, and others later, including Brook cottages at Workhouse Hill in 1928, Thatchers cottages on Mill Road in 1929, (fn. 33) and a large estate at Boxted Cross from c. 1950. (fn. 34) Some Airey concrete houses were built in Boxted c. 1947, (fn. 35) but there was a mass squat of homeless people on Boxted aerodrome, Langham, and in 1948 the airfield huts were converted to temporary homes. The clearance of aerodromes was still given precedence over the housing needs of Boxted families in 1958. (fn. 36) Piecemeal development of private housing, mostly small-scale, has occurred throughout the 20th century.
Alehouse licences were granted in 1576 and 1596, and an alehouse was recorded in 1614. (fn. 37) The Greyhound inn on Mill Road is supposed to have existed by 1762 and continued at least until 1848. The sign later moved to Thatchers, which closed in 1911. The Cross inn, first recorded in 1784, was formerly the Dog and Partridge. (fn. 38) It was built in the later 16th-or earlier 17th-century, was jettied at one end and was perhaps originally the cross wing of another building. Its third bay represents a later addition to the jettied end. (fn. 39) It continued in business throughout the 19th and 20th centuries, (fn. 40) and finally closed in the 1990s.
The number of beerhouses increased from two, presumably the Greyhound and Cross inns, to five between 1848 and 1863. (fn. 41) The Queen's Head, built in 1851, shut in 1970. Lilley's beerhouse on Church Street in 1871, known as the Fox by 1890, closed in 1919. The Butcher's Arms on Workhouse Hill closed soon after 1925. The Wig and Fidgett on Straight Road, first recorded by name in 1911, was the only public house still open in 1998. (fn. 42)
In 1761 Quarter Sessions ordered the supression of a pleasure fair at Boxted, but it survived until 1801 or later. (fn. 43)
A post coach served Boxted in the later 18th century. (fn. 44) There was a Saturday carrier from Colchester by 1848; (fn. 45) the service was continued by different carriers until 1937. (fn. 46) W. Norfolk and Sons ran a motor bus service from Colchester to Nayland via Boxted Cross and Boxted Church Street in 1924. The Went family of Boxted, carriers who started a motor bus operation in 1928, provided a service between Boxted Cross and Colchester. The buses still ran in 1967. (fn. 47)
Colchester borough provided an electricity supply in 1932. (fn. 48) In the same year the South Essex Waterworks Co. opened Boxted water- works, built mainly on land in Langham, which supplied water to a reservoir at Danbury. (fn. 49)
The family of Col. A. H. Lefroy, who bought Boxted Lodge in 1883, became central figures in the parish's social and institutional life. Events such as the Silver Jubilee village fete in 1935 and the coronation festivities 1937 were held in Mrs. Lefroy's park at Boxted Lodge. The parish football team played at Boxted Lodge in the 1920s and early 1930s. (fn. 50)
In 1812 a Friendly Society met at the Cross inn, possibly in its club room recorded in 1894. (fn. 51) In 1913 there were coal and clothing clubs. (fn. 52) A Methodist wind band formed about 1860 became the Wesley Guild brass band in 1898 and the Boxted Methodist silver band in the 20th century; it still played at village events in the 1990s. (fn. 53)
Before 1593 the parish acquired Camping close, c. 4 a., next to the church for football. (fn. 54) After Essex County Council acquired the Salvation Army estate, Priory Hall was used as a village hall and base for social clubs and dances. In 1927 it also housed a parish library. (fn. 55) A play- ing field loaned to the parish was sold for building before 1938 when the new King George V playing field and pavillion on 16 a. of land given by Daniell and Sons Ltd. was opened on Cage Lane. The playing field was ploughed during the Second World War, but reopened in 1945. Football and cricket clubs were still operating in 1998. (fn. 56)
German prisoners were housed in empty buildings on the smallholding colony during the First World War. (fn. 57) Boxted Airfield, which opened as an American 8th Air Force base in 1943, was actually in Langham. Boxted suffered damage from air raids; the worst in 1944 injured 9 people, destroyed 5 houses, and damaged 40 others. (fn. 58) The British Legion erected a nissan hut on land leased from Boxted Lodge as a social club c. 1948. It was still open in 1998. (fn. 59)
Some landowners refused to contribute to the cost of improving the King George V pavilion in 1963 because it no longer catered for 'depressed agricultural workers', but several Colchester firms contributed because their employees lived in the parish. (fn. 60) In 1971 a new village hall was built on the Cage Lane site, helped by a grant from Lexden and Winstree District Council. (fn. 61)
The court records of Rivers Hall were burnt during the English Rising of 1381. (fn. 62) During the siege of Colchester in 1648 the besieged royalists attempted to break out towards Nayland bridge. There was fighting in Boxted and on Horkesley Causeway, but the attempt apparently miscarried on the heath. (fn. 63)
DOMESTIC BUILDINGS. A map of Rivers Hall manor in 1586 depicted 38 domestic buildings, probably mainly small hall houses with inserted stacks. All were timber-framed. There were 8 larger houses, all but one of which were tiled. Three had a hall and storeyed cross wings, while 4 were of two storeys only one of which (Pannymers on the site of Perryman's Farm) also had cross wings. Penns a hall house with cross wings had two additional ranges, perhaps cloth warehouses, forming an open courtyard. Of the smaller houses, 27 were thatched and 3 tiled; 23 had brick chimneys, and 5 had wooden smokehoods; the others presumably had open hearths. There were 30 thatched barns and other out- buildings. (fn. 64) As Boxted Hall manor probably contained a similar number of buildings, it seems that up to a quarter of the houses standing in the later 16th century have survived, although many have been altered. (fn. 65)
There was a group of substantial houses near the church, (fn. 66) at least two of them apparently related to the cloth industry. The half H-shaped Alberry's Cottages is the most important survival. The present row of four 19th-century cottages is formed from two late 15th- or early 16th-century houses, probably replacing an earlier house on the site. (fn. 67) That to the west was called Alberes in 1598 when it was held by the clothier Anthony Clere. It comprised a hall and storeyed in-line ends, with a large warehouse or industrial range at the rear, (fn. 68) and was probably similar to the now demolished Packwoods. (fn. 69) The eastern house, apparently separated from Alberes by a cartway, was probably called Alben's in 1598. (fn. 70) Gate House preserves one cross wing and other fragments of a house which in 1586 had a hall, inserted brick chimney, and two cross wings. (fn. 71) The Elms (formerly Scarletts) preserves the parlour end of a small early 16th-century hall house, the rest having been rebuilt in the 17th century as a lobbyentrance house. Parsonage Farm is a 17th- century house of three rooms arranged on one storey with an attic, enlarged by a rear range in the 18th century.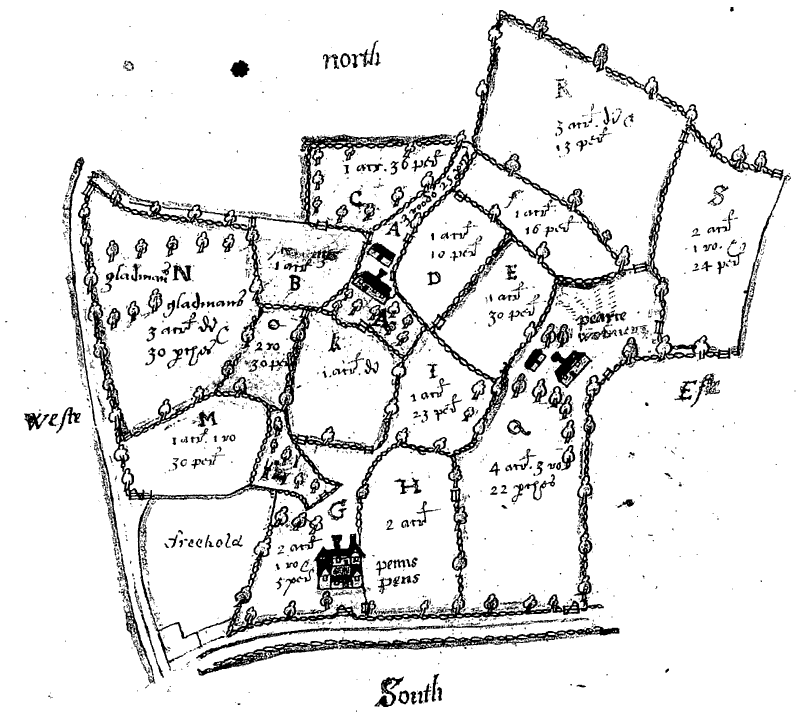 The earliest of the scattered farmhouses, and one of the earliest known houses in Essex, is Songers on Cage Lane, a small 13th-century two-bayed aisled hall with a two-storeyed chamber end. In the 14th century, an aisled bay and storeyed end were added to it, though whether the addition represents an extension or a separate house is not known. The whole was laterally divided in the 16th century and a chimney stack inserted. (fn. 72) Vine Cottage, Brook Farm, and Gulsons are all small later 15th- century hall houses with service and chamber ends in line and crown-post roofs, though at Brook Farm the service end has gone: Vine Cottage is the most elaborate, with a moulded crown post and serpentine braces. All the halls have been modified by the insertion of chimney stacks and floors in the 16th century; at Gulsons by 1586. (fn. 73) At Vine Cottage and Brook Farm the stacks succeeded smoke bays.
Hill House, Pond House, and Barritt's Farm all had complex plans by c. 1600. The central range of Hill House was originally a long end- in-line hall house, possibly 14th-century in origin, to which cross wings were added. The east cross wing, which has a crown-post roof, was built in the early 16th century, the west one sometime after 1586, by which date the house had two stacks. (fn. 74) Pond House is a two-storeyed, L-shaped, house with two short wings in the return of the L. It dates from the 16th century when a chimney stack was inserted in the smoke bay of its late medieval core; the west front has a long jetty, since underbuilt. The south range, apparently 18th-century, may be a rebuilding of an earlier wing. Barritt's Farm is also two storeyed. The two-bayed centre and the east wing seem to be early 16th-century and had crown-post roofs. By the early 17th century, a brick chimney stack with four diamond shafts serving rooms on both floors had been inserted, the hall had been floored, and the west wing rebuilt with a jettied west elevation.
Small timber-framed farms and cottages of the 15th, 16th, and 17th centuries, mostly small hall houses with one-storeyed end and a later stack, survive on or near the heath edge, including Thatchers, Harbottle's, and Lord's Grove, and Thatched, Peartree, Dolf's, Honeysuckle, Plains, Thrift, Box, and Holly cottages. Among the simplest is Wenlocks, a late 15th- or early 16th-century hall house with only a single storeyed service end. By 1598, when it was a small copyhold farm called Sewards, a stack had been inserted and the western end of the hall floored. (fn. 75) The barn at Oldhouse farm (formerly Woodhouse farm), in the middle of the heath, is possibly that depicted in 1586. (fn. 76)
There was apparently some new or replacement building in the parish c. 1700, (fn. 77) but relatively little new building during the 18th century, perhaps due to economic and demographic stagnation. In the 19th century some farmhouses were built or rebuilt in brick, including Priory House, a modest classical brick farmhouse of c. 1820. The timber-framed cartlodge with granary over is contemporary. (fn. 78) Boxted Lodge was probably built by Thomas Fisher in 1792, (fn. 79) but the east end of the two storeyed brick house was rebuilt in the 19th century as an east-facing, four-bayed block with Tuscan portico in antis. Extensive remodelling was undertaken, either by William Fisher after c. 1820 or by W. F. Hobbs between 1846 and 1866. Col. A. H. Lefroy added a third storey to the east part and raised the original roof in 1888. The gate lodge stables with a water tower date from W. F. Hobbs's time. Raymond Erith designed the cottage attached to the stables in the 1960s. (fn. 80) Boxted House, a new building with a classical south front of three bays and two storeys in white brick, was built after 1815 onto the remains of an early 18th-century red brick house for the barrister J. M. Grimwood (d. 1832). By 1836 it belonged to William Bentall (d. 1846), an ironfounder from Goldhanger, and was afterwards the country retreat of his son E. H. Bentall (d. 1898), M.P. for Maldon 1868-74. (fn. 81) Cheshunts is also partly 18th-century and probably incorporates at the south end a cottage depicted in 1586. The east range, neoclassical and in white brick, was added in the early 19th century as the main entrance front, and the parallel 18th-century west range was remodelled in the same period. A large mid 19th-century room projecting north has an ornate external west doorway; it may have been intended for public use, perhaps as a court room for Rivers Hall manor. (fn. 82)