Pages 68-71
A History of the County of Essex: Volume 10, Lexden Hundred (Part) Including Dedham, Earls Colne and Wivenhoe. Originally published by Victoria County History, London, 2001.
This free content was digitised by double rekeying. All rights reserved.
MOUNT BURES
THE ancient parish of Mount Bures, on a hill south of the river Stour opposite Bures St. Mary (Suff.), 8 miles north-west of Colchester and 5 miles south-east of Sudbury, covered 1,425 a. (577 ha.). (fn. 1) Much of it was intermixed with Chappel and Wakes Colne. The main part of the parish was an irregular shape, the boundaries for the most part not following natural features. (fn. 2)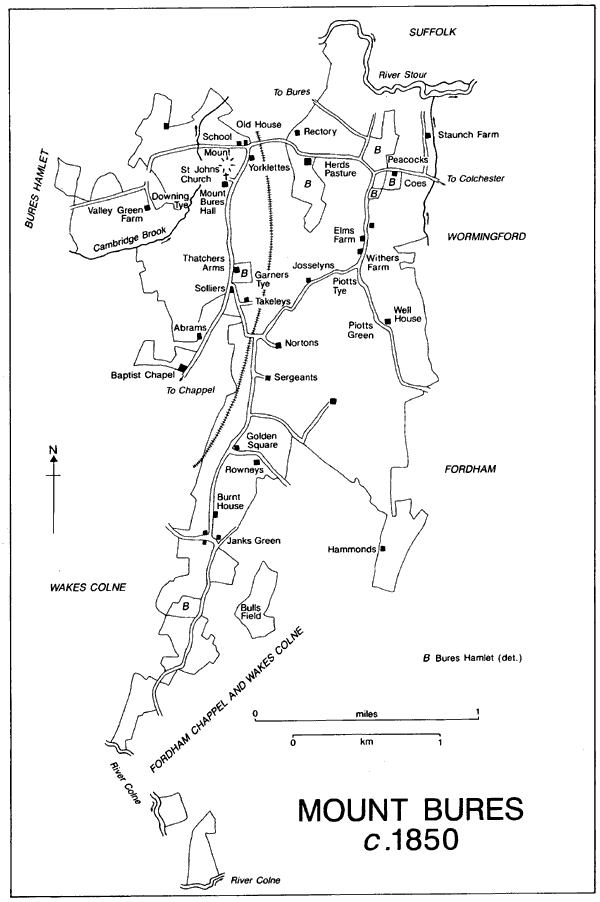 Three areas on the west and south of the main part were semi-detached, meeting the main part only at points on the boundary, and three small detached parts lay to the south-east. Boundary changes comprised the following transfers of land: in 1884 the Thatchers Arms public house and 12 houses to Mount Bures from Bures Hamlet, and 5 houses in Heards Road to Bures Hamlet from Mount Bures; and in 1889 Spring Gardens with 3 houses to Chappel from Mount Bures, and a small area to Wakes Colne, and a small area to Mount Bures from Chappel, (fn. 3) leav- ing Mount Bures in 1889 a more compact area of 1,259 a. (509 ha.). (fn. 4) The following account concentrates on the area north of Janks Farm, including as far as possible detached parts of Bures Hamlet in Hinckford hundred which belonged to Bures St. Mary (Suff.).
The parish takes its name from 'bur', meaning cottage or dwelling, and 'mount' from the arti- ficial mound, c. 30 ft. high, north of the church and raised perhaps in the 12th century; (fn. 5) that was still surrounded by a moat in 1768. The churchyard, which has a slight bank to the east and south, may have been the castle bailey, perhaps unfinished. (fn. 6) The parish was sometimes called Bures St. John, Little Bures, or Bures Sackville to distinguish it from Bures St. Mary (Suff.). (fn. 7)
The land rises to more than 70 metres at a water tower on the south-west boundary, and falls away northwards to the river Stour and north-west to Cambridge brook which drains into the Stour. A band of alluvium runs along the Stour and there are river deposits and London clay in the north-east corner of the parish. Most of the higher ground is fertile boulder clay. (fn. 8)
The main road from Bures to Colchester, mentioned in 1494, crosses the north of the parish. A road, mentioned in 1505, runs south from the church to Wakes Colne and Chappel. Another road, enclosed in 1446 with a ditch and a hedge, ran west to Piotts green and West Bergholt, before Wormingford airfield was built over it in the First and Second World Wars. (fn. 9) Other minor roads and footpaths link the scat tered farms and houses. The River Stour Navigation Co. made the Stour navigable for barges from Manningtree to Sudbury (Suff.) between 1705 and 1709, with a quay at Bures St. Mary just a mile outside the parish. (fn. 10) The Stour Valley Railway Company's line from Chappel to Bures, opened in 1848, traversed Mount Bures from south to north, with the nearest railway station also at Bures St. Mary. (fn. 11)
Between 1066 and 1086 the recorded total of tenants and servi declined from 34 to 31. (fn. 12) In 1377, when 78 people paid the poll tax, Mount Bures ranked 12th of the nineteen places in Lexden hundred for which there are returns. (fn. 13) Burials were markedly above average in 1547, 1624, and 1667. (fn. 14) Hearth tax was levied on 37 households in 1662; 54 households were re- corded in 1671, of which 22 were exempt from tax. (fn. 15) The number of recorded baptisms declined in the late 17th century and early 18th. (fn. 16) There were c. 25 families in 1723, and 30 in 1778. (fn. 17) Population increased from 250 in 1801 to 301 in 1861 and then declined to 198 in the ancient parish area, (fn. 18) 220 in the new area, in 1901. It fluctuated only slightly in the 20th century and was 219 in 1991. (fn. 19)
Some of the earliest settlement was near the Stour. Extensive archaeological finds include neolithic axes, traces of Bronze-Age barrows, the Iron-Age grave of a British nobleman c. ¼ mile south-east of the church, and a Roman bronze figure of Mercury at Mount Bures Hall. (fn. 20) A probable Roman tile kiln was found north- west of Elms farm. (fn. 21)
The parish has no main focus of settlement, but many scattered small settlements around tyes or greens, like Downing Tye, Mount green, Janks green, and Piotts green, suggesting early woodland clearance. (fn. 22) The 3 villeins and 2 bord- ars recorded separately in 1066 and 1086 may have constituted a separate small settlement. (fn. 23) Downings Tye, perhaps associated with William Downing of White Colne recorded in 1327, (fn. 24) was later called Valley green. There was a small settlement at Piotts Tye by 1493, perhaps associated with the Pylat family recorded in 1381; it may have extended along the lane from Nortons to Elms farm beside Common field. Part of Garners Tye was held of Crepping Hall manor in Wakes Colne. (fn. 25) East field of 22 a., called Bulls field in 1840, a detached part of the parish surrounded by Wakes Colne, was prob- ably a clearing made in Rowneys wood which lies north of it in Wakes Colne. Surviving long strips of garden at Golden Square and Well cot- tage may have been medieval doles of common lands from Glasswrights green. (fn. 26)
The houses and farmsteads are mostly scattered through the parish. Old House, a timberframed building of the early 16th century, originally had a public room probably for courts or guild meetings. (fn. 27) Herds pasture was formerly in Bures Hamlet, but may have been connected with the acre of land called hydsgardyn belonging to Wormingford Hall manor mentioned in 1525. (fn. 28) It has a 15th- or early 16th-century hall range with an east cross wing. The latter has a plain crown-post roof and, reset as a feature on its ground floor, a tie beam truss with a crown post which has rebated angles. Presumably it was formerly in the hall range (fn. 29) from where it was removed when the house was restored and extended to the west c. 1935. The quality of the construction suggests something better than a small freehold. Takeleys is a house with a hall and one cross wing, and a 16th-century doorway remains in the wall between the two parts, but the building has been remodelled on many occasions and the roof is 17th-century and later. A 15th-century crown post is reused on the ground floor. There is a large timber-framed extension of 1996 to the south.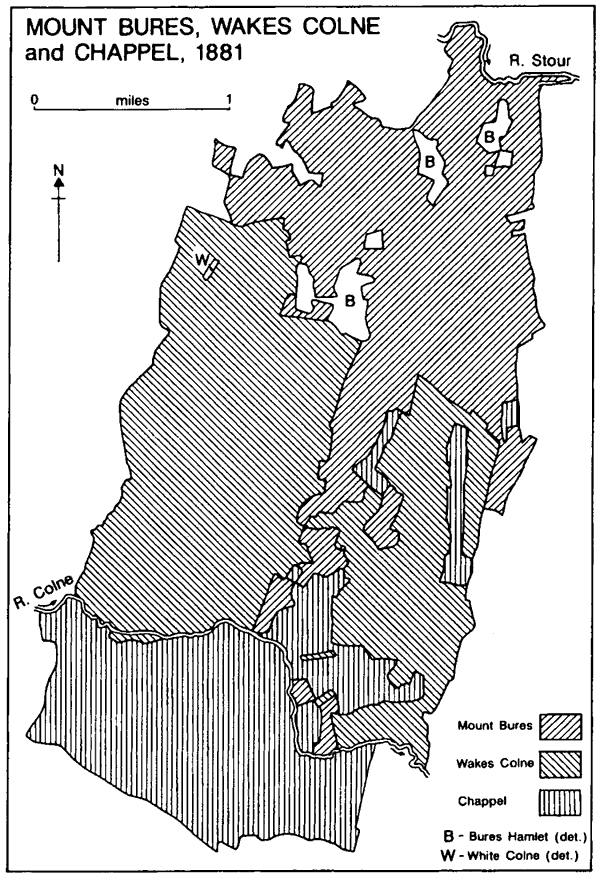 Staunch Farm is a small 17th-century house with rooms on either side of a central stack; 19th- and 20th-century service accommodation has been built along the east side. Elms Farm, built in the later 18th century, has a brick ground floor with timber frame above. Old Wythers Farm has a three-room plan with a cross passage behind the present brick stack. The roof is partly smoke-blackened and incorporates a crown post, probably of the 15th century, although it may have been at least in part raised when the upper floor was put into the hall. Nortons may have been associated with John Norton recorded in 1578, but the existing building is of the 17th century. (fn. 30) Abram's Croft was built c. 1580, Josselyns in the 17th century, and Sergeants and Roberts in the later 17th century. The present Burnt House was built in the 19th century on the site of the earlier Alphes and Stonards. (fn. 31) The Thatchers Arms was built before 1869. (fn. 32)
In the 20th century some council and private houses were built near the level crossing and a few on the outskirts of the parish. (fn. 33) In 1971, out of a total of 65 households, 11, or 17 per cent, were housed by the council, in Craigs Lane. By 1991 only 8 per cent of the 85 households lived in council accommodation. (fn. 34)
In 1905 shallow wells still provided the only water supply. (fn. 35) A water tower was built in 1947 and piped water supplied. An electricity supply was provided from 1947, by 1954 serving the south end of the parish. Land north-west of Valley Green farm was used in the Second World War for bomb dumping. A United States pilot from the 56th Fighter Group, Boxted, ejected safely when his plane crashed in 1944 near the Thatchers Arms.
In 1996 village social activities included annual flower festivals held on the patronal festival, fundraising charity events, and an annual harvest supper. There was a Bures and District Agricultural Farmers' Club and a Mount Bures Footpath Society. The village hall in Craigs Lane, formerly the school, belonged to the church. (fn. 36) Canon John Collins (d. 1982), well known for his antiracist and nuclear disarmament campaigning, spent his retirement in Mount Bures. (fn. 37)