Pages 131-149
A History of the County of Essex: Volume 8. Originally published by Victoria County History, London, 1983.
This free content was digitised by double rekeying. All rights reserved.
HARLOW ANCIENT PARISH
The terrain rises from 30 m. above sea level in the Stort valley to 100 m. near Harlow park in the south-west. On the higher ground rise Todd brook, flowing west, Shonks brook flowing south to join Cripsey brook, a tributary of the Roding, and several smaller streams flowing north, two of which meet near New Hall and join the river near Harlow mill. The Stort divides above the mill into two channels, enclosing a large meadow: the main northern stream forms the county boundary, the southern stream the mill race. (fn. 1) The 18th-century Stort navigation canalized the southern stream and made a lock near the mill. (fn. 2) Pincey brook, which formed the northern boundary of Harlow with Sheering, flows west into the river. The upper part of the parish is boulder clay, with a belt of London clay near Potter Street; the lower slopes are glacial and valley gravels. (fn. 3)
A few Neolithic and Bronze Age remains have been found, but the earliest evidence of largescale occupation comes from the late Iron Age. (fn. 4) Stanegrove Hill, rising from the Stort plain 800 m. north-west of Harlow old town, and partly in the ancient parish of Latton, was a religious centre for a wide area from the 1st century B.C. Coin burials of the Belgic period on the hill were succeeded by a small temple, built c. A.D. 70 and twice rebuilt and extended before being abandoned in the 4th century. (fn. 5) Near the temple was a settlement of the same period, probably covering 12 ha. or more, with signs of quarrying. (fn. 6) Occupational remains from the 3rd and 4th centuries were found in the 1970s at Chalk Lane, Harlow Tye, (fn. 7) and others between the temple and the river in 1980. (fn. 8)
The recorded population of Harlow was 50 in 1066 and 45 in 1086. (fn. 9) There were 48 taxpayers in 1327, and Harlowbury, the main manor, had 148 tenants in 1360. (fn. 10) Eighty-six persons were assessed to the lay subsidy in 1525. (fn. 11) There were 117 houses in 1670. (fn. 12) In 1801 the population was 1,514. It increased to 2,315 in 1841 and continued to rise more slowly to 3,471 in 1931. (fn. 13)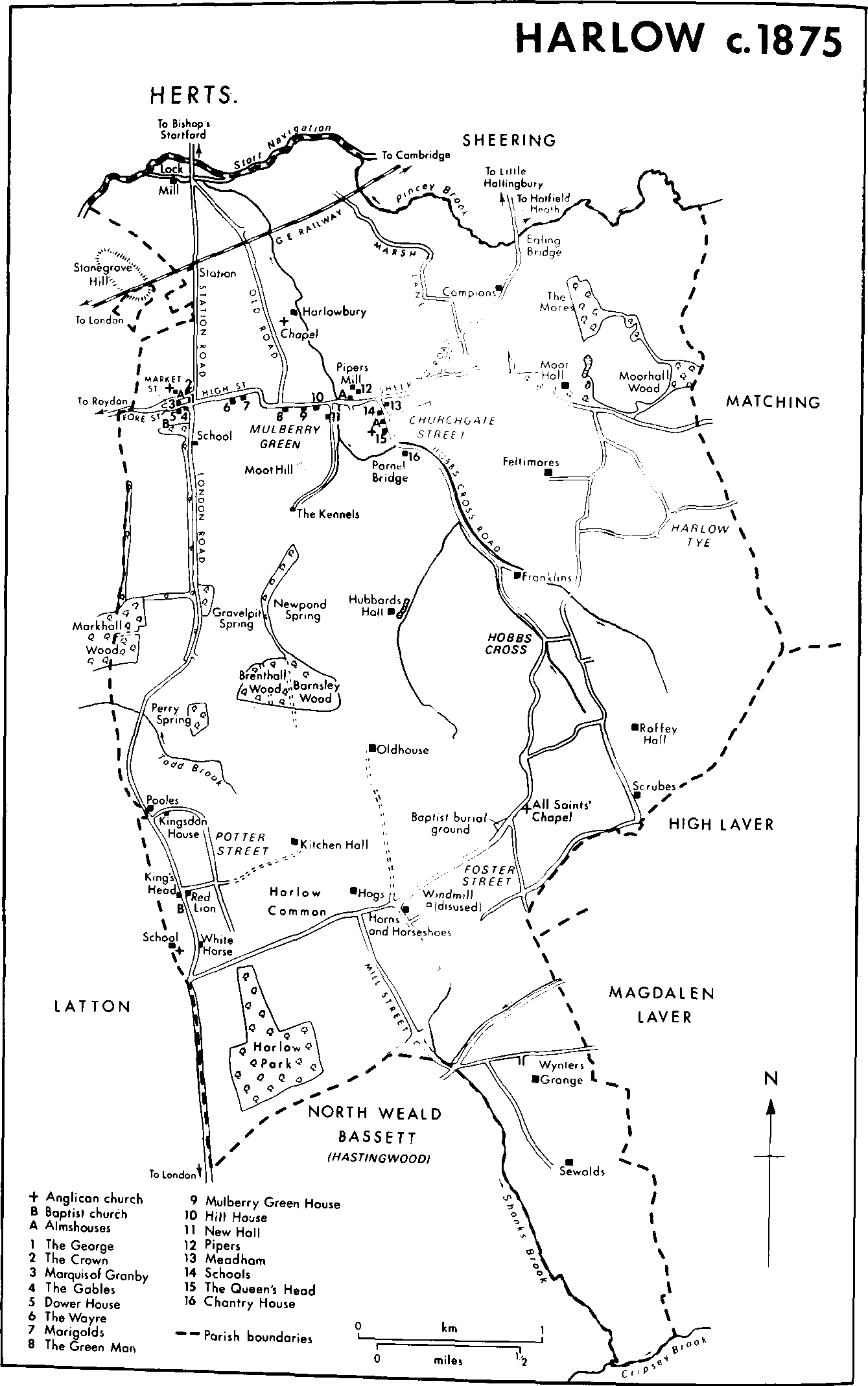 Medieval Harlow grew around the market place, Mulberry Green, and the church. (fn. 14) The church existed by the 12th century and the market by the 13th. (fn. 15) Mulberry (formerly Mudborrow) Green lay 400 m. north of Moot Hill, possibly the ancient meeting place of the hundred. (fn. 16) Outside the village there were scattered farms and hamlets. Harlowbury, the principal manor, lay north of Mulberry Green. It has been suggested that there was a deserted medieval village there, (fn. 17) but by 1287 most of the crofts of the villeins and free tenants of the manor lay south-east of the church, towards Harlow Tye and Hobbs Cross. (fn. 18) Three km. south of the market, near Harlow common, lay the hamlets of Potter Street and Foster Street. Potter Street was named from a local industry (fn. 19) which reached its peak in the 17th century. By the later 18th century Harlow had become a small town, and Potter Street a large village. (fn. 20) As at Epping, (fn. 21) the growth of the town was stimulated by coach traffic along the Newmarket road, and was slower in the mid 19th century when coaches were superseded by railways.
The earliest surviving building in the parish is the 12th-century chapel at Harlowbury. Several of the manor houses had medieval or 16thcentury features, and there are many smaller farms and cottages of 17th- and 18th-century date, mostly timber-framed and plastered or part weatherboarded, with tiled or thatched roofs. Franklins, at Hobbs Cross, has the date 1583 carved inside. (fn. 22)
The market place, High Street, Mulberry Green, Churchgate Street, and Potter Street have a number of old buildings of a more urban type. Modest dwellings of the 17th, 18th, and 19th centuries line the market place, interspersed with some larger houses, including the Gables, Fore Street, which dates from the mid 16th century, the Dower House, of several periods, and the inns. High Street is largely a 17th- and 18th-century street, with some 19th-century insertions and shopfronts, and flats and shops of the mid 20th century. At the west end of the street, on the corner of the London Road, is a fine house of the late 18th century; at the east end are the Wayre, of the late 18th or early 19th century, and Marigolds, of a similar date with later additions. At Mulberry Green and Sheering Road the houses, set back from the road, are mostly of the later 18th century and elegant in style. Hill House, Mulberry Green, is a small 18th-century house with a tower at each end of the front; the interior was largely remodelled in the 19th century, when there were also extensions on the north and east. Mulberry Green House has a long red-brick frontage of several dates: in the centre there is a double-fronted house with shallow bows of the late 18th or early 19th century, and to the west, a 19th-century front conceals a small building of the 18th century. Millhurst (formerly Piper's), Sheering Road, is a small brick house of the mid 18th century, extended and remodelled during the earlier 19th century, and further enlarged in the 20th century.
Churchgate Street has a less formal appearance than Mulberry Green, with church, almshouses, inn, and small shops and houses; they include the Churchgate Stores and Churchgate House, both halls with one cross wing, probably of 16thcentury origin with later additions. Meadham, a 17th-century house with a traditional threeroomed plan, has been cased in brick, mostly in the 19th century, and extended in the 19th and 20th centuries. The Stafford almshouse, a striking building of the early 17th century, is imitated by the 19th-century infant school. The old junior school, the school house, and the PerryWatlington almshouses by the church, are in Victorian Gothic style.
At the south end of Churchgate Street stands the 16th-century Chantry House, now the Churchgate hotel. It was built after the Reformation on land that had formed the endowment of John of Staunton's chantry in the parish church. It was bought by Alexander Stafford in 1615 and was sold some time after his death in 1652 to Samuel Harrison, whose descendants sold it to J. W. Perry-Watlington in 1855. (fn. 23) The building, timber-framed and plastered, had a fine doorway and original features, but has been much altered in the 20th century. (fn. 24)
The town grew little in the later 19th century. There was some building north of the market place and along the road to the station. Bury Road, with the Victoria hall (1887–8), dates from the late 19th century. A row of workmen's cottages was built by the Oddfellows in 1910 at the west end of the market place. (fn. 25) Hillingdon House, Hobbs Cross Road, now St. Nicholas's school, is an Edwardian mansion of c. 1907, surrounded by contemporary landscaped gardens. (fn. 26)
As a main-road parish Harlow was well furnished with inns: by 1769 there were 14 in the town and Potter Street. (fn. 27) The Green Man, Mulberry Green, may date from the 16th century, and parts of it may be older. Its position as well as its age suggest that it was an inn before the first known reference to it, which was in 1741. (fn. 28) The Crown, Market Street, was an inn by 1703, when the justices of quarter sessions lunched there; the building dates from the 17th century. (fn. 29) The Marquis of Granby, Fore Street, has a late medieval range and a long 18th-century range, refaced on the south in the 19th century. It was called the Wheatsheaf in 1722, but had changed its name by 1769. (fn. 30) The George, Fore Street, formerly one of Harlow's largest inns, gave up its licence c. 1948 and was a shop in 1978. It was recorded in 1598, but the present building dates mainly from the 19th century. (fn. 31) The Queen's Head, Churchgate Street, a 17th-century building, was first recorded in 1736. (fn. 32) At Potter Street are the Red Lion, a 16th-century building first recorded in 1721, and the White Horse, mentioned in 1755 but rebuilt probably in the early 19th century. (fn. 33) The King's Head, Potter Street, mentioned in 1755, was rebuilt in the late 18th century and survived as a public house until it was demolished in 1957. (fn. 34)
Harlow's old road system, unlike those of the parishes to the west, has not been greatly altered by the building of the new town. (fn. 35) In 1594 a main road from London via Epping ran through Potter Street to Harlow, where it turned east and continued by Hatfield Broad Oak to Thaxted, and thence north-west to Saffron Walden and Cambridge, and north-east into Suffolk. (fn. 36) At that date there seems to have been no main road from Harlow into Hertfordshire, but by 1678 the road from Epping continued north through Harlow over the Stort to Bishop's Stortford (Herts.) and Saffron Walden. (fn. 37) That north-south road through the parish ran through Potter Street to the market place, then east to Mulberry Green and north along Old Road. (fn. 38) In the 18th century it became the busy turnpike road to Cambridge and Newmarket. The Essex and Hertfordshire (or Hockerill) highway trust, founded in 1744, had charge of the section from Harlow to Stump Cross, near Great Chesterford. (fn. 39) The road from Harlow common south to Woodford was under the Epping and Ongar highway trust, established in 1769. (fn. 40) In 1831 the Essex and Hertfordshire trust completed a new road (later Station Road) from Harlow market to the mill, bypassing High Street and Mulberry Green. (fn. 41) In 1970 High Street was closed to traffic and a new road (Gilden Way) bypassed Old Harlow to the south. (fn. 42) The section of the London-Cambridge motorway, M11, which passes through the parish, bypassing the town, was opened in 1975. (fn. 43)
In the 18th century, and no doubt earlier, Harlow was linked with the other riverside parishes by an east-west road along the Stort valley through the market place and Mulberry Green. Churchgate Street, recorded in 1350, ran south-east to Hobbs Cross and High Laver. At Hobbs Cross it met a lane running south-west from Harlow Tye. Another lane ran south from Hobbs Cross to join Foster Street (1327) which ran south-west across Harlow common. (fn. 44)
It is not clear when the Stort was first bridged at Harlow. A mill bridge, mentioned in medieval surveys, may merely have crossed the mill race. (fn. 45) In 1757 a bridge was built for the turnpike road at Harlow mill, in place of a ford. (fn. 46) In 1831, when the new turnpike road was made, new bridges were built over the river and the Stort navigation canal. (fn. 47) By 1858 the river bridge was a county bridge. (fn. 48)
Ealing Bridge, over Pincey brook, was mentioned c. 1044 as Gildene Bridge. (fn. 49) It belonged to the manors of Harlowbury and Sheering. (fn. 50) It was rebuilt in 1683–4, and rebuilt and widened in 1830. (fn. 51) The county council adopted the bridge in 1889 and widened it in 1961. (fn. 52) Parnel Bridge, over the stream at the bottom of Churchgate Street, existed in 1417; it was so named from the chantry of St. Parnel. (fn. 53) The same stream was crossed by a footbridge and ford at New Hall until 1904, when the county council built a road bridge. (fn. 54)
The Stort Navigation canal, completed by 1769, is treated below. (fn. 55) In 1833 there was a public wharf on the canal at Harlow. (fn. 56)
In 1838 at least eight coaches passed through Harlow daily, serving London, Bury St. Edmunds, Cambridge, Haverhill, Norwich, and Saffron Walden. (fn. 57) The Northern and Eastern railway line from London reached Harlow in 1841, with a station 1.6 km. north of the town, and was extended to Cambridge in 1845. (fn. 58)
There was a post office at Harlow by 1823 and an additional receiving office at Potter Street by 1848. (fn. 59) A sub-post office was opened in Churchgate Street by 1894, when the main office also became a telegraph office. (fn. 60) There was a telephone exchange from 1910. (fn. 61)
Gas was brought to Harlow in the 1850s by the Harlow and Sawbridgeworth Gas Light and Coke Co. (fn. 62) The Bishop's Stortford, Harlow, and Epping Gas and Electricity Co., which appears to have taken over the earlier company, supplied gas from 1910. (fn. 63) Part of the parish was sewered by 1903 and Churchgate Street c. 1907. (fn. 64) The Herts. and Essex waterworks company had extended its mains to the parish by 1886. (fn. 65) In 1815 there was a fire brigade with an engine in the charge of the churchwardens. The service lapsed, but a new brigade was formed in 1870. The brigade was taken over in 1894 by the newly formed parish council. (fn. 66) The old fire station at Mulberry Green was still in use in 1978, but the service's headquarters was in the new town.
Harlow Workmen's hall was opened in 1881. (fn. 67) The Victoria hall, Bury Road, was built by a limited company in 1887–8 and was used for concerts, lectures, and parish meetings It was bought by the parish council in 1933 and in 1977 was a youth centre. (fn. 68) There was an Essex reformatory school for boys at Harlow Tye from 1857 to 1879. (fn. 69) The Essex Hunt kennels have been at Harlow since 1857, when the Revd. Joseph Arkwright of Mark Hall was master. (fn. 70) There were cricket clubs in the 19th and early 20th century at Moor Hall (founded before 1855), Harlow Town, and Potter Street. (fn. 71) Harlow Town and Potter Street clubs still existed in 1978. (fn. 72) Harlow golf club, founded in 1897, flourished until c. 1930. (fn. 73) The Memorial university of Newfoundland opened a hostel in the former maltings, St. John's Walk, in 1969. It accommodates students gaining professional work experience in Harlow. (fn. 74)
Benjamin Flower (1755–1829), political writer and printer, lived in Harlow, where his daughters Eliza Flower and Sarah Flower Adams, hymn writers, were born. (fn. 75) Charles Perry (1807–91), first bishop of Melbourne, Australia, was born and buried at Harlow. (fn. 76) John W. PerryWatlington (d. 1882) of the same family, was the liberal benefactor of the parish. F. M. Sir Evelyn Wood retired to Harlow and died there in 1919. (fn. 77)
Manors and Other Estates.
Four landholders in Harlow were named in the Domesday survey, from whose lands (fn. 78) all the later manors, with one possible exception, were eventually formed. The manor of HARLOW or HARLOWBURY lay mainly north and east of the medieval village, but included woodland in Harlow park, south of the common. The nucleus of the manor was land devised to the abbey of Bury St. Edmunds in 1044 by Thurstan son of Wine, a prominent thegn. (fn. 79) In 1066 it comprised 1½ hide; to that had been added by 1086 another 3 hides formerly held by five free men. (fn. 80) The abbey also held a manor and 3½ hides in Latton. It seems likely that the Latton manor was united with Harlowbury in the 11th or 12th century, and that the parish boundary was altered to bring it within Harlow parish. In the 13th, 14th, and 15th centuries the abbey shared the pasture of Stanegrove Hill with the two Latton manors of Latton Hall and Mark Hall. That is probably the origin of the detached portion of Harlow parish situated locally in Latton, which included part of the hill. (fn. 81) The subordinate manors of Hubbards Hall and Moor Hall were probably formed from the 3 hides in Harlow added to the estate before 1086. (fn. 82)
Bury St. Edmunds retained Harlowbury until the dissolution of the abbey in 1539. When Samson became abbot in 1182 the manor was in the keeping of Arnold of Harlow, a rapacious man who was soon checked by fear of the new abbot. (fn. 83) In 1215 Samson's successor, Abbot Hugh II, obtained from King John valuable privileges in the demesne woods of Harlow. (fn. 84) In the 13th and 14th centuries the manor seems usually to have been farmed by a bailiff directly responsible to the abbey. (fn. 85) It was leased c. 1430 to John Dobbs. (fn. 86) Early in the 16th century it was on lease to Giles Mallory. In 1532 Thomas Cromwell, who was looking for a seat near the king's house of Hunsdon (Herts.), sought a long lease of Harlow, offering in return to help the abbey. (fn. 87) He did not get a lease, but in 1535 the abbey granted him a pension of £10 a year from the manor. (fn. 88) In 1536 a lease of Harlowbury for 60 (later 80) years was granted to William Sumner. (fn. 89) The Sumner family seem to have retained it until 1610. (fn. 90)
In 1544 the freehold of Harlowbury was sold by the Crown to Catherine, widow of Sir Thomas Addington, and her son Thomas Addington (d. 1554). (fn. 91) Thomas's cousin and heir Ralph Addington was insane. (fn. 92) In 1555 the custody of Ralph's lands was acquired by his cousin John Addington, who succeeded to the manor on Ralph's death in 1564. (fn. 93) John Addington was succeeded in 1586 by his son William (d. 1592), (fn. 94) and he by his infant sons John (d. 1607) and Thomas in turn. Thomas Addington, who died in or soon after 1647, (fn. 95) was succeeded by his son John (d. c. 1660), and he by his infant son Thomas (d. 1668). Richard Addington, uncle and heir of Thomas, was the last of his name to hold Harlowbury. He died in 1670, leaving the manor to his nephews, Arthur Champernoun and Richard Way. It was, however, burdened with debts and legacies, and in 1680 Arthur and Alice Champernoun and Elizabeth Way sold it to Sir Francis North. Throughout their long ownership the Addingtons seem to have remained in Devon, and never to have occupied Harlowbury. (fn. 96) In 1680 the manor was on lease to Richard Wall, who remained as North's tenant. (fn. 97)
Sir Francis North, who became Lord Chancellor in 1682 and was created Lord Guilford in 1683, died in 1685. (fn. 98) Harlowbury passed in succession to Francis North, Lord Guilford (d. 1729), Francis North, Lord North and Guilford, later earl of Guilford (d. 1790), and then to Frederick North, the 2nd earl (d. 1792), better known as Lord North, the prime minister. (fn. 99) The manor continued to descend with the earldom until the death in 1827 of the 5th earl, Frederick North, the philhellene. (fn. 100) It then passed to the three daughters of George Augustus North, 3rd earl of Guilford (d. 1802): Maria (d. 1841) wife of John Crichton-Stuart, marquess of Bute (d. 1848), Lady Susan North, later Baroness North (d. 1884), and Lady Georgiana North (d. 1835). The sisters held their inheritance jointly until 1831, when it was divided and Harlowbury was allotted to Lord and Lady Bute. Lady Bute devised the manor to her husband for life, with remainder to her nephew William North (formerly Doyle), son of her sister Susan; he came into possession in 1861 on reaching the age of 25. (fn. 101)
The Norths, like the Addingtons, were nonresident. The Barnards were their tenants from 1760 or earlier. In 1849 the estate, comprising some 448 a., was on lease to William and John Barnard. (fn. 102) In 1876 William North sold Harlow park to the Arkwrights of Mark Hall, Latton. (fn. 103) About the same time he sold he Harlow mill to the Barnards, (fn. 104) and c. 1879 he sold the main part of Harlowbury, including the house, 330 a. land, and the manorial rights, to John W. PerryWatlington (d. 1882) of Moor Hall. (fn. 105) Harlowbury passed with the Moor Hall estate to PerryWatlington's widow Margaret (d. 1886) and then to his nephew Capt. Robert W. Ethelston (d. 1914). It was held by trustees after Capt. Ethelston's death. (fn. 106) Most of the estate was included in the new town; there has been building on the western and southern parts, but the remainder is still open farmland.
The house has two hall bays of a large aisled house of c. 1300. The building formerly extended father east, at what was probably the service end, but in the late 14th or early 15th century that end was demolished and replaced by a twostoreyed cross wing of four bays, to which a small east wing was added in the late 15th or early 16th century. Nothing survives to the west of the hall, but in 1536 there were rooms on two storeys, perhaps in a cross wing to match that on the east. In the late 16th century a chimney stack and upper floor were put into the hall and it may have been then that the aisles were demolished. A staircase was added on the north side in the 18th century and in the later 19th century all but the north side was encased in brick. Internally the house has been divided for three separate occupancies.
Harlowbury chapel dates from c. 1180, and was probably the private chapel of the manor. It is a small rectangular building, of flint rubble with stone dressings and later brick buttresses. The north doorway, with semicircular arch and carved waterleaf capitals, is original, as are round-headed windows in the north, east, and south walls. The walls were heightened and the roof renewed in the 15th century. In the 17th century an upper floor was inserted when the building was adapted for agricultural use. (fn. 107)
The manor of BRENDHALL lay on the western side of the parish, extending south from Mulberry Green. The name, first recorded in 1313, may mean that the manor house had previously been burnt down. (fn. 108) By the 17th century the manor was also known as NEW HALL. (fn. 109) In 1086 Eudes dapifer held i hide and 3 virgates in Harlow. (fn. 110) From Eudes the tenancy in chief descended like that of Theydon Garnon manor through the families of FitzGerold, Rivers, and de Lisle, before passing to the Crown in the 14th century. (fn. 111)
Eudes's manor had been held in 1066 by Godwin, a free man. Fifty acres were added to it by Lefsi, who can probably be identified with Lisois de Moustiers, Eudes's predecessor. In 1086 Eudes's tenant was Turgis. (fn. 112) In 1166 Gilbert of Harlow held of Henry FitzGerold ½ knight's fee formerly of Eudes. (fn. 113) Gilbert, or a namesake, also held Hubbards Hall and Moor Hall at the same time. (fn. 114) By 1180 the demesne tenancy of Brendhall had passed to William FitzFulcher, as heir to his uncle who was not named. (fn. 115) Henry FitzFulcher held land in Harlow in 1203, (fn. 116) and his son Nicholas FitzFulcher held a carucate there in 1224. (fn. 117) In 1226 he granted all the land in Harlow which he held of the fee of Warin FitzGerold, except the wood, to his kinsman David de Sandervill, or Flitwick. (fn. 118) In 1233 David, son of David of Flitwick, was summoned by Robert, son of Simon of Roding, for not performing service of ½ knight's fee from his tenement at Harlow. Robert claimed to be mesne tenant between David and Margery de Rivers, but in 1238 surrendered the services to Margery. (fn. 119)
Brendhall descended for several generations in the Flitwick family, each known tenant being called David. (fn. 120) Sir David of Flitwick (d. 1353) left as heir his infant grandson David of Flitwick, but a year before his death he had granted the manor for life to his granddaughter Agatha of Flitwick. (fn. 121) The heirs of David of Flitwick held ¼ knight's fee in Harlow in 1368. (fn. 122) In 1370 and 1381 John Goderich and Eleanor his wife, daughter and heir of David of Flitwick (d. by 1370) held Brendhall and lands in Bedfordshire and other counties. (fn. 123) John Goderich was holding Brendhall in 1401. (fn. 124)
In 1425 and 1431 Brendhall, together with Kitchen Hall, was held by Richard Stacy, jeweller of London. (fn. 125) He granted both manors in 1433 to John Bugge and Joan his wife. (fn. 126) Bugge bought Moor Hall about the same time, and the three manors remained in his family's possession until 1624, when Brendhall and Kitchen Hall were sold by Edward and Sir Anthony Bugge to George Benson. (fn. 127) Benson sold them in 1657 to (Sir) Abraham Reynardson (d. 1661), a former royalist mayor of London. (fn. 128) In 1692 Reynardson's sons Jacob and Joseph sold Brendhall and Kitchen Hall to Henry Lamb, goldsmith of London. (fn. 129) From Lamb or his heirs they were bought by Robert Chester, a director of the South Sea Company. (fn. 130) After the South Sea Bubble they came into the hands of receivers. (fn. 131)
In 1724 Brendhall and Kitchen Hall were sold to Arthur Batt of Devonshire Square, London. (fn. 132) Batt (d. 1730) devised them to his brother William (d. c. 1770), with remainder to William's sons. The eldest son William Batt (d. 1792) was succeeded by his nephew John T. Batt, who c. 1794 held 495 a. in Harlow, including New Hall farm (211 a.) and Kitchen Hall farm (157 a.). (fn. 133) In 1803 the estate was sold to trustees acting for Montagu Burgoyne of Mark Hall, Latton. Part of it was later sold, but the bulk of it was merged with Mark Hall. In 1819, when the Mark Hall estate was sold to Richard Arkwright, it included New Hall (191 a.), Kitchen Hall (88 a.), and other lands in Harlow. (fn. 134) When the Mark Hall estate was broken up after the Second World War, New Hall farm (formerly Gravelpit farm) and Kitchen Hall were sold separately from New Hall itself. (fn. 135)
The house, which lay within a moat, has two ranges, both timber framed. That on the east is probably of the later 15th century, and appears to have been built as a cross wing. It probably served a hall to the west, on which side a twostoreyed range was built in the later 16th century, only partly overlapping the eastern range. There are later additions on the north and west.
The capital messuage or farm of CAMPIONS lay immediately south of Ealing bridge, near the Sheering boundary. It may have originated in the ½ hide at Gildene Bridge (Ealing Bridge) held in 1044 by Alfwine as the tenant of Thurstan son of Wine, and reserved by Thurstan when he devised his manor of Harlow to the abbey of Bury St. Edmunds, but proof is lacking. (fn. 136) Campions was evidently the free tenement held by the family of Campion, locally prominent from the 14th century to the 16th. (fn. 137) Walter, son of William Campion of Hatfield Broad Oak, and John his son held 30 a. in Harlow and Sheering in 1314. (fn. 138) John Campion was living at Harlow in 1441, when he was said to have been robbed of goods worth £40. (fn. 139)
Campions was held of Harlowbury manor by William Somner (d. 1623) and later by Thomas Harrison (d. 1635). (fn. 140) In 1794 Campions farm, with 95 a., belonged to Joseph Bradney, Bithiah, wife of Thomas Gibson, Susannah and Sarah Lewis, and others. (fn. 141) By 1814 it appears to have passed to John Matthews. (fn. 142) Samuel P. Matthews held Campions with 120 a. in 1849, and Frederick R. Matthews had succeeded him by 1886. (fn. 143) In 1903, after F. R. Matthews's death, the farm was sold, with 42 a., to Mr. Nockolds of Sawbridgeworth (Herts.). (fn. 144) It was later acquired by W. S. Poole, who sold it with 34 a. c. 1910. (fn. 145)
There was a house at Campions by 1314. (fn. 146) It was apparently rebuilt in the 17th century, and enlarged and stuccoed in the early 19th. (fn. 147) The house was badly damaged by fire c. 1930 and was later restored. It was converted to seven flats in the 1950s. (fn. 148)
The manor of HUBBARDS HALL was held of Harlowbury and was probably formed from part of the 3 hides added to that manor between 1066 and 1086. (fn. 149) It lay in the centre of the parish between Churchgate Street and Foster Street. The first known tenant was Maurice of Harlow, who was living at the time of Abbot Anselm of Bury St. Edmunds (1121–46). Maurice's son and heir was Gilbert of Harlow, who may also have held Brendhall and Moor Hall. Abbot Hugh II (1213–29) granted to Hubert, son of William of Harlow, land in Harlow with the right to hold a court for his tenants and other privileges held by his ancestors Maurice and Gilbert. Hubert's son John, usually styled John FitzHubert, became the ward of Abbot Simon of Luton (1257– 79): a dispute arising from the wardship was settled c. 1270 when the abbot agreed to return the horse which he had exacted as a heriot on Hubert's death, and confirmed the privileges granted to Hubert and his ancestors. (fn. 150) John FitzHubert witnessed some of the early charters of Abbot John of Northwold (1279–1301), while his son John Huberd witnessed later charters of the same abbot. (fn. 151)
John Huberd, from whose family the manor was named, served as a coroner and a forest verderer. (fn. 152) He was still alive in 1324, but dead by 1327 when his widow Margery was holding his lands. (fn. 153) Thomas Huberd, his son and heir, was serving in France in 1346. (fn. 154) Thomas was later a customs officer, keeper of the peace, and judge. (fn. 155) From 1347 he was involved in a long and bitter lawsuit over a rent charge on the manor, said to have been granted by his father to the FitzWalters of Roydon. (fn. 156) Thomas Huberd was dead by 1357. (fn. 157) His successors during the following 70 years were apparently all called Robert; it is not clear how many generations there were. (fn. 158) The last Robert died in 1428 or 1429. (fn. 159) His executors granted Hubbards Hall, along with Moor Hall, and Paris Hall in North Weald, to William Rothwell, who held the estate in 1431. (fn. 160) In 1456 or 1457 Hubbards Hall and Paris Hall were held by John son of Robert Symonds. (fn. 161) Hubbards descended with Paris Hall until the 1590s, when they were sold separately by William Pooley. (fn. 162) Hubbards Hall was bought in 1595 by John Adams and George Bull. (fn. 163) Adams sold it in 1606 to Francis Reeve (d. 1639). (fn. 164) The manor remained in the Reeve family until 1723, when Wiltshire Reeve conveyed it to John Browne of Covent Garden (Mdx., later Lond.). (fn. 165)
Maj.-Gen. John Browne, heir of the last, sold Hubbards Hall in 1761 to William Selwin (d. 1768) of Down Hall, Hatfield Broad Oak. (fn. 166) Hubbards Hall descended with Down Hall until 1920, when Major Horace W. Calverley sold Hubbards Hall and 13 a. to Mrs. Swire of Hillingdon House. (fn. 167) In 1934 Mrs. Swire gave the manor to her son John K. Swire.
Hubbards Hall house contained a large hall and cross wing, and its plan and part of its roof are still recognizable in the centre of the west front of the existing house. The service cross wing appears to have been that to the south. In the 17th century the hall was divided into two rooms by a chimney wall, and an upper floor was inserted above each part. The ceiling of the larger part was raised in the earlier 18th century, and the casing of the exterior with brick may have started then. Some of the rooms were panelled or given new fireplaces in the 18th century. In the 19th century additions were made on the north, south, and east, and in 1933 a new entrance hall was made on the north and a large north-east wing was added from designs by Clough Williams-Ellis. (fn. 168)
The manor of KITCHEN HALL adjoined Brendhall to the south. The first known tenant was Nicholas FitzFulcher, who held it in 1260 and had previously held Brendhall. (fn. 169) That suggests a connexion between the two manors, but there is no evidence of common overlordship. In 1260 Henry Pirot was farming FitzFulcher's manor at Harlow. (fn. 170) About 1265, during the Barons' War, it was seized by Gilbert of Clare, earl of Gloucester. (fn. 171) The earl may have been FitzFulcher's overlord, for later evidence shows Kitchen Hall as held of the honor of Clare. (fn. 172) FitzFulcher apparently did not recover the manor, though his kinsman David of Flitwick was claiming it as late as 1308. (fn. 173)
In 1303 John of Staunton, rector of Harlow, (fn. 174) was holding ½ knight's fee there, presumably in trust for Robert of Hastings, to whom he conveyed a messuage, a mill, and a carucate of land in 1308. (fn. 175) Hastings was holding Kitchen Hall in 1317. (fn. 176) Sir Humphrey of Hastings, probably his father, had held a neighbouring manor in North Weald. (fn. 177) Kitchen Hall later passed to Beatrice, daughter of Philip of Hastings. She married Thomas de Longevill, who died in 1346 holding Kitchen Hall jointly with her. (fn. 178) Some years earlier Longevill seems to have granted the manor for life to Hugh atte Wood, a villein belonging to John de Broke, lord of Mascallsbury in White Roding. (fn. 179) Broke seized Kitchen Hall and gave it to Robert, son of John Huberd of Harlow, but Hugh atte Wood and his associates ejected Huberd and put in Thomas Prior valet of the queen. (fn. 180) After Longevill's death Beatrice married Sir William de Quinton, with whom she brought a suit against Prior for recovery of the manor. (fn. 181) She died in 1349 and Quinton in 1374. (fn. 182)
Kitchen Hall was later acquired by the Aylmers of Sheering. In 1383 Thomas and William Aylmer and others conveyed it to Robert Webb of London. (fn. 183) Webb sold it in 1403 to John Roundell, who was holding land in Harlow and Latton in 1412. (fn. 184) By 1425 Kitchen Hall had passed to Richard Stacy, and it subsequently descended with Brendhall. (fn. 185)
Kitchen Hall house, which may once have been moated, retains the central range and service cross wing of an early 17th-century building. There are 19th-century additions at the rear.
The manor of MOOR HALL lay in the northeast quarter of the parish. It seems to have been formed partly from ½ hide held in 1086 by Eustace, count of Boulogne, and partly from lands granted by the abbey of Bury St. Edmunds out of their manor of Harlow. (fn. 186) In the 13th century and later Moor Hall was held both of the abbey and of the honor of Boulogne as a member of Rivenhall manor. (fn. 187) As at Lambourne, (fn. 188) a mesne tenancy seems to have been held by Pharamus of Boulogne (d. 1183 or 1184), and later by the Fiennes family. (fn. 189)
Count Eustace's land had been held in 1066 by Brictmar, a free man. In 1086 Eustace's tenant was Geoffrey. (fn. 190) By the mid 12th century the demesne tenancy was held by Gilbert of Harlow, (fn. 191) probably the man of that name who held Brendhall and Hubbards Hall. It passed to Arnulf of Harlow, who received a charter from Abbot Hugh I (1156–80). (fn. 192) Arnulf was succeeded by his son William of Harlow (fl. 1230), (fn. 193) who acquired more land by assart and exchange. Sir Richard of Harlow, son of William, sought to increase his family's land still further, but was compelled by Abbot Henry of Rushbrook (1235–48) to surrender all claims to lands in Harlow except those held by William at his death. (fn. 194) During the Barons' War Sir Richard supported the king, and after the battle of Lewes his house at Harlow was looted. (fn. 195) He was sheriff of Essex in 1268. (fn. 196) He died c. 1280, apparently without issue. (fn. 197)
Ranulph de Arderne held land of the abbey of Bury in 1302; (fn. 198) in 1316 William de Arderne granted Moor Hall, then first mentioned by that name, to Matthew Wodeham of London. (fn. 199) Matthew Wodeham and John Snow were holding the manor in 1325. (fn. 200) Wodeham's half later passed to Raymond Wodeham, whose son John sold it in 1353 to Thomas Huberd of Hubbards Hall. (fn. 201) The other half, comprising 118a., was conveyed by John Snow in 1336 to Thomas of Shimpling, rector of Stansted Mountfitchet. In 1363 Ralph of Harpley, rector of Sheering, conveyed it, along with land in Sheering, to William Aylmer. (fn. 202) Aylmer and Robert Huberd, heir of Thomas, each held half of Moor Hall in 1383, but by 1410 Robert held the whole manor. (fn. 203) Moor Hall descended with Hubbards Hall until after 1431, (fn. 204) when William Rothwell sold it to John Bugge (d. 1443), who also held Brendhall and Kitchen Hall. (fn. 205)
Moor Hall descended in the Bugge family for almost 250 years, through at least seven generations. (fn. 206) In 1677 Richard Bugge sold it to Benjamin Henshaw. (fn. 207) It passed to Henshaw's son and his grandson (d. 1767), both named Benjamin, and then to Joseph Henshaw, son of the last Benjamin. (fn. 208) The Revd. Joseph Henshaw held the manor c. 1770 and in 1777, when it comprised 242 a. (fn. 209) In 1797 another Benjamin Henshaw sold it to John Perry, shipowner of Blackwall in Poplar (Mdx., later Lond.). (fn. 210)
The family of Perry, later Perry-Watlington, made Moor Hall their seat, improved the house and grounds, and enlarged the estate. John Perry (d. 1810), was succeeded in turn by his sons John (d. 1824), Philip (d. 1830), and Thomas (d. 1833). (fn. 211) Thomas was followed by his son John Watlington Perry, who later took the surname of Perry-Watlington. (fn. 212) In 1849 the Moor Hall estate comprised 651 a., including Harlow Tye, Jackett's, Feltimore's, and Roffey Hall farms. (fn. 213) About 1879 Perry-Watlington bought most of the adjoining manor of Harlowbury. On his death in 1882 the whole estate passed to his widow Margaret (d. 1886) and then to their nephew Capt. Robert W. Ethelston. (fn. 214) Moor Hall was let, (fn. 215) and in 1898, the house and 123 a. were sold to John Balfour, who later bought more of the estate. (fn. 216) Other lands were sold by Capt. Ethelston and the remainder passed to trustees on his death in 1914. (fn. 217) Moor Hall and the estate were bought in 1934 by a builder; after the Second World War, however, the land was reserved as Green Belt for the new town and was sold again. (fn. 218)
In the 18th century Moor Hall was a house of moderate size with grounds of some 5 a. (fn. 219) It was rebuilt, probably between 1805 and 1810, as a three-storeyed mansion in classical style, with five bays and a Doric portico to the main (east) front. (fn. 220) About the same time the grounds were extensively landscaped and planted, and a chain of small natural lakes was reshaped. Between 1808 and 1814 the Matching road was diverted farther from the house to give greater privacy, as suggested by Humphry Repton. (fn. 221) The house was enlarged later in the 19th century. (fn. 222) It was occupied by the army during the Second World War, and was later allowed to decay. It was burned by vandals and finally demolished c. 1960. (fn. 223) In 1978 part of the stable block and one of the lodges survived, and some of the 19thcentury landscaping was still visible.
The manor of WELDES, later SEW ALDS, originated in the berewick or outlying portion of the manor of Roydon which Richard held of Ranulf brother of Ilger in 1086. It then comprised 1¼ hide, with 7 a. of meadow and wood for 50 swine. (fn. 224) It lay 13 km. from the main body of the manor, in the south-east corner of Harlow parish. It came to be regarded as a separate manor, the overlordship descending with that of Roydon through the FitzWalter family. (fn. 225)
The manor took its earlier name from the Welde (Waude) family, which was prominent in Harlow in the 13th and 14th centuries. (fn. 226) William de Welde held ½ knight's fee there in 1303. In 1346 Robert de Morley held that fee as guardian of William de Welde's heir. (fn. 227) Alice, widow of James Welde, in 1388 held a messuage and 290 a. of land in Harlow, Magdalen Laver, and North Weald for life. In that year Thomas Blount and Cecily his wife conveyed Cecily's reversionary interest in the manor to Richard Braughing. (fn. 228) By 1428 the manor had passed to William Sewall, from whose family it took its later name. (fn. 229) Richard Sewall of Harlow was living in 1442. (fn. 230)
Sewalds came into the possession of Thomas Colte (d. 1471) of Nether Hall, Roydon, and descended with that manor until 1609, (fn. 231) when (Sir) George Colte sold it to Thomas Sumner. (fn. 232) Sumner sold it to William Cage in 1628. (fn. 233) In 1668 Sir William Cage sold the manor to Geoffrey Howland. (fn. 234) Geoffrey was succeeded by John Howland of Streatham (Surr.), whose daughter and heir Elizabeth married Wriothesley Russell (d. 1711), later duke of Bedford. (fn. 235) John Russell (d. 1771), duke of Bedford, sold Sewalds after 1738 to Thomas Holt of Rochford. (fn. 236) By 1768 it had passed to Thomas Holt White (d. 1797) of South Lambeth (Surr.), brother of Gilbert White of Selborne (Hants.), the naturalist, and probably godson of Thomas Holt. (fn. 237) Thomas Holt White was succeeded by his son of the same name (d. 1841). (fn. 238) In 1849 Algernon Holt White was owner and occupier of Sewalds Hall with 240 a. (fn. 239) The Furze family, tenants in the late 19th century, owned the farm in 1978.
Sewalds Hall house, on a site which was probably once moated, preserves the plan of a hall with cross wings. The north-west cross wing has a late medieval roof and the south-west wing may also be old, but the central range appears to have been rebuilt, partly in brick, in the earlier 19th century. There is an additional service range, of the 18th or early 19th century, to the south.
Economic History.
The Domesday evidence suggests that settlement and arable farming were concentrated in the northern half of the parish, in the Stort valley, with more sparsely populated woodland and waste to the south. The large manor of Harlowbury contained the main settlement, with 31 villeins, bordars, and serfs; there were 8 ploughteams, a water mill, 4 rounceys, 25 beasts, 50 swine, 60 sheep, 3 colts, and 5 hives of bees. Another estate, with 6 teams and 12 men, had been added to the manor since 1066. Brendhall manor, south of Mulberry Green, had between 1066 and 1086 changed from an arable to a mainly pastoral economy, without altering in value: its ploughteams had decreased from 3 to 1 and its men from 5 to 3, but its area had been increased by 50 a. and its stock from 1 beast and 30 sheep to 4 rounceys, 18 beasts, 19 swine, 75 sheep, and 2 hives of bees. (fn. 240)
Surveys of Harlowbury manor in 1287, 1302, 1334, 1360, 1383, 1410, and 1431, (fn. 241) though not uniform in content or reliability, reveal changes in its economy, particularly the decline of villein tenure and labour services. In 1287 customary tenants occupied 14 virgates and half-virgates and several 10–a. and 5–a. holdings for which they owed labour services throughout the year, but by 1431 all the larger holdings were in the lord's hand or were let at a total rent of 37s. 4d. with no services. The manor was farmed by the abbot's bailiff during that period. From 1431 the whole estate was leased to one tenant at £70, later £75, yearly. (fn. 242)
The total size of the demesne farmland remained much the same, between 670 and 690 a., in 1287, 1334, and 1431, but relative acreages of arable, meadow, and pasture changed. In 1287 there were 506 a. of arable and 159 a. of pasture, and in 1302 arable comprised 495 a. By 1334 there were 607 a. of arable and c. 36 a. of pasture. The value of the arable increased from £14 15s. 10½d. at 6d. an acre in 1287 to £21 4s. 5½d. at an average of 8d. an acre in 1334. This suggests that the maximum extension of the arable and pressure of population was not reached until the 14th century. In 1431 there were 617 a. of arable, valued at 8d. an acre, and c. 21 a. of pasture. There were then 3 ploughs, 6 plough beasts (stotti), 2 cart horses, 1 bull, 30 cows, and 124 sheep and lambs belonging to the manor. (fn. 243) The demesne meadows, estimated at 30 a. in 1086, (fn. 244) comprised 28 a. in 1287, 21 a. in 1302, 30½ a. in 1334, and 37 a. in 1431.
In addition to the fields, all the surveys mentioned 11 a. of garden with fruit trees and pasture, and fishponds at the manor and by the mill. A dovecot was mentioned in 1287 and 1302, and in 1387 there were a vinery and a nuttery. The demesne woodland comprised 80 a. in Harlow park and c. 20 a. in Latton grove, Hervey's grove, and elsewhere, all being coppiced on a 6 or 7 year cycle in 1334.
The parish lay on the fringe of the forest of Essex; in 1086 there was woodland pasture for 390 swine. (fn. 245) Assarting, recorded in the 12th century, continued through the 13th. In 1294 new assarts comprising 80 a. in Harlow park were let at 9d. an acre to several tenants, later referred to as the 'free tenants of parkland'. (fn. 246) The woods of the abbot of Bury in Harlow were quit of pleas of the forest, regards, and waste in 1215. (fn. 247) The parish was included in the extension of the forest made in 1228, but excluded again in 1301. (fn. 248)
Arable farming still predominated in the parish in 1794, when there were said to be 2,601 a. of arable and 1,125 a. of pasture, woods, yards, and buildings. The largest farms were still those based on the ancient manors of Harlowbury (408 a.), Moor Hall (237 a.), Sewalds (236 a.), and New Hall, formerly Brendhall (211 a.). There were five farms of 100–200 a., including Hubbards Hall and Kitchen Hall, and five of 50–100 a. (fn. 249) In 1797 out of 282 households 59 were of gentlemen and farmers, 87 of tradesmen, and 136 of labourers. (fn. 250)
Dairying and stock-raising developed in the 19th century, largely at the expense of arable farming. In 1849 there were estimated to be 2,398 a. of arable, 1,098 a. of meadow and pasture, and 506 a. of woods, wastes, houses, and gardens. (fn. 251) In 1866 there were 97 milk cows, 153 other cattle, 1,155 sheep, and 325 pigs; by 1906 there were 302 milk cows, 330 other cattle, 576 sheep, 115 pigs, and 167 horses. The arable area had by that time decreased to 1,273 a., comprising 844 a. of cereals, 385 a. of vegetables, and 44 a. fallow, while the grassland had increased to 994 a. of meadow and 744 a. of pasture. The returns for 1926 show a further decrease in agricultural land, with particular decrease in cereals (689 a.) and meadow (710 a.) but some increase in grazing (940 a.). The number of cattle had increased slightly to 676, while pigs had almost trebled, to 337. (fn. 252) In 1849 there were nine farms of 50–100 a., four of 100–200 a., and five of over 200 a. (fn. 253) Their number and proportions had changed little by 1916 when there were eight of 50–100 a., three of 100–200 a., and five of over 200 a. (fn. 254)
Harlow water-mill, lying on the Stort north of the town, belonged to the manor of Harlowbury from 1066 to the later 19th century. (fn. 255) The mill was sold between 1849 and 1883 to the Barnards, who had rented it since 1783. (fn. 256) Between 1929 and 1933 it was converted into a country club. (fn. 257) It was damaged by fire during the Second World War, and most of the machinery was later dismantled. (fn. 258) It was a restaurant in 1978.
There were several windmills at different times. One was erected near Churchgate Street by Richard of Harlow in the 13th century, and surrendered to the abbot of Bury before 1279. (fn. 259) It was worth 20s. a year in 1287. (fn. 260) Kitchen Hall mill, mentioned in 1308, may have been identical with Foucheres mill of 1343. (fn. 261) A windmill near the water-mill was demolished c. 1830 when the later Station Road was built. (fn. 262) Another, built c. 1829 near the Horns and Horseshoes at Harlow common, was disused by 1873. (fn. 263)
Pottery was made in the Potter Street area, where there is good red firing clay, with pockets of white clay. (fn. 264) Cok the potter of Pottereshull was mentioned in 1251, and there were many references in the 15th and 16th centuries to potters and to the digging of clay pits on Harlow common. (fn. 265) Some of the pits and hollows were still visible in 1977. The industry reached its peak in the 17th century, when Potter Street was supplying London, as well as local markets, with Metropolitan ware. (fn. 266) Two kilns associated with coarse pottery of c. 1600 were found on the route of the M 11 motorway near Harlow common. (fn. 267) Another, with similar coarse ware and Metropolitan pottery of a later date, was excavated north of Potter Street. (fn. 268) Most of the known potters lived in the 17th century and no later reference has been found to the industry, which was probably killed by competition from the Midland potteries in the earlier 18th century. (fn. 269)
Weavers and other small craftsmen were occasionally mentioned, but there is no evidence that Harlow was ever the centre of a 'great woollen manufactory' as has been suggested. (fn. 270) A millwright employing four men was recorded in the late 18th century. (fn. 271) Silk throwing was introduced in 1826, but did not last long. (fn. 272) By 1754 Harlow was producing malt for the London market. (fn. 273) In 1833 there were 10 malt warehouses by the Stort canal. From 1849 or earlier to c. 1866 a malting there was let to John Barnard, who later built large maltings by the railway in Sheering. (fn. 274) By 1874 there were maltings in Churchgate Street and Fore Street, which survived until 1897 or later. (fn. 275) They may have been replaced by the malting built c. 1900 in St. John's Walk, probably for J. Harrington & Son, which was apparently taken over c. 1929 by H. A. & D. Taylor Ltd. In 1968 the building was converted to a hostel. (fn. 276) A brewery built in Fore Street by 1897 was probably that of Thomas Chaplin, later Chaplin & Co., recorded as brewers from 1848 to 1926. (fn. 277) Nineteenth-century industries included Deards' Victoria Dry-Glazing works, and a firework factory. (fn. 278) Holbrooks machine-tool factory, near the station, opened in 1932. (fn. 279) Fast train services brought the town within commuting distance of London by the 1930s. (fn. 280)
A Monday market and a fair on 8 and 9 September were granted to the abbey of Bury in 1218. (fn. 281) Profits of the market were 50s. in 1287 but only 12s. in 1431. (fn. 282) A Friday market was granted to the abbey in 1449 and confirmed in 1457. (fn. 283) It was mentioned in 1592 but seems to have ceased about that time. (fn. 284) A market was held on Wednesdays in the early 19th century, but had ceased by 1850. (fn. 285)
The fair granted in 1218 was superseded in 1449 by two, held on the feasts of St. Parnel (31 May) and St. Hugh (17 November). (fn. 286) By 1768 they were being held on Whit Monday and 28 November. (fn. 287) The Whitsun fair, held on Mulberry green, continued into the early 19th century, when it included a pleasure fair. (fn. 288) The November fair, which was chiefly for horses and cattle, with a pleasure fair attached in the 19th century, was held in Churchgate Street until c. 1935. (fn. 289) Harlow Bush fair, held on Latton common, is treated below. (fn. 290)
Local Government.
In 1275 the lord of Harlow claimed the right of gallows, the assize of bread and of ale, and all other royal liberties except warren. (fn. 291) Court rolls and books survive for Harlowbury manor from 1390 to 1891; a gap from 1483 to 1547 is partly filled by draft rolls for 1493–8. (fn. 292) The court leet met almost every year from 1390 to 1483, usually in the early summer. Courts baron were more frequent. In the 17th century courts leet were held at increasingly long intervals, and the last one met in 1738.
Two officers called reeves (prepositi) in 1390 and constables or subconstables thereafter were elected at most meetings of the leet until 1696. From 1696 one constable only was elected. Frequent presentations were made for breaches of the assize of bread and of ale, and aletasters were elected until 1738. In the 15th century there were two for the market and one or two for the upland; later there were only two in all. The court elected haywards in 1390 and 1405, and two leather searchers from 1565 to 1634. A new cucking-stool, to be provided by the lord or his bailiff, was required in 1406 and 1552. Punishment in the stocks was mentioned in 1558.
A court for Hubbards Hall existed in the 13th century, (fn. 293) but none of its records has survived.
No civil parish records survive for Harlow before the 19th century. (fn. 294) Poor relief for parishioners was supplemented by several alms houses and charities, and cost only £13 on the rates in 1614, but vagrants were a problem. (fn. 295) In 1611 Harlowbury manor court ordered that tenants unlawfully harbouring strangers should be fined, and in 1614 the constables whipped and expelled six vagrants. (fn. 296) A house in the town was being used as a workhouse from 1746 or earlier. In 1797 it had 21 inmates, probably including the staff. (fn. 297)
The cost of poor relief rose from £466 in 1776 to an average of £636 in the three years 1783–5, and to £2,456 in 1801. (fn. 298) Between 1802 and 1812 it averaged £1,341, but it rose to £1,957 between 1813 and 1817. (fn. 299) Harlow did not join the scheme proposed in 1794 for the relief of the poor of Ongar, Waltham, and Harlow hundreds. (fn. 300) In the years 1813–15 the parish maintained 18 persons in the workhouse, and between 54 and 58 outside, giving occasional relief to 120 more. (fn. 301) It was noted in the early 1830s that Harlow had many unemployed and high rates. (fn. 302) The parish became part of Epping poor law union in 1836. Harlow workhouse was used for the able-bodied males of the union until the opening of the union workhouse at Epping. (fn. 303)
A parish council of 12 members was formed in 1894, with sub-committees for charities, finance, the fire engine, footpaths, lighting, and sanitation, and later for allotments, the Victoria hall, and, in 1939, for air-raid precautions. Epping R.D.C. considered applying for urban powers for Harlow in 1895 and 1902, but was opposed by the parish council. (fn. 304) Harlow remained a civil parish in Epping rural district until 1955, when a new urban district and parish of Harlow was formed, incorporating part of the ancient parish. The remainder was divided between Matching, Sheering, and North Weald, all in Epping rural district; (fn. 305) from 1974 those parishes were part of Epping Forest district.
Churches.
There was probably a rector of Harlow in the mid 12th century. (fn. 306) In the late 12th century the church was a rectory in the gift of the abbey of Bury St. Edmunds. (fn. 307) Parts of the building date from that period. (fn. 308) Separate valuations for a rectory and a vicarage were given in 1254, but there is no evidence of a permanent vicarage before 1398, when one was ordained on the appropriation of the rectory by the abbey. (fn. 309)
The rectory and the advowson of the vicarage descended with Harlowbury manor until the late 19th century. (fn. 310) The Crown presented to the rectory in the 14th century during vacancies of the abbacy, and to the vicarage in the 16th and 17th centuries during the minority or lunacy of the lay patron. (fn. 311) When William North sold Harlowbury manor c. 1879 (fn. 312) he retained the advowson of the vicarage. He became a Roman Catholic and appointed trustees who presented in his name. (fn. 313) About 1922 he conveyed the advowson to John Ryder, earl of Harrowby. (fn. 314) From 1923, when the newer parish of St. John the Baptist, Harlow town, was reunited with the original one, Lord Harrowby shared the patronage alternately with the bishop of Chelmsford. (fn. 315) Lord Harrowby granted his share of the advowson to the Simeon Trustees in 1934 or 1935. (fn. 316)
In 1254 the rectory was valued at 30 marks and the vicarage at 5 marks. (fn. 317) The rectory was worth £13 6s. 8d. in 1291; part of the tithe of Brendhall belonged to the abbey of St. Albans. (fn. 318) The vicarage, established in 1398, was endowed with all the hay and small tithes except those from the demesne lands of Harlowbury; they, with the corn tithes from the whole of the parish, descended with the rectory and advowson. (fn. 319) The vicarage was valued at £15 7s. 11d. in 1535. (fn. 320)
In 1650 the vicarial tithes were worth £65 and the glebe £15. (fn. 321) A number of tithe composition agreements were drawn up in 1779, but not all were executed. (fn. 322) The vicar's total income c. 1800 was about £220. It had risen to over £340, including two increments of £40, by 1831. (fn. 323) In 1849 the vicarial tithes were commuted for £403, and there was glebe of 26 a. (fn. 324)
The Rectory house was assigned to the vicar in 1398. (fn. 325) The glebe lay north and west of the churchyard. (fn. 326) A house at the north-east corner of Churchgate Street was called the old Vicarage in 1582 and 1720. (fn. 327) In 1848 the Vicarage was an old building of timber and stone west of the church. (fn. 328) A new house was built on the site in 1886. (fn. 329) It was demolished c. 1964, and several houses, including a new Vicarage, were built in the grounds. (fn. 330)
In 1324 John of Staunton (d. 1326), rector of Harlow, founded a chantry at the altar of St. Parnel in the church. (fn. 331) It was endowed with 42 a. of land and 60s. rent in Harlow, Great Parndon, and North Weald. (fn. 332) Part of the endowment may have been the 40 a. held as a lay fee by the rectors of Harlow of the abbey of Bury in the 12th century. (fn. 333) The dean and chapter of St. Paul's, London, presented to the chantry, which in 1546, two years before its suppression, was valued at £7 5s. 8¼d. (fn. 334) The statement that there was also a chantry at the altar of St. Thomas appears to be incorrect. (fn. 335)
The earliest known rector, Erard the clerk, probably lived in the mid 12th century. (fn. 336) Jordan de Ros, rector c. 1190, was involved in a dispute with the abbot of Bury over land held much earlier by Erard. (fn. 337) Jordan's son Richard was rector before 1219. (fn. 338) John of Staunton, king's clerk, rector 1297–1326, was a pluralist, but probably resided at Harlow; (fn. 339) another pluralist, Richard of Drax, rector from c. 1353 to c. 1361, was an advocate at the papal court. (fn. 340)
The church in Harlow appears to have remained undisturbed at the Reformation and during the Civil War and Interregnum. Edmund Spranger was vicar from 1617 to 1679. (fn. 341) About 1726 there were two Sunday services and monthly communion, but towards the end of the 18th century there was apparently only one Sunday service and communion once a quarter. (fn. 342) Nonconformity was strong in the parish at that time, and the trial in 1780 of James Altham, vicar 1776–7, for adultery may also have had an effect. (fn. 343) Charles Sanderson Miller was vicar from 1789 to 1831, and his son Charles Miller from 1831 to 1885. (fn. 344) During the incumbency of the younger Charles Miller two daughter churches were founded. (fn. 345)
The parish church of ST. MARY AND ST. HUGH stands on the west side of Churchgate Street. The earliest dedication, recorded in 1219, was to St. Mary. (fn. 346) The church was sometimes known in the 18th century as St. Mary and All Saints, (fn. 347) and in the 19th century as St. Hugh's. (fn. 348)
The present building, though largely rebuilt in the 19th century, retains the medieval cruciform plan. (fn. 349) It is in Gothic style, of flint rubble with stone dressings, with nave, chancel, transepts, and central tower with tall broach spire. The nave and possibly the original central tower were built in the 12th century, and the transepts were added in the 13th century. The chancel and the north-east vestry probably date from the late 14th century. A round-headed window of the 12th century survives in the north-west corner of the nave, and parts of windows in the chancel and north transept may date from the 14th century. The three sedilia in the south transept probably indicate the position of the medieval altar of St. Parnel. (fn. 350) That transept is sometimes referred to as the chantry chapel of St. Parnel, and the tomb of Alexander Stafford, who owned the Chantry House estate in the 17th century, was built there. (fn. 351)
In the 1680s the vicar, John Taylor, repaired and ornamented the church, using funds from Cranwell's and Sworder's charities. (fn. 352) In 1708 the church was severely damaged by fire: the roof and steeple were burnt, and much of the glass was destroyed, but the shell still stood. (fn. 353) During rebuilding the central spire was replaced by a pyramidal roof, and a new brick tower with battlements and an open cupola was erected at the west end. (fn. 354) A gallery was added, the gift of Lord Guilford, and several other benefactors gave furnishings and armorial glass. (fn. 355)
Only minor repairs were carried out in the later 18th and early 19th century. (fn. 356) The south transept was restored c. 1857 and the north transept a few years later. (fn. 357) A major restoration was carried out between 1871 and 1875, at a cost of £7,338, of which J. W. Perry-Watlington of Moor Hall contributed nearly half. The architect was Henry Woodyer. The west tower and gallery were removed, a central tower and spire built, the walls and windows repaired and a new organ chamber and south porch added. (fn. 358) In 1894 a choir vestry was built adjoining the organ chamber. (fn. 359)
The church lost its five bells in the fire of 1708. Later in the 18th century there was one only. (fn. 360) In 1850 there were three. (fn. 361) A ring of eight bells was presented in 1883. (fn. 362) The church plate includes several 17th-century pieces. (fn. 363) A number of 15th-, 16th-, and 17th-century brasses, which survived the fire, were remounted and hung in the north transept. Those commemorated include William Sumner of Harlowbury (d. 1559), William Newman (d. 1602), Richard Bugge (d. 1636), and Francis Reeve of Hubbards Hall (d. 1639). (fn. 364) The life-size figures in marble of Alexander Stafford (d. 1652) and Julian his wife in the wall of the south transept appear to be the remains of a larger monument, repaired after 1708 but possibly altered during the Victorian renovation. (fn. 365) Some fragments of early glass, including a 14th-century virgin and child and a 16th-century life of Solomon, were reset in the windows of the north transept and vestry. (fn. 366)
John Sworder (fl. 1487) left the residue of a rent charge for church repairs and ornamentation. (fn. 367) Thomas Cranwell, by will dated 1504, left 2 a. of land for the repair of the church. The income from both was used for minor repairs and decoration until 1840, when the income from Sworder's charity was divided between the repair of the church and repair of the almshouses. Alexander Stafford, by will dated 1651, left rent charges of £3 for repairing and cleaning his monument, and £2 to the sexton for keeping the clock and ringing the bell. In the period 1717–23 part of the income was used to teach poor children. (fn. 368) John Wright (d. c. 1659), made several charitable bequests, including 6s. 8d. for an annual sermon in memory of Alexander Stafford. The endowments of the four charities were converted to stock between 1871 and 1933.
John Taylor, vicar 1679–1724, left £4 from the rents of two copyhold messuages as an income for the organist. In 1792 the property, then ruinous, was forfeited. The organist's salary was thereafter paid out of Cranwell's and Sworder's charities, which had contributed to it since 1731. Edward Wise (d. 1798) left the income from £100 for the repair of John Wade's tomb and other family graves, with the residue for doles for almswomen. The charity was used as directed in the 19th century, but from 1903 it was treated as an ecclesiastical charity only. By a Scheme of 1959 it became a poor's charity. The total income of the ecclesiastical charities in 1980 was £81.50. (fn. 369)
The church of ST. MARY MAGDALENE, Potter Street, was built by the vicar of Harlow in 1834. A separate parish was assigned in 1865. (fn. 370) The vicar of Harlow is the patron. (fn. 371) The original church, a rectangular building in Gothic style, with an apse, was already in bad repair by 1863. A chancel and vestry extension were added in 1888, and in 1893–5 the nave was rebuilt and a tower added at the south-west corner. (fn. 372) There are eight bells, given in 1905. (fn. 373)
The church of ST. JOHN THE BAPTIST in the centre of Old Harlow, was built by subscription in 1839 in memory of Charles S. Miller, formerly vicar. (fn. 374) It is a plain building of pale brick with chancel, nave, and west tower. (fn. 375) In 1857 a new parish, including most of the town, was formed, and the advowson of the vicarage was assigned to J. W. Perry-Watlington, who endowed the benefice. (fn. 376) R. W. Ethelston granted the advowson in 1909 to the bishop of St. Albans, from whom it passed in 1915 to the bishop of Chelmsford. (fn. 377) In 1923 the parish was reunited with that of St. Mary and St. Hugh. (fn. 378) In 1979 St. John's was declared redundant. (fn. 379)
St. John's, founded as a result of the Oxford Movement, maintained a high-church tradition. (fn. 380) In 1882–3 the vicar, Charles Taunton (1871–87) was prosecuted for obstructing the funeral of a nonconformist in his churchyard, contrary to the Burials Act, 1880. (fn. 381) A report on the ritualistic practices at St. John's was submitted to the Royal Commission on Ecclesiastical Discipline in 1906. (fn. 382) There was opposition from parishioners to the amalgamation of the parishes, first proposed in 1921 and effected in 1923, because it was feared that ritualistic services would be lost. (fn. 383) The internal decorations of the church once reflected its affinities, but by 1978 were much less rich. (fn. 384)
Charles Taunton, formerly vicar, by will proved 1900, left annuities to be divided between the maintenance of one or more choristers singing or serving in St. John's, the repair of the church, and the relief of communicants at Christmas. An Order of 1904 directed that the charity should be used for educational purposes. In the 1970s, when the annual income was £32, it was used for the Sunday school. (fn. 385) G. B. Latreille, by will proved 1916, left £1,000, to be known as the George and Philos Trust, to keep the church, and particularly the windows dedicated to Edward Philos Bull, in repair. (fn. 386)
The chapel of ALL SAINTS, Foster Street, was built c. 1873 by the Revd. F. R. Miller, brother of the vicar of Harlow, as a memorial to their family. It was licensed in 1874 but never consecrated. (fn. 387) In the 19th and earlier 20th century it was served from the parish church. (fn. 388) The chapel, an unusual small cruciform building with a central tower, once had traceried windows, an organ, font, and bells, but it has been disused since 1961. (fn. 389) It was sold c. 1975 to a private buyer. In 1979 it was derelict. (fn. 390)
Roman Catholicism.
Harlow Mass Centre, opened in 1894, was at Mark Hall, Latton, until c. 1943, and later at the drill hall, Harlow. In 1950–1 the church of OUR LADY OF THE ASSUMPTION was built at Mulberry Green on land given by Mr. and Mrs. Newman Gilbey. It was served at first from Epping, but from 1954 had a resident priest, and in 1980 was served by canons regular of the Immaculate Conception. (fn. 391)
Protestant Nonconformity.
It was said in 1778 that 'the chief part' of the inhabitants were Independents and Baptists, and in 1810 that they constituted a third of the population and were increasing. (fn. 392)
Harlow Baptist church, Fore Street, originated in the reign of Charles II. (fn. 393) The first pastor was William Woodward (d. 1712), who also had a congregation at Great Parndon. In 1677 he acquired land at Foster Street for a burial ground, which remained in use until 1979. A chapel was built in Fore Street c. 1764, and was enlarged in 1810 and 1811. It joined the Eastern Association of Baptist Churches, founded in 1778, but soon withdrew. In 1755 and 1816 the congregation quarelled with its minister over questions of service and doctrine; on the second occasion it had the church's Calvinistic principles recorded in the church book. Soon afterwards it affirmed its continuing belief in open communion. The congregation was 600 in 1829, and in 1865 a new chapel was built in an Italianate style. (fn. 394) A small daughter chapel was opened at Matching Green in 1885. (fn. 395) In 1976 the Harlow church had 123 members. (fn. 396)
Potter Street Baptist church was built in 1756, by the congregation previously of Great Parndon. (fn. 397) The original brick building was still in use in 1978. Open communion was practised in the 18th century, and in 1798 a daughter chapel was established at Roydon. (fn. 398) James Brown, pastor from 1773 to 1803, trained several itinerant preachers for the Essex Baptist Association. (fn. 399) In 1814 the church was a member of the Baptist Union. (fn. 400) The regular congregation numbered 382 in 1829. (fn. 401) The chapel was enlarged in 1834 with help from the Baptist Building Fund, but by 1901 there were only 20 members. (fn. 402) From 1932 to 1954 Potter Street had no separate minister but came under the care of Harlow Baptist church. In 1954, with building for the new town beginning, a new minister was appointed; the church had 125 members in 1976.
Harlow Methodist church, High Street, was erected in 1886 by the North-West Essex Wesleyan mission, which at the same period built several other village chapels in the area. In 1911 it was in the London (Herts.) mission, but from 1912 in the re-formed North-West Essex mission. It was in the Waltham and Herts. mission in 1940, and in the Harlow mission from 1952. (fn. 403)
Education.
Fawbert and Barnard's school, London Road, appears to have originated in a British school founded by Montagu Burgoyne, which may be identical with the free school which existed in 1797. In 1802 Burgoyne built a school on Godsafe's charity land in High Street. (fn. 404) At first it was apparently supported by both churchmen and nonconformists, but disputes arose, probably from its founder's interest in the British Society. (fn. 405) By 1811 the school was being run on the British system, and by 1826 it had 102 children. (fn. 406) It seems to have closed in 1836. (fn. 407) In that year John Barnard, a Harlow maltster, built an undenominational school in Epping, later London, Road, with funds left to him for charitable purposes by George Fawbert of Waltham Cross (Herts.) (d. 1824). The new school, designed by Robert Abraham, was for 200 children from Harlow, Latton, Netteswell, Great and Little Parndon, Magdalen and Little Laver, Matching, Sheering, and the Hertfordshire parishes of Sawbridgeworth, Gilston, and Eastwick. Preference was given to Harlow children. In 1855 the school was known locally as the British school, which suggests that it was a continuation of Burgoyne's school. An infant school was added in 1892 and a boys classroom in 1897. In 1910 attendance was restricted to children who had attended a public elementary school for at least two years. A technical instruction block was added in 1912 and three classrooms in 1947. The school was granted Controlled status in 1950 and reorganized for juniors and infants in 1954. It was endowed in 1898 with about £6,304 stock. A Scheme of 1910 reserved £4,304 stock as a general endowment fund, used to enlarge and improve the building. By a Scheme of 1960 the fund was to provide awards for further education. (fn. 408)
Churchgate Church of England primary school, Hobbs Cross Road. A school for poor children, supported in the early 18th century out of Wright's and Stafford's charities was apparently short-lived. (fn. 409) In 1816 Churchmen, dissatisfied with Burgoyne's school, built a National day and Sunday school on John Perry's land in Churchgate Street. It was supported by subscriptions and National Society grants. Attendance increased from 140 in 1817 to 212 in 1833, and the building was enlarged in the later 1830s. (fn. 410) John Perry-Watlington, whose family had supported the school from its foundation, in 1850 built a new school for 189 on glebe land, and by 1864 had also built a master's house on the site of the old school. (fn. 411) Harlow children paid 6s. a quarter or 1d. a week if they were poor. The charges were doubled for children from neighbouring parishes. (fn. 412) The school received annual government grants from 1876. (fn. 413) By 1859 an infant school had opened in a neighbouring building owned by Perry-Watlington. The trustees bought it in 1929. (fn. 414) The infant and mixed schools were amalgamated in 1923, and seniors from Netteswell and Great Parndon were transferred there in 1944 and 1945. In 1954 the school was reorganized for juniors and infants and was granted Aided status. It moved in 1971 to new buildings in Hobbs Cross Road. (fn. 415) The school was endowed by John W. PerryWatlington in 1864 with a portion of the South Benfleet tithes, commuted to £52 9s. 8d. The charge was redeemed in 1926 for £200 which was invested in £265 19s. 6d. stock. (fn. 416)
Harlow Common Church of England school was founded in 1835 as a National school for 61, built on Harlowbury manor waste next to St. Mary Magdalene's church. It received a Treasury building grant and in the 1860s two annual government grants. (fn. 417) The building was improved in 1874 but in 1884 the teaching and organization were said to be worthless, and its building and equipment old and inadequate. In 1885 the building was improved again and a certificated teacher appointed. (fn. 418) From 1888 the school received annual government grants. (fn. 419) In 1902 the managers bought two cottages for future extension, but in 1909 the school took only infants, and many children from the Common had to go to schools elsewhere. In 1912 a new Church school for 96 mixed and infant children was opened on land given in 1885 by Loftus W. Arkwright. By Board of Education Order of 1913 the cottages were sold for £120 which was invested to promote the education of poor children or adults. (fn. 420) In 1979 nothing was known of the fund. The school was granted Controlled status in 1950 and was reorganized for infants in 1954. It was closed in 1958 on the completion of Potter Street county junior and infant school, which used the old Common school as a temporary annexe until 1968. (fn. 421)
Private Schools. (fn. 422) In 1548 William Butler, chantry priest, kept a school in Harlow. (fn. 423) Thomas Denne is said to have taught Harlow children before he became rector of Netteswell in 1634. (fn. 424) Hezekiah Joceleyn kept a school in 1640. (fn. 425) James Brown, minister of Potter Street Baptist church from 1773 to 1803, ran a boys school in the town. (fn. 426) In 1827 a girls day and boarding school was opened, and by 1833 there were two more. (fn. 427) By 1835 there was a commercial boarding school for farmers' and tradesmens' sons which may have been the 'respectable' boarding school in Potter Street in 1848 which seems to have survived as Kingsdon House school until c. 1906. (fn. 428) Of the eight small schools for girls which existed at various times from 1845, only two continued for more than 30 years. Elizabeth Miller kept a school in High Street from c. 1855 to c. 1890. A school started in Bury Road c. 1906 by Bertha Slack was continued by Annie Mace and survived in 1937 in Station Road. St. Mary's (later Harlow) College was built and opened c. 1840 by the Revd. Charles Goulden as a boys boarding school. It flourished under successive headmasters. In 1905 there were 65 boys and 6 masters, and in 1912 St. Mary's was recognized as efficient by the Board of Education. (fn. 429) It was used by the county council to provide secondary school places as late as the 1950s. (fn. 430) It had closed by 1966. (fn. 431) St. Nicholas's preparatory school opened in Mill Lane in 1939 and moved to Hillingdon House, Hobbs Cross Road, in 1977. (fn. 432)
Charities for the Poor. (fn. 433)
Most of Harlow's charities were linked under a Scheme of 1841 as the Poor's Charities, which were further regulated by Schemes of 1903, 1959, and 1974. They included three almshouse charities, providing nine dwellings built between 1591 and 1716, and ten other charities founded before 1831, when the combined income was c. £115 a year. By 1896, with a new almshouse charity and three others, the number of dwellings had risen to 14 and the annual income to c. £175. By 1957 sales of property and two further charities had increased income to £534. In 1975 Stafford's, Reeve's, and Crabb's almshouses were replaced by the conversion and extension of the old infant school in Churchgate Street, providing 13 dwellings. In 1976–7 the income of the Poor's Charities, including grants, subsidies, and almspeople's rents, was £8,778.
John Sworder, goldsmith and citizen of London (fl. 1487), gave Old Poole's farm (20 a.) in trust to pay the taxes of Harlow poor, the residue for repair of the parish church. The whole income was used for the church until 1840 when half was given to the poor. The Scheme of 1841 divided the income equally between repair of the church and of the almshouses, any residue of the almshouse share to be given to the inmates. In 1900 Old Poole's farmhouse was rebuilt partly with money borrowed from Stafford's charity. In 1933 the property was sold for £1,340. Under the 1959 Scheme half the capital was transferred to the ecclesiastical charity.
John Godsalve, butcher, (fn. 434) in 1568 gave a tenement with a garden and 2 a. in Harlow, called Snow's and Clay's, in trust for Harlow's poor. By 1680 another tenement had been built on the land and become ruinous. The regular distribution of the income in bread and money was recorded from 1700. By 1802 a school had been built on part of the land by Montagu Burgoyne, the lessee. In 1848 some of the income was paid to the poor rates. In 1852 more of the land was let on a building lease. The annual income rose from £7 10s. in 1680 to £52 in 1896, and sale of the property in the 1950s had raised it to £384 by 1959.
William Newman (d. 1602) (fn. 435) founded two almshouses built in the churchyard. In 1680 the houses were being maintained partly by parish rates and partly by three 3s. 4d. rent charges. (fn. 436) By 1848 a rent charge which had been paid from 1642 or earlier had been lost. In 1867, when the almshouses were dilapidated and unoccupied, they were exchanged for four new ones built on the north side of the lych gate by John W. PerryWatlington. (fn. 437) They were modernized in 1964. The two remaining rent charges were redeemed for £2 15s. each in 1968 and 1970.
Emanuel Wolley by deed dated 1617 gave £50 in trust to be lent for 3 years to poor young tradesmen of Harlow, Latton, and Netteswell. Harlow and Latton were to receive £20 each, and Netteswell £10. The trustees had difficulty in applying the trust, and part of the money was lost by 1650, when James Altham, heir of an original trustee, gave a 50s. rent charge to be paid to the parishes' poor in the proportions specified by Wolley. Harlow's share was distributed on St. Thomas's day. After disputes about its payment the rent charge was redeemed in 1956 for £100 divided in the original proportions between the three parishes. (fn. 438)
Stafford's almshouses, on the south side of the lych gate, were founded in 1630 by Julian, wife of Alexander Stafford, for two poor widows of the parish. They seem to have been occupied by three widows as early as 1659. The occupants benefited from the charities of Alexander Stafford and John Wright. The houses, empty by 1956, were sold in 1958 and replaced in 1974.
Francis Reeve of Hubbards Hall, by will proved 1639, gave £100 in trust to buy land and build almshouses for four poor widows; until the houses were built 24s. was to be given monthly in bread to the poor. (fn. 439) No houses had been built by 1680, although the gift had been increased by interest to £130; the interest on the whole sum was then being given in bread. In 1687 new trustees appointed by Chancery decree were ordered to fulfil Reeve's will, but it was not until 1716 that the vicar, John Taylor, bought land in Sheering Road and built on it four almshouses which he sold to the trustees for £130. Occupants who were members of the Church of England received Wise's charity. The houses, converted into two in 1957, were sold and replaced in 1974.
George Benson, by deed of 1643, gave a house and 5 a. in trust to provide each year clothes worth 15s., badged with the donor's initials, to each of the seven poorest men and women of Harlow. Any residue was to be given to the poor. The charity became effective in 1688, following the report of a Chancery inquiry in 1680. The average number clothed had increased to 12 by the end of the 18th century. Provision of clothes continued until 1882 when 15s. tickets were issued instead. In 1903 the income from a cottage and field on Harlow common was £13. The property was sold in 1927 for £258.
Alexander Stafford of High Holborn (Lond.), by will dated 1651, gave a rent charge of £12 from which £5 was for the church, (fn. 440) £5 for distribution to the poor of Harlow, and £1 each for two women in the almshouses in the churchyard. The annual payment seems to have been made throughout the 18th century to women in Stafford's almshouses, but by 1832 was being paid to those in Newman's houses. In 1900 the income was increased to £15 by redemption of the rent charge. By the Schemes of 1903 and 1959 the £3 increase was to be paid to the poor and the almspeople.
John Wright of High Holborn (Lond.), by will proved 1659, gave £160 to buy land to provide an annual sermon and trustees' dinner and to give the three women in Stafford's almshouses a load of wood every year and a gown every second year. In 1672 the trustees bought Fuller's barn and 12 a. called Noakes' crofts with part of the legacy and accrued interest. In 1680 the surviving trustee held £62 of undisposed charity money. From 1687 the charity was paid regularly to Stafford's almswomen and occasionally also in clothes, money, and wood to Reeve's almswomen and the poor in general. In 1716 part was used for schooling poor children. From 1854 or earlier the residue of about £28, after payment to almswomen, was distributed on St. Thomas's day. The annual income was increased to £40 by sale of the barn and land in 1871 and 1883. By the 1959 Scheme £13 16s. 8d. stock was transferred to Wright's ecclesiastical charity. (fn. 441)
John Taylor, vicar 1679–1724, gave two houses and a garden at Mulberry Green, apparently during his lifetime, (fn. 442) to provide annual gifts of £1 each to both widows in Newman's and one in Stafford's almshouses, and the remainder to the parish poor. The property was sold in 1892 for £283 stock producing £7 1s. 8d. a year. After 1900 only the three widows in Stafford's almshouses received the charity.
Richard Harrison of Harlow, by will dated 1734, gave a rent charge of £5 4s. to provide 12 twopenny loaves every Sunday to 12 poor people regularly attending church. Bread was distributed as late as 1953. The rent charge was redeemed for £55 in 1973.
Edward Wise, by will dated 1798, gave £100 in trust to repair his family tomb and give yearly pensions to Reeve's almswomen. From 1802 annual payments of £1 were made to each almswoman, except in the years 1869–72 when the whole sum was used to repair the tomb. From 1882 the income was paid to the distribution account of the Poor's Charities, but by 1957 it was being used as an ecclesiastical charity. Under the 1959 Scheme the charity was to be administered as a poor's charity.
John Perry (d. 1810) of Moor Hall in 1808 gave £200 in trust for the poor. The income was used to provide gowns for eight or nine women until 1883, when it was paid to the distribution account.
Edmund Goodwin, by will proved 1841, gave £100 in trust for the distribution of bacon at harvest time to poor families with not more than five children under 10 years. Under the 1959 Scheme part of the income was to be given in goods and the remainder paid to the distribution account.
Sarah Crabb, by will proved 1840, gave £100 for benevolent or religious purposes. In 1844 three almshouses for widows or widowers were built on land next to St. John's church given by the vicar. They were endowed with £1 annual rent from adjoining land. The houses, modernized in 1956, were sold for £17,500 in 1975 and replaced in 1976.
Mary Elizabeth Sims, by will and codicil proved 1862, gave £35 to provide coal for the poor. The income was distributed in coal until 1873 or later. From 1883 the income was paid to the distribution account. In 1896 it was said to be for coal for parents of children attending Churchgate Street schools.
Charles Middleton McLeod, vicar of St. John's 1858–71, by will proved 1871, gave £100 to the poor. By a Charity Commission scheme of 1874 the income from £78 stock was to be paid to the inmates of Crabb's almshouses.
The Pathways charity was founded in 1906 when John Swire of Hillingdon House gave £50 to Harlow charities to provide pensions for almspeople. By 1957 the income was being paid to the distribution account. By his will, proved 1933, Swire gave a further £300 to the Harlow charities; income from it was paid to the distribution account.
John Carmichael Whittaker (d. 1944) by his will gave to the Harlow charities £250, which was invested, the income being paid to the distribution account.
The following charities are not linked to the Poor's Charities. Alfred Augustus Brown, by will proved 1893, gave the reversion of £100, after the death of his sister Charlotte, to the poor of St. Mary Magdalene district. In 1899 £89 17s. 6d. was invested. In 1965 the charity was being administered with the George and Philos gift.
The George and Philos gift was founded by the Revd. George Birkett Latreille, who by will proved 1916 gave the residue of his estate in trust for the poor of Potter Street district. The name commemorates the donor's friendship with Edward Philos Bull. In 1964 £116 of the income of £150 was given to 45 people.
The George Morgan memorial charity was founded in 1919 by Morgan's friends, who gave £50 in trust to provide annual gifts to the poor of St. Mary Magdalene's parish, especially those living near Scrubes where Morgan had lived. (fn. 443)
Lily Coleman, who died in 1972, left half the residue of her estate for the repair of the almshouses, which was paid towards their replacement in 1975.