Pages 149-158
A History of the County of Essex: Volume 8. Originally published by Victoria County History, London, 1983.
This free content was digitised by double rekeying. All rights reserved.
HARLOW TOWN
Harlow Town was established in 1947 to relieve overcrowding in north-east London. (fn. 1) It occupies a rectangular site of 2,500 ha. (6,177 a.) extending west and south from Old Harlow. The land rises from the valley of the Stort to over 100 m. at Rye Hill in the south, and is intersected by the Todd brook, flowing westwards. Before 1947 it was an area of villages and hamlets, the largest being at Old Harlow. (fn. 2)
The master plan, for a town of 60,000, was drawn up for the development corporation by (Sir) Frederick Gibberd, and was approved by the government in 1949. The population limit was raised to 80,000 in 1952, and to 90,000 in 1966, but there was no increase in the designated area, and the additional numbers were accommodated by building to a greater density in the later stages. With that exception the town was developed as originally planned. There are four main areas or 'clusters', situated on high ground and separated by open land in the valleys. Within each cluster are from two to four residential 'neighbourhoods', and there are two more neighbourhoods in the south-west. The northwest cluster includes the town centre, the High, while each of the three other clusters has a 'neighbourhood centre' containing 30 or 40 shops, a church, a public house, a library, and a small industrial area. A neighbourhood is composed of smaller housing areas which are served by a sub-centre or 'hatch', a primary school, a hall, and a public house. The 'green wedges' of open land between the clusters carry the main roads into the town centre, and accommodate secondary schools, playing fields, the town park in the north, and a golf course in the north-west. Harlow village, renamed Old Harlow, and Potter Street to the south, have been enlarged into neighbourhoods, while existing cottages at Latton, Parndon, Netteswell, Tye Green, and Commonside Road have been incorporated into the new neighbourhoods. (fn. 3) There are two large industrial areas, in the northeast, and in the west, which are linked by a main road running parallel to the railway along the Stort valley. (fn. 4)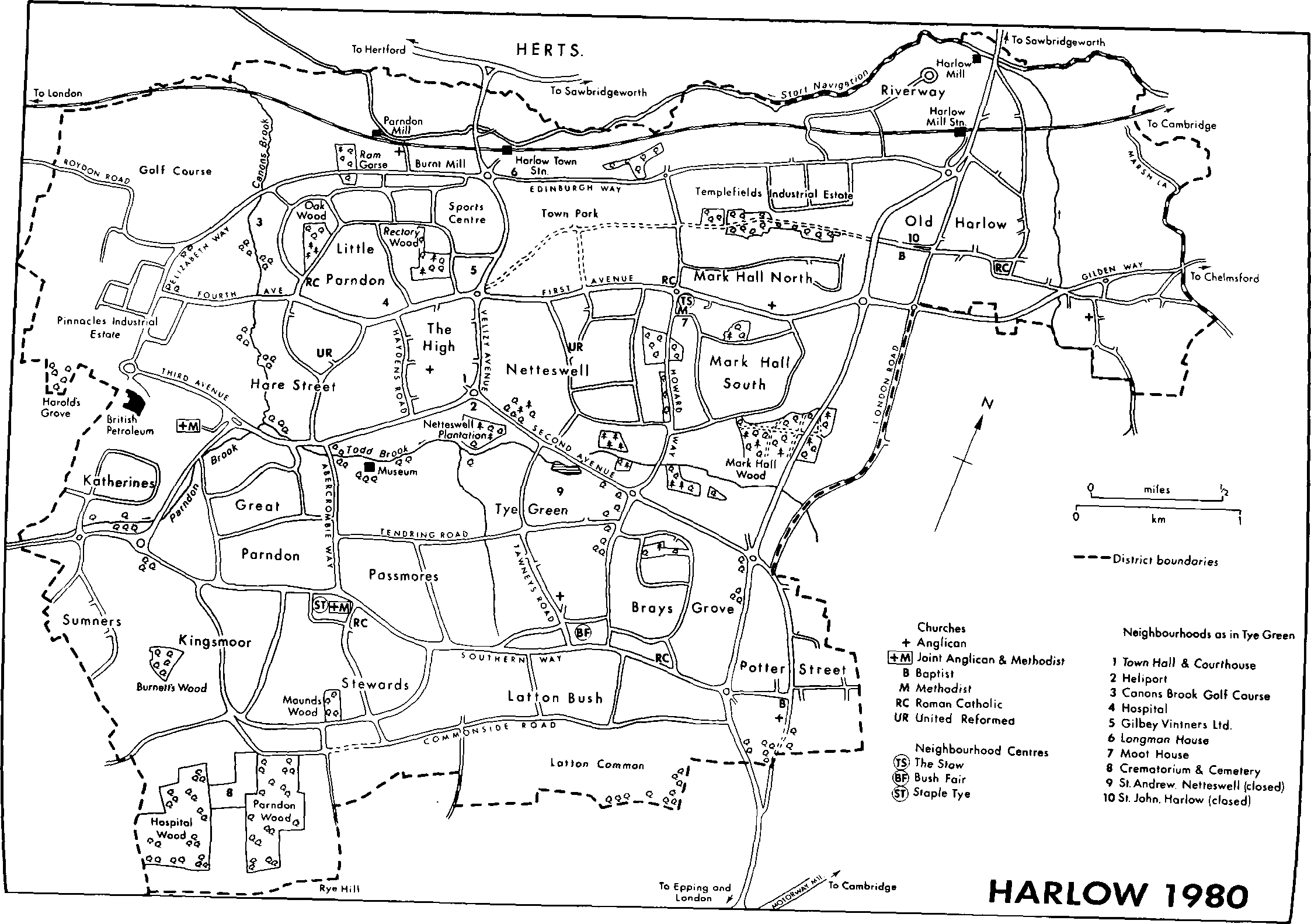 The town centre, 3 km. south-west of Old Harlow, was the first in a new town to incorporate a pedestrian precinct. The market square, on two levels, is at its northern end, with parades of shops leading south to the civic square, where are located the council offices, the public library, the town church, the technical college, and the theatre.
In 1947 the population of the area designated for the new town was c. 4,500. It was still only 5,571 in 1951, but it then increased rapidly to 17,000 in 1954, 37,000 in 1957, 53,680 in 1961, and 78,087 in 1971. It reached a peak of 81,000 in 1974, but fell to 77,000 in 1976 and to 73,000 in 1979. The town's new residents came at first from the boroughs of Edmonton, Tottenham, and Walthamstow, and later from a wider area of north-east London. Most of them were young couples, and the consequent high birthrate caused Harlow to be called a 'pram town'. By 1979, the age structure, except for a relatively low proportion of old people, had become normal, a process which together with a decrease in the number of new arrivals accounted for the decline in population after 1974. (fn. 5)
The building of Harlow began slowly because of the post-war shortage of materials and labour. Civil engineering work started in 1948, and late in 1949 construction began of 120 houses at Chippingfield, Old Harlow, for members of the corporation staff and employees of the main contractors. Work on the new town proper began in April 1950. Mark Hall North in the north-east quarter was chosen for the earliest development since there was easy access to shops and other amenities in Old Harlow. From there building followed the roads south, west, and finally southwest, each area being almost complete before work started on the next. Industrial development kept pace with housing. Temple Fields was in use by 1950, and Pinnacles from 1956. By 1954 Mark Hall North was complete, including 'the Lawn' tower block and the small shopping centre at Ward Hatch; Mark Hall South and Netteswell were nearing completion; and work was in progress at Hare Street in the west and Potter Street in the east. The Stow, at the junction of First Avenue and Howard Way, the first of the neighbourhood centres, was open. (fn. 6) Work began next on the town centre roads and the market square area, where the first shops opened in December 1955. In that year development started at Little Parndon. By the late 1950s the northwest and south-east areas were almost finished and the neighbourhood centre at Bush Fair was open. In 1960 Great Parndon and Passmores in the south-west were under construction and work on the High continued, but with three quarters of the town complete the pace of building became slower. Stewards, Kingsmoor, and the neighbourhood centre of Staple Tye were built mainly between 1965 and 1974. The last neighbourhoods, at Katherines and Sumners, were begun in 1974. By 1977 some 24,000 dwellings had been completed. It was intended that housing development should be finished by late 1980, leaving only some infilling to be done. The final phase of the High was the Harvey Centre, a covered complex of shops and an office block, which was under construction in 1980. (fn. 7)
The predominant influence on the architecture of the new town was that of Gibberd, who settled at Old Harlow and as architect-planner advised the development corporation on the choice of architects as well as designing the civic centre and many housing and commercial buildings himself. Most of the other architects who were awarded design contracts in the early years of the town came from the small circle who had established themselves as followers of the modern movement before 1939. They included F. R. S. Yorke, Maxwell Fry and Jane Drew, W. Crabtree, Ralph Tubbs, Guy Morgan, and Richard Sheppard. Gibberd's ten-storeyed 'the Lawn' of 1951 is often referred to as the first tower block in Britain and it set a precedent for other high blocks which provide variety. By 1980 some thirty private firms had designed houses in the town, and they worked alongside the architects of the development corporation and the district council. The result has been a great variety of designs within the master plan. Variety was also achieved by the use of different types of brick and of weatherboarding or plaster facings. (fn. 8) In addition to the council housing some small areas were designated for private development. They are characterized by low density, detached houses of traditional form. Most of the large commercial buildings were designed by architects commissioned by the occupiers. They include Harlow Town station, the adjacent offices of the Longman Group, A. & W. Gilbey's offices and distillery near the town centre and their warehouse at River Way, and the British Petroleum office tower on the western edge of the town. (fn. 9)
The principal roads form an irregular grid. Four main roads run east to west to join the old London-Cambridge road, which was realigned in 1961 to bypass Potter Street. Since 1975 that road has been linked with the LondonCambridge motorway south-east of the new town. (fn. 10) The new town's road system made little use of existing roads, which became cycleways or footpaths connecting residential areas and open spaces. (fn. 11)
The main railway line from London to Cambridge, running through the Stort valley, was electrified in 1961, and the station at Burnt Mill was rebuilt as the main station and renamed Harlow Town station. The former Harlow station became Harlow Mill station, a halt serving Old Harlow. (fn. 12) A heliport, south-east of the High, was opened in 1955, but is seldom used. (fn. 13)
It was expected that the provision of local shopping centres and cycleways, and the proximity of housing to industry, would obviate the need for internal public transport except for bus services along the main roads to the town centre, where a depot was opened in 1961. In Harlow as elsewhere, however, the inadequacy of bus services, especially for journeys across the town, stimulated the growth of car ownership, leading in turn to a decline in the number of passengers and further cuts in services. In 1974 an experimental 'pick-me-up' service, arranged by telephone or postcard, was opened between Old Harlow and the town centre. (fn. 14)
A branch post office was opened in 1952 at the Stow, Mark Hall. A second branch, opened in the High in 1956, became the head office in 1957. There are also branch offices at Bush Fair, Staple Tye, and Old Harlow. An automatic telephone exchange was opened in Fourth Avenue in 1965. (fn. 15)
Stone Cross hall, the High, was opened by the development corporation in 1956. It was taken over in 1966 by the U.D.C., renamed the Birdcage and modernized, especially for teenage entertainment. In 1972 it was converted by Mecca Ltd. into a dance hall called Tiffany's. A temporary cinema, the Regal, was opened in 1952 in a factory on the Temple Fields industrial estate. It operated until 1960 when the Odeon, the High, was opened. The Playhouse, the High, comprising two theatres seating 450 and 150, an exhibition room, and restaurant was opened by the U.D.C. in 1971 and is run by a trust. The Alberni string quartet, which has an international reputation, was formed in 1963 in Harlow with a grant from the Calouste Gulbenkian foundation, and later received support from the district council. (fn. 16) The Harlow Music association, founded in 1957, and the Harlow Arts council (1964) are also assisted by local authority grants. An annual arts festival has been held since 1965. The Harlow Art trust (1953) collects works of art, chiefly modern sculpture, for display in the town. Its original funds were provided by the Elmgrant trust and the development corporation. By 1978 at least 29 items had been purchased, including works by Henry Moore, Barbara Hepworth, and Elisabeth Frink. (fn. 17) Cultural links with foreign countries were established by 'twinning' in 1960 with Stavanger (Norway) and in 1977 with another new town, Velizy Villacoublay (Seine et Oise, France).
Sporting facilities include an outdoor centre and artificial boating lake beside the river Stort, a roller skating rink in the town park, and indoor and outdoor bowling greens at Tye Green. A bowling alley, opened in West Gate, the High, in 1961, was converted into a bingo hall in 1973. In 1980 the bingo club moved to a new hall in Terminus Street, leaving the West Gate site to be redeveloped. The Lucania snooker hall, above the central library extension, was opened in 1979. (fn. 18) In 1980 there were at least 80 cultural and recreational societies in Harlow, besides those connected with churches and political groups. There are five youth clubs including Square One, formerly the Y.W.C.A. Galaxy club, Fourth Avenue. Six community associations sponsor evening classes and social activities, meeting in 4 community centres, 19 residents' common rooms, and the Sumners family centre, opened in 1979, which is a joint school and community centre. The town show is held annually in August in the town park.
Economic History.
The provision of employment was essential to the growth of the town, and the construction of two major industrial estates formed part of the master plan. (fn. 19) The development of two centres rather than one was planned in order to ease the flow of traffic, and to avoid the division of the town into separate working and living areas. The larger industrial estate, and the first to be developed, lies north-east of the town at Temple Fields; the smaller lies west at Pinnacles. A main road (Edinburgh Way, Elizabeth Way) connects them to each other, to the town centre, and to the railway. Both estates were built to a geometric plan: a grid of roads forming a series of rectangular 'superblocks'. The larger industries occupy the main road frontage, leaving space for expansion at the rear. At Temple Fields, north of Edinburgh Way, there is access to the railway from sidings. Smaller industries are accommodated in multiple units. Most factories were built by the development corporation, but some were built by industrialists to designs approved by the corporation. All are leased for periods between 21 and 99 years. There are two smaller estates, adjoining Bush Fair and Staple Tye centres, where service industries are located, and two warehouse areas at Burnt Mill and Riverway.
Industrial expansion was slow before 1950, because of the difficulties of obtaining building licences and the complex regulations surrounding them. By 1950 there were twelve firms at Temple Fields. In 1956, when the first factory opened at Pinnacles, Temple Fields was almost fully developed, with space only for expansion by existing industries. The Bush Fair and Staple Tye industrial areas were opened in the late 1950s and the 1960s respectively. By 1967 there were 94 firms at Temple Fields, Pinnacles, and Bush Fair. Many industries were transferred or expanded from sites in London and brought their own employees.
The development corporation encouraged diversity: light engineering, electronics, printing, and glass, food, and furniture manufacturers became established. In 1973 electrical engineering firms employed 36.2 per cent of the working population. The largest factories are those of the International Telephone and Telegraph Corporation, Edinburgh Way, and its associates Standard Telephones and Cables, West Road, and Standard Telecommunication Laboratories, London Road, which together employed 8,000 in 1979, in the manufacture of electronic equipment. Cossor Electronics, a subsidiary of the A. C. Cossor Group, and owned by the Raytheon Co. U.S.A., design and manufacture electronic products. The company, which originated in Clerkenwell, London, in the 1890s, opened with 200 workers, in Edinburgh Place, Temple Fields, where the first British V.H.F. radios were made, before moving in the late 1950s to Elizabeth Way, where in 1979 some 1,800 were employed. (fn. 20) B. & R. Relays, South Road, Temple Fields, part of Greenbrook Securities, making automatic starter controls, switches, and electro-magnetic relays, opened in 1955 and by 1979 employed c. 250 workers. The Electrical Remote Control Co., Bush Fair, makers of electronic and electromechanical timers, began work in South Road before moving to Bush Fair.
In 1973 mechanical engineering firms employed 15 per cent of the workforce. Pitney-Bowes at Elizabeth Way, a subsidiary of Pitney-Bowes Inc. U.S.A., manufacturers of franking machines, in 1979 employed 1,500 workers. Other engineering firms operating in 1980 include Raymond F. Thompson, toolmakers, and Beard and Fitch, gear cutters, both in Edinburgh Way; Greenpar Engineering, Station Works; and Smith's (Harlow), Barrows Road, precision engineering. There are many small light engineering firms. Harlow Engineering Training Centre Ltd. was opened in 1967 at Staple Tye. Precious metals are refined by Johnson Matthey Metals, Edinburgh Way, which originated in 1954 as the Harlow Metal Co., the production division of Messrs. Johnson and Matthey and Co. In 1977 there were 200 employees. (fn. 21)
Chemical and allied industries include Revertex Chemicals, Edinburgh Way, and its associate Harlow Chemical Co., Central Road, employing 1,170 in 1979 in making emulsions for paints and adhesives, and polymers for paper coating. The Beecham Group has a medicinal research centre, extended in 1978, in Coldharbour Road, Pinnacles, (fn. 22) Lorilleux and Bolton, South Road, Temple Fields, and Colora Printing, Harolds Road, Pinnacles, manufacture printing inks. In 1980 there were eight printing firms, including Shenval Holdings, South Road; Dorstal Press, West Road, part of the British Printing Corporation, who are also bookbinders; and Thos. Preston (Harlow), a subsidiary of the Jefferson Smurfit Group (Eire). At Pinnacles the Kores Manufacturing Co., West Road, makes carbon papers, stencil and typewriter ribbons, while E.S.A. Creative Learning, Horsecroft Road, manufactures educational stationery and equipment; in 1979 each had over 250 employees.
Other large industries include U.G. Glass Containers, Edinburgh Way, which originated as Key Glassworks, one of the first factories at Temple Fields. The Quadrant Glass Co., Harolds Road, Flo-rite Glassware, Horsecroft Place, and G. Springham and Co., South Road, manufacture scientific and laboratory glassware. Blakdale N.S.E., Howard Way, employed 600 in 1979 making steel office equipment. The largest furniture manufacturers, employing 2,500 workers in 1979, are Schreiber Furniture, Howard Way, a subsidiary of the General Electric Co. The timber mills of Walter Gould and Sons are at River Way. The Co-operative Wholesale Society has a large biscuit factory at Barrows Road, Pinnacles.
Commercial development was planned as part of the economic growth of the town, but the building of large office blocks was delayed until work began, in the late 1950s, on the town centre. (fn. 23) Local and central government departments, insurance, banking, finance and business services were attracted. Aylmer House was opened in 1959; Crown Gate offices, later Beaufort House, and the eight-storeyed Rank House were complete by 1961; Adams, Terminus, Rothwell, and Westgate Houses and the Rows are multi-storey office blocks completed by 1975. Harvey House, a nine-storeyed block and part of the final phase of building in the town centre, was expected to accommodate 300 more office workers by 1981. (fn. 24) Offices, a bonded warehouse, and a distillery were opened in Fourth Avenue, north of the High, in 1963 by International Distillers and Vintners, the holding company of Gilbey's, wine and spirit merchants, later part of Grand Metropolitan. The company opened a distribution warehouse, the largest in Europe, in 1972 in Riverway. (fn. 25) George G. Sandeman & Sons, port and sherry shippers, opened offices and a warehouse in 1973 in Elizabeth Way. British Petroleum in 1966 completed new offices on 1.6 ha. (3.95 a.) in Third Avenue, and in 1977 were employing 950. (fn. 26) The Longman Group, publishers, has occupied Longman House, Burnt Mill, since 1968.
The High is also a shopping precinct and has 160 shops, including branches of the main multiple stores and two department stores. Another 177 shops are located in four centres at the Stow, Bush Fair, Staple Tye, and Old Harlow, and in 18 sub-centres. A market, opened in 1956, is held in the market square, the High, every Tuesday, Thursday, Friday, and Saturday.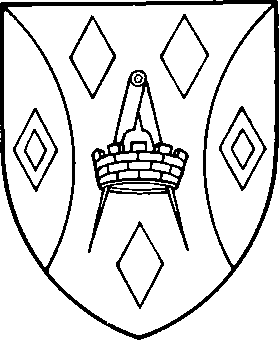 Local Government.
The Harlow development corporation was established in 1947 by the Ministry of Town and Country Planning, from the Advisory Board set up under the New Towns Act, 1946. (fn. 27) The corporation was financed by the government by means of loans for up to 60 years, and had wide powers to acquire land, to provide basic services, and to direct the building of the new town. It worked closely with Essex county council and private enterprises to provide schools, welfare facilities, and police and health services. The chairman and eight members of the board of the corporation were appointed for their knowledge of town planning, housing, social welfare, and local government. From 1955 the board also included local councillors appointed by the government. There have been four chairmen: Sir Ernest Gowers (1947–50); (Sir) Richard Costain (1950–66); (Sir) John Newsom (1966– 71); and Mr. Bernard J. Perkins (from 1971). The Board appointed a working committee composed of a general manager and seven chief officers, each responsible for his own department. From 1955 the corporation began to hand over its functions to the newly formed Harlow district council. By 1978 the corporation's work was virtually complete. It was intended that by the end of 1980 its remaining industrial and commercial assets should be transferred to the Commission for the New Towns and it should then be disbanded.
The area designated for the town comprised the civil parishes of Harlow (including Latton), Great Parndon, and Netteswell (including Little Parndon), all in Epping rural district. (fn. 28) It originally included also a small strip of land in Eastwick (Herts.) but that was omitted from the final plan. The constituent parishes in 1949 formed a joint committee to negotiate with the development corporation. In 1955 the three parishes were merged in the new parish and urban district of Harlow. (fn. 29) The U.D., whose boundaries were those finally designated for the town, comprised 7 wards with 18 councillors, including 5 from the old communities and 13 from the new ones. New wards were created as the town grew, and by 1974 there were 14 wards with 42 councillors. The council offices were at Netteswell Hall and Netteswell House until the opening of the town hall, in the High, in 1960. (fn. 30) The new council, Labour-controlled from its inception, took over from the corporation many functions, including highway maintenance, refuse collection, and the provision of parks, recreation areas, sports facilities, and public entertainments, but in housing it controlled only property built before 1947. (fn. 31)
Harlow district, formed in 1973, has the same area as the former urban district, the same number of wards and councillors, and the same political control. In 1978 the council assumed full responsibility for housing when 18,500 rented dwellings were handed over by the development corporation. (fn. 32)
Harlow is an Essex police division. A new police station was opened in 1957 in Crown Gate, the High. In 1959 a new court house was built on an adjoining site, and the first county court was held in 1961.
Public Services.
The master plan for Harlow included the provision of public services and amenities, which were to be extended as the town grew. (fn. 33) Gas and electricity, supplied by the Eastern Gas and the Eastern Electricity boards, were available from the beginning. Water was supplied by the Herts. and Essex Water Co., from 1960 part of the Lee Valley Water Co., at first from deep bores in the chalk in Hertfordshire. A reservoir was opened in 1954 at Rye Hill (Herts.) and in 1955 headworks came into use at Sacombe (Herts.). Sewerage was provided as part of the Middle Lee regional drainage scheme, by the development corporation, acting as 'caretaker authority' from 1956 to 1974, when the Thames Water Authority was formed. A main trunk sewer opened in 1952 and the first stage of Rye Meads (Herts.) sewage works was built between 1950 and 1956. A second stage was complete by 1965.
Housing was almost entirely provided and managed by the development corporation until 1978, when responsibility was transferred to the D.C. The corporation built a few houses for sale, the first, in the mid 1950s, being at Upper Park, Little Parndon, and some private building was allowed, at Latton Bush and elsewhere. Between 1971 and 1974 the corporation sold 3,500 dwellings to sitting tenants. In 1979 the D.C. owned 21,000 dwellings.
Open spaces were an essential part of the master plan. Four major green 'wedges' were designed to penetrate the town centre between the built-up areas. The northern wedge became the site of the town park, which comprises 66 ha. (163 a.) Formal playing fields and playgrounds were provided between the housing areas. Existing woods were preserved and opened to the public, and a nature reserve was established at Parndon wood. In 1960 a sports centre, managed by a trust and comprising an athletic arena and stadium, was opened west of the town park. It was extended in 1964, 1970, and 1975, and provides both indoor and outdoor facilities, including a ski-slope. (fn. 34) In 1964 an 18-hole golf course at Canons Brook, Elizabeth Way, designed by Henry Cotton, was leased by the trust. A swimming pool was opened in 1961 north of First Avenue.
The local health service was among the most original of those designed for the new towns. It was based on the creation of group practice health centres for doctors, dentists, and county council welfare clinics, served by a central hospital. The project was financed by the Nuffield Provincial Hospitals trust; the buildings, rented by the users, were designed and managed by the development corporation. From 1962 Harlow had a separate health area sub-committee, whose functions were transferred in 1974 to Essex area health authority. The first family health centre opened in 1952 in temporary premises at Haygarth House. In 1955 Nuffield House, the Stow, replaced Haygarth House, and two new centres were opened, Sydenham House, Pypers Hatch, to serve Netteswell, and Osler House, Prentice Place, for the Potter Street area. By 1977 there were eight group-practice centres and two specialist centres. Princess Alexandra hospital, Hamstel Road, with 450 beds, was built in three stages between 1958 and 1966. Harlow industrial health service, founded in 1955 and initially financed by the Nuffield Provincial Hospitals trust, is supported by contributions from member firms. It has three centres: Edinburgh House, Temple Fields; Perry Watlington House, Pinnacles; and the engineering training centre, Staple Tye. Parndon Wood crematorium and cemetery, Great Parndon, were opened in 1961 by the U.D.C. (fn. 35) A fire station was completed in 1957 in Fourth Avenue, north of the High.
The county library opened its first Harlow branch in 1955 in the Stow. (fn. 36) The central library, the High, was opened in 1963, and extended in 1979, by which date there were also branches at Bush Fair, Old Harlow, Potter Street, and Staple Tye. Harlow museum opened in 1973 in Passmores, a converted Georgian house, south of Third Avenue. (fn. 37)
Parliamentary Representation.
Harlow county constituency was formed in 1974 from parts of the old Epping constituency. It includes the town and adjoining rural parishes. At all elections up to 1979 it returned a Labour member. (fn. 38)
Churches.
Six ecclesiastical parishes came into the town at its formation in 1947: Harlow, St. Mary with St. John; Harlow, St. Mary Magdalene; Latton; Netteswell; Great Parndon; and Little Parndon. They were reorganized in 1957. (fn. 39)
The parish of Harlow, St. Mary with St. John, based on Old Harlow, remained largely unchanged, but included two small areas of Latton east of the main London road. By 1979 the church of St. John was redundant. (fn. 40)
The parish of Harlow, St. Mary Magdalene, centred on Potter Street, was extended to include the southern part of Latton, east of the main road to London, from Mark Hall wood south, and the area south of Commonside Road. (fn. 41)
The parish of Harlow New Town (Town Centre parish) was formed from that of Little Parndon (excluding the detached southern portion), the northern parts of Great Parndon and Netteswell, and a small strip of Latton. A new parish church, in the High, was consecrated in 1959, and St. Mary's, Little Parndon became a chapel of ease. The advowson was vested in the trustees of J. H. L. Arkwright. In 1977 a patronage board was set up on which were represented the bishop, Mr. J. H. L. Arkwright, the Church Pastoral Aid Society, and the parochial church council. The church of ST. PAUL, designed by Humphrys & Hurst, is a cruciform building of yellow brick with a tapering, copper-covered spire and a detached bell tower. (fn. 42) The north transept contains a baptistery with choir gallery above. The chapel of the Holy Spirit, at the eastern end of the south aisle, is separated from the church by a glass partition. The interior has much colour: red for the aisle roofs, doors, kneelers, standing candlesticks and sanctuary carpet; blue, white, and lemon yellow for the main roofs; gold for the altar hangings; and white and amber glass in the windows. At the east end is a large mosaic mural by John Piper, depicting Christ with two disciples at Emmaus. The tower contains six bells brought from the church of Holy Trinity, Barking Road, West Ham. (fn. 43)
The church of ST. BARNABAS, Hare Street, dedicated in 1956 as a mission of St. Mary, Great Parndon, became part of Town Centre parish in 1957 and was used for worship until the completion of St. Paul's, when it became a church hall. It was sold by 1972 and the money was used to build a new hall, conference room, and curate's flat at St. Paul's. The church of ST. MICHAEL, Netteswell, which originated in 1956 as a mission of St. Andrew's, Netteswell, became a district church of Town Centre parish in 1957. It was closed in 1980. The mission hall at Netteswell Cross was acquired in 1968 by the Youth Hostels association and became an international centre in 1970. (fn. 44)
The parish of Great Parndon with St. James, Southern Way, Staple Tye, was formed from the southern part of the ancient parish of Great Parndon, the detached part of Little Parndon, and a small strip of Netteswell, to serve the south-west area. The church of St. Mary the Virgin, which remained the parish church, was by 1980 shared with the Methodists. (fn. 45) The church of ST. JAMES was dedicated in 1958. It is a square, brick building with an octagonal roof and lantern. It also is shared with the Methodists.
The parish of Tye Green with St. Andrew, Netteswell, was formed from the southern part of Netteswell parish and a small strip of Latton, to serve the south-east area. The old church of St. Andrew remained the parish church until 1964, when the new church of ST. STEPHEN, Tawneys Road, Tye Green, was built. (fn. 46) St. Stephen's is of rustic brown brick with a tower over the porch. The interior is of concrete with large folding doors to the adjoining hall. The advowson is vested in Mr. J. H. L. Arkwright.
The parish of St. Mary at Latton, Mark Hall, comprising the northern part of the ancient parish of Latton and the detached area of Harlow parish, serves the north-east area. The church of St. Mary the Virgin remains the parish church. (fn. 47)
Roman Catholicism.
From 1951 Roman Catholics in the new town used the church of Our Lady of the Assumption, Mulberry Green, Old Harlow. (fn. 48) As the population increased four sites were developed. (fn. 49)
The north-east parish at Mark Hall was formed from that of Harlow. From 1955 mass was held in the church hall until the church of OUR LADY OF FATIMA, Howard Way, was opened in 1960. It was designed by Gerard Goalen on a T-shaped plan, with a copper-covered needle spire. The stained glass was designed and made at Buckfast Abbey (Devon). (fn. 50)
Two parishes were formed in 1957. The southeast parish is served by the church of THE HOLY CROSS, Tracyes Road, opened in 1963. The north-west parish comprises Hare Street and Little Parndon neighbourhoods; the church of ST. THOMAS MORE opened in 1965.
A parish was formed at Great Parndon in 1962 for the south-west area. Mass is held in the church hall of ST. LUKE, Perry Road, opened in 1966.
Protestant Nonconformity.
From 1947 the Baptist chapels at Fore Street, Harlow, and Potter Street, the Methodist churches at Harlow and Burnt Mill, Netteswell, and the Gospel hall at Great Parndon, renewed and extended their work to meet the needs of the new town. (fn. 51) Many new places of worship were opened, common rooms or private houses being used until new churches were built. (fn. 52)
The Harlow Methodist Mission circuit was formed in 1952. (fn. 53) The church of St. Andrew opened in 1954 in the Stow, Mark Hall South. It is a combined church and hall of brick, with adjoining classrooms. St. James, Staple Tye, opened in 1958, is shared between Methodists and the Church of England. (fn. 54)
Trinity United Reformed (formerly Presbyterian) church, Harberts Road, Hare Street, was opened in 1954. In 1979 there were 47 members. David Livingstone U.R. (formerly Congregational) church, Maddox Road, Netteswell, was opened in 1958. In 1979 there were 21 members. (fn. 55)
The Evangelical Lutheran church of the Redeemer, Tawneys Road, Bush Fair, began in a wooden building in 1959. A permanent church, with hall, offices, and manse attached, was opened on the same site in 1967. The church has a low, domed roof, folding doors, and movable seating. The whole building is surrounded by a high white wall. (fn. 56)
Other places of worship in 1980 include the Society of Friends meeting house, opened in 1962 in Church Leys, Tendring Road, Tye Green; (fn. 57) the Salvation Army Citadel, established by 1967 in Tendring Road, Passmores; Harefield Evangelical church, Momples Road, Mark Hall South, opened 1957; (fn. 58) Oakwood Interdenominational and Evangelical chapel, Spring Hills, Little Parndon, developed from a Sunday school in the 1950s; (fn. 59) Elim (Pentecostal) church, Parndon Wood Road, opened 1973; (fn. 60) the Assemblies of God, Purford Green, Brays Grove, opened 1969; (fn. 61) Christian Science society premises, Mowbray Road, Mark Hall North, from 1967; Harlow branch of the church of Jesus Christ of the Latter Day Saints, Tysea Road, Latton Bush, in use by 1977; Jehovah's Witnesses, Kingdom Hall, Hodings Road, Little Parndon, from 1968.
Judaism.
A synagogue was opened in 1966 in Harberts Road, Hare Street. (fn. 62)
Other Religions.
A Buddhist Society, founded in 1968, meets at the Dana Centre, Staple Tye. (fn. 63) A Baha'i Faith group, formed in 1975, meets in private houses in Harlow. (fn. 64)
The provision of schools for Harlow was one of the main concerns of the Essex education committee in the 1950s. The committee was hampered by shortages of money, labour, and materials, and diverted to the new towns resources needed for the improvement of old rural schools. (fn. 66) The initial plan for Harlow schools had to be revised frequently in the following years to match the changing pace and location of house building. Many of the schools were designed by private architects, although the county architect's department was the coordinating authority and designed some of the larger units. (fn. 67) The first new primary school was opened in 1951 and the first secondary school in 1954. By 1979 thirty-four county schools had been built, including 3 which were closed in the 1970s, and 2 special schools. The Church of England opened a new primary school, the Roman Catholics a secondary school and 3 primary schools. In the following accounts of primary and secondary schools temporary enlargements are omitted and an address is not given when it is part of the school's name. Unless otherwise described, they are county schools, the primary schools are for juniors and infants, and the secondary schools are mixed.
Primary schools. Tany's Dell schools opened in 1951 as a temporary school at Mark Hall and moved to new buildings in 1952. Mark Hall was used as an annexe until 1960 when 2 classrooms were added at Tany's Dell. (fn. 68) Broadfields schools, Freshwaters, opened in 1954 and were enlarged in 1955 and 1959. (fn. 69) An English language centre for immigrant children in West Essex was opened there in 1969. The Spinney schools, Cook's Spinney, opened in 1954 and were enlarged in 1955. Potter Street junior school, Carter's Mead, opened in 1954 to replace the junior department of the Common Church school, and the adjacent infant school opened in 1958 when the Church school closed. The old school, later a Masonic hall, was used as an annexe in the 1960s. (fn. 70)
Hare Street schools, Little Grove Field, opened in 1955. Little Parndon schools, Park Mead, which were opened in 1955, received children from Rivermill and Spring Hills schools in 1974 and 1975. (fn. 71) The Downs school, the Hides, opened in 1955, was enlarged in 1958 and 1961, and rebuilt after being badly damaged by fire in 1968. (fn. 72) Purford Green schools opened in 1956 in the former Common Church school and moved to new buildings later that year. St. Alban's Roman Catholic school, First Avenue, opened in 1956. Spring Hills school, Fold Croft, opened in 1958 and closed in 1975, when the remaining children were transferred to Little Parndon school, to which the Spring Hills buildings were temporarily annexed. (fn. 73) Jerounds schools, Pyenest Road, originated in 1958 as Great Parndon temporary school, in the buildings of the former Church school. In 1963 the schools were renamed and the juniors moved to a wing of Stewards secondary school. The infants moved to new buildings in 1964 and the juniors in 1965. The schools were enlarged in 1968. Pear Tree school, Trotters Road, opened in 1959.
Holy Cross Roman Catholic school, Tracyes Road, opened in 1960 and was enlarged c. 1965. (fn. 74) Waterhouse Moor school opened in 1961 and in 1962 was reorganized as separate junior and infant schools, which were reunited in 1970. In 1977 the former infant building was annexed to Harlow technical college. Abbotsweld junior school opened in 1961 and the adjacent infant school in 1964. Both were enlarged in 1967. Rivermill school, Hodings Road, opened in 1961, was reorganized in 1973 as a junior school, and closed in 1974 when the remaining children went to Little Parndon school. Latton Green schools, Riddings Lane, opened in 1962 in the infant building. The junior school was completed in 1963. Peterswood junior school, Paringdon Road, completed in 1964 before the neighbouring houses were built, was temporarily used by children from Abbotsweld area. (fn. 75) The adjacent infant school was completed in 1966, and both schools were enlarged in 1968. St. Luke's Roman Catholic school, Pyenest Road, was opened in 1965 and enlarged in 1966 and 1972. Kingsmoor junior school, Ployters Road, opened in 1966, was used by juniors and infants until the adjacent infant school was ready in 1967. The schools were enlarged in 1972. Westfield school, Tendring Road, opened in 1968 and closed in 1977 when the remaining children went to Abbotsweld schools.
St. James's Church of England school, Paringdon Road, opened in 1972. Maunds Wood school, Parnall Road, and Milwards school, Paringdon Road, opened in 1973. Katherine's school, Brookside, opened in 1974. Sumners school opened in 1977 in temporary premises at the former Westfield school and moved to new buildings in 1978. Harlowbury school, off Watlington Road, opened in 1978.
Secondary schools. The schools, originally planned as experimental bilateral schools, had become comprehensive by 1957 and were so named in 1964. (fn. 76) Mark Hall school, First Avenue, was opened in 1954 as a modern/technical school, and enlarged in 1973. Netteswell school, the Hides, was opened as a modern/grammar school in 1955 and enlarged in 1967 and 1970. Brays Grove school, Tracyes Road, was opened in 1957, and enlarged in 1967. (fn. 77) Latton Bush school, Southern Way, opened in 1959, was enlarged in 1972, and Passmores school, Tendring Road, opened in 1959 in part of Latton Bush school, moved in 1961 to new buildings which were enlarged in 1969. Burnt Mill school, First Avenue, opened in 1962 in part of Passmores school and moved later that year to new buildings, which were enlarged in 1969. Stewards school, Parnall Road, opened in 1963 and was enlarged in 1969. St. Mark's Roman Catholic school, Tripton Road, opened in 1965 in part of Holy Cross primary school and moved to new buildings in 1966. It was enlarged in 1967 and 1975.
Special Schools. Units for partially hearing children opened at Tany's Dell infant school in 1968 and at Burnt Mill secondary school in 1969. A unit for the physically handicapped was opened at the Spinney infant school in 1969 and others for the maladjusted at Broadfields infant school in 1968 and temporarily at Waterhouse Moor infant school in 1971. (fn. 78)
The Mead school, Tendring Road, originated in 1961 when three classes for the educationally sub-normal were started in the former Nazeing primary school, Bumble's Green. In 1964 it moved to new buildings in Tendring Road and in 1971 it was reorganized for children aged 5–12 years. (fn. 79)
Tye Green school, Tendring Road, for the severely educationally sub-normal, originated as a junior training centre, which was transferred in 1971 from the regional hospital board to the county council and renamed. It was enlarged in 1973. (fn. 80)
The Commonside school for the educationally sub-normal originated in 1968 when a class from the Mead school moved to the former Westfield primary school as the nucleus of a special secondary school. It moved to new buildings in 1971. (fn. 81)
Further Education. Harlow technical college, the High, originally West Essex college of further education, was built in three phases between 1957 and 1968. (fn. 82) By 1961 advanced work had been developed there because of the difficulty of travelling to South West Essex technical college, Walthamstow. (fn. 83) In 1962 the college became an area technical college and was renamed. (fn. 84) In the 1960s and 1970s neighbouring church and club premises were used to relieve overcrowding, and in 1977 an annexe was established in the former infant school at Waterhouse Moor. (fn. 85) Evening institutes opened at Burnt Mill c. 1963 and Latton Bush c. 1962.
Educational Charity. The Tom Parkin charity was founded by deed of trust in 1977 by Harlow Rotary club, which raised £523 for the promotion of education in Harlow, Sheering, Matching, and High and Little Laver, in memory of Tom Parkin of Bishop's Stortford (d. 1974). The initial investment was augmented by gifts to provide three annual grants to students of £20 each in 1977 and £50 each in 1978 and 1979. (fn. 86)