Pages 158-186
A History of the County of Essex: Volume 8. Originally published by Victoria County History, London, 1983.
This free content was digitised by double rekeying. All rights reserved.
HATFIELD BROAD OAK
Hatfield Broad Oak is a rural parish 11 km. north-east of Harlow. (fn. 1) With an area, in the 19th century, of 8,810 a. (3,565.4 ha.) it was one of the largest ancient parishes in Essex. During the Middle Ages it was a considerable market town, with a Benedictine priory. In 1949 a small part of Hatfield, comprising 92 a. at its northern end, was transferred to Takeley parish, so that the boundary followed the railway instead of Stane Street for most of its length. (fn. 2)
The soil is mainly boulder clay with patches of glacial loam, gravel, and brickearth. Pincey brook, flowing south and west through the parish to join the river Stort, is joined by Mus brook. (fn. 3) From the Pincey valley the land rises to 75 m. on each side, and to 90 m. at the northern end of the parish, where Hatfield forest, belonging to the National Trust, occupies over 400 ha. Hatfield town, now only a village, grew up in the centre of the parish, at the confluence of the Pincey and Mus brooks. At Hatfield Heath, in the southwest corner of the parish, the ancient hamlet fringing the common has grown during the past century into a large village on the road between Chelmsford and Sawbridgeworth (Herts.).
A Bronze Age hoard has been found at Matching Barns in the south, and other Bronze Age remains near Hatfield Park in the north of the parish. (fn. 4) In Hatfield forest there are traces of an ancient defensive enclosure called Portingbury Hills, comprising a mound about 30 m. square and 1.5 m. high, surrounded by a shallow ditch. (fn. 5) Traces of a larger, circular entrenchment, near Portingbury Hills, were still visible in the early 18th century. (fn. 6)
The name Hatfield Broad Oak was in use by 1136 or earlier. (fn. 7) The broad oak from which the suffix was taken was mentioned in 1295. (fn. 8) Another great tree, the Doodle Oak in Hatfield forest, is mentioned below. (fn. 9) In the Middle Ages the parish was also known as Hatfield Regis, King's Hatfield, Hatfield Regis atte Broad Oak, or Hatfield Chipping. (fn. 10)
In 1086 Hatfield Broad Oak was one of the largest settlements in Essex. Its recorded population of 115 ranked ninth in the county, while its assessed valuation of £85 ranked sixth. Only Colchester, Writtle, and Barking outranked Hatfield on both counts. (fn. 11) In 1327, when 86 Hatfield men were assessed to the lay subsidy, the township ranked sixth in Essex for the numbers of payers and seventh for total tax. (fn. 12) In 1523–4, with 148 assessed to the lay subsidy, Hatfield ranked about 14th in Essex both in taxpayers and payments. Its taxpayers outnumbered those in Witham, Dunmow, Braintree, and Chelmsford, and also paid more than any of the first three. (fn. 13) It was said in 1546 to have a population of over 1,000, and in 1548, to be 'very great and populous', with 500 communicants. (fn. 14) In 1670, however, with 138 entries in the hearth tax return, it ranked only 28th in Essex. (fn. 15) The population of the parish in 1801 was 1,436, ranking 29th. After climbing to 2,034 in 1851 it fell slowly to 1,546 in 1921. Since 1921 it has again been rising, and in 1971 was 2,637. (fn. 16)
The above figures indicate that, relatively at least, Hatfield suffered a decline that was slow between the 14th and the 16th century, and more rapid in the 16th and 17th centuries. It is likely that the decline had three main causes: the growth of other towns in the district, the dissolution of the priory, and the growth of the Barrington estate. The first factor, which may have come into play as early as the 15th century, is indicated by the transfer of Hatfield fair to Thremhall Green, about 5 km. NNW., on Stane Street. (fn. 17) The move looks like an attempt to regain trade lost by Hatfield to the places on Stane Street: Bishop's Stortford (Herts.) was only 10 km. away, while Dunmow (10 km.), Braintree (20 km.), and Coggeshall (30 km.) had all outstripped Hatfield in size by 1670. Hatfield priory had been founded c. 1135. At the time of its dissolution in 1536 the community numbered about 30, including servants, (fn. 18) with substantial buildings, and an interest in the market. (fn. 19) Its destruction clearly diminished the town. The Barringtons, who acquired the conventual site and part of the priory lands, had been seated in Hatfield since the 12th century, and by the 18th century owned most of the parish. As their estate was built up farms became larger, and the smallholders, once numerous, were gradually squeezed out. (fn. 20) A writer of c. 1768 commented on the decline of Hatfield: 'the town, till very lately, made such a figure in maps that a company of soldiers have been frequently quartered here upon a march; who to their great surprise found only three alehouses in it, and those very mean ones. As this place is no great thoroughfare it hath, of course, very little trade.' (fn. 21)
It seems likely that the medieval town covered an area no wider than that of the present village, but more densely settled. The market place lay at the junction of High Street, running east and west, with Musbrook Street, now Cage End, running south. High Street was called in medieval documents 'the highway', or 'the highway through the market'. (fn. 22) Musbrook Street was so called by 1386. (fn. 23) In 1624 the market house stood detached at the north end of the market place. South of it was a terrace of shops, standing in front of the present houses on the west side of Cage End and separated from them by an alley called Butchers Lane. Farther east, in High Street, a block of houses formerly projected into the middle of the road, almost enclosing the market on that side. In the early 14th century the market place was crowded with shops and stalls, and many artisans plied their trades in the neighbouring streets. (fn. 24) The priory lay north of High Street, adjoining the parish church. At the eastern end of High Street was Broad Street, mentioned c. 1280, leading south, and Bickmere Street or Lane (c. 1300), now Dunmow Road, leading north. (fn. 25) Leading west from the market place was Langbridge Street, mentioned in the 13th century, (fn. 26) later called Mill Hill, and now Feathers Hill. Chipping Street (c. 1280) led south from Langbridge Street to Chipping field. (fn. 27) Langbridge Street continued beyond the bridge as Hol Street, later Holsted Hill and Old Street Hill, leading to Hatfield Heath. (fn. 28)
On all sides of the town, during the Middle Ages, were scattered farms, crofts, and hamlets. The main hamlet was Hatfield Heath, 3 km. south-west, recorded from 1442. (fn. 29) Others, recorded from the 15th century, were Brunesho (Broomshawbury) End, east of the town, Coldwell (later Collier) Street and Bush End to the north, Wood Row to the north-west, Manwood Green to the south, and Needham Green to the south-east. (fn. 30)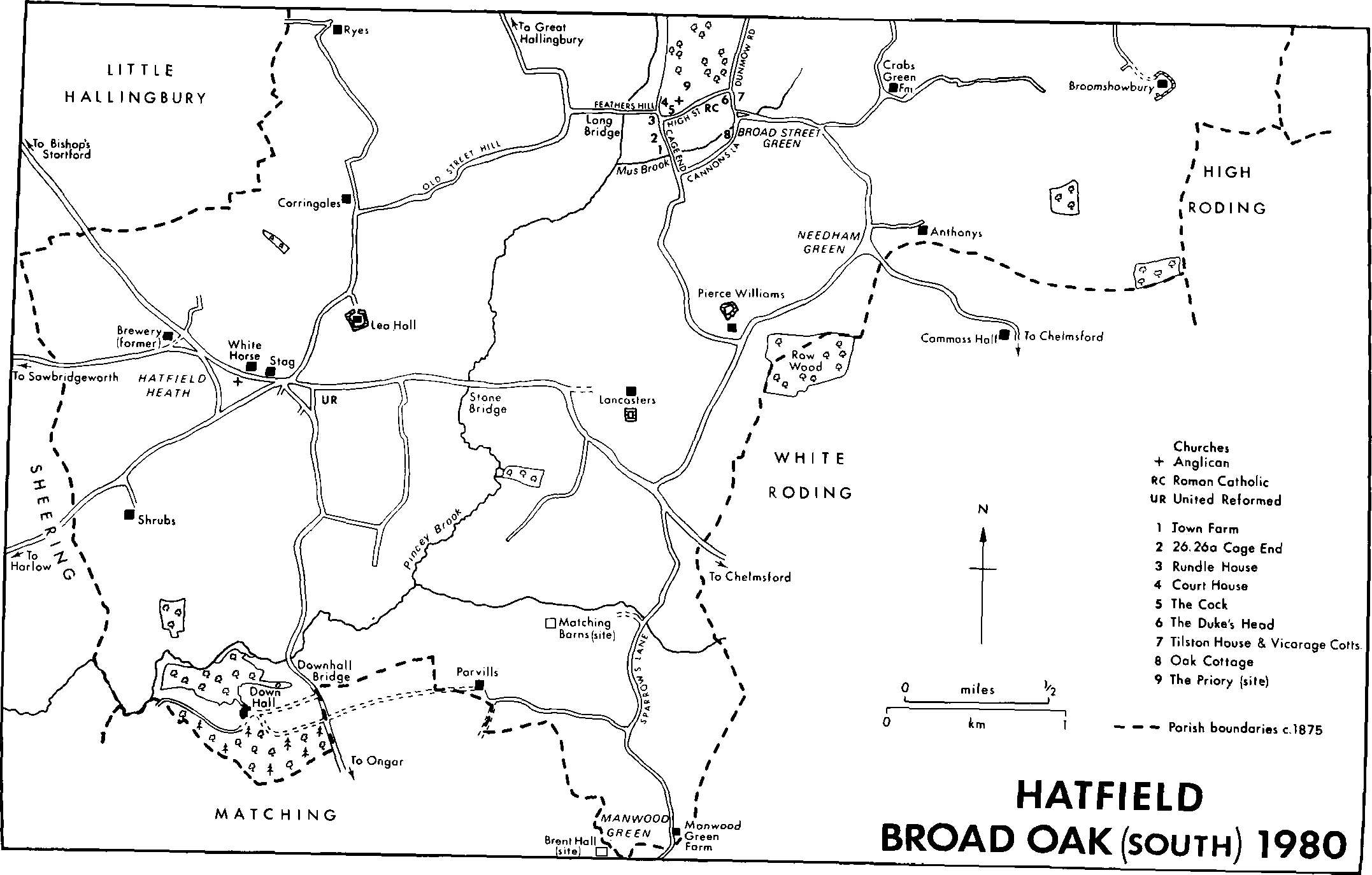 The dissolution of the priory, and the growth of the Barrington estate, both affected the topography of the parish in and after the 16th century. Part of the conventual buildings seem to have been converted into the Priory House, which was the Barringtons' residence from c. 1613 to c. 1700. In the mid 18th century a new Barrington Hall was built north of the priory site and enclosed in a park. The Barringtons' consolidation of farms brought about changes in the pattern of settlement outside the town. Their control of the town probably did nothing to check its decline, and may even have hastened it. By the early 19th century the market place had been cleared of all buildings except the market house, and that was removed c. 1862. At least one other house in High Street, the former vicarage, was pulled down in the 18th century and its site thrown open. (fn. 31) Other houses may have been demolished on the western side of the town. About 1580 there were at least 11 houses in Langbridge Street. (fn. 32) It was stated c. 1768 that 'the remains of buildings and foundations' could be seen for ½ mile by the road to Sheering. The writer associated them with the name Holsted Hill, which he thought was a corruption of Old Street Hill. (fn. 33)
As the town declined the main focus of settlement began to swing towards Hatfield Heath, which profited from its main road position. The fair was removed to Hatfield Heath in 1660, and a Congregational meeting was opened there soon after. By 1777 the heath was ringed with houses, mainly cottages, (fn. 34) and in the 19th century two schools, a church, and a large brewery were built there. At the northern end of the parish Hatfield forest, gradually reduced in size since the 16th century, was inclosed in 1857, but survived as part of the park surrounding Hallingbury Place, seat of the Houblons. A school and a church were built in the 19th century at Bush End to serve the cottagers dwelling on the eastern fringes of the forest. The forest was given to the National Trust in 1924.
A writer of 1928, surveying the Hatfield Broad Oak area, commented on the 'persistent but as yet slight invasion by Londoners… cottages are being bought at prices prohibitive to the country folk by town dwellers.' (fn. 35) Since the Second World War there has been a little new building at Hatfield Heath and in Hatfield Broad Oak village. Development along Stane Street was mainly in Takeley parish until the later 19th century, when it began to spread southwards into Hatfield.
Hatfield retains most of its ancient road system. (fn. 36) The four different versions of the county map of 1594 show three roads traversing the parish. (fn. 37) A road from Chelmsford turned north from White Roding to Hatfield town via Morrell Roding (Cammass Hall). One from Epping via Harlow to Hatfield town continued north to Thaxted and Saffron Walden, with a branch eastwards to Dunmow. A road from Hatfield town ran north-west through Great Hallingbury direct to Stansted Mountfitchet, Saffron Walden, and Cambridge or, according to one version of the map, to Bishop's Stortford, continuing to Stansted Mountfitchet and beyond. The western end of Stane Street, which bounded Hatfield to the north, is not shown on the 1594 map, nor is the Sawbridgeworth road through Hatfield Heath. Their omission is surprising, and in the case of Stane Street cannot be correct, since that was one of the principal medieval roads of Essex, described in 1204 as 'the causeway leading from Stortford to Colchester', a phrase which emphasizes the importance of its western end. (fn. 38) The highway from Ongar to Bishop's Stortford, via Matching Green, was mentioned in 1274. It crossed Downhall bridge and presumably passed through Hatfield Heath on the line of the present road. (fn. 39) London Road in 1757 ran from Wood Row north-east through Hatfield forest to Takeley Street. (fn. 40) It had been closed by 1777, as the result of Jacob Houblon's alterations to the forest. (fn. 41) The present road from Wood Row to Takeley Street via Bush End was made c. 1860. (fn. 42) On the eastern side of the parish the lanes leading from Broomshawbury west to Crabs Green and east to New Hall in High Roding have since 1777 been severed except as farm tracks and bridleways. (fn. 43)
Downhall (formerly Doune) bridge, which spans Pincey brook on the road from Matching and Ongar, south of Hatfield Heath, was a wellknown landmark by 1274. (fn. 44) Until the Dissolution it seems to have been maintained by Hatfield priory, as belonging to Down Hall manor. Later lords of the manor, up to 1651, were usually held responsible for it, but often defaulted. (fn. 45) It was a county bridge in 1981. (fn. 46) Stone bridge, which spans Pincey brook on the Chelmsford road, east of Hatfield Heath, was until 1779 the joint responsibility of the owner of Hill farm and the occupier of Fryers farm. (fn. 47) It had become a county bridge by 1800. (fn. 48) In 1858 it was a dilapidated brick structure. (fn. 49) Lang bridge, spanning Pincey brook west of Hatfield village, on the Hatfield Heath road, is recorded from the 13th century. (fn. 50) In 1315 it was called 'the great bridge'. (fn. 51) It was maintained in the 15th century by Hatfield priory, whose responsibility passed to the later lords of the Priory manor. The lords of Hatfield Broad Oak manor were supposed to supply timber for its repair. (fn. 52) The Barringtons, lords of both manors, were still responsible for the bridge in 1685, and contributed at least part of the cost of repairs in 1735. (fn. 53) Bridgefoot bridge, spanning Pincey brook in Collier Street, was recorded by that name from 1660, (fn. 54) and may have been the small bridge in that street mentioned in 1315 and 1450. (fn. 55) The Mus brook is spanned south of Hatfield village by Musbrook bridge, mentioned in 1630, (fn. 56) and farther east by Broad Street bridge, recorded from 1672. (fn. 57)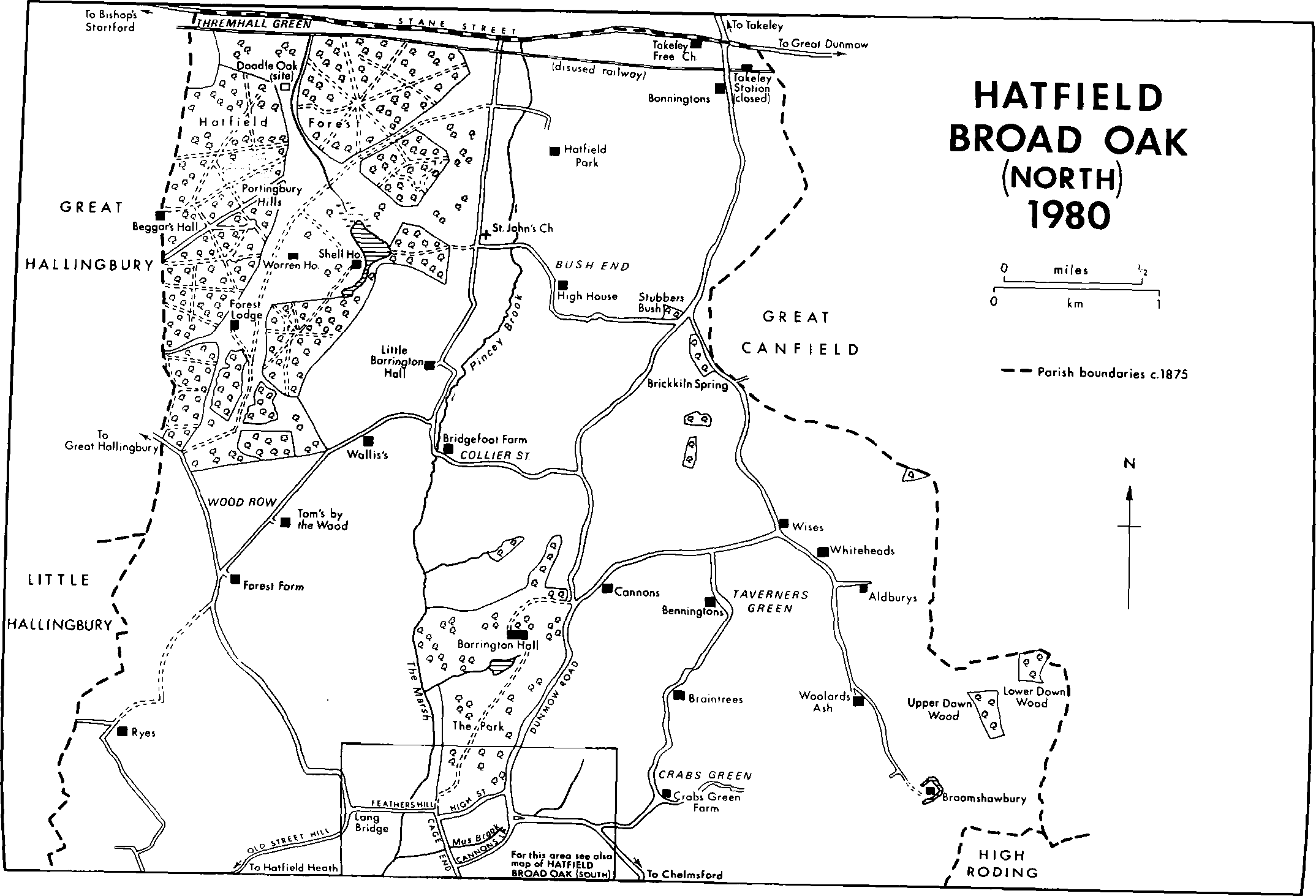 Hatfield village was in 1818 and 1832 served on weekdays by a London coach. (fn. 58) In 1838 a daily coach ran to Bishop's Stortford, where there were good connexions north and south. (fn. 59) The Great Eastern railway line from Bishop's Stortford to Dunmow and Braintree was opened in 1869. (fn. 60) Takeley station, on the line, was within Hatfield Broad Oak parish, about 4.5 km. north of Hatfield village. (fn. 61) The line was closed to passenger traffic in 1952. Takeley station continued to provide freight services until it was closed in 1966. (fn. 62)
There was a postal receiving house, served from Sawbridgeworth, at the Cock, Hatfield Broad Oak, in 1832. (fn. 63) Thomas Potter, grocer and draper, was sub-postmaster c. 1845–70, being served from Bishop's Stortford, and later from Harlow. (fn. 64) A sub-post office was opened at Hatfield Heath in 1875. (fn. 65) A telegraph service had been opened at Hatfield Heath by 1894, and at Hatfield Broad Oak by 1898. (fn. 66)
Nothing remains above ground of Hatfield Broad Oak priory. Of the 10 medieval manor houses only Hatfield Bury, now Town Farm, survives. Lea Hall and (Little) Barrington Hall were rebuilt in the 16th century, Bollingtons (Bonningtons) in the 17th, Broomshawbury, Down Hall, Pierce Williams, and Ryes in the 19th. Matching Barns and Brent Hall have disappeared. (fn. 67) During the Middle Ages there seem to have been some 30 other large houses in the parish. (fn. 68) Most of them were later rebuilt, but a few still retain medieval features. Whiteheads, about 2.5 km. north-east of Hatfield Broad Oak village, takes its name from the family of John Whitehead (Whyted) (1314). It was a late medieval house with a central hall and two cross wings. In the late 16th or the early 17th century the hall range was rebuilt to provide two storeys, and the new roof was extended over the cross wings. The large new chimney at the south end of the hall range formerly bore the date 1560, but that has been questioned. (fn. 69) High House, at Bush End, is a late medieval house incorporating an open hall. Timber-framed and plastered additions were made in the early 19th century, when the interior was remodelled and the main, south front was cased in brick. Extensive alterations were in progress in 1981. Wallis's, 1.5 km. southwest of Bush End, was named from the family of Richard le Waleys (1330). It is a late medieval hall house with one surviving cross wing. The hall has an inserted upper floor and chimney, and the outside is partly cased with brick.
The other surviving medieval houses are all in the village. The Cock Inn, High Street, is described below. The Court House, Feathers Hill, is a two-storeyed, long-jettied building of the late 14th century in which the upper floor was originally open. It was partitioned in the 16th century and a chimney was inserted. In the 17th century a range was built running back from the south end. The street front was cased with brick in 1771, the ground floor being arranged as a door and three windows in arched recesses in the original four bays, and the date being recorded on the side of the building. The quality of the structure indicates that it was an important building. Paintings formerly on the interior walls are said to have indicated that it had been a court house, and it is tempting to connect it with the Priory manor. In the late 18th and the 19th century it was the Plume of Feathers inn. (fn. 70) Rundle House, Cage End, was originally a late medieval building with an open central hall and two cross wings. (fn. 71) The north cross wing is now an open carriageway, and there are 17th- and 20thcentury extensions behind the hall, which has had an upper floor inserted. The south cross wing was remodelled and extended southwards in the mid 20th century. Tilston House and Vicarage Cottages, Broad Street, incorporate part of a late medieval house which had a small north cross wing, a two-bay hall, and a large south cross wing. The south wing was partly removed when an 18th-century house, possibly George Stirling's vicarage, was built around it. The rest of the house has been reroofed, and was much altered when it was converted into two cottages. Numbers 26 and 26A Cage End incorporate part of a substantial timber-framed building of medieval or 17th century date, within a symmetrical pair of early 19th-century houses. Nothing in the structure appears to confirm the date 1720 on the front of the building.
Most of Hatfield's smaller medieval houses were probably in the village. One of them, recently identified, was Oak Cottage, Broad Street Green. (fn. 72) It is a small building, probably of the late 15th century, with a hall which may have been entered by a lobby on the west side rather than a screens passage; it has a single-storey service room, and a two-storey solar end. A chimney has been inserted at the service end of the hall, and the roof area is now a loft.
Farmhouses surviving from the 16th or the early 17th century include Woolards Ash, Crabs Green, Manwood Green, Cannons, and Corringales. (fn. 73) Woolards Ash, 2.5 km. ENE. of the village, was probably named from the family of Roger Woleward (1316). The present house was originally a small building with a single cross wing. It was greatly extended c. 1930, and was again altered in the mid 20th century. Crabs Green Farm, 1 km. east of the village, is a small house extensively restored in 1980. John Crabbe was recorded in 1441. Manwood Green Farm, 3.5 km. south-east of Hatfield Heath, is a substantially built house with an original stair turret. It is probably identical with Manwood Green House, which belonged c. 1600 to a yeoman, Edmund Saward. (fn. 74) Cannons, 2 km. north-east of the village, is a house of irregular plan, partly weatherboarded. Corringales, 1 km. NNE. of Hatfield Heath, was recorded as early as 1217. The present house, an unusually tall building of the early 17th century, has a staircase turret of that date and a small kitchen wing. Part of the surrounding moat survives.
Wises, 2.5 km. north-east of the village, is a small house probably of 1649, the date carved on a beam above the fireplace. It was extensively restored in 1980. Braintrees, which stands on a moated site 1.3 km. north-east of the village, was named from the family of Matthew of Braintree (1303). It is a house of good quality dating from the mid 17th century, greatly altered in the 18th century and later. (fn. 75) Shrubs, 1 km. south-west of Hatfield Heath, was associated with the family of Robert Shrobbes (1297), and Robert Schrobbes (1378), who was bailiff of Hatfield Broad Oak manor. (fn. 76) The present farmhouse dates from the 17th century. (fn. 77) It was apparently an inn in 1633. (fn. 78) Forest Farm, at Wood Row, probably dates from the 17th century, but was remodelled and refitted several times in the 18th and 19th centuries, and now has a symmetrical front of the early 19th century, which was cased in brick late in that century. Aldburys, 2.5 km. north-east of the village, was built in the 16th century and extended in the 17th and 18th centuries. Its name is recorded from 1611. Forest Lodge is mentioned below. (fn. 79) There are a number of 17thcentury cottages in the village, and others at Bush End, Collier Street, and Wood Row.
Hatfield's principal house, the new Barrington Hall, was built c. 1740 and remodelled in 1863. (fn. 80) Among other 18th-century buildings are Hatfield Park, (fn. 81) several houses in the village, and a few cottages elsewhere, for example no. 48 the Forest, Wood Row, which was enlarged and altered in the 19th century to form two dwellings. There are also some 18th-century houses and cottages at Hatfield Heath, but it is the 19th century buildings that dominate the heath, especially the churches and the former brewery. East of the heath, on the Chelmsford road, is Lancasters, a large farmhouse rebuilt in the late 19th century and remodelled in the mid 20th century. It takes its name from the family of John de Lancaster (1306). West of the house is a large rectangular moat, marking the ancient site. Parvills farmhouse, on the Matching boundary, is treated under that parish.
In 1782 three inns were rated in the village, the Cock, the Duke's Head, and the Plume of Feathers, and three at Hatfield Heath, the White Horse, the Stag, and the Bell. (fn. 82) The Cock, High Street, was recorded from the 15th century. (fn. 83) It is a late medieval building which incorporates at the west end a substantial cross wing, and on a different alignment a two-storey range running east, and having at its eastern end a wide passageway through the ground floor. On the first floor there is an area of late 16th-century patterned wall painting partly overpainted in the early 17th century. West of the cross wing there is an early 18th-century house, now part of the inn. The south, street front of the inn and the adjacent houses on the west were cased in brick in the early 19th century. The interior was being remodelled in 1981.
The Duke's Head, on the corner of High Street and Broad Street, was recorded from 1755. (fn. 84) In the earlier 19th century it was called the Duke of Wellington. (fn. 85) The building was remodelled in the mid 19th century. The Plume of Feathers, later called simply the Feathers, appears to have traded until c. 1895. (fn. 86) In 1835 the licensee, John Button, was also a tallow chandler. (fn. 87) The building, now the Court House, is described above. The White Horse and the Stag are both on the north side of Hatfield Heath. The White Horse is recorded from 1779. (fn. 88) The building, which is timber-framed, dates from the 17th century. (fn. 89) The Stag, or Bald Stag, was recorded from 1769. (fn. 90) It was probably identical with the Horseshoe, recorded from 1723 to 1756. (fn. 91) The present house is of 18th-century brick. The Bell, recorded from 1769, has not been traced after 1782. (fn. 92) The White Hart, recorded from 1633 to 1747, was apparently identical with Shrubs, near Hatfield Heath. (fn. 93) It had ceased trading by 1769.
Aubrey de Vere (d. 1141), founder of Hatfield Broad Oak priory, was master chamberlain of England, and sheriff of many counties including Essex and Hertfordshire. (fn. 94) John Lydgate (1370?–1451?), poet and disciple of Chaucer, was prior of Hatfield Broad Oak 1423–30. (fn. 95) Sir Francis Barrington, Bt. (d. 1628), Sir Thomas Barrington, Bt. (d. 1644), Sir John Barrington, Bt. (d. 1682), and Sir Charles Barrington, Bt. (d. 1715), lords of Barrington Hall, all represented Essex in Parliament. (fn. 96) Sir Thomas and Sir John, who were related to Cromwell, were ardent Parliamentarians. So was Isaac Ewer (d. 1650), one of Charles I's judges, who was living at Hatfield Broad Oak when he made his will in 1649. (fn. 97) Matthew Prior (d. 1721), poet and diplomatist, lived at Down Hall. (fn. 98) Francis Marion Crawford (d. 1909). American writer, lived at Hatfield c. 1870 as a student under the vicar, George Burn, and used some of his memories in Tales of a Lonely Parish. (fn. 99)
Manors.
The manor of HATFIELD REGIS or HATFIELD BROAD OAK or HATFIELD BURY, was held before the Conquest by Earl (later King) Harold, to whom it had probably been granted by Edward the Confessor. In 1066 it was Harold's largest Essex manor, comprising 20 hides, plus ½ hide held by a sokeman, 30 a. seized by King Edward's reeve on the forfeiture of a smith executed for theft, 40 a. woodland held by the same reeve, 1 a. held by a villein, 30 a. held by a sokeman, and outlying estates in Hertfordshire at Amwell, Hertford, and Hoddesdon. William I held the manor in 1086, but by then most of the appurtenances had been detached from it. The tenements held by king Edward's reeve were seized after the Conquest by Osmund the Angevin and later passed to Robert Gernon, who seems also to have acquired the sokeman's ½ hide mentioned above. The villein's acre had passed to Eustace, count of Boulogne, and the Hertfordshire estates to Ralph de Limesy. (fn. 100) The sokeman's ½ hide, called Siriceslea, became the manor of Ryes. (fn. 101) The descent of Gernon's other lands has not been traced. They may have been merged with his lands in Matching. (fn. 102)
In 1141 King Stephen granted Hatfield Regis to Geoffrey de Mandeville, earl of Essex, but Geoffrey died in revolt in 1144 and his lands escheated to the Crown. (fn. 103) Hatfield Broad Oak was later let to a succession of tenants at a fee farm rent of £80, rising with fluctuations to £100. Richard de Lucy, justiciar, was the farmer from 1157 or earlier to 1179. (fn. 104) Walter of Hatfield was the farmer in 1179 and 1190, (fn. 105) his son Walter in 1191, and Catherine of Hatfield in 1192. (fn. 106) Pain of Rochford, farmer from 1200, was succeeded on his death in 1214 by his nephew Guy de Poscener, who had a struggle to maintain his grip on the manor in the turbulent years that followed, but was still holding it in 1223. (fn. 107) Hatfield Broad Oak priory farmed the manor from c. 1225 to 1236. (fn. 108)
In 1238 the king granted the manors of Hatfield Regis and Writtle to Isabel, sister and coheir of John the Scot, earl of Chester, and widow of Robert Bruce (d. 1230), in tenancy as a pledge for her share of her brother's lands. She held them thus until 1241, when they were granted to her for 1 knight's fee. (fn. 109) Hatfield Regis descended in the Bruce family until 1306, when Robert Bruce, earl of Carrick (d. 1329), became king of Scotland and consequently forfeited his English estates. (fn. 110) In July 1306 Edward I granted two thirds of the manor at farm to Hatfield Broad Oak priory; the remaining third was allowed to king Robert's stepmother Eleanor. Edward II granted the manor in 1307 to Humphrey de Bohun, earl of Hereford and Essex (d. 1322). (fn. 111) It passed with the earldoms until the death of Humphrey de Bohun, earl of Hereford and Essex, in 1373. Custody of the manor was then granted to his widow Joan, who held it until her death in 1419. (fn. 112)
In 1421, when the Bohun estates were divided, Hatfield Regis fell to the share of Anne (d. 1438), daughter of Thomas of Woodstock, duke of Gloucester (d. 1397), and widow first of Edmund Stafford, earl of Stafford (d. 1403), and secondly of Sir William Bourchier, count of Eu (d. 1420). (fn. 113) Anne was succeeded by her son Humphrey Stafford, earl of Stafford and later duke of Buckingham (d. 1460), and the manor passed along with that of Chipping Ongar until 1521, when Edward Stafford, duke of Buckingham, was executed for treason, and forfeited his lands to the Crown. (fn. 114) During the 15th and the early 16th century Hatfield Regis was let to farm. (fn. 115) In 1547 the manor, then on long lease, was granted to Richard Rich, Lord Rich. (fn. 116) Robert Rich, Lord Rich, sold it to Sir Francis Barrington, Bt., in 1612, after which it passed with Barrington Hall. (fn. 117) The manorial demesne, known from the 18th century as Town farm, comprised about 280 a. extending south and west from Cage End. (fn. 118)
Town Farm House is a substantial building of the late 15th century with central hall and two cross wings. A chimney stack and upper floor were put into the hall early in the 17th century, probably in 1630, the date carved below one of the ceiling beams. At the same time a large gabled dormer was inserted to light the upper room. There is a two-storeyed kitchen range behind the north cross wing and there are smaller extensions behind the hall and south cross wing. In the mid 18th century an extension was built in the angle between the hall and the kitchen, and this retains its contemporary fittings. A fire in 1972 seriously damaged the southern end of the ground floor, and in the subsequent reconstruction some of the internal walls were removed. (fn. 119)
South of the house are two timber framed and weatherboarded barns, both probably dating from the 15th century. (fn. 120) The larger barn has recently been converted into three dwellings. (fn. 121) The smaller barn was reconstructed from an earlier two-storeyed domestic building, possibly one of those, belonging to Hatfield priory, which were sold in 1537. (fn. 122)
The manorial park, inclosed by 1212, was at Bush End, adjoining the forest to the east. (fn. 123) In 1328 it comprised 180 a. (fn. 124) The park palings had been removed by 1567. The original bank and dry ditch are still visible on the eastern and southern parts of the boundary. (fn. 125) The park, which thenceforward was a farm, descended from 1592 with Hatfield forest. (fn. 126) In 1841 Hatfield Park farm comprised 231 a. (fn. 127) The present farmhouse is an 18th-century brick building refitted in the early 19th century, and greatly extended c. 1939. (fn. 128)
The manor of BARRINGTON HALL, in the north of the parish, took its name from the Barrington family, who were prominent in Hatfield Broad Oak from the 12th to the 19th century. (fn. 129) Between 1121 and 1127 Henry I granted to Eustace Barrington (de Barenton) the land in Hatfield Broad Oak formerly held by Geoffrey the forester, and the land which Adam, who had suffered forfeiture of the king's forest, had held for 12s. (fn. 130) Geoffrey's land, granted to Eustace as his successor in the office of forester or woodward of Hatfield forest, and held in serjeanty, comprised ½ virgate. (fn. 131) Adam's land seems to have comprised a virgate, held in chief. (fn. 132) The whole manor eventually came to be regarded as subordinate to that of Hatfield Regis. (fn. 133)
Barrington Hall descended like Barringtons in Chigwell until 1563. (fn. 134) Thomas Barrington (d. 1472) bought the neighbouring manor of Matching Barns with Brent Hall. (fn. 135) (Sir) Thomas Barrington (d. 1581), sold his Chigwell estate, but a year later bought the manor of Hatfield Priory. (fn. 136) He was succeeded by his son (Sir) Francis Barrington (Bt.) (d. 1628), who bought the manor of Hatfield Broad Oak. (fn. 137) Sir Thomas Barrington, 2nd Bt. (d. 1644), acquired Lancaster's farm by marriage. (fn. 138) Sir John Barrington, 3rd Bt. (d. 1682), bought the manors of Pierce Williams and Bollingtons. (fn. 139) Thus enlarged the estate descended with the baronetcy until the death in 1715 of Sir Charles Barrington, 5th Bt. It then passed to Sir Charles's sister Anne (d. 1734), wife of Charles Shales, goldsmith to Queen Anne, who was succeeded by her son John Shales Barrington (d. 1788). (fn. 140) In 1766 the Hatfield Broad Oak estate comprised some 5,000 a. (fn. 141)
John Shales Barrington's heir was his kinsman Sir FitzWilliam Barrington, 8th Bt. (d. 1792), of Swainston (I.W.). Thereafter the estate again descended with the baronetcy until the death in 1832 of Sir FitzWilliam Barrington, 10th and last Bt., whose heirs were William Lowndes of Chesham (Bucks.) and William Selby Lowndes of Whaddon Hall (Bucks.), descendants of the above Anne Shales in the female line. (fn. 142) In a partition of the estate made in 1836 William Lowndes received the northern division, including the manors of Hatfield Regis, Barrington Hall, and Hatfield Priory, with lands totalling 1,374 a. and including Barrington Hall farm. William Selby Lowndes received the southern division, comprising 1,797 a. and including Matching Barns and Pierce Williams farms. (fn. 143)
Immediately after the partition of 1836 William Lowndes sold his share of the estate to Thomas Lowndes (d. 1840). Thomas Lowndes was succeeded by his sister's great-grandson George Alan Clayton, who took the name of Lowndes. G. A. Lowndes (d. 1904), was for 25 years president of the Essex Archaeological Society. His son and heir Major Alan H. W. Lowndes sold the Barrington Hall estate to Alfred H. Gosling in 1908. (fn. 144) The house, with 33 a. of land, was conveyed by the Goslings in 1977 to the British Livestock Co., who in 1980 sold it to Contemporary Perfumers Ltd. (fn. 145)
The original Barrington Hall stood on a moated site 2 km. north of Hatfield Broad Oak village. (fn. 146) A later house, built immediately to the north, survives as Little Barrington Hall. Its older parts are probably fragments of a larger building. The east range, which has a continuous jetty along one side, dates from the 16th century. (Sir) Francis Barrington (Bt.) still occupied Barrington Hall in 1594, but moved to Hatfield Priory before his death in 1628. (fn. 147) The move may well have taken place c. 1613. Sir Francis became a baronet in 1611, and bought the capital manor of Hatfield Broad Oak in 1612. In 1613 he contracted with a brickmaker, who was to make 100,000 bricks in kilns at Barrington Hall, from clay provided by Sir Francis. (fn. 148) It is not unlikely that Sir Francis used the bricks to convert part of the conventual buildings of the priory into a family seat matching his new dignities. In 1624 Hatfield Priory was depicted, though not named, as a large detached house immediately north of the church. (fn. 149) It had 32 hearths in 1662. (fn. 150) Repairs were carried out in 1679, (fn. 151) but about 1700 a workman employed by Sir Charles Barrington, Bt., found Hatfield Priory so dilapidated that he dismantled it in Sir Charles's absence, without his orders. That gave Sir Charles 'as it well might, great uneasiness', and he then went to live at Great Waltham. His successor, Charles Shales, 'repaired a house over against the site of the priory'. (fn. 152) Remains of Hatfield Priory were still standing in 1766, and a dovehouse in the north-west corner of the garden survived until c. 1890. (fn. 153)
John Shales Barrington, who succeeded to the estate in 1734, soon afterwards built a new Barrington Hall, 1 km. north of the church, and enclosed it in a park. (fn. 154) It is probable that the architect was John Sanderson (d. 1774), and the builder his cousin Joseph Sanderson (d. 1747). (fn. 155) The main three-storeyed block of the house measured 110 ft. by 60 ft., and had a principal front to the south of nine bays, with a Corinthian portico from which a perron staircase descended on each side to the basement floor. The walls were of red brick, the architraves and embellishments of limestone ashlar. The ancillary buildings were concentrated in a lower wing on the east side of the house. The interior was fitted with carved fireplaces of stone and marble, one of which is said to have cost £700, richly moulded plasterwork, and mahogany doors. (fn. 156) Henry Cheere, the sculptor, provided a stone staircase and a marble table, for both of which ironwork was supplied by John Wagg the smith. (fn. 157)
When the house was well advanced John Shales Barrington 'on some dispute about tithes … or … on a matrimonial disappointment … gave up the design and retired to a house at Waltham Cross, where he passed a long life in obscurity.' (fn. 158) In 1771 Barrington Hall lay unfinished and neglected, and most of the furniture had been removed. (fn. 159) Sir John Barrington, 9th Bt., who succeeded to the estate in 1792, made some alterations to the house, but in 1809 it was again empty and still unfinished. (fn. 160) By 1833, when Barrington Hall was for a short time reoccupied, the eastern wing and the perron stairs had been removed. (fn. 161) When the estate was divided in 1836 the house was said to be in a good condition, but by 1847, after a further period of neglect, it had greatly deteriorated. (fn. 162) It was not permanently occupied until 1863, when G. A. Lowndes remodelled the house to the design of Edward Browning. He removed part of the west end, altered the south front in an asymmetrical 'Jacobean' style, and changed all the windows and the roof line. (fn. 163) Many of the original fittings were retained. (fn. 164) The interior was modernized in 1956 and again in 1977. (fn. 165)
The 18th-century park was laid out to the south of the house, with its main entrance from the south-west, by an avenue approached from Mill (now Feathers) Hill. There was an artificial lake near the house and an ornamental temple in the centre of the park. (fn. 166) After the remodelling of the house in 1863 some of the statuary and a capital from the 18th-century south front were used as garden ornaments, and a terrace was formed along the south front to reduce the apparent height of the basement storey. (fn. 167) By 1875 a shorter entrance drive had been made from Dunmow Road, to the north-west providing access from the new Takeley railway station. (fn. 168)
The manor of BOLLINGTONS or BONNINGTONS, lying in the north-east corner of the parish, was originally a free tenement held of Barrington Hall manor. In the 15th century and later the overlordship was sometimes claimed by the lord of Hatfield Broad Oak manor. (fn. 169) The family from which Bollingtons took its name probably came from Bollington Hall in Ugley. (fn. 170) William Bollington was bailiff of Hatfield Broad Oak in 1255 and 1274. (fn. 171) In the mid 14th century Thomas Bollington owed quitrent to Sir John Barrington for Warythesland by Wodley Green. (fn. 172) The Bollington family continued to hold land in Hatfield until the early 15th century. (fn. 173)
In 1429 and 1436 Bollingtons, at Wodley Green, was held by John House. He or a namesake held it in 1481, and also in 1497, when previous owners were said to have been William Morice, Thomas Bollington, and John Cornish. (fn. 174) Bollingtons remained in the House family until 1561, when Giles House conveyed it to Thomas Frank, owner of Ryes manor. (fn. 175) It descended with Ryes until that was sold by Sir Leventhorpe Frank in 1638. (fn. 176) Bollingtons appears to have passed to Sir Leventhorpe's daughters, and to have been sold by them in 1655 to Sir John Barrington, Bt. (fn. 177) It descended as part of the Barrington Hall estate until 1834, when Bollingtons was bought by John Copeland. (fn. 178) In 1841 Bonningtons farm comprised 173 a. (fn. 179) In 1981 most of the farmland belonged to Mr. G. W. Cory-Wright of Hatfield Park, while the house was owned and occupied by Mr. J. Goble.
Bonningtons house stands on the west side of the Takeley road immediately south of the railway bridge. It is a timber-framed building of the early 17th century, with later additions at the east end.
The manor of BRUNESHO or BROOMSHAWBURY lay east of the village, near the boundary with Great Canfield. Its origin is obscure. Although held as part of the manor of Hatfield Regis from the late 13th century it may have had an independent existence before that. Brunesho appears first as a family name. Richard de Brunesho was living in 1185–6. (fn. 180) Ralph de Brunesho held land in Hatfield Broad Oak c. 1200. (fn. 181) Richard and Henry de Brunesho, Ralph de Brunesho, and his son Michael were living in the reigns of John and Henry III. (fn. 182)
By c. 1295 Brunesho was in the hands of the Bruces, lords of Hatfield Broad Oak, and it descended along with that manor until 1544. (fn. 183) In the 14th and 15th centuries it was sometimes let to farm. (fn. 184) In 1544 Broomshawbury, then on a long lease from the Crown, was sold to (Sir) Thomas Jocelyn and his wife Dorothy. (fn. 185) It descended in the direct line to Sir Robert Jocelyn, 1st Bt. (d. 1712), and then passed with the baronetcy. Sir Conyers Jocelyn, 4th Bt. (d. 1778), was succeeded by his kinsman Robert Jocelyn, earl of Roden. Broomshawbury, which in 1841 comprised 360 a., passed with the earldom until c. 1937, when it was sold to Charles Edwards. In 1971 Mr. and Mrs. W. H. D. Scott bought it from Edwards's trustees. (fn. 186)
Broomshawbury house, which stands on a moated site, had a gatehouse in 1377–8, indicating an important building. (fn. 187) The house was rebuilt by the Jocelyn family early in the 17th century. (fn. 188) The present building dates mainly from the 19th century, but incorporates some older fragments. There is an early 17th-century barn. (fn. 189)
The manor of DOWN HALL lay in the southwest of the parish, extending into Sheering and Matching. It was probably the tenement granted to Hatfield Broad Oak priory by Robert Taper in 1322–3, and comprising 4 messuages, 90 a. of land, 10 a. of meadow, 3 a. of pasture and 10s. rent. Taper, one of the priory's main benefactors, also gave the windmill of la Doune. (fn. 190) The priory's grange of la Doune was mentioned c. 1330, and its messuage of Down Hall (Dunhall), with 100 a. of land, in 1450. (fn. 191) Down Hall remained with the priory until that was dissolved in 1536. It was granted to Barking Abbey in 1537, reverted to the Crown in 1539, and was sold in 1540 to William Glascock, who died holding it in 1579. (fn. 192) Down Hall, from that time sometimes described as a manor, passed to William Glascock's son Richard (d. 1617), then to Richard's son Richard Glascock (d. 1624), whose heir was his daughter Elizabeth (d. 1649), wife of John Ballett (d. 1673). (fn. 193)
Richard Ballett (fl. 1684), son of Elizabeth and John, left Down Hall to his nephew John Ballett (d. 1716). (fn. 194) John Ballett, son of the last, sold the manor in 1720 to Edward Harley, later earl of Oxford (d. 1741), who gave it for life to his friend Matthew Prior (d. 1721), the poet and diplomatist. (fn. 195) On Prior's death Down Hall reverted to Harley, whose widow sold it in 1741 to William Selwin. (fn. 196) Selwin (d. 1768) was succeeded by his son Charles (d. c. 1794), whose heir was his sister Jane, wife of John Caygill. (fn. 197) Jane Caygill (d. 1806) left Down Hall to her grandson Charles Ibbetson, stipulating that he should take the name of Selwin, and that if he succeeded to the Ibbetson baronetcy and estates the Selwin property should pass to his younger brother John. When that duly happened, in 1825, John Ibbetson in his turn took the name of Selwin. As John Ibbetson Selwin he himself eventually succeeded to the baronetcy. On his death in 1869 Down Hall passed to his son Sir Henry Selwin-Ibbetson, Bt., M.P., later Lord Rookwood (d. 1902), who left it to his nephew Major Horace W. Calverley. (fn. 198) The Hatfield Broad Oak part of the Down Hall estate comprised 248 a. in 1841. (fn. 199) In 1920, when the estate was sold and broken up, the Hatfield part comprised about 1,000 a., most of which was bought by the tenants. (fn. 200)
When Matthew Prior first saw Down Hall he regretted that it was of timber rather than stone or brick, and though assured that it was 'fit for a squire, a justice of peace, or a knight of our shire', he planned a new house on a site a little to the west, with better views. He commissioned James Gibbs to design the house and Charles Bridgeman to replan the gardens. Planting was in progress before the end of 1720, but building seems not to have been started by the time of Prior's death. (fn. 201) Edward Harley, who often stayed at Down Hall, continued to employ Bridgeman in the gardens until 1726. (fn. 202) Something of the outline of Bridgeman's work can still be seen in the woods north-west of the present house. Down Hall was eventually rebuilt in the later 18th century in a plain classical style. (fn. 203) That building survived until 1873, when Sir Henry Selwin-Ibbetson, Bt. replaced it by a house built of poured concrete in Italianate style, designed by P. C. Hardwick and built by Charles Drake. (fn. 204) On the elevation the concrete is decorated by quattrocento panels in shingle, framed by bands of plain cement.
Gas was supplied to Down Hall from private works about 400 m. south-east of the house, on the Matching side of the parish boundary. (fn. 205) Remains surviving in 1981 showed that the works comprised a single storey rectangular building of rubble with a small extension west of the central doorway and a brick chimney at the eastern end. South of the works are the foundations of the gasholder.
During the First World War Down Hall was used as a military hospital. It was not included in the sale of 1920, and was later occupied by the Calverleys until c. 1930. (fn. 206) From 1932 to 1967 it housed Downham school for girls. (fn. 207) Since 1967 it has been a conference centre, run by Mr. G. Liddell (1967–73) and later by St. Ouen Antiques. (fn. 208)
The manor of HATFIELD PRIORY comprised the site of Hatfield Broad Oak priory and the surrounding lands. The priory, founded c. 1135, had by the 13th century acquired a considerable estate in the parish. (fn. 209) In the reign of Edward II the prior owed 20s. fine for entering upon his lay fee. (fn. 210) That did not include Down Hall (fn. 211) or the following tenements acquired by the priory since the earlier 13th century: Bushes, formerly belonging to the Bush family; ¼ virgate formerly of Stephen Franceys; ½ virgate formerly of John de Bledlawe; and ½ virgate formerly of Robert Taper. (fn. 212)
In 1540 the priory site, with the surrounding meadows and Bushes tenement, were bought from the Crown by Thomas Noke. (fn. 213) He sold Bushes in 1545 to John Spiller, but in 1554 bought the priory manor, which, with the site, passed on his death in 1559 to his son Robert. (fn. 214) Robert Noke sold the manor in 1564 to (Sir) Thomas Barrington (d. 1581). (fn. 215) Hatfield Priory manor descended with Barrington Hall until 1836. (fn. 216) In 1766 it included 214 a. of land. (fn. 217) At the partition of 1836 the lordship of the manor was assigned to William Lowndes and remained with Barrington Hall, but the Priory farm, comprising 73 a. in 1841, went to William Selby Lowndes and passed with the manor of Pierce Williams. (fn. 218)
The conventual buildings of the priory lay north of the church. (fn. 219) Parts of them may have been incorporated in a large house on the site which became the Barrington's principal manor house some time between 1594 and 1628. (fn. 220) It is possible that the Court House, Feathers Hill, may have been connected with the Priory manor. (fn. 221)
The manor of LEA HALL, lying in the west of the parish, near Hatfield Heath, originated as a free tenement of Hatfield Regis manor. (fn. 222) It was said in 1497 to have been held formerly by Peter of Haslingfield. (fn. 223) The Haslingfield family was holding land in Hatfield Broad Oak as early as the reign of John. (fn. 224) William of Haslingfield held ½ virgate freely in the earlier 13th century. (fn. 225) Peter of Haslingfield acquired meadows from Hatfield Broad Oak priory in 1292. (fn. 226) Early in the 14th century he or a namesake held a virgate jointly with Henry atte Wood. (fn. 227)
John de la Lee, from whose family Lea Hall took its name, in 1306 acquired an estate in White Roding, Hatfield Broad Oak, and Matching. (fn. 228) In 1336 Richard de la Lee granted to Henry atte Wood, subject to an annual rent of £10 during Richard's life, 2 messuages, 300 a. land, 16 a. meadow, 30 a. pasture, 8 a. wood, and 60s. rent in Hatfield Broad Oak, Sheering, Little Hallingbury, and Matching. (fn. 229)
Richard Chalke was holding Lea c. 1450. (fn. 230) Sir Thomas Urswick, a prominent Yorkist lawyer, held it at his death in 1479. It then comprised 248 a. land, 18 a. meadow, 37 a. pasture, 11 a. wood, and 50s. rent in Hatfield, Little Hallingbury, and Matching. (fn. 231) Urswick was survived by his wife Anne, who in 1482 instituted Chancery proceedings against one of her husband's trustees for not rendering account of his estate for the benefit of her and her daughters. (fn. 232) Lea Hall was later acquired by Richard Cornish, who in 1487 conveyed the reversion of the manor, along with that of the neighbouring tenement of Ryes, to Nicholas Leventhorpe. (fn. 233) Lea Hall descended with Ryes until the death of Thomas Frank in 1558. (fn. 234) Under Frank's will the two manors were separated, and Lea Hall passed to his third son Francis. (fn. 235) In 1612 Francis's son Nicholas Frank sold it to John Mumford. (fn. 236)
Lea Hall passed, probably in 1644, to John Mumford's son of the same name, who was succeeded by his son John Mumford (III). The last, who died in 1664, devised the manor to his widow Sarah, who in 1665 married Edmund Davenport. (fn. 237) Davenport still held Lea Hall in 1690. (fn. 238) He left it to his grandson Charles Hoy, who sold it in 1714 to Jeffrey Stanes. (fn. 239) Lea Hall was thus again joined to Ryes, and thereafter passed with it. In 1841 the manor, owned by John Archer Houblon, comprised 168 a. (fn. 240)
Lea Hall house, which stands within a moat 500 m. north-east of Hatfield Heath, is a large timber-framed building of the late 16th century which has the late medieval plan of a central range with cross wings. The main elevation, to the north, has four gables, two being large dormers to the central roof. There is a lower extension on the west end. (fn. 241) In 1981 the house was owned and occupied by Mr. and Mrs. Davis, who had bought it in 1979 from the executors of Frank Strickland-Skailes. (fn. 242)
The manor or manors of MATCHING BARNS with BRENT HALL lay on the southern boundary of the parish, extending into Matching. Matching, comprising 40 a., was held in 1066 by Godric, a free man. In 1068 William I granted to the abbey of St. Valery (Somme, France) 12½ hides in Essex, including 3 in Manuden, Ugley, and Matching. St. Valery held Matching in 1086, and retained the tenancy in chief until the 14th century, presumably acting through its priory at Takeley. (fn. 243) By 1338, however, the lord of Hatfield Regis was claiming Matching Barns as parcel of his manor, and the claim was upheld in 1373. (fn. 244) In 1391 St. Valery sold its Essex estates, including Matching Barns, to William of Wykeham, bishop of Winchester, as part of his endowment of New College, Oxford, (fn. 245) but there is no evidence that the college established its rights over the manor, which all later records treat as parcel of Hatfield Regis.
Early in the 13th century the abbot of St. Valery enfeoffed Ranulf of Matching with Matching Barns, to hold by the annual rent of one mark, with food for one day every third year or ½ mark if the abbot wished to visit England. (fn. 246) Ranulf had a son Hugh, possibly identical with Hugh de Arderne, who was holding 40 a. of land in Matching in 1227, and who in 1232 subinfeudated 40 a. in Hatfield Broad Oak and Matching to his daughter Alice and her husband Walter, son of Alan de Crepping. (fn. 247) Hugh de Arderne in 1235 acquired 57 a. in Matching from Maud de Merc. In 1252 Basile de Begham conveyed to him an estate worth £10 in Pebmarsh and several other places, including Matching, with successive remainder to Walter de Crepping, and his father Walter, son of Alan de Crepping. (fn. 248) About the same time Basile conveyed all her land in Matching to Walter, son of Alan de Crepping, with remainder to his son Walter. (fn. 249) The next recorded tenant of Matching Barns was Sir Henry of Enfield, who in 1303 was said to hold 1/6 knight's fee in Matching. (fn. 250) He also held Otes in High Laver, and Matching Barns descended with that manor to the Battail family. (fn. 251) It was stated in 1372 that Thomas Battail had lately held a knight's fee in Matching. (fn. 252) In 1397 his son John Battail, about to go on crusade, settled the reversion of the manors of Matching Barns and Brent Hall on his sister Margaret, on condition that she married John de Boys of Tolleshunt d'Arcy. If there was no issue of the marriage the manor was to be divided between Margaret and her sister Alice. (fn. 253) Brent Hall, there mentioned for the first time, adjoined Matching Barns to the south. It was stated in 1508 that 30 a. of it belonged to the honor of Mandeville. (fn. 254) That portion may well have originated as the manor of 40 a. in Matching held in 1086 by Geoffrey de Mandeville. (fn. 255) Brent Hall descended from 1397 with Matching Barns. John Battail died soon after 1397, and John Barrington, who had married Alice Battail, contested the claim of John and Margaret de Boys. The case went to arbitration and was decided in favour of John and Margaret. (fn. 256) Matching Barns with Brent Hall passed by c. 1450 to Thomas Battail, mercer of London, who in 1451–2 conveyed it to Thomas, son of the above John Barrington. (fn. 257) The manor descended as part of the Barrington Hall estate until 1836. It comprised about 300 a. in 1702 and 309 a. in 1841. (fn. 258) At the partition of 1836 it was included in the share of William S. Lowndes. He sold it, along with the adjoining manor of Pierce Williams, to Josiah D. Williams, whose son of the same name held it c. 1874. (fn. 259) No manor house survives on the site of Matching Barns nor on that of Brent Hall. (fn. 260)
The manor of PIERCE WILLIAMS, lying south of the village near the White Roding boundary, originated as a free tenement held of Hatfield Regis manor. It probably took its name from Peter son of William, who in the later 13th century held an estate in the parish comprising inter alia 1½ virgate in his own name, 1 virgate shared with his brother Philip and Thomas son of Christine, and 1 virgate formerly belonging to Guy of Hatfield. (fn. 261) Catherine, daughter of Guy of Hatfield, had in 1268 granted to Richard son of Peter the reversion to 66½ a. in Hatfield Broad Oak. (fn. 262) Peter son of William was still living in 1308. (fn. 263) Some of his land was later acquired by Hatfield Broad Oak priory. (fn. 264) Pierce Williams seems to have been acquired early in the 14th century by Nicholas of Stortford, and probably passed through him or his son William to the Prior family. (fn. 265)
John Prior was holding land in Hatfield Broad Oak in 1336, and Richard Prior in 1413. (fn. 266) Richard Prior, who held Pierce Williams in 1447, died in 1458, leaving Andrew his son and heir. (fn. 267) Andrew Prior (d. 1507) was succeeded by his son John, who in 1538 sold Pierce Williams, then first called a manor, and comprising 300 a., to John Prest, grocer of London. (fn. 268) Prest (d. 1546) settled the manor on his wife Alice, who later married Richard Blackwell. On her death in 1561 Pierce Williams passed to Frances, her daughter by John Prest and wife of William Braborne. (fn. 269)
Edward Grey was holding the manor in 1607. On his death in 1616 it passed to Fulk Greville. (fn. 270) By 1650 it had been acquired by Sir John Barrington, Bt. (d. 1682), (fn. 271) Pierce Williams was thus merged in the Barrington Hall estate, and descended with it until 1836. It comprised 228 a. in 1776 and 216 a. in 1841. (fn. 272) The manor was allotted in 1836 to William S. Lowndes. He sold it, along with the adjoining Matching Barns, to Josiah D. Williams, whose son of the same name owned it c. 1874. (fn. 273) It appears to have remained in the Williams family until 1927, when Capt. Sanctuary Williams sold it to William J. Gee. In 1981 the owner was Mrs. A. H. Gee. (fn. 274)
Pierce Williams house, 1.5 km. south of the village, was rebuilt in the mid 19th century. (fn. 275) It was enlarged and remodelled c. 1930. North of the house is a large irregular moat. There are timber-framed farm buildings of the 18th century.
The manor of RYES or RISE MARSES, in the west of the parish, originated as ½ hide called Siriceslea, which before the Conquest belonged to Hatfield Regis manor and was held by a sokeman. After the Conquest it seems to have been seized by Geoffrey de Mandeville. In 1086 it was at first said to be in the possession of Robert Gernon, but during the Domesday survey it was recovered by the Crown and was granted to Hamon dapifer, of whom it was held by Ralph de Marcy. (fn. 276) There is no other reference to the overlordship of Hamon or his descendants, and at later periods Ryes seems always to have been classed as a free tenement of Hatfield Regis manor. (fn. 277)
The demesne tenancy may have descended for a considerable period in the Marcy family, from which the tenement took its additional name. (fn. 278) Grizel, sister of Ralph de Marcy, and probably granddaughter of the Domesday tenant Ralph de Marcy, married Humphrey Barrington, forester of Hatfield, c. 1150. (fn. 279) William de Marcy witnessed a charter in Hatfield Broad Oak under Edward I. (fn. 280) Ryes came later to the Braintree (or Branktree) family. Adam Braintree held land in the district in 1307, and in 1340 was a taxpayer in Hatfield Broad Oak. (fn. 281) Agnes, widow of William Bismere, held Ryes at her death in 1442 or 1443. (fn. 282) It later passed to John Taverner, who in 1450 was holding a messuage and 1½ virgate once belonging to Adam Braintree and comprising 134 a. (fn. 283) Taverner died c. 1473, and his daughter Joan, wife of Nicholas More, sold Ryes in 1478 to Richard Cornish. (fn. 284) In 1487 Cornish granted the reversion of Ryes, together with that of Lea Hall, to Nicholas Leventhorpe, who was holding it by 1497. (fn. 285)
Nicholas Leventhorpe (d. 1505 or 1506) was succeeded by his son William, who in 1524 mortgaged Ryes, now described as a manor, to Thomas Frank. (fn. 286) William Leventhorpe was dead by 1525, when his widow Joan and her next husband Geoffrey Jennings conveyed Ryes to Thomas Frank. (fn. 287) Frank (d. 1558) was succeeded at Ryes by his son Thomas (d. 1580), who bought the neighbouring manor of Bollingtons in 1561. (fn. 288) Richard Frank (d. 1627), son of the last, was succeeded by his son Sir Leventhorpe Frank, who in 1638 sold Ryes to Sir James Stonehouse (Bt.), of Amberden Hall, Debden. (fn. 289) The manor descended with the baronetcy in the Stonehouse family until 1677, when they sold it to their relative Dr. Benjamin Woodroff. (fn. 290) Woodroff sold Ryes in 1701 to Jeffrey Stanes of London. Stanes (d. 1732) was succeeded by his grandson Stanes Chamberlayń&e (d. 1782), whose son and heir Stanes Chamberlayne died in 1834. (fn. 291) By 1838 Ryes, then comprising 265 a., had been sold to John Archer Houblon of Great Hallingbury. (fn. 292)
Ryes house occupied a rectangular moated site within which are still some brick boundary walls of the late 16th or the early 17th century. The house was probably rebuilt at that period. It is said to have resembled Pishiobury Park in Sawbridgeworth and Hamels Park in Braughing (Herts.) but on a smaller scale. (fn. 293) Ryes had 20 hearths in 1670. (fn. 294) Jeffrey Stanes improved the house and grounds, and left instructions in his will for their maintenance. (fn. 295) An avenue of trees which survives to the west of the site may date from his time. (fn. 296) The house seems to have been demolished by John Archer Houblon between 1834 and 1838. (fn. 297) The present Ryes farmhouse, south of the moat, is of the early 19th century, but incorporates some older materials.
Economic History.
In 1086 the manor of Hatfield, rated at 20 hides, contained 60 villeins, 30 bordars, and 22 serfs, with 8 demesne ploughteams and 31½ belonging to the tenants. The woodland was sufficient to support 800 swine, there were 120 a. meadow, and pasture was held by a rent of 9 wethers and the service of ploughing 41 a. of the demesne. Also belonging to the manor was a sokeman with 30 a. Since 1066 one demesne ploughteam had been lost and 8½ belonging to the tenants, but the total recorded population had risen by 22. The stock in 1086 comprised 3 rounceys, 40 beasts, 195 swine, and 193 sheep. It was stated that the manor had been valued at £36 in 1066 and £60 in 1086, but that the sheriff of Essex was receiving from it £80 rent and £5 in fines. (fn. 298) In 1066 the manor of Ryes (Siriceslea), rated at ½ hide, had one demesne ploughteam and one serf. In 1086 there were ½ ploughteam and 1 villein, with woodland for 20 swine and 3½ a. of meadow. The value had fallen from 10s. to 7s. (fn. 299) The above figures show that in the 11th century Hatfield had a well-balanced and vigorous economy: the population was increasing rapidly, and in spite of the loss of plough oxen the royal manor was being rackrented at more than its assessed value.
Although the amount of woodland in 1086 was not great in relation to the size of the whole parish, (fn. 300) the wooded area was considerable. Its main concentration was probably north of the village, where Hatfield forest, comprising over 1,000 a., still survives. (fn. 301) That seems to have been part of a larger belt of woodland encircling the village on all sides. Man wood and Row wood, both south of the village on the White Roding boundary, were recorded from the 13th century. Man wood has disappeared since the later 18th century, but Row wood survives. (fn. 302) Farther north, on the Great Canfield boundary, lay Down wood, recorded from c. 1260, and still represented by two copses, and Stubbers Bush (1605), where woodland still survived c. 1875. (fn. 303) About 1.5 km. north-west of the village, near the Great Hallingbury boundary, is Wood Row, a hamlet recorded from 1415. (fn. 304) In 1841 the open waste of Hatfield forest extended along Wood Row as far south as Forest Farm, while there were several patches of woodland, some of which still survive, near the Little Hallingbury boundary, north and south of Hatfield Heath. (fn. 305)
As late as 1841 there were no fewer than 19 named commons in the parish. (fn. 306) Broadfield, Brumsted, Bush End, Cannons, Little, and Whartley commons lay north of the village, Childs, Footpath, Wharf, and Wrights commons to the north-west, near Wood Row. South-west of the village, by Hatfield Heath, were Bentley, Heath, and Muchfield commons, while due south lay Harts, and Jacksons. Ashfield and a second Little common were east of the village, Change and Great commons to the north-east. Thirteen of the commons were still divided into strips, indicating open arable farming. Most of the commons were small, and the number of their strips few, which suggests that they were remnants of a much larger system of open fields. The largest was Bush End common, with 19 strips. The 6 commons which in 1841 comprised undivided fields were Whartley and Little (northern), Wharf, Wrights, Harts, and Jacksons. At least some of them may formerly have been divided into strips. One other piece of common, unnamed, comprised long, narrow strips in two fields beside the stream, a tributary of the Pincey brook, which is west of the village: it was probably a common meadow.
There is other evidence for the late survival of open fields or meadows. About 1548 an estate at Hatfield Heath included 3 doles, i.e. strips. (fn. 307) Damaldy or Dannock field, later called Damdell or Daniel, lying north-east of the village near Taverners Green, was still partly open in 1678, and Rye Croft was described as a common field in 1688. (fn. 308) East field was being farmed in common in 1717, and was not fully inclosed in 1766. (fn. 309) In 1624 the manor court of Barrington Hall ordered each tenant to maintain his part of the fence round the common pasture called Tunmanmarsh, and forbade any attempt to divide the pasture. (fn. 310) Tunmanmarsh was still a common meadow in 1717, and the common marsh was again mentioned in 1766. (fn. 311) The land beside the Pincey brook, north of the village, is still called the Marsh. (fn. 312)
Some of Hatfield's commons were remnants of forest or roadside waste. In 1841 there were 199 a. of roads and waste in the parish. (fn. 313) The largest piece of common waste was Hatfield Heath, which in 1766 had comprised 34 a. (fn. 314) It has been reduced by building since 1841, but much still remains open. Damdell common in 1721 included some inclosed woodland. (fn. 315) Some small inclosures of waste were made by Hatfield Regis manor court as late as 1880, and the parish vestry granted one in 1883. (fn. 316)
In spite of the late survival of ancient common there is no doubt that inclosure began early, and was well advanced by the 16th century. The king had inclosed a park by 1212. (fn. 317) During the 13th century some tenants, particularly Robert Taper and John of Sawbridgeworth, were buying up open field strips to consolidate their holdings. (fn. 318) Others were reclaiming woodland. Under Henry III 24 tenants were paying rents for assarts. Most of them owed only a few pence, but Nicholas Barrington, hereditary woodward of Hatfield forest, owed 7s. (fn. 319) The evidence for inclosure in the 14th century suggests that it was proceeding steadily. In 1377–8 some 20 tenants were paying rents for new purprestures. (fn. 320) Many small inclosures of roadside or forest waste were listed in 1450. (fn. 321) By 1561 Whiteheads farm, near Taverners Green, was almost entirely inclosed. (fn. 322) Much of Broomshawbury manor had also been inclosed by that time. (fn. 323)
In the earlier Middle Ages labour services played an important part in Hatfield's economy. Under Henry III thirteen tenants holding free virgates of Hatfield Regis manor, besides paying annual quitrents of 10s. to 16s. a virgate, did boon work, especially ploughing and reaping, and repaired the fence round the lord's park. A few free tenants of ½ and ¼ virgates held in the same way. Most tenants, however, held ad opera, i.e. by customary labour. Some owed the duty of guarding and escorting prisoners to Colchester gaol. Others had already commuted their woodcarrying and escort services. (fn. 324)
In 1377–8 the manors of Hatfield Regis and Broomshawbury contained 38 free tenants holding 11 virgates, 82 major customary tenants with 117/8 virgates, and 65 cottars, and acremen with 937/60 virgates. The labour services totalled 4,818¼ in winter and summer, with 1,763 in autumn. Many were being commuted: 1,701 by the major customary tenants and 839 by the cottars. The tenants also rendered cash in respect of various customs, including: hevedshot, a local poll tax on all persons over 16 years old; wardeshot, a payment in place of keeping watch, especially at the ceremony of the wardstaff of the hundred; wodeselver, a composition for carrying wood; and gavelerthe, a composition for ploughing service. The tenants' payments for customs and services totalled £19 16s. 5d. out of the total income of £112. (fn. 325) The tenants of Barrington Hall manor also did boon work. Peter Lambard, a free tenant to whom John Barrington granted a messuage at Wood Row in 1351, had to reap 1½ rood of wheat and oats, to furnish a man with a fork for haymaking and another for one day's weeding, and with his partners to mow ½ a. of meadow and provide a man for harvest. (fn. 326)
Many tenants of Hatfield Regis manor still owed labour services in the mid 15th century, but they were often slow to perform them, as is shown in a long list of arrears recorded in 1448–50. (fn. 327) The obligation to perform labour services, or to compound for them, continued down to the 17th century. (fn. 328) By ancient custom some tenants of Hatfield Regis manor made annual payments of hens, eggs, and 'foddercorn' or 'rent oats'. (fn. 329) In the 1640s rent oats, in kind or in cash, were paid by some 30 tenants of the manor. (fn. 330) Hens, eggs, and rent oats were still being paid in 1731, hens and eggs in 1815. (fn. 331) Those doing boon work might receive subsistence. Early in the 16th century it was stated that the tenant of Waters farm, Broad Street, had to find a man to reap wheat or oats for 2 days. In return he was to have frumenty for breakfast, a goose for dinner at noon, and each day a 'loaf of bread of 6' made from a bushel of wheat and 6 eggs. (fn. 332)
In 1377–8, as stated above, the 185 tenants of the manors of Hatfield Regis and Broomshawbury occupied some 32½ virgates. It is possible that the virgate was here unusually large, as it was in Havering, which also was ancient royal demesne. (fn. 333) In 1450 one Hatfield tenement was described as 1½ virgate, comprising 134 a. (fn. 334) That indicates a virgate about three times the normal size, but even if it was typical in Hatfield and Broomshawbury the average peasant holding in 1377–8 was no more than 16 a. As inclosure proceeded farms tended to grow larger. The process was stimulated by the growth of the Barrington Hall and Great Hallingbury estates, which by the early 19th century accounted for some 6,500 a. in Hatfield, 73 per cent of the parish, let mainly to tenant farmers. The Great Hallingbury estate included Hatfield forest, which even after its inclosure in 1857 remained woodland. The Barrington Hall estate, which contained much more agricultural land, was well farmed in the 17th and 18th centuries. Detailed accounts were kept, books on agriculture were purchased, an expert surveyor was employed, and precise husbandry clauses were inserted in farm leases. (fn. 335) In 1766 the estate included 30 farms in Hatfield. Twelve of them including nine under 50 a., had recently been purchased, and of those three had been merged with other holdings. Among the larger farms was Tom's by the Wood, in the west, comprising 184 a. (fn. 336) In the mid 15th century it had been a cottar tenement of 28 a. (fn. 337)
In 1841 there were 45 farms in the parish. Six contained more than 300 a., six between 200 and 300 a., twelve between 100 and 200 a., fifteen between 50 and 100 a., and six between 5 and 50 a. Ten of the farms had been formed by amalgamations of holdings recent enough to have preserved the distinct names. The largest, of 449 a., comprised three holdings formerly separate: Braintrees, Hatfield Park, and Bush End. (fn. 338) In 1906 there were six farms of more than 300 a., 33 between 50 and 300 a., and nine between 5 and 50 a. The returns for 1926 give two farms of over 300 a., 18 between 150 and 300 a., two between 100 and 150 a., 13 between 50 and 100 a., and seven between 5 and 50 a. Those for 1977 show twelve farms of over 100 ha. (247. 1 a.), six between 20 (49.42 a.) and 100 ha., and eight between 2 (4.94 a.) and 20 ha. (fn. 339)
Outside the forest arable land seems to have predominated. That was certainly so in 1066, when the large number of 50 ploughteams were in use. (fn. 340) In 1269 the tenement of Richard son of Peter comprised 50 a. arable, 7 a. meadow, 1½ a. wood, 3½ a. garden, and 4½ a. pasture. (fn. 341) The demesne of Hatfield Regis manor in 1328 contained 238 a. arable, 12 a. meadow, 5 a. pasture, and a park of 180 a. At the same time the demesne of Broomshawbury had 374 a. arable, 11 a. meadow, 11 a. pasture, and a grove of 2½ a. (fn. 342) A farm acquired by John Barrington in 1350 contained 78 a. arable, 6 a. meadow, and 5 a. woodland. (fn. 343) Barrington Hall manor in 1559 included 200 a. arable, 30 a. meadow, 100 a. pasture, and 40 a. woodland. (fn. 344) Bollingtons manor was stated in 1628 to contain 100 a. arable, 10 a. meadow, 20 a. pasture, 6 a. woodland, and 100 a. furze and heath. The same figures of arable, meadow, and pasture were given in 1632, but furze and heath were put at only 40 a. (fn. 345) In 1838 the parish contained an estimated 6,276 a. arable, 1,132 a. meadow and pasture, and 24 a. woodland, apart from Hatfield forest. (fn. 346) The amount of grass increased to 2,445 a. in 1866 and 3,888 a. in 1906, but fell to 3,153 a. in 1926 and 410 ha. (1,013 a.) in 1977. (fn. 347)
In 1377–8 wheat was the main crop on Hatfield Regis and Broomshawbury manors, with 67 qrs. 2 bu. being sold. The other cash crops were 33 qrs. barley, 10 qrs. dredge, and 12 qrs. multure corn. (fn. 348) Returns for the parish in 1866 show 3,391 a. of cereals, and 790 a. of vegetables, mainly beans, turnips, and peas. The 1906 returns list 2,856 a. of cereals, with 483 a. of vegetables, mainly mangolds, turnips, and swedes. Those for 1926 show 2,752 a. of cereals, and 435 a. vegetables, mainly beans, peas, and potatoes. (fn. 349) It was stated in 1928 that crops were grown in the following rotation: wheat, barley, then either beans, clover, roots, mustard, potatoes, or cabbage. Hardly any field then lay fallow. The wheat was usually one of the bearded or 'Rivett' varieties, suitable for breakfast foods. Barley, for malting, was sold direct to brewers from St. Albans and elsewhere. (fn. 350) Returns in 1977 include 2,356 ha. (5,822 a.) of cereals, and 572 ha. (1,413 a.) of vegetables and fruit, mainly sugar beet and potatoes. (fn. 351) In all the above returns wheat and barley were the main cereals. Barley was much used in the local malting industry. (fn. 352) Among small crops were hops and oziers, recorded in the 18th and 19th centuries, and saffron, still grown on two farms in 1766. (fn. 353)
In 1086 pigs and sheep were the main farm animals, and were almost equally numerous. Hatfield Regis and Broomshawbury in 1377–8 seem to have contained no pigs at all, but sheep were still important. Stock held during the year included 171 ewes, 552 yearling lambs, and 311 new lambs. Twenty of the ewes had been brought from outside the manors, 13 had died, and 51 had been sold. Of the yearling lambs 24 had died and 26 had been sold, while 319 had been delivered to Housham Hall in Matching, 40 to Boyton Hall in Roxwell, and 100 to Great Baddow. The new lambs included 142 imported from Boyton Hall and 40 from Great Baddow. Fourteen had died, 50 had been sold, and 12 paid in tithes. Boyton Hall and Great Baddow manors, like Hatfield Regis and Broomshawbury, belonged to the countess of Hereford and Essex, Housham Hall to the earl of Arundel. It seems, therefore, that young lambs from the countess's three manors were being fattened at Hatfield, after which most of them were exported to Housham Hall. The last stage of the operation was apparently not a cash sale. The countess was also trading in wool. Of the 327 fleeces accounted for, 197 were imported from the neighbouring parish of Sheering; 140 were delivered to John the packer at 'Blauchapelton', possibly in Great Waltham, another parish where the countess held a manor. (fn. 354) The sheep also provided milk, then used in Essex for cheese, but it was not worth much: only i6y. 6d. from 100 ewes, of which 26 were debilitated. The main dairy income was £7 from the milk and calves of 21 cows.
Returns from the parish in 1866 show 2,084 sheep, 703 pigs, 146 milk cows, and 319 other cattle. The 1906 returns list 686 sheep, 434 pigs, 303 cows in milk or in calf, 291 horses, and 303 other cattle. Those for 1926 show 332 sheep, 758 pigs, 296 milk cows, 256 horses, and 271 other cattle, with 20,009 poultry, mainly fowls. The 1977 returns include 244 sheep, 1,360 pigs, 912 cattle, and 5,411 poultry. (fn. 355)
Mills. There was a windmill on Hatfield Regis manor from the 13th century to the 19th. (fn. 356) In 1841 it was an open-based post-mill with a seven-room dwelling adjoining, situated west of the village. (fn. 357) When put up for sale in 1881 it was in good condition, but later in the year it was blown down, and the remains were sold in February 1882. (fn. 358) Hatfield Priory had a mill early in the 13th century, and there was a windmill on Matching Barns manor c. 1252. (fn. 359) Down Hall mill was given to the priory by Robert Taper c. 1322. (fn. 360) About 1772 it was a post-mill, standing east of Down Hall. (fn. 361) It had gone by 1841. (fn. 362) Merchaws windmill, on the south side of Hatfield Heath, existed in 1841. (fn. 363) Under various owners it survived until c. 1906. (fn. 364) Mill field, on Hatfield Park Farm, and Mill mead, on Waters farm, were both recorded in 1841. (fn. 365) A corn mill, recorded c. 1949 on the site of the former Hatfield Heath brewery, was probably identical with the steam mill operated successively by the Oliver and Edwards families from c. 1898 to 1939 or later. (fn. 366)
Market, fair, and industries. A market had been established by c. 1200. (fn. 367) It was held on Sunday until 1218, when it was moved to Saturday. (fn. 368) In 1223 the king closed the market at Sawbridgeworth (Herts.) because it was injuring Hatfield market. (fn. 369) By 1328 the market was well established, with at least 37 stalls, 14 shops, and 14 houses. (fn. 370) The market place was in the centre of the village, near the priory, and the monks acquired some shops there. (fn. 371) West of the market place was Chipping (market) field. (fn. 372) Tradesmen recorded in the town at that period included several smiths, tailors, and cooks, a carpenter, a hatter, a glover, and a draper. A wine shop stood in the market place, and Butchers Lane was close by. There was a tannery on the highway leading to Lang Bridge, and a bakery, belonging to the priory, in Broad Street. (fn. 373) No fewer than nine brewers were dwelling near the market place in the period 1314–16. (fn. 374) A weaver was mentioned in Henry III's reign and fullers from c. 1280 to 1366. (fn. 375)
By 1328 the lord of Hatfield Regis manor had acquired the right to an annual fair, (fn. 376) which in 1336 was being held on the Nativity of St. Mary (8 September). (fn. 377) By 1460 the date had been changed to St. James's day (25 July), and it so remained until 1753, when it was altered to 5 August on the adoption of the new calendar. (fn. 378) The change to St. James's day may have followed migration to Thremhall Green, which lay near the priory of St. James, Thremhall, beside Stane Street and just inside Hatfield forest. The fair was certainly established at Thremhall Green by the later 16th century. In 1592, when the forest was sold separately from the manor, the new owner of the forest, Lord Morley, was immediately involved in a violent dispute with Lord Rich, lord of the manor, and his lessee, over control of the fair. In 1593 Rich obtained a Star Chamber decree empowering them to remove the fair to Hatfield town. The fair continued to be held in the town until the lease of the manor expired in 1607. In the following year Lord Rich complained to Star Chamber that Lord Monteagle, son of Lord Morley, was holding the fair at Thremhall Green, and was publicizing it widely. Monteagle seems to have kept it there for several years, but the struggle was renewed after Sir Francis Barrington, Bt., bought the manor in 1612. (fn. 379)
In 1644, when Lord Morley and Monteagle was sequestrated as a royalist, he was allowed to retain a third of the rent of the fair, which was still being held in the forest. At the same time, however, Parliament ordered that the fair should be moved back to the town, where it could be held more safely in war time. (fn. 380) The order seems finally to have settled the dispute in the favour of the Barringtons, and thenceforward they controlled the fair. By the mid 17th century the fair was concerned mainly with horse sales. It was well attended: between 1644 and 1659 men came from 110 Essex parishes, 11 in Hertfordshire, and 10 in London and Middlesex. The profits, however, were small, and trade declined as a result of the Civil War. (fn. 381) It was probably in an attempt to halt the decline that the fair was removed in 1660 to Hatfield Heath. (fn. 382)
The occupations followed at Hatfield in and after the 16th century were similar to those in the 14th century. Among the more specialized industries which continued as late as the 17th century were tanning and cloth weaving. (fn. 383) Silk weaving was carried on in the early 17th century by John Gobert, the son of a French immigrant, who had bought Lancaster's farm. (fn. 384) A collar maker was living in the parish in 1648, and two in 1782. (fn. 385) Malting was probably being carried on by 1485. (fn. 386) There is evidence of maltsters, brewers, and coopers in the 17th and 18th centuries, (fn. 387) and aleconners were appointed by the manor court until 1793. (fn. 388) A brickmaker, John Skingle of Stansted Mountfitchet, contracted in 1613 to make bricks at Barrington Hall for Sir Francis Barrington, Bt. (fn. 389) There was a 'brick kiln yard' west of the village in 1766. (fn. 390) Such field names as 'brick clamps', 'brick kiln hoppet', and 'kiln house field', recorded in 1841, indicate at least seven sites where brickmaking had once been carried on. (fn. 391)
The market and the fair continued throughout the 18th century. The market, which c. 1594 was described as 'little', (fn. 392) had greatly declined by c. 1768. (fn. 393) It had ceased before 1832, and possibly before 1816, when the market house became a school. (fn. 394) The house, which stood on the west side of the market place, was demolished c. 1862. (fn. 395) The fair, which by c. 1768 was concerned mainly with the sale of lambs, was still being held in 1858, probably in the village, and was listed in directories until 1866, but was omitted in 1870. (fn. 396)
In the later 19th century there was a large brewery at Hatfield Heath. Peter Sullins, who in 1841 was a farmer and tenant of the Cock inn in Hatfield village, was in 1848 trading at the Cock as a maltster. (fn. 397) By 1863 he had been succeeded by Henry Sullins, who was listed as a brewer in 1866, and traded at Hatfield Heath until c. 1882. The brewery was at the west end of the Heath, on the site where Heath Farm stood in 1841. (fn. 398) By 1883 the ownership had passed to the Barnard family, and in the same year the brewery was put up for sale; but Peter Sullins was listed as tenant in 1886 and 1890. (fn. 399) The brewery continued under Charles Sutton (1894) and Gerard Bonham-Carter (1898), but had closed by 1902. (fn. 400) The building, later used as a corn mill, survived in 1980. (fn. 401) The house opposite, called Little Brewers, is dated 1863 with the monogram PS, probably Peter Sullins.
During the past century there has been some industrial development at Hatfield Heath. Three machinists, a stonemason, and a harness maker were listed there in 1890 and later. One machinist, E. W. Vale, was still operating in 1937. (fn. 402) Firms trading there in 1980 included Sarbir Developments, civil engineers, Church McLaren Ltd., slaughtermen, the Hatfield Heath Press, and Alpha Engineering. Broad Oak Farm Sausages, Cage End, Hatfield Broad Oak, was founded in 1927 by Dr. John White, owner of Town Farm, who set up a factory in a barn. In 1981 the business belonged to Mr. Roger Simons, and was associated with R. H. Simons, butchers, of Cage End. (fn. 403)
Hatfield Forest.
As ancient demesne Hatfield forest was in the 13th century part of the royal forest of Essex. (fn. 404) In 1298 and 1301 it comprised the whole of Hatfield Broad Oak, with the adjoining hamlet of la Walle (Wallbury) in Great Hallingbury, and Monkswood in Little Hallingbury. (fn. 405) The immediate care of Hatfield forest was in the hands of the Barringtons, hereditary woodwards, (fn. 406) who were responsible to the warden of the forest of Essex. In 1241, when Isabel Bruce was granted the manor of Hatfield Regis, she was also appointed warden of Hatfield forest, (fn. 407) but that seems to have been a limited and temporary appointment. In 1242 the king ordered Richard de Montfitchet, warden of the forest of Essex, to prevent Isabel destroying or assarting Hatfield forest. (fn. 408) Hatfield was not included in the royal regard of the forest of Essex in 1243, (fn. 409) but Richard de Montfitchet was again described as the warden in 1254. (fn. 410) In 1305 all the ancient demesne lands of the Crown within the forests were designated chases or warrens, reserved for royal use but omitted from the forest perambulations. (fn. 411) Hatfield fell into that class, but its status seems to have remained uncertain for much of the 14th century, and perhaps later. In 1641 it was wholly outside the forest of Essex, and unlike Havering it did not even have the status of a purlieu. (fn. 412)
The soil of Hatfield forest, including that of the royal park, together with the rights of timber, pannage, and herbage, descended from 1241 along with Hatfield Regis manor. (fn. 413) Since there was no longer a royal house at Hatfield successive kings, after Henry III, may not have hunted there often themselves, but they continued to exploit the forest by letting the hunting to their kinsmen, servants, and others. (fn. 414) They also reserved the right to prevent or repair damage to the forest, as in 1336, when Edward III resumed control after excessive tree-felling by John de Bohun, earl of Hereford and Essex. (fn. 415) The rights of chase continued in the Crown until 1446, when Henry VI granted them to Humphrey Stafford, duke of Buckingham, lord of Hatfield Regis manor. (fn. 416)
From 1446 to 1592 the rights of chase and the soil of the forest passed with the manor. (fn. 417) They were thus again in the king's hands from 1483 to 1485, and from 1521 to 1547. The owners' control was restricted by the privileges as woodwards of the Barringtons, who were becoming a powerful local family. In 1576, after a dispute between Robert Rich, Lord Rich, lord of the manor, and Sir Thomas Barrington, it was decided by arbitration that Barrington should surrender the office of woodward in return for the right to all the timber in Bush End and Takeley quarters of the forest, an area comprising 354 a.; Barrington was permitted to cut 16 a. of timber each year. Each coppice of 16 a., after cutting, was to be replanted and inclosed for nine years to protect young trees. (fn. 418) Since the forest had by then been reduced to about 1,000 a., the award meant that eventually over an eighth of the whole would be inclosed at any one time. Barrington was also awarded common of pasture for specified numbers of sheep, cattle, and horses.
The agreement of 1576, which was given statutory force in 1585, (fn. 419) proved unsatisfactory. Barrington's inclosures were difficult to control, and were resented by the commoners of the forest, who came from Takeley as well as Hatfield, and whose ancient rights were virtually ignored in the agreement. The position became worse when Lord Rich sold the soil of the forest and the rights of chase in 1592 to Edward Parker, Lord Morley, and in 1612 sold the manor to Sir Francis Barrington, Bt., son and heir of Sir Thomas. Morley's estate in Great and Little Hallingbury bordered the forest on the west, while Barrington's estate adjoined it to the east. By 1610 opposition from the commoners to Barrington's inclosures had become widespread. (fn. 420) Another contentious matter, first arising in 1592, was Hatfield fair, which belonged to the lord of the manor, but was traditionally held in the forest. (fn. 421) Violent disputes over both issues broke out in 1612, when Lord Morley's son, William Parker, Lord Monteagle, sided with the commoners against Sir Francis Barrington, Bt. Barrington obtained a Chancery decree upholding his rights under the award of 1576, but resistance to inclosures flared up again in the 1630s. By that time it was alleged that no less than 646 a. of the forest had been inclosed. (fn. 422) The Barringtons cannot have been wholly responsible, for there is evidence of inclosures by the Morleys earlier in the 17th century. (fn. 423) In 1638 legal proceedings were taken against men burning coppice hedges belonging to Sir Thomas Barrington, Bt. In the following years Henry Parker, Lord Morley and Monteagle, in association with Barrington, obtained an Exchequer commission to disafforest and inclose the whole forest, but that was suppressed by Star Chamber after opposition from the commoners.
During the Civil War Lord Morley and Monteagle was sequestrated as a royalist. On his death in 1655 the forest was restored to his son, Thomas Parker, Lord Morley and Monteagle, who in 1666 sold it with Great Hallingbury to Sir Edward Turnor, Speaker of the House of Commons. During the war the forest suffered damage, but it was in a good condition in the later 17th century, when there were 600 fallow deer, a large rabbit warren, and abundant timber. (fn. 424) There were still disputes over common rights. In 1675, after Sir Edward Turnor had complained that too many beasts were being put into the forest, the commoners themselves tried to enforce proper restrictions, but without permanent success. Among those whose rights were often abused were the commoners or 'sharers' of Takeley, a strange group which can be traced from the 12th century. (fn. 425) In the 18th century the 'sharers' found it profitable to let their rights to others, including some outsiders who were ignorant of the customs of the forest. Meanwhile there developed a series of legal battles, over common rights and other matters, between John Shales Barrington, lord of Hatfield Regis manor 1734–88, and Jacob Houblon, owner of the Great Hallingbury estate and of the forest 1729–70, who was attempting to turn the forest into an extension of his park of Hallingbury Place.
In 1757 the forest comprised 1,120 a., including 700 a. of coppice and 420 a. of waste. (fn. 426) It was stated c. 1768 that Barrington had 9 coppices, besides open land, and that his tenants of ancient demesne had common for all cattle; Houblon had the same number of coppices, containing about 270 a. in all, with common for deer and ownership of the soil. (fn. 427) The long struggle between the owners of the manor and those of the forest was halted in 1783 by Jacob Houblon's death, and finally ended in 1834, when John Archer Houblon of Great Hallingbury bought for £1,750, from the heirs of Sir Fitz William Barrington, Bt., their rights of timber and herbage in Bush End and Takeley quarters, and their manorial rights and rights of common and pasture over the whole forest. (fn. 428) By that time opposition to inclosure was dwindling. Constant overstocking had wasted the herbage of the forest, and most of the commoners were failing to exercise their grazing rights. About 1834 J. A. Houblon bought five of the properties in Takeley claiming 'sharers' rights. In 1854 he obtained statutory powers to inclose the whole forest, comprising 1,070 a., and that was done in 1857. (fn. 429) Thus at last the forest did become an extension to Hallingbury Place. It passed with the Hallingbury estate until that was broken up in 1923. Many of the larger trees were then felled and sold, but the forest was saved by Edward North Buxton, who had previously played a leading part in the preservation of Epping and Hainault forests. (fn. 430) In 1924, a few weeks before his death, he bought 215 a. of Hatfield forest which, with 130 a. given by members of his family, and a further portion given by Major H. L. ArcherHoublon, were handed over to the National Trust. (fn. 431) Major Archer-Houblon in 1936 also gave the National Trust Woodside Green, which lies near the forest to the south-west. Wall Wood, east of Woodside Green, was added to the forest in 1946 by the Essex and Puckeridge hunts, to which it had been given by Gerald Stacey, in memory of his uncle Frank Stacey. The present forest is about 3 km. long, north to south, and comprises 1,049 a. A programme of tree planting was started in 1961. The forest still harbours fallow deer, which have been recorded there since 1594. (fn. 432) There were formerly also red deer, but the last of them were killed off during the First World War.
Near the northern end of the forest stood the Doodle Oak, one of the most notable Essex trees, which was said in 1813 to have measured 60 ft. round the base. The name Doodle can be traced from the 17th century. The form 'Dieul' (possibly for Devil) occurs c. 1850. The tree last showed leaves in 1858 or 1859. An expert who examined the stump c. 1948 estimated that the diameter had been about 14 ft., and that the tree was about 850 years old when it died. (fn. 433)
The lake in the centre of the forest, originally larger, was made in 1746 by Jacob Houblon, who built beside it a small cottage or summer house. The Shell (or Grotto) House was added to the cottage c. 1757. (fn. 434) In the 1940s the cottage was rebuilt, leaving the Shell House intact. Forest Lodge, which stands south-west of Shell House, is a timber-framed and plastered building dating from the later 16th century. (fn. 435) Warren House, west of Shell House, is a 19th-century brick cottage on or near the site of an earlier one, perhaps that mentioned in the later 17th century as the warrener's dwelling. (fn. 436)
Local Government.
In the later 12th century the manor court (halimotum) of Hatfield Regis was meeting in the parish church. (fn. 437) Court records survive for the manors of Hatfield Regis, Barrington Hall, Lea Hall, and Matching Barns with Brent Hall. For Hatfield Regis or Broad Oak there are court rolls for 1314–16, 1345–1420 (with gaps), 1441–60, and 1604–24, and court books for 1793–1880. (fn. 438) The court leet of the manor had jurisdiction over the whole parish except, apparently, the manor of Matching Barns with Brent Hall, and until the Dissolution that of Hatfield Priory. About 1610 Cammass Hall in White Roding was also said to be within its precincts. (fn. 439) The leet continued to function until 1845. Although the manor passed out of the king's hands in 1241 its tenants retained the ancient liberty, commonly found in royal manors, of invoking the little writ of right close, which initiated procedure in the manor court, often followed by a final concord, for settling proprietory disputes or for agreed conveyances. (fn. 440) Final concords, and later also common recoveries, were entered in the court rolls or books down to 1832. In the 15th century the manor contained at least eight tithings: Market, Broad Street, Brunesho End (later Bruntsend), Bush End, Coldwell (later Collier) Street, the Heath, Manwood End, and Wood Row. By the early 17th century a simpler system of division had been adopted, into four quarters: Town, Bruntsend, Heath, and Wood Row.
The court leet had two juries. One, called the 'Leeters', and containing 12 or more, was chosen from all owing suit. The other, called the Twenty-four, was chosen from the tenants holding directly of the lord of Hatfield Regis manor. (fn. 441) The leet customarily appointed two constables in the 14th and 15th centuries. The number had increased to four by 1606 and was the same in 1672, but in 1777 was reduced to two. (fn. 442) The manorial aleconners, also appointed by the leet, seem to have numbered 6 in 1314–16, and at least 4 in the mid 15th century, but by the 17th century no more than two. They were last appointed in 1793. Fishtasters and leathersealers were also being appointed in the later 15th century. (fn. 443) Occasional officers included four overseers, appointed in 1316 to enforce the ordinances of the court. The duty of guarding prisoners and escorting them to Colchester gaol was performed by tenants of 'prisonland'. (fn. 444) The leet continued to play an important part in local government until the 17th century, especially in relation to the repair of roads and bridges. Occasionally it intervened even in the administration of poor relief, as in 1626, when it drew up a bylaw regulating the letting of cottages to persons likely to become a charge on the parish, and in 1664, when a man and a woman were fined for harbouring beggars and vagrants. (fn. 445) Manor courts are said to have been held at some time in the house, later the Plume of Feathers inn, at the east end of Feathers Hill. (fn. 446) By ancient custom the court leet provided the constables with stocks, ducking stool, and pillory, and the aleconners with weights, measures, seals, and a book setting out the statutes relating to the assizes of bread and ale. (fn. 447) The village cage, from which Cage End, south of the village, was named, was still being maintained by the parish vestry in 1838. (fn. 448) It survived until 1873, when the manor court ordered its removal. (fn. 449)
There are court rolls for Barrington Hall for the periods 1393–1488 and 1560–1654, and for Lea Hall for 1706–1813, in both cases recording courts baron only. (fn. 450) For Matching Barns with Brent Hall there are court rolls for 1573–80 and 1623–32, which include, in addition to courts baron, one leet, in 1628. (fn. 451) No court rolls survive for the other manors, but it is certain that separate courts were held for at least one of them. It was stated in 1274–5 that the prior of Hatfield Broad Oak had appropriated the view of frankpledge and the assize of bread and of ale. (fn. 452) That must have related to Hatfield Priory manor, since the priory had not yet acquired Down Hall.
The parish records include vestry minutes 1693–1712, 1715–45, and 1782–91; vestry agreements and memoranda 1806–61; overseers' bills, accounts, and rates 1732–1840; and surveyors' rates and accounts, 1790–1837. (fn. 453) In April 1693 a select vestry of eight members was set up, to meet monthly. It was reappointed in 1694 but there is no later reference to it. Open vestry meetings were in any case rarely attended by more than a dozen at that period, and even in the 18th century they were not much larger. Monthly meetings seem to have continued until 1697, but then to have become less frequent: George Stirling, vicar from c. 1684 to 1728, attended occasionally until 1707, but rarely thereafter. John Hooke, vicar 1728–53, attended all Easter vestries recorded during his time. Henry Wray, vicar 1753–1814, who was non-resident, never attended, though an assistant curate, James Butterfield, was sometimes present at the Easter vestry between 1785 and 1791. Sir Charles Barrington, Bt., attended several times between 1704 and 1711, but no other gentry were prominent in vestry.
In the period 1693–6 there were four churchwardens, one for each quarter of the parish. From 1697 to 1700 there were two, one for the Town and one for the rest of the parish. From 1700 to 1745 there was only one warden, except in 1706, when two were appointed. William Mead served from 1708 to 1729. In 1729 and 1730 the warden was 'nominated by the ministers, and the parish agreed'. Between 1783 and 1792 there were two wardens, one chosen by the vicar, the other by the parish. There were normally four overseers of the poor, one for each quarter, but the number was occasionally reduced to three by giving one overseer charge of both the Town and Bruntsend. Between 1696 and 1706 the number of surveyors of highways nominated in vestry varied from four to eight. From 1707 to 1733 it was always eight, two for each ward. Later in the century four surveyors held office. In the appointment of constables the vestry seems to have played no part, except occasionally between 1694 and 1711. Since that was the period when Sir Charles Barrington, Bt., was involved in parish government it is possible that he was responsible for the temporary change of practice.
Separate rates were levied by the surveyors. The constables appear to have levied separate rates until c. 1740, after which their expenses were met from the poor rates. Since no church rates are recorded it is likely that the churchwardens also were reimbursed by the overseers.
By the 18th century the parish was well furnished with charities, including almshouses. (fn. 454) A workhouse, opened by the vestry in 1711, occupied Chalkes, opposite the churchyard, at some time before 1745. In 1766 it stood near the south end of the village. (fn. 455) It had some 6–10 inmates in the 1730s, 12–18 in the 1770s, and 25 in 1821. In 1835 it contained a sitting room, parlour, 3 bedrooms, a workshop with 2 rooms above, a piggery, and a large garden. (fn. 456) Then, as previously, it was a rented building. In 1732 the master of the workhouse received, in addition to his salary, 1s. 6d. a week for each inmate. In 1815 the capitation fee was 3s. 6d. a week, subject to variation according to the price of flour. Attempts were made to secure an income from work done by inmates of the house. The men were put to brewing, while the women spun or did casual work outside the house. Between 1783 and 1786 the income from such labour averaged £66 a year, equivalent to 7 per cent of the amount raised by the poor rates. Even that modest level was not maintained: between 1787 and 1791 the labour income averaged only £8.
In 1708 the vestry was paying doles to 25 paupers, including 11 children. When the workhouse was opened the vestry resolved that all those seeking regular relief should be sent there, but the order proved ineffective. Between 1720 and 1722 some 18 or 19 were still receiving outrelief, in weekly sums ranging from 6d. to 2s. 6d., and in 1782–3 regular doles cost more than relief in the house. During the earlier 18th century the vestry often distributed firewood as well as cash. In 1831 the vestry embarked on a scheme, which was still in operation in 1835, for employing the poor in spade husbandry, on land rented or enclosed from the waste for the purpose, and in 1832 it collected subscriptions to assist those wishing to emigrate to America.
In the early 18th century medical care of the poor seems to have been provided on a casual basis, but by 1782 the vestry was paying an annual retainer to a doctor. The parish pesthouse, mentioned in 1741 and still in use in 1841, lay on the edge of the forest west of Little Barrington Hall. (fn. 457) In 1831, during a national cholera epidemic, a 'board of health' was set up, consisting of the curate, a magistrate, the churchwardens, overseers, and the doctor, who were to draw up sanitary regulations and inspect houses.
Between 1694 and 1725 the annual amount raised by the poor rate averaged £224, with a peak of £344 in 1712, near the end of a long period of war. (fn. 458) Between 1726 and 1745 the average rose to £315. The rates were kept down by a substantial income from charities: in 1698 the overseers received £71 from parish rents, as against £218 from rates. In 1776 expenditure on the poor amounted to £546. For the three years 1783–5 the annual average spent on the poor was £748, out of an average poor rate of £885. Between 1800 and 1821 the poor rates averaged £2,133, while expenditure on the poor averaged £1,870 between 1800 and 1817. (fn. 459) From the figures it seems that the costs of poor relief between 1776 and 1817 were somewhat higher at Hatfield Broad Oak than at Harlow, where the population was slightly larger.
In 1836 the parish became part of Dunmow poor law union. During the following years the vestry continued to concern itself with such civil matters as the village pump, drainage, and the fire engine, but in 1895 those functions were transferred to the new parish council. (fn. 460)
Churches.
A church existed at Hatfield Broad Oak before 1086, when it was stated that a hide and 30 a. formerly belonging to it had been taken away by Swein of Essex. (fn. 461) Between 1102 and 1107 Henry I gave the tithes from his demesne to St. Botolph's priory, Colchester. (fn. 462) Aubrey de Vere (d. 1141), who founded Hatfield Broad Oak priory c. 1135, gave it inter alia the parish church. (fn. 463) When and how the de Veres had acquired the church is not known. The priory appropriated the church, and a vicarage had been ordained by c. 1225. (fn. 464) The rectory and the advowson of the vicarage remained with the priory until its dissolution in 1536. They were granted to Barking Abbey in 1537, reverted to the Crown when that house was dissolved in 1539, and were granted in 1546 to Trinity College, Cambridge. (fn. 465) The college conveyed the advowson to the bishop of Chelmsford in 1926. (fn. 466)
In 1194, after disputes over tithes between the canons of St. Botolph and the monks of Hatfield Broad Oak, it was ruled by the prior of Bermondsey and the archdeacon of London, as arbitrators, that the monks should have all the small tithes called the canons' tithes on payment of 6s. a year. The canons were to retain all tithes of geese, all tithes of sheaves from the lands of the canons of Thremhall, and tithes of grain from certain lands, including all lands in the king's demesne that should afterwards be brought under cultivation. (fn. 467) The rectory was valued at £26 13s. 4d. in 1254, £20 in 1291, and £35 9s. 4d. in 1546. The portion of St. Botolph's priory was valued at £20 in 1254, but at only £5 in 1291. (fn. 468) By an agreement of 1532 it was commuted for an annual rent of £3. (fn. 469)
The vicarage was valued at £4 in 1254 and £4 13s. 4d. in 1291. (fn. 470) In 1534 Hatfield priory granted the vicar all the small tithes. (fn. 471) That augmentation, possibly included in the vicarage's valuation of £14 in 1535, (fn. 472) seems not to have been fully implemented thereafter. In 1536 the king settled on the vicar £2 13s. 4d. for his pension, 13s. 4d. for 2 qrs. wheat, 1s. for a load of straw, 19s. 8d. to pay procurations and synodals, and the £3 rent previously paid to St. Botolph's priory. (fn. 473) The vicar's gross income in 1566 was only £10 19s., including a pension of £3 11s. and tithe wool worth £2. (fn. 474) In 1650 the value of the vicarage was less than 40 marks, including a pension of £3 11s. 8d. from Trinity College. It was then stated that the vicar had usually received the tithes of hops and wool and a small quantity of tithe wood. About the same time the living was temporarily augmented by a Parliamentary grant of £50 a year. (fn. 475) In 1679 a permanent augmentation, intended to produce £30 a year, but sometimes worth less, was made by Dr. William Clarke, dean of Winchester, and shortly before 1700 Trinity College, when granting a new lease of the rectory, augmented the vicarage by a further £24. (fn. 476) It was stated in 1753 that the income of the vicarage had recently varied between £60 and £70. Payments for half the year 1752 had included £10 from Dean Clarke's charity, £5 from Trinity College, and £5 from the lessee of the great tithes. (fn. 477) Henry Wray, vicar from 1753, claimed all the small tithes, and took his case to the Exchequer court. The court ruled that he was entitled only to small tithes customarily received, and that all others belonged to the rectory, but it recommended that Trinity College, when granting a new lease of the rectory, should allocate the small tithes to the vicarage. (fn. 478) That had not been done by 1814, when the vicarage was valued at £156, including payments from the college and its lessee and some £15 from tithes of apples, wool, hops, and wood. (fn. 479) In 1841 the vicarial tithes were commuted for £101, as against £1,775 for those of the impropriate rectory. (fn. 480) The total income of the vicarage in 1859 was £202, including £100 from tithes and £30 from Dean Clarke's charity. (fn. 481)
About 1250 the vicar held a messuage as the tenant of Adam de Longpont, and later of Robert Taper. (fn. 482) He was granted a piece of meadow by Roger Ryge c. 1280. (fn. 483) Early in the 14th century the Vicarage house probably lay in Broad Street, where it certainly was c. 1580. (fn. 484) In 1610 the vicarial glebe comprised 2 a. at Stubbers Bush, in the north of the parish, as well as ½ rood 'where the Vicarage house stood'. (fn. 485) It seems that there was then no house, as was so in 1650. (fn. 486) Sir Charles Barrington, Bt. (d. 1715), gave the vicar, George Stirling, a house together with a piece of garden formerly belonging to the Vicarage. That may have been the building which survives in Broad Street as Vicarage Cottages and Tilston House. Stirling spent £150 on improving it, but no proper conveyance had been made, and the gift lapsed on Barrington's death. (fn. 487) A permanent house was provided in 1818 by Sir John Barrington, Bt., who gave the property called Chalkes, opposite the churchyard. (fn. 488) A new house, in Tudor style, was built there in 1839. (fn. 489) In 1841 the vicarial glebe included, in addition to the house and garden, ½ a. in Broad Street and 2 a. at Stubbers Bush. (fn. 490)
The guild of St. Mary was founded in 1362–3 by John Exnyng, John Waryn, William Skinner, and William Hatfield, to provide a light before the image of Our Lady in the parish church. The guild soon began to employ a chaplain, and also raised money for church repairs, road mending, and poor relief. Its endowments probably became part of the parish's church and charity incomes. The guild house, which was in private hands by 1621, still survived in 1820. (fn. 491) It was stated in 1935 that the house had stood next to the Cock inn, but that part of it had recently been demolished. (fn. 492)
The chantry of Jesus was founded by Walter Percival, who by will dated 1460 gave Lancaster's farm in trust to employ a priest to sing at St. John's altar in the parish church. The bequest took effect in 1475, when statutes regulating the employment of the priest were drawn up in connexion with the guild of Jesus. (fn. 493) At its dissolution in 1548 the chantry's net annual value was £3 3s. 4d. (fn. 494) The chantry had apparently appropriated the south chapel of the church, dedicated to St. John the Baptist, and may also have absorbed the fraternity of St. John, recorded in 1421. (fn. 495) The south chapel was granted in 1570 to Thomas Frank and descended with Ryes manor until 1897, when Lt.-Col. George ArcherHoublon dedicated it for public use. (fn. 496)
Incumbents are recorded from the earlier 12th century. (fn. 497) Between 1423 and 1548 there were only five successive vicars, each of whom, except the last, remained until his death. (fn. 498) This suggests that the living then had benefits outweighing its low income. Robert Noke, 1529–48, was the last vicar appointed by the priory. He was probably related to Thomas Noke, who bought the priory at the Dissolution. (fn. 499) In the later 16th century the living seems to have been less attractive: there were five vicars between 1548 and c. 1590. Francis Parker, instituted in 1619, was deprived of the living, possibly as a pluralist, before 1646. James Harrison, lecturer at Hatfield Broad Oak c. 1637–43, was probably chaplain to Sir Thomas Barrington, 2nd Bt., at Barrington Hall. John Warren, who may have succeeded Harrison as lecturer, had become vicar by 1646. He was ejected in 1662, and later founded Hatfield Heath Congregational church. (fn. 500) His successor was Francis Brokesby, later a prominent nonjuror, who remained until c. 1666. Then followed a long vacancy, due to the poverty of the living. From c. 1668 to c. 1678 the parish vestry hired preachers at 10s. a Sunday, paid from the charity income. (fn. 501) George Stirling, vicar from c. 1684 to 1728, was also vicar of Matching, and in the time of Sir Charles Barrington, Bt. (d. 1715), received free board at Barrington Hall. He was not formally instituted to Hatfield until 1717, having previously been content, like his predecessor, to hold the living by sequestration in order to avoid legal expenses. (fn. 502) Henry Wray, vicar 1753–1814, was non-resident, and employed a succession of assistant curates. (fn. 503) Canon Francis W. Galpin, vicar 1891–1915, was a leading authority on ancient musical instruments, and president of the Essex Archaeological society. (fn. 504)
The church of ST. MARY THE VIRGIN, High Street, consists of nave, chancel, north and south aisles, north chapel, south chapel with library adjoining to the east, west tower, north vestry, and south porch. (fn. 505) The walls are mainly of flint rubble, with some 17th-and 18th-century brickwork. The building was once part of the priory church, but was rebuilt for separate parochial use in the later 14th century.
A church probably existed on the present site before the Conquest. No part of it survives above ground, but traces of foundations seen in the later 19th century suggested a building about 80 ft. by 40 ft. externally. The priory church, built in the mid 12th century and incorporating the parish church, lay south of the conventual buildings, and was cruciform, with central tower, but without aisles. At the west end was probably a great door, flanked by turrets. (fn. 506) Early in the 14th century Robert Taper of Hatfield, one of the priory's main benefactors, extended the church to the east and added a new west window. (fn. 507) In 1378, after a violent dispute between the priory and the parishioners, it was agreed to separate the conventual church from the parish church. A wall was built across the western arch of the crossing. The conventual church, east of the crossing, continued to be used by the priory until it was demolished after the Dissolution. The old nave, west of the crossing, was rebuilt soon after 1378 as the parish church, with nave, chancel, north and south aisles, and north chapel. Head stops on the arch mouldings of the nave are thought to depict inter alia Richard II, John of Gaunt, duke of Lancaster (d. 1399), Edmund of Langley, duke of York (d. 1402), Thomas of Woodstock, duke of Gloucester (d. 1397), and his wife Eleanor (de Bohun), and Robert Braybrooke, bishop of London (d. 1404).
The west tower, south porch, south chapel, and rood loft stair turret were added in the earlier 15th century. Alterations in the later 15th century included new windows in the chancel, the aisles, and the chapels, and the reconstruction of the north chapel to provide, at its eastern end, a vestry with priest's chamber above. The western end of the north chapel had by the 15th century become the burial place of the Barringtons, lords of the manor. At a later date, perhaps in the 17th century, the floor of the priest's chamber was removed, the vestry became a store room, and the wall dividing it from the chapel was replaced by a 15th-century wooden screen, thought to have come from the priory.
In 1708 Sir Charles Barrington, Bt., built a room at the east end of the south chapel to hold the parochial library formed by the vicar, George Stirling. (fn. 508) About the same time the north vestry was built, and the whole church was panelled with oak and adorned with carving said to have been designed by John Woodward, a pupil of Grinling Gibbons. An 18th-century cupola surmounting the tower and housing a clock bell cast in 1783 survived until 1884. (fn. 509) The church was restored in 1843 to the design of Richard Cromwell Carpenter. (fn. 510) Some of the decorative woodwork was removed, but the reredos, altar rails, chancel panelling, and other portions dispersed about the church were preserved. The east window, inserted at about the same time, was designed by the master of Trinity, William Whewell (1794–1866). In 1881 the Barrington chapel was furnished with pews and a new organ was placed in the former vestry at the east end of the chapel. The church was again restored in 1886, when nine new windows were inserted. (fn. 511)
The church has eight bells, of which seven were cast in 1782 and the 8th, originally of 1783, was recast in 1935. (fn. 512) The silver plate includes a cup, paten, and almsdish, all of 1723, and a flagon of 1729. (fn. 513) The parish chest, which is of oak with lifting rings, was probably made c. 1400. (fn. 514) The font, made in 1897, is an enlarged facsimile of the 15th-century one at Magdalen Laver. Its cover, made up of 15th-and 18th-century fragments of oak, was added in 1908. The fine brass chandelier in the nave, probably of the early 18th century, was bought in 1780.
The 13th-century effigy in the chancel is said to be of Robert de Vere, earl of Oxford (d. 1221), and to have come from his tomb in the conventual church. The most notable Barrington monuments are those to Thomas (d. 1472, a brass), Sir John, Bt. (d. 1691), and John Shales Barrington (d. 1788), the latter by John F. Moore. There are portrait medallions to Sarah Chamberlayne (d. 1742), and Richard Chamberlayne (d. 1758), and marble monuments to William Selwin (d. 1768), Sir Thomas Selwin, Bt. (d. 1869), and Lady Ibbetson (d. 1816), the last by John Flaxman. (fn. 515)
The parochial library comprises some 300 volumes, mainly relating to theology, philosophy, and history, in several languages. Most of the books range in date from the late 15th to the early 18th century.
The church estate originally comprised Almonds, later Bridgefoot farm (86 a.), lying 2 km. north of the village. It probably belonged to the medieval guild of St. Mary, and was certainly church property from the 16th century onwards. In the 1870s it produced an annual net income of about £40, but that fell sharply in the following years of agricultural depression. The farm was sold after 1918, and in 1936 the church estate comprised £3,183 stock, with an income of about £120, used to pay for an annual sermon and church repairs. (fn. 516)
The churches of HOLY TRINITY, Hatfield Heath, and ST. JOHN THE EVANGELIST, Bush End, were built c. 1859, and separate parishes were formed for them in 1860. The advowson of both vicarages was vested in the vicar of Hatfield Broad Oak. (fn. 517)
George Cheveley, by will proved 1894, gave £1,000 in trust to apply four-fifths of the income to Holy Trinity church, Hatfield Heath. In 1981 the income of £19 was being added to the vicar's stipend. (fn. 518)
Roman Catholicism.
From c. 1910 missionaries of the Sacred Heart, Braintree, were conducting public services at Hatfield Regis Grange, the home of Francis J. A. Skeet and later of Ralph Morton and his family. The church of OUR LADY OF LOURDES, High Street, opened in 1952, was in 1980 served from Great Dunmow. (fn. 519) The building was previously the Congregational church.
Protestant Nonconformity.
Hatfield Heath United Reformed church was founded in 1665 by John Warren, who in 1662 had been ejected from the vicarage of Hatfield Broad Oak. (fn. 520) He was licensed in 1672 as a Congregational minister. In 1680 members of his congregation, including Lady Barrington, were fined for attending a conventicle in the house of Anne Parker. (fn. 521) After Warren's removal to Bishop's Stortford in 1690 his work was continued by James Small, a former chaplain to the Barringtons, who remained until 1704. The meeting house at Hatfield Heath was enlarged in his time. The congregation numbered 300 in 1716, but by 1724 the meeting house was so dilapidated that the congregation moved to temporary quarters in a barn. (fn. 522) In 1725 they leased another building, on the site of the present church. The freehold of the new meeting house was bought in 1730, (fn. 523) and a manse was built soon after. The church declined in the mid 18th century, but was revived by Samuel Gaffee, pastor 1780–1809, who enlarged the building c. 1788. During the ministry of Cornelius Berry, 1811– 64, a British school, described below, was opened. The church, again enlarged in 1829, had a congregation of about 500 in 1851, (fn. 524) and was rebuilt in 1875. It joined the United Reformed church in 1972, and in 1980 had 91 members. (fn. 525) Throughout its history, except for short vacancies, Hatfield Heath has had a resident pastor.
Takeley Free (formerly Congregational) church originated in 1808, when Independents erected a building at Brewers End, just inside Hatfield Broad Oak parish. The first minister, John Hanson, reported a congregation of over 300 in 1829 and of over 200 in 1851. The church was rebuilt in 1902, and a recreation hall was added in 1904. (fn. 526)
Hatfield Broad Oak Congregational church claimed to have been founded in 1818. In 1829 John Hanson of Takeley was preaching at Hatfield to a congregation of about 100. A permanent church, built in High Street in 1868, was listed as a station of Hatfield Heath until the 1920s. It was later used by the Roman Catholics. (fn. 527)
Education.
Hatfield Broad Oak charity school for boys can be traced from the 17th century. It seems to have occupied premises behind the guild house, (fn. 528) but there is no other evidence to connect the school and the guild. The school house was mentioned as parish property in 1675 and 1699. (fn. 529) In the period 1770–1833 a schoolmaster was paid £8 yearly by the charity trustees to teach 12 poor boys. (fn. 530) By 1819 he was taking a few more who paid 3d. weekly, and by 1833 the school had 40 boys. (fn. 531) It appears to have closed by 1835, when the charity payment of £8 was being received by St. Mary's National school. (fn. 532)
St. Mary's Church of England primary school, High Street, opened in 1816 as a National school, with 18 children in the former market house. (fn. 533) In 1819 it had 84 girls and 55 boys, and another 24 children were being taught by a poor woman at the parishioners' expense. (fn. 534) By 1827 a small Sunday school had been started. (fn. 535) In the 1830s there were four other schools, apart from the Church and British schools, with almost 100 children. (fn. 536) From 1836 the National school boys were taught separately by a master, and by 1839 daily attendance had increased to 140 boys and girls; the Sunday school was for boys only. (fn. 537) The National school was maintained by voluntary contributions, children's pence, National Society grants, and, until 1863 or later, £8 yearly from the charity trustees. (fn. 538) A new school for 100 with a teacher's house was built in 1861 in High Street, and it received annual government grants from that year. (fn. 539) An infant room was added in 1869. (fn. 540) The school was granted Aided status in 1950 and was reorganized in 1953 for juniors and infants. In 1966 the school was enlarged for 150. (fn. 541)
Hatfield Heath British school was opened in 1827, in connexion with the Congregational church. By 1833 it had 18 children taught at their parents' expense, and in 1839 it was described as a Sunday school 'not much attended'. (fn. 542) A day school was built in 1857 to provide undenominational teaching for children of Hatfield Broad Oak and neighbouring parishes. In 1858 it had 113 children, and from 1862 it received annual government grants. (fn. 543) Attendance had fallen to 68 by 1871 but it rose to 93 in 1881, and in 1898 an infant room was added. (fn. 544) The school was amalgamated with Hatfield Heath Church school in 1929. (fn. 545)
St. John's Church of England school, Bush End, opened in 1828. A school building was erected in 1836, partly with a government grant. (fn. 546) In 1839 it had 68 children, and by 1846 it was a day and Sunday school, supported by subscriptions and children's pence. (fn. 547) In 1877 a new school for 84, in union with the National Society, was built on the same site by subscription and government grant. (fn. 548) In 1910 thirty-eight children were being taught in one room. (fn. 549) The school closed in 1945. (fn. 550)
Hatfield Heath county primary school originated c. 1840 as a Church day school. (fn. 551) In 1845 the master was also a shoemaker. (fn. 552) A school building was erected in 1856. (fn. 553) The school, which received annual government grants from 1865, was enlarged in 1869 and again in 1880, bringing accommodation to 140. (fn. 554) In 1900 a new school and a teacher's house were built opposite the church. (fn. 555) The school was taken over by the county council in 1932, and in 1953 was reorganized for juniors and infants. The first part of a new school was built in 1974 behind the building of 1900, which was still in use in 1979. (fn. 556)
There was a private girls' school in 1866. (fn. 557) Downham school, a select boarding school for girls, occupied Down Hall from 1932 to 1967. (fn. 558)
Educational Charities. (fn. 559)
Sarah Chamberlayne (d. 1870) by her will gave the following annuities to benefit Bush End school and its children: £20 to the school; £5 for books; £2 to children who helped to pay for their own shoes; and £6 5s. for children's entertainment at Christmas and on the second day of Hatfield fair. A Charity Commission order of 1905 regulated those gifts as the Sarah Chamberlayne educational foundation, and apportioned £6 to the school managers, £14 to the county council, £5 for bibles and books, £6 5s. for entertainment, and £2 for prizes. Under a Chancery scheme of 1943 £3 15s. is paid to the vicar and churchwardens of Bush End for bibles and library books. In 1979 nothing was known of the educational foundation.
George Cheveley, by will proved 1894, gave £1,000 in trust to apply a fifth of the income towards the education of the children at Hatfield Heath National school. By a Scheme of 1905 the Cheveley educational foundation was formed, with capital of £190 9s. In 1981 the income of £476 was being paid into the investment fund of Holy Trinity church, Hatfield Heath. (fn. 560)
Charities for the Poor. (fn. 561)
From 1581 or earlier the income of the ancient charities, probably including that of St. Mary's guild, was used to repair the church and highways, and for poor relief. Some of the property was believed to be the gift of Robert de Vere, earl of Oxford (d. 1221). (fn. 562) In 1662 it was all conveyed to trustees who also took over the management of the newer charities of Gobert and Barrington. In 1684, after a charity commission inquiry had found the surviving trustee guilty of breach of trust, the charities were conveyed to new trustees, who were to pay the parish officers, from the income of Gobert's, Barrington's, and Frank's gifts, £5 yearly for highways and the residue for poor relief. In the period 1772–1807 the trustees used the whole income indiscriminately, in breach of the 1684 decree, giving for poor relief and schooling only what remained after the church and highways were repaired. In 1816 the accumulated sum of £146 was paid to the churchwardens for clothing and almshouse repair. In the period 1826–33 the trustees, after paying £5 to the surveyor, discharging Frank's gift, and maintaining trust property, gave an average of £21 yearly to the churchwardens to augment voluntary subscriptions for bread, clothing, and schooling. In 1835 the annual charity income was £43 6s. 6d. By 1879 it had risen to £83, but it fell by about a third when rents were reduced in the 1890s. By a Scheme of 1936 the poor's charities were grouped with that of Thomlinson and those of Chamberlayne, for lying-in bags, widows, and clothing in St. Mary's parish, as the NonEcclesiastical charities. The trustees were to use the income of the former poor's charities, then about £71, to support nine almspeople after paying £5 for highways, £2 16s. in gifts of bread, clothing, or money, and 8s. for a sermon. Thomlinson's charity was to provide money gifts to six widows. In 1947 all but 2 a. of the charity land was sold for £970. A Scheme of 1972 for the Non-Ecclesiastical charities of the ancient parish amended the highway charity and regulated use of the income of Thomlinson's and the former poor's charities, then £144.21. It allocated £260 of that sum to general poor relief, 40p to the sermon, and the rest to care of the almshouses and almspeople. The use of Chamberlayne's clothing charity was extended to provide general relief to the poor of St. Mary's parish. Sale of the remaining land and of all but two of the almshouses in 1968, 1970, and 1975 increased the annual income to about £1,068. In 1977 a total of £230 from the Non-Ecclesiastical and Potter's charities was given to 23 residents.
John Frank, by will dated 1597, gave a £16 annuity to the vicar and churchwardens to buy, within 5 years of his death, property to produce yearly 8s. for a sermon and £2 16s. for the parish poor. John's son Peter Frank paid £3 4s. yearly to the trustees and, by his will dated 1612, gave them £70 to buy land to fulfil John's will. Peter's executors kept the capital and paid the annuity of £3 4s. until c. 1627, when they withheld it. The trustees then petitioned in Chancery for the revival of the charity. (fn. 563) They were evidently successful, for in 1628 they bought 7 a. called Gallilands in White Roding. The 1681 charity commission found that the annual income had grown to £4 10s., and decreed that the surplus, after payment for the sermon, was to be given in bread to the poor. By 1866 the income had grown to £6. It was lost for a few years in the 1880s when the trustees did not enforce payment upon a poor tenant. In 1936, when the land was let for £6 10s., administration of the sermon charity passed to the church council. In 1947 the land was sold for £200.
John Gobert, by will dated 1623, gave £600 to buy land to provide, among the bequests, a £4 rent charge for the parish poor. Lucy Gobert, his widow, bought a rent charge and paid £4 yearly in her lifetime, but by 1650 payment had lapsed. In 1661, after Chancery action by Sir John Barrington, Bt., Gobert's grandson, the rent charge was redeemed. With payment received for redemption, arrears, and damages the trustees in 1662 bought Keers manor in Aythorpe Roding, on which the £4 rent was charged. (fn. 564) The 1681 commission criticized the trustees for investing £24 arrears in 1679 instead of paying it to the poor, who were then in need. By 1835 it was usual to add the £4 to voluntary subscriptions for bread in winter. The charge was still being received in 1978.
Joan, Lady Barrington, by will proved 1641, gave £100 to the parish poor to be used at the discretion of her son, Sir Frances Barrington, Bt. About 1675 the income was £6. (fn. 565) By 1681 only £40 of the capital remained. That was transferred to trustees appointed by the 1684 decree. It was probably included in unascribed stock in subsequent schemes.
Alice Thomlinson, by will dated 1655, gave £1 10s., part of a £5 rent charge on a house called Hempstalls on Braintrees farm, to provide waistcoats for six widows of the parish. Samuel Lowe (d. 1709), rector of High Laver, bought the farm and established by his will a £5 rent charge on the whole farm. (fn. 566) By 1835 the tenant of Braintrees was paying half-crowns at Christmas to 12 widows chosen by him.
Thomas Cheveley, by will dated 1691, gave £24 to Sir Charles Barrington, Bt., on his coming of age to buy land and give the annual income to the six poorest men in the parish. (fn. 567) In 1705 Barrington bought land on Change common. The income was £2 in 1835, £2 10s. in 1879, and £1 10s. in 1936. The land was sold in 1947.
Sarah Chamberlayne (d. 1870) by her will gave the residue of her estate, £13, 128, to benefit Hatfield Broad Oak and other parishes. (fn. 568) Hatfield was to receive yearly 10s. for lying-in bags, £2 for Christmas doles to 40 widows, £5 in coal for widows and the poor whose children attended Bush End School, and £33 5s. in annual gifts to that school and its children. (fn. 569) She also directed investment of part of the endowment to provide 26 pensions of 16s. monthly to occupants of almshouses that might be built in the beneficiary parishes, including six at Bush End, and an extra pension for an almsperson in each parish who would care for a handicapped or orphaned child. The charities were regulated by nine orders and schemes made by Chancery and the Charity Commission between 1876 and 1972. The 10s. gift for lying-in bags became the charity for mothers, providing maternity benefit in St. Mary's parish. The widows' doles were apportioned by a Scheme in 1894 to provide 10s. each for Bush End and Hatfield Heath, and £1 for St. Mary's parish. The same Scheme directed payment of the almsfolk's pensions to the old and disabled. The £45 for allowances to pensioners caring for orphaned or handicapped children could be used, under the 1943 Scheme, to help a child in any beneficiary parish. By 1943 the charities for mothers, widows, coal, Bibles and books, and pensions had an endowment of £19,698 stock. Pensions increased to £16 yearly in 1977, and in 1979 were paid to five people living in Bush End. (fn. 570) The clothing charity was not mentioned in the will; it originated as a gift of £163 stock, apparently made in Sarah Chamberlayne's lifetime, and was first regulated by a Scheme of 1876. Under the 1972 Scheme it provides general relief to the poor of St. Mary's parish.
The Highways charity. The 1684 decree set aside £5 of the charity income for highway repair. The sum was paid regularly to the parish surveyor. It was not paid to Dunmow R.D.C. after 1933, although the 1936 Scheme required payment in return for rate relief. In 1970 the trustees decided to use it to maintain the church paths. The 1972 Scheme allowed its use for the general benefit of the ancient parish. It has since provided lighting outside the branch library and electrification of the church clock.
Almshouses. In 1835 there were in the parish the following almshouses: (i) the Town Shops, (ii) Buck's tenement, (iii) Musbrook Street cottages, (iv) Panfields, (v) a house later called Oak House, (vi) Sir John Barrington's almshouse. The Town Shops in the market place belonged to the Jesus chantry in 1548. (fn. 571) They were last used to house the poor c. 1905. They were later used as a parish room, and from the early 1950s as a county library. Buck's tenement in Broad Street and cottages in Musbrook Street were said in 1681 to have been used for 100 years to maintain highways and relieve the poor. Buck's tenement was let in the 17th century, but was later used to house the poor. By 1879 it was again let. It was sold in 1926. The Musbrook Street cottages were being used c. 1720 to house five poor people. They were converted in 1950 for three almspeople and in 1975 were sold. Panfields, in High Street, was listed among charity property c. 1720. In 1970 it was modernized to house two instead of four almspeople, and in 1978 it was the only surviving almshouse in the parish. Oak House, near the church gate, was an almshouse c. 1720. That use ceased in 1905. The building was let to the Working Men's Institute from 1907 until 1970, when it was sold. The adjoining house was known c. 1720 as Sir John Barrington's almshouse. A plaque inscribed Cbam 1708 suggests that it was refurbished by Sir Charles Barrington and his wife Anna-Maria. In 1835 the almshouse accommodated five widows placed there by the Barrington family. By 1928 it was being used by local societies, (fn. 572) and by 1937 it was a private house, known as Church Cottage. (fn. 573)
Mary Isabel Potter, by will proved 1939, gave to St. Mary's church council £250 to be invested and used for Christmas payments to the six oldest and poorest widows of the parish. Under Schemes of 1940 and 1972 the income from £332 stock was to be managed by two trustees of the Non-Ecclesiastical charities.