Pages 24-35
A History of the County of Essex: Volume 8. Originally published by Victoria County History, London, 1983.
This free content was digitised by double rekeying. All rights reserved.
STIFFORD
Stifford village is 3.2 km. north of Grays Thurrock. (fn. 1) The ancient parish, comprising 1,597 a. (646. 3 ha.), included a detached part of 18 a. locally situated in South Ockendon, about 3,200 m. north-west. In 1888 that part was merged in South Ockendon in exchange for two detached parts of that parish, of 16½ a. and 2½ a., locally situated in the north-west corner of Stifford. (fn. 2) In 1936 the parish became part of the new Thurrock urban district, (fn. 3) which in 1974 became the borough of Thurrock.
The village stands on high ground above the river Mardyke, which flows south-west through the parish. Farther south the terrain rises to over 30 m. above sea-level near Warren Lane, before sloping sharply down to the Thames, where the ancient parish had a frontage of 400 m. sandwiched between West Thurrock and Grays Thurrock. The soil is loam, chalk, and gravel. Chalk quarrying, mainly in the past 75 years, has greatly altered the landscape of the southern and western parts of the parish. There has been some residential and industrial growth farther north, but there is still farmland round the village.
The parish was entirely rural and sparsely populated until the end of the 19th century. The total recorded population was 11 in 1066 and 12 in 1086. (fn. 4) Thirteen Stifford men were assessed to the lay subsidy in 1327. (fn. 5) In Chafford hundred only Wennington, and possibly Little Warley and Childerditch, then had fewer taxpayers. (fn. 6) In the lay subsidy of 1523 there were 20 Stifford names; only Cranham, Childerditch, and Wennington had fewer. (fn. 7) There were 38 houses in the parish in 1670. (fn. 8) Seven parishes in the hundred, including Grays Thurrock, had fewer, which suggests that Stifford had grown relatively fast since 1523. In the 18th century, however, it seems to have stagnated, for as late as 1790 there were said to be only 40 houses. (fn. 9) In 1801 the population was 215; only Wennington, Little Warley, and Childerditch had fewer. It reached 320 in 1851, but then remained static until after 1881. With the growth of the township of South Stifford it rose to 1,067 in 1901, and to 2,188 in 1931, the last year for which there are separate census figures for the parish. (fn. 10) Since the Second World War there has been considerable growth also in the north of the parish, and in 1971 Stifford ward of the urban district had a population of 8,754.
The earliest settlements seem to have been along the ridge south of the Mardyke. Remains found near the eastern boundary of the parish, on the site of the William Edwards school in Stifford Clays Road, indicate a late Iron Age and Roman farm occupied up to the 4th century. (fn. 11) Stifford Clays Road is part of the ancient road along the ridge, leading east towards Orsett, and west via Aveley towards London. (fn. 12) The village grew up beside the church, along the road about 800 m. east of the bridge, in Stifford Street (now High Road). (fn. 13) Three lanes, existing by the 17th century, ran south from the ridge road. (fn. 14) The most westerly, leading to West Thurrock, was known c. 1865 as Millwood Lane, continuing as Mill Lane. (fn. 15) Its northern end is now called Pilgrims Lane, from the tradition, recorded or invented by Stifford's 19th-century historian, that it was one of the routes of medieval pilgrims to Canterbury. (fn. 16) Farther east was Clockhouse Lane, linking Stifford Street and Warren Lane. The Clockhouse, later the Dog and Partridge inn is mentioned below. The Warren was so named in the 17th and 18th centuries. At least part of it had been an ancient common. (fn. 17) The third lane, now Cuckoo and Hogg Lanes, ran south to Grays Thurrock, also branching east as Long Lane, leading to Stanford-le-Hope, and as Lodge Lane, leading to West Tilbury. The coastal east to west road through Stifford, now London Road, was in the 18th century only a local road, linking Purfleet, West Thurrock, Grays Thurrock, and West Tilbury. (fn. 18) It became more important in the early 19th century, as part of the road from London via Aveley and West Thurrock to Tilbury Fort. (fn. 19) In 1820 John H. Hogarth, later rector, at his own expense improved Lodge Lane, and reduced the dangerous gradient of Ford Place Hill (South Road). (fn. 20)
In 1777 most of Stifford's buildings were in the village street. (fn. 21) Stifford Hall, the old manor house, which had stood east of the church, had almost disappeared, and the principal house in the parish was then Ford Place, 800 m. north-west of the village, a fine 17th-century house on an older site. Stifford Clays manor house, on a medieval site, lay 800 m. north-east of the village. Sugarloaf House, 800 m. south of the village, was later called Chalk Pit Farm. (fn. 22) In 1777 there was hardly any settlement on the western side of the parish, but by 1839 several new farmhouses had appeared. (fn. 23) Brickwall and Horns Farms were both in London Road, South Stifford. Stifford, or Warren Farm, west of Clockhouse Lane, had been built on the site of the former warren. An earlier house in that area, called Coney Hall, existing in the 17th century, had disappeared by 1777. (fn. 24) Hill and Buckles Farms were in the north-west corner of the parish.
Stifford's name, meaning 'path ford', suggests that the road over the Mardyke was important from Saxon times. (fn. 25) In the Middle Ages and later it was the road west to London, and, branching north, to Brentwood, Chelmsford, and Colchester. It was also the road to Aveley market. (fn. 26) Stifford bridge had been built by 1487. (fn. 27) In 1617 this 'great stone bridge' was repaired by the county, and by 1653 it seems to have been accepted as a county bridge. (fn. 28) In 1760 the bridge was reported to be of brick, with a 14-ft. waterway. (fn. 29) That was replaced by an iron bridge in 1868. (fn. 30) The bridge was again rebuilt c. 1925. (fn. 31)
In 1810 Stifford was served by a coach plying between Romford and Tilbury Fort, connecting with the ferry to Gravesend. (fn. 32) In 1838 the coach between London and Horndon-on-the-Hill passed through daily, and travellers to London could also use the Gravesend steamers down the Thames, by a connexion from Grays Thurrock. (fn. 33) The London, Tilbury, and Southend railway was opened in 1854 as far as Tilbury, with a station at Grays Thurrock, and extended to Southend in 1856. (fn. 34) About 1900 there was a onehorse bus between Stifford and Grays Thurrock station. (fn. 35) The branch from Grays Thurrock to Romford was opened as far as Upminster in 1892, with a station at South Ockendon, and in 1893 was extended to Romford, where it linked with the main line of the Great Eastern railway. (fn. 36)
The opening of the Romford branch was followed by development in the south of the parish. An area of heavy industry was then growing up along the railway between West Thurrock and Grays Thurrock, and by 1894 there was a township at South Stifford, which grew slowly over the next 30 years. (fn. 37) Communications in the north of the parish were improved in the 1920s, when the London-Southend road was reconstructed. (fn. 38) It included a new section, bypassing Grays Thurrock, and running west to east through Stifford about 800 m. north of Warren Lane. Housing development, north of the bypass, took place after the Second World War. West of South Road a small part of Stifford was included in the Aveley housing estate, built by the London county council. (fn. 39) Farther east, beyond the village, the Stifford Clays area was built up in the 1950s and 1960s.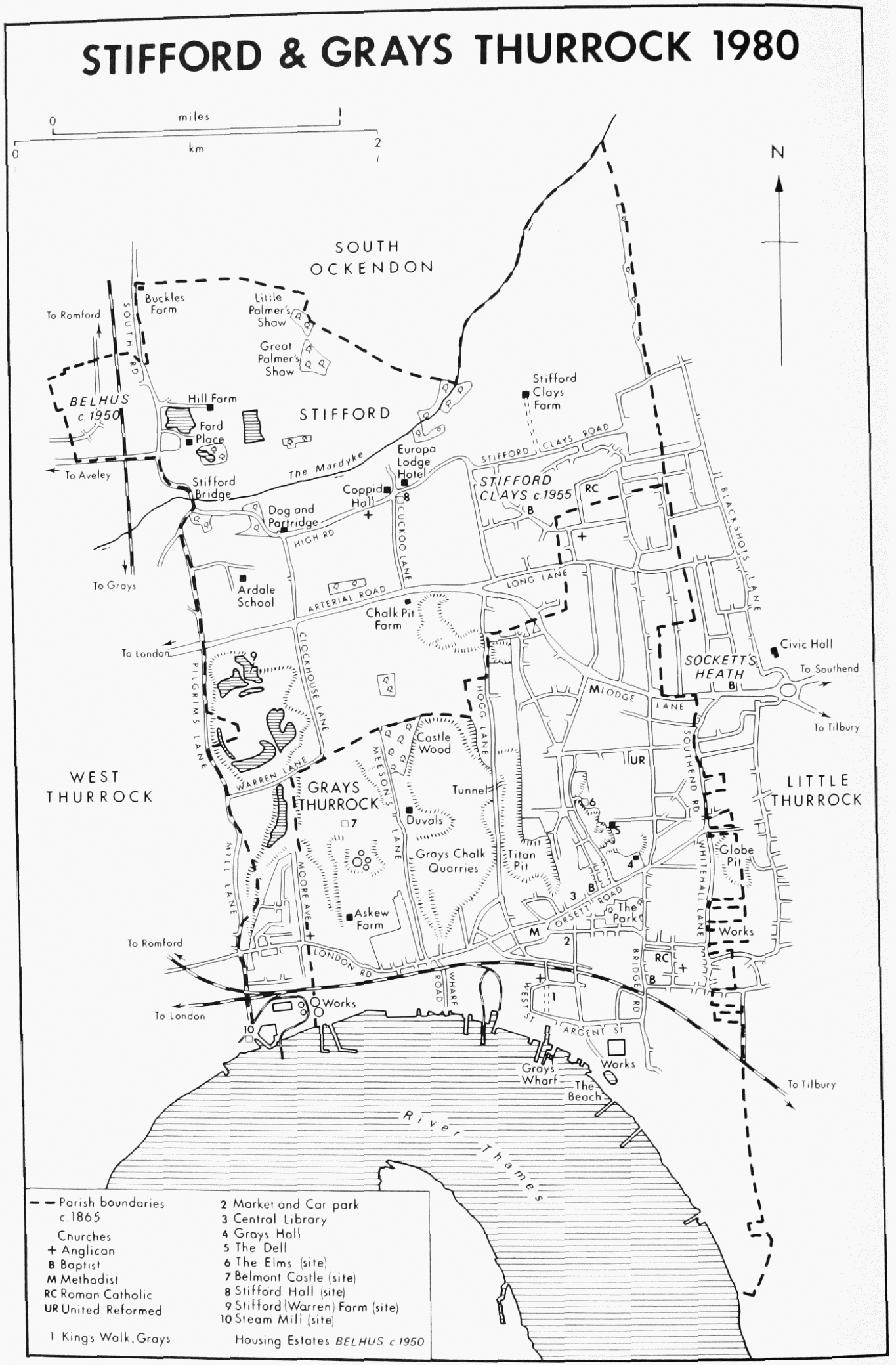 A visitor described Stifford in 1876 as 'a quiet, secluded agricultural village of clean thatched cottages [which] afford a charming stroll from Grays . . . across the fields'. (fn. 40) The approach is less charming today, and the stroller would have to negotiate two or three main roads. Timberframed cottages, thatched or tiled, still lie along High Road. (fn. 41) Most of them date from the 18th or the 19th century, but there is one larger house, now three tenements, which probably dates from the 16th century. It is said to have been a 'gentlemanly residence' in the 18th century. In the 19th century part of it was the post office. (fn. 42) During the past 20 years many new houses have been built in the village, and with the increasing traffic along High Road Stifford is beginning to lose its rural character.
Coppid Hall, on the corner of High Road and Cuckoo Lane, was mentioned in 1538. (fn. 43) It was rebuilt in 1753 and later altered to the design of James Wyatt. (fn. 44) The main, south front is of 7 bays and two storeys with attics. Additional service quarters were provided on the east side in the later 19th century. Between 1972 and 1974 the house was converted into flats, and the interior arrangements and fittings date from that time.
Europa Lodge Hotel, formerly Stifford Lodge, adjoins Coppid Hall to the east. (fn. 45) Stifford Lodge was known until the 18th century as Deanes or Sherwells, which was probably identical with the house held in 1327 by Henry de Shirewell. (fn. 46) It was the home of Richard Anderson, pretending baronet, c. 1704–11. (fn. 47) By 1736 the owner was Jasper Kingsman (d. 1754), from whom the house passed to his son, also Jasper (d. by 1784). (fn. 48) One of the Kingsmans was almost certainly responsible for rebuilding the house, which in its present form dates from the mid 18th century. It then had a main, south front of 5 bays and 3 storeys and a lower service wing at the back. Early in the 19th century single-storey additions were made on the east side, and the west front was rearranged to provide a new doorway and entrance hall. That was probably the work of John Button (later Freeman). (fn. 49) Herbert E. Brooks (d. 1931), cement manufacturer and chairman of Essex county council, lived at Stifford Lodge for about 40 years up to his death. (fn. 50) The library fittings date from his time. Col. J. D. Sherwood, owner from c. 1946 until his death in 1966, renovated and improved the house. (fn. 51) Stifford Lodge was later acquired by Haven Inns Ltd., who made further additions on the north and east before selling it to Grand Metropolitan County Hotels. (fn. 52)
The Dog and Partridge inn, which stands in High Road facing the junction with Clockhouse Lane, was recorded as an alehouse in 1757. (fn. 53) Early in the 17th century the building, then called Lovelands, was the home of Sir Thomas Gurney. (fn. 54) In 1698 and 1733 it was called Clockhouse. (fn. 55) The main part of the house, which was timber-framed and dated from the 17th century, was rebuilt in 1934. (fn. 56)
'Stifford water engine', mentioned in 1689, (fn. 57) was probably connected with the town well, around which posts and rails were placed in 1709. (fn. 58) The South Essex Waterworks Co.'s mains were extended to Stifford in 1871 or 1872 at the expense of the lord of the manor, Richard Wingfield-Baker. (fn. 59) A sewerage scheme for the village was completed in 1964. (fn. 60) A cemetery of ½ a. (0.2 ha.) was formed in 1909 under the parish council. (fn. 61)
Ardale Community Home school was built by Stepney poor-law guardians in 1902 as an orphanage for 200 boys and girls. It was taken over by the London county council in 1930, and in 1935 became an Approved school for boys. The school was transferred to Essex county council in the 1950s. In 1973 it was reorganized in its present form, and placed under the London borough of Newham. In 1979 it was providing care, treatment, and education for up to 60 disturbed, deprived, or delinquent boys aged 13 to 17. The original buildings, designed by Frank Baggallay, were arranged in a shallow southfacing crescent with a water-tower at the centre. Since the Second World War extensive new living quarters and classrooms have been built to the north, while some of the old buildings have been demolished. (fn. 62)
Sir William Scroggs (1623?–83), lord chief justice, lived at Stifford in youth. (fn. 63) Sir Herbert Croft, Bt. (1751–1816), author and friend of Samuel Johnson, was the son of a Stifford man. (fn. 64) William Palin (1803–82), rector and local historian, is mentioned below. (fn. 65)
Manors.
In 1086 there were four tenements in Stifford. Ansger the cook held 25 a. formerly belonging to a free man. (fn. 66) No more is known of that tenement, unless it can be identified with the detached part of Little Thurrock on the boundary between Stifford and Orsett, which in the 19th century comprised 26 a. (fn. 67) Barking abbey held 40 a., which later descended with the manor of Great Warley. (fn. 68) The abbey was holding manor courts at Stifford as late as 1493. (fn. 69)
Odo, bishop of Bayeux, had two tenements in 1086. (fn. 70) The first, of 1 hide and 30 a., had belonged in 1066 to Alvric, a free man. In 1086 it was held of the bishop by Hugh, probably Hugh de Montfort, who was associated with Odo at Dover. (fn. 71) The second, of 1½ hide, had formerly been held by Gilbert. In 1086 it was held of the bishop by Ralf, son of Turold of Rochester. After Odo's disgrace his Stifford lands seems to have been carved up between neighbouring barons. Some were probably acquired by the bishop of London, and added to his manor of Little Thurrock. (fn. 72) Some may have been added to the manor of Grays Thurrock, which in the 15th century and later claimed jurisdiction over parts of Stifford. (fn. 73) The main part, which became the manor of STIFFORD, or STIFFORD HALL, was annexed to the honor of Peverel of Dover or Wrinstead, and descended with South Hall in Rainham. (fn. 74) By the early 13th century the Crammavill family, which held South Hall in demesne, also held a mesne tenancy of the honor of Peverel of Dover in Stifford and Thurrock, probably Grays Thurrock. (fn. 75) In 1201 William de Crammavill granted to John Becket, nephew of Thomas Becket, archbishop of Canterbury, 1½ hide in those places to be held for ¼ knight's fee. (fn. 76) The subordinate mesne tenancy thus created seems later to have been held by the archbishops of Canterbury. (fn. 77) In 1274 the Knights Hospitallers were holding 60 a. in Stifford of Henry de Crammavill. (fn. 78)
The tenancy in demesne of Stifford (Hall) was held c. 1170 by Roger Kentish or Roger of Stifford, who had apparently acquired it by marriage. Michael of Stifford, Roger's son and heir, was holding the manor in 1215. (fn. 79) Michael of Stifford, possibly son of the last, was patron in 1254. (fn. 80) In or about 1283 the manor and advowson seem to have been divided into four. (fn. 81) Robert de Hamme, John son of Michael of Stifford, and John of Chertsey each held one part. The ownership of the fourth part is not clear. By 1303 there were three joint owners: John de Hamme, Stephen of Chertsey, and John Michael, also called John son of Michael of Stifford. (fn. 82) In 1305 Stephen of Chertsey conveyed hisshare, including a house and 58 a., to John de Lenham and his wife Margaret. (fn. 83) By 1322 Margaret de Lenham had conveyed her share of the manor to Richard de Lenham and his wife Margery. (fn. 84) The Lenhams's share, and that of John de Hamme, seem to have passed to David of Tilbury, or of Stifford, who was living in 1328 and 1337, but was dead by 1346, when his heir, unnamed, was in the wardship of Sir Roger Chandos. (fn. 85) The other third of the manor has not been clearly traced. It may, like the advowson, have been split between the Bruyns of South Ockendon and the Torrells of Torrells Hall in West Thurrock, whose manors included some land in Stifford. (fn. 86)
From the later 14th to the earlier 16th century the manor was held by the family of Ardale or Eyrdale. In 1394 Warin Ardale and Joan his wife conveyed it to their son William and Margery his wife. (fn. 87) The manor was Joan's inheritance. She and Warin had probably been holding it by 1376. (fn. 88) Thomas Ardale of Stifford was living in 1433. (fn. 89) John Ardale (d. 1504) left the manor to his daughter Thomasyn (d. 1532) who married (1) Robert Latham (d. 1511) of North Ockendon, and (2) Richard Badby. (fn. 90) On Thomasyn's death the manor passed to her son Thomas Latham (d. 1563), whose son and heir was Ralph Latham. (fn. 91) Ralph (d. 1568) left Stifford to his wife Audrey for life, with remainder to his brother William. (fn. 92) Audrey, who later married (Sir) Gabriel Poyntz of North Ockendon, died in 1594, (fn. 93) and William Latham in 1622. (fn. 94) William's son Thomas Latham sold the manor in 1640 to John Hatt (d. 1658), City Solicitor of London, and Richard Piggott, presumably his father-in-law of that name. (fn. 95) In 1650 Thomas Latham bought back, from Hatt and Piggott, Stifford Hall and some 60 a. which remained in his family until 1706, when Thomas Latham, probably his grandson, sold them to Edward Noble. (fn. 96)
The manor of Stifford was acquired in or before 1689 by James Silverlock, whose family had been prominent in the parish since the 1630s, and was related by marriage to that of Hatt. (fn. 97) In 1693 Silverlock sold the manor, including Ford Place and other properties, to Nathaniel Grantham. Grantham also acquired the long lease of an estate in Stifford belonging to the Broderers' Company of London. (fn. 98) That estate, which had been built up in the late 16th century by Richard Gurney, alderman, and enlarged by his son Sir Thomas (d. 1631), was bought by the Broderers from Sir Thomas's executors in 1632. (fn. 99) Nathaniel Grantham (d. 1708) devised the manor and the Broderers' lease to his son Kenrick. (fn. 100) Kenrick Grantham was already the owner of Stifford Hall, which he had bought in 1706 from Edward Noble. (fn. 101)
The manor was thus reconstituted, and Kenrick Grantham, as owner and lessee, controlled most of the parish. (fn. 102) Soon, however, he was in financial difficulties. In 1714 he mortgaged his Stifford estate to Rebecca Shish, and in 1721 he executed a second mortgage, to John Hopkins, to enable him to repay debts which he had incurred as county treasurer. He died soon after, and his estate was for some years disputed between Caleb Grantham, his cousin and heir, and the families of Shish and Hopkins. In 1741 John Archer Shish, grandson of Rebecca, bought a new 100-year lease of the Broderers' estate, and in 1747 he acquired the manor and all Grantham's freehold lands. In 1762 his freehold and leasehold property in Stifford comprised 800 a. In 1764 he sold the whole estate to William Dodsworth, from whom it was bought in 1766 by John Spence. Spence was still living in 1778, but by 1783 had been succeeded by his kinsman John Hogarth (fl. 1822), whose heir was Dr. John H. Hogarth, probably his nephew, rector of Stifford 1821–34. (fn. 103) In 1835 Dr. Hogarth renewed the Broderers' Company lease for a further 100 years. (fn. 104) Soon afterwards he sold his estate to William Wingfield (d. 1858) of Orsett Hall, a judge and former M.P. for Bodmin. (fn. 105) In 1839 William Wingfield owned 789 a. in Stifford, including Ford Place, Stifford Clays, Buckles and Brickwall farms. His son Richard owned 172 a., including Copped House (Coppid Hall) and Horns farm. (fn. 106) The Broderers' estate comprised a further 237 a., mainly at Chalk Pit farm. Both William and Richard Wingfield later took the additional surname of Baker. Richard WingfieldBaker succeeded his father and died in 1880, leaving the Orsett Hall estate, including Stifford, to his son, Capt. Digby H. Wingfield. (fn. 107) Capt. Wingfield (d. 1884) left the estate to Capt. Thomas C. D. Whitmore (d. 1907), who had been a fellow officer in the Royal Horse Guards. (fn. 108) Capt. Whitmore was succeeded by his son (Sir) Francis H. D. C. Whitmore (Bt.), who in 1911 bought the freehold reversion of the Broderers' estate. (fn. 109) After the death of Sir Francis Whitmore in 1962 the Orsett Hall estate was broken up, but his son, Sir John Whitmore, retained some property in Stifford until 1968. (fn. 110)
The ancient manor house of Stifford Hall stood opposite Stifford Lodge at the corner of High Road and Cuckoo Lane. (fn. 111) It was apparently abandoned about the end of the 18th century, and certainly before 1834. (fn. 112)
From c. 1689 the lords of the manor lived at Ford Place, formerly Hobbes of Ford, which stood north of the Mardyke on Stifford Hill. In the 16th century Hobbes of Ford was part of the manor of South Ockendon Hall, belonging to the Harlestons. (fn. 113) Most of the present house appears to have been built in two or three stages in the early to mid 17th century. Later work has been limited to refacing, internal redecoration, and minor additions to the service quarters, but that has concealed much of the original structure. The first building may have been the western range and its short southern cross-wing. Quantities of panelling, all now reset, and perhaps the moulded plaster ceiling of the south-east room, belong to that period. The longer north cross-wing may be slightly later. In 1655 the open area between the cross-wings was built over, probably by James Silverlock, whose initials, and the date, were placed on the brickwork. (fn. 114) Early in the 18th century the west side was given a new brick front of nine bays with a central projecting porch. At the same period the interior was remodelled, many of the main rooms being panelled, and a new staircase was put into the centre of the east side. Another staircase was built against the centre of the north wing. More recent additions have been further service rooms along the north side, and a bay window on the south front. There are extensive garden walls, probably of the 17th and 18th centuries, on the east side. After c. 1835, when William Wingfield bought the estate, Ford Place was let to a succession of tenants. (fn. 115) After the Second World War Mr. H. J. Vellacott bought a long lease, divided the house into flats, and developed part of the grounds for light industry. In 1979 he was in process of buying the freehold. (fn. 116)
The main house on the Broderers' estate was Chalk Pit Farm, at the south end of Cuckoo Lane. In 1777 and 1805 it was called Sugarloaf House. (fn. 117) The present house, isolated beside the London-Southend road, contains some 18thcentury fittings, but it appears otherwise to be of the 19th and 20th centuries. West of the house is a large group of farm buildings in red brick, built between c. 1839 and c. 1866. (fn. 118)
The manor of STIFFORD CLAYS or CLAY HALL, which lay in the north-east of the parish, may have originated as a tenement called Clayes or Cleys held by Henry Grey (d. 1443) Lord Grey, along with the manor of Grays Thurrock. (fn. 119) Richard May, draper of London, was the owner in 1584 and 1585. (fn. 120) His widow held Stifford Clays in 1623 of the duchy of Lancaster. (fn. 121) Anthony Bradshaw, goldsmith of London, was holding it at his death in 1636. (fn. 122) It passed to his widow Judith (d. 1642), who devised it to her son William Bradshaw. William Bradshaw (d. 1649), who appears to have been the first owner to describe Stifford Clays as a manor, devised it to his brother Anthony (d. 1655). (fn. 123) Elizabeth Bradshaw, probably Anthony's widow, appears to have had a life interest until 1677 or later. (fn. 124) Stifford Clays later passed to the Thornley family. (fn. 125) Isaac Thornley was holding it by 1691. His father, like Anthony Bradshaw, had been a London goldsmith, which suggests a family relationship. In 1707 Thornley sold the manor, with some 470 a. of land in Stifford and Grays Thurrock, to Andrew Godwin and his son Henry. Henry Godwin sold the manor in 1734 to Joseph Barrett, who in 1735 settled it on Richard Cook on his marriage to Barrett's daughter Elizabeth. Cook (d. 1751) devised it to his sister Elizabeth Gramer. (fn. 126) She sold it in 1767 to Zachariah Button, who by his will proved 1768 devised it to his son John. (fn. 127) John Button, by his will proved 1807, devised the estate in trust for his family, and in 1811 his sons John and George sold it to Lt.-Col. James Viney. (fn. 128) In 1828 Viney sold the estate to Jane Baker, William Wingfield, and other trustees of the will of Richard Baker. (fn. 129) In 1839 Stifford Clays, comprising 380 a., was part of William Wingfield's large estate in Stifford. (fn. 130)
Stifford Clays Farm is a stock brick house built c. 1840. (fn. 131) It replaced an older house 300 m. farther north, where a timber-framed barn, probably of the 18th century, still remains. (fn. 132)
Economic History.
In 1086 Stifford consisted of four small tenements, all poor and sparsely populated. (fn. 133) Between them they had 4 ploughteams, compared with 4½ in 1066. Barking abbey's manor had 1 a. meadow, and Hugh's manor 5 a. No stock is mentioned on any manor. It may tentatively be inferred that most of the farmland was arable, but that only a small part of the later parish was then under cultivation. Conveyances of the 14th and 15th centuries show a great predominance of arable. (fn. 134) Later evidence, though scanty before the 19th century, points in the same direction. (fn. 135) In 1839 the tithable land in the parish, comprising 90 per cent of the total, included 1,171 a. arable as against 201 a. meadow or pasture, and 28 a. woodland. (fn. 136) In 1916 there were 1,011 a. under crops and only 303 a. permanent grass in the parish. (fn. 137)
With a coastline of only 400 m. Stifford had little salt marsh. In 1563 the land drainage of the parish was governed by a court of sewers whose area extended from West Ham to Mucking. (fn. 138) Stifford's only coastal marsh at that time was 9 a. lying in Aveley 'level', east of Stifford hithe. (fn. 139) It presumably remained part of Aveley level until c. 1680, and then became part of the new Rainham level. (fn. 140) In 1837 the Aveley and West Thurrock section of Rainham level included 23 a. in Stifford. (fn. 141) There was also an area of freshwater marsh along the Mardyke in the uplands of the parish. In 1547 the jurisdiction of the court of sewers extended only up to Stifford bridge. (fn. 142) By 1861, however, the Childerditch section of Rainham level included 91 a. in Stifford. (fn. 143) Much of that comprised osier beds. Fen mead was also named. There is no record of serious flooding at Stifford. In 1953, when neighbouring parishes suffered, South Stifford was a distribution centre for flood relief. (fn. 144)
In the east of the parish, between Clockhouse Lane and Davy Down farm (West Thurrock) was Stifford Heath, mentioned in 1374. Some of it was still open in 1833, when William Palin came, but it had all been inclosed and ploughed up by 1871. (fn. 145) Any ancient common rights had probably been lost long before 1833. In 1762 the area was all in private ownership. (fn. 146) Its northern side, called the Warren, comprised three fields, totalling 54 a. Farther south lay Coney Hall, with its field and shaw, totalling 24 a. The rabbit warren to which those field names refer figured in a lawsuit in 1644 and 1645. (fn. 147) It was then being extended. Warreners occur at Stifford in 1661 and 1671. (fn. 148) In 1839 most of the area bounded by Stifford Hill, Clockhouse, Warren, and Mill Lanes formed Warren (or Stifford) farm. (fn. 149)
The existence of common pastures is indicated by the field names Nightleaze and Horseleaze. Nightleaze was the 9 a. marsh, already mentioned, east of Stifford hithe. (fn. 150) Horseleaze, recorded in the 17th century, comprised 3 a. south of Stifford Hall. (fn. 151) In the same area lay Clapper (rabbit burrow) field, south of the church and rectory. (fn. 152) In 1607 Clapper field was a warren belonging to the lord of the manor. (fn. 153) That may be another example of ancient common being appropriated for rabbit-breeding. Since woodland is rarely recorded in Stifford the commons must have been mainly downs or scrub.
In 1839 there were eight farms of more than 50 a., the largest being Stifford Clays, with 381 a. (fn. 154) Most of them can be traced back at least to the 16th century. (fn. 155) There were also five holdings of between 20 and 50 a. In 1926 there were three farms of over 50 a., and six between 20 a. and 50 a. The figures appear to reflect a change from cereals to fruit and vegetables. Orchards and hopgrounds are occasionally mentioned before the 19th century, (fn. 156) but there is no evidence that they were extensive. Vegetables were well established by 1801, when 224 a. were returned, including 109 a. peas, 70 a. turnips and rape, 35 a. beans, and 10 a. potatoes. (fn. 157) Cereals were still the main crops, including 272 a. wheat, 149 a. barley, 128 a. oats, and 54 a. rye. In 1841 the census population was swollen by 60 Irish pea-pickers. (fn. 158) In 1866 a total of 122 a. were returned as vegetables, mainly turnips and potatoes, but including some peas, beans, and cabbages; cereals were returned as 179 a. (fn. 159) Those figures obviously do not cover the whole parish, but may be acceptable as indicating an increasing proportion of vegetable crops. Cabbages were a new crop, mentioned in 1871 with the comment that 'market gardening . . . promises to be if it is not already, far ahead of all the trade of Stifford, though only just introduced'. (fn. 160) In 1906 a total of 475 a. were returned as vegetables and fruit, compared with 181 a. cereals. (fn. 161) By 1926 returns of vegetables and fruit had risen to 564 a., while those of cereals were only 111 a. (fn. 162)
The chalk uplands of the parish were suitable for sheep, but there is no evidence of large flocks before the 19th century. In the livestock returns of 1866 there were 761 sheep, with 56 pigs, 14 cows, and 16 other cattle. (fn. 163) In 1906 only 67 sheep were listed, with 40 horses, 24 pigs, and 24 other cattle. (fn. 164) The 1926 returns contained no sheep; there were 50 cows, 2 bulls, 41 horses, 41 other cattle, 5 pigs, 430 fowls, and 31 ducks. (fn. 165)
There were at least two ancient windmills, one in Warren Lane, the other in the Long Lane, on sites indicated in 1839 by field names. (fn. 166) The Warren Lane mill was probably that held by Sir John Heveningham (d. 1499), (fn. 167) whose wife's ancestors, the lords of South Ockendon, had acquired part of Stifford in the 14th century. (fn. 168) It may have been identical with Terrells mill, mentioned in 1632, (fn. 169) since part of Heveningham's estate passed to the Tyrell family. (fn. 170) The Long Lane mill was probably the one which in the late 17th and the early 18th century belonged to Stifford manor. (fn. 171) There were no mills in the parish in 1839. (fn. 172)
The main industries, apart from agriculture, have been chalk-quarrying and lime-burning. Stifford is among several parishes in the area containing deneholes, i.e. primitive chalk pits, which can be 'of any date from 1910 back'. (fn. 173) It was stated in 1771 that for many years a considerable trade had been carried on in Stifford and district from the chalk pits 'by several limekilns . . . as likewise by the farmers for manuring their lands'. (fn. 174) Chalk pits and limekilns were often recorded in the 17th and 18th centuries, and occasionally in the 16th century. (fn. 175) One large pit, from which Chalk Pit farm was named, lay west of Hogg Lane; there was another old pit south of Warren Lane. Both were prominent features of the landscape by 1777. (fn. 176) Chalkworking ceased at Stifford about 1840, (fn. 177) but was resumed on Chalk Pit farm c. 1900. (fn. 178) Between 1874 and 1976 the Lion Cement Co. and its successor the Wouldham Cement Co., later part of Blue Circle Industries Ltd., quarried chalk over a large part of Stifford, northwards up to Warren farm, and eastwards beyond Clockhouse Lane. (fn. 179)
Brickmaking is indicated by a reference in 1650 to 'Little Bennetts, late Brick Clamp field'. (fn. 180) About 1710 Kenrick Grantham, lord of Stifford manor, established a pottery and tile yard in Stifford Street. (fn. 181) It had ceased by 1771. (fn. 182) It was probably on the site of the present recreation ground. (fn. 183) Stifford Brickworks, established by c. 1908, still survived in 1937. (fn. 184)
The industrial developments at Ford Place and at South Stifford are mentioned elsewhere. (fn. 185)
Local Government.
No court rolls survive for Stifford except a fragment recording courts leet and baron, 1490–3, for Barking abbey's small manor. (fn. 186)
Surviving parish records include vestry minutes 1672–1849, churchwardens' accounts 1685, 1691, 1771–1818, and overseers' accounts 1738, 1781–1816. (fn. 187) The vestry minutes are confused, often illiterate, and possibly incomplete. The annual number of recorded vestry meetings averaged 2.6 up to 1787, and 6.1 between 1788 and 1836. The meeting-place, when mentioned, was the parish church, except on one or two occasions when the vestrymen adjourned to a public house. The numbers signing the minutes rarely reached double figures. Denzill Price, rector 1674–8, was attending the vestry in 1677 and 1678. His successor James Robertson, 1679–c. 1708, attended regularly until 1705. He sometimes signed first, but often yielded that place to gentry like the Granthams and Richard Anderson. Samuel Hilliard, rector 1709–42, rarely missed a meeting between 1710 and 1741, and always signed first. The next two rectors, 1742–64, werenon-resident, and were represented by curates. Later rectors attended regularly until 1792, after which they and their curates took little part in the work of the vestry until 1836. Between 1792 and 1805 John Button of Stifford Clays was the leading vestryman. At other times one of the churchwardens or overseers usually signed first in the absence of the clergy. Between 1682 and 1713 there were occasional references to a salaried parish clerk.
Until 1708 there seems to have been only one churchwarden, elected by the vestry at large. From 1709, when Hilliard became rector, there were usually two. From 1740 to 1790 the minutes record the annual appointment of only one warden, who was occasionally stated to have been appointed by the rector. From 1791 there seem to have been a people's and a rector's warden, which may well have been the custom ever since 1709. Until c. 1692, and again from c. 1790, there were usually two overseers and two constables. Between those dates there seem to have been only one of each, except for the years 1710–20, 1750, and 1773–5, when two overseers were nominated. There seem always to have been two surveyors of highways. A woman served as a constable from 1712 to 1713, and another as overseer from 1803 to 1807. In 1732 the vestry drew up a scheme governing the succession to office, but in the following year had to withdraw it because the magistrates would not accept it.
Separate church rates appear to have been levied except between 1745 and 1766, when the churchwardens' expenses were met by the overseers. Separate constables' rates were also levied for most years before 1745. The constables' expenses were met by the overseers from 1745 to 1766, and that practice probably continued after 1766. The average annual cost of poor relief was about £15 in the later 17th century, £27 between 1701 and 1720, and £31 between 1731 and 1740. (fn. 188) It remained steady during the next thirty years, and though it rose sharply after 1770, averaging £125 in the years 1782–1801, £185 in 1802–17, and £266 in 1819–35, the figures do not suggest abnormal poverty. (fn. 189) Some neighbouring Thames-side parishes, e.g. Hornchurch and Dagenham, were suffering more distress, but others, e.g. Rainham and Grays Thurrock, less. (fn. 190)
By 1768 the parish owned two 'almshouses'. (fn. 191) They were later said to have been near Stifford bridge, to have been used for poor widows, and to have been sold after 1834. (fn. 192) They may have been identical with the 'workhouse' sold by the parish in 1838. (fn. 193) No other poorhouse or workhouse is known to have existed in Stifford. From 1774 to 1787 Marshfoot House, Aveley, was used as a joint workhouse for Stifford and Aveley. (fn. 194) In 1788 Stifford and West Thurrock agreed on a similar arrangement, using Stone House, West Thurrock. In 1791 about 7 Stifford paupers were in the house. (fn. 195) The scheme continued until 1802 or later. (fn. 196) Afterwards Stifford sent its paupers to South Ockendon workhouse, where they manufactured bedding, clothing, and mops. (fn. 197) The contract with South Ockendon was renewed, after hard bargaining, in 1822. (fn. 198)
There is evidence of most forms of out-relief. In the 1670s and 1680s one or two paupers were receiving regular weekly doles. About 1711 the vestry made an unusual arrangement with the widow of Thomas Joyce, a carpenter and former churchwarden. When Thomas died the parish had owed him £5. That sum, with £21 paid by Mrs. Joyce, was used to pay her a weekly pension of 2s. 6d. When all the money was exhausted she became a pauper. In the late 17th and early 18th century poor children were apprenticed within the parish, to ratepayers in turn. In 1713 Henry Godwin, one of the retiring churchwardens, refused to accept an apprentice. His dispute with the vestry dragged on until 1716. For at least part of the time he was withholding the 'church book'. (fn. 199)
Between 1782 and 1815 the number of persons receiving doles was usually between three and seven. In 1815 the vestry resolved that instead of holding the annual dinner they should distribute £5 in bread to the poor. The vestry was employing a doctor by 1822. The parish stocks were repaired in 1727; new ones were bought in 1803. (fn. 200) In 1832 the constables were ordered to take action against disorder at the Dog and Partridge inn.
In 1835 Stifford became part of Orsett poorlaw union. It was included in Thurrock urban district in 1936.
Churches.
There was a church belonging to Stifford manor in 1086. (fn. 201) About 1170 the lord of the manor, Roger Kentish, granted the advowson to Gilbert Malet, who presented Roger's son Ralph of Stifford as rector. Later Malet gave the church to Rochester cathedral priory, which c. 1186 was licensed to appropriate it; Ralph of Stifford, having resigned the rectory, was admitted as vicar. (fn. 202) In 1215, after Ralph's death, his younger brother Michael of Stifford successfully contested the priory's claim to the church, on the ground that his manor of Stifford was the inheritance of Michael's mother. (fn. 203) The benefice thus became again a rectory, in the gift of the lord of the manor. Michael of Stifford was patron in 1254. (fn. 204) The advowson, like the manor, seems to have been divided in or c. 1283 into four parts, and by 1303 into three parts. (fn. 205) By 1376 two thirds of the advowson, possibly with part of the manor, had been acquired by the Bruyns, who held the neighbouring manor of South Ockendon. (fn. 206) The other third of the advowson had by 1405 become attached to the manor of Torrells Hall in West Thurrock. (fn. 207) Until the later 16th century the lords of South Ockendon continued to present for two turns in three and the lords of Torrells Hall for one turn. (fn. 208) The smaller share of the advowson was detached from Torrells Hall in 1614, when Sir John Leveson sold it to Sir Thomas Gurney, whose estate later passed to the Broderers' Company of London. (fn. 209) The larger share appears to have descended with South Ockendon until 1611, when John Harleston conveyed it to John and Ralph Heard. (fn. 210) Presentations were made in 1610 and 1619 by John Durning. (fn. 211) He conveyed his interest in the advowson in 1621 to Hamlet Clarke, a London fishmonger, who in 1626 also acquired that of Ralph Heard. (fn. 212) Clarke's son-inlaw, Ralph Latham of Gaynes in Upminster, was associated with him in the conveyance of 1621. (fn. 213) Their share also passed eventually to the Broderers' Company, which from the mid 17th century was sole owner of the advowson. (fn. 214) Until the 20th century presentations were usually made by the lessees of the company's Stifford estate, or by others pro hac vice. (fn. 215) The Broderers themselves presented in 1914 and 1916, but in 1923 they conveyed the advowson to the bishop of Chelmsford. (fn. 216)
The rectory was valued at 12 marks in 1254, £10 13s. 4d. in 1291, and £14 13s. 0d. in 1535. (fn. 217) In 1650 the house and glebe were valued at £7, and the tithes at £53. (fn. 218) Another valuation of the same period, or a little later, put the total at £50, but stated that the rectory had received £30 augmentation. (fn. 219) The augmentation was not renewed after 1652, when Daniel Latham, rector since 1645, left the parish. (fn. 220) In the later 18th century the value of the rectory was £160, and was increasing. (fn. 221) In 1839 the tithes were commuted for £459. (fn. 222) There were 30 a. of glebe in 1086 and 26 a. in 1839. (fn. 223)
It was stated in 1317 that a man had recently been acquitted on a charge of burning the Rectory house of Stifford. (fn. 224) In 1871 the Rectory was a large house of irregular plan, partly weatherboarded. (fn. 225) It was demolished in 1884 and completely rebuilt. (fn. 226) The Victorian Rectory was in turn demolished c. 1968, when a smaller house was built and the remainder of the site was taken for private dwellings. (fn. 227)
The names of rectors are known from the 13th century. (fn. 228) Daniel Latham, rector 1645–52, was a zealous Puritan whose views conflicted with those of some of his parishioners. (fn. 229) His successor, Heiron Potkin, 1652–73, was more moderate. (fn. 230) Robert Talbot, rector 1742–63, and Samuel Swinden, 1763–4, both lived in Kent, where they conducted private schools. (fn. 231) James Tilewood, 1784–1821, was also non-resident except in his early years. (fn. 232) Those three rectors employed assistant curates. (fn. 233) William Palin, curate 1833–4, rector 1834–82, was the first editor of the Churchman's Magazine, author, and historian of Stifford and its neighbourhood. (fn. 234) He also restored and enlarged the church.
The church of ST. MARY THE VIRGIN, High Road, is built of rubble with ashlar dressings and has a chancel with south chapel, nave with north porch and south aisle, and west tower with short spire. (fn. 235) The 12th-century church had a small nave, which remains, and chancel, which may have been shorter than the present one. In the mid 13th century the chapel was added to the chancel and the west tower and south aisle were built. In the later 14th century the chancel was largely rebuilt and the aisle was heightened. Bequests to the church, possibly in aid of that work, were made by two rectors, in 1378 and 1392. (fn. 236) No other major alterations took place until the chancel arch was rebuilt in brick, probably as part of repairs carried out between 1707 and 1713 at a total cost of about £300. (fn. 237) A west gallery was added in 1842. In 1861–3 the church was restored and enlarged at a total cost of about £1,800, to the designs of Henry Stock. The south aisle was rebuilt and enlarged. The chancel arch was again rebuilt, the roofs of the chancel, nave, and chapel were restored, the gallery was removed, the tower arch was opened, and the north porch was removed. The church was reseated, and stained glass by Powell and Sons was placed in the chancel, chapel, and tower. A new north porch had been built by 1882. (fn. 238) The tower was repaired in 1928 and 1954. (fn. 239)
There are three bells, of 1633, 1635, and 1737. (fn. 240) The clock was given in 1761; its bell is dated 1762. (fn. 241) The plate includes a cup and paten of 1628, a paten of 1683, a flagon of 1665, and an almsdish of 1737, all of silver. (fn. 242) The font dates from the 13th century. (fn. 243) The pulpit, dated 1611,c has a 17th-century hourglass stand attached, and there is a late-17th-century armchair in the chancel. The church chest probably dates from the 16th century. (fn. 244)
There is a brass in the chancel to Ralph Perchehay, rector (d. 1378), and one in the nave to an unknown priest of the late 15th century. In the south chapel are brasses to John Ardale (d. 1504), William (d. 1622), Ann (d. 1627), and Elizabeth Latham (d. 1630). (fn. 245) Only the indent survives, in the chancel, of a brass to David of Tilbury (d. by 1346).
The mission church of St. Mary, South Stifford, founded in 1920, was transferred in 1959 to Grays Thurrock, and is treated under that parish. The mission church of ST. CEDD, Stifford Clays, Crammavill Street, originated c. 1930, when a mission hall was built at the corner of Long Lane and Crawford Avenue, to serve the Nutberry estate. (fn. 246) St. Cedd's was opened in 1955 on the present site, given by Lady Whitmore, on the Grays Thurrock side of the ancient boundary with Stifford. The Nutberry mission hall was then given to the Stifford Clays Baptists, for use elsewhere. (fn. 247)
Roman Catholicism.
The church of ST. PETER, Stifford Clays, Whitmore Avenue, was built in 1958. In 1978 it was being served from Grays Thurrock. (fn. 248)
Protestant Nonconformity.
There were reported to be 10 dissenters at Stifford in 1676. (fn. 249) In 1698 Robert Dalzell registered the Clock House for Independent worship. (fn. 250) That congregation may have migrated to Grays Thurrock, where Dalzell similarly registered his house in 1701. (fn. 251)
South Stifford Baptist church, Foxton Road, originated in 1900 as a mission of the Old Baptist church in Clarence Road, Grays Thurrock. (fn. 252) A building in Foxton Road, at first hired, was bought in 1908. It became a separate church in 1914, but until 1926 remained under the care of the Clarence Road pastor, J. J. Winser. (fn. 253) In 1915 the mission building was replaced by a small school-church. A hall, built in 1932 on the opposite side of the road, was rebuilt in 1964. The main building went out of use in c. 1970, in which year the hall was registered for worship. (fn. 254) In 1973 weekday meetings and a Sunday school were being held in the hall in association with Grays Tabernacle. (fn. 255) The church had closed by 1976. (fn. 256)
Stifford Clays Baptist church, Crammavill Street, originated in 1954 when the Grays group of Baptist churches bought a site. (fn. 257) A church was formed in 1957, when the old Nutberry mission hall, given by the Anglicans, was removed and reerected as a temporary school-hall, at the back of the site.
Education.
Stifford county primary school, Parker Road, Grays, originated in 1840, when a parochial day and Sunday school, with a teacher's house, was built next to the rectory by Richard Wingfield-Baker. The school was supported by school pence and the Wingfield-Baker family. (fn. 258) In 1846 there were 89 day, Sunday, and evening pupils. (fn. 259) By 1890 the number had dwindled to 32; some Stifford children were attending the new board school at Grays, and the boys were tending to leave early to work in the local cement factories. (fn. 260) A school board, formed in 1893, took over the parochial school, and in 1895 built a new school for 260 juniors and infants at the junction of Warren and Mill Lanes. (fn. 261) In 1904 the school was enlarged for 316 more children. More than half the cost was met by Stepney poor-law union, which in 1902 had built cottage homes at Stifford. (fn. 262) A cookery and handicraft centre was added in 1914. (fn. 263) The mixed and infant schools were amalgamated in 1933 for 438 children. (fn. 264) The school moved to new buildings in Parker Road in 1977. (fn. 265)
Stifford Clays county junior and infant schools, Whitmore Avenue, were opened in 1955 for 535. (fn. 266) William Edwards school, Stifford Clays Road, was opened in 1962 as a county secondary school for 300, and was enlarged for 150 more in 1963. (fn. 267) It was reorganized as a comprehensive school in 1971, and enlarged for 1,200 in 1976. (fn. 268)
Charities for the Poor. (fn. 269)
Richard Gurney, alderman of London, by will proved 1597, gave £15 to the poor of Stifford to be dispensed over a period of six years after his death. In 1597 his widow Anne promised to add £5 to his gift to provide a stock for the poor. (fn. 270) Nothing more is known of it.
John Durning, patron of Stifford, by will proved 1623, gave money to buy a yearly rentcharge of 20s. for the poor of Stifford. His wife Elizabeth, who married William Herbert, did not buy land, but paid 20s. yearly from 1625 until 1632, which was given out by the rector and churchwardens. In 1632 Herbert paid £12 for a 20s. rent-charge from Stifford Hall. (fn. 271) In 1837 it was being paid out of Cat's Mead and given in bread. In 1895 the parish council began to dispense the charity in vouchers. In the 1930s the council gave it in small doles to all widows in the parish. In 1979 payment of the rent-charge had lapsed, but efforts were being made to recover it. (fn. 272)
The Revd. Thomas James Robinson, by will proved 1877, gave in trust to the rector and churchwardens £2 a year for the aged poor of Stifford. In 1883 the trustees invested £58 representing the capital and arrears of dividends. By 1914 the stock had increased to £66. The charity was distributed with that of Durning. The income was accumulated in the period 1966–78.