Pages 74-90
A History of the County of Essex: Volume 8. Originally published by Victoria County History, London, 1983.
This free content was digitised by double rekeying. All rights reserved.
SOUTH WEALD
The parish is bounded west by Weald brook, which flows south from Wealdside to Putwell bridge and probably divided South Weald from Havering as early as 1062. (fn. 1) From 30 m. at Putwell bridge the land rises northwards to 85 m. at South Weald village and 100 m. at Coxtie Green. North-eastwards from the bridge the main road makes the long ascent of Brook Street and London Road to over 100 m. at Brentwood. (fn. 2) Several streams flowing down from Brentwood, and northwards from the heights near Great Warley, converge north of Brook Street and flow south-west to join Weald brook at Putwell bridge. Another stream, rising near Kelvedon Hatch and running south-east, formed part of South Weald's ancient boundary with Doddinghurst to the north-east. Elsewhere in the parish are streams, springs, and ponds. Weald country park, north of the village, includes lakes formed by 18th-century landscaping, and a chalybeate spring. (fn. 3)
In 1086 the two manors of South Weald had a total recorded population of 36. (fn. 4) Forty-nine South Weald men were assessed to the lay subsidy of 1327. That figure, which included Brentwood, was easily the highest for Chafford hundred. (fn. 5) During the next three centuries South Weald continued to grow, though probably not as fast as Brentwood. The 1523 lay subsidy contains 61 names for South Weald; in Chafford hundred only Brentwood and Aveley had more. (fn. 6) In 1670, with 105 houses, South Weald ranked second only to Brentwood. (fn. 7) It still held that position in 1801, when its population was 881 compared with Brentwood's 1,007, indicating that South Weald had grown faster than the town in the 18th century. By 1841 the population had risen to 1,450. As in many other rural parishes it fell slightly in 1851, but it then grew steadily, reaching 5,013 in 1901. In 1931, the last year for which there are separate census figures for the parish, South Weald's population was 6,370, (fn. 8) and there has been a little growth since then. Most of the increase since the mid 19th century has been due to the expansion of Brentwood.
An ancient earthwork, traversed by Sandpit Lane, and lying partly in Weald country park, is thought to have been an Iron Age fort. (fn. 9) Another earthwork, in Mores plantation at Bentley, has not been classified. One writer suggests that it was the 'alate temple of the druids' recorded in the 18th century by William Stukeley as being at Navestock. (fn. 10) Apart from the earthworks there is no evidence of pre-Saxon settlement.
As late as 1086 the only settlements seem to have been two small manors, one at Calcott, the other probably in the area of South Weald village. The growth of the parish during the next four centuries, indicated by the population figures already quoted, is clear from other evidence also. The origin of Brentwood is described below. (fn. 11) The parish church in Weald Road, which existed by c. 1150, became the village centre. About 800 m. south of the village, along the main road, grew up the hamlet of Brook Street (Sideburgbroc), (fn. 12) where a leper hospital was founded by 1201. (fn. 13) By the 16th century there was scattered settlement north-west of the village at Wealdside and Coxtie Green, and north-east at Pilgrims Hatch and Crow Green. (fn. 14) At that period there was still a belt of common wastes, surviving from the forest, along the northern borders of South Weald. (fn. 15) The north-eastern corner of the parish, called Doddinghurst List, was then in Barstable hundred, not Chafford. It included the medieval manor of Bawds. (fn. 16)
During the Middle Ages most of the parish was in monastic hands. South Weald manor belonged to Waltham abbey, Costed, including Brentwood, to St. Osyth abbey, Calcott to Stratford Langthorne abbey, and Boyles to Blackmore priory. All passed to laymen at the Dissolution, and South Weald, Calcott, and Costed came to form one large estate, centred on the newly built manor house of Weald Hall, which stood north of Weald Road, near the church. Hugh Smith, lord of the manor from 1732 to 1745, landscaped the park. Christopher T. Tower, squire from 1810 to 1867, greatly enlarged the estate, extended the park northwards, and promoted the inclosure of much of the remaining common wastes. (fn. 17) Weald Hall continued to dominate the parish until 1946, when the estate was broken up. The house was demolished but the park was preserved as part of the Green Belt, and became a public open space. Additional facilities were provided after the Countryside Act (1968), under which Weald park became a country park, managed by the county council. (fn. 18)
Much of South Weald was still rural in 1980. During the later 19th century a few streets were laid out in the south-east corner of the parish, adjoining Brentwood station, where also was built a large mental hospital. At the same period there was scattered building at the northern end of the parish at Bentley and Pilgrims Hatch. Development at Bishop's Hall, east of Ongar Road, started c. 1902, and on the Homestead estate, north of Brook Street, by 1914. After the First World War there was a little building at Pilgrims Hatch, and also in the western suburbs of Brentwood, where Westwood Avenue was laid out in 1932. Since the Second World War there has been a good deal of building at Pilgrims Hatch, mainly of smaller houses, and including council estates at Danes Way and Bishop's Hall. (fn. 19)
Most of the ancient road system has survived. (fn. 20) Brook Street was probably part of the Roman main road from London to Colchester. (fn. 21) It was maintained from 1721 by the Middlesex and Essex turnpike trust. (fn. 22) Nag's Head Lane, named from an inn, runs south-west from Brook Street to Upminster (formerly Tyler's) common. Mascalls Lane, leading south and east to Little Warley, was formerly Warley Lane, continuing as Little Warley Lane. Dark Lane, branching south from Mascalls Lane to Great Warley, was formerly Green Lane. Leading north from Brook Street is Spital (formerly Spit) Lane, named from the medieval leper hospital on that corner. It formerly ran north to Weald Road, but has been cut off by the Brentwood bypass. West of Spital Lane is Wigley Bush Lane, which runs north to South Weald village. The old name Wigley Bush was revived in the 1970s, after a period when the name was Vicarage Lane. (fn. 23) The lane was diverted eastwards, over a new bridge in 1966, when the Brentwood bypass was built.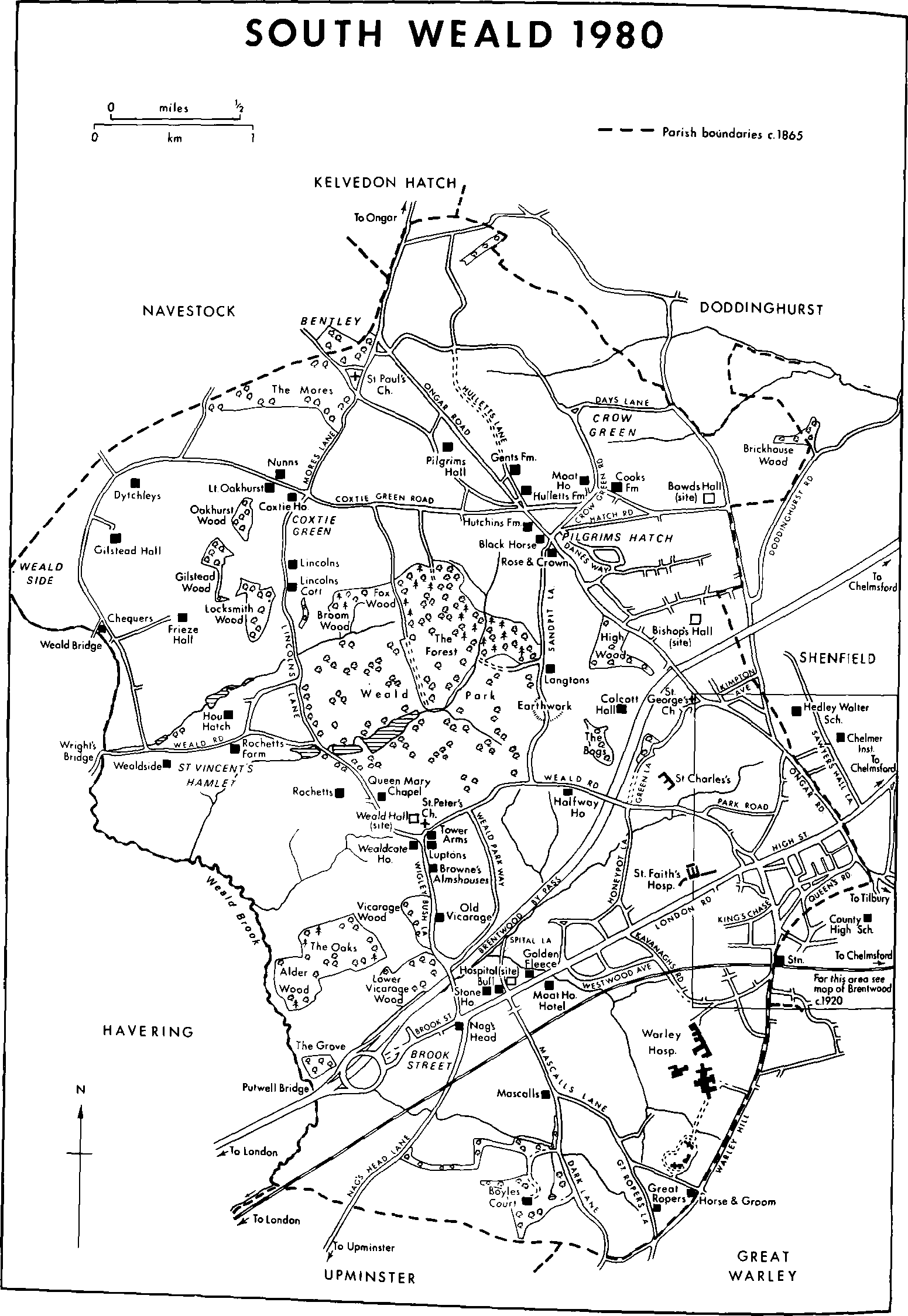 Weald Road (formerly Lane) runs north-west from Brentwood through South Weald village to Wright's bridge over Weald brook. Lincoln's Lane, which runs north from Weald Road past Lincolns to Coxtie Green, was formerly Coxtie Green Lane. Carr's Lane, which ran east from Lincolns Lane, was closed between 1805 and 1838, during the enlargement of Weald park. (fn. 24) Coxtie Green Road, running east from Coxtie Green to Pilgrims Hatch, was formerly West Howgate Lane and East Howgate Lane. Mores Lane, which runs north from Coxtie Green Road to Bentley church, was formerly Howgate Lane. Howgate may be a corruption of hafegæte, which was one of the boundary marks of South Weald in 1062. (fn. 25) Sandpit Lane runs north from Weald Road to Pilgrims Hatch, skirting the eastern side of Weald park. Ongar Road, now a busy main road from Brentwood, runs north-west through Pilgrims Hatch and Bentley to Kelvedon Hatch and Chipping Ongar. The name Pilgrims Hatch, recorded from 1483, may refer to medieval pilgrims passing that way. (fn. 26) The southern end of Ongar Road was formerly called Robin Hood Lane, from an inn. Crow Green Road, formerly Poole's Lane, curves north and east from Pilgrims Hatch. At Crow Green it is joined by Days, formerly Plonkers, Lane running west from Doddinghurst. The roads at the northern end of the parish were straightened and improved under an Inclosure Act of 1812. Since then the most important change has been the Brentwood bypass, opened in 1966, which runs north-east from Brook Street, swinging in a wide arc under Ongar Road. It originally ended at a junction with Chelmsford Road, Shenfield, but in 1973 it was linked to the new Mountnessing bypass. (fn. 27)
Putwell (formerly Dell) bridge, which carries the London-Colchester road over Weald brook, was recorded from 1276. (fn. 28) In 1430 and 1440 Havering manor court held the abbot of Waltham responsible for its repair. (fn. 29) It was stated at quarter sessions in 1582 that the new bridge leading to London, in Hornchurch and South Weald, was the joint responsibility of the two parishes. (fn. 30) That was probably Putwell bridge, for which in 1594 South Weald alone was said to be responsible. (fn. 31) In the 18th century it was taken over by the Middlesex and Essex turnpike trust. (fn. 32) It was listed in 1857 as a county bridge, substantially built of brick on one segmental arch. (fn. 33) Brook Street bridge, spanning a stream near the Moat House, was adopted by the county in 1862. (fn. 34) Wright's bridge, Weald Road, was recorded from 1553. (fn. 35) In 1674 quarter sessions ordered the lord of the manor to repair it. (fn. 36)
None of South Weald's medieval manor houses has survived. (fn. 37) In 1980 there were houses on three of the sites: Boyles, Ropers, and Calcott, but all those had been rebuilt. (fn. 38)
There is evidence of at least 12 other medieval houses. They included Frieze Hall, Gents Farm, Langtons, Mascalls, and the Moat House, Crow Green Road, all of which have been rebuilt. (fn. 39) Lincolns, Lincolns Lane, was named from the family of Adam of Lincoln (1234). (fn. 40) It has a late medieval hall and cross wing. The hall was reconstructed early in the 17th century, when a chimney and an upper floor were put in. The east cross wing has a crown post roof, and the hall roof incorporates some reset medieval rafters. Lincolns Cottage, in the same road, is a late medieval house of six bays in line, with an unusual plan. At the north end there appears to have been an open hall of three bays on the ground floor with an upper room, supported by a richly moulded beam, at the gable end. The two southern bays have on the first floor a room with an open queen post roof. A chimney and an upper floor were put into the hall in the 17th century. The Moat House hotel, London Road, was known as the Place in 1514, when it may have been connected with the manor of Ropers, and later as Brook Hall. The Wright family held it from the 16th century until 1721. (fn. 41) In 1788 it was a freehold of South Weald manor, with 58 a. of land. (fn. 42) The cross wings survive from the late medieval building. Between them the hall range was completely rebuilt in two storeys in the early 17th century, and its roof extends over the wings. The interior has been much altered, and there are extensive additions of c. 1960 at the rear. The rectangular moat still existed in 1839, but by 1921 was fragmentary and dry. (fn. 43) Cooks Farm, Crow Green Lane, is a late medieval house with one cross wing. A chimney and an upper floor were put into the hall in the 17th century. Extensive alterations were made in 1976. Rochetts Farm, Weald Road, has a late medieval hall with cross wings which are probably of different dates. In the 17th century the hall was given a new roof, and was probably heightened. The external brick casing bears the date 1823. The Golden Fleece and the Black Horse, both medieval, are described below under inns.
Gents Farm, Hullets Lane, stands on a site where 13th- and 14th-century pottery has been found. (fn. 44) The present house, which incorporates a 16th-century timber framed building, was rebuilt and extended c. 1975. Wealdcote House, Wigley Bush Lane, has a street range with a continuous side jetty, and does not appear to have been built with a chimney. Its design, and its situation near the church, might suggest that it was a 16thcentury church house, but there is no record of such a building. A rear wing was added in the 17th century. Queen Mary Chapel, Weald Road, also of the 16th century, is described below. (fn. 45)
The Moat House, Crow Green Road, is a 17thcentury building within a rectangular moat. There are early 19th-century additions at the back, and c. 1919 a new range was built across the front in a vernacular style. (fn. 46) Langtons, Sandpit Lane, was named from Simon Langton (1327). The present farmhouse is a substantial building of the early 17th century, partly refitted and refronted in the early 18th century. The new, west front is in red brick, with two storeys and nine bays. More refitting took place in the late 18th century. Among other houses probably built or rebuilt in the 17th century are Frieze Hall, Coxtie Green Road, Hullets Farm, Hullets Lane, and Hutchins Farm, Ongar Road. (fn. 47) Frieze Hall (Frithstigele) is recorded from 1299. The Rose and Crown, Ongar Road, is described below under inns.
During the 18th and 19th centuries a number of new houses were built for the gentry, who were probably attracted by the pleasant scenery, easy access to London, and the proximity of Weald Hall and its park. The new residents included several Roman Catholics, for whom the Brentwood area was a centre, and some brewers. The Tower Arms inn, Weald Road, formerly a house called Jewells, is built of red and black brick, and is dated 1704, with the initials ALLA. (fn. 48) Gilstead Hall, Coxtie Green Road, is a red brick house of three storeys and nine bays, bearing the date 1726 and the initials LW. (fn. 49) In the 18th century it was called Wealdside, and was for many years the home of the Wrights, Catholic bankers. (fn. 50) It was extended to the east in the mid 18th century. In 1863 it was a boys' boarding school. (fn. 51) From c. 1900 to 1937 or later it was the home of the Crawshay family. (fn. 52) There are extensive farm buildings. Dytchleys, Coxtie Green Road, is a three-storey house of seven bays, dated 1729. The central hall rises through two floors with a gallery at first floor level. There are some original fittings. A two-storey extension was built to the north in the later 18th century, and a smaller southern extension in the early 19th. Collinson Hall, managing director of the Shorthorn Dairy Co., lived there c. 1878–90. (fn. 53) In 1980 both Gilstead Hall and Dytchleys belonged to Queen Mary College, London. Nunns, Coxtie Green Road, is a red brick house dated 1744, with the initials TR. Another early 18th-century brick house is Luptons, Wigley Bush Lane, which in 1848 was the seat of Edward Ind, a partner in the Romford brewery. (fn. 54)
The most notable of the later 18th-century houses was Rochetts, Weald Road, which was largely destroyed by fire in 1975. (fn. 55) It comprised a three-storey central block with two-storey wings east and west. The original part of the house seems to have been the west wing. In 1742 Rochetts was inherited by Martha, wife of Sir Thomas Parker, chief baron of the Exchequer. On Parker's death in 1784 it passed to his daughter Martha, wife of Sir John Jervis, later Admiral the earl of St. Vincent. During the following years St. Vincent added the central block and the east wing, which were timber framed and faced with mathematical tiles. He lived there until his death in 1823. From c. 1863 to c. 1886 Rochetts was the residence of Octavius Coope, M.P., another partner in the Romford brewery. (fn. 56) During the later 19th century the west wing was rebuilt, incorporating some of the old materials. Part of that wing survived the fire. In the mid 18th century Rochetts had formal gardens. (fn. 57) The landscaped park was probably laid out by St. Vincent. The stables were converted into dwellings c. 1975. At St. Vincent's hamlet, NNW. of Rochetts, is a small group of early 19th-century estate cottages in 'Gothic' style.
Hou Hatch, Weald Road, was built in the later 18th or earlier 19th century of stock brick, and was extended in red brick in the 19th century. The south front is of six bays. Captain Smith was living at Hou Hatch in 1777, when it already had a park. (fn. 58) Further landscaping was carried out c. 1824 by J. B. Papworth for the Willan family. (fn. 59) Osgood Hanbury, who lived there c. 1863–82, belonged to a family of brewers and bankers, and was related by marriage to the Towers of Weald Hall. (fn. 60) West of St. Vincent hamlet is Wealdside, which in 1788 was a copyhold called Hoses. (fn. 61) The tall central block, with a five-bay front to the north, was built in brick in the later 18th century. The eastern, service wing is slightly later. The house was bought c. 1850 by the Towers, who extended it to the west c. 1887. Wealdside was for many years the home of Sir Hubert Ashton (d. 1979). (fn. 62)
Pilgrims Hall, Ongar Road, is a two-storey, brick house built between 1801 and 1804, (fn. 63) with a central range and bow-fronted cross wings, which may be of slightly later date. From 1814 to 1834 it was the home of Emanuel Dias Santos, a rich Portuguese priest. (fn. 64) It was later a boarding school. (fn. 65) In 1968 it became a Christian training centre, Fellowship House. (fn. 66) Great Ropers, Great Ropers Lane, and Boyles Court, Dark Lane, both manor houses, were rebuilt in the 18th century as country seats. (fn. 67) The Leschers, who lived at Boyles throughout the 19th century, were prominent Roman Catholics. (fn. 68) Oakhurst, Lincolns Lane, built c. 1860, was during the 1860s and 1870s the home of the Hon. Frederick Petre, who also came from a leading Catholic family. (fn. 69) It was rebuilt c. 1940 in 18th-century style and renamed Coxtie House. (fn. 70) Mascalls, Mascalls Lane, takes its name from the family of Anketil Marescall (1275). The centre block may incorporate the house which was on the site in the later 18th century. (fn. 71) By the earlier 19th century the house had been rebuilt as a square central block with balancing wings. Extensions in the later 19th century included bays and a tower to the west front. The early 19th-century stables remain to the north of the house. John H. Horton, who lived at Mascalls c. 1882–1922, was high sheriff of Essex. (fn. 72)
Among smaller red brick houses of the 18th century are Weald House, Weald Road, and Bell House and Haylands, both in Coxtie Green Road. Timber-framed dwellings of the later 18th century include Halfway House, Weald Road, and Little Oakhurst, Coxtie Green Road. Stone House, Brook Street, was built c. 1891 of random brick, stone, and flint, some of which materials had been removed from Brentwood church when that was rebuilt in 1883. (fn. 73) Adjoining the house are a row of early 18th-century timber-framed cottages, nos. 17, 19, and 21 Brook Street, and a 19th-century yellow brick house, no. 15. The early 19th-century tollhouse in Brook Street, an octagonal building of stock brick, was demolished when the Brentwood bypass was built. Before that it had twice been re-sited. (fn. 74) White Horse Farm, later the Grange, was an 18th-century redbrick building on the corner of Mascalls Lane and Brook Street. It may have been the former workhouse, previously the White Horse inn. (fn. 75) It was demolished before 1960. (fn. 76)
In 1769 South Weald had eight public houses outside the town. (fn. 77) Of those the Crown, Wigley Bush Lane, was recorded to 1809, and the Red Lion, Coxtie Green, to 1912. The others still survived in 1980, though not all on the same sites or with the same buildings. The Spread Eagle, mentioned in 1662 and 1683 as the Black Spread Eagle, was in Weald Road next to the church. (fn. 78) It was renamed the Tower Arms c. 1878. (fn. 79) By 1921 the licence had been transferred to an early 18thcentury house on the opposite side of the road, formerly called Jewells. (fn. 80) The Golden Fleece, London Road, is a large 15th-century building having a hall of three and a half bays with a hammerbeam roof and original cross wings. The western, solar wing has a moulded crown post roof. There are additions of the late 16th and the 17th century along the north side, and those incorporate an early 17th-century staircase serving the inserted upper floor above the hall. (fn. 81) The Nag's Head, Brook Street, is of 18th-century red brick. The Bull, farther east in Brook Street, is of plastered brick, probably of the 18th century, but much altered. The Chequers, Chequers Road, was originally an alehouse for dwellers near Wealdside common. Though recorded from 1769 to 1809 it is not included in directories before the 1860s. (fn. 82) The present brick house was built in the mid 19th century. The Black Horse, Ongar Road, Pilgrims Hatch, was built probably in the 15th or the early 16th century as a small hall house with a north cross wing. In the early 17th century the south cross wing was added and a chimney and upper floor were put into the hall. (fn. 83) The Horse and Groom, Warley Road, is recorded from 1770. It was rebuilt c. 1900 as a large red-brick house. The Rose and Crown, Ongar Road, Pilgrims Hatch, was first named in directories in 1937, but can probably be traced as a beer house from 1863. (fn. 84) It is a 17th-century building with central stack and extensions of various dates up to the 20th century. (fn. 85)
Among public buildings erected in the later 19th century were Warley mental hospital, St. Paul's church, Bentley, and Browne's almshouses, Wigley Bush Lane. There was a post office in South Weald village by 1848. (fn. 86) A village hall was built in Brook Street in 1886, on land given by the lord of the manor. (fn. 87) It probably included the reading room, which was recorded from 1888 to 1914. (fn. 88) A new village club was opened in London Road in 1922. (fn. 89) At Bentley a reading room was built c. 1900 at the junction of Orchard Lane and Ongar Road. Bentley village hall was built in 1921. (fn. 90) The first county library service point in the parish was opened at Bentley in 1929. (fn. 91)
Sir Antony Browne (d. 1567), lord of South Weald manor, was active in prosecuting heretics under Mary 1, by whom he was appointed chief justice of Common Pleas. (fn. 92) He lost the office after the accession of Elizabeth I, but was knighted in 1566. The manor was later held by another eminent lawyer, Sir William Scroggs (d. 1683), lord chief justice during the 'Popish Plot'. Laurence Wright (d. 1657), physician to Cromwell, came from a local family, and was buried in South Weald church. Sir Thomas Parker (d. 1784), and Admiral Sir John Jervis, earl of St. Vincent (d. 1823), both of Rochetts, have been mentioned above. Henry Taylor (d. 1785), theologian, was born at South Weald. Jeffreys Taylor (d. 1853), writer for children, lived in later life at Pilgrims Hatch. Several vicars of South Weald achieved distinction. (fn. 93) George Hunt (d. 1904), author of the 'jingo' song, died in Warley hospital. (fn. 94)
Manors
The manor of SOUTH WEALD comprised the north-west part of the parish, including the village and the parish church. (fn. 95) It was one of the initial endowments of the college, later abbey, of Waltham Holy Cross, granted in 1062 by Harold son of Godwin. (fn. 96) In 1066 the college held the manor as 2 hides, but by 1086 it had lost ½ hide to Geoffrey de Mandeville, who claimed to have it by exchange. (fn. 97) Geoffrey held the manor of South Ockendon, 6 miles to the south, which also he claimed by exchange. (fn. 98) It is therefore possible that South Ockendon included part of South Weald in 1086. The manor of South Weald remained with Waltham until the dissolution of the abbey in 1540.
In 1541 the manor was granted by the Crown to Sir Brian Tuke. (fn. 99) Sir Brian (d. 1545) devised it to his second son George Tuke, who in 1548 sold it to Richard Rich, Lord Rich, the lord chancellor. (fn. 100) Rich sold it in 1548 to (Sir) Antony Browne, later chief justice of Common Pleas, and founder of Brentwood school. (fn. 101) Browne, who also bought Calcott and Costed, (fn. 102) died in 1567, leaving his South Weald estate to his stepdaughter Dorothy, wife of Sir Edmund Huddlestone, for life, with reversion to Sir Antony's great-nephew Wistan Browne. (fn. 103) Dorothy and her husband held manor courts at South Weald until 1575, (fn. 104) but Wistan Browne disputed their possession, (fn. 105) and obtained part of the estate before Dorothy's death, which did not occur until 1615. (fn. 106) Wistan was holding manor courts at South Weald from 1575. (fn. 107) At his death in 1580 he was said to hold a third of the manors of South Weald, Calcott, and Costed. (fn. 108) He was succeeded by his son Anthony Browne (d. 1583), and then by his nephew (Sir) Anthony Browne. (fn. 109) From Anthony (d. 1623) the manor passed to his son John Browne (d. 1658), whose heir was (Sir) Anthony Browne. (fn. 110) Sir Anthony, who in 1661 obtained statutory powers to break the entail, sold the estate in 1668 to Sir William Scroggs, lord chief justice. (fn. 111)
Scroggs (d. 1683), was succeeded by his son William, who in 1685 sold the South Weald estate to Erasmus Smith or Heriz (d. 1691), a Turkey merchant. (fn. 112) The estate passed in succession to Smith's sons Erasmus (d. 1707), Samuel (d. 1732), and Hugh (d. 1745). (fn. 113) Hugh's heirs were his daughters, Dorothy, wife of John Smith Barry, and Lucy, wife of James Smith Stanley, Lord Strange, who in 1752 together sold the estate to Thomas Tower of Iver (Bucks.). (fn. 114) South Weald descended in the Tower family until 1946. (fn. 115) In 1788 the total area of the manor of South Weald was 3,297 a., including 636 a. demesne, 1,155 a. copyhold and 1,077 a. freehold tenements, 401 a. waste, and 28 a. 'doubtful'. The owner was then Christopher Tower (d. 1810), nephew of the purchaser, whose total demesne in the parish comprised 773 a. (fn. 116) By 1839 the demesne had increased to no less than 1,832 a. (fn. 117) That remarkable expansion seems to have been mainly due to Christopher T. Tower, son of the last, who was owner from 1810 until his death in 1867. (fn. 118)
The South Weald estate was sold in 1946 by Capt. Christopher T. Tower, and was broken up. Weald Hall and park were bought by Metropolitan Railway Country Estates Co. After demolition of the house the park was in 1953 bought by Essex county council, with contributions from London county council and Brentwood urban district council, for use as a public open space. (fn. 119)
Weald Hall, which lay about 100 m. northwest of the parish church, was built or rebuilt in the mid 16th century. (fn. 120) It has been suggested that the main block was built by Sir Brian Tuke, owner 1541–5, but in 1542 he also acquired Layer Marney Towers, one of Essex's finest Tudor mansions, and that was probably his principal seat. (fn. 121) By 1545 he was in great financial difficulties, and it is unlikely that he was doing any building then. (fn. 122) Sir Antony Browne, owner of South Weald manor 1548–67, and founder of Brentwood school, is more likely to have been the builder.
The main, 16th-century block was a brick building with characteristic octagonal corner buttresses and stepped gables surmounted by ornamental finials. There was a central hall range, entered from the south through a twostorey porch slightly east of centre, and there were two cross wings. A large wing, extending north-west from the main block, contained kitchens, and probably also a long gallery. A back range, parallel with the hall, existed by the early 18th century and may also have been part of the original plan. There were domestic outbuildings to the south-west, and beyond them the farmyard.
Early in the 18th century the house was extensively remodelled. The north-west block was heightened and refaced, the west front of the main block was carried forward a few feet, a new staircase was put in, and several rooms were redecorated. (fn. 123) The south front was also carried forward, the former porch being removed, and a great hall, two storeys high, was created in place of the former hall. The work has been attributed to Hugh Smith, owner 1732–45, who is said to have made 'great improvements' to the house, and to have 'much beautified it in the modern taste'. (fn. 124) According to one account, however, the extension was carried out between 1700 and 1716, and the south front had gutters dated 1716, when Samuel Smith was the owner. (fn. 125)
Christopher Tower, who succeeded to the estate in 1778, immediately commissioned Robert Adam to design further alterations, but all that was done was the formation of a new diningroom, and the refacing of the south front, with an Ionic centrepiece. (fn. 126) The great hall was restored by Christopher J. H. Tower in 1869–70. (fn. 127) The Towers left Weald Hall soon after the death of Christopher C. Tower in the First World War. After the war the house and park were in the hands of caretakers and a shooting syndicate. During the Second World War the park was used for military purposes and the house was badly damaged by fire. The contents of Weald Hall were sold in 1946 and the house was demolished in 1950.
In the 16th century Weald Hall was surrounded by a series of walled courts and gardens, including two small garden houses in the same style as the great house. One of them, about 400 m. northwest of Weald Hall, survives as a private residence called Queen Mary chapel. The tradition that Mary I worshipped there secretly before her accession is not supported by contemporary evidence, and may rest solely on the fact the arms of Mary were formerly preserved at Weald Hall. (fn. 128) Queen Mary chapel is a rectangular redbrick building with octagonal corner turrets. The garden walls, also of 16th-century brick, run south and east from the house. (fn. 129) The building was extended to the north c. 1830, and the east c. 1970.
The other garden house, north of Weald Hall, seems to have disappeared in the 18th century, probably when the park was extended by Samuel Smith and his successors. The 17th-century park seems to have been relatively small. A landscaping plan of 1738 shows a formal layout centred on a geometrically styled lake north-east of the house, from which straight avenues ran north and south up to the higher ground. (fn. 130) The natural hillock east of the house was to be reshaped with regular slopes, surmounted by an octagonal belvedere. (fn. 131) How much of the plan was carried out is not known. The belvedere was certainly built, and an upper storey was added to it in the later 18th century by Thomas Tower. The building was demolished in 1950, but its mound remains. Other traces of the 1738 plan can still be seen in the landscaping of the slope from the mound northwards, and in several lines of planted oaks and chestnuts. It is unlikely, however, that the whole plan had been completed before Thomas Tower bought the estate in 1752.
By 1788 the park extended 1 km. north from Weald Road, and little evidence of formality remained. On the western side, about 400 m. north of Weald Hall, were the two irregular lakes which still survive. Part of the northern boundary was then formed by Carr's Lane, which ran east from Lincolns Lane to join Shepherds Lane, leading north to Coxtie Green Road. (fn. 132) During the next 60 years the park was extended north and east, Carr's Lane was closed, and the new land was planted with beech and conifers. Further afforestation, during the 19th century, included the Chestnut Avenue, north-east of the Lakes, The conifer plantations were felled during the Second World War, but a replanting scheme covering 46 a., with a mixture of species, was carried out between 1954 and 1968.
A herd of fallow deer was well established in the park by the mid 18th century. Red deer were added c. 1870, and in 1892 there were also 9 Japanese Sika deer, 2 roe deer, and a flock of Kashmir goats. In 1944, when troops were assembling in the park before the invasion of France, the fences were breached for vehicles, and the deer escaped into the surrounding countryside. The fallow deer have flourished in the wild, and some can still be seen in the park.
The manor of BAWDS or DOWNSELLS lay in the north-east part of the parish, extending into Shenfield and Doddinghurst. (fn. 133) Its first name came from the family of Bawd (Baas, Bald, Baud), which was holding land in South Weald by the 13th century. (fn. 134) The manor may have originated as a detached part of the manor of Corringham. In 1086 Corringham was held in chief by the bishop of London. (fn. 135) South Weald was not among the places where the bishop was said to hold manors in 1086, though he held (Bishop's) Ockendon, from which Costed, in South Weald, may later have been carved, and Little Warley, which had an ancient detached part in Corringham. (fn. 136) Simon Bawd in 1166 held 3 knights' fees of the bishop of London. (fn. 137) Sir William Bawd in 1331 held the manors of Downsells and Corringham for 3 knights' fees. (fn. 138) The two manors descended together until the early 16th century. (fn. 139) Two other facts support the view that Downsells was originally part of Corringham: it had no copyholders, and it was not in Chafford hundred like the remainder of South Weald, but in Barstable hundred, like Corringham. (fn. 140)
Ralph Bawd, who died holding the manors of Bawds and Corringham in 1483, was succeeded by his son (Sir) Thomas Bawd. (fn. 141) Sir Thomas was still holding Downsells in 1498, (fn. 142) but soon after he suffered financial disaster in having to repay the debts to the Crown of his late father-in-law Sir John Fortescue (d. 1500), and seems to have sold all his manors except Corringham. (fn. 143) Downsells passed by 1504 to George Bradbury. (fn. 144) He died holding it in 1509, when the manor was said to comprise 180 a. held of the bishop of London, and 80 a. held of the manor of Shenfield. (fn. 145) William Bradbury, his nephew and heir, conveyed Bawds in 1516 to Robert Bowman, who vested it in John Roper and others. (fn. 146)
Arthur Crafford (d. 1606) left Bawds to his daughters Mary, later wife of William Jermyn, and Winifred, wife of George Gittens. Mary died in 1608, leaving Winifred as sole heir. (fn. 147) Crafford Gittens in 1649 sold the manor to John Leech, (fn. 148) who after the Restoration sold it to Thomas Manby. (fn. 149) The Manby family retained Bawds until the 19th century. (fn. 150) In 1788 Downsells had a total area of 413 a., of which 268 a. was demesne, and the remainder waste. (fn. 151) William Manby, later Colegrave, succeeded to the manor in 1819. (fn. 152) He sold it, probably in the same year, to Emanuel Dias Santos, who had previously bought Pilgrims Hall. (fn. 153) Santos (d. 1834) is said to have left Downsells in his will to his butler, Keating, who died a few days before him. (fn. 154) After Santos's death the manor was held by his executors, who appear to have conveyed it in 1848 to Emanuel Keating. (fn. 155) Keating still held it in 1863. (fn. 156)
Bawds (or Beads) Hall lay on the north side of Hatch Road, west of Beads Hall Lane. The ancient house was pulled down by Emanuel Dias Santos. (fn. 157)
The manor of BOYLES or BOWELLS or COCK A BOWELLS lay in the south-west part of the parish, adjoining Great Warley and Upminster. It was probably the estate in South Weald held in 1346 by Blackmore priory for 1/6 knight's fee. (fn. 158) Boyles remained with Blackmore until the dissolution of the priory in 1525. It presumably passed with Blackmore's other lands to Cardinal College, Oxford, and then to Wolsey's college at Ipswich, before being granted to Waltham abbey. (fn. 159) In 1541, after the dissolution of the abbey, it was granted along with the manor of South Weald to Sir Brian Tuke. (fn. 160) In 1545, when it passed to George Tuke, Boyles was in the tenure of William Cock. (fn. 161) It appears to have been sold in 1551 by Sir Anthony Browne to Humfrey Frith and his wife. (fn. 162)
Boyles passed to Robert Frith (d. 1573), whose son Ralph sold the manor in 1574 to William Muschamp. (fn. 163) It appears to have remained in the Muschamp family until 1626, when William Muschamp and Agmondisham Muschamp conveyed it to Agmondisham Pickays. (fn. 164) In the same year Pickays granted a 99-year lease of the manor to William Ward. The lease changed hands several times between 1626 and 1663. (fn. 165) The Pickays family probably retained an interest in the manor until 1662 or later. (fn. 166) Later in the 17th century Boyles passed to the Justice family. (fn. 167) William Justice and his wife held it in 1710. (fn. 168) The manor was later sold by John Justice to David Papillon, whose son held it in 1768. (fn. 169)
In 1778 John Slade and his wife acknowledged the right of Mary Chandler, widow, in the manor of Boyles. (fn. 170) In a survey of 1788 Boyles was listed not as a manor but as a freehold farm of 110 a. within the manor of South Weald; the owner was 'Thirkel or Wallis'. The ownership later passed to Alexander Anderson. (fn. 171) About 1807, after Anderson's bankruptcy, the farm was bought by Joseph Lescher (d. 1826), who left it to his son Josephs S. Lescher. (fn. 172) Joseph S. Lescher (d. 1871), was succeeded by his son Joseph F. Lescher (d. 1923). (fn. 173) The estate was put up for sale in 1926. (fn. 174) After the Second World War it was bought by Essex county council. It became a remand home c. 1950, and in 1980 was an observation and assessment centre. (fn. 175)
Boyles Court, Dark Lane, was c. 1774 a small building with formal gardens. (fn. 176) New designs for the house were exhibited in 1776 by Thomas Leverton. (fn. 177) Their nature is not known, and while the principal, north, elevation and some of the interiors are of about that date some features of the plan of the central block, and a number of the fittings, which may be reset, are of the earlier 18th century. In 1788 the house was described as newly built, and the plan appears to have been much as at present, with a main block of three storeys and two lower, L-shaped wings. (fn. 178) Internal remodelling took place at various dates in the 19th and the early 20th century. A fire in 1973 seriously damaged the roof (fn. 179) and the top floor of the main block, which have since been restored.
The manor of CALCOTT or CALDECOT lay in the north and north-east of the parish. (fn. 180) It originated as an estate of 1 hide held in 1066 by Sprot, and in 1086 by Ralph, as tenant of Robert Gernon. (fn. 181) That estate, or part of it, was given by William or Richard de Montfitchet to the abbey of Stratford Langthorne, which in 1303 held it for ¼ knight's fee. (fn. 182) It remained with Stratford until the dissolution of the abbey in 1538. In 1544 it was granted by the Crown to Henry Becher, haberdasher of London, who in 1566 sold it to Sir Antony Browne. (fn. 183) The bulk of Calcott subsequently descended along with the manor of South Weald. Part of it, comprising Calcott Hall farm, with about 110 a., appears to have been detached before the early 18th century, when it was held by the Combers family, but in 1785 Christopher Tower (d. 1810), who was already leasing the farm, bought the freehold, thus uniting both parts of Calcott within his South Weald manor estate. (fn. 184) In 1788 Calcott manor had a total area of 376 a., including 138 a. of demesne, 157 a. of copyholds, 76 a. of freeholds, and 5 a. of waste. The demesne was let in several parts, of which the largest was Calcott Hall farm, with 113 a. (fn. 185)
Calcott Hall, which lies west of Ongar Road, was rebuilt in red brick in the later 19th century.
The manor of COSTED lay in the east and north-east parts of the parish, including the whole of Brentwood hamlet and also lands in Ingrave parish. (fn. 186) By a grant confirmed by the king between 1177 and 1184 William of Ockendon gave Costed to the abbey of St. Osyth. (fn. 187) William held the neighbouring manors of Bishop's Ockendon in Cranham, as tenant of the bishop of London, (fn. 188) which suggests that Costed may originally have been part of Bishop's Ockendon. Costed remained with St. Osyth until the abbey's dissolution in 1538. It was granted to Thomas Cromwell, earl of Essex, but reverted to the Crown on his forfeiture in 1540, and in 1541 was among other Essex properties granted for life to Anne of Cleves. (fn. 189) On Anne's death in 1557 Costed passed to Sir Antony Browne, who had previously bought the reversion. (fn. 190) It subsequently descended with the manor of South Weald. In 1788 the toal area of Costed was 656 a., including 284 a. of copyhold and 322 a. of freehold tenements, mostly in Brentwood town, 41 a. of waste, and 9 a. 'doubtful'; the manorial demesne was only 1¾ perches. (fn. 191)
The site of Costed manor house is not known. In 1788 the manor included Costed Hall, lying south of Gallows Green, and Bishop's Hall at Pilgrims Hatch, but both were only copyholds. (fn. 192)
The manor of ROPERS or BROOK STREET or MARY GREEN lay in the south and southwest parts of the parish, extending into Great Warley and Upminster, and including outlying lands in Rainham. It probably took its name from the family of Henry Roper, pursuivant to Catherine of Aragon, who in 1514 had an estate in the area including the Place, later the Moat House. (fn. 193) John Heming died in 1643 holding the manor of Brook Street or Ropers; his heirs were his infant daughters Martha, Elizabeth, and Penelope. (fn. 194) The estate seems later to have been divided into two parts, each claiming manorial status. The manor of Ropers or Mary Green was in 1700 conveyed to Henry Hall by Henry White and others. (fn. 195) That was apparently Little Ropers, which in 1768 belonged to Henry Hall of Hutton. (fn. 196) The manor of Brook Street or Ropers was in 1716 conveyed to John How by Joshua Galliard and others. (fn. 197) That was probably Great Ropers, which passed with the manor of Stondon Massey from John How (d. 1748) to his relative William Taylor (d. 1752). (fn. 198) Ropers or Brook Street was sold in 1767 by Robert Phipps. (fn. 199) John Bucknall and his wife sold it in 1771 to John Hirst. (fn. 200) In 1788 the manor, belonging to James Hirst, comprised 84 a., including 68 a. of demesne and 16 a. of freehold held by others. (fn. 201) Captain John Hirst owned 78a. in 1839. (fn. 202) Ropers remained in the Hirst family until 1949, when the estate, then 89 a., was sold by Major G. F. R. Hirst to (Sir) George Chaplin. (fn. 203)
Great Ropers manor house, Great Ropers Lane, was rebuilt in red brick in the later 18th century, and was extended during the 19th. In the earlier 20th century a new house in Georgian style was built 100 m. to the south-east. The 18th-century building was unoccupied in 1980.
The manor of TILLINGHAM, which lay mainly in Childerditch, is treated under that parish. (fn. 204)
The two Domesday manors named as being in (South) Weald contained together 2½ hides. (fn. 206) They clearly did not account for the whole of the parish, and the later manorial history suggests that parts of South Weald were then included in Childerditch, Cranham, and possibly also in Corringham and South Ockendon. (fn. 207) Waltham abbey's manor of South Weald, probably representing the area round the parish church, was in 1086 being worked by 4 ploughteams, compared with 6 in 1066, and contained woodland for 200 swine. There were 10 villeins, 6 bordars, and 3 serfs, 4 'beasts', 25 swine (10 in 1066), and 65 sheep (25 in 1066). There had evidently been a decline in arable and an increase in livestock, especially sheep. For Robert Gernon's manor, later Calcott, it was stated only that there were 1 ploughteam, woodland for 40 swine, 1 villein, and 6 bordars. Those two small manors seem to have been no more than clearings in a district still largely forest.
In the later 13th century South Weald lay within the bailiwick of Brentwood in the forest of Essex. (fn. 208) It was excluded from the forest in 1301, but Wealdside, in the north-west corner of the parish, had the status of a forest purlieu, within which there were some restrictions on hunting the king's game. (fn. 209) In that area were ancient forest gates or 'hatches' to prevent cattle straying from the forest: Bawds Hatch, Bishop's IIatch, Hou Hatch, and Pilgrims Hatch. (fn. 210) References to the repair of those gates occur as late as 1737. (fn. 211) In the later 12th and the 13th century the Crown granted occasional licences to assart within the parish. (fn. 212) Conveyances up to the mid 14th century often included woodland, notably one relating to Tillingham Hall, which manor in 1337 contained inter alia 200 a. of wood and 160 a. of heath, partly in South Weald. (fn. 213) The ancient woodland was probably thickest along the northern uplands of the parish. In 1788 a total of 686 a. of common waste still survived, mainly at Wealdside, Bentley, and Pilgrims Hatch. (fn. 214) New grants of waste, through the manor court, were still being made in 1788, and a further 400 a. were statutorily inclosed in 1812. (fn. 215) Some common still remained, at Bentley and Pilgrims Hatch, in 1839, but most of it had disappeared by the 1870s. (fn. 216) While most of the common wastes must once have been woodland, some, especially in the north-east, were ancient heath, containing rabbit warrens. A warren still survived at Bentley in 1839. (fn. 217)
There is no evidence of open-field agriculture in South Weald, and it is likely that most of the land, including that reclaimed from the forest, was always farmed in severalty. In the Middle Ages arable farming seems to have predominated; there was relatively little meadow or pasture except in the north-east. (fn. 218) By the 16th century the proportion of pasture may have been increasing. (fn. 219) Crop returns for 1801 listed 1,012 a. of cereals, mainly wheat and oats, and 161 a. of vegetables. (fn. 220) If they were complete there were then well over 3,000 a. of pasture, common, and woodland in the parish. During the earlier 19th century considerable changes in land use took place under the vigorous Christopher T. Tower, lord of the manor 1810–67. Besides promoting the inclosure of 1812 he greatly enlarged his demesne by purchase, partly to enlarge Weald Hall park. Estimates of 1839, covering about three quarters of the parish, included 1,550 a. of arable, 1,798 a. of meadow or pasture, 109 a. of woodland, and 306 a. of common, waste, and roads. (fn. 221)
In 1866 a total of 2,308 a. were returned as grassland and 1,599 a. as under crops. The equivalent figures for 1906 were 2,779 a. of grass and 1,050 a. of crops, and those for 1926 were 2,413 a. of grass and 728 a. of crops. The loss of farmland between 1866 and 1926 was due mainly to the growth of Brentwood town. It coincided with a great decline in arable, but the amount of pasture was well maintained. The detailed returns of crops and livestock for the same period show a more complex pattern. In 1866 cereal returns totalled 975 a. mainly of wheat and barley, and those for vegetables, including animal food, 624 a. There were 142 cows and 167 other cattle, 776 sheep, and 408 pigs. The 1906 returns list 559 a. of cereals, mainly wheat and oats, 491 a. of vegetables and fruit, including animal food, 442 cows, 330 other cattle, 355 sheep, 472 pigs, and 240 horses. By 1926 cereal returns had fallen to 303 a. mainly of wheat and oats, while vegetables and fruit including animal food totalled 425 a., and there were 294 cows, 368 other cattle, 263 sheep, 507 pigs, 174 horses, and 3,818 poultry. (fn. 222) The returns indicate especially a decline in cereals and sheep farming and a rise of dairying and stock breeding. During the 1870s and 1880s Collinson Hall was producing milk on a large scale at Dytchleys and Wealdside farms. His business, founded at Havering by his father of the same name, had by 1881 been incorporated as the Shorthorn Dairy Co., with 2,000 a. on 15 farms in the Romford and Brentwood area. In 1882 the company was sending over 40,000 gallons of milk to London each week. In the same year it held its first annual sale of stock, realizing £3,478. It ceased trading in South Weald by 1890. (fn. 223)
Since 1926 more farmland has been taken for housing, mainly at Pilgrims Hatch, and for the Brentwood bypass. In 1979 market gardening was expanding, and at least one farm, Calcott Hall, was doing a brisk 'pick your own' trade in soft fruit and vegetables. (fn. 224)
A windmill on South Weald manor was recorded in 1662. (fn. 225) It may have been at Mill Hill, on Wealdside common, where a circular mound survived in the later 19th century. The mill had apparently disappeared by c. 1772, though a house on the common, called Weald Mill, existed in 1788. (fn. 226) There was a windmill on Bawds manor in 1516. (fn. 227) It may have been the forerunner of Bentley mill, recorded from c. 1722, which stood on the north side of Mores Lane. (fn. 228) Bentley mill was a post mill until c. 1820, when the wooden structure was replaced by a brick tower mill. It was worked by the Moss family from c. 1800 until 1884, when it was sold and dismantled. (fn. 229) A water mill at Brook Street was recorded in 1687, and still existed c. 1775. It was on the stream beside the Moat House. (fn. 230) Brook Street or Rush post mill was probably built c. 1778. It stood south of the road, opposite the present Vicarage Close. From 1778 to c. 1851 it was worked by another family of Moss. It went out of use c. 1902. (fn. 231) Warley post mill stood on the south side of Mascalls Lane near the Great Warley boundary. It was probably the mill on Ropers manor, recorded in 1788, and it certainly existed from 1799 to 1829. (fn. 232)
Nineteenth-century field names indicate the previous existence of brickfields south of Brook Street. (fn. 233) A smithy in Brook Street was carried on by the Wingrave family from 1796 until 1964, when it was acquired by J. P. Hensmans Ltd. It closed in 1974. (fn. 234) Other industries are described below. (fn. 235)
Local Government
In 1273 4 Waltham abbey claimed the assizes of bread and ale, the returns of writs, free warren, and the right of gallows in South Weald. (fn. 236) Court records survive for the manors of South Weald, Bawds, Calcott, and Costed. The court of Costed is treated elsewhere. (fn. 237) For South Weald manor there is a fragmentary court roll of 1392, (fn. 238) and a continuous series of rolls and books runs from 1464 to 1921. (fn. 239) Courts leet were held until 1827. They appointed two constables until c. 1700, when a third was added. From 1736 the constables were responsible severally for South Weald (or Weald End), the Uplands, and Brook Street. By then they were being appointed by the leet after nomination in the parish vestry. If no leet was held the vestry made the appointments. (fn. 240) Until the late 17th century the leet appointed two aleconners. From the 16th century or earlier it appointed a varying number of officers to supervise the commons. They were called woodwards or common drivers, and from 1773 haywards. The appointment of two haywards continued until 1812, when the Inclosure Act made them redundant. In the earlier 17th century the leet also appointed one, or sometimes two manorial swineherds. It was presented at the leet in 1750 and 1753 that stocks were required at Brook Street. In 1754 the court ordered that they should be provided, but that had not been done by 1755. In 1793 the stocks near the church were said to be decayed.
For Calcott manor there are court rolls from 1405 to 1412, and rolls and books from 1470 to 1921. (fn. 241) Courts leet, which occasionally appointed constables and aleconners, were held until 1663, after which there were only courts baron. For Bawds manor there is a book recording courts baron from 1753 to 1855. (fn. 242)
The parish records include churchwardens' accounts 1584–1718; vestry minutes 1732–1842; and overseers' accounts and rates 1731–61. (fn. 243) Among other papers are several relating to the workhouse between 1813 and 1836. (fn. 244)
By the later 17th century Brentwood had become virtually independent for civil parochial purposes. The South Weald parish vestry continued to govern the whole parish for church purposes, and the rural area for civil purposes. 'General' vestry meetings were held at Easter for the election of churchwardens, and occasionally at other times for church business, with a normal attendance ranging from 6 to 10. Between 1601 and 1616 attempts were made to set up a 'select' vestry by election in the general vestry, but the scheme lapsed. In 1706 the general vestry resolved to petition the bishop for a select vestry, but that attempt also failed. 'Particular' vestry meetings were held monthly to regulate poor relief, with an attendance usually ranging from 4 to 6. Ralph Bridges, vicar 1713–58, attended regularly and sometimes wrote the minutes. Francis Wollaston, vicar 1794–1823, was also active in parish affairs. Samuel Smith (d. 1732), lord of the manor of South Weald, and his brother Hugh Smith (d. 1745) attended regularly in person or by proxy. Christopher T. Tower (d. 1867) lord of the manor from 1810, usually attended.
The general vestry appointed churchwardens, one for the village and one for Brentwood. The village warden was chosen in alternate years by the vicar and the parishioners. The Brentwood warden was chosen by the town, which also appointed a warden for St. Thomas's chapel. A warden usually served for a year, but several remained longer, especially in the 18th century. There were two overseers of the poor, one nominated for South Weald village and one for Brook Street, selected from nominations at the particular vestry next after the Easter general vestry. The overseers customarily divided the year, each being responsible for six months. Few overseers served continuously for more than a year. A woman served in 1748. From 1822 to 1824, and from 1829 to 1835, there was a paid assistant overseer. The appointment of constables has already been mentioned. There were two surveyors of highways, one each for the Uplands and Brook Street. Minor officers included the clerk and the sexton, who in the 18th century shared the use of a small house in the churchyard. John Strutt was clerk from 1801 to 1855.
Separate rates were levied by the churchwardens, overseers, and surveyors, and sometimes also by the constables. Each set of officers usually accounted separately, and balances were rarely transferred between them. The ancient custom relating to church rates is described below. (fn. 245)
By the 18th century South Weald was well provided with charities, including almshouses. (fn. 246) In 1740 a workhouse was opened in a rented building, probably the former White Horse inn. (fn. 247) It was used until 1751, when a different house was taken. In the 19th century the workhouse was a group of cottages in Brook Street. (fn. 248) The vestry decided in 1801 that the poor in the house should be put to spinning. The vicar, Francis Wollaston, provided wool and spinning wheels, and drew up detailed regulations for the work. Some spinning accounts survive for 1801. (fn. 249) The enterprise was taken over in 1802 by a new workhouse master. The recorded number of workhouse inmates was never larger than 14. Out-relief continued after 1740, and increased after 1750. From 1749 the vestry was employing a succession of local doctors. A contract of 1806, with Dr. Samuel Butler of Brentwood, stipulated that he should attend the parish poor within 7 miles of South Weald church, a radius that extended beyond Chipping Ongar, Romford, and Ingatestone. (fn. 250) Pauper children were apprenticed within the parish by household rota.
In 1731 the annual cost of poor relief was £76. Between 1732 and 1741 it ranged between £100 and £230. It reached £313 in 1742, but from 1743 to 1756 remained below £200. It rose to £415 in 1796, £650 in 1799, and to a peak of £1,176 in 1801. Between 1801 and 1817 it averaged £713. (fn. 251) Until the 1790s costs were much higher than in Grays Thurrock and West Thurrock, places in the same hundred of similar population. (fn. 252) After 1800 South Weald's costs remained higher than West Thurrock's, but were outstripped by those of Grays Thurrock. In 1835 South Weald became part of Billericay poor law union. In 1934 it was included in the enlarged urban district of Brentwood. (fn. 253)
Public Services
See under Brentwood. (fn. 254)
Churches
The ancient parish church, which was built by c. 1150, originally belonged to the manor of South Weald. Between 1244 and 1254 the bishop of London licensed Waltham abbey, to which the manor then belonged, to appropriate the rectory, and at the same time ordained a vicarage. In 1275 a later bishop reserved to himself and his successors the advowson of the vicarage, and set out in detail the rights and obligations of the vicar. (fn. 255) Since then the advowson has always been held by the bishop of the diocese. The rectory continued to descend with the manor, and on the dissolution of Waltham abbey in 1540 it thus passed to a lay impropriator.
In 1254 the rectory was valued at 30 marks and the vicarage at 10 marks. (fn. 256) The ordination of 1275 provided that the vicar should have a house and 12 a. of glebe, the tithes of the demesne of Stratford abbey, i.e. the manor of Calcott, and all tithes in the rest of the parish except those of corn. The vicarage was valued at £4 13s. 4d. in 1291, £26 13s. 4d. in 1535, £130 in 1650, and £300 in 1788. (fn. 257) In 1839 the impropriator's tithes were commuted for £215 and those of the vicar for £685. (fn. 258) Under the award the parish was divided into two districts, one assigned to the vicar, the other to the impropriator, Charles T. Tower. The vicar's district comprised 2,950 a. in the north, south, and east, including Brentwood hamlet. The vicar owned all tithes there, great and small, except the small tithes on the Boyles estate, which in 1805 had been bought by the freeholder. The impropriator's district, lying around Weald Hall, in the west, comprised 2,100 a., including 1,287 a. belonging to C. T. Tower himself, on which the tithes were declared to be extinguished. Tower owned the great and small tithes from all the other lands in his district except the tithes from the vicarial glebe, which lay near the church, and the small tithes from the remainder of the Boyles estate.
The tithe provisions of 1839 were very different from those of 1275, especially in relation to Calcott, which in 1275 had been assigned to the vicar, but in 1839 was part of the tithe-free demesne of the impropriator. The tithe award had been partly anticipated by temporary commutations going back as early as the 1780s, (fn. 259) and by the inclosure award following an Act of 1812, which had assigned all the tithes of Brentwood hamlet to the vicar. (fn. 260)
The Vicarage house was rebuilt shortly before 1640. (fn. 261) A new Vicarage was built of brick in 1718 by Ralph Bridges, vicar 1713–58, who spent £800 on the house and gardens. (fn. 262) It was in Vicarage (now Wigley Bush) Lane. (fn. 263) In 1825 another Vicarage was built in the same lane, west of the previous house, by the vicar, Charles Belli, from designs by Henry Hakewill. (fn. 264) Belli estimated in 1832 that the work, then almost finished, had cost £6,650, including £5,720 from his own pocket, 'a fearful result'. (fn. 265) That house, a large, brick building with the date above the front door, is now called the Old Vicarage; a new one was built c. 1926 nearer the village in Vicarage Lane. (fn. 266) In 1839 there were 18 a. of glebe. (fn. 267) By an agreement of 1869 between the vicar and the lord of the manor 20 a. were added to the glebe in exchange for tithe rents. (fn. 268)
The names of three early 13th-century rectors have been recorded, as well as vicars from 1272. (fn. 269) Edmund Coningsburgh, vicar 1450–1, was later archbishop of Armagh (Irel.). (fn. 270) Thomas Wood, vicar 1543–58, was one of the accusers of William Hunter, burnt for heresy at Brentwood in 1555. (fn. 271) George Otway, vicar from 1559 until his deprivation in 1560, was the first master of Brentwood school, 1558–70. (fn. 272) Samuel Baker (d. 1660?), instituted in 1640, was already a canon of Canterbury. He had formerly been a popular puritan preacher, but in 1643 he was sequestrated from all his livings. (fn. 273) He had four successors before 1662, the last of whom, William Rathband, 1659–62, was ejected for nonconformity. (fn. 274)
Samuel Horsley, vicar 1782–94, was bishop of St. David's from 1788, and later successively bishop of Rochester, and of St. Asaph. (fn. 275) Francis J. H. Wollaston, natural philosopher, was vicar 1794–1823. (fn. 276) During his incumbency he held other positions, including those of Jacksonian professor at Cambridge, and archdeacon of Essex, but he continued to live at South Weald. Charles Belli, vicar 1823–76, built Bentley church and the schools in the village and Crescent Road, as well as the Vicarage, and restored the parish church. (fn. 277) Duncan Fraser, vicar 1876– 1912, published materials for the history of the parish. (fn. 278)
The church of ST. PETER, Weald Road, was partly rebuilt in 1868. It consists of chancel, nave, organ chamber, south chapel, south aisle and porch, and west tower. (fn. 279) The walls are of flint rubble with stone dressings. The massive tower is of ashlar.
The 12th-century church had chancel and nave. In the mid 13th century the chancel was rebuilt and lengthened, and a north aisle added. The aisle was rebuilt in the 15th century. The tower was built at the beginning of the 16th century, with the aid of a church rate and bequests. (fn. 280) A description of the church, published in 1856, gives its dimensions, and mentions the remains of the rood screen, part of which had been made into pews. (fn. 281) At that period the church, though said to be picturesque and 'a favourite with county historians', had 'a dilapidated air'. (fn. 282) In 1868 a major restoration and rebuilding, designed by S. S. Teulon, changed the plan of the church. The north aisle was demolished and a new nave, chancel, and organ chamber were built in its place. The old nave and chancel became the south aisle and chapel, the arcade between nave and aisle being reconstructed on the 13th-century plan, the whole building was reroofed, and a south porch added. The top stage of the tower was also rebuilt. (fn. 283) Some of the old masonry was incorporated in the new nave and chancel. The south aisle, though heavily restored, retained the mid-12th-century south doorway with chevron ornament. The 1868 restoration also swept away most of the old furnishings of the church, including the west gallery, the three-decker pulpit, and the pews.
The church has six bells, mostly of the 17th and 18th centuries. (fn. 284) The church plate includes a cup and paten of 1564 and a cup of 1635, all of silver gilt. (fn. 285) The polygonal font is dated 1662. The west window in the tower contains two panels of late 15th-century glass, probably Flemish.
When the church was restored in 1868 many of the monuments were destroyed, including the altar tomb of Sir Anthony Browne (d. 1567), of which only the top slab, with a fragment of the brass, remains. (fn. 286) During the incumbency of Duncan Fraser some of the brasses were recovered. (fn. 287) Three others, having been in private hands, were given to Noak Hill church, but those, including the brass of Arthur Crafford (d. 1606), were restored to South Weald in 1933. (fn. 288) In the south chapel is a large monument to Hugh Smith (d. 1745), lord of the manor.
By ancient custom Brentwood hamlet paid two fifths of the church rate and South Weald village three fifths. In 1706 the men of Brentwood complained that they were distressed by declining trade, and it was therefore agreed that in future they should be assessed strictly on their rateable values, subject only to a payment of 2d. a year in recognition of custom. (fn. 289)
It is suggested above that Wealdcote House, Wigley Bush Lane, may have been a 16thcentury church house. (fn. 290)
Brook Street hospital, which has been treated in an earlier volume, (fn. 291) was in existence by 1201. (fn. 292) Three names can be added to the list of masters: John de Flete, who resigned in 1341, (fn. 293) Alexander of Ongar, fl. c. 1366, (fn. 294) and John Yonge, fl. 1507. (fn. 295) The building stood at the corner of Brook Street and Spital Lane. (fn. 296) Remains of it were still visible in the 18th century. (fn. 297)
Brentwood chapel, built in 1221, and the forerunner of the parish church there, is treated below. (fn. 298) About the same time Waltham abbey was licensed to build a chapel within the court of the manor of South Weald, and a little later, to make a chantry there. (fn. 299) No more is known of that chapel.
The chapel of Our Lady at Redcrosse was built c. 1500 by John Andrew, who placed there an image of Our Lady which he had bought from the rector of Shenfield. Redcrosse was on London Road near Honeypot Lane, and Andrew may have hoped to attract offerings from travellers. When no worshippers came he converted the building into a school, but that had closed by 1519, when he made his will. (fn. 300)
The church of ST. PAUL, Bentley, Mores Lane, was opened in 1880 as a chapel of ease to serve the north end of the parish. (fn. 301) The vicar, Charles Belli, gave £20,000, and Octavius Coope, M.P., of Rochetts £2,000, to build and endow it, while the site, on Bentley common, was given by Christopher J. H. Tower of Weald Hall. (fn. 302) A separate parish was formed in 1951, the advowson of the vicarage being vested in the bishop. (fn. 303) In 1956 part of Bentley, containing the new housing estates at Pilgrims Hatch, was transferred to Brentwood parish. (fn. 304) The church, designed by Ernest Lee in the Early English style, stands beside a wood near Navestock Side. It has five bells. (fn. 305) The plate includes a cup and paten of 1879 and a flagon of 1880, all of silver. (fn. 306)
The parish of Christ Church, Warley, formed in 1855 to serve the developing area near Brentwood station, took in part of South Weald parish. (fn. 307)
Roman Catholicism
See under Brentwood. (fn. 308)
Protestant Nonconformity
See under Brentwood. (fn. 309)
In 1559 a schoolmaster at Brook Street was accused of failing to bring his pupils to church. (fn. 311) In 1726 twelve children were being taught to read at the expense of the vicar Ralph Bridges. (fn. 312) St. Peter's Church of England primary school, Wigley Bush (formerly Vicarage) Lane, seems to have originated in the Sunday school for 20 to 25 pupils, and the school of industry for 32 which existed in 1807. At that time many children went to Brentwood schools, and there were three other day schools in South Weald (fn. 313) which seem to have survived until 1839 or later. In 1818 the parish clerk was appointed master of the day and Sunday school, his salary being paid by the vicar. A separate charity school for 18 girls, listed in 1818 and 1825, seems to have been merged with the church school by 1839. (fn. 314) In 1846 the school, which had 120 children and included a teacher's house, was supported by fees and subscriptions. (fn. 315) In 1856 the vicar, Charles Belli, gave land opposite the church and £1,000 endowment for a National school with 124 places, which he built to the designs of S. S. Teulon in Elizabethan style. (fn. 316) The school received annual government grants from 1873. Day attendance increased from 54 in 1873 to 96 in 1893. An evening school was held between 1878 and 1881. (fn. 317) In 1898 the school was enlarged for 26 infants. (fn. 318) It was reorganized in 1936 for juniors and infants and was granted Aided status in 1948. (fn. 319) A new school was built in two phases in 1957 and 1960, opposite the almshouses. It was enlarged in 1968. (fn. 320)
St. Paul's Church of England primary school, Ashwells Road. (fn. 321) In 1864 Henry Moss of Bentley conveyed to trustees a newly built school on Bentley common, as a church school for the poor of South Weald and adjoining parishes. (fn. 322) In 1890 the attendance was 116. (fn. 323) From 1893, when an infant room was added, the school received annual government grants. (fn. 324) It was badly damaged by fire in 1922, and was rebuilt for 150 in 1923. (fn. 325) In 1936 it was reorganized for juniors and infants. The school was overcrowded from 1944 until 1950 when Pilgrims Hatch primary school was opened. (fn. 326) St. Paul's was granted Aided status in 1953. (fn. 327) It was enlarged in 1958 and 1974. (fn. 328)
Crescent Road county infant school was founded in 1875, when the vicar, Charles Belli, and Octavius Coope of Rochetts, built a church school for 118 infants on land given by Belli, to avoid the formation of a school board. The trust deed required the parish to maintain the school and repair the building. (fn. 329) The school received annual government grants from 1876. (fn. 330) It was managed in connexion with Christ Church National school, Great Warley. (fn. 331) In 1913 the county council bought Crescent Road school and enlarged it for 186. (fn. 332)
Junction Road county junior school originated in 1904, when infants were transferred from Crescent Road school to a temporary council school at the Parochial Hall, Junction Road. In 1906 girls from Brentwood National school were also transferred to the temporary school. In 1908 South Weald council school opened in new buildings in Junction Road for 250 mixed and infant children. (fn. 333) It was reorganized in 1936 as a junior school. (fn. 334)
Pilgrims Hatch county junior and infant schools, Larchwood Gardens, opened in 1950 as a primary school for the Bishop's Hall estate. In 1955 new buildings for juniors were opened on an adjoining site, and the school was reorganized as separate junior and infant schools. (fn. 335)
In 1891 South Weald parochial committee for technical education was formed. It provided classes at Bentley and Brook Street. (fn. 336)
Private Schools. Pilgrims Hall academy, a commercial boarding school for about 60 children from 8 to 16, existed c. 1839–60. (fn. 337) Gilstead Hall academy was listed in directories in the 1860s, Serpents Hall preparatory school from 1866 to 1878, and Brook House girls' school from 1874 to 1902. Margaret Parlby kept a girls' school in Brook Street from c. 1874 to c. 1894. (fn. 338)
Charities for the Poor. (fn. 339)
The Browne and Wingrave almshouses, Wigley Bush Lane, originated in 1563, when Sir Antony Browne and his wife Joan drafted a deed conveying to the master and wardens of Brentwood school three cottages, containing five dwellings in South Weald, for the use of three poor men and two poor women of the parish, nominated by the tenant of South Weald manor. If there were no candidates from South Weald, residents of White Roding were eligible. The almshouses were to be maintained out of Brentwood school's endowments. The deed was not executed and was thus void in law, but the almshouses were established by Browne's will, proved 1567, and statutes of 1622 regulated their management in accordance with the draft deed. The almsfolk were required to attend the parish church thrice weekly. Each was to receive annually £2 and a 10s. gown. In 1788 two of the almshouses were opposite Weald Hall and the other three in Wigley Bush Lane. (fn. 340) Three of them had been rebuilt in the 1770s by the lord of the manor, Thomas Tower. An Act of 1851 annulled the statutes of 1622, and provided that there should be 10 houses, for 5 men and 5 women resident within 3 miles of Brentwood school, who were to receive annual pensions of £20 and medical care. (fn. 341) In 1854 ten new almshouses, designed by S. S. Teulon in Elizabethan style, were built in Wigley Bush Lane. (fn. 342) A Scheme of 1875 required the appointment of a matron and a superintendent, chosen from the almsfolk, and of a parttime doctor.
William Wingrave, by his will proved 1909, gave the residue of his estate in trust to build two almshouses adjoining those of Browne. After the death of his widow in 1932 the sum of £525 was received, but that was insufficient for the purposes of the bequest, and the money was kept in trust. Catherine Deltour (d. 1963) gave a quarter (£4,000) of her residuary estate for the benefit of the almshouses and almsfolk. In 1966 the Wingrave and Deltour bequests, with grants from Brentwood U.D.C., were used to build two houses next to Browne's almshouses, on land given by C. T. Tower. (fn. 343) The Browne and Wingrave almshouses are regulated by a Scheme of 1968, under which the almsfolk may be asked to pay limited rents.
Humphrey Waller, by will dated 1601, gave a cottage at Aveley in trust for the poor of South Weald. By 1824 the £6 rent was being given in bread, coal, potatoes, or cash, two fifths in Brentwood and three fifths in Brook Street. In 1919 the income was £15 12s. It was accumulated for repairs until 1925, when the tenants refused to pay rent. The cottage was sold in 1931 for £350, which was later converted to £260 stock. By 1896 Waller's charity, with those of Gittens, John Wright, and Jefferson (below), were being distributed in bread at Pilgrims Hatch, Brook Street, and Christ Church, Great Warley. A Scheme of 1930 assigned them for the general benefit of the sick and poor, and for pensions for the aged poor, within South Weald ancient parish. In 1978 the annual income from the charities of Waller, Gittens, and Jefferson was £19.
John Wright of Brook Steet in 1602 gave a £2 rent charge from a house at Halstead for the poor of the Uplands and Brentwood in proportions of two thirds and one third. The rent charge was paid until 1923, when the tenant defaulted. In 1931 the clerk to the trustees himself paid £14 in respect of arrears, but in 1939 the Charity Commission ruled that the rent charge was barred by the Real Property Limitation Acts.
Nicholas Lounde, vicar 1593–1611, (fn. 344) on his resignation gave a rent charge and 6 a. at Coxtie Green for the poor of the Uplands. The charity had been lost by c. 1760.
George Gittens, by will proved 1712, gave a cottage at South Weald for the payment of 12d. each to 30 poor of South Weald and Brook Street. It was stated in 1824 that the house had for many years been occupied rent free by a large, poor family. In 1930 the income was £8 from a cottage at Crow Green. The cottage was sold in 1935 for £165, which was converted to £140 stock.
Mrs. Sarah Wright of Whitechapel (Mdx.), by codicil to her will dated 1754, gave £100 in trust to pay 5s. doles to the poor of South Weald annually on 23 April. In the period 1974–8 the income of £2.64 was distributed along with Hirst's charity. (fn. 345)
William Jefferson, by will of 1822, gave £100 stock to provide bread for the poor of South Weald annually on Christmas day and 19 January. It was at first restricted to the poor of the Uplands, because that was thought to have been the donor's intention, but later it was given according to the will.
Frederick Hirst of Great Ropers, by will proved 1898, gave £500 in trust for the sick poor in connexion with South Weald church and Christ Church, Great Warley. In 1964 the income of £7 8s. was distributed to 11 persons.