Pages 90-109
A History of the County of Essex: Volume 8. Originally published by Victoria County History, London, 1983.
This free content was digitised by double rekeying. All rights reserved.
BRENTWOOD
The 'hamlet', later parish and urban district, of Brentwood extended eastwards from Honeypot Lane to Ongar Road and Ingrave Road, and southwards from Green Lane to the junction of King's Road and Warley Hill. It originally comprised 459 a. (fn. 1) A detached part of South Weald parish situated north of Weald Road and containing 1 a. was merged in Brentwood in 1883. (fn. 2)
Brentwood ('the burnt wood') seems to have originated in the later 12th century as a forest clearing. St. Osyth's abbey, lord of the manor of Costed, was licensed c. 1180 to assart 40 a. at Brentwood, in 1221 to build a chapel there, and in 1227 to hold a market and fair. (fn. 3) The new township, occupying the highest ground in the parish, lay at the junction of the main LondonColchester road with the Ongar-Tilbury road. Its growth may have been stimulated by the cult of St. Thomas the Martyr, to whom Brentwood chapel was dedicated: Pilgrims Hatch, in South Weald, was probably named from pilgrims on their way there. (fn. 4) It is likely, however, that Brentwood's development was due chiefly to its main road position, its market, and its convenient location as an administrative centre.
The inns and the market are discussed below. Peace sessions were held at Brentwood in the period 1377–9. (fn. 5) In 1381 Robert Bealknap, justice of Common Pleas, was sent there in an attempt to put down the Peasants' Revolt, and in 1389 the court of King's Bench was held in the town. (fn. 6) The assizes and county quarter sessions sometimes met there in the 16th and 17th centuries. (fn. 7) The archdeacon's court was also held in the town occasionally in the 16th century. (fn. 8) In 1594 Brentwood was the meeting-place of a division of the county including Barstable, Becontree, and Chafford hundreds. (fn. 9)
Brentwood was the most populous place in the hundred in 1523, with 98 men assessed to the lay subsidy, in 1670, with 135 houses, and in 1801, with a population of 1,007. (fn. 10) The chapelry had 2,362 inhabitants in 1841, rising to 4,653 in 1881, not including those in the suburban fringes of South Weald and Shenfield. The population of the urban district rose slowly to 7,208 in 1931. (fn. 11) As enlarged in 1934 it had a population of about 24,000, increasing to 29,897 in 1951, 49,242 in 1961, and an estimated 73,500 in 1979. (fn. 12)
Medieval Brentwood was probably confined to the western half of High Street, and Back, later Hart Street. (fn. 13) The market-place was at the eastern end of Back Street. (fn. 14) By the end of the 16th century the town had begun to creep eastwards along High Street, while Brentwood school had been built round the corner in Ingrave Road. A writer commented in 1768 that as Brentwood 'is at so small distance from the capital, it affords an agreeable retirement to several citizens, upon which it is lately much improved in buildings.' (fn. 15) By 1788 High Street was built up almost continuously, and the town was spreading westwards into London Road, and eastwards over the parish boundary into Shenfield Road. South of High Street there had been building in Webbs and Love Lanes (later Coptfold Road and Crown Street), in Offins Alley (later South Street), and in Warley East Lane (later King's Road). North of High Street there were houses in Weald Lane (later Weald Road), in Back Lane (later Western and North Roads), and in Gallows Green Lane (later Ongar Road). The remainder of the hamlet was still farmland. White Post (later Honeypot) Lane, Green Lane, Beggars Lane (later Park Road), and White Hart Lane already existed. Gallows Green was an open space at the junction of Doddinghurst Road and Gallows Green Lane. (fn. 16) The built-up area did not greatly increase between 1788 and 1839, so that here, as at Grays, the increasing population was crowded into the old town. (fn. 17) At that period Brentwood had a busy coaching trade, but the market had ceased, and the buildings were said in 1803 to be 'mostly irregular and mean'. (fn. 18)
The second chapel of St. Thomas (1835) was built on a nursery garden south of High Street, reached by a path on the line of the later St. Thomas's Road, originally gated at the town end. (fn. 19) With the opening of the railway in 1840 the town immediately expanded farther southwards, towards the station. By 1844 Queen's and New Roads had been laid out, and by 1848 a steam mill and 100 new houses had been built. (fn. 20) Gresham Road and Rose Valley were made soon after. (fn. 21) Growth south of the railway was stimulated by the opening of the Essex Regiment barracks (1843) and the Essex Lunatic asylum, later Warley hospital (1853). (fn. 22) Crescent Road was laid out c. 1859. (fn. 23) Cromwell and Junction Roads, the Chace (later Myrtle Road and Warley Mount), and Essex Street (later Great Eastern Road) all existed in 1866. (fn. 24) By 1866 the town had also begun to extend northwards down Ongar Road, where a large engineering works had recently been opened, and westwards down London Road. (fn. 25)
In 1876 Brentwood was said to have 'a clean, quiet, well-to-do and rather more "genteel" look than is common in Essex towns. The suburbs are pretty and pleasant.' (fn. 26) A visitor in 1881 saw much new building and thought that business must be thriving. (fn. 27) At that time the Warley Mount estate was being laid out on 60 a. east of Warley Hill, near Brentwood station. (fn. 28) Local developers had railway commuters much in mind. When houses at Warley were put up for sale in 1884 the vendors reported that the Great Eastern Railway was thinking of reducing season ticket rates, and was planning a branch to Southend. (fn. 29) That branch, (fn. 30) though important for Brentwood's future, had little immediate effect. The Warley Mount estate was still unfinished in 1914, (fn. 31) and other developments, up to that time, were on a small scale. In Westbury Road, at the west end of the town, a few houses were built before 1900, and most of the others by 1914. In Ongar Road building had by c. 1900 spread north down to the Robin Hood, and Kimpton Avenue had been laid out. Robin Hood Road dates from 1910. Western Avenue, linking High Street and Ongar Road, was built c. 1920, and King's Chase, off King's Road, c. 1935. (fn. 32) During the same period many large houses were built in Priests Lane and Worrin Road, Shenfield.
Since 1945 there has been suburban building on all sides of the town. (fn. 33) Land was sometimes found by redeveloping the sites of large 19thcentury houses, as in London Road and at Warley. At Shenfield and Hutton the electrification of the railway to London was followed by much new building. The demand for houses was also stimulated by the opening in 1964 of the Ford Motor Co.'s central offices at Warley. (fn. 34)
Before the coming of the railways Brentwood's communications with the outside world depended mainly on the London-Colchester road, that part of which was maintained by the Middlesex and Essex turnpike trust. (fn. 35) In 1764 a coach plying between London and Ipswich called at the White Hart. (fn. 36) In 1791 there were three daily coach services, and a wagon service four times a week, between Brentwood and London. (fn. 37) In 1839 coaches were passing through the town almost every hour, to or from London, Chelmsford, Southend, Ipswich, Norwich, and Bury St. Edmunds. (fn. 38) The Eastern Counties railway from London via Romford was opened to Brentwood in 1840, and extended to Colchester in 1843. (fn. 39) A branch to Southend was opened in 1889, with a junction and station at Shenfield. (fn. 40) In 1933 two additional tracks were laid between Gidea Park and Shenfield, and Brentwood station was reconstructed. (fn. 41) The Shenfield-London line was electrified in 1949. (fn. 42) Local omnibus services were opened in 1920 by the National Steam Car Co. (fn. 43)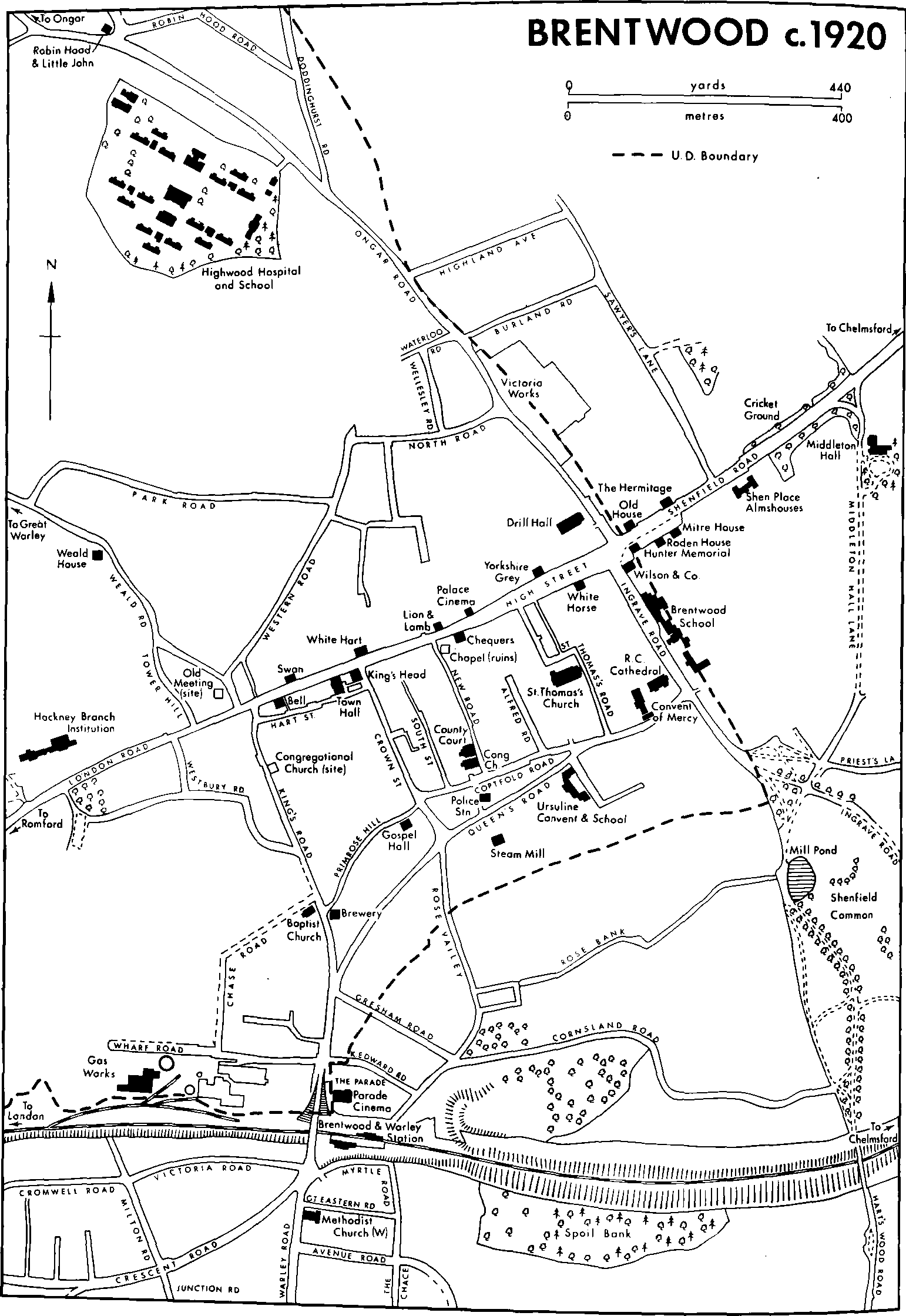 There was a post office at Brentwood from the early 17th century. (fn. 44) In 1793 letters to London were despatched at 5 a.m., and those from London arrived within the day; the postage was 4d. (fn. 45) By 1813 there was a postal service between Brentwood and Maldon. (fn. 46) A mail cart service to Chipping Ongar was started in 1855. (fn. 47) The post office was at the Crown inn in 1793. (fn. 48) In the 19th century it was opposite the Chequers inn, and later at no. 109 High Street. A new office, built on the south side of High Street c. 1892, was rebuilt on the same site between 1938 and 1941. (fn. 49) A telegraph service was established in 1872, and a post office telephone exchange in 1899. (fn. 50) A permanent exchange, built in Queen's Road in 1932, served until 1973, when a five-storey automatic exchange was opened in Ongar Road. (fn. 51)
A few medieval buildings survived in 1980 at the western end of High Street. (fn. 52) Apart from the remains of St. Thomas's chapel (fn. 53) all are timber framed. No. 65, on the north side, has behind the gable four bays of 15th-century structure, complete above first-floor level, with a crown-post roof and two original windows. It was restored in 1974. (fn. 54) Also on the north side is the White Hart. (fn. 55) On the south side nos. 60, 62, and 64 form a house built early in the 15th century, possibly with a central hall and cross wings. The passage between nos. 60 and 62 has an original doorway. (fn. 56) Great Stompfords Farm, Hart Street, a 15th-century house which in its later years was divided into cottages, was demolished c. 1970 to make a car park. (fn. 57)
No. 114 High Street is a 16th-century timberframed building refronted in the 19th century. Among other 16th-century buildings in High Street, no longer surviving, were the Chequers inn, (fn. 58) and a timber-framed shop 100 yd. east of the White Hart (north side). (fn. 59) Nos. 72 and 74 High Street, demolished before 1960, had cellars of the later 16th or earlier 17th century. (fn. 60) The Old Big School, Brentwood school, Ingrave Road, dates from c. 1568, and Mitre House, Shenfield Road, now also part of the school, from c. 1600. (fn. 61) Nos. 108, 110, and 110A High Street form a 17th-century timber-framed house, refronted c. 1800. No. 63 High Street has a 17thcentury upper storey rebuilt in 1974. Old House, Shenfield Road, is on the Shenfield side of the parish boundary. The eastern part, originally timber framed, and probably of the later 17th century, was refronted in brick in the early 18th century. The western part, also in brick, is of the later 18th century. (fn. 62)
Buildings erected in the town in the 18th century were usually of red brick. Those surviving in High Street include nos. 12, 44, 129, and 129A. Barnards and School House, Ingrave Road, Roden House, Shenfield Road, and Middleton Hall, Middleton Hall Lane, are all part of Brentwood school. (fn. 63) The Hermitage, Shenfield Road, which was in Shenfield parish, was built or rebuilt c. 1800. The Gardeners Arms, Hart Street, was built c. 1760. Nos. 125 and 149 High Street were 18th-century buildings existing in 1955, but later rebuilt.
Brentwood's 19th-century buildings include the parish church in St. Thomas's Road, and the Roman Catholic cathedral in Ingrave Road. (fn. 64) In High Street are the former mailings; (fn. 65) in Queen's Road, nos. 2 and 4, built c. 1805, and 1, 3, 5, and 7 (c. 1840); in Crown Street nos. 55 and 57 (c. 1860); and in Western Road Western Lodge and Western House (c. 1830). Among working-class dwellings of the later 19th century are the redbrick terraces in North Road Avenue. (fn. 66)
In 1686 Brentwood's inns were estimated to provide 110 beds and stabling for 183 horses. (fn. 67) There were 11 inns in the town in 1788. (fn. 68) Of those the Robin Hood, later Robin Hood and Little John, was in Ongar Road, where it survives in modern buildings. The other 10 inns were all in High Street. The Crown adjoined St. Thomas's chapel to the west. It has been traced back certainly to the 16th century, and was probably older, for a 17th-century writer reported seeing documents proving that it had been an inn for 300 years. In 1797 the Crown kept 3 post chaises and 13 post horses. It seems to have closed shortly before 1818. The remains of its buildings had been demolished by 1927. (fn. 69) The Marquis of Granby was on the north side of the street, about 100 yd. east of Weald Road. It had closed by 1829. (fn. 70) The George, later George and Dragon, was on the eastern corner of High Street and the present Crown Street. It already existed in 1407, and traded until c. 1906. The building, demolished c. 1970, was timber framed, probably dating from the late 15th century. (fn. 71) The Chequers, adjoining St. Thomas's chapel to the east, traded from 1769 or earlier until c. 1937. It was a timber-framed building of the later 16th century, with two original internal doorways. It was demolished by 1939, when new shops were built on the site by Burton the tailor. (fn. 72) The Bell was on the south side of High Street near King's Road. It was recorded from 1454, when its sign was repainted. It ceased trading c. 1951 and was demolished c. 1970. (fn. 73) The Ship, later the Yorkshire Grey, was on the north side of the street near the corner of Ongar Road. It traded until c. 1960. (fn. 74)
Four of the High Street inns listed in 1788 are still trading. The White Hart, Brentwood's leading inn, retains a 16th-century carriage entrance leading to a coaching yard. The NW. wing, built c. 1500 or earlier, has a jettied upper storey, formerly an open gallery. In the 19th century the south, street front was extended eastwards, and a new NE. wing was built behind it. Another 19th-century range connects the NE. and NW. wings. The street front was rebuilt in Georgian style in the earlier 20th century. (fn. 75) In the 19th century the White Hart kept 50 coach horses and 15 post horses. (fn. 76) In 1848 it housed the excise office, and petty sessions were held there. (fn. 77) The Lion and Lamb, the Swan, and the White Horse all have modern buildings. The Lion and Lamb may have been identical with the Lamb, mentioned in 1581, (fn. 78) and has certainly traded since 1700. (fn. 79) The Swan was previously the Gun, listed in 1769 and 1779. (fn. 80) There was an earlier Swan in the 16th century. (fn. 81) The White Horse was recorded from 1742. (fn. 82)
The King's Head, on the western corner of Crown Street and High Street, was named in 1788 as a former inn. (fn. 83) It was reopened by 1826, and traded until c. 1971. (fn. 84) When it was rebuilt c. 1896 a local historian noted that the old structure was of great age, and that the cellar was made of blocks of solid chalk. (fn. 85)
Brentwood Assize House, High Street, was built under a deed of 1579 which empowered 25 local trustees to buy a site on the south side of the street near the flesh shambles. (fn. 86) In 1698 Brentwood vestry levied a rate to repair the house. (fn. 87) When further repairs were needed in 1712 part of the cost was met by the county. (fn. 88) In the same year the ground floor was let as shops. (fn. 89) In 1788 the building was used as dwellings, shops, and a slaughterhouse. (fn. 90) There are references to the appointment of new trustees in 1797 and 1830. (fn. 91) In 1860 the house, which had become dangerously dilapidated, was demolished. Under a Charity Commission scheme of 1860 the rents from the site were to be applied to the general improvement of the town. (fn. 92) The Assize House was a threegabled building, timber framed and plastered, with carved bargeboards to the gables. (fn. 93)
Brentwood Town Hall, High Street, was built in 1864 by a company to which the parish vestry had granted a 99-year lease of the Assize House site. It was a brick building with a projecting and illuminated clock, containing a large hall, committee and reading rooms. (fn. 94) It was demolished in 1963, and the Town Hall Co., under a new lease granted by Brentwood U.D.C., developed the site with new shops and offices, which lie west of Crown Street, backing on Hart Street. (fn. 95)
Brentwood County Court, New Road, was built c. 1848 of grey brick, with the royal arms on the front. (fn. 96) The first police station was built in Coptfold Road in 1844. (fn. 97) A new station was built in London Road in 1937. (fn. 98) The old station became the branch county library. Shoreditch agricultural and industrial school, London Road, was opened in 1854 for 300 workhouse children of St. Leonard's parish, Shoreditch (Lond.). In 1877 it came under the new school district of Shoreditch and Hackney. When the district was dissolved in 1885 Hackney union took over the school, which continued as a branch institution, with a separate infant school, until 1930. (fn. 99) In 1894, in a notorious case, a master at the school was imprisoned for cruelty to the children. (fn. 100) The building survived in 1980 as St. Faith's hospital. (fn. 101) The London school board's industrial school, Rose Valley, was opened in 1874 and closed in 1902. (fn. 102) The buildings were later used for many years by Joseph Hibbard & Sons, auctioneers. (fn. 103) St. Charles Roman Catholic workhouse school for boys, Weald Road, was founded by Westminster diocese in 1886, under the management of the Brothers of Mercy, who were succeeded c. 1900 by the Sisters of Charity, and in 1936 by the Irish Christian Brothers. The school was closed in 1954. (fn. 104) St. Charles youth treatment centre, Weald Road, was opened in 1971 in the buildings of the former Roman Catholic school. It is a national residential centre, administered by the Department of Health and Social Security, for difficult, disturbed, and violent boys and girls aged between 12 and 18. (fn. 105)
Notable buildings erected in Brentwood in the earlier 20th century include the department store of Wilson & Co., with its central clock tower at the junction of High Street and Ingrave Road. (fn. 106) Among those built since the Second World War are the Ford Central offices, (fn. 107) and the Chelmer Institute, faculty of education, Sawyers Hall Lane. (fn. 108) Since 1970 several multiple stores have been built in the town centre, and a new shopping precinct has been formed by redeveloping the area bounded by High Street, Crown Street, New Road, and Coptfold Road. (fn. 109) New residential building includes Brentwood Place, completed in 1979 on the Old Brentwoods football ground, Sawyers Hall Lane, and comprising 64 fourbedroom houses of seven types, arranged in mews-like clusters around one spinal road. The estate is based on the county council's Design Guide, and provides a variety of roofing materials and elevational treatments. (fn. 110)
There was a lecture room at the Crown inn in 1845. (fn. 111) An institute which closed before 1852, and an institute in High Street, recorded from 1903 to 1922, have been treated elsewhere. (fn. 112) A Volunteer drill hall, built in Ongar Road in 1886, was sold by the Territorial Army in 1970. (fn. 113) The Palace cinema, High Street, existed by 1914, was reopened after rebuilding in 1934, and was finally closed in 1968. (fn. 114) The Parade cinema, the Parade, King's Road, was recorded 1922–37. (fn. 115) The Odeon 'Super' cinema, High Street, opened in 1938, was closed in 1974 and demolished as part of the central area redevelopment, which includes two small cinemas, Focus 1 and 2. (fn. 116)
Brentwood horse-races were held on Warley common in the later 18th century. (fn. 117) Essex county cricket club, formed in 1876, was based at Shenfield Road, Brentwood, until it moved to Leyton in 1886. (fn. 118) Brentwood cricket club, formed c. 1881, used the county ground and continued to play there after 1886. (fn. 119) At some later periods, up to the 1950s, county matches were occasionally played at Brentwood. (fn. 120) The old county ground was still being used by Brentwood cricket club in 1980. Other sports have also been played there, including the Essex lawn tennis championships of 1881 and the fixtures of the Brentwood football club, 1881–2. (fn. 121) Athletics meetings were being held in the town from 1881, and c. 1906 Brentwood athletic association had a large membership. (fn. 122) Brentwood cycle club published a gazette from 1891. (fn. 123) Brentwood harmonic society, recorded from 1863, was still active in 1890. (fn. 124) Brentwood vocal and instrumental society was founded in 1880. (fn. 125) Brentwood horticultural society was formed c. 1872. In the 1880s its shows were held at Middleton Hall, then the home of Countess Tasker. (fn. 126) In 1979 Brentwood residents had a choice of some 40 sports clubs and over 80 other cultural and recreational societies. (fn. 127) The main local newspapers were the Brentwood Gazette, founded 1919, and the Brentwood Argus, founded 1968. (fn. 128)
Among notable persons living in the town were several connected with Brentwood school. John Greenwood (d. 1609), writer of Syntaxis et Prosodia, was master of the school. (fn. 129) John Clarke (d. 1653), physician, Thomas Brand Hollis (d. 1804), politician and antiquarian, (fn. 130) and Hedley Vicars (d. 1855), soldier and evangelist, were educated there. Among other pupils at the school were Charles Taylor (d. 1823), scholar and engraver, and his brother Isaac (d. 1829), writer for the young and head of the Taylors of Ongar. (fn. 131) George Edwards (d. 1773), naturalist, completed his education at Brentwood, possibly at a private school. (fn. 132) Edward Taylor (d. 1863), professor of music, Richard Weymouth (d. 1902), New Testament scholar, and William Whitley (d. 1947), Baptist historian, all lived at Brentwood in retirement. (fn. 133) Cornelius Butler (d. 1871), surgeon, was prominent in the life of the town for nearly 60 years and wrote the poem 'Ingrebourne'. (fn. 134) Arthur H. Brown (d. 1926), composer of hymn tunes, was organist of the parish church from the age of 10, for 40 years. (fn. 135) Frank Landon (d. 1935), solicitor and antiquarian, built up a local history library which later passed to the Essex Record Office. (fn. 136) William Hunter, Protestant martyr, was burnt at the stake in Brentwood in 1555. A monument to him was erected by subscription in 1861 at Wilson's Corner. (fn. 137) Thomas Munn (d. 1750), 'gentleman brickmaker' of Brentwood, met a less noble end. He was hanged for robbing the Yarmouth mail and his body was exhibited in chains at Gallows Corner. (fn. 138)
Economic History
Until the 19th century most of the occupations followed in Brentwood were connected with agriculture or the trades and crafts of a small town. Agriculture is treated above. (fn. 139) A weekly market was held from 1227 to c. 1790, and revived briefly c. 1848. There were also annual fairs from 1227 to 1877. (fn. 140) In the 18th century Brentwood became a busy coaching town. The railway, besides maintaining the town's trade, stimulated the growth of industry. During the present century Brentwood has become a shopping centre for a populous suburban area.
Early industries were connected mainly with textile and garment making, brewing, and brickmaking. There were references to a dyer in the 15th century, (fn. 141) weavers from the 16th, (fn. 142) and a woolcomber in the 18th. (fn. 143) There was a feltmaker in 1657, (fn. 144) and a strawmaker in 1827. (fn. 145) Collarmakers occur in the later 17th century. (fn. 146) Leather workers included a skinner (1475), (fn. 147) and a currier, William Offin (1848), whose family continued to trade in High Street until c. 1898. (fn. 148) In 1848 John Duncan of Brentwood patented a process to improve tanning. (fn. 149) A factory making silk rugs was listed in 1822. (fn. 150)
Brewers and maltsters occur from the early 17th century. (fn. 151) A malting house at the west end of High Street, recorded in 1717, traded until the late 19th century. (fn. 152) There was also a malting in Back (later Hart) Street in 1788. (fn. 153) The brewery of Fielder & Co. was in King's Road c. 1863–c. 1922. That of Thomas Hill, later John Hill & Co., was in High Street in 1863 and later in Warley Road, c. 1866–c. 1898. Edward Bradley, maltsters, later Bradley & Barrett and then John Barrett, were successively in High Street, Wharf Road, and the Parade, c. 1863–c. 1906. (fn. 154)
A brick kiln was mentioned in 1735. (fn. 155) In the later 19th century there were brickfields west of King's Road, and in Rose Valley, south of Queen's Road. (fn. 156) Brickmakers there included Frederick and Francis Wood, Queen's Road, c. 1863–c. 1878; James Winter, later Winter Bros., King's Road, c. 1863–c. 1886; and the Brentwood Brick and Tile Co., off King's Road, c. 1878–c. 1898, which was probably succeeded by James Brown Ltd., Kavanagh's Road, listed from 1906 to 1937. (fn. 157)
The 19th-century brickfields were all near Brentwood station, where the town was growing steadily. Other industries developed in the same area. Burgess & Key, engineers and manufacturers of agricultural machinery, opened works in the town in 1855. They were in Queen's Road in 1863, when the partners, William Burgess and Sir Kingsmill Grove Key, Bt., were employing 180 hands. By 1866 they had moved to the Victoria works Ongar Road, where the firm continued, later as William J. and Charles T. Burgess, until c. 1922. (fn. 158) Also in Queen's Road was a large steam corn mill built in the 1840s, possibly by Richard Woodfine, who was the miller in 1848 and 1863. He was succeeded by Frederick Moss, c. 1866–c. 1890, and Charles Smith, c. 1894–c. 1898. (fn. 159)
A. E. Symes Ltd., builders and civil engineers, came to Brentwood c. 1926, and took over Burgess's works in Ongar Road. In 1972 Symes joined the David Charles Group, which closed the works c. 1978. (fn. 160) Thermos Ltd., manufacturers of glass vacuum vessels, opened a factory in Ongar Road in 1954. (fn. 161) Two of Brentwood's largest employers, Selo Ltd., and the Ford Motor Co., have been mentioned elsewhere. (fn. 162)
Brentwood's largest retail business for many years was Wilson & Co., founded in High Street in 1883, for the sale of boots and shoes. It moved in 1889 to a new building on the corner of High Street and Ingrave Road, and by 1902 included house furnishings, drapery, hardware, and stationery. The store was burnt down in 1909 but a large, new one was built on the same site, which became known as Wilson's Corner. During the 1970s the business declined, and was gradually reduced to the sale of soft furnishings and furniture. Wilson's closed in 1978. (fn. 163) The building, of three storeys in red brick, with a clock tower, was in 1980 occupied by two furniture shops.
New stores opened in Brentwood during the 1970s included a Sainsbury's supermarket and a large Woolworth branch. The central area development of the same period includes an International supermarket and 24 other shops, most of which had been let by 1980. (fn. 164)
Among early medical men were a surgeon in 1540, a 'bonesetter' in 1580, and an apothecary in 1667. (fn. 165) There were four doctors in 1848. (fn. 166) An attorney was mentioned in 1667. (fn. 167) Two were listed in 1793 and four in 1848. (fn. 168) In 1848 Lemon & Co., wholesale grocers in High Street, were also bankers. (fn. 169) They had failed by 1863 when the London and County (later Westminster) bank had a branch at Brentwood. (fn. 170)
Market and Fairs. In 1227 Henry III granted St. Osyth's abbey, owner of Costed manor, a Wednesday market at Brentwood, and an annual fair on 6 and 7 July. In 1252 the market day was changed to Thursday. (fn. 171) There are frequent references to trade in the town during the later Middle Ages, and many London merchants bought property there in the 15th and 16th centuries. (fn. 172) The market seems to have flourished until the earlier 18th century. (fn. 173) It was regulated by Costed manor court, which appointed aleconners, leathersealers, and inspectors of meat and fish. In the 16th century its shops and stalls were let to outsiders as well as townsmen. (fn. 174) The market place was south of High Street, at the east end of Back (later Hart) Street. (fn. 175) In 1788 the properties there included 9 stalls, 9 houses, and part of the shambles. (fn. 176) In High Street, adjoining the marketplace, was the Assize House, which since 1712 had been divided into shops. (fn. 177) It may have been the Market House mentioned in 1736. (fn. 178) By the mid 18th century the market seems to have been declining, and it had ceased by 1792. (fn. 179) It was temporarily revived c. 1848. (fn. 180) An auction market for poultry and eggs, opened by Joseph Hibbard & Sons in 1922 in Rose Valley, continued until 1940. (fn. 181)
In 1678 fairs were being held twice a year, from 7 to 9 July, and from 4 to 6 October. (fn. 182) After 1752 the fair days were 18 July and 15 October. (fn. 183) In the later 18th century the fairs were held on three sites: for cattle in two fields near Halfway House, for horses at the west end of Brentwood, and for general wares in the town. At the fair of 15 October 1788 twenty cattle dealers with 1,974 beasts paid tolls amounting to £9 0s. 9d. In 1804 the lord of the manor, Christopher Tower, let to John Sturgeon, cheesemonger, for 12 years at £5 18s., a stable and an enclosed stall in Back Street, the pound, and the tolls of the fairs at Brentwood. In October 1816 the Scottish cattle dealers who frequented the fair refused to take their beasts to the usual site, and hired a field behind the Chequers public house, High Street. Christopher T. Tower was considering action against them in 1817, but his lawyers advised him to compromise. (fn. 184) July and October cattle fairs were still being held in 1871, but probably ceased soon after. (fn. 185) The pleasure fairs were abolished by the government in 1877. (fn. 186)
Local Government
In 1273–4 St. Osyth's abbey claimed the assizes of bread and ale and jurisdiction over thieves in Brentwood, (fn. 187) in respect of its manor of Costed. Extracts from the Costed court rolls survive for the period 1484–1565, (fn. 188) and a continuous series of rolls and books runs from 1509 to 1921. (fn. 189) Courts leet were held until 1831. They appointed annually 2 constables, 2 aleconners, and 2 leathersealers. In the 16th and 17th centuries they also appointed 2 inspectors of meat and fish. For a period in the mid 17th century there were 3 constables, (fn. 190) but that did not become the permanent custom. If the leet was not held the constables might be appointed by Quarter Sessions, as in 1657. (fn. 191) In the 18th century the constables, aleconners, and leathersealers were appointed by the leet from nominations at the vestry. (fn. 192) A manorial cage was mentioned in 1480, 1614, and 1637. (fn. 193) In the 17th century it was probably in Back Street. (fn. 194) The cage and stocks were moved in 1756. (fn. 195) In 1788 the cage and the manorial pound were at the east end of High Street. (fn. 196) A ducking stool was mentioned in 1584. (fn. 197)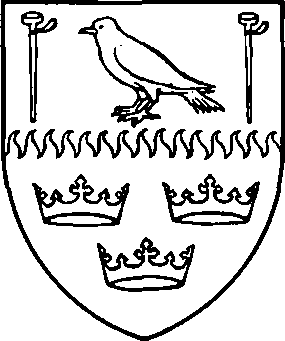 By the later 17th century the chapel vestry of Brentwood was largely independent for civil purposes, though still subject to South Weald for church purposes. Vestry records include minutes for the years 1694–1714, 1734–56, and 1783– 1867, and overseers' rates 1808–10. (fn. 198) In the early 18th century the vestry sometimes met monthly, and sometimes four or five times a year. From the later 18th century monthly meetings were customary. The number attending was rarely more than 10, except on special occasions, when it might rise to 20. In 1699, and again in 1706, unsuccessful attempts were made to set up a select vestry.
The chaplain of Brentwood was rarely present at vestry meetings until the time of Charles Tower, 1806–25, who was active in public affairs. On important occasions the vicar of South Weald sometimes attended. The vestry appointed one of the two churchwardens of South Weald, and also a chapelwarden for Brentwood itself. There were two overseers of the poor, serving usually for one year, occasionally for two. From 1832 there was a paid assistant overseer. There were two surveyors of highways. A vestry clerk was mentioned in 1705 and later. In the late 17th century there was one sidesman. From 1711 to 1714 or later there were two. There was a sidesman as well as a beadle from 1735 to 1739, after which the two offices were combined. The vestry's part in the appointment of constables, aleconners, and leathersealers has already been mentioned.
At the end of the 17th century the poor were accommodated in a 'town house'. In 1703 they were placed in the Three Mariners. A workhouse was established in 1737. Rented premises were used until 1745, when a house was bought. That was probably the building in Back Street used as the workhouse in 1788 and later. (fn. 199) It was enlarged in 1805 and again in 1828. Articles of agreement with the workhouse master in 1786 provided that the paupers' labour should be limited to 10 hours a day, with holidays at Christmas, Easter, and Whitsun. Out-relief continued, in spite of occasional attempts to withhold it, as in 1753 and 1833. From 1784 the vestry was employing a succession of local doctors on regular contracts. Before then doctors from as far away as Braintree were paid to treat individual paupers.
At the beginning of the 18th century the annual cost of poor relief was usually between £60 and £90. It rarely exceeded £100 until it rose sharply to £222 in 1739 and £251 in 1740. It later fell to £104 in 1753. In the 1780s it was between £300 and £400. It rose from £448 in 1790 to £1,030 in 1801. Between 1801 and 1811 it ranged between £600 and £1,000. Between 1811 and 1817 it averaged £952. (fn. 200) The figures are similar to those for South Weald, which, however, had a slightly smaller population in the early 19th century.
In 1835 Brentwood became part of Billericay poor law union. During the following years the growth of the town created serious problems of public health. (fn. 201) The vestry in 1836 appointed lighting inspectors, and in 1841 adopted the Lighting and Watching Act, 1833. (fn. 202) In 1845 and 1850 vestry committees were appointed to carry out minor drainage works. In 1855 the vestry appointed a surveyor and an inspector under the Nuisances Removal Act of that year, but in 1857, after public agitation, the General Board of Health ordered an inquiry into the sanitation of the town. The report of the inspector, Alfred Dickens, noted the lack of paving, poor water supply, and primitive drainage, mainly by cesspools. He recommended that a local board of health should be formed for the parish. An order to that effect was issued in 1858, but it was cancelled in the same year, probably because the General Board of Health was dissolved at that time. (fn. 203)
Local agitation for sanitary reform was revived in 1865. (fn. 204) In 1866 Billericay union laid drains in the Ongar Road and Shenfield common areas, at a total cost of £199. (fn. 205) Early in 1867 they sent to the Home Office a critical report on Brentwood's drainage. (fn. 206) It provoked a bitter reaction from the parish vestry, which denied that there was any serious danger to public health, asserted that cesspool drainage was adequate for the town, and accused the union of creating great nuisances when trying to cure small ones. (fn. 207) In July 1867 the union appointed a committee to carry out sewerage works in the town. (fn. 208) The vestry appointed a similar committee in the following November, (fn. 209) but no further progress seems to have resulted, and the government, invoking section 49 of the Sanitary Act, 1866, had by 1871 carried out the works compulsorily. (fn. 210) Brentwood, like Epping, was one of only seven places in the country where section 49 was fully applied. (fn. 211)
Under the Local Government Act, 1872, the guardians of Billericay union became the rural sanitary authority for the district. A special drainage district, managed by a local committee of the authority, was formed in 1878 for Brenwood town, including the southern fringes lying in South Weald and Shenfield. (fn. 212) The committee came under constant attack from Benjamin Baker, a local surgeon and property developer, who was said to have resisted the extension of main drainage. (fn. 213) Other difficulties arose, in 1881, from the failure of the contractor who had leased the sewage works. In 1882 ratepayers pressed for the formation of a local board, but without success. (fn. 214) A parish council, with a works committee, was formed for Brentwood in 1894, and in 1899 an urban district council, of 12 members, was at last appointed. (fn. 215)
The urban district, as originally constituted, was conterminous with Brentwood parish. It was thus smaller than the special drainage district of 1878, which continued under the joint control of the U.D.C. and Billericay R.D.C. In 1914 the U.D.C. sought to annex parts of South Weald, Shenfield, and Great Warley. (fn. 216) It was unsuccessful, but in 1934 the urban district was extended to include the parishes of Hutton, Ingrave, and South Weald, and parts of Great Burstead, Little Burstead, Childerditch, Cranham, Dunton, East Horndon, West Horndon, Mountnessing, Shenfield, Upminster, Great Warley, and Little Warley, thus increasing its area from 460 a. to 18,269 a. The enlarged U.D.C. had 6 wards and 24 members. (fn. 217) In 1973 there were 9 wards and 30 members for the same area. (fn. 218) The council offices were in the Town Hall, High Street, until c. 1926, and later in Queen's Road. By 1937 they had moved to Ingrave Road, where new buildings were completed in 1957. (fn. 219)
In 1974 Brentwood urban district was joined with the parishes of Ingatestone and Fryerning, Mountnessing, Doddinghurst, Blackmore, Navestock, Kelvedon Hatch, and Stondon Massey to form the Brentwood district with a total area of 36,378 a. (fn. 220) In 1976 the new district was divided into 18 wards, with 39 councillors. (fn. 221) The district council has always had a Conservative majority. (fn. 222)
Public Services
The Brentwood Gas Light and Coke Co. opened works in Crown Street c. 1836. New works were built beside Brentwood railway station in 1858. The company, which acquired statutory powers in 1898, was taken over in 1932 by the Gas Light and Coke Co., which closed the works in 1933. (fn. 223) Electricity became available c. 1902. The supply area was increased in the 1920s, and greatly extended in the 1950s. (fn. 224) A public water supply was provided by the town pump in Back Street, belonging to the lord of Costed manor, and recorded in 1782 and 1829. (fn. 225) The South Essex Waterworks Co., formed at Grays Thurrock in 1861, was supplying Brentwood by 1866. (fn. 226)
In 1871, after main drains had been laid in Brentwood (fn. 227) W. R. Preston, a local solicitor, farmer, and land developer, contracted to dispose of the town's sewage by spreading it on land which he leased in Nag's Head Lane, adjoining his house, Harold Court, Upminster. (fn. 228) His operations caused a stench for miles around, and also proved financially disastrous. In 1881 he absconded, bankrupt, and his lease reverted to the freeholder, John Compton, who refused to take over the contract, and ordered Billericay rural sanitary authority to remove the sewers from his land. After legal actions it was agreed in 1882 that the authority should buy part of the Nag's Head Lane site. New works were completed there in 1884, but Brentwood's sewerage system was still incomplete and defective in 1895. (fn. 229) The works were improved and extended in 1897, 1912, and 1935. (fn. 230)
Brentwood's oldest public open space is Shenfield common (34 a.), which lies 800 m. southeast of the town centre, in the ancient parish of Shenfield. By an Act of 1881 the common was vested in a body of conservators, of whom two were to be appointed by Brentwood parish vestry. (fn. 231) Larkin's field recreation ground, Ongar Road (7 a.), was bought with money given for the purpose to Brentwood U.D.C by the will of John W. Larkin (d. 1926). (fn. 232) King George's field, Ingrave Road (93 a.), was bought by the U.D.C. in 1936, and was laid out as a public park after the Second World War. It contains an 18-hole golf course. Bishop's Hall park (68 a., including Brickhouse wood) was opened by the U.D.C. in 1973. In that year there were over 1,000 a. of public open spaces in the urban district, including Weald and Thorndon country parks. (fn. 233) An outdoor swimming pool was opened in North Road in 1935. (fn. 234) In 1979 a new indoor pool was under construction in Bishop's Hall park. (fn. 235)
Brentwood fire brigade in 1883 consisted of six men with a horse-drawn manual engine. (fn. 236) The first steam engine was given by J. C. Tasker in 1897. (fn. 237) The fire station was in Back Street, where Brentwood U.D.C. provided a new building, including a mortuary, c. 1902. (fn. 238) The fire station was still in Hart Street in 1937. (fn. 239) In 1948, when Essex county council took over from the National fire service, the Brentwood brigade was operating from requisitioned buildings in North Road. The county council bought the North Road premises in 1952 and built a new fire station there in 1974. (fn. 240) Brentwood U.D.C. built its first council houses, a terrace of 29 in Western Road, c. 1902. (fn. 241) By 1973 the U.D.C. owned 3,034 dwellings. (fn. 242)
Warley hospital, Warley Hill, formerly in South Weald parish, was opened by the county in 1853 as Essex Lunatic asylum. The original buildings, accommodating 500, were designed by H. E. Kendall in a Tudor style, of red brick with black diapers and stone dressings. The hospital was several times enlarged in the 19th and the earlier 20th century, and by 1937 had 2,000 beds. (fn. 243) Brentwood District general hospital, Crescent Drive, originated some time before 1895. In that year a cottage hospital, on the eastern side of Shenfield common, was rebuilt by Dr. J. C. Quennell. (fn. 244) It was enlarged in 1921. (fn. 245) The Crescent Drive buildings, on a 22-acre site, were opened in 1934 as a voluntary hospital. (fn. 246) The Shenfield common buildings were used as a maternity home from 1947 to 1974. (fn. 247) Highwood hospital, Ongar Road, was built in 1904 by the Metropolitan Asylums board, and later passed to the London county council. It was used at first for children with ophthalmia, and later for those with non-pulmonary tuberculosis, the last of whom left in 1959. In 1979 it was a geriatric day hospital. (fn. 248) St. Faith's epilepsy hospital, London Road, was opened by the London county council in 1930, in buildings previously used by Hackney union branch workhouse. (fn. 249) Little High Wood hospital, Ongar Road, was opened in 1941 as an annexe to the London hospital. In 1979 it was used for the mentally handicapped. (fn. 250) Schools at Highwood and St. Faith's were taken over in 1949 by Essex county council. Highwood school was closed in 1959 and St. Faith's school in 1960. A county school was opened at Little Highwood hospital in 1971. (fn. 251)
A burial board of nine members was formed for Brentwood parish in 1862. (fn. 252) It opened a new cemetery of 1 a., adjoining St. Thomas's church, in 1867, and one of 6 a. in London Road in 1893. (fn. 253) Lorne Road cemetery (2 a.) was opened in 1860 by the burial board for Christ Church parish, Great Warley. (fn. 254) Woodman Road cemetery was opened in 1926 jointly by the parish councils of Great Warley, Shenfield, and South Weald. (fn. 255) All the cemeteries passed eventually to Brentwood U.D.C., which enlarged the Woodman Road cemetery in 1936 and 1955. (fn. 256)
Brentwood branch county library was opened in 1930 in Guildford Lodge, Queen's Road. It moved in 1934 to Shenfield Lodge, Ingrave Road, and in 1938 to the old police station, Coptfold Road. (fn. 257)
Churches
In 1221 St. Osyth's priory, owner of Costed manor, was licensed to build a chapel at Brentwood, dedicated to St. Thomas the Martyr. (fn. 258) The chapel was to be subject to the mother church of South Weald, the rights of which were safeguarded. The advowson of the chapel passed with Costed until 1544, when it was granted by the Crown to William Sackville. (fn. 259) It was later acquired by Sir Antony Browne, whose reversionary grant of Costed in 1553 stipulated that he should pay the chaplain's salary. (fn. 260) Thereafter it passed, like Costed, with the manor of South Weald.
In 1232 Hubert de Burgh, shortly after his dismissal as justiciar, sought sanctuary in the chapel, but eventually surrendered, and was imprisoned in the Tower. (fn. 261)
The ownership and status of the chapel sometimes caused disputes. In 1373 the abbot of St. Osyth was charged before the bishop with alienating the chaplain's house to a layman. He denied it, but undertook not to do it in future, and to pay a stipulated salary to the chaplain. (fn. 262) In 1440 the inhabitants of Brentwood complained to the pope that South Weald church was so far away that in bad weather they were deprived of divine services. The pope ordered the abbot of St. Osyth to inquire into the matter, and to allow the Brentwood chaplain to administer the sacraments in emergencies. (fn. 263)
By the early 16th century the chapel was an occasional meeting-place for clergy of Chafford deanery. (fn. 264) Wistan Browne, who succeeded to the manor in 1575, closed the chapel and planned to pull it down. That caused a riot at Brentwood in 1577, when about 30 women, armed with hot spits and other weapons, assaulted a schoolmaster and locked themselves in the chapel. (fn. 265) Other local inhabitants petitioned in Chancery against Browne. (fn. 266) Browne, then sheriff of Essex, was summoned before the Privy Council, which considered him mainly to blame for the trouble, ordered the Essex magistrates to deal gently with the rioters, and referred the case to the High Commission. (fn. 267) The chapel was saved, but there was further trouble in 1616 and 1617, when the townsmen sued another lord of the manor, Sir Anthony Browne (d. 1623), in the Exchequer for failing to provide a chaplain, and for misappropriating the chaplain's house. (fn. 268) Browne was ordered to appoint a new chaplain within the year, but the court ordered the townsmen to pay half the cost of repairing the chaplain's house. The disputes probably reflected the Puritan sympathies of the town, which are mentioned below. (fn. 269)
In 1650 it was proposed that Brentwood chapel should be made a parish church. (fn. 270) The Restoration ended such plans, but from the later 17th century the chapel gradually became more independent. Its first surviving records date from 1694. (fn. 271) In 1708, after a complaint by the vicar of South Weald, the chaplain of Brentwood admitted that he had no right to baptize children, (fn. 272) but seven years later the inhabitants of Brentwood successfully petitioned the bishop for leave to set up a font in the chapel. (fn. 273) In 1754 it was stated that the vicar was trying to assert his right of entry to the chapel, although it had been denied by two bishops, and that the archdeacon's court had quashed the vicar's appointment of a churchwarden for Brentwood. (fn. 274) In 1817 and 1818 the chaplain, Charles Tower, denied the vicar's right to fees from the chapel, and refused to conduct burials if the vicar received the fees. (fn. 275)
In 1835 a new church was built south-east of the old chapel, and in 1837 the hamlet of Brentwood was constituted a district chapelry. (fn. 276) The benefice was augmented in the 1870s, and thenceforward was styled a vicarage. (fn. 277) The advowson continued to descend with the manor of South Weald until 1946. Christopher T. Tower, who then sold the estate to the L.C.C., in 1948 sold the advowson to the Diocesan Board of Patronage. (fn. 278) The 1835 church was replaced in 1883 by a new and larger building. In 1956 parts of the parishes of Shenfield, Ingrave, South Weald, and Bentley were transferred to Brentwood. (fn. 279)
Under the agreement of 1373 the abbot of St. Osyth undertook to pay the chaplain of Brentwood an annual stipend of 50s. (fn. 280) At the Dissolution the chaplain's stipend was £5. (fn. 281) In 1650 the living was valued at £10, including the house. (fn. 282) An augmentation of £50, allowed by Parliament in 1651, was apparently reduced to £20 in 1655, but fully restored by 1659. (fn. 283) In 1716 the chaplain was receiving a total of £16, including his £5 stipend and voluntary subscriptions. (fn. 284) In 1743 an augmentation from Queen Anne's Bounty added £10 to the stipend, which in 1788 was valued at £30. (fn. 285) By 1848 the total income had risen to £124. (fn. 286) Between 1870 and 1879 further endowments increased the value of the benefice to £300. (fn. 287)
In the 18th century the chaplain's house was south-east of the chapel. (fn. 288) It was sold c. 1860, and John English, vicar 1855–75, lived at Warley House, Great Warley. (fn. 289) In 1878 a large new Vicarage was built in Ingrave Road. (fn. 290) That building remained the Vicarage until 1927, when it became part of Brentwood school. By 1979, after several moves, the Vicarage was in Queen's Road. (fn. 291)
The chantry of St. Mary in Brentwood chapel was founded in 1388 by Edmund of Langley, duke of York, and others, presumably as executors of the duke's sister Isabel de Coucy (d. 1379), daughter of Edward III and countess of Bedford, who was later named as the founder. (fn. 292) It is not known why this modest provincial chapel should attract the benefaction of the royal family. The explanation may lie in its dedication to St. Thomas the Martyr, and its position on a pilgrim route. A chantry priest was presented by the duke of York and others in 1393. (fn. 293) According to one account later presentations were to be made by the rectors of Shenfield and Ingrave, (fn. 294) but the Crown presented in 1403, 1404, and 1405. (fn. 295) In 1546 the net income of the chantry was £9 10s. 5d. (fn. 296) After its dissolution the chantry was granted, in 1549, to Richard White and John Keyne. (fn. 297)
Among early chaplains of Brentwood were William Mervyn (fl. 1454), William Greye (fl. 1471), and John Ryley (fl. 1544–53). (fn. 298) Several other names are recorded between 1637 and 1696, (fn. 299) and from the early 18th century a fairly complete list can be made. (fn. 300) Timothy Woodroffe, appointed chaplain in 1659, was also vicar of South Weald. (fn. 301) Rice Williams, chaplain c. 1720– c. 1740, held livings elsewhere in Essex, and employed an assistant at Brentwood. (fn. 302) Thomas Western, who in 1802 was appointed chaplain of Brentwood and master of the grammar school, held both positions in trust to resign in favour of the patron's son Charles Tower, who duly succeeded him in 1806. (fn. 303) Charles Grinstead, vicar 1876–99, built a new church and a new Vicarage. From that time Brentwood has been a populous and flourishing parish, and several vicars have been rural deans and honorary canons. (fn. 304)
The medieval chapel of ST. THOMAS THE MARTYR stood on the south side of High Street. By 1835 it was too small for the growing town, and a new church was therefore built farther south-east. The old chapel was converted into a school, but c. 1869 most of it was demolished. (fn. 305) Some of the west and north walling of the nave, and part of the base of the north-west tower, were left as ruins, which still survive. (fn. 306) In the mid 19th century the chapel comprised chancel, nave, tower, and north porch; the walls were of flint rubble, faced with pebbles, stone, and tiles. (fn. 307) From descriptions made then, and from the surviving remains, it appears that the chapel was restored or rebuilt in the late 14th or the early 15th century, possibly about the time the chantry was founded. Early in the 16th century the east wall of the chancel was rebuilt in red brick, and a fine east window inserted. A west gallery was built early in the 17th century. Later alterations, probably in the late 18th or the early 19th century, included north and south galleries and dormer windows in chancel and nave. The spire, mentioned in 1712, was sheathed in copper in 1807. (fn. 308) The chapel was decorated with wall paintings, of which detailed notes were made in the mid 19th century. (fn. 309)
In 1552 the chapel had a great bell and a sanctus bell. Two bells, both of 1764, were removed to the new church in 1835, and survived until c. 1887. (fn. 310) The same thing happened to the old church plate, no details of which are known. (fn. 311) The monumental brass of John Parker (d. 1673), formerly in the chapel, and once thought to have been lost, is in the modern church of Brentwood. (fn. 312)
The church of 1835, designed by James Savage, (fn. 313) was built on a site about 300 m. southeast of the old chapel, now in St. Thomas's Road. It was of white brick with large nave, galleries on north, south, and west, and a narrow square tower; an apsidal chancel was added in 1856. (fn. 314) The church was badly built, and part of the tower fell. (fn. 315) It was replaced by the present church of ST. THOMAS OF CANTERBURY, designed by Ernest Lee in the Early English style, and built of flint with stone dressings. The main part of the new building, consecrated in 1883, comprised chancel, nave with aisles, and clerestory. (fn. 316) A new north-west tower and spire (1886) and a ring of eight bells (1887) were added in memory of Charles Belli, formerly vicar of South Weald, whose benefaction helped to build the church. (fn. 317) A new set of communion plate was also provided. (fn. 318)
The church of ST. GEORGE, Brentwood, Ongar Road, was opened in 1934 as a chapel of ease to St. Thomas, with the aid of a legacy from John W. Larkin, in memory of Charles Grinstead, vicar 1876–99. (fn. 319) It was designed by Crowe & Careless and Laurence King, to be built in two stages. The chancel, vestries, side chapel, and five bays of the nave were completed, with a temporary wall at the west end to allow for a further two bays of the nave and a tower to be added later. (fn. 320) In 1961 a new parish was formed, the advowson of the vicarage being vested in the Diocesan Board of Patronage. (fn. 321) The church remains incomplete.
Roman Catholicism. (fn. 322)
After the Reformation Roman Catholic worship was maintained in south-west Essex by a few staunch families, notably the Petres of Ingatestone and of Thorndon Hall, West Horndon. In the later 16th and the earlier 17th century there were frequent prosecutions of local recusants, including Mary, wife of John Wright of Brook Street (1589), and Ann, wife of John Wright of South Weald (1639). (fn. 323) In the 18th century the leading Catholic families in South Weald parish were Manby of Bawds Hall, (fn. 324) and Wright of Wealdside. (fn. 325) A return of South Weald papists in 1706 included Sir Thomas Manby's household, 14 in number, Joan Wright with her two sons and a kinsman, and George Pomfrett's family, with 14 others. (fn. 326) In 1742 a Catholic priest was secretly serving Wealdside (later Gilstead Hall) and Bawds Hall, as well as Kelvedon Hall, in Kelvedon Hatch, where lived another branch of the Wrights. (fn. 327) In 1767 South Weald parish was returned as containing 61 papists, the highest number in Essex. (fn. 328) By 1773 Wealdside had been for some years a separate mission, and there was a private chaplain at Bawds Hall. (fn. 329) There was still a priest at Wealdside in 1788. (fn. 330) The chapel at Bawds Hall was registered for Catholic worship in 1799. (fn. 331)
In 1814 Emanuel Dias Santos, a rich Portuguese priest, bought Pilgrims Hall, Pilgrims Hatch, and began to say mass there. (fn. 332) In 1818 he built a chapel in the house, which he maintained, for congregations of about 250, until he died in 1834. (fn. 333) He also bought and demolished Bawds Hall, and his death thus left the Catholics of Brentwood and South Weald without a place of worship until 1837, when the church of ST. HELEN, Brentwood, was opened in Ingrave Road, with the aid of contributions from William Petre, Lord Petre (d. 1850), and Joseph S. Lescher of Boyles Court, whose son Joseph F. Lescher was also a generous supporter of Roman Catholicism in the district. (fn. 334) The original St. Helen's church became a school in 1861, when a larger church, dedicated to THE SACRED HEART AND ST. HELEN, was built on an adjoining site, given by William Petre, Lord Petre (d. 1884). (fn. 335) In 1917, when the diocese of Brentwood was formed, the church became a cathedral. (fn. 336) In 1981 its dedication was only to St. Helen. It is a ragstone building in Gothic style, with a polygonal south-west turret. It was substantially enlarged in 1974, to the designs of John Newton, to provide space for parish and diocesan use. The north wall and arcade were demolished and the building was extended northward, with meeting halls on the north and west, and a porch at the north-east corner. The interior was reoriented with an altar against the former south arcade. (fn. 337)
The convent of Mercy, Sawyers Hall Lane, was founded in 1872, when Canon John Kyne, pastor of the Brentwood mission, invited sisters from St. Joseph's convent, Chelsea (Lond.), to teach in his schools. (fn. 338) Helen Tasker, Countess Tasker (d. 1888), of Middleton Hall, Shenfield, built a small convent in Queen's Road, the chapel of which was consecrated in 1884. (fn. 339) The sisters of Mercy also conducted a boys' orphanage, endowed by the countess, and a girls' orphanage, opened in 1889. (fn. 340) The orphanage continued until c. 1950. In 1974 the convent moved to new buildings in Sawyers Hall Lane. (fn. 341)
The Ursuline convent, Queen's Road, was founded in 1900, when sisters from Upton, in West Ham, came to Brentwood to open a high school for girls. (fn. 342) Houses and land were bought in Eastfield Road and adjoining areas of Queen's Road, and the first permanent buildings were erected there. By 1979 the convent and school occupied a site of some 15 a. extending from Eastfield Road to Rose Valley.
The Pilgrims Hatch Sick Fund was established at an unknown date before 1813 by the Manby family, who gave £109 stock to pay a priest's expenses when attending sick Catholics in the neighbourhood. (fn. 343) The income was paid to the chaplain at Kelvedon Hall until 1813, then in turn to the chaplains at Ingatestone Hall and Thorndon Hall until 1837, when the fund was transferred to the Brentwood mission. The Brentwood priest was still receiving the income in 1860.
St. Charles's diocesan Roman Catholic school is treated above. (fn. 344)
Protestant Nonconformity. (fn. 345)
The tradition of Protestant dissent in Brentwood and South Weald can be traced back to the 16th century. The martyrdom of William Hunter in 1555 is mentioned above. (fn. 346) A list of ministers 'not conformable in preaching nor practice', compiled c. 1636, includes Grimes, a lecturer, who was preaching at Brentwood against idolatry. (fn. 347) About the same time Philip Sanders, a former assistant curate at Hutton who had been suspended for nonconformity, was said to be stirring up faction at Brentwood. (fn. 348)
In 1662 the vicar of South Weald, William Rathband, was ejected for nonconformity, as was William Powell, rector of Little Warley, a former minister of Brentwood chapel. (fn. 349) In 1669 Thomas Gilson and John Willis, who had been ejected respectively from Little Baddow and Ingatestone, were preaching at a conventicle in Brentwood. (fn. 350) In 1672 they were licensed, with John Yardley of South Weald, the ejected vicar of Cranham, to preach and teach, while the houses of Gilson and Willis in Brentwood, and those of Ralph Taylor, John Bill, and John Springham at South Weald were licensed for Presbyterian meetings. (fn. 351) In 1691 a dissenting congregation at Brentwood sought additional financial support for their minister, Bumstead. (fn. 352) A Quaker meeting-house at Brentwood was registered in 1699, (fn. 353) and a General Baptist church, embracing Pilgrims Hatch, Hornchurch, and Upminster, existed before 1700. (fn. 354) At the same period Clarke, a dissenting minister of Childerditch, also described as of Brentwood, was baptizing in South Weald. (fn. 355)
Brentwood Old Meeting, Weald Lane, originated, by 1707, in a Presbyterian congregation led by Gabriel Barber. (fn. 356) Barber remained pastor until his death in 1750. (fn. 357) In 1715 his congregation numbered 300, including 15 gentry. (fn. 358) Three houses in South Weald parish, including that of John Springham, were licensed for Presbyterian worship in 1708, the year in which Barber took the oaths of allegiance, (fn. 359) and by c. 1717 a permanent meeting-house existed in Weald Lane. (fn. 360) Members who opposed the Unitarian views of Barber and his successor, Joseph Evans, began to withdraw from c. 1753, and formed a new meeting. Evans had at least three successors up to 1788, including James Pickburne, 1762–9, who was Dr. Williams's librarian 1767–74. (fn. 361) The old meeting closed by c. 1800; it stood just off High Street between Weald Lane and Tower Hill, approached by a passage from Weald Lane. (fn. 362)
Brentwood United Reformed church, New Road, originated in the secession of c. 1753 from the Old Meeting. (fn. 363) The seceders, meeting at first in a hired room, formed an Independent church in 1755, with Joseph Barber as pastor. (fn. 364) They later built a meeting-house on the east side of Warley East Lane (King's Road). (fn. 365) From c. 1780 the meeting declined, and it was apparently closed c. 1795. (fn. 366) Some of the members may have joined Joseph Such, a minister whose house in Brentwood was registered for Independent worship in 1792. (fn. 367) He moved to Ingatestone in 1797. (fn. 368) In the same year, through the efforts of two London pastors, the meeting-house in King's Road was reopened, under the direction of Samuel Douglas, minister at Chelmsford. The pulpit was supplied by students from Hoxton academy (Mdx.). One of them, David Smith, was there in 1799, when a church was formed, and he became its pastor, 1800–46. (fn. 369) In association with the newly formed Essex Congregational union he began to preach over a wide area. (fn. 370) The meeting-house was enlarged and restored in 1814 by Thomas Wilson (d. 1843), a noted nonconformist benefactor. (fn. 371) In 1829 the Brentwood congregation numbered over 500, with missions at Kelvedon Hatch and Upminster Common. (fn. 372) During Smith's pastorate the church opened a day school.
In 1847 a new church was built in New Road. The King's Road meeting-house was demolished, but its burial ground still existed in 1979. (fn. 373) In 1856 William Dorling was ordained to New Road, his first pastorate in a long and distinguished ministry. (fn. 374) At Brentwood, as later at Buckhurst Hill, (fn. 375) his forceful personality and liberal theology seem to have provoked opposition, for part of the congregation seceded in 1856 to form another church under G. Gogerly. In 1858, when both Dorling and Gogerly left Brentwood, the two congregations reunited under a new pastor. Walter Legerton, minister 18721925, in 1873 enlarged the church and built a school hall in South Street. (fn. 376)
The missionary work of the church was continued by David Smith's successors. The Brentwood Town and Village mission, formed c. 1850 jointly by the Congregationalists and the Wesleyan Methodists, employed a missioner from 1850 to c. 1883. (fn. 377) The mission founded Hutton Free church (1850), (fn. 378) shared the oversight of Upminster Common chapel, (fn. 379) and maintained a hall in Back (Hart) Street, Brentwood, c. 1878–c. 1894. (fn. 380) The Pilgrims Hatch mission, Hatch Road, founded in 1873, was conducted for over 50 years by George Hammond (d. 1924). (fn. 381) The Navestock mission, Horseman Side, dated 1897, was almost certainly built by the Brentwood church, which in 1898 was credited with having founded four missions since 1848. (fn. 382) In the 1930s the church was maintaining a mission at Herongate, in Ingrave, as well as Navestock, Pilgrims Hatch, and Upminster Common; it was noted for its lay preaching, and its membership reached a peak of 448 in 1937. (fn. 383)
After the Second World War membership fell, from 269 in 1948 to 129 in 1979. (fn. 384) In 1972 Brentwood joined the United Reformed Church. The church is built of yellow brick with a broad, stuccoed front and a roof pediment. The school hall, enlarged in 1900, was destroyed by bombing in 1941, rebuilt in 1955, and demolished in 1975 as part of the town centre development. (fn. 385)
Walter Legerton, by will proved 1928, gave £200 in trust for poor members of the church or for charitable societies connected with it. (fn. 386)
Brentwood Strict Baptist church probably originated in 1844, when H. W. Tydeman, minister of Ebenezer Strict Baptist church, Chelmsford, registered the house of David Santer at Brentwood. (fn. 387) A church, built at Brentwood in 1855, was associated with the 'Gospel Standard' Baptists. (fn. 388) Nathaniel Warner, pastor from 1865 until his death in 1878, worked widely in Essex. (fn. 389) This may have been the Strict Baptist church in Primrose Hill, listed in 1878. (fn. 390)
Brentwood Baptist church, King's Road, originated c. 1885. (fn. 391) An iron hall, built in King's Road in 1886, was registered in 1888 as Brentwood Tabernacle. (fn. 392) By 1907 the members were disheartened by poor attendances, debt, and indecision as to whether they should move to a newer part of the town. In 1910 the building was sold. Services continued in the town hall, and in 1915, during the honorary pastorate of H. Prothers Ford, 1912–32, a permanent church was built on a new site in King's Road. (fn. 393) The church was damaged by bombing in 1940, but was later restored. (fn. 394) Membership was 75 in 1936, 64 in 1945, and 116 in 1979. (fn. 395)
Brentwood Methodist church, Warley Hill, was founded by Thomas Wilcox, a Wesleyan navvy from Lincolnshire who was helping to extend the railway from Romford. (fn. 396) In 1840 he registered a house in High Street. (fn. 397) A church seating 60 was built in 1845 in Primrose Hill. (fn. 398) In 1854 the society was in the Barking and Romford circuit. (fn. 399) It joined with the Congregationalists to support the Brentwood Town and Village mission, mentioned above. In 1877 it became part of the Romford (later Ilford) circuit. A school-chapel was built in Warley Hill in 1878. In 1890 there were 40 members, all workingclass. A permanent church was built in 1892. (fn. 400) It became closely associated with Warley barracks. In 1935 the society was joined by that of Warley ex-Primitive Methodist church. (fn. 401) In 1947 it was placed in the new Romford circuit. The church was restored, enlarged, and refronted c. 1970. (fn. 402)
Primitive Methodism came to Brentwood in 1845, when Thomas Kendall, minister, registered a house for worship. (fn. 403) In the same year Brentwood headed a new mission circuit. (fn. 404) A small chapel, built in 1847, was registered by Robert Eaglen, minister. (fn. 405) It had closed by 1850, and its location is not known. (fn. 406)
In 1808 Henry White and others registered a bakehouse for Quaker worship. (fn. 407) The meeting still existed in 1811. (fn. 408) The Salvation Army registered barracks in 1887, in High Street, and in 1892; both registrations had lapsed by 1895. (fn. 409) The Army was listed in High Street in 1902; a hall in King's Road was registered in 1903, but cancelled in 1907. (fn. 410) A Salvation Army hall in King's Road, registered in 1934, was no longer in use in 1954. (fn. 411)
Brentwood Recreation Hall, High Street, built in 1906 by J. W. Cook, was used for evangelical worship until c. 1937. (fn. 412) Sawyers Hall Lane chapel, Shenfield, originated c. 1880 when Brethren bought the former Wesleyan church in Primrose Hill. (fn. 413) The present hall was built in 1956. (fn. 414) The Full Gospel church, Primrose Hill, originated in 1928, when the Assemblies of God registered the Glad Tidings Hall, Queen's Road. (fn. 415) In 1957 the church took over the former Brethren's chapel in Primrose Hill. (fn. 416)
The Christadelphian Hall, Hatch (formerly New) Road, Pilgrims Hatch, existed by 1938. (fn. 417) The Spiritualist church, founded c. 1940, registered a building in Primrose Hill in 1946. (fn. 418) Kingdom Hall, King Edward Road, was registered by Jehovah's Witnesses in 1941. (fn. 419) The Evangelical Free church, Doddinghurst Road, first met in King's Road mission hall, registered in 1953. (fn. 420) It moved to Doddinghurst Road in 1963. (fn. 421) Fellowship House, Pilgrims Hall, Ongar Road, Pilgrims Hatch, was founded in 1968 by a former Church Army officer, Roy Willis, as a residential Christian training centre for all denominations. (fn. 422) Pilgrims Hatch mission, Hatch Road, formerly a Congregational mission, was re-registered for nonconformist worship in 1969. (fn. 423)
Education
John Andrew, ironmonger of London, maintained a school in Redcrosse chapel, Brook Street, for four or five years up to 1519. (fn. 424) Brentwood school, now an independent public school, was founded as a grammar school in 1558. A charity school for girls, founded by a gentlewoman in 1714, still existed in 1724, but no more is known of it. (fn. 425) In the earlier 19th century Anglican, Roman Catholic, and Congregational elementary schools were opened. The Congregational school closed c. 1871, but the Anglican and Catholic schools continued, and no school board was formed for the town. A Catholic girls' high school was opened in 1900. The county council opened a technical school in 1910, a girls' high school in 1913, and a senior school, replacing the technical school, in 1936. A new county primary school was opened in the 1950s and a special school in 1970. Brentwood college of education (1961) became part of the Chelmer Institute of Higher Education in 1976.
Primary Schools. St. Thomas of Canterbury Church of England junior and infant schools, Sawyers Hall Lane, originated in a Church Sunday school, started by 1808, and a day industrial school for 12 girls, which in 1819 was supported by Charles Tower, master of Brentwood school. (fn. 426) In 1835 a National school for 50 girls was built near the church, and in 1836 the old St. Thomas's chapel, High Street, was converted into a National school for 120 boys. Both schools were at first supported by subscription, but from c. 1839 the boys school was maintained by the Revd. William Tower (d. 1847), master of Brentwood school. (fn. 427) In 1844 the boys school was said to be excellent, though attendance was irregular. (fn. 428) By 1868 a separate infant school had been opened in a rented cottage. In 1869 new schools for 350 boys, girls, and infants were opened in Love Lane, later Coptfold Road. They received annual government grants from 1871. (fn. 429) They also benefited from two endowments. When John Cotton died in 1837 his executor gave £100 to the schools, and in 1840 John Offin by his will gave £450 stock for the girls' school. (fn. 430) The schools were enlarged in 1883 and again in 1893, when most of the cost was met by selling the stock of Cotton's charity and part of Offin's stock. A new infant school was built in 1914. The schools were reorganized in 1936 for juniors and infants. In 1956 the infant school was granted Controlled status and the junior school Aided status. The schools moved in 1968 to new buildings in Sawyers Hall Lane, Shenfield, and the infant school was then granted Aided status also. (fn. 431)
Brentwood British school was associated with the Congregational church. It probably originated as a Sunday school, first recorded in 1808. (fn. 432) By 1839 there was a day school attached to the church. (fn. 433) The British school was last mentioned in 1871, and seems to have closed soon after. (fn. 434)
St. Helen's Roman Catholic junior and infant school, Sawyers Hall Lane and Queen's Road. In 1839 there were two small Catholic schools, but they had closed by 1845. (fn. 435) They were replaced by a school started by the Revd. Eugene Reardon before 1848, when Catherine Adams gave £300 for a schoolroom for about 15 children. In 1861 the school took over and enlarged the former St. Helen's chapel. (fn. 436) It received annual government grants from 1872. (fn. 437) Attendance increased from 54 in 1874 to 150 in 1893. (fn. 438) The school was enlarged in 1913. (fn. 439) It was granted Aided status in 1950. (fn. 440) About the same time buildings at the convent in Queen's Road were adapted and enlarged for the infants. (fn. 441) The school was reorganized for juniors and infants in 1954. (fn. 442) A new infant school was completed in 1964. (fn. 443) The juniors were transferred in 1973 to new buildings in Sawyers Hall Lane. (fn. 444) The schools have an annual endowment of £25 under the will of Helen Tasker, Countess Tasker, proved 1888. (fn. 445)
Hogarth county junior and infant schools, the Riseway, Shenfield. The junior school was opened in 1954 and the infant school in 1955. (fn. 446)
Secondary Schools. The history of Brentwood school, up to 1906, given in a previous volume, (fn. 447) requires some modification. (fn. 448) Sir Antony Browne's foundation of 1558 was confirmed by Chancery decree in 1570. Thomas Tower, patron of the school 1752–79, was criticized by the Charity Commission in 1824 for misappropriating part of the school's income to augment the stipend of the chaplain of Brentwood, but he was acquitted of dishonourable motives, (fn. 449) and in fact he spent more on the school and the almshouses than he had received from the endowment. (fn. 450) In 1905, when there were 93 boys at the school, it was said that the buildings were unsatisfactory and that the staff needed strengthening. (fn. 451) A new school, adjoining the old building in Ingrave Road, was built in 1910. (fn. 452) The site and part of the buildings, with additional land for playing fields, were given by Evelyn Heseltine, chairman of the governors.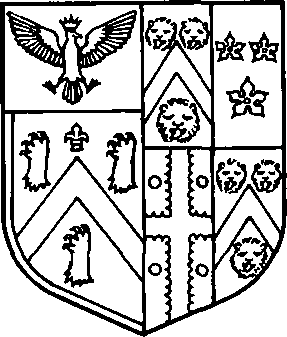 During the headmastership of James F. Hough, 1914–45, the school was greatly extended. He added several adjoining properties for use as boarding or staff houses, including Roden House, Barnards, and Otway House. In 1930 he was admitted to the Headmasters' Conference, of which all his successors have been members. The memorial hall was built in 1924 and the chapel was enlarged in 1925. The library was opened in 1929 and the Lawrence building, containing classrooms, laboratories, swimming bath, shooting range, and squash courts, in 1934.
Since the Second World War the school has been greatly extended by a series of development plans. In 1949 Middleton Hall, Middleton Hall Lane, was acquired for the preparatory school. The Queen's building, containing the science school, was opened in 1957. The Cunliffe building (music and art) was opened in 1961. Hough house, for boarders, was built in 1965 and the Ashton building (applied science and 6th form centre) in 1970. An appeal in 1977 raised £311,000 for scholarships, the modernization of School house, and the renovation of Old Big School. Brentwood was a Direct Grant school from 1945 to 1976, when it became independent. Girls were first admitted to senior classes in 1965. In 1981 there were 995 boys, with 21 girls in the 6th and 7th forms. (fn. 453) The school occupies a frontage of about 300 m. in Ingrave Road, with playing fields of about 44 ha. extending eastwards.
The Old Big School, built c. 1568, was originally a single-storey building of red brick. (fn. 454) Only the outer walls and a doorway remain from that period. An upper storey was added in 1855. School House, which adjoins the Old Big School, is a red-brick building of 1773, extended south in 1926. Barnards, north of School House, is a redbrick house of c. 1700. It or an earlier house on the site was the residence of Daniel Barnard, schoolmaster 1655–95. Roden House, Shenfield Road, also in red brick, is a tall house existing in 1717, with wings added in 1725. Mitre House, which adjoins it to the east, has a cross-passage of early 16th-century type, but the front range appears to date from the early 17th century. Middleton Hall, Middleton Hall Lane, is a large red-brick house of the early 18th century with 19th-century additions. It was the home of Helen Tasker, Countess Tasker (d. 1888), the Roman Catholic philanthropist. (fn. 455) The main school building of 1909 in Ingrave Road was designed by F. Chancellor & Sons. South of it is Otway House, built in 1878 as St. Thomas's vicarage, and enlarged to the south in 1928.
The Ursuline convent high school for girls, Queen's Road, was founded in 1900 by Ursuline nuns from Upton, West Ham. (fn. 456) It opened with 15 girls at Matlock, Queen's Road, and later that year a second house was occupied. In 1902 the school, with 52 girls, moved to Fairview, Queen's Road, and in 1904 bought the adjoining Bleak House. During the next ten years the school grew, buying and renting houses in Eastfield and Queen's Roads. It had two branches, St. Philomena's day school and St. Mary's boarding school, which were united in 1918. By 1919 a preparatory school was well established. In 1921 a new teaching block with a chapel was built, and the school was recognized by the Board of Education as a public secondary school. It received annual government grants from 1929. In 1931 the Eastfield Road buildings were enlarged, and in 1933 the Belmont House estate was bought, comprising 11 a. in the Chase. Attendance increased from 235 in 1922 to 547 in 1939. Trinity wing was completed in 1936 and a new assembly hall in 1940. The school was enlarged again in 1964. It had Direct Grant status from 1950 until 1979 when it became a Voluntary Aided secondary school, with a separate preparatory school. Most of the school buildings are in plain red brick.
Brentwood technical school, New Road, was opened in 1910 by the county council as a cookery and handicraft centre, following recommendations of a report made in 1906. (fn. 457) It closed in 1936 when Brentwood senior council school opened. (fn. 458)
Brentwood county high school, Shenfield Common, was opened in 1913, when the county council took over Montpelier House, a girls' private school in Queen's Road. (fn. 459) By 1916 it had 104 girls. A preparatory department, opened in 1919, closed c. 1950. (fn. 460) In 1927 new buildings were opened on land given by Frank Copeman, adjoining High House, Shenfield, which he had given as a boarding house in 1924. In 1932 the school had 383 girls; it was enlarged in 1935–6. (fn. 461) The school was reorganized in 1972 as a mixed comprehensive school, and in 1975 was enlarged for 1,320. (fn. 462)
The Hedley Walter (fn. 463) school, Sawyers Hall Lane, Shenfield, was opened in 1936 as Brentwood senior council school, in two departments for boys and girls. (fn. 464) The technical block was destroyed by bombs in 1944 and was rebuilt in 1946. (fn. 465) In 1956 a new school for boys was built on the adjoining site. The boys' and girls' departments were amalgamated in 1958. In 1968 the school was enlarged, reorganized as a comprehensive school, and renamed. (fn. 466) It was enlarged again in 1972. (fn. 467)
Special Schools. The Endeavour (E.S.N.) school, Hogarth Avenue, Shenfield, for 100 children, was opened in 1970. (fn. 468) Industrial schools are treated above in the introduction, and hospital schools under Public Services.
Private Schools. (fn. 469) There was a girls' boarding school in Back Street in 1788. It had closed by 1839. (fn. 470) Of the 29 private schools in Brentwood listed in directories between 1826 and 1900, nineteen were for girls, and during that period there were usually 6 private schools in existence at any one time, 2 for boys and 4 for girls. Most of the schools were in High Street, Queen's Road, and New Road. Many were short-lived but a few survived for more than 30 years. Brentwood high school, Rose Valley, opened in 1820. (fn. 471) It was probably the boys boarding school kept by Jonathan Ward, listed in 1826, and apparently taken over by James Monkhouse by 1832. In 1863 it moved from High Street to Bleak House, Queen's Road, under Joshua J. Hooke. George Remfry bought the high school in 1883. (fn. 472) The school survived his bankruptcy in 1884 and moved about that time to Rose Valley. (fn. 473) In 1905 it was a secondary boys' school with 66 day boys and 13 boarders. (fn. 474) It had closed by 1929. Ann and Susannah Mabbs kept a boys' preparatory school in High Street from 1866 until 1878, when it became a girls' school, probably replacing Rosebank boarding school, founded by 1863 and closed c. 1878. It was in Crown Street in 1886 and had moved to New Road by 1899. It had closed by 1902. Montpelier House school originated in 1876, when Kate Bryan opened a school for girls at Fairview House. In 1879 she built Montpelier House, Queen's Road, as a day and boarding school for girls. (fn. 475) In 1905 it was officially reported to be the best girls' private school in Brentwood. (fn. 476) In 1913 the county council took over the school as the nucleus of Brentwood county high school. Whitelyons school, Love Lane (later Coptfold Road), was opened in 1873 by W. H. Jarvis in Warlburg House, High Street, and moved c. 1882. It seems to have been taken over and renamed Hope House in 1899 by George Miles, who kept a boys' school at Hope Villa, Rose Valley, in 1895. In 1905 Hope House had 23 day boys and 2 boarders. (fn. 477) It had closed by 1917.
Chelmer Institute of Higher Education, faculty of education, arts, and humanities, was opened by Essex county council in 1961 as Brentwood college of education at Harold Court, Ivy Lodge Lane, Harold Wood, Hornchurch. Permanent buildings were opened in 1962 in Sawyers Hall Lane. The college was enlarged in 1966. It became part of the institute in 1976. (fn. 478)
Charities for the Poor. (fn. 479)
The poor of Brentwood have benefited from the Browne and Wingrave almshouses in South Weald, and until 1930 also from the charities of Waller and John Wright. (fn. 480)
Brentwood Parochial charities for residents of the ancient hamlet are regulated by a scheme of 1931. The dole charities of Gittens, Newman, Monkhouse, and Crosse are to help the sick and poor in various ways. Those of Massa and Martin, originally for fuel, have been given in money since 1969. The total income of the charities in 1977 was £81.
George Gittens of Bishop's Hall, South Weald, by will proved 1712, gave a 20s. rent charge from 2 a. called Pottels in South Weald to be distributed annually in shilling doles. (fn. 481) The field was known in 1839 as Pennyloaf, which suggests that the charity had once been given in bread. In 1952 the rent charge was redeemed for £40.
Joseph Massa, by will dated 1771, gave £150 to buy fuel for the poor not receiving relief. In the 1820s, when only three eligible persons would accept the charity, the residue was distributed with Martin's charity.
Stephen Martin, by will proved 1803, gave £1,000 to buy coal for the poor. In the early 19th century the chaplain, Charles Tower, supplemented the charity by means of a coal club for the poor. In the 1960s and 1970s an annual average of £40 was paid to old people in coal or cash.
William Newman, by will proved 1835, gave £100 for the general benefit of the poor. (fn. 482) It was converted to £115 stock in 1836, and by 1878 had been augmented by £50 from Newman's tomb charity, which was void under the rule against perpetuities. In 1978 the total income was £1.
James Monkhouse, by will proved 1877, gave the surplus income from £50 which he left for the care of certain graves, after his wife's death, to be distributed in shilling doles to poor Brentwood widows over 60 years old. The income was first received in 1889. The tomb charity being void the whole income is for widows.
Robert Crosse, by will proved 1879, gave £500 to the vicar and churchwardens in trust for poor families or widows of Brentwood and its vicinity. In 1880 the trustees received £450.
Other Charities. Widow Howell gave £50 for the poor some time before 1702, when the parish officers entered into a bond of £100 for payment of the annual interest. (fn. 483) It seems that they bought a 12s. rent charge which was unpaid in 1768 and lost by 1786. (fn. 484)
George Thomas Larkin, by will proved 1894, gave £200 to provide coal at Christmas to poor members of the Church of England. In the 1970s the income was £5.
Shen Place almshouses. In 1910 Evelyn Heseltine built and endowed with £5,000 six houses in Shenfield Road for married or single persons, members of the Church of England, resident for at least two years in Great Warley, Shenfield, South Weald, or Brentwood.
John William Larkin, by will proved 1926, gave £1,000 for poor members of the Church of England living in Brentwood or adjacent parishes. The income in 1977 was £34.
The Revd. Thomas Francis Norris, by will proved 1933, gave £300 for sick and poor Roman Catholics in the parish. In 1978 the annual income was £2. (fn. 485)