Pages 147-155
A History of the County of Essex: Volume 9, the Borough of Colchester. Originally published by Victoria County History, London, 1994.
This free content was digitised by double rekeying. All rights reserved.
TOPOGRAPHY
The migration of c. 100 weavers from the town before 1715 and a high death rate from disease in the 1720s, (fn. 1) relieved pressure on living space within the town early in the period. It was said in 1736 that many houses had been pulled down, (fn. 2) and in the next decade more were demolished, including many in the parishes of St. Peter and St. Giles, where weavers were numerous. (fn. 3) The density of building was reduced on some sites; a house on North Hill was said in 1792 to be on a site once occupied by 5 and later by 3 houses. (fn. 4) In 1748, when 2,196 houses were recorded in the 12 town parishes, the most populous were St. Botolph's, with 409 houses, St. James's with 314, and St. Peter's with 298. (fn. 5) Only in the late 18th and early 19th century was the built-up area extended westward by gentlemen's houses on large plots along Lexden Road, (fn. 6) and south-eastwards by the erection of barracks in 1794 and 1800, which encouraged speculative house-building in Magdalen Street. (fn. 7) Although most of the military buildings were sold when the barracks were reduced after the Napoleonic Wars, the army retained its former parade grounds, which remained open land and included 14 a. of garden ground. (fn. 8) Between 1801 and 1831 the number of houses in the town parishes increased by c. 61 per cent from 1,793 to 2,893; growth was greatest in the south-eastern parishes of St. James's and St. Botolph's.
In 1722 the town was described as large and very populous, the streets fair and beautiful, with many very good, well built houses, although it was still marred by damage sustained in the Civil War. (fn. 9) In the Georgian period part of the town wall in Priory Street was patched in brick by the adjacent landowners, and 50 yd. of wall from East Hill to Queen Street were rebuilt in brick. (fn. 10) Much of the surviving wall, however, was robbed for stone, neglected, and occasionally built upon, (fn. 11) and c. 185 ft. near the top of Balkerne Hill collapsed in 1795. The remaining gates were demolished piecemeal, (fn. 12) and part of St. Giles's church was left in ruins until 1819. There was, however, much refurbishment and new building. The church of St. Mary's-at-the-Walls, completed in 1714, (fn. 13) and its landscaped churchyard were signs of the change of style that transformed the town's appearance. In the 1720s the top of St. Mary's ancient tower was rebuilt and four other churches, All Saints', St. Nicholas's, St. Leonard's, and St. Mary Magdalen's, were repaired or altered. In 1758 the central tower of St. Peter's church was replaced by a west tower. (fn. 14) Nonconformists built, enlarged, and rebuilt their meeting houses; the Quakers in East Stockwell Street, Baptists in Eld Lane, Methodists in Maidenburgh Street, and Independents in Lion Walk. (fn. 15) The castle was partially restored by Charles Gray, to designs of James Deane, and by his successor James Round between 1746 an 1804. (fn. 16) A theatre was built in Queen Street in 1812, and a hospital in Lexden Road in 1819. (fn. 17) Sir Isaac Rebow (d. 1726) gravelled and made handsome the walk between Head Street and Eld Lane. (fn. 18)
The streets were not always as fair and beautiful as Defoe found them in 1722. (fn. 19) Bad paving and obstructions were frequently reported to the justices under a paving Act of 1623, but the borough chamberlain, workhouse corporation, and parish officers failed to discharge their responsibilities and the small fines for neglect were ineffective. (fn. 20) Enforcement of the Act by the borough justices ceased when the charter lapsed in 1741 and by 1750 the streets were so ruinous that a new Act was obtained, (fn. 21) which perpetuated the responsibility of justices to enforce the regulations. County justices were responsible until the charter of 1763 nominated new borough justices. The new corporation in 1764 imposed weight limits on coal carts and tried to enforce the Act; parish surveyors were continually urged to survey and repair pavements, but infringements were frequent and one session in 1799 received c. 54 presentments of bad paving. (fn. 22) Main and side streets were congested with carts, wagons, and carriages. A cart loaded with bays was overturned in Pelham's Lane by a wagon and five horses in 1772, and in 1774 the streets, particularly High Street, were cluttered with empty casks, chests, wheelbarrows, butchers' blocks, chains, cables, and goods for sale. (fn. 23) In 1781 residents complained of lack of street lights and the hazard of water discharged onto pavements from spouts. (fn. 24) Public lamps were installed in 1783. (fn. 25) Pigs, which may have belonged to migrants from the country, were a nuisance in the streets in 1789. (fn. 26) Roaming pigs and donkeys and obstruction of streets and paths by goods for sale persisted in the early 19th century. (fn. 27)
It was not until the establishment of an improvement commission in 1811 that a programme of new paving, cleansing, lighting, and clearance of obstructions was undertaken. (fn. 28) The commission improved lighting in the main streets in 1812, and by 1821 had laid cobbled footpaths in Magdalen and Priory Streets and flagstones in much of Head, High, and Wyre Streets and had repaired and partly rebuilt the abbey walls. It improved the approaches to the town, pulling down St. Botolph's and East gates and the houses on the foundations of North gate, diverted the access from Ipswich Road, and eased the gradient of East Hill. Within the town the commission widened High Street near the obelisk, Magdalen Street, and Head Street. Parts of the churchyards of St. Leonard's, Holy Trinity, and All Saints', and of the Pinnacle gardens (St. John's abbey grounds) were taken into the highway. Windows, jetties such as that of the George inn, steps, and porches that projected more than 18 in. into the main streets and 10 in. into other streets were removed, and shopkeepers took advantage of the compensation paid by the commission to fit fashionable flat windows into their shop fronts. (fn. 29) In 1825 the improvement commission began to lay macadamized roads of broken stone. (fn. 30)
At the east end of High Street gentlemen's houses and grounds covered about a third of the whole area within the town walls in the early 18th century. (fn. 31) New houses were built on the sites of earlier ones in the main streets throughout the period, but much of the change was to existing houses, achieved by plastering, fronting or encapsulating in brick, inserting sash windows, adding doorways with decorated cases and fanlights, and refitting internally. (fn. 32) The formation in 1718 of a borough committee to survey encroachments and the introduction of fines of 18d. a foot in the main streets and 12d. a foot in back streets, suggests a spate of refronting and underbuilding jetties at that time. (fn. 33) Some householders compounded for bow windows and pallisades. (fn. 34) Red brick was favoured. Early in the century it was often hard textured and dark in colour (e.g. no. 71 Culver Street), later it became brighter red and was suitable for rubbing and cutting for mouldings and decoration such as dentil cornices (e.g. no. 2 Queen Street). In 1766 a brickmaker at Stanway was producing white or grey 'Gault' bricks of the kind used by William Phillips when he built no. 107 Crouch Street, c. 1776. (fn. 35) They were used towards the end of the century for fashionable houses in the main streets and for the early 19th-century hospital and new houses in Lexden Road. Despite the fashion for white brick the use of red brick continued (e.g. nos. 5-6 North Hill of 1809). Meanwhile in the less important streets houses of timber frame and plaster continued to be built throughout the 18th century (e.g. nos. 67-71 Crouch Street and no. 125 Crouch Street). Weatherboarding, a common finish for vernacular buildings in rural east Essex, was little used (but see nos. 95-6 Hythe Hill), perhaps because of the additional fire risk. By 1800 the main streets were lined with brick or plastered buildings, some with bow windows. Many of the older, jettied buildings, such as the Red Lion and the George in High Street, survived, their timbers and once pargetted fronts masked by plaster. A number of houses at the lower end of East Hill, beyond East bridge, and in some side streets were not refurbished, but they usually had sash windows inserted. (fn. 36)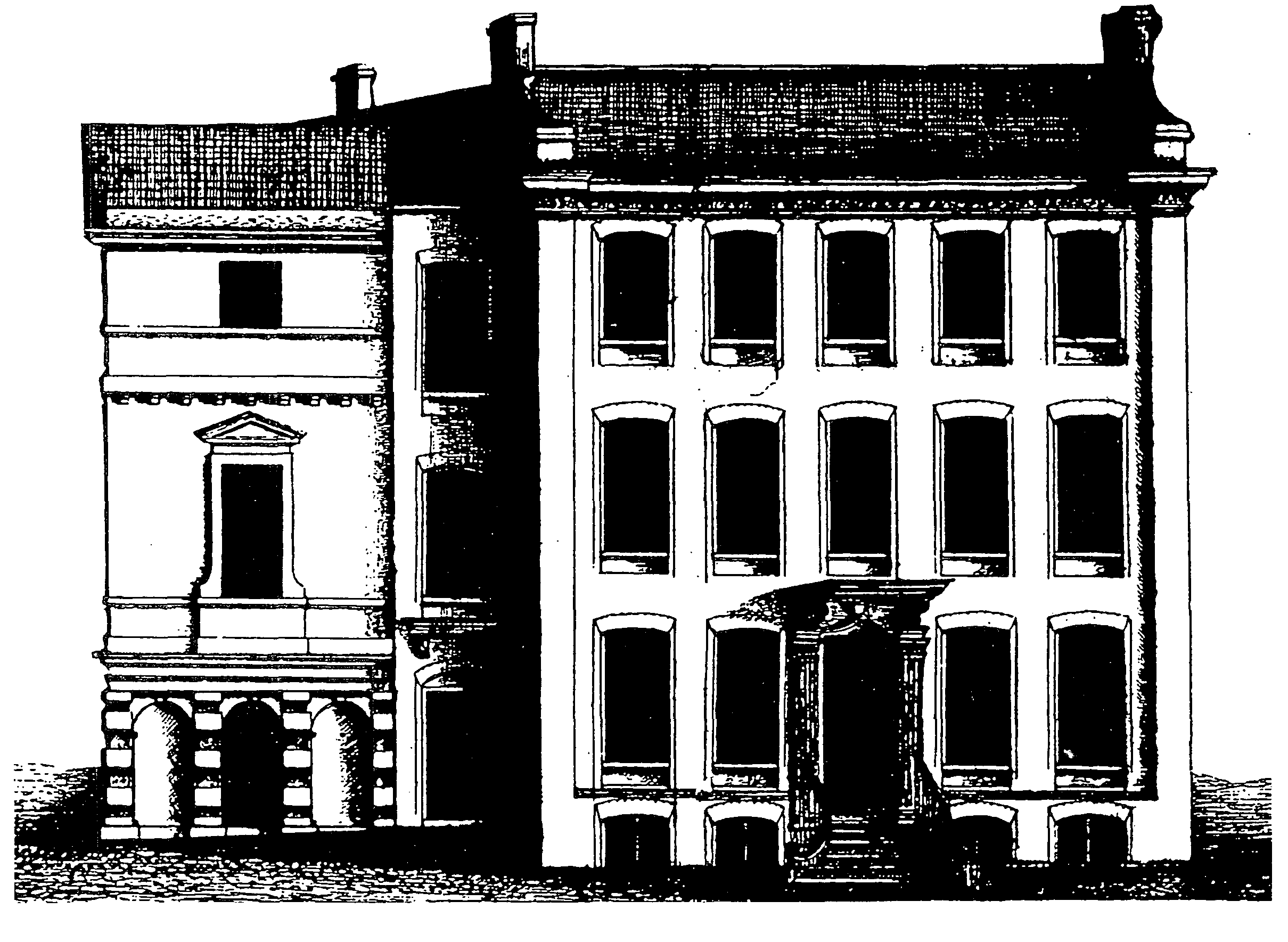 Several surviving houses have 18th-century features and some distinguished Georgian houses were built in the town. (fn. 37) Hollytrees, built next to the ruined castle on the site of an earlier house in 1718, was given with the castle to Charles Gray in 1726. The house has a main front of five bays and a basement and three storeys rising to a parapet. It is set back from the street behind a small courtyard which is fronted by wrought-iron railings. The west wing, designed by James Deane, was added in 1748. (fn. 38) Gray laid out the Castle grounds as a small park with a raised walk, formed out of part of the earthwork defences, a canal, a summerhouse which is dated 1731 and has the form of a Greek temple, and a rotunda of 1747. The many trees he planted included two cedars of Lebanon, two cedars of Bermuda, and a cork tree. (fn. 39) George Wegg built East Hill House opposite Hollytrees, pulling down nine houses to extend his grounds. The house, of three storeys, has a main front of seven bays, with a segmental pediment over a central Tuscan doorcase. Greyfriars, opposite East Hill House, was built c. 1755 of two storeys with attics and cellars. A garden front of five bays was added in 1780. (fn. 40) The Minories, east of East Hill House, was remodelled in 1776 in three storeys with a front of five bays, the central porch supporting a two-storeyed bay window. A Gothic summerhouse from East Hill House, probably designed by James Deane, survives in the garden. (fn. 41) St. Martin's House in Angel Lane (later West Stockwell Street), with a west garden front, was built c. 1734 on the site of an earlier house. It was probably designed by James Deane, for Dr. Richard Daniell who laid out gardens behind it. (fn. 42) Away from High Street the better brick houses are mostly of two storeys with attics. Three-storeyed exceptions are nos. 20-22 Crouch Street, built for a merchant John Cole in mid century and having five bays, and the seven-bay nos. 44-52 Head Street of 1763-5. On the two-storeyed buildings the attic dormers are often partly hidden by a parapet. Most of the fronts are relatively plain and in a style which has evolved from that of the later 17th century. Externally there is nothing that could be described as 'Baroque' and the influence of Palladianism is limited to a few Venetian windows (e.g. on the 1748 extension to Hollytrees, the garden front of the Minories, and at Grey Friars and nos. 59-60 West Stockwell Street). The same simplicity of elevation design is continued into the early 19th century. Gothic elements occur occasionally, especially in windows (e.g. no. 31 St. John's Green of 1823) and the castellated style appears at no. 89 Lexden Road of 1818, built for Francis Smythies, which has been attributed to the Colchester-born architect Robert Lugar. (fn. 43)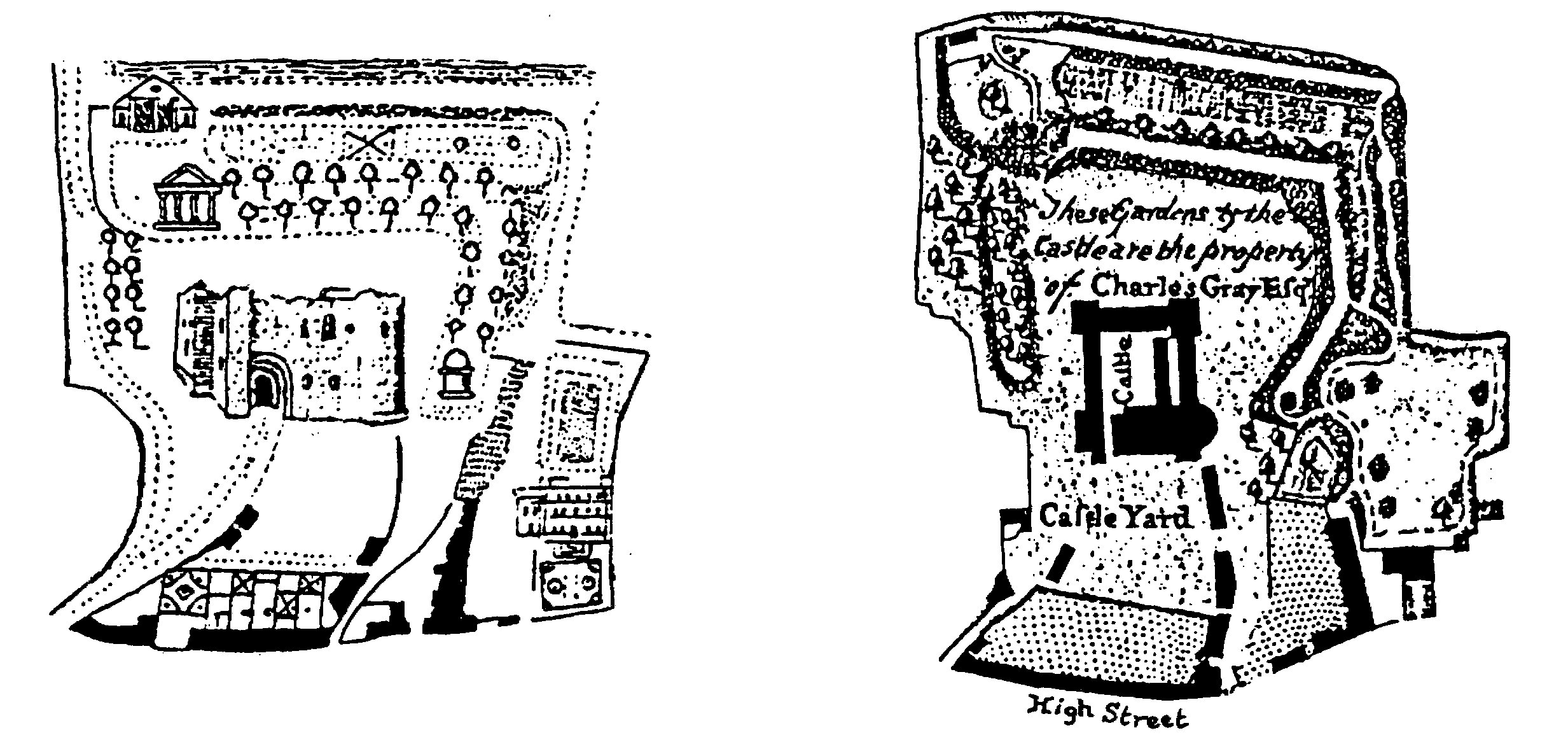 The many gardens recorded in Colchester reflect the fashionable interest in growing all kinds of plants and trees, including fruit trees, vines, and nuts. (fn. 44) By 1748 the grounds of the ruined buildings of St. Botolph's priory, St. John's abbey, and Greyfriars were laid out as orchards or gardens. (fn. 45) There were gardens where buildings had once stood, such as the site of houses near the tanyard in St. Peter's parish, which was cultivated by 1754, (fn. 46) and of St. James's rectory house on East Hill, burnt down during the siege and let as a garden in 1742. (fn. 47) Much of the ground behind houses on main streets within the walls was laid out in private gardens. Those behind houses on the east side of North Hill extended to the rear of houses in Angel Lane and on the west side there were both nursery and pleasure gardens between the streetside houses and the western town wall. (fn. 48) Sir Isaac Rebow's gardens extended eastward from Head Street towards Trinity Street, those of Trinity House occupied almost all the centre of the square formed by Trinity and Culver Streets, Eld Lane, and Lion Walk, and a house in Queen Street had a garden of ¼ a. in 1791. (fn. 49) St. Mary's rectory had a cherry garden by 1745, and even where space was limited new gardens were planted. In 1763 the little garden of St. Peter's vicarage house was planted with nine new fruit trees. (fn. 50)

Some householders rented or bought pieces of adjoining land to enlarge their gardens. Nathaniel Laurence rented land belonging to the former hospital in St. Martin's Lane in the 1730s (fn. 51) and John Bernard acquired part of the yard of the Falcon and Queen's Head inn in High Street before 1748. Between 1748 and 1777 a small garden was laid out at the former no. 11 Sir Isaac's Walk. (fn. 52) A flower garden behind the Old Three Crowns inn in Head Street was opened to the public in 1773, (fn. 53) the garden of the Red Lion inn, bounded by Lion Walk and Eld Lane, survived until the Independent chapel was built there in 1763, (fn. 54) and that of the Three Cups until the covered market was built in 1813. (fn. 55) A botanic garden was established c. 1823 by the Colchester and Essex Botanical and Horticultural Society on 8½ a. behind Greyfriars House. (fn. 56) Outside the walls there were market and nursery gardens and some houses had extensive pleasure gardens; the house on the corner of Abbeygate Street and St. John's Street had in 1754 a garden of 3 a. with a fish pond, fruit trees, and a gravel walk 100 yd. long fronting St. John's Street. (fn. 57) A house in London Road had 3 a. in 1759, another on East Hill had 5 a. in 1788, and others in St. Botolph's Street had large gardens in 1798. At a house in Magdalen Street, which was owned by the army, walnut trees survived until they were sold as timber in 1824. (fn. 58)
Some neighbourhoods, for example Head Street, part of Angel Lane, Trinity Square, and the area east and south of the castle, were occupied mainly by gentry and prosperous townspeople. (fn. 59) The reinstatement of the parochial system of poor relief after the failure of the workhouse corporation in the 1740s, however, restricted the movement of the poor between the town parishes, (fn. 60) and every parish contained some poorer housing, such as All Saints' Court behind the parish church, a yard with a well in St. Helen's Lane, (fn. 61) and the yards recorded in parishes where there were many weavers. In St. Giles's parish houses in the yard of the Star inn were demolished in the 1740s, (fn. 62) and in St. Peter's parish there was a number of yards which may have been connected with the bay trade. Soap House Yard and Downfall Yard were outside North gate. On the west side of North Hill were Green Yard and an unnamed yard, which belonged in 1707 to Robert Morfee, saymaker, and contained boxes and cisterns through which water was supplied from Chiswell meadow. Green Yard comprised 2½ a. of pasture in 1772, when it was occupied by two baymakers as tenants of James Robjent, also baymaker. Cistern Yard was built round and occupied mainly by weavers in the early 19th century, as was Pig Yard (later Manor Court) near North Bridge. Spinks Court, off North Hill, may also have been connected with the trade. (fn. 63) In 1815 tenements in North Street, Middleborough, West Stockwell Street, and Lottery Alley, Stanwell Street, were owned by James Boggis, baymaker, and occupied by his employees. (fn. 64)
In the later 18th and early 19th century large houses were divided for letting, and there was much speculative building of cottages, which were let mainly to soldiers in the 1790s, and later, on the assumption that rent could be paid as poor relief, to mechanics and labourers. (fn. 65) Even within the walls small plots of land were let on building leases, and south-east of the town, in Water Lane, there were c. 12 cottages which tenants were authorized to move when the lease expired in 1837. (fn. 66) They were probably those described as huts earlier in the century, when one was occupied by an old ragman. (fn. 67) Another 11 cottages were built on land belonging to the hospital of St. Mary Magdalen, 8 of them on land let at £1 15s. a year by the trustees and rackrented at £26 a year. (fn. 68) Some 18th-century non-parochial institutions for the poor and aged lay on the outskirts or in suburbs of the town. The workhouse, established c. 1700 in the old Crutched Friars building in Crouch Street, had apparently moved to East Street by 1711. The old building was let to poor families until its demolition c. 1748. (fn. 69) Almshouses founded by Arthur Winsley (1727) and John Kendall (1791) were were built south-east of the town, towards Old Heath. (fn. 70) The failure of the workhouse corporation in the mid 18th century obliged the parishes to provide their own workhouses, which were consequently scattered throughout the town, and there were parochial and nonconformist almshouses and poorhouses in Bucklersbury Lane, Culver Street, East Street, Eld Lane, and St. Helen's Lane. (fn. 71)
The town's immediate surroundings were affected by the bay industry for much of the period. The use of most of the water mills for fulling contributed to the need for the many windmills that were prominent around the town. (fn. 72) Tenter frames, on which finished bays were stretched and dried, were grouped in meadows and pastures within and without the town walls. A tenterfield north of St. Mary's church in 1724 had been converted to garden ground by 1748; (fn. 73) another in St. Botolph's parish was converted to arable probably by 1734 and certainly by 1754. (fn. 74) Those north of the castle recorded in 1724 were the only ones surviving within the walls in 1777, and some extramural sites had changed, (fn. 75) but tenter frames remained on meadows outside the walls as late as 1796, when a site could be let for 10s. 6d. a year. (fn. 76) The last recorded tenterfield was near Bourne mill, in use in the early 19th century. (fn. 77)
Other industries dependent on the river for water or transport were sited mainly near the bridges over the Colne, which were all rebuilt during the period, Hythe bridge in 1737, North bridge in 1781, and East bridge in 1802. (fn. 78) On the south-eastern side of the town, and separated from it by open fields for much of the period, Hythe Street ran downhill to the Colne. The Hythe, described as the Wapping of Colchester, (fn. 79) was densely occupied by industrial buildings, yards, warehouses, and inns adjoining the quays. The town quay was on the western side of the river; in 1776 merchants were refused permission to use the eastern side, but by 1823 quays extended along both sides. (fn. 80) There were towpaths on either side of the river, leading from Wivenhoe and Fingringhoe, (fn. 81) and the prospect of the Hythe was considered pleasing. (fn. 82) The Tabor family, brewers and merchants, occupied and improved Harbour House on the quay and laid out a garden there. (fn. 83) Near East bridge and North bridge there were tanneries and breweries for most of the period. (fn. 84) At the bottom of East Hill, west of the bridge, was a large and complex group of buildings in 1748, (fn. 85) which were probably those demolished c. 1757 when William Lisle, ironmonger, offered their timbers and tiles for sale. (fn. 86)
In most of the town's streets and lanes there were houses with workshops and tradesmen's yards. (fn. 87) Shopkeepers and merchants usually had shops and warehouses adjoining their dwelling houses, and some developed industries on or near those sites. In 1798 Samuel Tabor, whose house was in Queen Street, had a malting and warehouse in St. Botolph's Street; also in St. Botolph's Street James Ashwell, grocer, had his house, warehouse, shop, and candle-making workshop. (fn. 88) Samuel Todd, grocer at Head gate, also kept a gin distillery with mills and furnaces there in 1756; (fn. 89) Michael Boyle opened a silk factory in Head Street near his ribbon shop c. 1782; (fn. 90) Joseph Wallis in 1792 built an ironfoundry behind High Street, convenient to his ironmongery shop, (fn. 91) and William Jones, carver and gilder in Head Street, had a plate glass works there c. 1815. (fn. 92) There were other warehouses and factories in lanes off the main streets, including an iron warehouse behind the Red Lion in 1734, (fn. 93) a china warehouse there in 1787, (fn. 94) and several warehouses in Pelham's Lane in 1768. (fn. 95) A pipe kiln in George Lane flourished from the early 18th century, (fn. 96) and a bay factory in Moor Lane (later Priory Street) survived into the 19th century. (fn. 97) A linen factory was founded c. 1800 in St. Helen's Lane, where adjacent houses were converted as a hemp, later a worsted stocking, factory, and a silk factory was built in St. Peter's Street in 1824. (fn. 98) Brewers, profiting from increased trade while the town was garrisoned, established new breweries or enlarged existing ones on North Hill, East Hill, and in St. Botolph's Street, and a distillery in Culver Lane opened c. 1815. (fn. 99) Other industries, including Dearn's ironfoundry in St. Botolph's Street, and Eisdell's ropewalk off Stanwell Street, developed on the south-eastern fringe of the built-up area. (fn. 100) In 1817 William Cant's nursery in St. John's Street was put up for sale as building land. (fn. 101)
There was little change in the use and pattern of High Street in the 18th and early 19th century. The moot hall remained unchanged but a theatre was built behind it in 1764 and a debtors' prison in its yard in 1809. (fn. 102) The town's markets were held in High Street throughout the period; sites of specialist stalls were occasionally changed within it. The market cross, opposite the moot hall and in use until 1801, became a guard house and was demolished when it became a nuisance in 1808. (fn. 103) The pillory opposite the moot hall was in use in 1807, but may have been removed soon afterwards when the cage at the north-east corner of St. Runwald's church was taken down. (fn. 104) A brightly decorated pump opposite the door of the moot hall survived until c. 1819. (fn. 105) The Dutch bay hall, which became a market and corn exchange, was remodelled in 1800-1 and replaced in 1820 by a new corn market, with an insurance office above. The fish market and butchers' shambles were east of St. Runwald's church, and there were as many as 66 butchers' stalls on the south side of High Street by 1730. A covered market, built west of the moot hall in 1813 for all but corn and fish, was disliked by the traders, who had returned to the street by 1825. (fn. 106) Shops lined the street behind the market stalls and pens; as late as 1835 the improvement commissioners were seeking ways of keeping cattle off pavements and out of shops. (fn. 107) An obelisk, showing distances to London and other towns, was erected in 1760 east of St. Runwald's church and the butchers' shambles. (fn. 108)