Pages 391-401
A History of the County of Essex: Volume 9, the Borough of Colchester. Originally published by Victoria County History, London, 1994.
This free content was digitised by double rekeying. All rights reserved.
LEXDEN
The ancient parish comprised an irregular area of 2,334 a. (945 ha.) west of the town. (fn. 1) The Lexden hundred court presumably originally met within the parish, perhaps in the north-west quarter on land owned by the Mott or Mote family from the 14th century, but it had moved to Empford, later Stanway, bridge by 1581. (fn. 2) In 1086 Lexden was an outlying estate of Stanway, but the burgesses claimed it had belonged to Greenstead and been rateable with the borough in 1066. It was within the borough and liberty of Colchester by 1296. (fn. 3)
Lexden's western boundary with Stanway followed an earthwork and a lane northwards before turning north-west at Chitts Hill to take in a triangular area, which contained a detached part of West Bergholt. The area, which was outside the bounds of Colchester liberty, was perhaps the land in Stanway acquired by John de Burgh before 1243. (fn. 4) The name Chitts Hill, recorded as Shitte, Shyt, and Shet Street in the Middle Ages, may derive from sciete, a nook or corner. (fn. 5) The northern boundary wound along the river Colne and St. Botolph's brook, turning northwards at Botolph's bridge, said in 1304 to be in Mile End, and skirting a small area of inclosed woodland in West Bergholt parish, before turning south-east along field boundaries to join and follow Braiswick Road to a point north of North bridge on the edge of the town. The tongue of Lexden intruding northwards between West Bergholt and Mile End was within Lexden by 1360 and may derive from the clearance of Cestrewald in the 13th century. (fn. 6) An exchange of tithes between Lexden and St. Mary's-at-the-Walls c. 1699 altered the southern boundary, which thereafter ran from the western earthwork north-east, and then southeast along field boundaries to Maldon Road which it followed for a short way before turning north along field boundaries around intermixed, detached parts of the parishes of Holy Trinity, St. Mary-at-the-Walls, St. James, and St. Peter. In 1817 those parts were consolidated and their boundaries adjusted. (fn. 7) A detached area of Lexden comprising 10 a. lay in St. Mary's-at-the-Walls parish. (fn. 8)
The land rises from 10 metres by the river Colne to 35 metres near the northern and western extremities. A ridge runs eastwards from Chitts hill for c. 1½ mile, roughly following the line of the river. The soil is silty clay with sand and gravel, some London clay and, along the Colne near the eastern boundary, an area of soft alluvial soil. (fn. 9) Lexden springs, a group of strong springs rising where sand and gravel beds meet London clay, form a stream which feeds the Colne. In the 19th century the springs were exploited to supplement the town's water supply. (fn. 10) Much of the parish is good arable land, with meadow along the Colne. Along its western boundary, however, lay Lexden heath (290 a.) which with the adjoining Stanway heath formed a large area of rough grazing. Before 1237 the lords of Lexden manor created a park between the Colne and Bergholt Road; the Lexden Park which survived in 1990 south of Lexden Street was made in the later 18th century. (fn. 11)
The road from Colchester to London, turnpiked in 1696 and 1707, (fn. 12) crossed the parish from east to west as Lexden Hill and Lexden Street. A branch from it ran north-west towards Aldham, crossing Chitts Hill, which led from the London road to New bridge. Roads from Colchester to Maldon, West Bergholt, and Mile End form parts of the former southern, northern, and eastern boundaries. Lanes led from those roads to the heath, the mill, and outlying farms. One of them, New Lane, constructed across Lexden heath before 1564, was closed c. 1821. After inclosure of the heath in 1821 a lane running south across it from the London road was extended to the Maldon road and named Straight Road. (fn. 13) There were four bridges over the Colne. New bridge, recorded from 1204, (fn. 14) carries the road from Lexden to West Bergholt near Chitts Hill. Its repair was the joint responsibility of the lords of the manors of West Bergholt, Lexden, and Abbotts in Stanway. (fn. 15) The wooden bridge recorded in 1866 was made in three sections to simplify repair by the three parties. (fn. 16) The lord of Lexden manor had responsibility for the repair of Lexden bridge between the two mills in Mill Lane, Sheepen bridge carrying a lane to Sheepen Farm, and the lost Cheane bridge, which probably led to the medieval park. (fn. 17) Godholves, the name later corrupted to Botolph's, bridge, recorded from the 13th century, carries the Colchester to West Bergholt road over St. Botolph's brook. (fn. 18)
There were three medieval crosses in the parish. Lamb's cross, standing where Chitts Hill meets the branch from Lexden Street towards Aldham, was said to have been erected by William de Lanvalei. Stone cross stood almost opposite the junction of the London road with Horsey Lane, where its brick and stone pedestal was said in 1748 to have survived within living memory. Peddars cross was at the south end of Lexden heath by a lane to Gosbecks in Stanway. (fn. 19)
The Eastern Counties railway from London was built across the north half of the parish in 1843, with a viaduct over the Colne near Motts Farm, and a station, Colchester North, just within the parish. (fn. 20) A postal receiving house had been established by 1848. (fn. 21)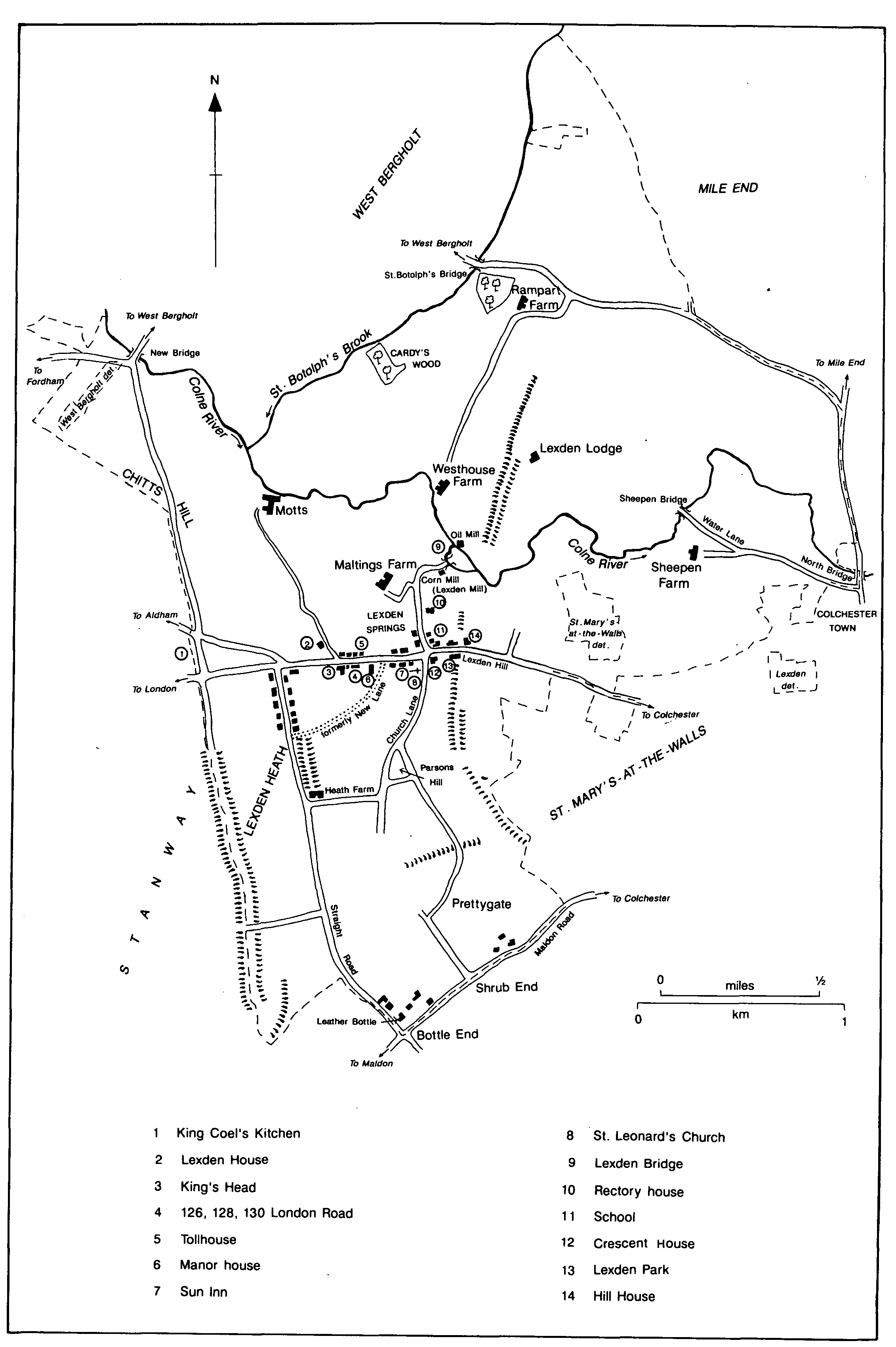 Three major linear earthworks, part of the Iron-Age dyke system of Camulodunum, cross the parish from north to south. One lies on the western boundary, another east of Straight Road, and the third runs south from Lexden Hill through Lexden park to a hollow way leading to Maldon Road. Numerous tumuli or mounts have been recorded. (fn. 22) The earliest known evidence of settlement is a Bronze-Age cemetery near Chitts Hill. (fn. 23) The Iron-Age Camulodunum extended over most of the later parish. In the Roman period temples and an industrial site were built on Sheepen farm. (fn. 24)
By 1066 a settlement had been established at which 16 or more unfree tenants were recorded, besides 4 servi who worked the manorial demesne. (fn. 25) Lexden was the wealthiest and perhaps the most populous of the four outlying parishes, with 16 men asessed for subsidy in 1296, 23 in 1524, and 31 in 1604. (fn. 26) In the 16th century 25 houses were charged with repairing the churchyard fence. (fn. 27) There were 80 households in 1673, and 240 adults were rated to the poll tax in 1692. (fn. 28) By 1766 the number of houses had risen to c. 94 and remained at that level in 1801, when they were inhabited by 697 people. (fn. 29) Therafter, as Colchester expanded westwards, the population of Lexden rose rapidly to 1,603 by 1851 and 4,089 by 1901, the greatest increase occurring in the decades 1821-31 (27 per cent), 1861-71 (25 per cent), and 1881-91 (51 per cent). (fn. 30) From 1861 the totals were inflated by the inclusion of Essex Hall asylum, established in 1859. (fn. 31)
Lexden village grew up around the church and the springs. The position of a cluster of surviving medieval houses between the lost New Lane and Lexden Road (nos. 126, 128, and 130 Lexden Road) (fn. 32) suggests that they encroached on the heath. Among other surviving houses with medieval origins in Lexden Street are Church House, Manor House, (fn. 33) and Weavers. Church House (no. 197), opposite the church, is a 15thcentury hall house with cross wings. An upper floor was put into the hall in the 17th century and a stair with square newels and turned balusters was inserted behind the hall. A brick service wing was built at the back of the east end in the 19th century. A merchant's mark found in the house (fn. 34) was probably that of John Baldwin, tanner, who lived there in the mid 17th century. (fn. 35) Weavers (no. 187), perhaps formerly the Angel inn, has a late medieval cross wing. The rest of the house was rebuilt in the early 17th century with a continuous jetty along the street. The jetty was underbuilt, probably in the early 19th century when the interior was refitted, and opened up again in the 20th century. West of Church House a 17th-century timber-framed house survives as two houses (nos. 205 and 207), encased in brick and remodelled internally in 1838. (fn. 36) Next to it on the west nos. 209 and 211 are timber-framed houses, originally built as one. East of Weavers a timber-framed house (Jacqueline Court), probably of the 17th century, was fronted in brick in the early 19th century and completely remodelled and enlarged to provide flats in the late 20th century.
There were two small settlements along Shrub End Road on the southern boundary of the parish, Shrub End and Bottle End, both recorded from 1777. (fn. 37) They may have been the successors of the medieval settlement of Shrub Street, recorded from c. 1200. It was treated as a separate vill by the forest justices in 1276, and at least 11 holdings of arable and one house in Shrub owed rent, called shrebgavel, to the borough in the late 14th century. (fn. 38)
Houses on outlying farms recorded in 1655 (fn. 39) included Coopers (later Prettygate), Sheepen, and West House (Westfields). The first two were pulled down in the late 20th century, but West House survives with a 17th-century main range and cross wing. The house was remodelled and a service wing was added in the 19th century. At Maltings farm the surviving house is possibly a medieval hall with an inserted floor and 18th-century additions. A hedged and moated inclosure in a field called Summerhouse piece in 1838 may have been the site of Summer Hall recorded in 1583 and 1601. (fn. 40)
In the 18th century, following the turnpiking of Lexden Street, new houses were built there, including the Sun public house and two adjoining houses (nos. 108 and 110) on the south side, and, on the north side, two houses standing on an embankment and later divided (odd nos. 221-233). West of them a cottage was apparently adapted as a tollhouse and a second tollhouse, stood on the corner of Church Lane and Lexden Street. Lexden House, on the north side of the London road, was enlarged and remodelled, probably by Isaac Green, in the later 18th century. (fn. 41) By 1800 four alehouses or inns had been converted to private houses or demolished. The rectory house was rebuilt in 1814 and the church in 1820. Gentlemen's houses with parks or gardens were established at Lexden Park and Hill House. Corner House on the east side of Church Lane near its junction with Lexden Street, recorded in 1528, (fn. 42) had become a gentleman's house renamed Crescent House by 1813 and the tollhouse in its garden had been pulled down. Crescent House survived in 1875 but was demolished soon after. (fn. 43) Lexden Park was rebuilt in c. 1825. (fn. 44) In Water Lane on the eastern boundary of the parish terraces of workers' cottages had been built by 1838. (fn. 45)
Ten inns were recorded in the 17th century and some of them may have been long established. Five are known to have been in Lexden Street, reflecting its importance as part of the road to London. The Angel was recorded as an inn in 1683 but was a private house by the mid 18th century. (fn. 46) Also in Lexden Street in the 17th century were the Ship, the Star, the Sun, and the King's Arms. The first two were apparently closed in the early 18th century, but the King's Arms survived in 1789 and the Sun until the 1790s, when it became a private house. (fn. 47) It had reopened as a public house by 1837. (fn. 48) The King's Head, near the north-east corner of Lexden heath, was recorded in 1656; in 1721 it was out of repair but seems to have survived as an inn into the late 19th century, when it became a temperance refreshment house. (fn. 49) In Bergholt Road were the Fox and Pheasant, recorded 1674-1772, (fn. 50) and the Chequers, 1728-1837. The Chequers seems to have been renamed the Railway tavern when the railway was built in 1843 but had closed by 1862. (fn. 51) At the south end of Lexden heath the Leather Bottle survives from 1670 or earlier, and the Berechurch Arms, established by 1837 and still trading in the 1980s, may have been the successor of the Fighting Cocks, recorded 1702-40. (fn. 52) The Crown at the west end of Lexden Street and the Star in Straight Road opened as beerhouses c. 1851. (fn. 53) The Queen's Head, mentioned in 1688 and 1701, may have been in St. Mary's-at-the-Walls parish as was the Three Crowns, recorded in field names 1678-1705. (fn. 54)
A bowling green in Lexden Street had become a garden by 1726. (fn. 55) In 1797 Colchester races were run on Lexden heath, where military camps were occasionally held in the 18th and early 19th century. (fn. 56) A village hall was built by a local benefactor in 1884. (fn. 57)
A friendly society, the Aldham and United Parishes Insurance Society, founded in 1826, was open to Lexden men aged between 14 and 50. The Lexden members, whose numbers rose from 38 in 1834 to 122 in 1848, included farmers, agricultural labourers, artisans, and servants. The society survived until 1863 or later. (fn. 58)
MANORS.
Aelfflaed, widow of the ealdorman Brihtnoth, by will of c. 1000 bequeathed to the king land in Lexden which was probably the outlying estate of 4 hides belonging to the king's manor of Stanway in 1086, and which became LEXDEN manor. (fn. 59) The 5 hides at Lexden claimed by the burgesses of Colchester in 1086 as having belonged to Godric's land of Greenstead (fn. 60) presumably included those 4 hides, perhaps with other land later in Mile End. The implication that Lexden was transferred from Greenstead to Stanway between c. 1066 and 1086 seems to be supported by the statement that Stanway's value increased by half during that period. (fn. 61)
Eudes the sewer (dapifer), to whom William II granted Colchester and its castle, probably acquired Stanway and Lexden by the same grant, for he certainly held lands in those places. (fn. 62) After his death in 1120 both manors descended in chief as part of the honor of Walkern in the families of St. Clare, Lanvalei, and Burgh. (fn. 63) John de Burgh (d. 1274), who married Hawise de Lanvalei, was holding Lexden in her right in 1227. (fn. 64) Their son John de Burgh (d. 1280) sold Stanway (fn. 65) but retained Lexden, which on his death fell to the share of his daughter Dervorguille, first wife of Robert FitzWalter, Lord FitzWalter (d. 1326). (fn. 66) After Dervorguille's death in 1284, FitzWalter held by the curtesy of England. In 1313 he bought the reversion of half the manor from their daughter Christine, to whom it had been assigned as her purparty. (fn. 67) In 1315 he appears to have bought the reversion of the other half from John Marshal, Lord Marshal, who was probably Christine's nephew. (fn. 68) Lexden, therefore, passed on FitzWalter's death to his descendants by his second wife, (fn. 69) descending, like Roydon, with the barony of FitzWalter. John Radcliffe, Lord FitzWalter, was attainted and executed in 1496 and Lexden was forfeited to the Crown, but in 1505 it was restored to Radcliffe's son Robert, Lord FitzWalter, later earl of Sussex (d. 1542). (fn. 70) Lexden remained with the Radcliffes, earls of Sussex, until 1612 when Robert Radcliffe, earl of Sussex, sold it to Sir Thomas Lucas (d. 1625), who settled it on his bastard son Sir Thomas Lucas (d. 1650). (fn. 71) The last named Sir Thomas, sequestered as a Royalist during the Civil War, was succeeded at Lexden by his son Charles, Lord Lucas of Shenfield (d. 1688). (fn. 72) Lord Lucas settled the manor on his wife Penelope for life, with remainder to their daughters, Anne, wife of Edward Cary, and Penelope, later wife of Isaac Selfe. In 1700 Isaac Selfe bought Anne Cary's reversion of one half and the interest of Robert Lucas; in 1701 Selfe and his wife and her mother sold the manor to Samuel Rawstorn of London (d. 1720). (fn. 73)
Thomas Rawstorn, son and heir of Samuel, by his will proved 1768, devised the manor to his widow Sophia, with remainder to his daughter Ann (d. 1816). Ann devised Lexden to the Revd. John Rawstorn Papillon (d. 1837), a distant cousin, who left the manor for life to his sister Elizabeth Papillon (d. 1854), with remainder to his great-nephew Philip O. Papillon. (fn. 74) Philip O. Papillon, who was M.P. for Colchester 1859-65 and twice mayor, died in 1899, and was succeeded by his son Pelham R. Papillon (d. 1940). (fn. 75) In 1931 the Lexden manor estate was sold and broken up. (fn. 76)
The site of the medieval manor house was probably within the moated inclosure where a house known as Lexden Lodge survives. In 1313 the main house, kitchen, granary and chapel stood within the inner courtyard, two barns, a byre, dairy and small garden within the outer courtyard. The existing house, apparently of the 16th century, was probably an addition to an earlier and more substantial building, of which nothing remains. The eastern side of the moat was apparently widened in the early 19th century. (fn. 77) In the early 17th century Sir Thomas Lucas acquired the tenter house in Lexden Street, a former copyhold tenement which was in ruins in 1561. (fn. 78) He apparently built a new house on that site, where part of an early 17thcentury range survives at the south-east corner of the existing house. Its north end appears to have been built late in the same century. Additions were made on the west side in the 18th century and, perhaps at the same time, gardens were laid out around and opposite the house, and Lexden springs were landscaped to give a prospect of ornamental water with plantations. The house was enlarged and remodelled in 1837. (fn. 79)
A chapel in or for the park recorded in 1201 was presumably that located in the inner court of Lexden manor house, although a Chapel field survived south of the moated site in 1838. (fn. 80)
MOTTS, sometimes styled a manor from 1483, was apparently a free tenement of Lexden manor, (fn. 81) which may have taken its name from the family of Arnold de la Mott or Mote (d. by 1310). He gave to the abbey of Waltham Holy Cross land in Lexden, (fn. 82) where his son Thomas also held land in the early 14th century. (fn. 83) William Mott, who paid tithes in the parish in 1360, may have been Thomas's heir. (fn. 84) Clement Spice (fl. 1363) acquired Motts and was succeeded by his sons Richard and Roger, and they in 1459 by Roger's son Clement (d. 1483). Clement's son and heir Humphrey Spice (d. 1485) (fn. 85) was succeeded by his daughter Philippa (fl. 1542), whose son, Henry Fortescue, in 1547 conveyed the manor of Motts to George Sayer (fn. 86) whose family retained it until 1634, when John Sayer conveyed it to James Lemyng. Lemyng's daughter Mary married Sir Isaac Rebow (d. 1726) from whom Motts passed to his grandson Charles Chamberlain Rebow and Charles's daughter, who married a Capt. Adams. Known as Newbridge farm, it belonged to Thomas Wood in 1821. (fn. 87) It was bought soon afterwards by J. F. Mills and became part of the Lexden Park estate. (fn. 88) In 1990 it was known as Viaduct farm or Seven Arches farm from its proximity to the railway crossing over the Colne.
LEXDEN PARK ESTATE, named from a park laid out before 1768, lay mainly on the south side of London Road near the junction with Church Lane. It originated in lands acquired by William Mott before 1598. (fn. 89) His family extended the estate, retaining it until 1714 when another William Mott sold it to Charles Richardson (d. 1721). Charles devised it to his nephew John Richardson who seems to have laid out the park. By will proved 1768, John left the estate to trustees who sold it to Isaac Bevan. The estate passed to Isaac's son Henry Ennew Bevan (d. 1777) and to Henry's sister Sally, who married William Turner. It was acquired c. 1821 by J. F. Mills (d. 1840). He enlarged the estate and devised it to his wife for life and to his son-in-law G. H. Errington (d. 1883), who sold some of the land. In 1889 the house and 90 a. were sold to Sir Mountstuart Elphinstone Grant Duff (d. 1906). In 1908 more land was sold for building and the house and park to E. J. Sanders. (fn. 90) They passed to his son Sir Percy Sanders and in 1955 were bought by Endsleigh private school, which was taken over by the county council in 1965. (fn. 91) The premises were used as the Endsleigh annexe of Colchester Institute (fn. 92) until 1990, when the park of c. 25 a. was bought by the borough council for public recreation.
The house for which the park was laid out may have been Corner, later Crescent, House (fn. 93) but c. 1825 a villa was built on the north side of the park to designs by D. Laing. (fn. 94) Some fittings, including fireplaces, and some of the walls were re-used in the mid-19th century villa which occupies the site. That house was enlarged and remodelled on more than one occasion in the 19th century and the early 20th. Substantial additions were made to the west end to provide classrooms. In the valley south of the house a small park survives surrounded by a boundary belt of trees and there is a lake close to the house.
ECONOMIC HISTORY.
In 1066 on the estate of 4 hides which became Lexden manor there were 2 ploughs on the demesne and 4 on land cultivated by the 6 villani and 10 bordars, 18 a. of meadow, and woodland for 100 swine. In 1086 the 5 villani and 12 bordars had only 3 ploughs. (fn. 95) In 1280 there were on the demesne of Lexden manor 270½ a. of arable land, 22 a. of meadow, and c. 150 a. of park pasture and the total value of customary rents and services was 77s. 10½d. (fn. 96) By 1313 the tenants owed winter and autumn week-work, additional ploughing and harrowing services in winter and spring, and renders of chickens and eggs at Christmas and Easter respectively. (fn. 97) Their holdings at that time ranged from 8 a. to 50 a. and by the late 14th century appear to have been held in severalty. (fn. 98) In 1310 on Thomas Mott's estate, which lay west of Lexden manor, there were 160 a. of arable, 10 a. of meadow, 10 a. of pasture, and 16 a. of alder. (fn. 99) Waltham abbey's Stanway manor included arable and meadow land in Lexden, west of Motts. (fn. 100)
Rye and oats were grown on the Lexden demesne in 1287 and wheat, oats, barley, and peas in 1351. Income from livestock, hay, and pasture exceeded that from arable crops in both 1287 and 1351. Among livestock cattle apparently predominated; in 1287 the lactage of 40 cows was farmed at 4s. each and 25 calves were sold for 1s. each. By 1351 the value of the lactage had fallen to 2s. 6d. for each cow. (fn. 101) The name Sheepen, given to lands by the river in the south-east corner of the parish, is derived from 'scipen', cattle pens, (fn. 102) suggesting that it was an ancient place for assembling cattle.
The park inclosed by the lord of Lexden manor before 1237 occupied much of the north-east corner of the parish between the river on the south and Bergholt Road on the north. It extended eastwards towards the town at North Street and westwards towards the manor house on the site of Lexden Lodge. (fn. 103) In 1287 the rents of its pasture alone amounted to £6 17s. ½d. (fn. 104) Walter FitzWalter, Lord FitzWalter, in 1375 granted to his parker 3d. a day, a livery robe every year, pasture for 6 cows, 12 swine, 12 sheep, and 4 mares with their foals, and pasture and hay for his horse. The parker was also keeper of the lord's warren, (fn. 105) which may have been in the south-east corner of the parish, along the boundary with St. Mary's-at-the-Walls, where the field names Upper and Lower Warren survived in 1838. (fn. 106) The lord of Lexden had a fishery between New bridge and Lexden mill by 1245, and stews on his demesne in 1342. (fn. 107)
In the Middle Ages Lexden contained numerous enclosed groves probably providing pasture and underwood. (fn. 108) About 1276 the lord of Lexden laid waste part of the ancient wood of Cestrewald in the north-east quarter of the parish, probably the Chesterwelde field recorded in 1360. (fn. 109) By 1280 Popeshead (later Cardy's) (fn. 110) and Ten Acre woods in the north lay adjacent to two demesne arable fields, West field and the Hide. (fn. 111) In the south-east woodland between Lexden and Stanway heaths had been cleared by 1416. (fn. 112) The heath was common, and so was Gallow grove, which apparently lay to the north of it and survived in the 1520s. (fn. 113) The burgesses of Colchester had half year grazing rights on lands in the south-east quarter of the parish, next to the Borough field in St. Mary's-at-theWalls. (fn. 114) The intermixed, detached parts of West Bergholt on the north-west boundary of Lexden may derive from intercommoning with that parish on the riverside meadows. (fn. 115) In the early 19th century only the heath remained common. (fn. 116)
The growth of sheep-rearing to serve the local cloth trade increased pressure upon grazing resources. In the 16th century the pasture rights of commoners were limited to 100 sheep, overseers of estovers were appointed, and a pound was set up in Lexden Street. (fn. 117) Some arable land, including 50 a. or more in West field, had been converted to grass by 1599 when, of 538 a. of land surveyed, there were 290 a. of pasture, 172 a. of rye ground, and 76 a. of meadow. (fn. 118) In 1645 the tithes of Lexden church glebe were payable on 44 a. of rye, 26 a. of oats, 6 a. of barley, 5 a. of flax, 4 a. of wheat, 3 a. of peas, 30 a. of meadow, 22 cows, and 140 sheep. (fn. 119) Flax cultivation gave rise to a field name of 1776, and there was a flaxman in 1649. (fn. 120) Turnips were being grown as a field crop by 1676, and by 1699 their use as fodder had begun to devalue the meadows. (fn. 121) In 1711 a flock of 200 sheep and their lambs was recorded on the Lexden manor pastures. (fn. 122)
Much woodland was cleared in the 17th and 18th centuries. Braiswick wood, said to be 140 a. in 1437, (fn. 123) survived in 1621, (fn. 124) and Shrub wood may have extended into Lexden in 1649, (fn. 125) but by 1729 only c. 70 a. of woodland remained in the parish. (fn. 126) In 1767 another 25 a. was stubbed to make way for corn (fn. 127) and by 1821 only 20 a. remained. (fn. 128)
In 1729 there were five farms of 100-200 a.; three of them were among the 751 a. owned by Mrs. Rawstorn, lady of Lexden manor, one was owned by Charles Chamberlain Rebow, and the other by Nicholas Corsellis. In the early 18th century farmers were using chalk and town muck to improve the land; (fn. 129) leases of the Rawstorns' farms imposed a four-course system of husbandry, with two corn crops followed by summer fallow and clover, the use of farm manure or its equivalent in town muck, penalties for ploughing pasture without consent, and, occasionally, residence in the farmhouse. (fn. 130) Rye, which had been a major crop in the Middle Ages, had given way to wheat by the 18th century and in 1801 returns included 294 a. of wheat, 226 a. of barley, 171 a. of oats and 10 a. of rye. (fn. 131) In the early 19th century c. 14 a. of hops were recorded. (fn. 132)
Lexden heath, comprising 290 a., was inclosed by Act of Parliament in 1821. (fn. 133) At that time J. R. Papillon of Lexden manor and J. F. Mills of Lexden Park were enlarging their estates; under the award Papillon acquired 151 a. by allotment and bought common rights on 18 a.; Mills acquired c. 40 a. by allotment and bought common rights on 41 a. of heath (fn. 134) and the burgesses' lammas rights on 39 a. of farmland adjoining his park. (fn. 135) By 1838 the Papillon family owned 1,216 a. and J. F. Mills 296 a. out of 2,312 a. in the parish. The titheable acreage then comprised 1,746 a. of arable, 430 a. of pasture, and 37 a. of woodland. There were three farms of over 200 a., three of 100-200 a., three of 50-100 a., and several smaller holdings. (fn. 136) Some 40 a. of farmland were lost to the railway in the early 1840s. In 1876 there were 1,637 a. of arable, 423 a. of pasture, and 57 a. of wood. (fn. 137)
A common market on the waste beside Lexden Street was mentioned in 1615, but nothing more is known of it. (fn. 138)
Henry and John Stow, tenants of Lexden mill in the mid 18th century, were well known locally for their auriculas and tulips. (fn. 139) Among nurserymen who flourished in the parish in the 19th century was Isaac Bunting, whose flower nursery in Lexden Road was founded in 1819. By the late 19th century his family had established a second nursery in North Station Road, and in 1935 the Lexden Road nursery was sold. (fn. 140) Frank Cant established his rose nursery at Braiswick c. 1877. (fn. 141)
In 1086 there were two mills in Lexden, (fn. 142) probably on the Colne on the sites of the later Lexden mill and North mill. The mill in Lexden which Hubert of St. Clare granted to St. John's abbey before 1154 (fn. 143) was probably North mill, which by the early 14th century was considered to be in Colchester. (fn. 144) The other mill in Lexden remained in the hands of the lords of the manor, being held of John de Burgh in 1233. (fn. 145) It was probably the mill on the Colne below New bridge and apparently in Lexden mentioned in the 1240s, (fn. 146) and the Lexden mill whose millers were regularly presented at borough lawhundred courts from 1334. (fn. 147) It was farmed for 40s. in 1352. (fn. 148) Thomas Godstone, the farmer in 1403, rebuilt Middle mill in Colchester and may have built the second mill which existed in Lexden by 1431. (fn. 149) By 1455 the mills stood on either side of a bridge, presumably the later Lexden bridge where the stream from Lexden springs feeds the Colne. (fn. 150) A lease of 1496 reserved the springs to the use of the mills and allowed the lessee to build a dam for the corn mill. (fn. 151) From the late 15th century until the early 18th century the mills were farmed together and distinguished as the great or undershot corn mill, north of Lexden bridge, and the little or overshot fulling mill, at the head of a pond south of the bridge. (fn. 152)
From 1719 the mills seem to have been farmed separately. The great or undershot mill remained a corn mill until c. 1830 when it became an oil mill which was occupied by the Chaplin family until it burnt down in 1878. (fn. 153) A corn mill, built adjacent to the undershot mill by 1837 and later driven by an oil engine, remained in use until c. 1931 and was converted to a house in 1975. (fn. 154) The fulling mill was converted c. 1720 for crushing seed for oil. From about the 1740s until 1772 it was occupied by John and Henry Stow. By 1775 it was a bay mill and was leased that year to the Colchester baymakers Tabor and Boggis. Their successor Peter Devall was the lessee in 1821. (fn. 155) The bay mill was still working in 1822, but was in ruins by c. 1830 and soon afterwards was converted into a corn mill, which was in use until 1898. The building survived in 1931. (fn. 156)
A mound south-east of New Lane, described in the 17th century as a former mill mound, may have been the site of the mill belonging to the tenter house. (fn. 157)
A medieval tenter house in Lexden Street, used for stretching newly-woven cloth, had fallen into disuse by 1561 and was falling down in 1652. (fn. 158) A few weavers were recorded in the parish in the 17th and early 18th century, (fn. 159) and there was a tenterfield of unknown date recorded in 1838 on the west side of Water Lane. (fn. 160) A tailor lived in the parish c. 1568, three in 1588, and about the same number in the 17th century. (fn. 161)
A tannery with a bark mill at Church House, Lexden Street, was in use in the 16th and 17th centuries and survived in 1790. (fn. 162) There is evidence of malting in the 17th century, (fn. 163) and a malthouse established on Maltings farm by 1729 was apparently in use until c. 1863. (fn. 164)
Gravel was sold from Parsons Hill, south-west of Lexden Park, in the late 17th and early 18th century; (fn. 165) throughout the 19th century various gravel and sand pits were exploited, including one on the western boundary known as King Coel's kitchen. (fn. 166) The location of the tile kiln recorded in the late 14th and early 15th century is unknown. (fn. 167) There were brick kilns on various sites on or near Lodge farm throughout the 19th century; the last of them was worked in 1881 and closed by 1897. (fn. 168)
By 1841, although agriculture provided most of the employment within the parish, agricultural labourers and farmers were outnumbered by tradesmen and craftsmen, many of whom may have worked in the town although living in Lexden. (fn. 169) In the later 19th century there was much high-standard residential development and Lexden was increasingly seen as a wealthy suburb providing homes for many members of the town's elite. (fn. 170)
LOCAL GOVERNMENT.
The lord of Lexden manor was holding view of frankpledge by 1280. (fn. 171) In 1318 the borough court questioned his right to do so in the absence of its bailiffs, (fn. 172) and the tenants were amerced frequently in the 14th and 15th centuries for failing to pay suit to the borough court. (fn. 173) Lexden gallows, mentioned in 1379, (fn. 174) may have been raised by the lord of the manor. The dispute over borough jurisdiction continued in the 16th century; the manor court, which elected constables and aletasters and maintained stocks, claimed in the early 16th century that Colchester serjeants had no right of arrest in Lexden. In 1571 that exemption was claimed only on Lexden park, and it presumably ceased when the park was disparked in the earlier 17th century. (fn. 175)
Extracts from court rolls 1511-1672, recording some leet business, (fn. 176) survive with rolls and books of courts baron 1702-1924. (fn. 177) In the 18th century courts were held at Lexden Lodge Farm. (fn. 178)
A poorhouse mentioned in 1592 was probably an unendowed almshouse, possibly St. Catherine's hospital which was in Lexden manor although in St. Mary's-at-the-Walls parish. (fn. 179) A parish workhouse in Spring Lane, recorded in 1751, was sold in 1835 when Lexden became part of Colchester union. (fn. 180) A house on Parsons Hill was let to poor people from 1672 until 1693 or later. (fn. 181) In 1823 the parish helped Samuel Durrant to build a cottage on its land at Bottle End, granting him life tenancy at a token rent. (fn. 182)
Parish records include vestry minutes 1813-57 and overseers' papers 1746-1851. (fn. 183) The Easter meeting determined the church rate and elected two churchwardens and two overseers. In the early 19th century the vestry rarely held more than 4 additional meetings, determining the overseer's rate twice a year, but in the period 1820-40 there were 6-8 and occasionally 10 meetings a year, besides the Easter vestry. Their main business was to approve the poor rate quarterly, to nominate a surveyor, and to approve his rate and accounts. Local farmers, and occasionally gentry, served as churchwardens, overseers, and surveyors. George Preston, rector 1804-41, and his successor John Papillon, 1841- 90, took the chair at almost every meeting. One or two inhabitants usually attended, workhouse matters and rating assessments attracting a few more. In 1830, although the Easter vestry was attended by only 7 men including the rector and parish officers, 19 parishioners partook of the Easter dinner afterwards and in 1834 many more attended a meeting to elect a new parish surgeon.
In 1673 poor relief was received by 48 of the 80 households assessed for hearth tax. (fn. 184) The annual cost of relief averaged £360 a year in 1783-5, above average for the town and liberty. It rose nearly 3-fold to £1,036 in 1813, the second highest payment in Colchester, then fell to £876 in 1814 and to £646 in 1816, a steeper drop than in any other parish in the town or liberty except Mile End. In Lexden as in the other outlying parishes costs rose thereafter, to £849 in 1818. In 1821 the overseers took a 21-year lease on 16 a. of newly inclosed land on Lexden heath for spade husbandry; in that year the amount spent on the poor fell from £827 to £759, which then represented c. 16s. per head of population, just below the average payment for the town and liberty. (fn. 185) By 1833 the overseers employed an apothecary and subscribed to the hospital. In 1836 they continued, with the sanction of Colchester union, to provide spade husbandry on Lexden heath for the term of the lease. (fn. 186) In 1867 the vestry set up a fund to pay the expenses of poor parishioners willing to emigrate. (fn. 187)
Following local agricultural disturbances in 1830 the vestry raised a subscription, to be supplemented by the poor rate, to select 10 special constables to provide nightly patrols of 5 men paid 2s. 6d. a night. The system seems to have been abandoned by 1833. The parish was still appointing parish constables in 1837, but by 1841 the borough provided two full-time policemen to patrol Lexden, Mile End, and Greenstead. (fn. 188)
CHURCH.
St. Leonard's church was established by the early 12th century when Eudes the sewer (d. 1120) gave a share of its tithes to St. John's abbey. (fn. 189) The advowson of Lexden was held in 1254 by John de Burgh (d. 1274) in the right of his wife (fn. 190) and descended with the manors of Stanway and Lexden in the FitzWalter, Lucas, Rawstorn, and Papillon families. (fn. 191) Robert FitzWalter (d. 1326) may have granted turns to others, for in 1328 his widow was to have the presentation on the third vacancy. (fn. 192) The king presented in 1386 when Walter FitzWalter (d. 1406) was a minor; Thomas Percy and others did so in 1398 when Walter was in Ireland. Henry Beaufort, bishop of Winchester, presented in 1422 as the heir's guardian and the bishop of London by lapse in 1442. In 1459 and 1461 Sir Thomas Cobham exercised the right of his wife, Elizabeth, widow of Walter FitzWalter (d. 1431). The king presented in 1499 when the manor was forfeit for rebellion. (fn. 193) The advowson passed from the Papillon family to the bishop of Chelmsford in 1978. (fn. 194)
The rectory was the richest living within the borough and liberty; it was valued at 40s. in 1254, £5 6s. 8d. in 1291, and £12 in 1535. (fn. 195) Eudes the sewer endowed St. John's abbey with two thirds of the tithes from the demesne of Lexden manor. Two thirds of the great tithes from all new assarts and of the tithes of Calwood near Chitts Hill also belonged to the abbey by 1254. (fn. 196) The rector received the third share and, by agreement with the abbot of St. John's in 1360, all tithes from certain small estates and from the demesne lands in Lexden of Waltham abbey's manor of Abbotts in Stanway. (fn. 197) After the Dissolution the Crown leased the abbey's share of tithes to Edward Cole for 21 years, (fn. 198) and in 1560 granted them to Sir Francis Jobson. (fn. 199) They were acquired by the rector before 1810, perhaps between 1767 and 1776. (fn. 200)
In 1621 the rector successfully claimed tithes in kind from Braiswick wood (150 a.) which had belonged to St. John's abbey. (fn. 201) In 1650 his income included £8 from glebe, returned apparently in error as c. 20 a., (fn. 202) and £80 from tithes. (fn. 203) By 1676 most of the rector's tithes had been commuted for money payments, and in 1692 some of the remainder were farmed. (fn. 204) By 1810 the glebe comprised c. 30 a. (fn. 205) and the rector owned all great and small tithes in the parish, except those from Jesus meadow (5 a.), formerly chantry land. A crown rent of £1 13s. 4d. charged on tithes was redeemed in 1827. (fn. 206) The rector's annual income from tithes and glebe rose from £144 in 1705, (fn. 207) to £566 in 1835. (fn. 208) In 1838 the rector's tithes were commuted for a yearly rent of £660. (fn. 209) In 1880 the rector granted an annual rent charge of £60 to the new church of St. Paul's (fn. 210) and boundary changes of 1898 resulted in tithe rent charges of £48 being transferred to St. Mary's-at-the-Walls. (fn. 211) Most of the glebe was sold in 1918 and in 1922 only 4 a. remained. (fn. 212)
The rectory house mentioned in 1538 adjoined the glebe, which lay off Spring Lane. (fn. 213) The house was 'little' in 1610, but in 1662 the rector was taxed on six hearths. (fn. 214) The timber and plaster rectory house that stood on the east side of Spring Lane in 1810 (fn. 215) was replaced in 1814 by a large new house built in Gothic style by George Preston, rector 1804-41. (fn. 216) That house was sold in 1910 and replaced by another in Lexden Road, which was replaced in 1975 by a house in Glen Avenue. (fn. 217)
The names of rectors are known from 1291. Before the Reformation incumbencies were usually short. (fn. 218) Four successive rectors were recorded between 1382 and 1386 when the rectory was held at farm by a chaplain. (fn. 219) In 1491 the rector was licensed to hold another benefice in plurality, (fn. 220) and a curate was recorded in 1529. (fn. 221) Richard Gostelowe, rector 1537-67, resided on another living from c. 1548. (fn. 222) His successor, John Price, rector 1567-76, was a former fellow of St. Catherine's, Cambridge. By 1574 he failed to serve the benefice and procure regular sermons and may have resigned under pressure. Robert Searle, rector 1576-1610, was one of the four Colchester ministers threatened with deprivation for non conformist practices after 1586, but survived to be designated 'diligent and sufficient' by his puritan brethren in 1604 and died in possession of the benefice. (fn. 223)
In contrast, his successor Stephen Nettles, who signed the petition for conformity in 1629, offended puritans by his Answer (1625) to John Selden's History of Tythes. (fn. 224) His contempt for the Covenant of 1643 and his adherence to the Prayer Book led to the sequestration of his livings of Lexden and Steeple in 1644, (fn. 225) but he continued to officiate (fn. 226) refusing to surrender Lexden rectory to his successor, Gabriel Wyresdale, until he was forced to do so in 1647. (fn. 227) Wyresdale, harassed by parishioners who favoured a local clergyman for the living, had left the parish by 1650. (fn. 228) John Nettles, rector 1657- 69, whose relationship to Stephen is uncertain, (fn. 229) may have been assisted in 1657 by George Downs, who in 1669 was associated with the presbyterian Owen Stockton. (fn. 230) In 1711 the mayor chose Richard Skingle, rector 1706-29, to preach at the oath-giving ceremony but the town clergy denied him a pulpit; in 1715 Skingle preached at the ceremony in Lexden church and in 1716 the corporation gave thanks there for the suppression of the Jacobite rebellion. (fn. 231) In 1717 Skingle successfully challenged the borough's right to poor rates on the rectory. (fn. 232)
From the early 18th century the rectors lived in the parish, serving the cure themselves for many years, usually providing two Sunday services and communion 4-6 times a year, catechizing in Lent, and sometimes lecturing in winter evenings. (fn. 233) Samuel Sandys, 1769-1804, (fn. 234) and his nephew George Preston, 1804-41, sometimes employed assistant curates but both lived in the parish and established schools for the poor. (fn. 235) Preston also rebuilt the church and rectory house. (fn. 236) His successor John Papillon, a kinsman of the patron, served the church until 1890. (fn. 237) Although in 1845 part of Lexden was assigned to a new parish of All Saints, Shrub End, (fn. 238) on Census Sunday in 1851 Lexden church, with seats for 577, had a good congregation of different classes in the morning, and was full in the afternoon. (fn. 239) In 1869 a chapel of ease, dedicated to St. Paul and served by a curate from Lexden, was built for the growing population near North Street railway station. (fn. 240) Part of Lexden parish was assigned to it in 1879, when it became a parish church. (fn. 241) Lexden parish was consolidated by exchange of small detached parts with St. Mary's-at-the-Walls in 1898, the transfer of c. 41 a. to St. Paul's, and gains from Holy Trinity, St. James's, and St. Mary's in 1911. (fn. 242) In the 1930s young people's organizations and a branch of the Mothers' Union were started. (fn. 243) In 1990 the church, with 270 on the electoral roll and seven clubs and societies, attracted regular Sunday and weekday congregations. (fn. 244)
The medieval church of ST. LEONARD, which was demolished in 1820, stood on the south side of Lexden Street. It comprised a chancel, a nave with north chapel or transept, a timbered north porch, a vestry, and a boarded west bellcot with shingled spire. (fn. 245) The church and bellcot were in ruins in 1600 and, although some work was done, the church was still decayed in 1607 and the chancel, north porch, and vestry in 1609. (fn. 246) A wooden clock tower had been mounted on the north chapel by 1748. (fn. 247) A new church was completed in 1822 to the designs of M. G. Thompson in the Early English style, several yards south of the old building, and in 1892 a larger chancel was added in Perpendicular style. (fn. 248) The church comprises a chancel with north chapel and south vestry with organ loft above, a nave with north and south porches, and a west tower. The chancel walls are of flint with Box stone bands and dressings; those of the nave and tower are cement rendered. The roofs of the nave and chancel are tiled; the spire is covered with copper. (fn. 249) In the period 1946-55 four memorial windows to the Papillon family were inserted on the north side, including one depicting Lexden manor house. The church had one bell in 1683, (fn. 250) which may survive as the clock bell. A bell dated 1751, apparently one of a ring, was probably acquired for the new church in 1820. It was cracked by 1859 and in 1899 was recast; in 1901 a chime of 11 small bells was added. (fn. 251) The plate includes an inscribed silver cup and paten given before 1683 by Charles Lucas, Lord Lucas, and a silver flagon given in 1763. (fn. 252) A marble monument to Richard Hewett (d. 1771) stands against the south wall. The churchyard, enlarged in 1877 and 1926, was closed in 1946. (fn. 253) A columbarium for 300 urns was erected in the churchyard in 1950. (fn. 254)
NONCONFORMITY.
A Primitive Methodist chapel was built in Straight Road in 1859. It had 18 members then and flourished in the later 19th century. (fn. 255) In 1972 it had a membership of 18, (fn. 256) and it was still open in 1990.
Lexden village mission hall was built in 1885 by Mrs. James Hurnard of Hill House. It was at first used mainly for temperance work, but was registered for services for protestant dissenters in 1890; a full-time missioner was appointed in 1927. In 1971 it became the Lexden Evangelical church. (fn. 257) It was still open in 1990.
EDUCATION.
A Church Sunday school had been established by 1793, when a house in Mill Lane was provided for the master and mistress. (fn. 258) By 1817 two daily dame schools, also maintained by the rector, had been added, and in that year a National day and Sunday school for 100 children was built in Spring Lane, mainly with a legacy of Ann Rawstorn (d. 1816). (fn. 259) By 1819 the school, attended by c. 70 children and supported by subscriptions, taught all poor children aged 6-12 in the parish. (fn. 260) Four small dame schools, supported partly by subscriptions, were teaching c. 60 infants by 1833 and the National school had 84 children with 6 more on Sundays, but subscriptions were insufficient to employ a master as well as a mistress and only the daily attendance of George Preston, the rector, and his wife enabled the National school to survive. (fn. 261) John Rawstorn Papillon, by will proved 1837, gave £20 a year to the school (fn. 262) and by 1839, when it had 70 children, more than half of them received charity clothes. There were then c. 40 infants in the dame schools and several older children went to Colchester. (fn. 263) A new school and teacher's house were built in Spring Lane in 1842. (fn. 264) The school was enlarged in 1861 for 140 (fn. 265) and in 1893 for 200 children. (fn. 266) It received annual government grants from 1866. Attendance rose slowly from 72 in 1866 to 120 in 1886, and more rapidly to 182 in 1904. (fn. 267) The school was replaced in 1925 by Lexden council school. (fn. 268)
CHARITIES FOR THE POOR.
Mary Swinnerton and her son Sir John Swinnerton in 1610 charged their Stanway Hall estate with £5 4s. a year to provide bread for 14 old, impotent poor of Lexden. In 1837 the charge, on Chitts Hill farm, provided 20 loaves distributed at church on Sundays to the poor, preferably widows. (fn. 269) In 1853 the trustees allocated three loaves to the new All Saints' church, Shrub End, for the poor of Lexden living within that chapelry. (fn. 270)
Thomas Love, by will dated 1565, gave to Thomas Rich £120 to buy land to provide a yearly rent of £6 for the poor of Lexden and 11 other parishes, and Rich, by will dated 1570, endowed the charity with land in Lexden. The income was £6 in 1626, £12 in 1676, £24 in 1786, and £30 in 1828. (fn. 271) Lexden's share was usually distributed in bread with Swinnerton's charity. (fn. 272) In 1964 Lexden received £11 4s. 8d. from the two charities which was distributed in gifts, (fn. 273) and a similar sum in 1990. (fn. 274)