Pages 408-418
A History of the County of Essex: Volume 9, the Borough of Colchester. Originally published by Victoria County History, London, 1994.
This free content was digitised by double rekeying. All rights reserved.
WEST DONYLAND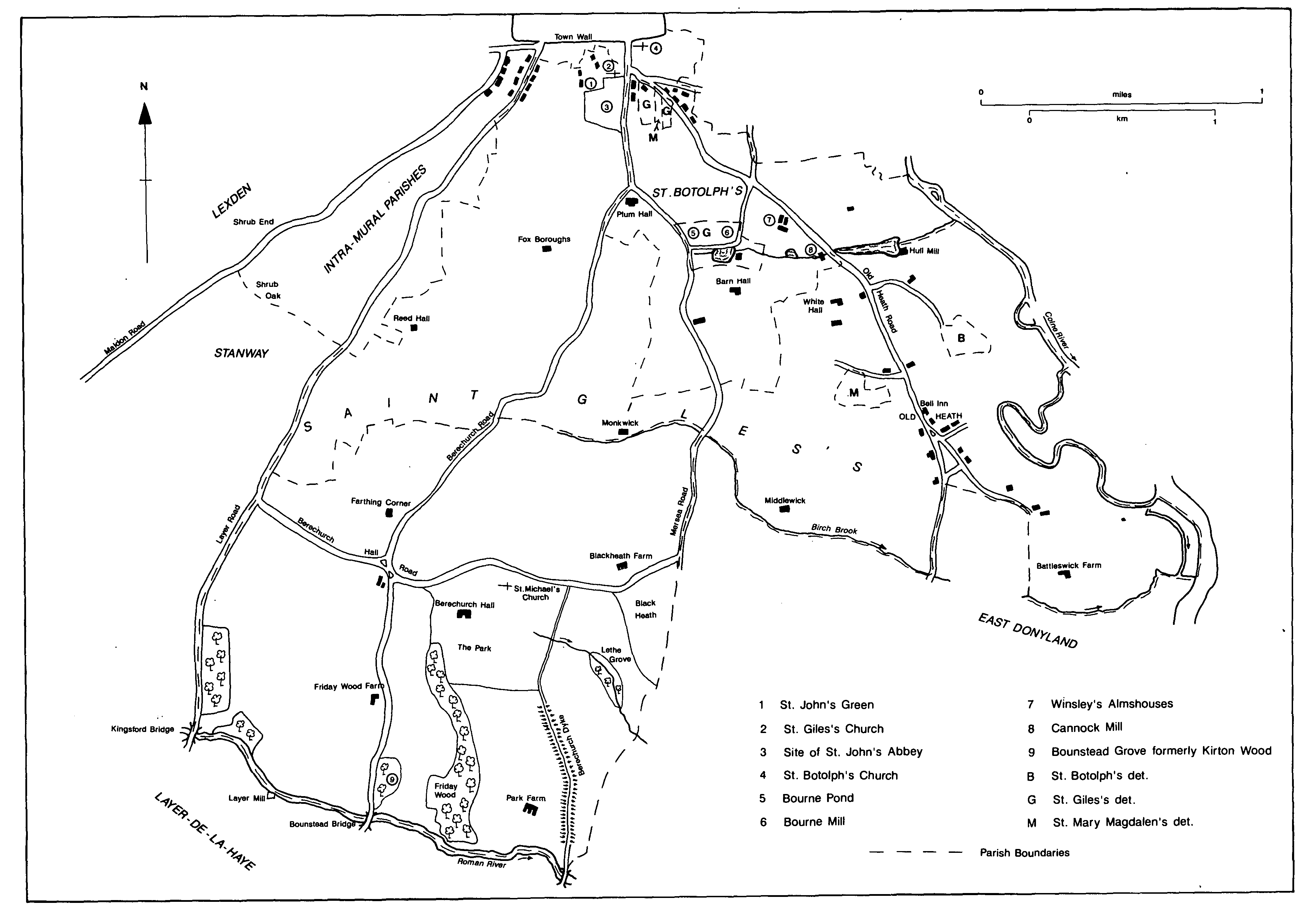 An estate at Donyland, probably extending from the town wall on the north to Roman river on the south, and from the Colne on the east to Maldon Road on the west, was divided into four in the late 10th century. The two northern quarters were later mainly in the Colchester parishes of St. Giles and St. Botolph; the southeast and south-west quarters became respectively East Donyland parish, in Lexden hundred outside Colchester liberty, (fn. 1) and Berechurch parish, within the liberty. The whole of Donyland in Colchester became known as West Donyland, even though parts of it lay in the north-east quarter of the original estate. In the Middle Ages and the 16th century manorial lords occasionally claimed, unsuccessfully, that parts of West Donyland were outside the liberty, and in 1580 four small estates there paid wardsilver to Lexden hundred. (fn. 2)
Berechurch, 1,377 a. (551 ha.), was bounded on the south by Roman river, on the north by field boundaries and Birch brook, on the west by Layer Road, and on the east by Mersea Road and a bank running south-west across Black heath. (fn. 3) The two northern quarters of Donyland, later in the Colchester parishes of St. Giles and St. Botolph, had been further subdivided by 1086. Several of the smaller estates passed to St. John's abbey in the 12th and 13th centuries so that the abbey's lands came to extend from St. John's green in the north perhaps as far as Berechurch Hall Road in the south, and from the Layer road in the west to Old Heath Road in the east. (fn. 4) Another estate, along the river Colne, became the manor of Battleswick, which, although described as early as 1323 as partly in East Donyland, (fn. 5) was entirely within the liberty of Colchester, being bounded on the east by the Colne, on the south by Birch brook, on the north by the stream flowing from Bourne pond, and on the west by field boundaries and the road to East Donyland.
The land rises steeply from the flat marsh on the alluvium along the Colne in the east to 15-20 metres along Old Heath and Rowhedge Roads, and then more gently to 30 metres, on glacial sand and gravel, in much of Berechurch parish in the west. It falls southward to 8 metres along Roman river and eastward to 23 metres at the borough boundary. To the north it falls to 15 metres in the valley of the stream which flows from Bourne pond, before rising again to 25-30 metres near the town wall. The steepness of the slope near the Colne, exposing the underlying London clay, probably gave rise to the surname 'at cliff', recorded in the 15th century. (fn. 6) The steep south-eastern slopes are cut by three streams feeding Roman river; a fourth, Birch brook, rises at Monkwick near the Berechurch parish boundary and flows eastwards to the Colne. (fn. 7) All four cut through the sand and gravel to the London clay, which is also exposed near Roman river. (fn. 8)
The whole area was agricultural land until the 20th century, when the built-up area of Colchester expanded into its northern part. Much of the Berechurch Hall estate in the south was acquired by the War Department between 1926 and 1933 for military training and housing. (fn. 9)
The western half of Donyland was within the Iron-Age Camulodunum, whose eastern boundary was formed by Berechurch dyke. (fn. 10) Evidence of contemporary occupation has been found inside the dyke, notably on Park farm. Iron-Age was succeeded by Roman occupation at the farm, and there was another Roman settlement to the south-east. Field boundaries and cropmarks north of Maypole green may be those of Roman smallholdings. (fn. 11) There were three settlements in West Donyland in the Middle Ages. That at St. John's green was geographically and economically part of the town. The others were at Old Heath, within the manors of West Donyland and Battleswick, (fn. 12) and at Berechurch, where Saxon pottery has been found on land adjoining the church. (fn. 13)
No major roads ran through Donyland, but the Colchester-Maldon road formed its western boundary; two minor ones, the Colchester to Layer-de-la-Haye road and the Colchester- Mersea road, cross the area from north to south. Berechurch Road and Old Heath Road linked Berechurch and Old Heath to the town. Old Heath Road continued to East Donyland in the Middle Ages, but its eastern branch to Rowhedge was made between 1846 and 1876. (fn. 14) Layer Road and Mersea Road are connected by Berechurch Hall Road, which was diverted north of Berechurch church in the 18th century. (fn. 15) A medieval road leading directly to the church from a westerly bend in Berechurch Road survives as a footpath. Two lanes, one following Berechurch dyke and the other running from Mersea Road at Black heath, converge at a ford and footbridge over Roman river. Brounsford, where Bounstead Road crosses Roman river to Layer de la Haye and its mill, was recorded from 1384. (fn. 16) Brounsford bridge was recorded in 1563; Bounstead bridge, there in 1846, had fallen by 1876 and thereafter the river was forded until a footbridge was built in the late 19th century. (fn. 17) An unrepaired footbridge on 'the common church way and market way' in 1501 was probably over one of the streams on Old Heath Road. (fn. 18) Kingsford bridge, recorded from 1392, carries Layer Road over Roman river to Layer heath. The county council built a brick bridge there in 1891. (fn. 19) Berechurch had a postal service by 1866. (fn. 20)
The name Old Heath is a corruption of Old Hythe but no physical evidence of the early harbour or of any settlement associated with it has survived later drainage schemes. Surnames suggest that many of the 25 people assessed for subsidy in West Donyland in 1296 lived at Old Heath. (fn. 21) In the mid 14th century there were 14 messuages and 3 cottages on Battleswick manor, most of them probably in Old Heath; by the late 15th century there were at least 2 cottages in West Donyland manor on the west side of Old Heath Road. Fifteen people were assessed for subsidy in Old Heath in 1489-90, and in the early 16th century there were 10 tenements and 11 cottages on Battleswick manor, and at least 2 houses on West Donyland manor. (fn. 22) Only 11 people were assessed for subsidy in the whole of West Donyland hamlet in 1523, fewer than in Lexden, Greenstead, or Mile End. (fn. 23) There were at least 15 houses in Battleswick manor c. 1677, and at least 9 houses on West Donyland manor in 1737 were probably at Old Heath. (fn. 24) By 1846 there was a small group of houses or cottages round the Bell public house; the remaining farmhouses and cottages were scattered over the higher ground; Battleswick Farm, the site of the manorial grange, lay further south, near Birch brook. (fn. 25) There were at least two inns, one called the Axe, on West Donyland manor, probably in Old Heath, in 1505. (fn. 26) The Bell public house, on Old Heath Road, was recorded by that name from 1652, although not certainly an inn until 1818. (fn. 27) Another inn, the Blue Boar, was rebuilt for Ralph Creffield in 1706. (fn. 28)
St. James's guild in Old Heath, recorded in 1505, may have acted as a focus for the community before the Reformation; it was probably associated with the light in St. Giles's church which the inhabitants of Old Heath were bound to maintain, and towards which John Argentine, by will dated 1505, gave 40s. (fn. 29)
The name Berechurch was apparently used solely for the church of St. Michael (fn. 30) until c. 1536 when Sir Thomas Audley, later Lord Audley, adopted it for his estate. The name, first recorded in the 12th century as Beordescherche and Bierdechurche, appears to be topographical. Its first element may derive from breord or from byrde; in either case it would describe the location of the church near a rim or edge, either of the Roman river valley or of the land marked out by Berechurch dyke. (fn. 31)
Only one of the 25 people assessed for subsidy in West Donyland in 1296, William Frank vicar, certainly lived in Berechurch. (fn. 32) Later subsidies also do not distinguish Berechurch from the rest of West Donyland, and there is no evidence for the size of the settlement until 12 households were assessed for hearth tax in 1662 and 1671. (fn. 33) Thirty-five adults were rated to the poll tax in 1692, and the population may have declined in the earlier 18th century, there being only c. 10 houses in 1766. (fn. 34) It had increased to 126 by 1801, then rose slowly to 146 in 1841, declined to 104 by 1871, but reached 167 in 1891, the last year for which separate figures are available. (fn. 35) There were 24 houses in 1841 and 27 in 1881. (fn. 36) After the rebuilding of Berechurch Hall in 1882 a few estate houses were built. (fn. 37) Of the other houses in the parish, the Maypole inn, formerly a farmhouse, and Park Farm may date from the 18th century. An octagonal lodge on Berechurch Hall Road survives from the early 19th century.
The St. Botolph's priory grange of Canonswick, recorded in 1301, was presumably near Canwick mill, so named from 1404. (fn. 38) The house cannot certainly be traced after the Dissolution, but it may have been on the site of Brick House, owned by Henry Barrington in the mid 17th century, which became Winsley's almshouses in 1734. (fn. 39) The farmhouse on the site of the St. John's abbey grange of Middlewick survived the Dissolution, and continued in use until its farm was sold to the War Office as a rifle range in 1856. (fn. 40) Other houses were built at White Hall, Barn Hall, Reed Hall, and Fox Boroughs before 1846. (fn. 41)
MANORS.
In the late 10th century Aethelflaed, widow of King Edmund and daughter of Ealdorman Aelfgar of Essex, directed that after her death her estate at Donyland should be divided into four: 2 hides to her servant Brihtwold, 2 hides to her priest Aelfwold, 2 hides to her priest Aethelmaer, and 2 hides to her kinsman Aelfgeat. (fn. 42) It is tempting to identify the two estates given to priests with the two which became separate parishes, Berechurch and East Donyland. Of the 6 hides of Donyland later in Colchester, little more than 2 can be identified in Domesday book: the 1½ hides and 8 a. held by 4 freemen in 1066 and by Ilbod in 1086, the ½ hide and 12 a. held by Modwin in 1066 and Hagheborn in 1086, and the 1 virgate held by Lagheman in 1066 and Modwin in 1086. None of the estates was said to be in Colchester, and Modwin's was in Lexden hundred. (fn. 43) Their relationship to the later medieval manors has not been traced.
WEST DONYLAND manor was probably among the earliest endowments of St. John's abbey, Colchester, and may have been the 2 ploughlands granted by Eudes the sewer (dapifer) c. 1104. (fn. 44) The grant of free warren in Donyland to the abbey c. 1127 seems to apply to lands in West Donyland, for only c. 1147 did the abbey acquire East Donyland where free warren was granted in 1253. (fn. 45) The manor seems to have comprised the northern part of St. Giles's parish, including the land on which the abbey was built, and perhaps 2 tenements in St. Nicholas's, and 3 in St. James's parish. (fn. 46) During the 12th and 13th centuries the abbey obtained other tenements in West Donyland, some of which later formed the abbey's granges of Monkwick and Middlewick. About 1150 Hugh son of Stephen, with the consent of Hamon of St. Clare, lord of the fee, granted land formerly Anschetil's to the abbey; a grant later confirmed by his daughters. (fn. 47) The land of Pesecroft beside Wick, granted by Ralph son of William de Haye probably c. 1250, included land with furze lying 'west of the road from the cross to Colchester', (fn. 48) a description which suggests that Pesecroft was near Monkwick in Berechurch Road. Before 1248 John de Blondec granted to the abbey his estate in Donyland, later known as Middlewick, a grant confirmed by his tenant Walter Haneng. (fn. 49)
St. John's abbey retained West Donyland, including Monkwick and Middlewick, until the Dissolution. In 1547 it, with the site of the abbey, was granted to John Dudley, earl of Warwick, later duke of Northumberland, who in the same year conveyed it to his adherent (Sir) Francis Jobson. (fn. 50) Jobson settled at Monkwick, which from 1536 was occasionally described as a separate manor. (fn. 51) He died in 1573, having devised West Donyland to one of his younger sons, Edward. The eldest son, John, contested the will, but Edward bought out his claim and retained the manor until his death in 1590. (fn. 52)
Edward Jobson left as heirs his infant daughters Mary and Elizabeth. In 1591 his trustees sold West Donyland to Robert Barker of Higham (Suff.); (fn. 53) Robert was succeeded c. 1618 by his son Bestney Barker (d. 1649) and he by his son Robert Barker. Robert's heir in 1679 was his son Henry Barker (d. c. 1717). (fn. 54) Henry's successor and perhaps his bastard son, Thomas Perry, sold West Donyland in 1736 to Knox Ward, whose son Ralph succeeded him in 1746. (fn. 55) Ralph Ward (d. 1818) left the estate in trust for his daughters Maria (d. 1850) and Elizabeth (d. 1844), wife of Capt. (later Vice-Adm.) Nicholas Tomlinson. (fn. 56) In 1850 the manor passed to Elizabeth's sons, John Philip (d. 1892) and William R. Tomlinson (d. 1899), and later descended in the Tomlinson family. (fn. 57) In 1941 it was held by the Ward-Tomlinson trust. (fn. 58)
The manor house at Monkwick originated as a farmhouse, possibly moated, built by St. John's abbey before 1523. (fn. 59) Sir Francis Jobson apparently rebuilt the house and enclosed a park there. (fn. 60) The interior of the house was refitted in the mid 17th century; panelling and an overmantel of that date survived in 1989 in Colchester museum. By 1662 the house had 11 hearths. (fn. 61) By 1735 it was dilapidated, and the eastern part was demolished to provide material to repair the rest. (fn. 62) The two-storeyed, timber-framed and plastered house, with a projecting upper storey and two gables on the south side was occupied as a farmhouse from that time until its demolition in 1963. (fn. 63) Medieval fishponds south of the house, fed by Birch brook, survived until the brook was piped in the 20th century. A dovecot recorded in 1814 may have been on the site of that built c. 1543. (fn. 64)
A freehold estate in the south-west corner of West Donyland, later called BERECHURCH, was held in 1385 by Roger Bulbeck. It passed to his daughter Alice who married John Algood of Colchester before 1419, and then descended in the Algood family until 1464 or later. (fn. 65) Sir Thomas Audley had acquired it by 1519 when he conveyed it to Elizabeth Barnardiston, mother of his wife Christine, perhaps as part of a marriage settlement. (fn. 66) In 1530 it was called Algoods manor. (fn. 67) By 1536 Audley had acquired lands adjoining Algoods, including Friday wood and Cannons field which had belonged to St. Botolph's priory, lands held by John Wentworth of the manor of East Mersea, land in West Donyland and Fingringhoe bought from John Christmas, and the glebe of Berechurch church. (fn. 68) Kirton wood was probably acquired somewhat later. (fn. 69)
Audley gave his estate to his brother Thomas (d. 1558) for life with remainder to Thomas's son Thomas, who died in 1572 leaving as heir his son Robert (d. 1624). (fn. 70) The manor passed in the Audley family to Robert's son Sir Henry (d. c. 1672), and Henry's sons Thomas (d. 1697) and Henry, who died in debt in 1714, leaving Berechurch mortgaged to James Smyth of Upton in West Ham (d. 1741). (fn. 71) The estate, which comprised 774 a. in 1769, passed in successsion to Smyth's nephew Sir Trafford Smyth, Bt. (d. 1765), Sir Trafford's son Sir Robert (d. 1802) and Sir Robert's son Sir George Henry (d. 1852). (fn. 72) It was settled upon Sir George's illegitimate daughter Charlotte (d. 1845) (fn. 73) and her husband Thomas White (d. 1864) and passed to their son Thomas G. G. White (d. 1877). In 1878, after a suit in Chancery, the estate, then comprising c. 3,300 a., was sold to Octavius E. Coope, M.P. (d. 1887). In 1892 Coope's executors sold it to Frederick Gordon of Bentley Priory, Stanmore (Mdx.). Gordon sold the estate in 1898 to Mrs. Frances A. Hetherington, who in 1921 put the estate, then 2,420 a., up for sale; during the next 12 years it was broken up. (fn. 74)
Audley entertained Henry VIII at Berechurch in the 1530s and inclosed a park there c. 1540. (fn. 75) The manor house was damaged during the Civil War when it was the home of the royalist Sir Henry Audley, but had presumably been repaired by 1662 when it had 20 hearths. (fn. 76) That was probably the house depicted standing in a courtyard south-west of the church in 1717. (fn. 77) James Smyth rebuilt the house and Sir Robert Smyth (d. 1802) employed Samuel Wyatt to improve it. (fn. 78) Most of the Georgian house, which had a parapeted front of 11 bays with central pediment and porch, (fn. 79) was demolished in 1882. A new house of c. 80 rooms was built on the same foundations in red brick with stone dressings in 'domestic French Gothic' style to the designs of E. C. Lee. The dining room and saloon of the Georgian house were retained. The house, having its own generator in 1882, was one of the earliest to be lit by electricity. (fn. 80) A stable block for 30 horses was built west of the house, and new staff houses were built on the estate. (fn. 81) After 1921 the house was unoccupied until the War Department requisitioned it during the Second World War. It was demolished in 1952. (fn. 82) The park was extended northward in the late 18th century, inclosing the church and diverting Berechurch Hall Road farther from the house. (fn. 83) Sir G. H. Smyth (d. 1852) planted Charlotte's wood and Lethe grove, where he made a bathing pool and grotto for his daughter Charlotte. (fn. 84)
Ernald or Arnulf de Curton gave to St. Botolph's priory before 1189 land in West Donyland which formed the nucleus of the priory's estate of CANONSWICK. (fn. 85) Before 1281 the priory had also acquired part of an estate there which had been held in the 12th century by Henry Blondec. His son John gave it before 1202 to St. Ouen abbey, Rouen, of whom the prior of St. Botolph's held in 1281. (fn. 86) The overlordship was not recorded thereafter. On the dissolution of St. Botolph's in 1536 the farm, described as a manor, was granted to Sir Thomas Audley, and by him to St. John's abbey. (fn. 87) It was presumably merged with West Donyland manor.
BATTLESWICK manor seems to have derived from an estate in Donyland held, with Tendring manor, of the honor of Boulogne in 1205 and c. 1217 by Oger or Roger de Curton and c. 1222 by his brother William, sons of Arnulf or Ernald de Curton who had given Canonswick to St. Botolph's. (fn. 88) The overlordship passed to Richard de Munfitchet, probably the man of that name who died in 1267, and to his heir Giles de Plaiz, Lord Plaiz (d. 1302). It descended with the barony of Plaiz to Sir John Howard, by whose marriage to Joan Walton it was united with the demesne lordship. (fn. 89)
The demesne lordship, with that of Tendring, was held by Andrew Blunt (fl. 1259), and passed to his daughter Catherine wife of Richard Battle of Wivenhoe, who gave his name to the Colchester manor. (fn. 90) Under an agreement of 1298 Battleswick passed with Wivenhoe to Catherine's daughter and coheir Margery wife of William Sutton, (fn. 91) and the manor descended with Wivenhoe until 1624 or 1625. (fn. 92) By 1315 the lord was John Sutton and he was followed by two or possibly three other men of the same name. (fn. 93) The last John (d. 1393) was succeeded by his brother Richard (d. 1396) and by Richard's son Thomas, (fn. 94) but by 1399 the lord was John Walton, husband or son of Thomas Sutton's heir Margery. John was succeeded in 1407 by Richard Walton whose heir was his sister Joan (d. 1424) wife of John Howard, Lord Plaiz. Her daughter and heir Elizabeth married John de Vere, earl of Oxford. (fn. 95) In 1473 Elizabeth surrendered her lands, including Wivenhoe and Battleswick, to Richard duke of Gloucester who in 1480 sold them to John Howard, Lord Howard, later duke of Norfolk (d. 1485). (fn. 96)
After 1485 the de Veres recovered the manors, which descended with the earldom of Oxford until 1584 when Edward de Vere, earl of Oxford, sold them to Roger Townshend. (fn. 97) Townshend died in 1591 and Battleswick was held by his executors during the lifetime of his son John (d. 1603) but passed to his grandson Sir Roger Townshend who sold it in 1624 or 1625 to Robert Buxton. (fn. 98) Buxton held in 1653, but by 1658 John Godschall, a London merchant, was lord. (fn. 99) He was succeeded in 1693 by his son, another John Godschall, (fn. 100) who was followed in 1725 by his son Nicholas. Nicholas was succeeded in 1748 by his daughter Sarah whose husband William Mann assumed the surname Godschall. Sarah died in 1792 and William Mann Godschall in 1803, to be succeeded by his son Samuel Mann Godschall; he sold the manor in 1804 to Joseph Ward who sold it in 1808 to Henry Thorn of Colchester. Thorn was declared bankrupt in 1815, and in 1820 he and his trustee Samuel Blomfield sold the manor to Samuel John Edgell Martin. Martin sold it in 1825 to John Cutts who sold it in 1848 to James Cuddon of Witham. (fn. 101) Thereafter it was held by a succession of absentee lords, Cuddon selling in 1853 to James Manning, deputy steward of the manor, for his daughters Clarissa Peach, Rose Frances, Elizabeth Adelaide, and Louisa Manning. They sold it in 1880 to Richard Henry Wood, (fn. 102) who was succeeded c. 1908 by Stanley Rose Wood. S. R. Wood was succeeded in 1931 by James Hatton Wood, but by that date the manorial rights had lapsed. (fn. 103)
ECONOMIC HISTORY.
West Donyland was an area of mixed farming, with some good arable land in Berechurch, poorer pasture and heath at Old Heath, marsh along the Colne, and narrow meadows along Roman river. In 1296 oats seems to have been the main crop, the inhabitants of West Donyland being assessed for subsidy on 37 ½ qr., followed by rye (17½ qr.); small amounts of barley, wheat, and peas were also recorded. Cattle were apparently more important than sheep, 31 cows and 14 calves being recorded compared to 20 sheep, but sheep may have escaped assessment more readily than cattle. (fn. 104)
Both Battleswick and Canonswick were mixed farms in 1296 and 1301, although Canonswick may have specialized in sheep: the prior of St. Botolph's was assessed on 20 sheep and 5 lambs there in 1301; in 1464 he had at least 222 sheep there. (fn. 105) Oats were grown on the Battleswick demesne in 1325-6, and rye between 1341 and 1344. (fn. 106) In 1330-1 there were 20 cows and 40 sheep at the manorial grange, and there were still 20 cows in 1425-6. In 1341-2 as many as 11 customary tenants performed boon works, recorded in 1368 as reaping, binding, and stooking the lord's corn at harvest, receiving from the lord in return food that included bean and fish pottage, bread, eggs, and herrings. By 1425 Battleswick, presumably the demesne, was being farmed for £5 6s. 8d. a year; the rent fell to £4 in 1426 and did not recover fully until 1492; it then remained at £5 6s. 8d. until 1518 or later. (fn. 107)
On the West Donyland manor belonging to St. John's abbey oats and rye were the main crops in the late 15th century; sheep, cattle, and pigs were kept, some tenants having flocks of 50 or 60 sheep, another as many as 16 cattle. In 1483 one man put 40 more pigs and piglets onto the lord's pasture than he ought to have done; other pigs were grazed in the woods, including Shrub wood, at time of pannage. As late as 1394 a tenant was amerced for failing to work in the lord's hay when summoned to do so. (fn. 108) An unidentified Newland in West Donyland, recorded from 1384, (fn. 109) was presumably cleared from woodland in the earlier Middle Ages, as perhaps was the area adjoining Lord's wood near the north-west boundary of Berechurch where field names in Breach survived in 1806. (fn. 110) There is no evidence for medieval crops in Berechurch, but the rents in kind payable at the Dissolution by the farmer of Monkwick and Middlewick, whose lands may have extended into Berechurch, suggest that rye and barley, of which 30 qr. each were to be paid each year, were the chief crops, although wheat (20 qr. a year payable as rent) was also grown. (fn. 111)
Much of Berechurch was probably wooded in the early Middle Ages; Farthing Corner on Berechurch Road, Maypole green at its junction with Layer Road, and Friday wood green are remnants of a chain of greens probably cleared from woodland. Kirton wood, recorded in 1495- 6, and the adjoining Friday wood, recorded in 1291-2, (fn. 112) were probably associated with the familes of Curton and Friday. (fn. 113) Part of Friday wood was taken into Berechurch Hall park c. 1540. In 1717 Friday and Kirton woods comprised c. 246 a. and the adjoining park of c. 390 a. included West Donyland heath. (fn. 114) Most of the woodland was cleared in the 18th century, and by 1776 only 21 a. of woodland remained. (fn. 115) The park boundary bank north of Park farm survived in 1989. At Monkwick a park laid out in the mid 16th century extended west as far as Black heath. (fn. 116)
Most of the recorded medieval tenants of Battleswick manor were agricultural workers. The Colchester merchant John Cleve who acquired 2 messuages, a tenement, 21 a. of land and 4 a. of marsh in 1427 seems to have been a member of an Old Heath family. (fn. 117) By c. 1500 as many as 11 of the holdings were in the hands of one man, John Fuller of Halstead. (fn. 118) From the mid 16th century there was further consolidation of copyholds, notably by George Christmas (d. 1566) who had a freehold house just north of Battleswick. Alderman Thomas Laurence bought 40 a. freehold from George Dibney of Colchester in 1567. (fn. 119) By c. 1677 John Standly had built up Place farm (60 a.) in the centre of Old Heath. In 1745 there were no owner-occupiers of copyholds in Old Heath. (fn. 120) At Berechurch, the Audleys at Berechurch Hall and the Barkers at Monkwick were the largest landowners in the 16th and 17th centuries, but there was a number of smaller holdings. In the 18th and 19th centuries the Smyth family enlarged the Berechurch Hall estate, cultivated parkland and woodland, and established Park, Friday Wood, Maypole, and Blackheath farms. (fn. 121)
In 1599 there were 195 a. of arable land in Berechurch, and rye was apparently the main cereal crop. (fn. 122) Eighteenth- and 19th-century leases of Monkwick farm required the tenant to leave the land fallow after two corn crops, but not if beans, peas, or clover were grown, and to return all farm manure to the land. In 1817 frequent planting of peas following wheat was blamed for depletion of the land. (fn. 123) Turnips grew well on the light soil if well manured. In the early 19th century Robert Tabor, tenant of Friday Wood farm (350 a.), used a four-course system of turnips, barley, clover, and wheat. Barley, used mainly for malting, was then the most productive crop, each acre yielding 26 bu. a year compared with 20 bu. of wheat and 16 bu. of oats. Having hardly any grass, Tabor fed his turnips and clover to wether sheep, bought as inferior Norfolk lambs at Ipswich fair, and Scottish bullocks, bought at Michaelmas and fattened for the London market. He sometimes fed a little straw but never hay. (fn. 124) By 1845 Sir Henry Smyth owned all the land in Berechurch parish, except the Monkwick estate of 110 a. (fn. 125) In 1876 the parish contained 1,040 a. of arable, 136 a. of pasture, and 74 a. of wood. (fn. 126)
In 1894, of c. 104 a. of land in Battleswick farm, c. 44 a. were mainly under oats with some barley and rye, c. 17 a. were under wheat, and c. 40 a. were grass or pasture. When the manor was offered for sale in 1880 the surviving copyholds were valuable chiefly as potential building land. (fn. 127)
Old Heath heath or common, along Old Heath Road, and at least part of the marsh along the Colne were common to the tenants of West Donyland and Battleswick from the 14th century or earlier; in the 15th century the tenants of Battleswick pastured or overburdened the common with cows, bullocks, and pigs, the tenants of West Donyland with sheep and horses. (fn. 128) There is no evidence for stinting until the mid 17th century when the total stint was said to be 950 sheep. The tenants of the 37 holdings in Battleswick and West Donyland which were responsible for repairing the marsh ditch between Battleswick and Wivenhoe could graze 732 sheep, the stint ranging from 40 to 10. (fn. 129) Hull mill, on the northern boundary of Battleswick manor, had commons for 40 sheep in Old Heath marsh in 1690. (fn. 130) In 1784 Alexander Carter, the tenant of Berechurch manor, apparently claimed the right to graze 12 head of cattle on Old Heath common. (fn. 131) In 1818, under an Act of 1811, a total of c. 75 a. of marsh and heath was inclosed, and divided between Henry Thorn, lord of Battleswick manor, and 10 copyholders and freeholders of the manors of West Donyland and Battleswick. About 47 a. of marsh lay along the Colne in the north-east part of the manor, c. 20 a. of heath or waste ground lay in two parcels, one north and one south of the Bell inn. (fn. 132)
Black heath and Kingsford heath were common to the tenants of West Donyland manor who overburdened them in 1497, 1503, 1504, and 1506, (fn. 133) and presumably also to the inhabitants of Berechurch. West Donyland heath was apparently several by 1599. (fn. 134)
In the 19th century most of the inhabitants of Berechurch were employed in agriculture or in domestic service; 8 or 9 women in the parish in the period 1861-1881 were laundresses, (fn. 135) probably employed at Berechurch Hall, where a separate laundry building survived in 1921. (fn. 136) There was a small brickyard north-west of Kingsford bridge in the 1890s. (fn. 137) In 1989 Park farm was the only surviving farm, surrounded by military training grounds.
Bourne mill, Cannock mill, and Hull mill, all on the stream leading from Bourne pond, were within West Donyland, as were several windmills, including one at Old Heath built before 1341. All served the town as well as the tenants of the Donyland manors, and their histories are given above. (fn. 138) Some inhabitants of Berechurch may have used Layer mill which stood on the boundary between Berechuch and Layer-de-laHaye and was within the same lordship. (fn. 139)
LOCAL GOVERNMENT.
Their conflicting rights of jurisdiction in West Donyland led to frequent disputes between the borough on one part and St. John's abbey and later the Audleys on the other. (fn. 140) In 1285 the abbot claimed view of frankpledge, the assize of bread and of ale, and right of gallows on his manor of West Donyland under a charter of c. 1127. The abbey also claimed unsuccessfully that its manor, like East Donyland, was in Lexden hundred and outside the borough's jurisdiction. (fn. 141) Despite protests by the borough court, notably in 1413, (fn. 142) it and its successors continued to hold courts with view until 1662, and courts baron until 1916. (fn. 143) Brewers, bakers, butchers, and regrators were regularly presented in the late 15th and the early 16th centuries for breaching the assize or taking excessive gain; pleas of debt were heard, and copyholds transferred. In 1392 and 1393 five unfree tenants were presented for living away from the manor without licence, and another paid a fine for his daughter's marriage. (fn. 144) In 1484 the court ordered tenants not to put dung and other filth on St. John's green. (fn. 145) An aletaster and one or two rent collectors or reeves (prepositi) were elected in most years. By the late 16th century court business was largely confined to the transfer of copyholds, but a few tenants were amerced for failing to scour ditches or obstructing footpaths, and in 1612 tenants were ordered not to put swine on St. John's green. Aletasters were elected until 1604, and one under constable until 1607; thereafter two constables were usually elected, one for St. John's green and one for Old Heath, and one or two drivers of the greens, until 1662. (fn. 146)
St. Botolph's priory probably held courts for Canonswick, where land was held by copy in 1526. (fn. 147) The serjeant of Canwick had custody of a stray horse in 1367. (fn. 148)
In the 14th century Battleswick tenants owed suit to the Wivenhoe manor court. In 1412 a jury from Old Heath appeared at that court, and from 1418 separate courts, with view of frankpledge, were held for Battleswick. Tenants of the manor were regularly presented for overloading the common or marsh and for failing to scour ditches. In 1447 several men, including one from Colchester, were presented for taking hares without licence, and in 1594 a Colchester linendraper was presented for digging clay on the heath. In 1562 the court issued orders forbidding the grazing of pigs and restricting the number of sheep on the commons. Constables were appointed from the mid 15th century and drivers of the commons from the mid 16th century to the mid 18th. Until 1668 courts exercised view of frankpledge, but thereafter they were described as courts baron. The transfer of copyholds became their only business from the mid 18th century. (fn. 149) The custom of the manor was that copyhold land descended to the youngest son. The last recorded court was held in 1851. (fn. 150)
Donyland, except East Donyland parish, also fell within the jurisdiction of the borough court. In 1488 the jury at West Donyland manor court complained that the borough sergeant had entered the manor to distrain on John Argentine of Old Heath, contrary to its liberty. (fn. 151) Battleswick tenants were presented in the borough court in the 15th century, several times for unscoured ditches and once for 'a great affray', (fn. 152) but there seem to have been no disputes between the borough and the lords of Battleswick manor except in 1577 when the earl of Oxford's tenants were forbidden to yield to the borough, and some claimed that Battleswick was outside the liberty. (fn. 153)
In the 17th century the inhabitants of Berechurch were responsible for the repair of the highway from Kingsford bridge to the town gate. (fn. 154) The overseers of the roads in Old Heath ordered by the Battleswick manor court in 1644 to repair a bridge, (fn. 155) were presumably the surveyors of the highways of St. Giles's parish.
At times in the later 17th century Berechurch parish apparently contributed £8 a year towards poor relief in St. Mary Magdalen's parish. (fn. 156) In 1776 the overseers of Berechurch spent £57 15s 2d on poor relief, the lowest sum in the borough, except for the impoverished St. Mary Magdalen's. By the period 1783-5 the sum had nearly doubled, to £110, a higher proportional increase than in any other parish in the borough. In 1813 the overseers spent £325, the threefold increase since the 1780s being one of the greatest in the borough, and in the period 1814-21 the amount ranged between £255 and £372. The payment per head in 1821, c. 16s., was the 5th highest in the borough, but considerably less than the £1 9s. paid in Mile End. (fn. 157)
CHURCH.
Berechurch was the only part of West Donyland to become a separate ecclesiastical parish. The ecclesiastical parish was enlarged in 1955 by the addition of those parts of the parishes of St. Botolph and St. Stephen, Colchester, and Fingringhoe which comprised the Monkwick housing estate. (fn. 158) Its church, St. Michael's, which was closed in 1975, was recorded in 1170 as Beordescherche and Bierdechurche, (fn. 159) a form that suggests it existed by the 11th century. It may have been built by one of the two priests, Aelfwold and Aethelmaer, to whom Aethelflaed gave quarters of her Donyland estate. (fn. 160)
By the late 12th century the church, with Holy Trinity, Colchester, belonged to Bury St. Edmunds abbey, (fn. 161) which in a complicated transaction between 1200 and 1211 seems to have conveyed the advowsons of both churches to Thomas dean of Colchester. (fn. 162) Between 1254 and his death in 1258 or 1259 Richard Champneys of Colchester granted the advowsons to St. John's abbey, Berechurch being then described as a chapel of Holy Trinity. (fn. 163) St. Michael's was treated as a chapel in the early 14th century, and the rector of West Donyland to whom money was left for masses in 1401 was presumably the rector of Holy Trinity. (fn. 164) William Frank, vicar, who was assessed for subsidy in West Donyland in 1296, presumably served Berechurch, (fn. 165) but there is no record of an ordained vicarage. Although the church was generally treated as a chapel, two churchwardens were recorded in 1399, and a parishioner asked to be buried in the graveyard of the parish church of West Donyland in 1500. (fn. 166)
In 1536 Sir Thomas Audley was licensed to compensate the rector of Holy Trinity and establish a separate rectory for West Donyland or Berechurch, served by a perpetual chaplain. (fn. 167) From that time until c. 1913 the chaplains, generally called curates, were appointed by Audley's successors as owners of Berechurch Hall, except in 1650 when the estate of the royalist Sir Henry Audley was sequestered, and in 1835 when Elizabeth Boggis presented by consent of Sir Robert Smyth. (fn. 168) From c. 1870 the living was a titular vicarage. (fn. 169) From 1913 to 1961 the bishop presented by lapse, the identity of the patron being unknown in 1961; from 1964 the bishop was presumed to be the patron. (fn. 170) There were no parish officers in 1738, because the church was considered to have been a chapel of Holy Trinity, but churchwardens were recorded in 1852. (fn. 171) St. Michael's was closed in 1975, (fn. 172) and the former chapel of ease, St. Margaret's on the Monkwick estate, became the parish church.
The living was not separately valued in the Middle Ages. The glebe and tithe of Berechurch passed in the 13th century to the rector of Holy Trinity who held land belonging to 'West Donyland chapel' adjoining John Algood's land in 1427. (fn. 173) The 'rectory' of West Donyland occupied by a tenant in 1393, (fn. 174) may have been a rectory house, or perhaps the glebe. The tithes of West Donyland which were given to St. John's abbey and passed to Sir Francis Jobson were those of the manor of West Donyland in St. Giles's parish. (fn. 175) In 1536 Sir Thomas Audley acquired the glebe, and perhaps the tithes, of Berechurch, from the rector of Holy Trinity, to whom he paid 50s. compensation. (fn. 176) There is no later reference to glebe, but in 1845 Sir Henry Smyth was said to own the tithes. (fn. 177) No living was endowed, but Audley and his successors appear to have paid successive curates a rent of £10 a year charged on land in the parish. (fn. 178) The curate's stipend was £20 a year in 1645; (fn. 179) it probably fell back to £10, still its value in 1742 and 1748, (fn. 180) at the Restoration. The living was augmented in 1749 by £200 from Queen Anne's Bounty, raising its value to £14 a year in 1768. (fn. 181) In 1770 the Bounty matched three benefactions of £200, and the money, which seems to have been invested in land, raised the value of the living to £60 2s. in 1808. (fn. 182) The living was said to be worth £100 in 1835, £110 in 1863, and £144 7s. 6d. in 1878. (fn. 183)
In the Middle Ages the church or chapel was presumably served by the rectors of Holy Trinity or by priests appointed by them. Those appointed by Audley and his successors were usually styled curates, although in 1683 Thomas Parker was called rector. (fn. 184) The curate c. 1586 was a reputed drunkard and did not preach, and his successor Thomas Holland was imprisoned in 1587 for disturbing the peace. (fn. 185) From 1662 until 1912 the cure was served with that of Layer de la Haye. (fn. 186) In 1683 and 1707 the communion table at Berechurch was unfurnished. (fn. 187) In 1738 the curate complained that he was unable to celebrate communion because the 'impropriator', presumably James Smyth (d. 1741), would not buy communion plate, and Berechurch parishioners received the sacrament at Layer-de-laHaye. The curate did, however, hold a service every Sunday at Berechurch. By 1742 his successor held communion three times a year and fortnightly prayers, a pattern of services which continued in the later 18th century. Between 1755 and 1767 the cure was often served by assistant curates for the non-resident incumbent. (fn. 188) In 1810 a quarter of the population of 93 were nonconformists, (fn. 189) and on Census Sunday 1851 out of a population of 120 a morning congregation of 30 was reported. (fn. 190) In 1866 and 1870 William Wright, reforming master of Colchester grammar school 1852-76, served the cure for non-resident incumbents. (fn. 191) Thomas O. Price, vicar 1870-1913, held one Sunday service and a monthly communion; he was instrumental in effecting the restoration of the church in 1872. (fn. 192) The informal union with Layer-de-laHaye ended on his death and until 1936 Berechurch was held by successive rectors of St. Mary's-at-the-Walls and served by assistant curates. (fn. 193) It was held jointly with All Saints', Shrub End, from 1936 to 1953 when the increasing population of the parish made the appointment of a separate vicar of Berechurch necessary. (fn. 194) A vicarage house was acquired in 1955, and in 1956 a dual purpose church hall, St. Margaret's, was built on the new Monkwick estate off Mersea Road. (fn. 195)
The church of ST. MICHAEL, so called by 1254, (fn. 196) is of brick with stone dressings and comprises nave and chancel in one, north chapel, south porch, and a west tower of three stages with a stair turret and a battlemented parapet. (fn. 197) An earlier church, probably on the same site was restored in the 14th century. Stonework of that period was re-used when the church was rebuilt in the late 15th century and survives in the west doorway, the windows of the tower, and the chancel south doorway. Windows which survived in the south wall until 1872 may have belonged to the 14th century. The north chapel, with a richly carved hammerbeam roof bearing the emblems of Henry VIII and Catherine of Aragon, was added in the early 16th century. In the 17th century, when it became the memorial chapel of the Audley family, wooden cartouches, carved and painted with the Audley arms, were fixed to the ends of the hammerbeams and wall posts.
In the 17th century the chancel window was replaced. In the course of restoration in 1872 the walls of the nave and chapel were partly rebuilt, the roofs were raised, the south porch demolished, and new windows inserted in the south wall, where a 14th-century doorway was reset. A new porch was built later. (fn. 198)
The building was vandalized after its closure in 1975. (fn. 199) In 1981 the Audley chapel was vested in the Redundant Churches Fund and the rest of the building was sold for light industrial use; in 1993 it was occupied as offices by a security firm. (fn. 200)
A medieval bell by Richard de Wimbish (fl. 1291) was recast in 1876. (fn. 201) The church plate was modern. (fn. 202) In the Audley chapel, a tablet commemorating Robert Audley (d. 1624) may be by Gerard Christmas; a life-size white marble effigy of Sir Henry Audley (d. c. 1672), reclining on a black and white marble altar tomb with figures of his five children, erected by him in 1648 and surmounted by an inscribed tablet with side pilasters, a pediment, and cartouche of arms, may be by Thomas Stanton (d. 1674). Memorial tablets in the church (fn. 203) included one to Charlotte White (d. 1845) by Joseph Edwards. (fn. 204)
The church of ST. MARGARET, Stansted Road, was built between 1968 and 1972, largely by the vicar and parishioners. The building, of dark, reddish-blue brick, is basically square, but one corner is splayed to lead into the semi-circular sanctuary. The copper-covered, pyramidal roof rises to a height of 40 ft. above the sanctuary. (fn. 205) The earlier red brick church hall stands beside the new building.
The church of St. Barnabas, Old Heath, built in 1875 as a chapel of St. Giles's, is discussed above. (fn. 206)
NONCONFORMITY.
The Audley family made Berechurch a centre of Roman Catholicism in the later 16th century and the 17th. (fn. 207)
The 23 Independents or Congregationalists reported in Berechurch in 1810 (fn. 208) presumably worshipped in Colchester, as there was no Nonconformist church in the parish.
The Congregational church at Old Heath originated in a mission from Lion Walk Church, Colchester, c. 1845. Wesleyan Methodists from Colchester had a preaching station at Old Heath in the mid 19th century. (fn. 209)
EDUCATION.
A day school in Berechurch was opened in 1832 in which c. 20 children were taught at their parents' expense. (fn. 210) By 1841 it had been succeeded by a National school with 12 children on weekdays and 29 on Sundays, supported by parents and other subscribers, but that had failed by 1846. (fn. 211) Another National school survived for a few years in the 1860s, and an attempt to maintain a Church school was made c. 1874. (fn. 212)
The St. Giles's parish school was founded in Old Heath in 1832, and continued as an infant school until it was replaced by Old Heath mixed and infant school in 1894. (fn. 213)
CHARITIES FOR THE POOR.
None known.