Pages 20-30
A History of the County of Gloucester: Volume 11, Bisley and Longtree Hundreds. Originally published by Victoria County History, London, 1976.
This free content was digitised by double rekeying. All rights reserved.
ECONOMIC HISTORY
Agriculture
In 1086 there were 10 servi and ancille and 4 ploughs on the demesne of the manor of Bisley. (fn. 1) In 1309 Tibbald de Verdun's portion of the manor included 50 a. of arable, ½ a. of meadow, and 5 a. of wood, (fn. 2) and in 1337 the same portion had ½ plough-land and 20 a. of wood. (fn. 3) The portion of the earl of March in 1382 had 80 a. of arable, 5½ a. of meadow, and various pieces of pasture. (fn. 4) The original demesne lands were presumably represented by the lands that were held on lease with the two manor-houses in 1608; Over Court then had 291 a. and Higons Court had 295 a., and almost all this land, 280 a. in each case, lay in the open fields. Each estate also had pasture for 420 sheep. (fn. 5) In 1291 there were 3 plough-lands in demesne on Througham manor, (fn. 6) and the manor of Bidfield in 1370 had 1½ plough-land of open-field land, 4 a. of wood, and 18 a. of meadow. (fn. 7) The rectory estate in 1612 had 194½ a. of demesne arable in the open fields, which was divided among 3 tenants, and only 5 a. of pasture and meadow. (fn. 8)
The tenants of Bisley manor in 1086 were 20 villani and 28 bordars, having 20 ploughs between them, 8 radknights having 10 ploughs, and another 23 men owing a total rent of 44s. and two sesters of honey; 11 burgages in Gloucester owned by the earl of Chester were also listed with the manor. (fn. 9) The successors of the radknights were presumably the vavasours of the manor mentioned c. 1135 (fn. 10) and their estates probably represented the various submanors in Bisley and Stroud. In 1309 there were 7 neifs, who each held ¼ yardland, and 20 free tenants on Tibbald de Verdun's portion of Bisley manor (fn. 11) and in 1382 the profits of the portion of the earl of March included £24 rent of assize, labourservices valued at 22s. 3d., and rents in hens and eggs. (fn. 12)
In 1608 Bisley manor included 31 free tenements, 57 copyhold tenements, and 11 tenements, including the two manor-house estates, held on leases for lives granted by the Crown since 1579; in addition there were 12 customary tenements that were leased with the Higons Court estate. Most of the tenements were still designated as yardlands, half-yardlands, or fardels but their original proportions had become blurred and they were of widely differing sizes. Few were very large, although the free tenements included one of 145 a. in Avenis and Nashend owned by Ferdinand Snow, as well as the Frampton Place estate, Sydenham's farm, the Rodborough feoffees' Ansteads Farm estate, and Corpus Christi College's estate at Chalford. Only four of the copyhold estates were over 50 a.: Thomas Kyles held 51 a. in Steanbridge tithing, James Keene held 52 a., Thomas Ward's Calfway farm estate had 58 a., and Nicholas Egerley held an estate of 95 a. About half of the other copyholders were little more than cottagers. (fn. 13) The marquess of Buckingham is known to have sold several copyholders their tenements in the 1620s, reserving quit-rents, (fn. 14) and probably all were enfranchised at that period; by the late 17th century, at least, free tenancies were the only form of tenure on the manor. (fn. 15)
In the mid 13th century the tenant of a yardland at Tunley, part of the estate which Peter of Edgeworth granted to Cirencester Abbey, owed labourservice every other day between October and July and every weekday except Saturday in August and September, (fn. 16) and in 1291 the abbey's tenants at Througham owed a rental of 27s. 11½d. (fn. 17) In 1540 there were 8 free tenements in the Cliveshale area of Througham manor and 2 tenements at Througham; the yardland at Tunley, and a close in Avenis were held by copy from the manor; and the site of the manor, the tenement of the Turner family, and the Trillis estate at Oakridge were held on leases for lives. (fn. 18) Bidfield manor had free and customary tenants owing a rental of 36s. in 1370 (fn. 19) and on the Bisley rectory estate there were 14 small copyholds in 1612. (fn. 20)
The agricultural economy of Bisley was typical of the Cotswold region, being essentially corn and sheep husbandry based on the large open fields and commons which occupied the high ground of the parish. As the early-17th-century extents of the demesnes of the manor-house and rectory estates cited above testify, there were then comparatively few closes of meadow or pasture and those that there were lay mainly in the valleys and often belonged to mill estates. In the centre of the parish were two great open fields: Battlescombe field adjoined Oakridge common on the south-east and extended up by the east side of Bisley village to adjoin Stancombe field; Stancombe field included the area north of the village and extended down into Steanbridge tithing, being bounded on the north by the Custom Scrubs and Nottingham Scrubs commons. A smaller field, West field, lay on the south-west of the village adjoining Battlescombe field on the east and Bisley (or Nashend) common on the south. (fn. 21) About 1610 the tenants on the manor, rectory, and vicarage estates had a total of 856 a. in Battlescombe field, 841 a. in Stancombe field, and 120 a. in West field. (fn. 22) Most of the tenants had land in both Battlescombe and Stancombe fields, often in equal portions. (fn. 23) The three fields were inclosed by a piecemeal process which was under way in the earlier 18th century when many exchanges of land in the two big fields took place. (fn. 24) By 1842 the process was almost complete, many of the inclosures being recognizable by the name 'tyning', used for land taken out of open fields. Battlescombe had been completely inclosed by then, Stancombe had been reduced to an area of 32 a. north of the Stancombe cross-roads, and 2 a. of uninclosed land near Nashend Farm, called Nashend common field, was the only remnant of West field. (fn. 25)
Bidfield tithing had open fields in 1370 (fn. 26) but no later reference to them has been found. Tunley tithing had open fields on the plateau of high ground above the woodland; an undated terrier, probably of the 17th century, named the 3 fields there as East field, Hillhouse field, and Upper field. (fn. 27) Their inclosure was apparently completed in 1818 when exchanges affecting 172 a. of open-field land were made between the owners of the Daneway, Hillhouse, and Tunley Farm estates. (fn. 28) Througham tithing had an east field and west field in the 13th century, lying south of Througham hamlet and possibly separated by the wall running from Througham to Cliveshale that was mentioned in 1292. (fn. 29) Cirencester Abbey made a series of exchanges to consolidate its land in the fields between 1288 and 1292, (fn. 30) but inclosure there was apparently a gradual process extending over many centuries. Six fragments of open field, totalling 36 a., survived in 1842, (fn. 31) and some of the land remained uninclosed in 1891. (fn. 32)
The large commons, which covered c. 800 a. in the early 19th century, (fn. 33) were chiefly valued as sheep pasture. Sheep were presumably important in the economy by the 1370s when Richard le Shepherde was farming the demesne of the earl of March's part of the manor, (fn. 34) and there were two shepherds among the inhabitants of the parish in 1381. (fn. 35) Thomas Mill included a flock of 400 sheep in a lease of his Chalford estate in 1455; (fn. 36) the Kingstons had a flock on the Bidfield estate in the 1540s; (fn. 37) and Thomas Turner of Througham was pasturing 300 in the parish in the 1560s. (fn. 38) A shepherd lived in the parish in 1608. (fn. 39) In 1839 the two large commons in the south of the parish were said to support 1,000 sheep and 200 cattle and horses, (fn. 40) and c. 1865 on all the commons there were 1,228 sheep and 347 other beasts. (fn. 41) Pasture in the two large commons and the open fields on Bisley manor was stinted at 3 sheep to the acre in 1608 (fn. 42) and that stint was confirmed for the fields by the manor court in 1676. (fn. 43) In the late 18th century the two large commons were stocked during the spring in alternate years. (fn. 44)
Schemes to inclose the commons were advanced as early as the 1730s. (fn. 45) A scheme promoted at the beginning of the 19th century by a group of local landowners envisaged the application of the rents from the inclosed land to alleviating the burden of the poor-rates, (fn. 46) and a scheme for the division of part of the commons into allotments for the poor was advanced in 1839. The two smaller commons, Customs Scrubs and Nottingham Scrubs, were poor soil but the two large commons were good land (fn. 47) and another advocate of inclosure in the 1860s maintained that it would treble the value of the land to the parish. (fn. 48)
The common land of the parish, including the four larger commons, 10 small greens and pieces of waste, and the common rack-hills used by the clothiers on the slopes of the Chalford valley, were finally inclosed by Act of Parliament in 1869. A considerable acreage was sold to meet the expenses of the inclosure, much of it in small parcels on the edge of the commons, which neighbouring cottagers bought. The larger landholders were given allotments for their rights of common which were only roughly proportionate to the size of their estates; for example T. M. Goodlake received an allotment of 40 a. in respect of his 544-acre rectory estate, Samuel Bidmead of Daneway had 12 a. in respect of his 290 a., the Rodborough church feoffees had 15 a. in respect of their 201-acre estate, and Anthony Austin had 10 a. in respect of the 124 a. of his Rookwood's Farm estate. J. E. Dorington had an allotment of 36 a. for his manorial rights and one of 23 a. for his land in the parish. His son, the younger J. E. Dorington, had an allotment of 5 a. for a 99acre estate he held in his own right and he added 30 a. to this by purchasing the allotments of several small owners and some sale allotments; others who took advantage of the inclosure to increase their estates by purchase included William Baker and Edmund Hopkinson. (fn. 49)
Under the inclosure about 350 cottagers living in the villages on the fringes of the commons were entitled to minute allotements of a few perches for their rights of common; of those c. 100 elected to take money payments of £1-£5 instead, c. 70 immediately sold their allotments to larger owners, and the remainder took their allotments, evidently securing parcels of land adjoining their cottages which could be incorporated as gardens. Eight parcels of land, totalling 30 a., were assigned to the churchwardens and overseers as allotments for the labouring poor; (fn. 50) in 1922 they were placed under the administration of the Chalford parish council and two of them designated as recreation grounds. (fn. 51) There was considerable opposition to the inclosure among the cottagers some of whom are said to have pulled down the new walls by night. (fn. 52) The commons were chiefly valued by the poor as pasture for their donkeys which were used for carrying on the steep slopes of the Chalford valley; (fn. 53) 57 were being pastured in the early 1860s. (fn. 54) The younger J. E. Dorington, a leading promoter of the inclosure, when later campaigning for election to Parliament in the Chalford area is said to have been assailed by cries of 'Who stole the donkey's dinner?' (fn. 55)
The largest farms and those with the greatest proportion of arable lay on the high ground in the north of the parish. In 1842 Upper Througham farm with over 400 a. was the largest, while Bidfield and Lower Througham farms had over 300 a., and Througham Slad, Nashend, and Copsegrove farms had 150-200 a.; in Tunley tithing Hillhouse, King's House, and Tunley farms had 100-200 a. but in the south part of the parish only Frampton Place had more than 100 a. There were also numerous small pasture farms. (fn. 56) In 1856 there was a total of c. 35 farms in the parish. (fn. 57) In 1972, when the number had been considerably reduced by the conversion of farm-houses to private residences, some large arable farms remained in the north of the parish and some small dairy farms in the south.
Mills and the cloth industry.
There were 5 mills on Bisley manor in 1086. (fn. 58) Some of them were presumably on the Frome at Chalford, where 3 mills belonging to Minchinhampton manor were recorded c. 1170, (fn. 59) and some lower down the river in the later Stroud parish. There were some fulling-mills in Bisley and Stroud by 1360 when tithes from them were specified as part of the endowment of Bisley vicarage, (fn. 60) although only one fuller, listed under Througham, was recorded among the inhabitants of Bisley parish in 1381. (fn. 61) At least two of the Chalford mills were fulling-mills by the mid 15th century, and in the 1770s 8 were working there. (fn. 62) Several of the smaller mills of the parish were apparently never more than corn-mills but most of the 24 sites whose individual histories are traced below are known to have been used at some time in cloth production.
By the beginning of the 17th century the cloth industry was employing a large proportion of the inhabitants of Bisley, although it was not so dominant as in some of the smaller Stroud Valley parishes, because of the considerable scale of arable farming in the north of the parish. In 1608 a total of 62 people connected with the industry were listed, including 41 weavers, 18 tuckers, a dyer, a clothier, and a millwright, compared with 52 engaged in agriculture and 21 in other trades. (fn. 63) The later expansion of the industry was chiefly manifested in the growth of the villages in the south of the parish. In 1831 677 families in the parish were supported by trade compared with 288 supported by agriculture. (fn. 64)
During the earlier 19th century the Chalford region was severely hit by successive depressions in the cloth industry. In 1826, when a local committee was formed to distribute a grant from the London committee for the relief of manufacturing districts, it was said that 2,026 people were wholly unemployed in the parish (fn. 65) out of a population of 5,500-6,000. (fn. 66) In the late 1830s the Chalford area was once again severely affected as a result of the loss of the trade in 'stripe', the type of cloth which most of the local clothiers manufactured for the East India Company for its China market until the cessation of the company's trading activities in 1833. (fn. 67) In 1839 only 3 master clothiers out of 9 who had formerly operated in Chalford were still in business and, although some of the weavers at Oakridge found work with a Cirencester clothier, most of the inhabitants suffered severe poverty, much agravated by the prevalence of payment in 'truck'. (fn. 68) The situation was partly alleviated by emigration. In 1837 68 people, most of them members of weaving families, left for New South Wales financed by the parish, and in the same year 18 others left to work in the Yorkshire cloth industry and 66 went to Shrewsbury where they were taken on by a linen manufacturer. (fn. 69) In 1842 a further grant from the London relief committee was distributed in provisions and a programme of road improvements. (fn. 70) Few of the Chalford cloth-mills survived the depression but the manufacture of silk and walkingsticks to which most of them were adapted provided employment for large numbers in the later 19th century.
On the river Frome the highest mill adjoining Bisley parish was Henwood Mill at Tunley. The next three below belonged to Sapperton parish and then from Twissell's Mill, south of Oakridge Lynch, there was a succession of 13 or more sites, grouped most thickly at the west end of Chalford village where some were driven by the abundant springs which rise beside the river. Some of the Chalford mills were in Bisley parish and some in Minchinhampton but as they were all essentially part of the settlement of Chalford they are all treated here. St. Mary's Mill below Chalford is treated under Minchinhampton. The smaller streams of Bisley parish, in particular the Toadsmoor brook, where tradition locates the first fulling-mill ever built in the district, (fn. 71) also drove a few small mills.
Henwood Mill stood a short distance below the ford where the old Cirencester-Bisley road crossed, at a point where the water-supply was supplemented by springs entering the river from each side. (fn. 72) The mill belonged to the Daneway estate in 1707 (fn. 73) and descended with it until 1867 when it was sold to Earl Bathurst; (fn. 74) it was apparently always a cornmill. Abraham Hathaway, a baker of North Cerney, took a lease of the mill in 1707. (fn. 75) Henwood Mill was still a working corn-mill in 1901 (fn. 76) but it went out of use in the early 20th century and became ruinous. The buildings are said to have had medieval features, including a chimney which was removed to Sapperton church. (fn. 77) Fairly substantial stone ruins and a high-banked pond survived in 1972.
Twissell's or Baker's Mill, named from successive families who owned it, stood on the Frome at the crossing-point of a lane from Frampton Mansell to Oakridge Lynch. (fn. 78) It belonged to Over Lypiatt manor in 1477 when, known as Frampton's Mill, it was held by John Quarrion. (fn. 79) It was called Blankett's Mill in 1581 when William Twissell held it by copy, and in 1583 William Twissell the younger, apparently his son, bought the freehold. (fn. 80) William Twissell later acquired the adjoining Frampton Place estate, with which the mill descended until the later 19th century. (fn. 81) It was equipped as a cloth-mill in 1821 (fn. 82) but was worked as a corn-mill in 1856 (fn. 83) and remained a working corn-mill in 1882. (fn. 84) The 17th-century mill-house survived in 1972, having an extension of c. 1960 in traditional style on the north-east. (fn. 85)
Ashmead's Mill, below, (fn. 86) has not been found recorded before 1820 when Charles Innell was making cloth there. (fn. 87) He gave up the business in 1825 when the mill was powered by a water-wheel and a steam-engine. (fn. 88) In 1870 Nathaniel Teakle & Sons, mattress-wool and shoddy manufacturers, occupied it. (fn. 89) It is also said to have been at one time a silk-mill, (fn. 90) possibly worked by Charles de Bary who was described as of Ashmeads in 1896. (fn. 91) The substantial 3-storey mill (fn. 92) had been demolished by 1972 leaving a small early-19th-century brick house with some stone out-buildings.
Valley Mill, at Valley Corner where a small lane crosses the river by a bridge, (fn. 93) belonged to William Morton c. 1785, (fn. 94) and in 1820 was a cloth-mill worked by Nathaniel Bennett. (fn. 95) In 1839 T. M. Goodlake owned the mill. (fn. 96) It was a saw-mill in 1891, leased to Smith & Sons of the Brimscombe brewery, (fn. 97) and it continued in occasional use as such by a timber-merchant in the early 20th century. (fn. 98) The mill had been demolished by 1972. The adjoining 17th-century inn, which was in the same ownership in the 19th century, (fn. 99) was presumably originally the clothier's house; it had become the Clothier's Arms inn by 1820 (fn. 100) and was renamed the Valley inn before 1931. (fn. 101)
If the bridge at Valley Mill can be identified with Stephen's bridge, Seville's Mill (fn. 102) was probably the one below Stephen's bridge which Edward Smart of Througham owned in 1608. (fn. 103) Edward sold the property, comprising a messuage and 2 fulling-mills, in 1609 to Richard Batt, who left it to his daughters, Jane who married William Watkins and Mary who married Walter Seville. Jane sold her share to Walter Seville in 1649 and Walter settled the mill, to which a gig-mill had been added, on the marriage of his son John in 1663. Walter died c. 1705 and John sold the mill in 1712 to Thomas Harmar, clothier. (fn. 104) John Innell owned Seville's Mill c. 1785 (fn. 105) and apparently until his death in 1800; his sons William (d. 1795) and John (d. 1806) were also clothiers but may not have been connected with Seville's Mill, being described as of Chalford Hill. (fn. 106) In 1821, however, the clothiers James and John Innell were working Seville's Mill. (fn. 107) It was evidently that called Innell's Mill occupied by a Mr. Warman in 1827, and by 1845 it was owned and occupied by Nathaniel Jones (fn. 108) (d. 1875), (fn. 109) who made cloth there until 1871. By 1865 one part was used as a silk-mill (fn. 110) and it was worked by John Sparling some time before 1873 when Jones leased it to another silk-throwster, William Chapman. (fn. 111) Both parts of the mill were unoccupied in 1880 (fn. 112) but it was described as a silk- and woollen-mill in 1882, (fn. 113) and in 1901 and 1921 articles in bone and wood were being manufactured there. (fn. 114) Later Seville's Mill was used by Cook Bros. who made wooden tapestry frames and embroidery hoops; in 1953 a new company, Elbesee Products, was formed by the Cook family to carry on the business and it remained at the site in 1972. (fn. 115) The old mill, which comprised two buildings, apparently dating from the 17th or early 18th century, (fn. 116) was demolished in 1963 and replaced by new buildings. (fn. 117) A 17th- or early-18thcentury house east of the site has a loft-doorway on to the road and was probably connected with the mill, but the owners usually occupied Green Court (fn. 118) some way to the east, a 17th-century house enlarged by the addition of a higher, west block in the early 19th century.
Stoneford or Halliday's Mill, situated just above the Stroud-Cirencester road, (fn. 119) was presumably the mill at Staford or Stoford that was held from Minchinhampton manor by Godard c. 1170 and by Richard of Stoford c. 1300. (fn. 120) John Halliday was dealing with Stoneford Mill in 1546 and 1576, (fn. 121) and Thomas Halliday held it with 3 rack-grounds in 1608. (fn. 122) In 1726 Samuel Halliday conveyed Stoneford Mill, comprising a fulling-mill and gig-mill, to William Bawden. (fn. 123) It was described as Hopton's, now Parker's or Bidmead's, c. 1785 (fn. 124) and Samuel Bidmead and Thomas Parker occupied it before 1813 when it was worked by John Driver Bidmead, (fn. 125) who was declared bankrupt in 1820. (fn. 126) William Smart (d. 1860) (fn. 127) owned Stoneford Mill in 1839 (fn. 128) and was recorded as a cloth-manufacturer at Chalford in 1856; (fn. 129) in 1858 he sold the equity of redemption of the mill to his mortagagee Obadiah Smart. (fn. 130) It was a silk-mill by 1882. (fn. 131) Soon after the First World War Peter Waals, who had been Ernest Gimson's foreman at Daneway House, started a workshop at the mill, taking on most of the workmen formerly employed at Daneway; he made furniture there until his death in 1938. (fn. 132) From 1956 the mill, a 19th-century brick building, was occupied by Arnold Designs Ltd., which employed c. 25 people in 1972 making household goods. (fn. 133) The millowner's house, a three-storey 18th-century stone building with a classical front, also survives.
The next mill below Stoneford was originally known as Wood or Randall's Mill but in the 19th century the buildings on the site were called Spring Mills; (fn. 134) they and Mugmoor Mill, below, received their water-supply from a spring called the Black Gutter on the south side, while the tail-races drained into the main river on the north. (fn. 135) Wood Mill with a messuage and dye-house belonged to the Minchinhampton manor estate in 1711 when Philip Sheppard granted a lease for 3 lives to Joan Randall and her grandsons James and John Teal. (fn. 136) In the 1780s Samuel Bidmead occupied the mill. (fn. 137) In the 1830s Spring Mills were owned by Handy and Jesse Davis and were presumably the mills containing 3 water-wheels, a steam-engine, 6 pairs of stocks, and 4 gig-mills, which the assignees of the Davises' bankruptcy offered for sale in 1838. (fn. 138) In 1843 Nathaniel Jones, acting for William Dutton and John Ferrabee, conveyed the mills to the Great Western Railway Co. In 1860 the company sold them to Nathaniel Jones, the property then comprising a fulling-mill with a steam-engine on the site of the old Wood Mill and a newly-erected building closely adjoining it; in 1864 the two buildings were known collectively as the Spring Mills (fn. 139) but later the larger one, on the west, was distinguished as Spring Mill and the smaller one, on the east, as Randall's Mill. (fn. 140) In 1856 the silk-throwster Joseph Jones was recorded at Spring Mills (fn. 141) and in 1860 both mills were being used as silk-mills by Nathaniel Jones, one having been formerly occupied by the silkthrowster Samuel Hook; (fn. 142) in 1863 Francis E. Jones was making silk at Spring Mills. (fn. 143) In 1864 Nathaniel Jones sold the two mills to James Apperly, machinemaker of Dudbridge, and Apperly sold them in 1867 to William Dangerfield (fn. 144) who incorporated them in his stick factory. Both buildings had been demolished by 1972.
The site immediately below was bought in 1803 by a clothier John David Webb who built on it a cloth-mill, later called Mugmoor or New Mill. (fn. 145) Webb was in partnership with Thomas Commeline in 1808 when their debts forced them to sell Mugmoor Mill to William Toghill. Toghill sold it in 1820 to William Davis, machine-maker of Brimscombe, and in 1837 Davis, who was then working as an engineer in Leeds, made it over to his daughter Anne Maria; the tenant was then Daniel Cox. Anne married Charles Peaty in 1840 and in 1852 they sold the mill to Nathaniel Jones; it then passed with the two Spring Mills to become part of William Dangerfield's factory. (fn. 146) The small square stone mill survived in 1972. In 1875 the name New Mill, formerly an alternative name for Mugmoor Mill, was applied to a large mill of 17 bays and three storeys which stands immediately below; (fn. 147) about that mill no earlier information has been found and it had perhaps only been recently erected by Dangerfield.
The mill immediately below, standing on the east side of the Chalford-Hyde road, was known as Bliss's Mill from the late 18th century (fn. 148) and was one of the most ancient sites at Chalford. It was evidently the mill which Ralph Mortimer granted to William, son of Hugh of Chalford, in the earlier 13th century and it descended with William's Chalford estate, passing to Corpus Christi College in 1523. (fn. 149) It was probably a fulling-mill by 1455 when Thomas Mill leased the estate to a tucker, John Field, (fn. 150) and the site included 2 fulling-mills in 1462. (fn. 151) The mill was leased to Edward More, tucker, in 1472, (fn. 152) and in 1516 to William Compton, his wife Elizabeth, and son Walter. (fn. 153) William, described as a cloth-maker, secured a new 70-year lease from Corpus Christi College in 1524, under which he was required to act as rent-collector for the college's property at Chalford, Duntisbourne, and Longney. (fn. 154) He was still answering for the rents in 1539 but he had by then apparently assigned the mill to Walter who had built a new mill there. (fn. 155) About 1562 Walter assigned it for the remainder of the term to his son Francis, who made cloth there for a short while, but later the mill became a factor in disputes between father and son over financial and business matters. Francis assigned the lease to William Hopton (fn. 156) before 1583. (fn. 157) In the 1780s the mill was known as Bliss's or Corpus Christi Mill. (fn. 158) In 1794 the college leased it with their estate to William Hunt Prinn with provision for a sub-lease to Charles Ballinger (fn. 159) and the name Ridler's Mill applied to it in 1802 suggests that William's ancestors, the Ridlers of Edgeworth, may have earlier been lessees. (fn. 160) In 1818 Thomas Packer Butt was rated for the mill (fn. 161) and the rate books give his trustees as owners of the mill and the near-by Company's Arms inn until the beginning of the 1870s; (fn. 162) Butt, however, had evidently only a long lease under Corpus Christi College which retained the freehold until 1872 when it sold the mill to the tenant, William Dangerfield. (fn. 163)
Daniel Cox, a cloth manufacturer and millwright, occupied Bliss's Mill and the Company's Arms in 1820 and until at least 1840, (fn. 164) and in 1833 he was manufacturing mainly for the East India Company. (fn. 165) William Dangerfield occupied Bliss's Mill by 1856 and was making umbrella- and parasol-sticks, bone mounts, buttons, and steel pen-handles. (fn. 166) In 1867 he bought the three mills above (fn. 167) and in 1875 he leased his whole property, comprising Bliss's, New, Mugmoor, Spring, and Randall's Mills, to his own company, William Dangerfield & Co. (fn. 168) The company became one of the largest and most successful stick-manufacturers in the country and at one time employed as many as 1,000 work-people, but business was falling off and the firm in some difficulties by Dangerfield's death in 1894, (fn. 169) and in 1903 it was taken over by A. C. Harrison and Co. Sir Alfred Apperly acquired it in 1912 and a new company, Chalford Woodworkers, formed later, continued the production of sticks and tool-handles (fn. 170) until c. 1930. (fn. 171) From 1938 the site was occupied by Fibrecrete Ltd., makers of asbestos cement products, (fn. 172) and at the beginning of the 1970s the whole site was bought and broken up as the Chalford Industrial Estate. (fn. 173) Bliss Mills, a 19th-century building with a square tower, had been largely demolished by 1972. On the north side of the site there survives a house which dates partly from the 16th century and partly from the 18th but has evidently been reduced in size.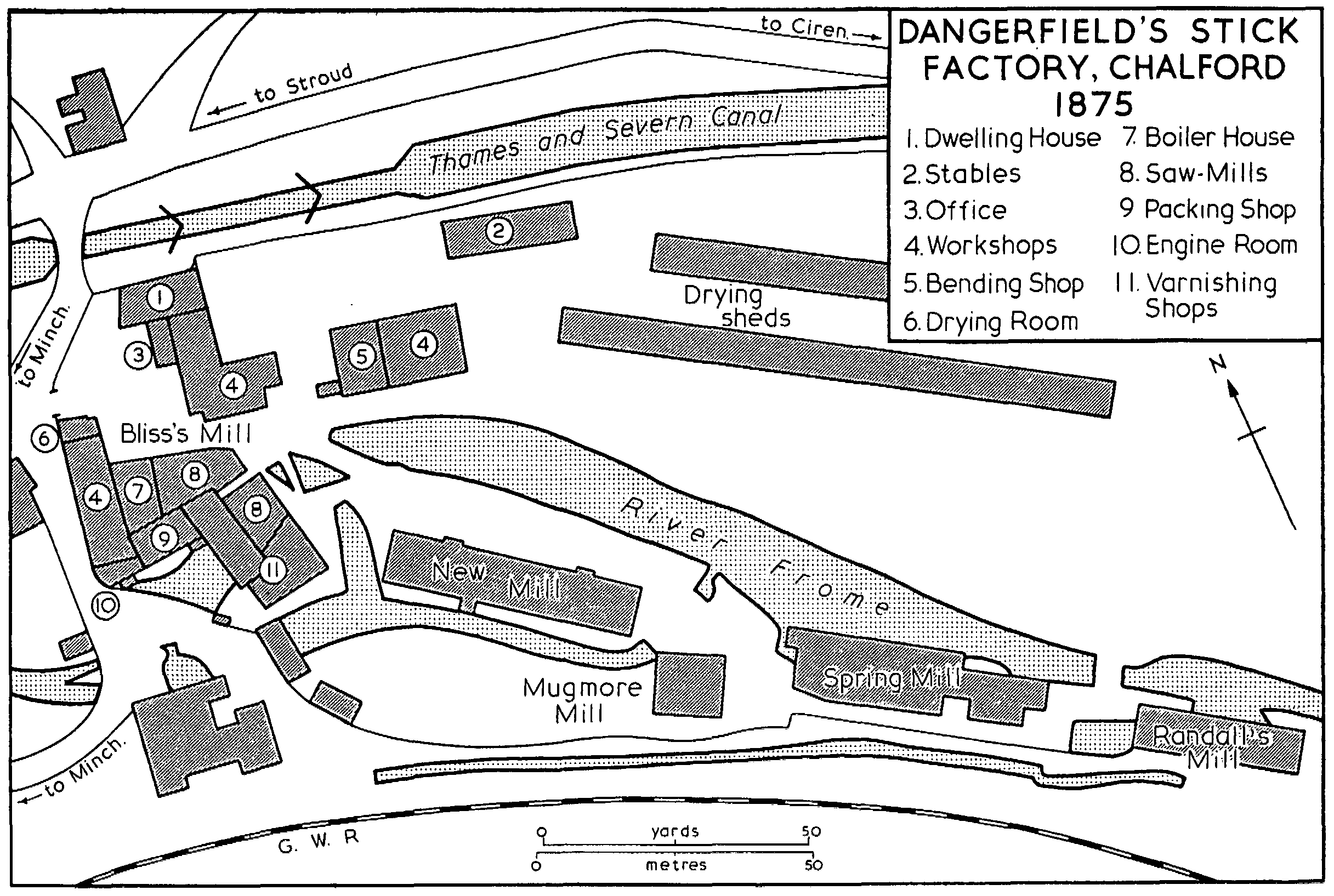 Below the Chalford-Hyde road stood an ancient mill which became known as Tayloe's Mill (fn. 174) from its 18th-century occupants. In 1439 it was held from Bisley manor by Alexander Robull, the property comprising a messuage and fulling-mill with ½ yardland and a close called Woolrings. (fn. 175) Before 1558 it was leased by Princess Elizabeth to Robert Hone (fn. 176) and in 1566 a new lease was granted to Robert, Isabel his wife, and William his son. William obtained a lease for the lives of himself, his wife Sarah, and son Robert in 1583 (fn. 177) but his father apparently continued to work the fulling-mill, giving up to William a grist-mill on the site; in 1589, after William's death, Robert was disputing the mill with Sarah and her new husband William Elbridge. (fn. 178) Robert Hone, William's son, was in possession in 1608, (fn. 179) and bought the freehold of the mill in the 1620s. (fn. 180) It later passed to Thomas Tayloe, clothier (d. 1667), by his marriage to Margery Hone, and it then passed in direct line to William Tayloe (d. 1735), (fn. 181) William (fn. 182) (d. 1749), and William (d. 1773). Hester Tayloe, mother of the last William, (fn. 183) sold Tayloe's Mill in 1778 to Charles Ballinger, clothier (d. 1798). It passed to his son Charles (fn. 184) who in 1842, when the mill was apparently used only as dye-houses, was leasing it to David Farrar. (fn. 185) The younger Charles was dead by 1852 when the mill had been inherited by his nephew Charles Ballinger of Skaiteshill House. (fn. 186) After the middle of the century it was a corn-mill, worked in the 1860s by the Gloucester firm of Reynolds & Allen, and in 1875 and until the First World War by Clark Bros.; by 1885 it was powered by both steam and water. (fn. 187) In the late 1920s and early 1930s it housed the Belvedere upholstery works owned by Tylers Ltd. of Thrupp. (fn. 188) The late-18th- or early19th-century stone mill stood empty in 1972. Part of the site was then occupied by a pumping station of the North West Gloucestershire water board, whose predecessors, the Stroud Water Co., were using the springs which rise near the mill as their main source of supply in 1930. (fn. 189) The house belonging to Tayloe's Mill was that standing west of the site; (fn. 190) it incorporates a small house of the earlier 18th century, heightened and extended to the west in the last quarter of the same century, possibly in 1789. (fn. 191)
Iles's Mill, the next below, (fn. 192) was probably the one held by Thomas Butt in 1608, lying between Robert Hone's mill and Henry Whiting's St. Mary's Mill. Thomas, who also had four racks on Skaites hill just above, (fn. 193) presumably came from the family which held racks and a dye-house from Bisley manor in 1536. (fn. 194) The mill, which apparently belonged to John Iles (d. 1727) and John Iles (d. 1767), (fn. 195) was described as Mr. Iles's Mill in 1785. (fn. 196) About 1806 another John Iles sold it to John Ballinger (fn. 197) (d. 1848) who left it to a younger son Henry (d. 1855). (fn. 198) The tenant in 1839 was Thomas Jones (fn. 199) and Iles's Mill was perhaps that at Chalford which he was operating in conjunction with a mill in Stroud parish in 1833 when he was employing between 200 and 300 people, including outdoor workers. (fn. 200) He was still making cloth at Iles's Mill in 1856. (fn. 201) Later Richard and Joshua Jones, brothers-in-law of William Dangerfield, set up a rival stick factory at the mill, but they went bankrupt in 1865 and were then being sued by Dangerfield for infringing his patent for the process of bending the sticks. (fn. 202) In 1879 and until at least 1902 William Charles Grist worked the mill as a flock and shoddy factory. In 1906 it was occupied by a firm of bone turners, but in 1914 it was once more a flock-mill, occupied by Richard Grist Ltd. (fn. 203) The surviving part of the mill was occupied as a pair of houses in 1972; a small threestorey stone building, it dates mainly from the early 19th century but incorporates a 17th-century gable end. Another block adjoining it on the southwest side was demolished after a fire in 1913. (fn. 204) The building immediately west of Iles's Mill, occupied as cottages in 1972, belonged to the mill estate in the early 19th century (fn. 205) and appears to have been a single house of traditional plan, perhaps dating from the early 17th century.
Another mill was built in the early 19th century just below Iles's Mill, adjoining the house which was known as Brookside in 1972. (fn. 206) The house belonged to Abraham Walbank, an attorney, who conveyed it in 1782 to his daughter Sarah, who married Robert Lees, a surgeon. In 1811 Sarah sold it to Joseph Iles, clothier, who went into partnership with Thomas Iles and built a cloth-mill and enginehouse on the site. Joseph and Thomas went bankrupt in 1828 and the house and mill were assigned to their chief creditors, Joseph Pitt and his partners, bankers of Cirencester, (fn. 207) who were leasing the mill to Handy and Jesse Davis in 1836. (fn. 208) In 1840 Pitt and his partners sold the property to Samuel Lawrence of Cirencester. (fn. 209) A long wing which ran south from Brookside and evidently housed the mill, (fn. 210) had been demolished by 1882. (fn. 211) The surviving house has a symmetrical late-17thcentury range which was enlarged in the 18th century by the addition of small balancing wings to the east front and a larger range to the west front.
Immediately south of Tayloe's Mill stood a small mill, which was apparently supplied with water by the springs that rise there, rather than by a leat from the Frome. (fn. 212) It was built as a cloth-mill by Timothy Butt before 1784 and was perhaps worked for a time by his son Samuel Butt, clothier of Chalford. In 1784 it belonged to Archer Blackwell who conveyed it in that year to Thomas Packer Butt, clothier. (fn. 213) In 1793 Thomas was in dispute with Charles Ballinger of Tayloe's Mill over the water from the springs, (fn. 214) which was apparently also used by the latter to supplement his mill-pond. In 1836 Thomas's trustees held the mill and were leasing it with Bliss's Mill to Daniel Cox who had two undertenants. (fn. 215) The site was largely obliterated a few years later by the building of the railway.
A short way north-west of Iles's Mill stands Clayfield's Mill on a site that came to be bounded on the south by the canal and on the north by the Stroud-Cirencester road; (fn. 216) its mill-pond was filled by a spring which runs out of a culvert from beneath the road. (fn. 217) It was apparently the grist-mill owned by Mary Clayfield, a widow, in 1704, which her son Andrew was working two years later. (fn. 218) In 1759 Clayfield's Mill was held by William Tayloe, (fn. 219) and it is said to have been sold by him to Charles Ballinger c. 1787. It then descended with Tayloe's Mill until at least 1852. (fn. 220) It was a grist-mill in the 1780s (fn. 221) but in 1820 William Smart was making cloth there, (fn. 222) as was Nathaniel Jones in 1842. (fn. 223) Thomas Jones of Iles's Mill was the tenant by 1845 (fn. 224) and was working it as a cloth-mill in 1852, although it was then known as the Grist Mill. (fn. 225) By 1860 it had been acquired by Richard Liddiatt, who used it as a builder's yard and saw-mill until c. 1885. (fn. 226) In 1972 the small four-storey stone building, the lower part of which apparently dates from the 17th century, was occupied as a house.
The small stream that flows down to the Frome through Millswood drove a mill adjoining the north-west side of the house called Sevillowes. (fn. 227) In 1826 there were fairly extensive buildings on the site including an ancient cloth-mill and a newly erected cloth-mill. The property was acquired in 1822 by William Gardiner, who went bankrupt in 1827, and in 1829 one of the mortgagees, Lt.-Col. Henry Daubeny of Bath, bought the property from his fellow creditors. (fn. 228) In 1841 the property, then also including a cloth-mill called Seville's Upper Mill which stood a short way north-east of Sevillowes on a small tributary spring, was put up for sale following a Chancery action brought by William Hunt against Charlotte Ireland, her infant son William, and Thomas Lediard. Seville's Upper Mill and the newer mill of the two adjoining Sevillowes were then offered for sale as building material (fn. 229) and no later record of the mills has been found. Sevillowes, evidently the house on the property described in 1826 as partly ancient and partly modern, was occupied in the early 19th century by William Seville (fn. 230) and by 1841 by a surgeon John Lowe (fn. 231) (d. 1894); (fn. 232) the name is presumably an amalgam of the two surnames. The house is a late-18th-century building extended and partly remodelled internally in the early 19th century when a semi-circular bay was added.
Other mill buildings at Chalford, possibly not all water-powered, were worked by the clothier William Toghill in the early 19th century. In 1803 he bought property from Archer Blackwell and by 1821 part of it, apparently on Dark Lane near Skiveralls House, contained a cloth-mill with a steam-engine, woollofts, and other buildings. (fn. 233) In 1807 Toghill bought from Charles Innell another cloth-mill, recently built near Dark Lane on the site of a house bought by Innell in 1799. (fn. 234) Toghill was bankrupted in 1826, and his creditors sold his property to one of the mortgagees, John Abernethy (d. 1831). In 1834 Abernethy's trustees sold the two mills to Handy Davis. (fn. 235)
A four-storey building called Warehouse Mill, on the north side of the main road near the west end of Chalford village, was built as a wool-store by Handy and Jesse Davis before 1838. (fn. 236) Later adapted as a silk-mill, it was being worked by Samuel Hook between 1845 and 1855, (fn. 237) by the partnership of William Dangerfield and Sidney Foot in 1863, (fn. 238) and by William Chapman in 1870. (fn. 239) It apparently remained a silk-mill until c. 1890 when it was converted into 13 cottages (fn. 240) and in 1972 it was being remodelled to form 7 houses.
There were several small mills on the Toadsmoor brook at the western boundary of the parish. They were usually regarded as part of Bisley rather than Stroud, although some of them were undoubtedly among the unnamed mills assigned to the Chamberlaynes and Windowes at the partition of the Stroud manor of Nether Lypiatt in 1689. (fn. 241) The highest mill on the brook, recorded in 1824 near the large pond in Toadsmoor woods, (fn. 242) was apparently the mill built on a piece of land called Wiselands, which was said to be in decay in 1801. (fn. 243)
Further down the brook a group of three mills, known collectively as Toadsmoor Mills, stood close together below the point where a track crossed from Bussage into Nether Lypiatt. (fn. 244) That crossing can probably be identified with one anciently called Row bridge, for a wood near by was named as Rowbridge wood in 1842. (fn. 245) The highest Toadsmoor mill (fn. 246) was presumably therefore the site of the house, fulling-mill, and grist-mill at Row bridge which William Snow held by copy from Bisley manor in 1608, (fn. 247) and the Snow's Mill at Toadsmoor which passed to William Hayward in 1690. (fn. 248) William Hayward was a clothier at Toadsmoor in 1715, (fn. 249) and in 1729 Hayward's Upper and Lower Mills were rated by Bisley parish. (fn. 250) The highest Toadsmoor mill was owned or occupied by a Mr. Jones in 1813, (fn. 251) perhaps Amos Jones who was listed as a woollen manufacturer at Bourne in 1820. (fn. 252) In 1842 it was owned and occupied by Aaron Evans. (fn. 253) It was probably the property called Toadsmoor Mills which William Dangerfield leased to Charles Freeman and Richard Davis, shoddy and mill-puff manufacturers of Bristol, in 1863; (fn. 254) Charles Freeman, flock manufacturer, and Woollaston & Co., mill-puff and shoddy manufacturers, were recorded at Toadsmoor in the 1870s. (fn. 255) By 1885 and until the 1930s William Selwyn was making flock and shoddy at the highest Toadsmoor mill, (fn. 256) which then comprised two mill buildings on the west side of the Bussage-Bourne road and another building, called Shortwood Mill, on the east side of the road. (fn. 257) Only the lower of the two on the west side, a two-storey range, survived in 1972 when it was occupied by a firm making aniline and gravure inks.
The middle mill at Toadsmoor was held by Obadiah Burge in 1813, (fn. 258) and in 1828 it belonged to Aaron Evans who perhaps worked it in connection with the mill above. By 1831 it belonged to Thomas Creed (fn. 259) who was trading as a corn-dealer and seedsman there in 1856. (fn. 260) Shortly before 1865 it was bought by the tenant William Davis who worked it as a corn-mill (fn. 261) until his death in 1884. (fn. 262) By 1885 the mill was powered by steam (fn. 263) but it went out of use in the early 20th century (fn. 264) and had been demolished by 1972.
The lowest Toadsmoor mill was held in 1813 by John Lock (fn. 265) who was a corn-miller in 1820. (fn. 266) By 1840 it belonged to Richard Kilmister (fn. 267) who leased it to a succession of millers. (fn. 268) By 1885, when it was steam-powered, it had been acquired by George Daniels (fn. 269) who worked it until c. 1920. (fn. 270) The small stone building, which incorporates a house and dates in part from the late 17th or early 18th century, survived in 1972.
A small mill called Cricketty Mill, south-west of Bisley village on the stream that flows down to join the Toadsmoor brook, (fn. 271) was recorded from 1825 when it was owned by Robert Owen and contained a pair of stones for grist-milling and one fullingstock. (fn. 272) In the following year it was being used by William Mills and Thomas Partridge, wood typecutters and printers' joiners. (fn. 273) In 1828 Owen sold the mill, which was described as newly erected, to his mortgagee, Lt.-Col. Henry Daubeny of Bath. (fn. 274) In 1842 it was owned by Charles Newman and leased to William Hazle, (fn. 275) who became the owner soon afterwards; (fn. 276) Hazle's son William worked a brewery and malt-house at the site until at least 1870. (fn. 277)
In the 19th century a silk-mill stood at Oakridge Lynch at the head of a small stream which flows down to the Frome. (fn. 278) It was evidently worked by the succession of silk-throwsters recorded at Oakridge Lynch, in 1856 John William Jones, (fn. 279) in 1863 Charles de Bary (who married Jones's widow), (fn. 280) and in 1879 the firm of Tubbs & Lewis. (fn. 281) In the late 19th century it was owned by a Mr. Chapman, (fn. 282) propably William Chapman who is recorded at Seville's Mill. (fn. 283) The Oakridge mill, a substantial three-storey range, was demolished c. 1900. (fn. 284)
On the Holy brook only one mill, Rookwood's Mill east of Rookwood's Farm, (fn. 285) has been found recorded. It was built shortly before 1818 by William Tyler, the owner of Rookwood's. It was a corn-mill in 1818 but in 1844 it was described as a corn-mill formerly a cloth-mill and had presumably been worked by Tyler in his trade as a clothier. (fn. 286) It had been demolished by 1882. (fn. 287)
The lords of Througham manor had a mill at Cliveshale in the 13th century, presumably a watermill on the Holy brook or its tributary there. (fn. 288) A windmill stood in the high, western part of Througham tithing in 1292. (fn. 289)
Other industry and trade.
Of the industries which replaced cloth-making in the Chalford area in the mid 19th century, stick-making and silkthrowing, both mentioned above, were the main employers of labour; the stick industry exploited the local beech woods (fn. 290) which also gave a livelihood to a number of timber-merchants in the later 19th century. (fn. 291) The manufacture of high-quality furniture was introduced into the parish by Gimson and Peter Waals in the early 20th century, (fn. 292) and at the same period furniture and other woodwork was made at the steam joinery of C. W. Smith east of the Bliss's Mill complex; the joinery was occupied by an upholsterer before the Second World War, (fn. 293) and from 1950 by Chalford Chairs Ltd. (fn. 294) A site near by, occupied between the wars by a firm making tennis racquets and later by a succession of businesses, (fn. 295) was used in 1972 by Doulton Industrial Products.
The good quality oolite on which the parish lies has been extensively quarried, providing the material for almost all its buildings until the 20th century; much was also exported from the parish in the form of stone tiles. At Througham tile-quarrying had begun by 1512 when a lease of the site of the manor included the regulation that none should be dug on the demesne closes, (fn. 296) a provision that presumably led to the establishment of the largest tile-quarry in the corner of an open field, at the cross-roads of two tracks north of Calfway Farm. (fn. 297) Througham later acquired the reputation for providing some of the best tiles in the county (fn. 298) and in the 1770s they were supplied in large quantities to the Severn Vale region. (fn. 299) Tile-digging was also a common practice on Bisley manor in 1593 when the manor court ruled that all tenants quarrying on their land should replace the topsoil. (fn. 300) There were numerous small quarries on the commons, (fn. 301) particularly around France Lynch and Chalford Hill where some were worked by the Franklin family of masons during the 18th and early 19th centuries. (fn. 302) Quarries at Bussage continued to be worked in the 1930s by a firm of concrete-manufacturers. (fn. 303)
In 1831 the inhabitants of the parish included 7 tile-dressers and 23 stonemasons (fn. 304) and the local tradition of stone working produced several masons known beyond the parish. John Thomas of Chalford (d. 1862) worked on many important public buildings and in particular was the foreman of the masons employed on the new Houses of Parliament, (fn. 305) while the Wallis family, which included Solomon Wallis who built Bussage church and his son Samuel who did much work for G. E. Street, were masons from Bussage. (fn. 306) George Drew, builder and quarry-owner of Chalford, conducted a fairly extensive local business in the mid 19th century, (fn. 307) which included building to his own design the Wesleyan chapels at Chalford and in Bisley village. (fn. 308)
The parish was fairly well supplied with the usual rural craftsmen, the earliest recorded being two smiths of Bussage and a smith of Cliveshale in the mid 13th century. (fn. 309) In 1608 the inhabitants of the parish included 5 tailors, 5 masons, 3 shoemakers, 3 carpenters, and 2 smiths. (fn. 310) The industrialized settlement of Chalford had the greatest number of craftsmen in the 19th century: in 1856 it had 19, including smiths, masons, shoemakers, tailors, carpenters, and, more unusually, a basket-maker; the village also had 18 shopkeepers and 3 coalmerchants, and the professional classes were represented by a solicitor and 2 surgeons. (fn. 311) Bisley village then had 12 craftsmen and four or five shopkeepers, (fn. 312) and Bussage, Oakridge Lynch, France Lynch, and Eastcombe also supported one or two craftsmen and shopkeepers. (fn. 313) The craft movement that was prominent in the locality in the early 20th century was still represented in Bisley village in 1972 by the smith Norman Bucknell, son of one of the men trained by Ernest Gimson.
Markets and fairs.
Sir Robert Atkyns, the lord of the manor, obtained a royal grant of a Thursday market and fairs on 23 April and 1 November in 1687. He sold his rights in them, and the right to use the streets of the village to hold them, to John Eldridge, a Bisley innkeeper, in 1706, and in 1710 Eldridge sold the right for £150 to Thomas Parker of Sapperton. (fn. 314) By the early 19th century, however, the rights in the market and fairs had returned to the lord of the manor. (fn. 315) The fairs (altered by the calendar change to 4 May and 12 November) (fn. 316) were doing a considerable trade in cattle in the 1770s but the weekly market was then little frequented, a circumstance attributed to the unfavourable position of the village and the steepness of the roads leading to it. (fn. 317) The market later ceased to be held and an attempt to revive it was made in 1802 when a year's toll-free trading was offered as an incentive. (fn. 318) The attempt appears to have had little success, for the market has not been found recorded later. The two fairs continued to be held, mainly for the sale of sheep and pigs, until the 1880s. (fn. 319) Bisley had a market-house in 1740, (fn. 320) and in 1827 it was resolved to shorten it by one bay; (fn. 321) it apparently stood on the east side of High Street on the site later occupied by the Court House. (fn. 322)