Pages 559-560
A History of the County of Hampshire: Volume 4. Originally published by Victoria County History, London, 1911.
This free content was digitised by double rekeying. All rights reserved.
THE HUNDRED OF FORDINGBRIDGE
containing the parishes of; North Charford; South Charford Tithing; Ellingham; Fordingbridge; Godshill Tithing; Broomy Lodge; Linford, Picked; Post & Shobley extra-parochial. (fn. 1); Hale; Ibsley; Rockbourne; South Damerham (fn. 2); Martin; Whitsbury
A little before 1841 Ellingham and Broomy, the latter being constituted a township in 1868, were transferred to Ringwood Hundred. Fordingbridge now comprises Ashley Walk (a township formed in 1868 from part of Godshill and several extra-parochial places), North and South Charford, which are now separate civil parishes, Fordingbridge, Hale, Ibsley, Rockbourne and Woodgreen, which was formerly an extra-parochial district in the tithing of Godshill, and is now a separate civil parish. In 1086 the hundred contained Breamore, (fn. 3) North Charford, South Charford, (fn. 4) Ellingham, (fn. 5) Fordingbridge, (fn. 6) Hale, (fn. 7) Ibsley (fn. 8) and Rockbourne, (fn. 9) the manor of Canterton in Minstead, (fn. 10) and in addition 'Clatinges,' (fn. 11) 'Slacham,' ' Ivare' and 'Bedecotes.' (fn. 12) Clatinges was held together with South Charford by William de Chernet of Hugh de Port, and was probably situated near that place. Slacham, Ivare and Bedcote were all in the New Forest. The modern Eyeworth in Ashley Walk preserves the 11th-century ' Ivare.' Canterton in Minstead was annexed to the New Forest Hundred before 1316, (fn. 13) and Breamore became a separate liberty at the end of the 16th or beginning of the 17th century. (fn. 14)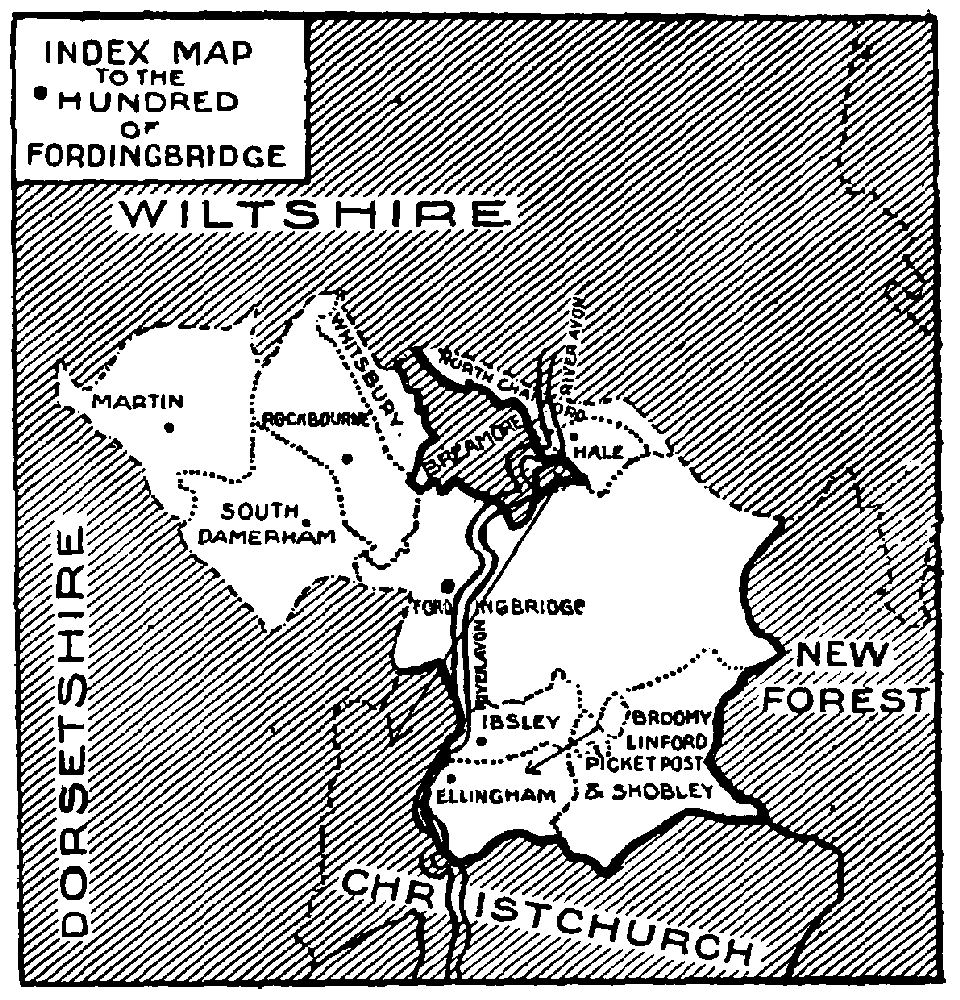 In the time of Edward the Confessor there were 36½ hides 12½ virgates in the hundred; in 1086 there were 24 hides 7¼ virgates. In 1280 John de Rivers was holding the hundred of Fordingbridge, which was worth 40s. yearly, and claimed there gallows, pillory, tumbril, view of frankpledge and assize of bread and ale. (fn. 15)
The hundred of Fordingbridge was apparently granted with the manors of Nether Burgate and Rockbourne to Manser Bisset. (fn. 16) It was assigned with the manor of Nether Burgate to Margery Rivers, daughter and co-heir of John Rivers, and has since followed the descent of that manor, (fn. 17) the present owner being Mr. John Coventry.
In 1651, although it must have belonged to the Bulkeleys, a survey of the hundred was taken as parcel of the possessions of Charles I. (fn. 18) It included the nine tithings of Rockford Moyles, Ibsley, Bickton, North Charford, Hale, Over Burgate, Difford, South Charford and Ellingham. The tithing silver amounted to £1 13s. 9d. and the profits of the courts to 15s. The court leet and 'lawdaye' was held at Michaelmas every year, but the sheriff's tourn had long been discontinued. Mr. Coventry still has the right of appointing the coroner for the hundred. (fn. 19)