Pages 560-563
A History of the County of Hampshire: Volume 4. Originally published by Victoria County History, London, 1911.
This free content was digitised by double rekeying. All rights reserved.
Cerdeford (xi cent.); Cherdeford (xii, xiii cent.); Chartford (xiv cent.); Cherford (xv cent.).
In 1831 the parish of North Charford included 'the tithing of South Charford,' but both were originally and are now separate, though small and decayed parishes, South Charford possessing no village and North Charford only a few scattered houses and the old manor-house, converted in 1880 by Professor Wrightson into an agricultural college. North Charford contains 874½ acres, of which about two-thirds are arable land, and the remainder is permanent grass and woodland. (fn. 2) South Charford contains 862½ acres, of which 350 acres are arable, about 400 permanent grass and 100 woodland. (fn. 3) The Avon flows through both parishes from north to south and the land on the banks of the river is flat, but from the valley there is a gradual rise east and west respectively to 392 ft. and 383 ft. above the ordnance datum.
Manors
The overlordship of NORTH CHARFORD belonged after the Conquest to the Earls of Salisbury (fn. 4) until 1196, when on the death of Edward Earl of Salisbury his only daughter and heir Ela brought the manor in marriage to William Longespée. (fn. 5) Their great-granddaughter and heir Margaret married Henry de Laci Earl of Lincoln, and left an only child Alice, (fn. 6) who with her second husband Ebulo le Strange (fn. 7) conveyed nine knights' fees in Charford and elsewhere to Hugh le Despenser in 1324. (fn. 8) After the forfeiture of the Despensers John de Warenne Earl of Surrey and Sussex apparently obtained a life grant of the Charford fee, (fn. 9) since in 1343 the manor came into his hands by reason of the minority of William son and heir of William Gerberd, together with the marriage of the said heir. (fn. 10) Richard II was returned as overlord in 1397, (fn. 11) but subsequently the Bulkeleys claimed the overlordship, asserting that the manor was held of them as of their manor of Nether Burgate and their hundred of Fordingbridge. (fn. 12) This was denied by Edward Abarowe, lord of North Charford in 1563, (fn. 13) but seventy years later Sir William Bulkeley was stated to be the overlord. (fn. 14)
Before the Conquest a certain Alnod held the manor of Edward the Confessor as an alod, but by 1086 he had been succeeded by Rannulf. (fn. 15) In the beginning of the 13th century Hamo de Bachamton and Geoffrey son of John held the manor conjointly. (fn. 16) Hamo by an undated charter granted a rent of one mark from a tenement in Charford to the canons of Breamore in free alms, (fn. 17) and Geoffrey in 1240–1 granted a life interest in a carucate of land in Charford to William Waldrich. (fn. 18) Forty years later William Gerberd (fn. 19) held the manor, which passed to his heir John Gerberd, who in 1302 settled the reversion of a messuage and 2 carucates of land at Charford after his death on Alice del Escheker, possibly his wife, for life and then on her son and heir John, with contingent remainders, if John died childless, to his brothers William and Thomas and finally to Thomas son of a certain William Gerberd. (fn. 20) Alice 'Gileberd' was holding in 1316, but in 1344, since William, apparently her grandson and heir, was a minor, the manor was in the custody of John de Warenne Earl of Surrey. (fn. 21) William Gerberd evidently came of age before 1347, (fn. 22) and sold the manor before 1353 to Walter atte Bergh or Abarowe, (fn. 23) on whose death it passed to his widow Isabel. She subsequently married Hugh Tyrell, and died in 1370, leaving a son and heir John Abarowe, (fn. 24) whose widow Christine, dying in 1397, left the manor to her son John Abarowe. (fn. 25) In 1455 Walter son of John by his father's death came into possession of the manor, (fn. 26) already settled on him and his wife Anne, (fn. 27) and afterwards settled it on his second wife Eleanor, who survived him and married Charles Bulkeley. On her death in 1476 her son and heir Maurice Abarowe, then a minor, succeeded to the manor. (fn. 28) His son John, (fn. 29) who was imprisoned but pardoned for a murder committed in self-defence, (fn. 30) settled the manor in 1540–1 on his wife Elizabeth, who was succeeded in 1551 by her grandson Edward son of Erasmus Abarowe. (fn. 31) This Edward being childless settled the reversion of the manor on his cousin William, son of Anthony Abarowe, and his wife Andrea, daughter of Andrew Foster. (fn. 32) William, then a knight, came into possession in 1603 (fn. 33) and died in 1627, leaving a son and heir William, (fn. 34) on whom he had settled the manor two years before. (fn. 35)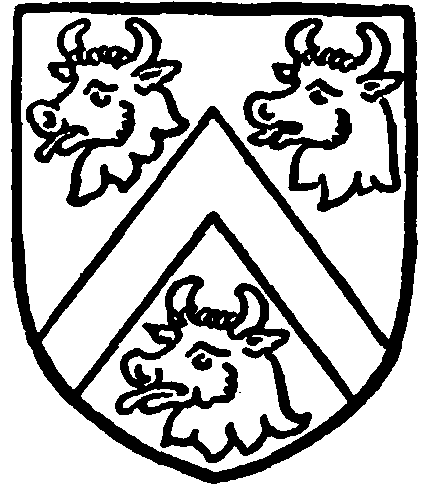 For the next hundred years the history of the manor is not definitely known, but it was purchased in the 18th century by Thomas Archer, or his nephew Henry Archer, who was holding it at the time of his death in 1768. (fn. 36) It then followed the same descent as Hale (q.v.) until the 19th century, (fn. 37) when it was sold to John Coventry of Burgate Manor, to whose son, Mr. John Coventry, it now belongs.
A mill worth 50s. belonged to the manor at the time of the Domesday Survey, (fn. 38) but is not mentioned again.
At the time of the Domesday Survey SOUTH CHARFORD belonged to Hugh de Port. (fn. 39) On the death of his descendant Edmund de St. John in 1349 the reversion of two knights' fees in the New Forest, South Charford, Avon and other places, after the death of his widow Elizabeth, was assigned to his elder sister Margaret and her husband, John de St. Philibert. (fn. 40) After that date there is no further mention of the overlordship until 1513, when it belonged to the Prior of Breamore. (fn. 41) In 1639 the manor was said to be held of the king as of the late priory of Breamore, (fn. 42) but from that date the overlordship seems to have lapsed.
The manor was held of Hugh de Port by William de Chernet, who had succeeded the two free men holding it of Edward the Confessor. (fn. 43) It remained in his family for over 200 years, belonging to Hugh de Chernet in 1166, (fn. 44) and later to John de Chernet, (fn. 45) who before 1271 was succeeded by Geoffrey de Chernet, probably his son, (fn. 46) who was holding in 1280. (fn. 47) In 1293 Iseult de Chernet was dealing with the manor, (fn. 48) which passed by inheritance or purchase to Oliver de la Zouche, who in 1305 received a grant of free warren in South Charford and ' la Hyde.' (fn. 49) John de la Zouche, probably his son, (fn. 50) was holding in 1316 and in 1326 settled the manor on himself and Eleanor his wife with reversion to their son Oliver and Isabel his wife. (fn. 51) Oliver succeeded to the manor after 1349, (fn. 52) but before 1428 had evidently sold it to Sir John Popham. (fn. 53) The latter, who served in France under Henry V and the Duke of Bedford, (fn. 54) settled the manor in 1459 on Alice wife of William Herteshorn and daughter of John Malyns, with reversion to her daughter Elizabeth wife of Charles Bulkeley. (fn. 55) It thus came into the possession of the Bulkeleys and followed the descent of Burgate in Fordingbridge (q.v.) until 1600, (fn. 56) when John Bulkeley conveyed it to Hugh Grove. (fn. 57) However, Sir William Dodington was holding in 1624, (fn. 58) and five years later settled it on his son Herbert on his marriage with Elizabeth daughter of John Colles. (fn. 59) Herbert Dodington died childless in 1633, (fn. 60) and his father, who survived, held the manor until his death in 1638, when it passed to his younger son John. (fn. 61) The latter left two daughters: Margaret, who married Sir Thomas Hannan but died childless, and Anne, (fn. 62) who married firstly Robert Greville fourth Lord Brooke of Beauchamp, by whom she had two daughters, (fn. 63) and secondly Thomas Hoby. (fn. 64) South Charford passed by sale or settlement to Fulke Greville fifth Lord Brooke, brother of Anne's first husband, and remained in his family until 1747–8, (fn. 65) when Francis Lord Brooke sold his Hampshire estates under a Private Act of Parliament. (fn. 66) South Charford passed to Henry Archer and has since followed the descent of North Charford (fn. 67) (q.v.), the present owner being Mr. John Coventry.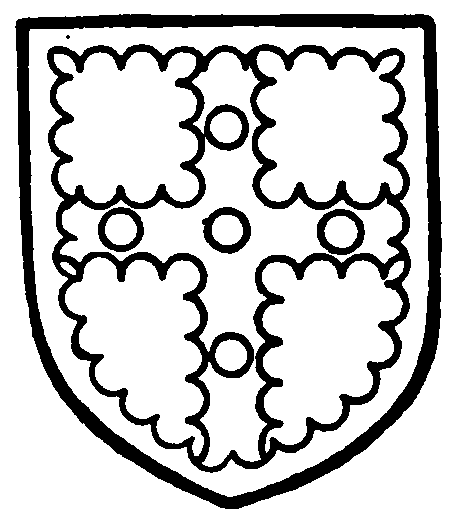 According to an entry in the Testa de Nevill Nicholas de Moels held one knight's fee in Charford of the old enfeoffment of Robert de St. John. (fn. 68) However, since the Moels family do not seem to have held land in Charford, it is probable that the entry concerns Rockford (in the parish of Ellingham).
The manor of SEARCHFIELD (Sercheville, xiii cent.; Sechevyle, xiv cent.; Seccheford, xv cent.; Sechefilde, xvi cent.) now survives as a farm in North Charford. In 1280 it belonged, with North Charford, to William Gerberd, (fn. 69) who apparently sold it to a certain Thomas Tassam. (fn. 70) Isabel wife of John Sewale, possibly daughter of Thomas, next held the manor, which she sold in 1346 to Walter Abarowe. (fn. 71) It then descended with North Charford until it was sold by William Abarowe in 1634 (fn. 72) to Sir George Howe of Cold Barwick (co. Wilts.), (fn. 73) whose son and heir Sir George Grubham Howe was created a baronet 20 June 1660. (fn. 74) Although it does not appear in the will of the latter, who died in 1676, (fn. 75) the manor probably passed to his son Sir James Howe, but before 1713 was sold to Thomas Gage (fn. 76) and followed the descent of Hale (fn. 77) (q.v.). Later it was merged in the manor of North Charford and belongs at the present day to Mr. John Coventry.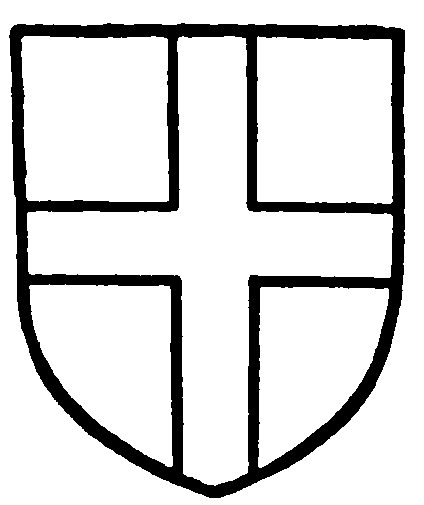 Advowsons
North Charford Chapel was built by the beginning of the 14th century, (fn. 78) and was in the gift of the Prior of St. John of Jerusalem in England. It is said to have been founded for one priest 'to syng in the same chapell fo' the ease of th enhabytauntes of the manor of Northchartforde.' His salary was the tithe of the manor, (fn. 79) which amounted at the time of the Dissolution to £5 13s. 4d. (fn. 80) The chapel with its tithes is mentioned in 1628, (fn. 81) but before 1727 it was in ruins, (fn. 82) and there is no trace of it at the present day.
The chapel of South Charford is said to have been built by Sir John Popham with the consent ot the Prior of Breamore, and it was dedicated in 1404 by Nicholas, Suffragan Bishop of Wells, during a vacancy in the See of Winchester. (fn. 83) The advowson (fn. 84) descended like that of Breamore (q.v.) until 1777, (fn. 85) when George Duke of Manchester sold it to Lady Elizabeth Archer. (fn. 86)
Already the chapel was in ruins and the Duke and Duchess of Manchester had granted the 'old material' to Thomas Archer for the enlarging and rebuilding of the church of Hale. (fn. 87) The site is still to be seen in a field near South Charford Farm. For ecclesiastical purposes the part of North and South Charford which lies on the east bank of the Avon is annexed to Hale and that on the west to Breamore. There are no endowed charities in Charford.