Pages 165-171
A History of the County of Hertford: Volume 3. Originally published by Victoria County History, London, 1912.
This free content was digitised by double rekeying. All rights reserved.
WELWYN
Welge (xi cent.); Wyluwes, Welewes, Weluen (xiv cent.).
The parish of Welwyn has an area of 3,064 acres, of which 1,028 acres are arable land, 1,160 acres permanent grass and 613½ acres wood. (fn. 1) It is divided into two by the River Mimram or Maran, which flows through it from north-west to south-east. The height of the parish above the ordnance datum is from 200 ft. to 250 ft. in the centre, where the village is situated; to the north, east and south-west of the village are three hills occupied by the estates of Danesbury, Lockleys, and the Frythe. The highest ground is on the south-west, where an altitude of over 400 ft. is reached. The most northern part of the parish, near Knebworth station, is called the Gun.
The town of Welwyn is situated on the Great North Road, 4½ miles north of Hatfield. At the north of the village the road divides, one branch running north-west through Codicote to Hitchin, and the other north-east to Stevenage. The church of St. Mary is situated at the north end of the town. At the south-east of the churchyard is a 17th-century twostoried building, probably originally the church house, afterwards used as the poor-house and now as the police station. It is partly of timber and plaster, with an overhanging upper story. Under the projection of this story is the large parish fire-hook formerly used for tearing off the thatch of cottages in case of fire. The houses in the town are for the most part of brick of the 18th and 19th centuries. The settlement here is early, as a rich burial of the late Celtic period has been discovered near to Lockleys and a Roman villa in the garden of the rectory.
Danesbury is the property of Colonel A. M. Blake, C.B., D.L., J.P., and is situated in a park of about 200 acres. Lockleys is an 18th-century red brick house with a park, the property and residence of Mrs. Neall. The Frythe, a modern brick gabled house with extensive grounds, is the residence of the Misses Wilshere. Sherrard's House, to the south of the Frythe, is the residence of Mr. Robert D. Balfour. In the north of the parish is the hamlet of Woolmer Green, with Mardleybury to the east and Mardley Heath to the west. Welch's Farm lies about a mile south. Harmer Green is situated in an eastern extension of the parish, and part of Burnham Green is included in a detached part of Welwyn parish about a mile north-east.
There was a chalybeate spring in the parish, referred to by Camden as being in the corner of the old rectory garden. (fn. 2) An attempt was made in the 18th century under the auspices of Dr. Young to make Welwyn a watering-place. Assembly rooms were built, which enjoyed a short vogue, and which still survive as tenements. (fn. 3) The spring has been covered over, the garden having been converted into a timber-yard, but is believed still to exist. (fn. 4)
The main line of the Great Northern railway runs through the parish; the railway station is situated rather more than a mile to the south-east of the town.
In 1882 a detached portion of the parish was transferred to Digswell for civil purposes. (fn. 5) The sub-soil of the parish is chalk, except for a small district in the east, where it gives way to Woolwich and Reading Beds. There are a number of chalk-pits in the north of the parish and some gravel-pits in the centre. The inclosure award was made in 1819, the Authorizing Act being dated 1810. Both are in the custody of the clerk of the peace. (fn. 6)
MANORS
Welwyn
In the time of Edward the Confessor WELWYN was held of the king in frankalmoign by the priest of the vill, and belonged to the church of Welwyn. (fn. 7) The same man held it in 1086 'in alms' of King William, when it was assessed at 1 hide. It was stated at that time that William Blach, a man of the Bishop of Bayeux, occupied 12 acres to the king's injury. (fn. 8) The manor of Welwyn has been held ever since by the rector of the parish. (fn. 9) The rector becomes lord of the manor upon his institution to the living. (fn. 10) In 1275 the parson claimed view of frankpledge, gallows, and amendment of the assize of bread and ale. (fn. 11) Manorial courts are still occasionally held.
A water mill pertained to the manor in 1461, and in 1469 Thomas Dene of Ayot Montfitchet broke and entered it to the rector's damage. (fn. 12) In 1471 Thomas Payn the miller was fined for obstructing the course of the mill-stream and causing it to overflow the king's highway. (fn. 13) In 1463 John Porter, chaplain, and Thomas son of William Fyssh of Welwyn were presented as 'common fishers' for taking fish on the banks of the river and carrying them away without licence. In the following year the same chaplain was presented for making an 'unjust footpath' through Diggesmede. (fn. 14) In 1475 various people in the manor were fined for playing at dice and cards. (fn. 15)
In addition to this rectory manor there were others in Welwyn of which the early history is obscure. Mr. Round points out that in 1235–6 Geoffrey de Beauchamp held half a fee in 'Welewe' of Robert 'de Hirbeygin' (of Cainhoe) and that in 1346 both the quarter fees in Welwyn (one of which was Lockleys) are entered as held 'de baronie de Kaynho.' This holding he takes back to 1183, when 'Robert de Albeneio' gave 2½ marks that Baldwin 'Wach' might be summoned to warrant his wife 'de terra de Welewe.' (fn. 16)
Lockleys
The manor of LOCKLEYS (Lockele, Lokkelebery, Lokley) was held in 1303 as a quarter fee of Agnes de Valence, (fn. 17) daughter of William and sister of Aylmer de Valence, Earl of Pembroke, to whom the overlordship came at her death about 1309. (fn. 18) After Aylmer's death in 1324, (fn. 19) Lockleys was granted in dower to his widow Mary, who obtained possession in 1325. (fn. 20) Aylmer's heirs were his nephew John de Hastings and his two nieces Elizabeth Talbot and Joan the wife of David de Strathbolgi. (fn. 21) Lockleys was assigned to Joan and David, (fn. 22) but it so happened that neither they nor their heirs obtained possession, for Mary de Valence lived until 1377, while David de Strathbolgi, grandson and heir of David and Joan, died without male issue in 1375. (fn. 23) The overlordship is found later vested in John of Gaunt, Duke of Lancaster, of whom Lockleys was held as of his manor of Hertingfordbury. (fn. 24) He was succeeded in 1399 by his son Henry, who in the same year became king as Henry IV, (fn. 25) and the overlordship of Lockleys with his other possessions thus came to the Crown, and the manor was subsequently held of the king. (fn. 26)
The first sub-tenant of Lockleys to be mentioned is Adam de Mandeville, who was connected with Welwyn in 1288, (fn. 27) and certainly held the quarter fee in 1303 (fn. 28) and in 1325. (fn. 29) He seems to have been succeeded by William de Mandeville, whose son William conveyed the manor in 1340 to Sir Walter de Crek and his brother Master John de Crek, with remainder to the heirs of Walter. (fn. 30) Sir Walter was holding it in 1346, (fn. 31) after which it passed to John Haggeford, son of Walter de Crek's sister Joan and Walter de Haggeford, who held in tail-male. (fn. 32) At this time the capital messuage was ruined and worth nothing and the land in a poor state. (fn. 33) John Haggeford died childless in 1373, (fn. 34) and the manor was granted by Edward III to his 'kinsman' and heir Edmund de Vauncy, who was the illegitimate son of Edmund de Vauncy, husband of Joan daughter of William de Crek, brother of Walter and John. (fn. 35) As he was a minor the custody of his lands was granted in 1374 to Robert de Bolthorp, (fn. 36) and later to John Pusy, who died before 1387, when he and his executors were charged with having committed waste in the manor and having diminished the buildings, woods and men thereon. (fn. 37) Edmund died in 1390 and was succeeded by his half-sister Joan daughter of Edmund de Vauncy the elder and wife of Thomas Prior. (fn. 38) Joan seems to have married secondly John Hore of Cambridge, who together with his wife conveyed Lockleys in 1415 to John Perient (fn. 39) of Digswell, in whose family it descended (fn. 40) in the same manner as Digswell (q.v.).
Upon the death of Thomas Perient in 1545 (fn. 41) Lockleys was divided between his second and third daughters, Dorothy the wife of George Burgoyne, and Anne, who married Anthony Carleton. (fn. 42) In 1557 George and Dorothy Burgoyne conveyed their moiety of the manor to William Perient, (fn. 43) Dorothy's uncle, (fn. 44) who acquired the other half from Anthony and Anne Carleton in 1559, (fn. 45) and thus became possessed of the whole manor. William Perient sold Lockleys in 1564 to Henry Walter, (fn. 46) who in 1566 conveyed it to George Horsey, (fn. 47) husband of Mary Perient, the elder sister of Dorothy and Anne. (fn. 48) George Horsey died in 1587, and was succeeded by his son Ralph, (fn. 49) from whom the manor apparently passed to his brother Jasper Horsey, (fn. 50) for he, together with his wife and son and Eustace Needham, conveyed Lockleys in 1624 to Edward Wingate. (fn. 51) The latter was succeeded by his son Edward before 1675, (fn. 52) whose son Ralph Wingate (fn. 53) was lord of the manor in 1698, (fn. 54) and sold it in 1715 to Edward Searle. (fn. 55)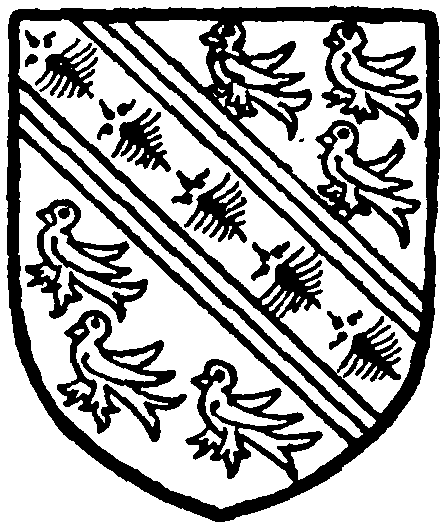 Elizabeth daughter and heir of Edward Searle married Charles Gardiner, whose son Charles (fn. 56) was lord of the manor in 1815, (fn. 57) but sold it soon after to Sir George Shee, bart., who possessed it in 1821. (fn. 58) Sir George died in 1825, (fn. 59) his widow holding Lockleys until her death in 1838, when the manor passed to her daughter Letitia the wife of Robert Dering. (fn. 60) Their son Mr. George Edward Dering succeeded his father in 1859 (fn. 61) and died in 1911, when he was succeeded by his daughter Mrs. Neall, who is now lady of the manor.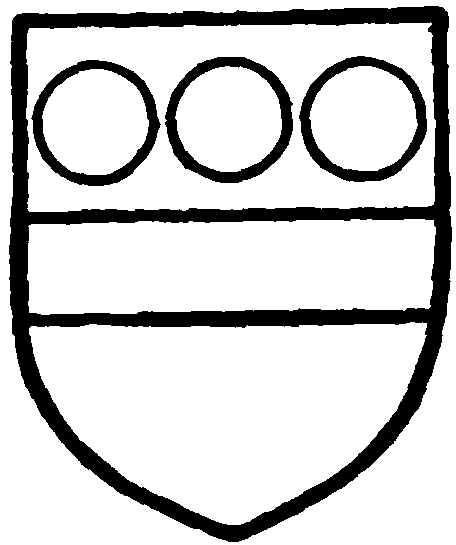 Mardley or Mardleybury
In the time of Edward the Confessor MARDLEY or MARDLEYBURY (Merdelai, xi cent.; Mardeleye, xiii to xiv cent.; Magdaleynbury, Mawdleynbury, xvi to xix cent.) was held by Alward, who was still holding it in 1086 of Robert Gernon. It was then assessed at 1 hide. (fn. 62) Robert Gernon also held the neighbouring manor of Ayot St. Peter, and the overlordship of Mardley presumably followed the descent of that manor (fn. 63) (q.v.).
The mesne overlordship belonged to the subtenants of Ayot St. Peter, Mardley being held of them for the service of 20s. and suit of court twice a year. (fn. 64) It seems to have followed the descent of the moiety of Ayot St. Peter known as Ayot Montfitchet. (fn. 65) Early in the 14th century lands forming part of the manor were held of the Abbot of Reading and of Henry Melksop of Datchworth. (fn. 66)
Alward de Mardley, sub-tenant of the manor in 1086, (fn. 67) was one of the Domesday inquisitors for Broadwater Hundred. (fn. 68) There is no record of his family and no further mention of a sub-tenant until 1288, when the manor was held by Philip de Mardley, perhaps a descendant of Alward. In that year Philip released his right in his lands in Welwyn to Robert Burnell, (fn. 69) lord of Ayot St. Peter. Philip had a daughter Pagana de Mardley, (fn. 70) but probably the manor did not come to her, for it was held soon afterwards by Adam de Twynham. He died seised of it about 1307. (fn. 71) His son Walter being a minor, the custody of his lands was granted to William Bacon, king's yeoman, in 1308. (fn. 72) In 1316 Walter de Twynham granted to Roger de Luda or Louth one robe at the price of £1, to be paid yearly from the manor. (fn. 73) In 1318 he conveyed Mardley to Adam de Eglesfeld, who, however, died twelve weeks later and was succeeded by his brother John. John de Eglesfeld confirmed Walter's grant to Roger de Louth, and afterwards sold the manor to John de Sandale, who increased Roger's payment to 40s. John de Sandale was succeeded about 1320 by his kinsman and heir John de Sandale, who immediately conveyed Mardley to Bartholomew de Badlesmere. (fn. 74) Bartholomew was attainted for rebellion and hanged in 1322, but his widow Margaret, after having been imprisoned for a time in the Tower, was released and dower assigned to her. (fn. 75) This grant apparently included part of Mardley, for in 1332 Beatrice widow of John de Eglesfeld claimed from Margaret one third of the manor in dower. (fn. 76) The result of the claim is not recorded, nor is there evidence to show whether Beatrice had been holding the third since the death of her husband. Giles de Badlesmere, son of Bartholomew, obtained a reversal of his father's attainder in 1329 and livery of his lands in 1333 (fn. 77); he, however, died without issue in 1338, at which time the 40s. granted to Roger de Luda was still charged on the manor. (fn. 78) Giles's widow Elizabeth, who married secondly Hugh le Despenser, and thirdly, after 1349, Guy de Bryen, held Mardley until her death in 1359. (fn. 79) The manor was then assigned to Margaret youngest sister of Giles de Badlesmere and her husband John, (fn. 80) second Lord Tiptoft. Her eldest son John died in 1359. His heir was his brother Robert, (fn. 81) whose widow Margaret, after his death in 1372, held a third of Mardley in dower, and married secondly John Cheyney. (fn. 82) In 1374 John and Margaret Cheyney granted their third of the manor to Geoffrey Sightere, (fn. 83) but who was holding the remaining two-thirds at that time does not appear. Robert Tiptoft left three daughters—Margaret the wife of Roger Lord Scrope, Millicent wife of Stephen Scrope, and Elizabeth, who married Philip le Despenser, (fn. 84) but, as Mardley does not appear in the possession of either of these or of their descendants, it seems probable that there was a sale.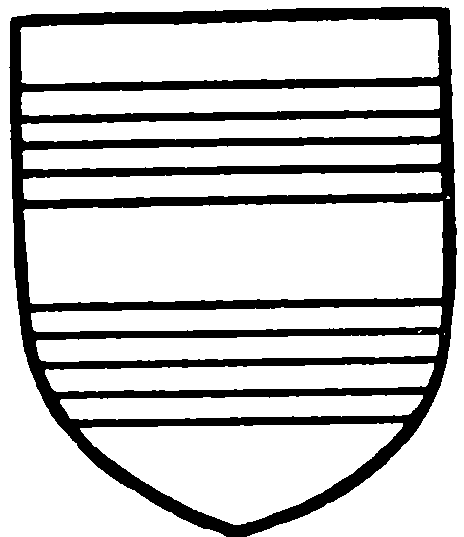 No further tenant is recorded until the second half of the 15th century, when Mardley was held by one William Toppesfeld, who left it by will to his wife Jane for life (according to her own testimony), the reversion to be settled by her upon one of their children. Jane settled it upon her younger son Ralph, but the manor was claimed about 1470–3 by William Toppesfeld, her grandson, son of her elder son Thomas. (fn. 85) Complaint had been made shortly before by Ralph's two daughters and heirs, Margaret Bernard and Jane Toppesfeld, that this cousin William had 'by subtle means' entered the said manor. (fn. 86) Eventually, either as a result of this claim or upon the death of Margaret and Jane, the manor came to William Toppesfeld, for it was held by his daughter Elizabeth, who married Richard Garneys of Mendlesham. (fn. 87) Richard and Elizabeth conveyed Mardley in 1507 to Sir William Say, (fn. 88) among whose heirs it descended in the same manner as Westington in Ayot St. Peter (fn. 89) (q.v.), was forfeited to the Crown in 1539, and was granted together with the above manor to Sir Nicholas Throckmorton in 1546. (fn. 90) The latter sold Mardley, or Magdaleynbury as it was then called, to Thomas Nicholls, a mercer of London, in 1555, (fn. 91) who sold it in the following year to John Forster. (fn. 92) John died seised of Mardley in 1558 and was succeeded, after the death of his widow Margery, by their son Humphrey, (fn. 93) who in 1563 conveyed the manor to Jasper and Antonia Warren. (fn. 94) The latter sold it in 1567 to John and Joan Spencer. (fn. 95) John Spencer settled Mardley on his wife Joan for her life, with remainder to their youngest son Henry Spencer, to whom it came upon Joan's death in 1599, although his elder brothers Robert and William seem to have retained portions of the estate. (fn. 96) Presumably Henry died without issue, for in 1616–17 his eldest brother Robert Spencer was seised of the 'liberty' of Mardley, (fn. 97) and his son Robert held parcels of the manor in 1632–3. (fn. 98) John Spencer was lord of the manor in 1697–8, (fn. 99) almost immediately after which it seems to have been sold to Sir William Lytton of Knebworth, who possessed it in 1700. (fn. 100) Mardleybury has since descended with the manor of Knebworth, (fn. 101) Lord Lytton being the present lord of the manor.
View of frankpledge is mentioned as pertaining to the manor in 1614. (fn. 102) William Lytton obtained a grant of free warren there in 1616. (fn. 103)
Frythe
The FRYTHE formed part of the possessions of Holywell Priory, Shoreditch, and it therefore seems probable that it was given to that monastery, together with the advowson of Welwyn Church, by Gunnora daughter of Robert de Valognes.
In 1523 William Wilshere (Wiltshire) obtained a sixty years' lease from Holywell Priory of the Frythe, and a messuage called the Boarshead. (fn. 104) After the dissolution of Holywell in 1539 (fn. 105) these two tenements, with 50½ acres of land, were granted in March 1539–40 to Sir John Gostwick and Joan his wife. (fn. 106) Sir John died in April 1545, and at his inquisition in October 1546 it was stated that Wilshere had collected the profits of the estate during the interval, (fn. 107) so that it seems probable that he had remained as occupier of the Frythe. Sir John Gostwick's heir was his son William, who, however, died almost immediately after his father, his lands passing to his uncle William, Sir John's brother. (fn. 108) William Gostwick the elder sold the Frythe in 1546 to William Wilshere, (fn. 109) who alienated it to his son Thomas in 1549 (fn. 110) and died in 1558. (fn. 111) From Thomas Wilshere, who died in 1570, (fn. 112) the Frythe descended to his son Thomas, who was a minor at his father's death, (fn. 113) and whose son John Wilshere inherited the estate in March 1620–1. (fn. 114) This John granted the Frythe to his eldest son John, who, however, predeceased him (fn. 115); Thomas Wilshere the second son therefore succeeded his father at his death in February 1646–7. (fn. 116) Thomas died in 1666 or 1667, and his eldest son Thomas shortly afterwards, when the Frythe came to the second son John, who was succeeded by his only surviving son William in 1721. William Wilshere, son of the last William, inherited the property in 1786, and his son, also named William, in 1798. This third William died in 1824, having settled the Frythe in tail-male upon the children of his youngest brother Thomas Wilshere. William the eldest son succeeded his uncle, but died unmarried in 1867, when the Frythe came to his brother Charles Willes Wilshere, who died in 1906, leaving three daughters, (fn. 117) the eldest of whom, Miss Edith Elizabeth Marie Wilshere, inherited this estate. The Frythe is now the residence of the three Misses Wilshere.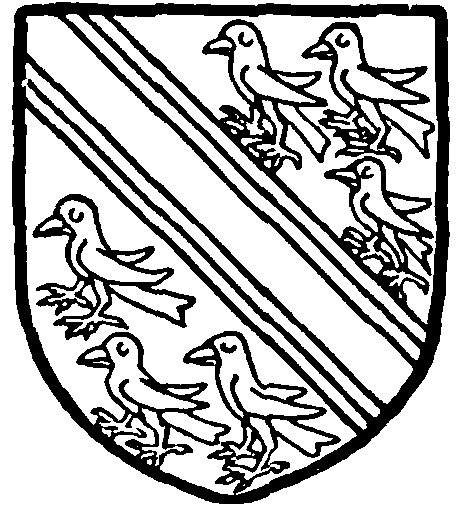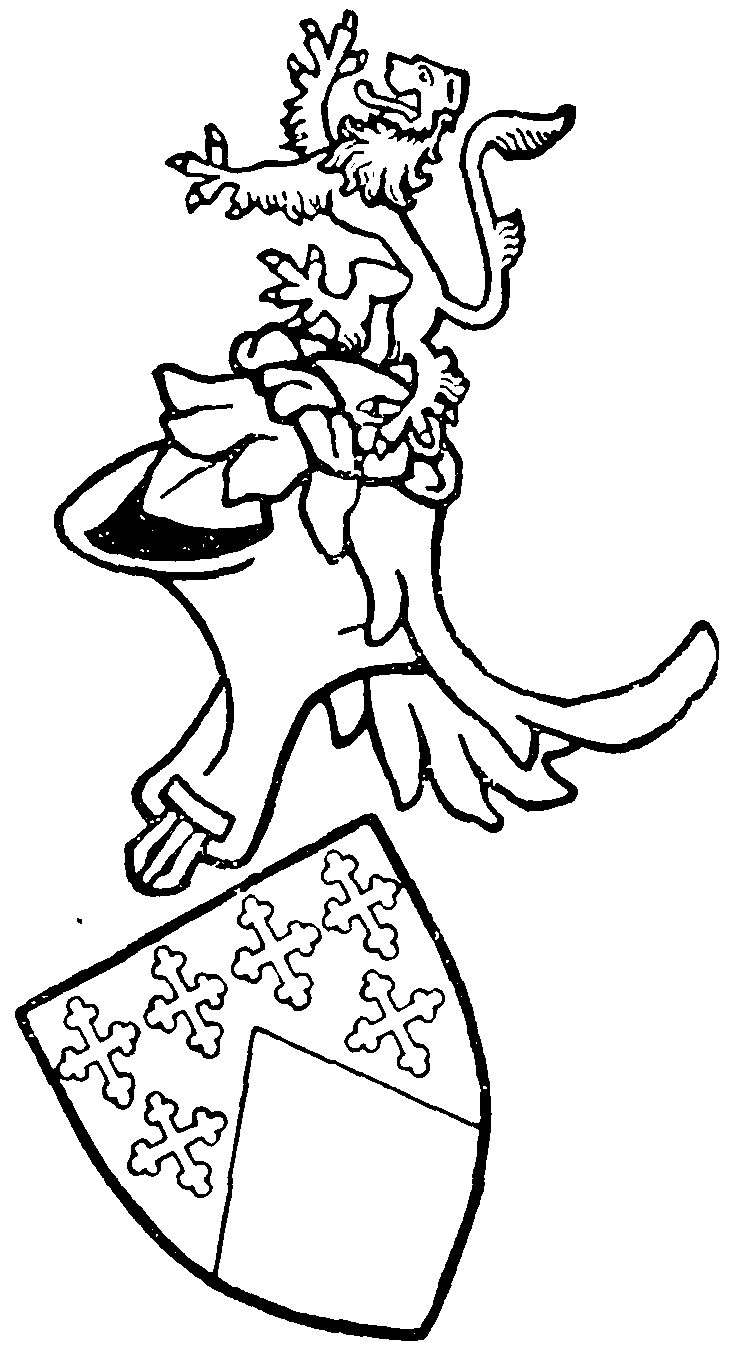 Welches
The farm of WELCHES was held in the first half of the 15th century by Richard Welch (Walsh), whose son and heir Edward Welch conveyed it in 1454–5 to John Fortescue, chief justice, to the use of John Barry and his heirs. (fn. 118) In the following century it came into the possession of John Warde, citizen and grocer of London, who with his wife Mary and his son William conveyed it in 1596 to Edward Fitz John, (fn. 119) who died seised of it in 1610, holding it of the king as of the honour of Richmond. He settled the reversion of Welches in 1602 on his nephew Edward Pennyfather, to whom it came at his uncle's death. (fn. 120) Welch's Farm is now the property of Col. A. M. Blake.
CHURCHES
The parish church of ST. MARY stands to the north of the village, and is built partly of flint rubble and partly of modern brick, with stone dressings. It consists of a chancel, nave, north and south aisles, north organ chamber, south chapel, south porch, and south-west tower. Of these, the north aisle, organ chamber, chapel, and tower are modern. The plan of the nave is probably that of a 12th-century nave, and the chancel dates from a late 13th-century enlargement. The south aisle, which was probably built about the same time as the chancel, was rebuilt, probably in the 15th century when the south porch was added. In 1663 (fn. 121) a heavy storm did great damage, destroying the tower, which had stood on the north side of the church, and laying open that side and the vestry; the whole building was at this time tied and strengthened at a cost of about £2,000. In 1910 considerable alterations were carried out and the tower was rebuilt. (fn. 122)
There is hardly any original detail left in the chancel, the only old work being a blocked lancet in the north wall, of late 13th-century date; the high, pointed chancel arch, which is of two chamfered orders, with octagonal responds, and moulded capitals; and a much restored double piscina with ogee-shaped trefoiled heads, and a thin jamb between the two bowls, which are set eastward of the centres of the recesses. The sedilia are modern, and the rest of the south side is taken up by a modern arcade of two bays opening to the south chapel. The east window is of three grouped lancets, and there is a wide single light in the north wall, and also a door to the vestry. All these are modern.
The south arcade of the nave is of four bays of late 13th-century work, much restored. The arches are pointed and of two chamfered orders, resting on octagonal columns with plain moulded bell-capitals. The bases are modern. The north arcade, which is modern, repeats the design formerly in brick and cement, but rebuilt in 1910, when the gallery was removed. This arcade, with the north aisle and gallery, dates from the early part of the 19th century. The west window has original jambs and arch, but the filling is modern. The south aisle has been much altered at various times, and the south wall, which was formerly very irregular externally, was wholly rebuilt in 1910. The windows and door are modern. In the south wall is a much restored piscina with a modern head, and on either side of the modern archway at the east, opening into the south chapel, are image brackets with carved heads of late 13th-century date. The south porch, which was of late 15th-century date, with a plain two-centred archway of two chamfered orders, was replaced by the present structure in 1910.
Till 1910 there stood in the arch opening to the organ chamber an oak screen of good 15th-century work, of three bays with a central doorway. The heads of the compartments are ogee-shaped and the upper portions are elaborately traceried. It is now restored to its original position under the chancel arch.
There is one bell, by Joseph Eayre, 1760, inscribed 'Prosperity to the Established Church, and no encouragement to Enthusiasm.' (fn. 123)
The plate consists of a flagon of 1750, a cup of 1666, and a paten of 1678.
The registers date from 1558, and are contained in six books: (i) baptisms from 1559 to 1703, burials from 1558 to 1703, marriages from 1559 to 1701; (ii) baptisms from 1704 to 1779, burials from 1704 to 1783, marriages from 1704 to 1741; (iib) baptisms from 1780 to 1783 (fn. 124); (iii) baptisms from 1780 to 1812, burials from 1784 to 1812; (iv) marriages from 1754 to 1781; (v) marriages from 1781 to 1812.
The church of ST. MICHEAL AND ALL ANGELS at Woolmer Green was built in 1900, and is served from the parish church.
ADVOWSON
The advowson seems to have early belonged to the family of Valognes, for it appears in the possession of Robert Fitz Walter, husband of Gunnora de Valognes, in 1198. (fn. 125) In 1235 it was granted by Gunnora to the convent of Holywell, Middlesex, (fn. 126) and confirmed to it by Pope Clement in 1238. (fn. 127) The living was not appropriated, but the rector was to pay 5 marks of silver annually to the convent. (fn. 128) The right of the Prioress of Holywell to the advowson was also confirmed in 1240 by the three Valognes heiresses and their husbands. (fn. 129) It remained in the possession of Holywell Priory until the Dissolution, (fn. 130) and was granted in 1540 to John Gostwick. (fn. 131) John Gostwick died seised of the advowson in 1545, (fn. 132) and his son William sold it in 1549 to William Wilshere, (fn. 133) in whose family it descended in the same manner as the Frythe (fn. 134) until Thomas Wilshere sold it in 1616 to All Souls College, Oxford, (fn. 135) in whose possession it has since remained. (fn. 136)
The site of the rectory has been changed, the old building having been cut up into cottages and the garden converted into a timber-yard. (fn. 137) Dr. Young, the author of 'Night Thoughts,' was for some time rector of Welwyn and lived at the house named Guessens. (fn. 138) He was buried at Welwyn in 1765.
Places of worship for Protestant Dissenters at Welwyn were registered under the Toleration Act at various dates from 1691. (fn. 139) In 1834 Ebenezer Chapel was certified. At the present time there is a Wesleyan chapel and a chapel of Lady Huntingdon's Connexion in the parish.
CHARITIES
The Educational Foundation of the Rev. Edward Young, LL.D., a former rector, was founded by deed 15 April 1760 (enrolled), whereby the donor transferred a sum of £1,500 Old South Sea Annuities to trustees to be applied towards the maintenance of a charity school—subsequently combined with the National school—and for clothing and apprenticing the scholars.
By an order of the Charity Commissioners 24 November 1905 it was directed that the residuary rents and profits of the endowment should be applied for such other charitable uses and purposes, being educational and including instruction in the principles and duties of the Christian religion as laid down in the catechism of the Church of England, as the trustees should judge to be most for the real benefit and utility of the poor inhabitants.
The endowment now consists of £1,918 17s. 2d. consols with the official trustees, who also hold a further sum of £180 consols representing a legacy by the will of Daniel Spurgeon, dated 1807, in augmentation of Dr. Young's charity, producing £52 9s. 4d. annually.
The remaining charities in the parish are regulated by a scheme of the Charity Commissioners of 5 November 1909 under the title of the United Charities. They comprise the charities of:—
Anthony Charleton, founded by will dated in 1568, now consisting of a house used as a police station, let at £12 a year.
John Bexfield, founded by deed 1570, trust fund, £1,729 2s. 2d. consols arising from sale in 1865 of allotment in the parish of Caddington, producing yearly £43 4s. 4d.
—Denny, will dated 1707, trust fund, £835 11s. 7d. consols, arising from sale in 1872 of old workhouse building, producing yearly £20 17s. 8d.
Thomas Kentish, will in or about 1712, being a rent-charge of 10s. issuing out of a farm known as Cisaferns in Welwyn and Codicote.
Josias Berners, mentioned in the table of benefactions as founded by will (date not mentioned), consisting of a rent-charge of £5 issuing out of Wormley Bury estate in Cheshunt and applicable in apprenticing.
Unknown donors' charities, mentioned in the table of benefactions as consisting of a rent-charge of £1 and another of 8s. for the poor, which were redeemed in 1878 and 1879 by the transfer to the official trustees of £47 5s. consols, producing £1 3s. 4d. yearly.
Daniel Spurgeon, for bread, will dated in 1807, trust fund, £195 5s. 8d. consols, yearly income £4 17s. 8d.
The several sums of stock are held by the official trustees.
It is provided by the scheme that the yearly income of Josias Berners' charity should be applied primarily in putting out as apprentices deserving poor boys bona fide resident in the ancient parish at a premium of not less than £10 or more than £20, the income to be accumulated for the purpose. The yearly income of the remaining charities to be applied in such way as the trustees thereby appointed may consider most conducive to the formation of provident habits, including donations to any dispensary, hospital or convalescent home, or to a provident club or society. Also contributions towards the provision of nurses or in the distribution of articles in kind.