Pages 244-247
A History of the County of Hertford: Volume 3. Originally published by Victoria County History, London, 1912.
This free content was digitised by double rekeying. All rights reserved.
RADWELL
Radewelle (xi cent.); Redewell (xv cent.); Radiwell (xvi cent.).
The parish of Radwell lies in the extreme northwest of the county on the borders of Bedfordshire. It is very small, containing only about 743 acres, of which the greater part is arable land and about oneninth permanent grass. There are only 3½ acres of woodland. (fn. 1) The chief crops are wheat, barley, beans and turnips. The parish is on the chalk hills, but lies comparatively low, rising nowhere more than 263 ft. above the ordnance datum. The River Ivel flows through the south-west of the parish and forms part of its western boundary, dividing it from Norton. Radwell lies 2 miles north-west of Baldock, at which town is its nearest railway station. The road to Biggleswade, after passing through Baldock, runs northward through Radwell and forms part of the western boundary of the parish, which here coincides with the boundary between Hertfordshire and Bedfordshire. On the east the Cat Ditch forms part of the boundary.
The village lies in the south-west of the parish between the road to Biggleswade and the River Ivel, and along a lane which runs westward from the main road to the river. On the north side of this lane are the church and rectory; a little to the west are the corn mill and mill pond, probably occupying the site of the mill mentioned in the Domesday Survey.
Radwell House, the manor-house, and Bury Farm are on the south side of the lane. These buildings form the greater part of the village, which has always been very small, the population in 1428 being only seven inhabitants. (fn. 2) In 1656 the people of Radwell petitioned that they might be assisted in the repairing of the Great North Road, which was then in great decay, as the soil was so poor that the winter devoured whatever they were able to lay on in the summer, and the parish was so small that it had only two teams. (fn. 3)
The Ridgway is a 16th-century place-name.
MANORS
In the reign of Edward the Confessor and in the early days after the Conquest there were two manors in Radwell. (fn. 4) The larger of these was assessed at 4 hides and had a mill attached worth 8s. (fn. 5) It was held before the Conquest by Alnoda, a man of Archbishop Stigand. (fn. 6) In 1086 it had become part of the extensive lands of the Bishop of Bayeux and was held of him by Adam son of Hubert de Rye. (fn. 7) On Adam's death his lands passed to his brother Eudo Dapifer. (fn. 8) He died in 1120, (fn. 9) when Radwell apparently passed to his sister Albreda, the wife of Peter de Valognes, (fn. 10) and then became amalgamated with the other manor of Radwell.
The smaller manor in Radwell was assessed in 1086 at only 2 hides (fn. 11) and had a mill worth 6s. 8d. (fn. 12) In the reign of Edward the Confessor it was held by Ethelmaer of Benington. (fn. 13) Ethelmaer's brother held half a hide of it under him. (fn. 14) By 1086 Radwell had passed with Ethelmaer's other estates to Peter de Valognes and was held of him by Roger. (fn. 15)
Peter de Valognes having acquired the other manor (see above) the two became the manor of RADWELL. On the death of Peter de Valognes his lands descended to his son Roger de Valognes. (fn. 16) He had a son Peter, who appears to have died without issue and to have been succeeded by his brother Robert. (fn. 17) This Robert left an only daughter Gunnora, who married Robert Fitz Walter. (fn. 18) In the struggle between King John and the barons Robert Fitz Walter was one of the leaders of the latter party, (fn. 19) and when Louis of France arrived in England he joined with William de Mandeville Earl of Essex in subjugating Essex and Suffolk. (fn. 20) He had by Gunnora (fn. 21) a daughter Christine, who married William de Mandeville Earl of Essex, (fn. 22) and as Christine Countess of Mandeville held of the gift of her father of the honour of Valognes four fees, including Radwell. (fn. 23) She died without issue, and Radwell seems to have passed to her step-brother Walter Fitz Walter, who died in 1257. (fn. 24) He was succeeded by his son Robert, (fn. 25) who on his death in 1325 was succeeded by his son also named Robert. (fn. 26) This Robert died in 1328 holding fees in Radwell and elsewhere, (fn. 27) which descended to his son John. John held till his death in 1361, (fn. 28) when his lands passed to his son Walter Fitz Walter. In 1386 Walter Fitz Walter died seised with his wife Philippa of the fee in Radwell. (fn. 29) He left a son and heir Walter. (fn. 30) Before this date the Fitz Walters had enfeoffed a sub-tenant in Radwell, (fn. 31) and this is the last of the family whose rights of overlordship are recorded. Walter, grandson of the younger Walter Fitz Walter, died in 1431, leaving a daughter Elizabeth, aged only eighteen months. (fn. 32) It is possible that during her minority the claim of the Fitz Walters to the overlordship of Radwell Manor was allowed to lapse, for in 1438 it was said to be held of John Barre, who held land in Radwell, (fn. 33) as of his manor of Ayot, (fn. 34) and in 1543 it was said to be held of the king in chief, (fn. 35) but by this date tenures had become uncertain.
The earliest known sub-tenant in the manor of Radwell is Simon Fitz Adam de Hatfield, to whom Henry III granted free warren in his demesne lands of Radwell and elsewhere in 1254. (fn. 36) John Fitz Simon, his grandson, (fn. 37) presented to the church of Radwell in 1304. (fn. 38) He died in that year, and his son Edward was his heir. (fn. 39) Edward died without issue before 1328, when these lands had passed to his brother Hugh Fitz Simon, (fn. 40) who was still holding in 1346, at which date the fee was held under him by John Mallore and Margaret his wife. (fn. 41) He settled the manor of Radwell on his son Edward Fitz Simon, kt., his wife Nichola and their heirs. (fn. 42) Edward died without children, (fn. 43) and the manor was inherited by his brother Nicholas, (fn. 44) subject to the life interest of his brother's widow Nichola. (fn. 45) In 1398 he with Elizabeth his wife granted it to John and Ida Cokayn for life with remainder to Edward Fitz Simon, their son, and Cecilia his wife, daughter of John and Ida. (fn. 46) Edward died before 1400, (fn. 47) and Radwell appears finally to have come to Christine, one of his two daughters and co-heiresses, (fn. 48) for in 1428 it was held by her husband John Muslee. (fn. 49) Shortly afterwards in 1433 the manor was conveyed by trustees to John Fray, chief baron of the Exchequer, and Agnes his wife, on whom it was settled for life and a year beyond, with remainder to trustees. (fn. 50) In 1438 John Fray obtained licence to alienate Radwell in mortmain to the Abbot and convent of St. Albans, receiving from it for life an annual rent of 20 marks. (fn. 51)
The manor remained with the abbey until its dissolution in 1538, (fn. 52) and was granted in 1540 to Ralph Rowlett. (fn. 53) He held it till his death in March 1543–4, when it passed to his son Ralph Rowlett. (fn. 54) In 1548–9 Ralph Rowlett the younger settled Radwell on himself and his wife Dorothy, with remainder to his sister Joan, who was the wife of Thomas Skipwith. (fn. 55) Ralph and Dorothy continued to hold the manor as late as 1556, (fn. 56) soon after which Dorothy must have died, for in 1558 Sir Ralph Rowlett settled the manor on himself and his wife Margaret, one of the daughters of Sir Anthony Cooke, kt. (fn. 57) In February 1562–3 Sir Ralph leased the manor to William Plomer for seventy years. (fn. 58) Sir Ralph died in 1571, and as he left no children he bequeathed the manor to William Skipwith, the son and heir of his sister Joan, to hold with remainder to his brothers Ralph, Edward and Henry Skipwith. (fn. 59) In 1577 William Skipwith and Edward and Henry Skipwith received licence to alienate the manor, including one mill and view of frankpledge, (fn. 60) for settlement on William and his heirs, William Skipwith promising to settle lands of equal value on his brothers if he should die without children. (fn. 61) This bond, on the death of Ralph Skipwith, came into the hands of John Cheyney, who refused to give it up. (fn. 62) William Skipwith brought a suit against him, and declared that he had settled lands on his brothers according to the bond and to the will of Sir Ralph Rowlett. (fn. 63) In January 1577–8 William Skipwith sold the manor to Sir Rowland Hayward, kt. (fn. 64) He sold it in 1580 to John Parker and Katherine his wife, and their son John Parker. (fn. 65) John Parker died in March 1595–6, (fn. 66) and his son John in March 1604–5. (fn. 67) He was succeeded by his uncle William Parker (son of John Parker of Baldock), brother to John Parker the father, (fn. 68) who sold Radwell in 1607 to William Plomer, (fn. 69) then lessee of the manor (see above).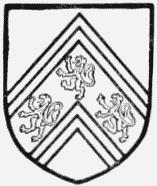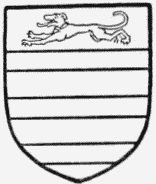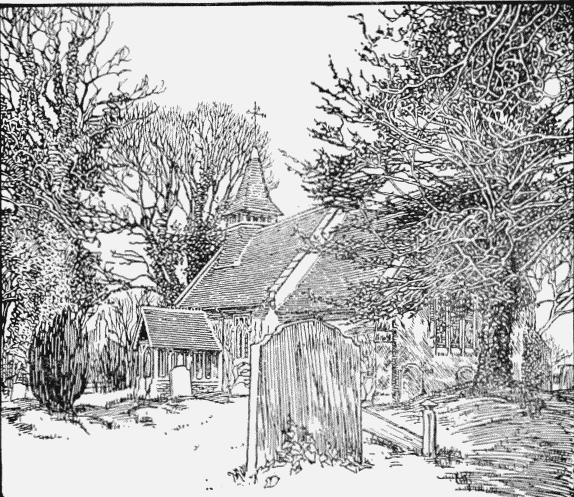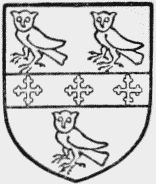 William Plomer died in March 1625–6, and was succeeded by his son William, then aged thirty. (fn. 70) From him the manor passed to Sir Robert Berkeley of East Barnet, a lawyer who was imprisoned in the Tower for his loyalty to the Stuarts. (fn. 71) His brother John Berkeley resided at Radwell House. (fn. 72) In 1650 Sir Robert sold the manor to Thomas Cole, citizen and merchant tailor, of London. (fn. 73) The sale included a water corn mill, all water-courses, flood-gates and dams on the manor, the liberty of a swanmark, or of keeping swans in or near Radwell, court leet and court baron. Thomas Cole continued to hold the manor until 1677, when he sold it to Robert Bell. (fn. 74) Radwell remained in this family until 1720–1, when Robert Bell and his son Richard were empowered to sell it by a Private Act of Parliament. (fn. 75) It was purchased by William Pym of Nortonbury. (fn. 76)
In 1723 a suit was brought against Pym by Robert and Richard Bell, farmers of the tithes of Radwell, and it was then stated that no courts had been held in Radwell for many years, and that during the time when Thomas Cole was owner of the manor some of the tenants had been summoned to a court at Rushden. (fn. 77) William Pym held Radwell until his death in 1788, when his lands descended to his son Francis Pym. (fn. 78) Francis Pym died in 1833 and was succeeded by his son also Francis Pym. (fn. 79) He died in February 1861, and his son Francis only lived to enjoy his inheritance for a few months, as he was killed in a railway accident in April of that same year. His son Francis Pym, a minor, succeeded him. (fn. 80) He was holding the manor in 1871, (fn. 81) and afterwards sold it to Mr. J. Remington Mills, from whom it descended to Mr. J. Truman Mills, and later to Mr. John Layton Mills, the present lord of the manor.
CHURCH
The church of ALL SAINTS consists of chancel 20 ft. by 13 ft. 6 in., north vestry 14 ft. by 7 ft., nave 35 ft. by 16 ft. 6 in., and south porch 8 ft. 6 in. by 8 ft. The walls are of flint rubble covered with cement, the roofs are tiled.
The chancel arch is the only structural feature in the church which shows detail of an earlier date than the 15th century, and it is mid-14th-century work; the walling may belong to that or an earlier period, but all early detail has been lost in the repairs of the 15th century. The vestry and south porch were added in 1882, when the whole building was re-roofed and thoroughly repaired.
The chancel has a three-light east window of about 1500, a single modern light in the south wall, and a modern vestry doorway in the north. The chancel arch, of about 1340, is of two wave-moulded orders on octagonal piers with moulded capitals and bases.
There is a two-light window in each of the north, south and west walls of the nave, all of modern stonework; the western bay of the nave is divided off by a wall containing an arch, coarsely moulded, and probably of early 16th-century work. The arch is surmounted on its eastern side by the royal arms carved in stone. There is a small bell-cote over the west end, which appears to be chiefly modern work. The south doorway belongs to the latter part of the 14th century.
The font is of stone, roughly worked ; on the sides are shields of a late type. It is probably of 15th-century date, although the form of the font itself belongs to an earlier period.
The communion rails, with moulded balusters and rail, a carved oak chest in the nave, and a pair of high-backed chairs are early 17th-century work.
In the chancel is a brass of William Wheteaker, his wife and son Thomas, a priest in eucharistic vestments, who died in 1487 ; another of Elizabeth wife of John Parker, who died in 1602. In the nave, near the pulpit, is the brass of John Bele, who died in 1516, with two wives and two children.
On the north wall of the chancel is a small monument to John Parker, who died in 1595, his wife Mary, who died in 1574, and their son John, all kneeling effigies. A large alabaster monument against the south wall is to Mary Plomer, who died in 1605, with effigies of a woman with six sons, four daughters and a chrisom child. On the same wall is a small mural monument to Ann Plomer, who died in 1625. On the south nave wall is a small marble and alabaster monument to Sir William Plomer, who died in 1625.
There are two bells, undated.
The communion plate includes an incised cup, 1574, paten, 1796, and two 18th-century plated cups and patens.
The registers are contained in four books : (i) parchment, all entries 1590 to 1699; (ii) and (iii) baptisms and burials 1700 to 1812, marriages 1700 to 1753 ; (iv) marriages 1754 to 1812.
ADVOWSON
The church of All Saints, Radwell, has always been in the gift of the lord of the manor, (fn. 82) the earliest recorded presentation occurring in 1304. (fn. 83) When Francis Pym sold the manor of Radwell (q.v.) he retained the advowson in his own hands and still holds it.
There are apparently no endowed charities.