Pages 247-253
A History of the County of Hertford: Volume 3. Originally published by Victoria County History, London, 1912.
This free content was digitised by double rekeying. All rights reserved.
REED
Rode (x cent.); Retth, Rete (xi cent.); Rede (xii cent.); Rud, Roed, Ruth (xiii cent.); Estrede (xiv cent).
The parish of Reed is a long, narrow piece of land containing about 1,477 acres. By far the greater portion of the parish consists of arable land, but woods exist, mostly in the south part, where Reed Wood, the largest in the parish, is situated. Reed lies high, the ground rising to as much as 500 ft. above the ordnance datum. It is near the summit of the chalk range, from which the waters on the north join with the Cam and run into Lynn Deeps, while those on the south run into the Lea and the Thames. The chief crops are wheat, barley, beans and roots. The commons of Reed were inclosed in 1808. (fn. 1)
The village of Reed lies almost midway between Royston and Buntingford (at which two towns are its nearest railway stations), and a little to the east of the Roman road, known as Ermine Street, which connects these towns and forms the western boundary of the parish. There is a reference to this road as Arning Street in 1251. (fn. 2) A road runs east through Reed from Ermine Street to Barkway. Running south from this is a road which forms the main street of the village, then turns sharply west and south and joins Ermine Street. At the angle thus formed stands Reed Hall, the manor-house, close to which is the church of St. Mary. The manor-house of Queenbury stands east of the road a little further north. There is a Congregational chapel near Queenbury and brickworks further north. On a road running parallel with this road are situated the church mission-room and Wisbridge Farm, to the north-east of these are North Farm and a smithy, whilst other scattered parts of the village lie at Fiddler's Green and Billingsgate.
The most distinctive feature of Reed is the number of homestead moats about it. Two of the more important of these lie near Reed Hall, one inclosing a rectangular space of 1¼ acres and the other a space of half an acre. Both are nearly dry. At Queenbury a moat runs round three sides of the house and gardens, inclosing altogether a piece of land about 400 ft. square. There appear to have been two inclosures here originally. At Fiddler's Green is a dry fosse which forms a square. A moat at Gannock Green incloses a piece of land 200 ft. by 300 ft., and at Bushwood a moat incloses a rectangular piece of land containing over half an acre. There were also probably other moats whose position can now only be traced by ponds. Such a pond lies west of Reed Hall. It is large and irregularly shaped, and there seem to be traces that it was once connected with the two moats which adjoin the house and also with the moats at Queenbury. Connecting fosses also appear to have run from Queenbury to the moat at Fiddler's Green. The two ponds which lie near Goodfellows, a house standing south-east of Reed Green, also probably mark the site of an old moat. (fn. 3)
There are several greens in the parish: Fiddler's Green to the east of Queenbury, Gannock Green in the south, and Reed Green, which lies north of Queenbury.
Among those who have been rectors of Reed may be mentioned Andrew Willet (1562–1621), a theologian and Biblical critic of some note. He was also a famous preacher, and his learning was so great that he was called a walking library. He held the living of Reed from 1613 to 1615. (fn. 4)
MANORS
Challers
The manor of CHALLERS (Deschalers, xv cent.), known also as the manor of REED or EAST REED, was formed from several of a number of holdings which existed in Reed in the reign of Edward the Confessor. The most important of these holdings was that of Siret, a man of Earl Harold, consisting of 4 hides a virgate and a half. (fn. 5) Two other holdings of I hide and I virgate were in the hands of Sinod, a man of St. Mary Charteris. (fn. 6) One hide was held by Eddeva the Maiden of Archbishop Stigand, (fn. 7) and two of her men, Leuing, a priest, and Turbern, each held a hide. (fn. 8) Of these in 1086 Hardwin de Scales had obtained all the land of Siret and I hide of the land of Sinod, which together made his manor. (fn. 9) He also held of Count Alan the land which had belonged to Leuing, the priest. (fn. 10) Eudo Fitz Hubert had obtained the remaining virgate of Sinod, (fn. 11) and the land of Eddeva the Maiden was held by Osbern of the Bishop of Bayeux, (fn. 12) and that of her man Turbern was held by Alward of Count Alan. (fn. 13) Of these smaller holdings no further trace is to be found, and it is probable that at an early date they became absorbed in the manor held by Hardwin de Scales. But it is perhaps due to the varied origin of this manor that, while it was always held of the king in chief (fn. 14) by barony, (fn. 15) certain portions of it were held of other overlords. Thirty acres called 'Gannok' (fn. 16) were held of the Dean and Chapter of St. Paul's in the 14th century. (fn. 17) Other land was held of the Earl of Hertford in 1364, (fn. 18) and part was held of John de Lancaster as of his manor of Barkway in 1342. (fn. 19) Challers was probably the head of the Scales' holding in Hertfordshire, for here they had a little castle, consisting merely of a moated mound, the remains of which still exist. This accounts for the fact that the manor was held by barony.
On the death of Hardwin de Scales his lands were divided between his two sons Richard and Hugh. (fn. 20) Reed evidently fell to the share of Hugh, and from him descended to his son Henry, (fn. 21) for in the reign of Henry II the abbey of Coggeshall held land in Reed of the fee of Henry de Scales. (fn. 22) On the death of Henry, his son Hugh succeeded to his lands in Reed, but in 1195 William de Scales, grandson of the above-mentioned Richard de Scales, brought a suit against him claiming various lands of his inheritance, including those in Reed. (fn. 23) The case was adjourned in 1199 for so long as Henry son of Hugh should be in the service of the king beyond the sea. (fn. 24) But later it was adjudged that Richard was not seised of the lands which Hugh held at the time of the death of Henry II, and judgement was given in favour of Hugh. (fn. 25) On Hugh's death his lands descended to his son Henry, who made a pilgrimage to Jerusalem and died there, leaving no children. (fn. 26) His brother Geoffrey was his heir, and did homage for his lands in 1221. (fn. 27)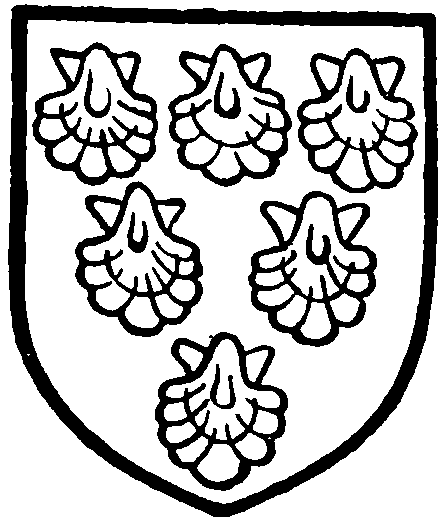 In 1258 Geoffrey de Scales found himself too old and infirm to perform in person the services due to the king for his lands, and at the instance of Queen Eleanor Henry III granted that his son Geoffrey de Scales should do service in his stead in the king's armies and expeditions. In consideration of this Geoffrey de Scales granted his son his lands in Reed and Wyddial on condition that he should perform these duties and also attend the courts of the justices in eyre and of the sheriff. (fn. 28) In 1260 Henry III granted Geoffrey de Scales free warren in his lands in Reed and elsewhere. (fn. 29) Geoffrey de Scales, the father, and his son Geoffrey both died before 1267, and the custody of Thomas, son of the younger Geoffrey and a minor, was granted to his mother Eleanor, and the tenants of his lands were allowed quittance of suit at the hundred and county court during the minority of the heir. (fn. 30) In 1268 Thomas de Scales brought a suit against Ralph de Chamberlain for deforcing him of his lands in Reed while he adhered to the king against Simon de Montfort. (fn. 31) As Thomas was only five years old at this date (fn. 32) the suit must have been brought by his guardian, and the statement that he adhered to the king must refer rather to his family than to himself. Eleanor de Scales continued to hold in custody for her son until 1283. (fn. 33) Thomas then came of age and wished to assume possession of his lands, but his mother and her second husband, Robert Angot, opposed this on the ground that he was not yet twenty-one and that as he had been born at Boulogne he could not be admitted to proof of age. (fn. 34) An inquisition was held by which it was determined that he had reached his majority, (fn. 35) and the following year his mother and her husband acknowledged this and restored him his lands. (fn. 36) They obtained a grant of Reed, however, for the term of their lives. (fn. 37) It had reverted to Thomas de Scales by 1303, (fn. 38) and he continued to hold it till his death in 1341. (fn. 39) It then comprised a capital messuage worth nothing beyond repairs, 100 acres of land, of which 70 acres were sown before his death, 1 acre of meadow and 4 of pasture. There were four customary tenants.
Thomas de Scales's heir was his son, also Thomas, aged forty-two. He immediately granted the manor, with the exception of 30 acres of wood, to John de Scales for life. (fn. 40) In 1356–7 Thomas de Scales settled the reversion of the manor on himself and his wife Amice with remainder to his son Thomas in tail and contingent remainder to another son John. (fn. 41) Thomas de Scales died in 1364, and his son Thomas must have died before him, as his heir then was his grandson John the son of Thomas. (fn. 42) John died in 1388, and Reed descended to his son Thomas, (fn. 43) who held it until his death in February 1442–3, (fn. 44) His son John, aged twenty, succeeded him, (fn. 45) and was the last of this name to hold the manor, which had been in the possession of his ancestors for 400 years and by this date was called after them the manor of Deschallers or Challers. He died in 1467, leaving three daughters, Alice the wife of John More of More, co. Oxford, Margaret de Scales, and Anne the wife of John Harecourt. (fn. 46) The manor of Challers became the possession of Anne. (fn. 47) On the death of her first husband she married Giles Wellesborne, who also predeceased her. (fn. 48) Both her husbands suffered from financial embarrassment, as appears from the marriage settlement she made on her daughter and heir Margery with Humphrey Wellisburne in January 1493–4. (fn. 49) By this, in consideration of this marriage and of the fact that Humphrey had paid several of her debts and of the debts of her two husbands, she granted him the yearly issues of the manor, receiving only for the maintenance of herself and her maid 20 marks a year if she made her home with Humphrey or 40 marks if she lived elsewhere. (fn. 50) Margery seems to have had another suitor, John Rushton, who alleged a contract between them which Anne refused to acknowledge. In the event of John Rushton taking any step to annul the marriage of Humphrey and Margery, Challers was to go by her settlement to Humphrey for life with reversion to the heirs of Sir John de Scales, kt., other than the said Margery. (fn. 51) Anne died in March 1493–4, when Margery, her heiress, was aged eighteen. (fn. 52)
Humphrey Wellisburne died in 1516, and by his will left his wife all his lands in Great Wycombe for life and £40. In return for this, and in accordance with a promise she had made him, Margery Wellisburne in 1516 conveyed the manors of Reed and Wyddial to trustees to be settled to her use for life with remainder to her son Arthur Wellisburne and his heirs, or failing such heirs to her sons Ardewyn, Jasper and Henry Wellisburne and their heirs in succession. (fn. 53) Margery married as her second husband Thomas Cheyne, and in 1522 she sold the manor of Reed to Robert Dormer, (fn. 54) to whom Arthur Wellisburne also conveyed his rights in the manor. (fn. 55) Robert Dormer held the manor until 1530, when he received licence to alienate it to John Bowles. (fn. 56) In 1543 John Bowles died and his grandson Thomas inherited his estates. (fn. 57) Thomas Bowles was only thirteen, and his wardship and marriage with an annuity of £20 out of his estates were granted to John Sewester, attorney of the Court of Wards. (fn. 58) In 1557 Thomas sold Challers to William Hyde of Throcking, (fn. 59) who held it till 1567–8, when he sold it to Robert Bell of the Middle Temple and Dorothy his wife. (fn. 60) Sir Robert Bell, kt., chief baron of the Exchequer, died in 1576 seised of the manors of Chamberlains and Challers, with fisheries, free warren, court leet and view of frankpledge. (fn. 61) His eldest son and heir Edmund Bell of Beaupre, aged fifteen, succeeded to the property in Norfolk (fn. 62) which Dorothy Bell née Beaupre had brought her husband in marriage. (fn. 63) The property in Reed had been settled in 1573 on the second son Robert Bell with remainder to his father Sir Robert Bell and his heirs. (fn. 64) Robert Bell was captain of a company in the Netherlands and died leaving no children. (fn. 65) The manor of Challers appears to have reverted to his mother, who took for her second husband Sir John Peyton, Lieutenant of the Tower of London, by whom she had a son John Peyton. (fn. 66) In 1612 Sir John Peyton, sen., and Sir John Peyton, jun., and his wife Alice sold the manor of Challers to Sir Julius Adelmare alias Caesar, kt. (fn. 67)
Sir Julius was the son of an Italian named Caesar Adelmare, who came to England in 1550 and was court physician successively to Queen Mary and Queen Elizabeth. (fn. 68) In 1596 Sir Julius was made master of the hospital of St. Katharine, (fn. 69) and is said to have held a lease of the manor of Queenbury. (fn. 70) He was appointed chancellor of the Exchequer in 1606. (fn. 71) He married twice, and in 1625 he settled Reed on John, (fn. 72) the eldest son by his second marriage. (fn. 73) John Caesar was knighted in 1617, and married Anne the daughter of William Hungate. (fn. 74) In 1636 his father died and he came into possession of his property in Reed. (fn. 75) This he continued to hold (fn. 76) until 1668, when with his wife Anne he sold it to William Newland. (fn. 77) On the death of William it descended to Thomas Newland, who presented to the church in 1718. (fn. 78) In 1722 Thomas Newland and Mary his wife sold their property in Reed, which at this date appears for the first time as one manor styled Challers Chamberlains alias Chamberlains Challers (see below for Chamberlains), to John Manley and Kendrick Edesbury for ninety-nine years during their lives and the life of Isaac Manley of Dublin and of their son George Newland. (fn. 79)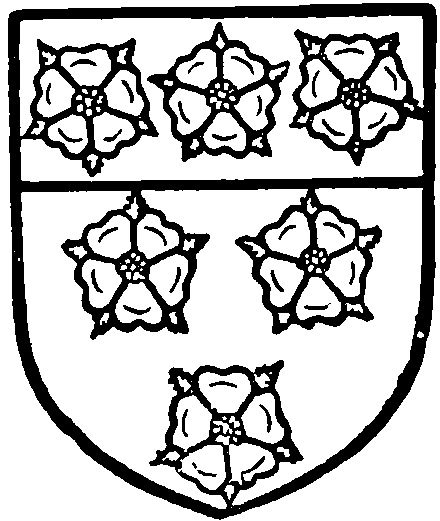 Reed soon after came into the hands of Sir John Jennings, kt., commander-in-chief in the Mediterranean in 1711, who presented to the church in 1727. (fn. 80) Sir John died in 1743, (fn. 81) and the manor descended to his son George Jennings, (fn. 82) who married Mary the daughter of Michael Bourke, tenth Earl of Clanricarde. (fn. 83) He had a daughter Hester Elizabeth, who married John Peachey, the only son and heir of Sir James Peachey, bart. (fn. 84) In 1787 George Jennings settled the manor on John Peachey and Hester Elizabeth, (fn. 85) and on the death of George Jennings in 1790 it descended to his daughter and her husband. (fn. 86) In 1794 Sir James Peachey was created Lord Selsey, and on his death in 1808 his son succeeded to the title. (fn. 87) He held Reed (fn. 88) till his death in 1816, (fn. 89) when it passed to his son Henry John Peachey, third Lord Selsey, who died in 1838, leaving no children. (fn. 90) His sister the Hon. Caroline Mary Peachey inherited his estates. (fn. 91) She married the Rev. Leveson Vernon-Harcourt, but had no children. (fn. 92) On her death in 1871, according to the will of her mother Hester Elizabeth Jennings, Reed passed to the Rt. Hon. Hugh Henry Rose, first Lord Strathnairn of Strathnairn and Jhansi, who was descended through his mother from Philip Jennings of Dudleston Hall, co. Salop, the father of Sir John Jennings before mentioned. (fn. 93) He had gained his titles for his services in India. (fn. 94) He died unmarried in Paris in 1886, (fn. 95) and Reed passed to his brother Sir William Rose, who only survived him one month. It then descended to Admiral the Hon. George H. Douglas, the son of his sister the Countess of Morton, who subsequently sold his lands in Reed to Mr. Edward Pigg of Chipping, but all manorial rights appear by this date to have lapsed. (fn. 96)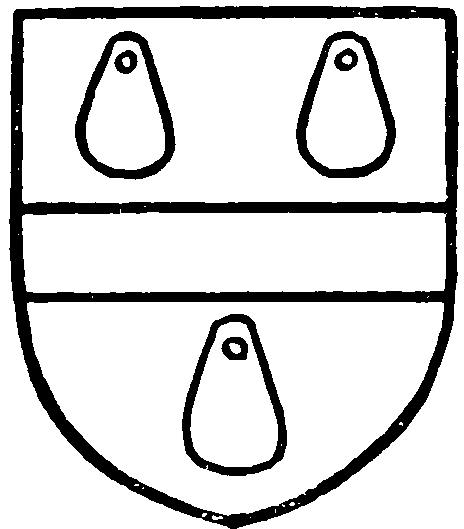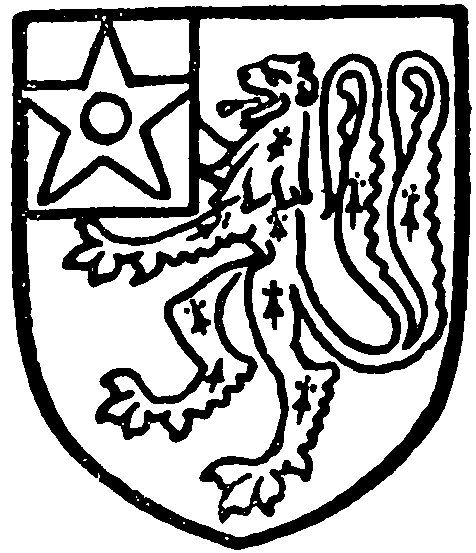 Chamberlains
The manor of CHAMBERLAINS possibly represents that hide of land which before the Conquest was held by Leuing, a priest, one of Eddeva's men. (fn. 97) In 1086 this land had come into the possession of Hardwin de Scales, but was held by him of Count Alan of Britanny apart from his other and more important lands in Reed. (fn. 98) It remained with the descendants of Hardwin de Scales until the reign of Henry III. (fn. 99) At that time, while they adhered to the king in his struggle with Simon de Montfort, Ralph le Chamberlain seized some of their land by force. (fn. 100) A suit was brought against him in 1268 for its recovery by Thomas de Scales, (fn. 101) but it is probable that Ralph kept possession, for in 1346 his descendant Ralph le Chamberlain was holding land in Reed of Thomas de Scales by service of half a knight's fee. (fn. 102) It is from this family that the manor takes its name. Ralph le Chamberlain died in 1346, and his lands descended to his son Ralph, aged twenty. (fn. 103) Nothing further is heard of the Chamberlains in Reed, but their lands may have come into the possession of Adam Esmond or Edmond, who was imprisoned for debt in 1373, at which date he held 3 acres of meadow, 34 acres of pasture and 3 acres of wood in Reed, (fn. 104) for in 1405 John Edmond was holding the manor of Chamberlains (fn. 105) first mentioned by that name. He conveyed it in that year to feoffees, (fn. 106) apparently in trust for John Walsingham, (fn. 107) for the latter granted it during the reign of Henry IV to John Grey and Joan his wife, (fn. 108) and Margaret Walsingham, widow, released all right in the manor in 1430. (fn. 109) On the death of John Grey Chamberlains descended to his son Ralph Grey, kt., (fn. 110) who presented to the church in 1450. (fn. 111) He died in 1464, when the manor passed to his son Ralph, aged at that date twenty-four. (fn. 112)
Shortly after this Chamberlains came into the possession of John Home, who presented to the church in 1477. (fn. 113) He must have died soon after, for John Shukburgh, husband of his daughter Clemency, presented in her right in 1479. John Shukburgh predeceased his wife, and she took to live with her her son Thomas with his wife and three children. (fn. 114) Leaving them in her house at Reed, she went to London, where she married Thomas Staunton, 'contrarie to the will and mynde' of her son, who refused to allow Staunton to enter the house at Reed and assaulted his servants. (fn. 115) In consequence he was arrested, but escaped with the help of his friends and tried to break into the house. (fn. 116) Clemency and her husband brought a suit against her son in 1493, (fn. 117) but in February 1494–5 she joined with her husband and son in making a settlement of the manor. (fn. 118) By 1511 Chamberlains had descended to John Shukburgh, (fn. 119) who sold it in 1519 to Robert Dormer. (fn. 120) In 1522 Robert Dormer purchased the manor of Challers (q.v.), and from this date the two manors have descended together.
Queenbury
The manor of QUEENBURY (Querenebury, Quinbury, xvi cent.) was held in the time of Edward the Confessor by Aelfward, a man of Earl Harold. By 1086 it had become part of the possessions of Count Eustace of Boulogne, and was held of him by Robert Fitz Rozelin. (fn. 121) Queenbury always remained part of the honour of Boulogne. (fn. 122) From Robert Fitz Rozelin it passed, as did other fees held in this county by Robert, to the Trikets, who were possibly his descendants. (fn. 123) It was held by Hugh Triket, (fn. 124) who was living in the reign of Henry II, and descended to Simon Triket, who was holding it in 1210. (fn. 125) The Trikets do not again appear in Reed. Apparently a sub-feoffment of the manor had already been made to John Fitz Bernard, (fn. 126) and from him it descended to Walter Fitz Bernard. (fn. 127) In the reign of Henry III he sold it to Queen Eleanor. (fn. 128) In 1255 Eleanor had caused the dissolution of the hospital of St. Katharine outside the Tower of London, which had been founded by Queen Matilda, wife of Stephen, and the patronage of which was vested in the Queens of England. (fn. 129) She refounded it in 1273, and bestowed on it, among other estates, all her lands in Reed to be held in frankalmoign without power of alienation, (fn. 130) a grant which was declared to be to the king's loss. (fn. 131) It is to this circumstance that the manor of Queenbury appears to owe its name. In 1278 the hospital claimed in Reed view of frankpledge, gallows, and assize of bread and ale. (fn. 132) In 1287 it claimed these liberties and also tumbril. (fn. 133) At the time of the Dissolution the manor was farmed out for £7 6s. 8d. (fn. 134) It is probable that Henry VIII intended to dissolve the hospital, but that it was saved by Anne Boleyn, to whom as Queen of England it belonged. (fn. 135) Queenbury remained with the hospital of St. Katharine, which for many years leased it for a term of three lives to the lords of the manor of Challers. (fn. 136) The Hon. Mrs. Vernon-Harcourt, who died in 1871, (fn. 137) left the remainder of her lease to her god-daughter the Hon. Caroline Mary Frances Jervis. (fn. 138) About the year 1900 the hospital of St. Katharine sold Queenbury, (fn. 139) which passed through several hands before it was purchased about 1909 by Mr. Thomas E. Brandt, the present owner. (fn. 140)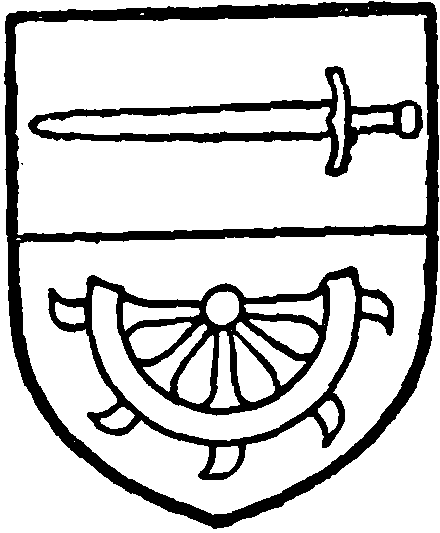 The tithes of the manor of Queenbury, together with certain lands called the demesne lands of Mynchey Porcyn, were held by the priory of St. Leonard of Stratford-at-Bow. (fn. 141) These lands were valued at £2 in 1535. (fn. 142) After the dissolution of the priory of St. Leonard they were granted in 1539 to Ralph Sadleir. (fn. 143) He restored them to the Crown in exchange for other lands in 1547–8, (fn. 144) and they then came into the possession of Richard Chambers, who died in 1549, and left them to his son Robert, aged eleven. (fn. 145) Robert Chambers received a quitclaim from a certain Robert Johnson and his wife Audrey (possibly lessees) in 1562. (fn. 146) In 1573 Francis Ridall, rector of East Reed, claimed all tithes in East Reed except those from certain freeholds and demesne lands of the manor of Queenbury, and he brought a suit against Robert Chambers and his tenant John Cannon, who refused to pay tithes from the copyhold land of that manor. (fn. 147) Robert Chambers claimed that these tithes never had belonged to the rector of East Reed. (fn. 148) Mynchey Porcyn and the tithes of Queenbury came later into the possession of Richard Turner, who in 1597 demised the close called Mynchens to Thomas Turner for eighty years with reversion to John Turner. (fn. 149) John Turner died in 1602, and Thomas Turner, aged sixty, was his brother and heir. (fn. 150) Richard Turner died in 1604, at which date he was seised of the tithes and the close. (fn. 151) It appears, however, that in lieu of tithes the rectors of Reed had the right to half an acre of wheat and half an acre of barley in Queenbury. This, before 1722, had been commuted for a payment of 40s. chargeable on an acre of land called Parson's Acre. (fn. 152)
Certain lands in Reed, appendant to the manor of Sandon, were held by the Dean and Chapter of St. Paul's in the 10th century, and the latter were confirmed in their possession by King Athelstan in 939. (fn. 153) These lands are not recorded in the Domesday Survey in 1086, but they remained attached to the manor of Sandon (q.v.), which was subsequently called Gannocks Manor. In the 14th century the lands in Reed were also called Gannocks, (fn. 154) and were described as 30 acres of land held of the Dean and Chapter of St. Paul's. (fn. 155) No record of these lands occurs after this time, but there still exist in the south of the parish a grove and green which bear the name of Gannocks.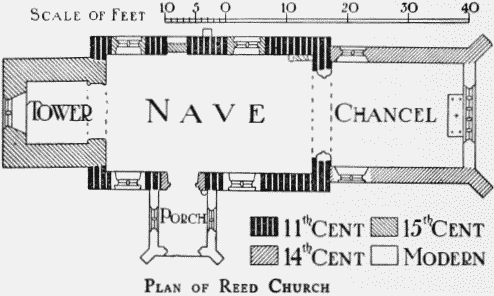 CHURCH
The church of ST. MARY consists of chancel 21 ft. 6 in. by 17 ft., nave 34 ft. by 19 ft., south porch and west tower 10 ft. 6 in. by 10 ft.; all dimensions taken internally. The walls are of flint with stone dressings, the roofs are tiled.
The nave appears to belong to a pre-Conquest period, probably about the middle of the 11th century; part of the chancel dates from about 1350; the west tower is early 15th-century work; the east wall of the chancel, the chancel arch and the south porch were rebuilt in the 19th century, when other repairs were made.
The large five-light east window of the chancel is modern, but parts of the reticulated tracery belonged to the 14th-century window. In the north wall is a window of two trefoiled lights with a quatrefoil in the head, of about 1350 date; the two-light window in the south wall is modern; the chancel arch also is modern.
In the north wall of the nave are two windows, each of two cinquefoiled lights under a square head, and of 15th-century date; they have been much repaired; between them is a blocked north doorway, which has a semicircular head, rudely moulded, and with a plain tympanum; the jambs have engaged shafts with roughly voluted capitals under a heavy splayed abacus; the bases are much decayed. The doorway appears to date from the beginning of the 12th century. The doorway itself is of Barnack stone, but the inner arch is of clunch. There are two modern two-light windows in the south wall of the nave, but the doorway between them is of late 14th-century work, with arch and jambs of two orders continuously moulded; the label has foliated stops. In the east jamb of the doorway outside are remains of a stoup. In the north-east corner of the nave are remains of the stair to the roodloft. Each of the four angles of the nave externally is formed of long-and-short work of Barnack stone. The western angles have two splayed base-courses, one 2 ft. above the other; the lower one has the base-course on the angle quoin only, all the rest, which presumably was carried round the nave, has disappeared; the upper base-course has also disappeared round the church, but is carried round the west tower. (fn. 156) The quoin stones are flush with the flint walling.
The pointed tower arch is of two splayed orders, and in the north jamb is an ogee-headed shallow niche, about 3 ft. from the ground. The west tower is of three stages, with an embattled parapet, except on the east, which is plain. The west window is of two trefoiled lights, with much of the stonework restored. Under the window there has been at one time a rough opening, now blocked. The second stage is pierced on the south side with a narrow single light; the belfry has a single pointed light on each face, much worn.
The font is modern, but the remains of the 15th-century one formerly in the garden of Reed Hall, are now in Barkway Church; the bowl is octagonal, and underneath are carved flowers and shields and some emblems of the Passion; some fragments of tracery are also at Reed Hall.
The communion table is of early 17th-century work and has turned and moulded legs.
There are no memorials in the church.
There are three bells: the treble and second are unmarked, but the tenor, by Robert Oldfeild, is inscribed 'God save the King,' and dated 1614.
The communion plate consists of paten, 1806, small cup, 1804, and another paten, 1863.
The registers are as follows: (i) baptisms and burials from 1539 to 1768, marriages 1540 to 1752; (iii) marriages 1755 to 1807. In 1830 there was a book (ii) baptisms and burials 1768 to 1812, but this has since disappeared.
ADVOWSON
The living of the church of Reed is a rectory. The advowson was originally held by the Scales family, who were lords of the manor of Challers. Henry de Scales and Hugh his son granted it in the reign of Henry II to the Cluniac convent of Lewes, together with an annual pension. (fn. 157) This pension was still chargeable on the church in 1428, (fn. 158) but it is probable that at some time while the convent of Lewes was in the king's hands during the wars with France the advowson was acquired by the lord of Chamberlains, or that the convent itself alienated it, for in 1405 John Edmond, lord of the manor of Chamberlains, held the advowson, (fn. 159) and from this date it descended until lately with that manor (q.v.). When Admiral the Hon. George H. Douglas sold his lands in Reed he retained the advowson, and it is held at the present time by his son, Captain George Sholto Douglas. The parish of Reed was united to that of Barkway in 1800.
CHARITIES
In 1602 Richard Turner by his will gave 20s. a year to the poor. This sum is paid out of the close called 'Barton's' and is distributed in bread.