Pages 462-468
A History of the County of Hertford: Volume 3. Originally published by Victoria County History, London, 1912.
This free content was digitised by double rekeying. All rights reserved.
HERTINGFORDBURY
Herefordingberie (xi cent.); Hertfordburia, Hertfordingebyre, Hertfordiggebiry (xiii cent.).
The parish of Hertingfordbury has an area of 2,644 acres, of which 1,223 acres are arable land and 750½ acres are permanent grass. (fn. 1) The greater part of the parish lies at an altitude of over 200 ft. above the ordnance datum, reaching 264 ft. in the west, but in the east of the parish and along the northern border, in the valleys of the Lea and Mimram, the ground is below 200 ft. The road from Hatfield to Hertford runs through the parish in an easterly direction until it reaches St. Mary's Church, where it turns off at right angles, and is joined by the road running due north from Bayford. The village is situated at this corner and along the Hatfield road to the north. The last house in the parish is Epcombs, the residence of Mr. Charles Leslie, which is just on the boundary between Hertingfordbury and St. Andrew, Hertford, but a few houses on the other side of the boundary seem to belong to Hertingfordbury. The mill stands a little south of it on the same side of the road. The rectory is situated to the east of the village and north of the church. The old parsonage, which stands in the middle of the village, is an early 17th-century building of brick, most of it plastered externally; it is L-shaped on plan, and has tiled roofs. On the side facing the street is an old chimney, the lower intakes of which are concealed by stepping the brickwork in front of the sloping portion—a common mode of construction in Hertfordshire. The infants' school to the north of the church is a brick two-storied building of the same date, with a good central chimney stack surmounted by four octagonal shafts.
The southern half of Panshanger Park is included in this parish, the River Mimram, which runs through the centre of the park, forming part of the boundary. At the south-western corner of Panshanger Park, on the Hertford road, is the hamlet of Cole Green. Birch Green and Staines Green are farther along the road towards Hertingfordbury. From Cole Green a road goes south to Letty Green and Woolmers Park, the latter the residence of Mr. Charles Edward Wodehouse, M. A., J.P. In Woolmers Park, to the east of the house, is a spring known as Arkley or Acherley Hole. The water surface is about 70 ft. long and 40 ft. wide, and the depth is said never to have been found. It rises directly through the chalk, and in wet weather adds a large volume to the River Lea, whilst in dry weather it ceases to flow. Eastend Green and Roxford, now a farm at which is a homestead moat, lie about a mile to the west. Birchall, where there is also a homestead moat, is situated in the west of the parish, beyond Cole Green, and Hertingfordbury Park, the residence of Mr. Robert William Partridge, is in the extreme east.
There are two railway stations on the Hertford branch of the Great Northern railway, one at Cole Green and the other a short distance south-east of the village of Hertingfordbury.
The subsoil of the parish is chalk superimposed on the south side by traces of the Woolwich and Reading Beds, London Clay and brick earth, and there are many disused chalk-pits and gravel-pits to the west of Panshanger Park. At Birchall occurs an extensive outlier of the Woolwich and Reading Beds.
The inclosure award was made in 1813, the authorizing Act being passed in 1801. (fn. 2) Both are in the custody of the clerk of the peace. Lampits Field was inclosed in 1841.
Place-names which occur in the parish are: Talbottesland, Bauleys, Leverounhull, Stockenhull, Knyhteslond, Halpanyhache, Sampsoneshache (xiv cent.); John Amores, (fn. 3) Gorberyshot, Chilwelfeld, Flamstead, Beryfeld and Chapmans (xvi cent.); Copthall, Slabridge, Foxwell, Aldermaster, The Thorpe, Hanging Grove and Wytchfield (xvii cent.).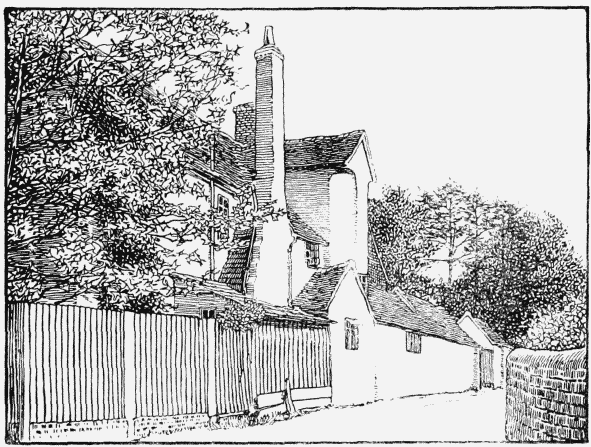 MANORS
Heartingfordbury
The manor of HERTINGFORDBURY was held before the Conquest by Alwin, a thegn of Earl Harold, and was given by William the Conqueror to Ralph Baynard or Bangiard before 1086, when it was assessed at 5 hides. (fn. 4) Juga Baynard was probably Ralph's widow and Geoffrey Baynard her son and heir. (fn. 5) A William Baynard succeeded, who forfeited under Henry I, when his barony was granted to Robert son of Richard son of Gilbert de Clare, ancestor of the Fitz Walters. (fn. 6) Hertingfordbury does not seem, however, to have been included in this grant, and was possibly given to Peter de Valognes, for it was in the possession of Agnes de Valognes, widow of Peter's son and heir Roger, (fn. 7) in 1185. (fn. 8) At the death of Robert son of Roger about 1194 Hertingfordbury came to his daughter and heir Gunnora de Valognes, (fn. 9) who married Robert Fitz Walter. (fn. 10) Their daughter Christine, (fn. 11) wife of William de Mandeville, died without issue, and the Valognes estates were divided between her three heirs, Lora de Baliol, Isabel Comyn and Christine de Maune, daughters of Philip de Valognes, cousin of Gunnora. (fn. 12) Hertingfordbury came eventually to Christine, the wife of Peter de Maune or Maule, (fn. 13) and passed before 1294 to Henry de Maule, probably her son, who enfeoffed Agnes de Valence, (fn. 14) daughter of William de Valence. The king acknowledged the conveyance, which had been made without royal licence, in 1294, (fn. 15) but the transaction was not completed until 1297. (fn. 16) Agnes continued to hold the manor until her death in 1309–10, (fn. 17) when it passed to her brother Aymer de Valence Earl of Pembroke, who died in 1323 without issue. (fn. 18) His heirs were his nephew John de Hastings, son of his sister Isabel, Elizabeth Comyn, and Joan wife of David de Strathbolgi, daughters of his second sister Joan. (fn. 19) Elizabeth Comyn, to whom Hertingfordbury was assigned, (fn. 20) married Richard Talbot, (fn. 21) who in 1332 granted the manor to Roger de Chauntecler of London as security for a debt. (fn. 22) In 1345 Richard and Elizabeth surrendered the manor to the king in exchange for various lands in Herefordshire, (fn. 23) and it was granted in the following year to Queen Isabella, the king's mother, for her life. (fn. 24) Isabella died in 1358, and William de Louthe was appointed steward in 1359. (fn. 25)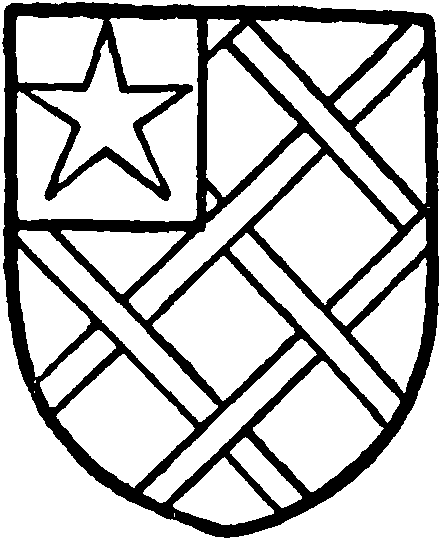 In 1376 the king granted this manor with others in tail-male to his son John of Gaunt. (fn. 26) John of Gaunt died in February 1398–9, and Hertingfordbury again fell to the Crown with the duchy of Lancaster upon the accession of his son Henry in 1399 as Henry IV. (fn. 27) In 1422 Henry VI granted Hertingfordbury in dower to his mother Queen Katharine (fn. 28) and afterwards to his own queen, Margaret of Anjou. (fn. 29) Edward IV also granted it for life to his queen Elizabeth Woodville. (fn. 30) After this it seems to have remained in the possession of the Crown until Edward VI granted it in 1553 to his sister Princess Mary. (fn. 31) It remained in the hands of Queen Mary and Queen Elizabeth, (fn. 32) and in 1619 was granted by James I to Sir Henry Hobart and other feoffees for ninety-nine years to the use of Charles Prince of Wales. (fn. 33) In 1627 the feoffees transferred the remainder of the term to Christopher Vernon for a rent of £26 0s. 3d., the grant being confirmed by the king in the same year, whilst the reversion of the manor in fee simple was granted to William Downhall and John Darnell. (fn. 34) The latter grant was probably in trust for Christopher Vernon and his wife Elizabeth, daughter of John Darnell. (fn. 35) Christopher died in 1652 and was succeeded by his son Francis, (fn. 36) and Hertingfordbury remained in the Vernon family (fn. 37) (descendants of the Vernons of Haddon Hall) until 1690, when it was sold to James Selby. (fn. 38) James Selby was holding it in 1700 (fn. 39) and his widow in 1728, (fn. 40) after whose death it descended to their son Thomas James Selby. (fn. 41) In 1785 Ellen Wells and Henrietta the wife of Dixie Gregory, the heirs apparently of Thomas James Selby, (fn. 42) joined with Sir Rowland Alston, bart., in conveying the manor to Joseph Hill, (fn. 43) probably in trust for George Earl Cowper, whom Clutterbuck gives as the purchaser. Hertingfordbury has since descended with the earldom, (fn. 44) and is now held by Countess Cowper, widow of the seventh earl.
The park of Hertingfordbury is first mentioned in 1285. (fn. 45) In 1359–60 William de Louthe the keeper accounted for three men who were employed for five days at 3d. a day in inclosing and cutting wood in the park. (fn. 46) It was granted together with the manor to Princess Mary by Edward VI in 1553. (fn. 47) In 1604, when Sir Michael Stanhope was keeper of the park for James I, he was commanded to forbear killing any deer there for three years. (fn. 48) Later in the same year a special commission was appointed which certified that the extent of the park was 205 acres of very hard soil 'after the nature of Hertfordshire,' which would keep 150 deer and no more, and that 160 out of 200 deer kept there had died in one year. (fn. 49) In 1623 a buck from it was given by the king to Sir Henry Marten, judge of the Admiralty Court. (fn. 50) The park continued with the manor (fn. 51) until 1626, when Prince Charles's feoffees granted the remainder of their ninety-nine years' lease to John Purefey and John Graunt. (fn. 52) In the following year the king granted the reversion to Anthony Lowe, Christopher Vernon, Arthur Lowe and John Coxe. The park then contained 237 acres besides a meadow of 3 acres called 'le deere meadowe,' and I acre of osier woods. Free chase and free warren in it were granted at the same time. (fn. 53) In 1628 John Walter, Sir Henry Hobart and the others granted £20 rent from the park, which they had reserved from their earlier grant, to Richard Brownelowe, and this was confirmed in the same year to his son John Brownelowe by the king. (fn. 54)
Before 1643 Hertingfordbury Park was purchased by Thomas Keightley, (fn. 55) who seems to have built a house there, where he received a visit from his cousin John Evelyn the diarist in March 1643. (fn. 56) He was succeeded by his son William Keightley, (fn. 57) whose widow Amy married secondly John Belson and continued to live at the house during her lifetime. (fn. 58) After her death the park descended to her son Thomas Keightley, who sold the estate in 1681 to John Cullinge. (fn. 59) John Cullinge, son of the latter, was holding it in 1700, (fn. 60) but died childless shortly after, his lands passing to his sister Elizabeth, whose heirs sold Hertingfordbury Park to Spencer Cowper before 1727. (fn. 61) The latter died in 1727 (fn. 62) and was succeeded by his son William, and his grandson of the same name in 1740. (fn. 63) The latter died in 1769, and his widow Maria Frances Cecilia joined with William son of William Cowper in conveying the park to Richard Baker in 1773. (fn. 64) Richard Baker, who died in 1780, bequeathed it to his brother William Baker of Bayfordbury. The latter gave it to his younger brother Samuel, who lived there until his death in 1804, and later it was occupied by William's eldest son William, who died in 1863. (fn. 65) His son was the heir of William Baker of Bayfordbury, and also held the manor of Roxford, with which Hertingfordbury Park subsequently descended. The old house at Hertingfordbury Park was pulled down in 1816, with the exception of part of the kitchens and cellars, which were left until the present house was built by Mr. R. W. Partridge, who resides there.
Christine de Valognes claimed in Hertingfordbury sac and soc, thol, theam and infangentheof, by charter of Henry I, and also view of frankpledge, amendment of the assize of bread and ale, and tumbrel 'of ancient custom.' Christine de Maule claimed also free warren, and made a claim to have gallows, which was not allowed. (fn. 66) Agnes de Valence obtained a fresh grant of free warren in 1309. (fn. 67) In 1446–8 John Treoylian was farmer of the 'warren of conies' for Queen Margaret at 70s. yearly, (fn. 68) and in 1517 Sir Edward Benstede was granted an annuity of £3 from it. (fn. 69)
Hertingfordbury possessed two mills in 1086, (fn. 70) but only one is mentioned later. In 1247 Peter de Maule and Christine de Valognes his wife granted their mill to Henry de Neketon, saving to themselves free multure for the use of their household in their manor of Hertingfordbury, also the meadows adjoining the mill and the fishery in the mill-pool. (fn. 71) They seem to have paid 20s. rent from the mill to the Master of the Hospital of St. Mary Magdalene at Hertford, for Christine bought back this rent in 1279. (fn. 72) Possibly a grant of the mill had been made to the hospital at the time of its endowment, and the lords of the manor had subsequently rented the mill from the hospital. In 1354–5 a rent was still paid to the same hospital. (fn. 73) The farm of the mill and fishery adjoining amounted to 43s. 4d. in 1383–4. (fn. 74) In 1491 the king leased it to Edward Benstede for seven years, (fn. 75) and again for a term not stated in 1501–2. (fn. 76) In 1619, when the manor was granted by James I to his son Prince Charles, the mill was reserved, (fn. 77) and seems to have been let to Thomas Docwra. (fn. 78) In 1633 the king granted it, at the request of Sir John Heydon, to William Scriven and Philip Eden and their heirs, at which date it was worth £4 yearly. (fn. 79) The mill is situated on the River Mimram at the northern end of the village. There is a tradition that a second mill stood on the Lea 300 yds. north-east of Water Hall Farm, where there was a house within living memory and where there is still a floodgate.
Roxford
Before the Conquest ROXFORD (Rochesforde, xi cent.; Rokesforth, Rokkysford, Roxeforth, xvi cent.) was held by Goduin, a thegn of King Edward; in 1086 it formed part of the lands of Geoffrey de Bech, of whom it was held by Guy the Priest, and was assessed at half a hide. (fn. 80) With other lands of Geoffrey de Bech this fee came to the Wake family, (fn. 81) and the overlordship descended with Stapleford (fn. 82) (q.v.).
In the 13th century lands in Roxford were held by the families of Moyne and Valognes, (fn. 83) but the manor of Roxford seems to be the eighth of a fee held in 1303 of Lady Wake by Nicholas de Paris. (fn. 84) In 1304 he conveyed his lands there with the advowson of the chapel of Roxford to Herman de Brickendon, (fn. 85) who in 1330 settled them on his son and daughter-in-law, Philip and Hawise. (fn. 86) The immediate successors of Philip de Brickendon are not known, (fn. 87) but in the following century the estate seems to have come into the possession of the Louth family. A Robert de Louth, who was M.P. for Herts. in 1382, was holding land in Hertingfordbury in 1406, (fn. 88) and is again mentioned in connexion with the parish in 1434. (fn. 89) It is probable that this Robert held Roxford, as another Robert de Louth died seised of it in 1484. He left three sisters and co-heirs, Gille the wife of John Gryme, Christine, aged thirty-four and unmarried, and Alice the wife of John Wigge. (fn. 90) The manor seems to have been divided between these three, but apparently Christine sold her share to Alice and John Wigge, for Thomas Wigge, son of Alice and John, sold two-thirds of the manor in 1542 to Hugh Mynors. (fn. 91) In 1550 Mynors conveyed them to William Southwood. (fn. 92) In the following year William Southwood sold the property to William Caldewell, (fn. 93) who before 1557 conveyed it to William Coventry. (fn. 94) The last William left directions in his will that the two thirds of the manor should be sold after his death, and they were accordingly sold to John and Anne Myston, in spite of the protests of William's daughter Joan. (fn. 95) The Mystons, however, did not keep the estate for long, as in 1569 they sold it to William Kympton. (fn. 96) The two thirds then or subsequently seem to have been divided between John Baylie and William Kympton, William keeping one third, including the manor-house, for life, with remainder to John Baylie, (fn. 97) the other third being delivered to John by George Kympton in 1605. (fn. 98) John Baylie the elder died in 1611 and was succeeded by his son John, then a minor. (fn. 99) John was holding the two thirds in 1622, (fn. 100) but before 1651 there must have been a sale to Thomas Fanshawe, since the latter had united these two thirds with the other third and was holding the whole manor in that year. (fn. 101)
Of the third of Roxford apportioned to Gille and John Gryme nothing is known for a hundred years following. In 1586 John Knighton died seised of it, having settled it upon his son George, (fn. 102) after which it descended in his family in the same manner as Bayford (fn. 103) (q.v.) and came before 1651 to Thomas Fanshawe. (fn. 104) The Fanshawes appear to have sold the manor soon after to John Cox, (fn. 105) who presumably conveyed it to George Chalncombe. (fn. 106) In 1700 Frances Chalncombe, widow of George, joined with her daughter Frances, wife of Patrick Crawford, in conveying Roxford to John Brassey. (fn. 107) Nathaniel Brassey, successor of John, was succeeded in 1765 by his son Nathaniel, (fn. 108) who died in 1798. (fn. 109) Richard John Brassey, son of the latter, sold the manor in 1801 to William Baker (fn. 110) of Bayfordbury (q.v.), in whose family it has since descended.
Woolmers Park
WOOLMERS PARK evidently took its name from the family of Wolmer. John Wolmer is mentioned in Hertingfordbury between 1285 and 1289 (fn. 111) and Thomas Wolmer in 1358. (fn. 112) In 1518 Woolmers was said to be held of the king as of his duchy of Lancaster, (fn. 113) so that it had probably always been held of the manor of Hertingfordbury. Sir Edward Benstede, who died in 1518, held a 'tenement or farm called Wolmers,' which he left to Joyce his wife for her life with remainder to his niece Alice Ferrers, daughter of his sister Katherine. (fn. 114) Joyce married secondly William Purdy, and was still living in 1531. (fn. 115) If Alice Ferrers died without issue the property was to pass to her elder brother John Ferrers, who was Sir Edward Benstede's nearest male heir, but there is no evidence to show whether it did so. Woolmers is not heard of again until the beginning of the 19th century, when it was in the possession of Francis Duke of Bridgewater. He died in 1803, leaving it to his nephew George Granville Earl Gower and Duke of Sutherland, (fn. 116) who died in 1833. (fn. 117) It is said to have been afterwards sold to Sir John St. Aubyn, bart., and to have been subsequently possessed by Sir Gore Ouseley, bart., and Rear-Admiral the Hon. George Frederick Hotham. (fn. 118) In 1842 it was bought by Mr. William Herbert Wodehouse, (fn. 119) who in 1903 was succeeded by his son Mr. Charles Edward Wodehouse, the present possessor. (fn. 120)
Birchholt now Birchall
The manor of BIRCHHOLT now BIRCHALL was composed of lands granted at various dates to the Prior and convent of the Holy Trinity, London, (fn. 121) including the service owed by Roger de Essendon for land in Birchholt granted by John de Rocheford between 1316 and 1325. (fn. 122) These continued in the hands of the convent of the Holy Trinity until its surrender in 1531, (fn. 123) after which Birchholt was granted in 1534 to Sir Thomas Audley (fn. 124) of Walden, Lord Chancellor. About 1539 the latter conveyed it to William Cavendish and Margaret his wife. (fn. 125) It seems to have been re-conveyed to the Crown, for in 1599 Queen Elizabeth granted it to Henry Best and Robert Holland. (fn. 126) They sold it shortly afterwards to Sir Robert Wroth, (fn. 127) from whom it descended to John Wroth and Maud his wife (fn. 128) in the same manner as Tewin (q.v.). The latter sold it in 1621 to Sir Thomas Trevor, (fn. 129) afterwards chief baron of the Exchequer. He died in 1656, (fn. 130) leaving a son Thomas Trevor, baronet and knight of the Bath, who died childless in 1676, (fn. 131) after which the history of the estate is lost.
Epcombs
The estate called EPCOMBS (Epecaumpe, Epecombes) is thought to be the half hide in 'Thepecampe' (fn. 132) held both before and after the Conquest by a priest, in alms, of the king. An estate of 100 acres in Epcombs is said to have been held in the reign of Richard I by one Lyving, and to have descended to Luke son of William of Hertingfordbury, who claimed it in 1281. (fn. 133) Early in the 16th century it was in the possession of the Lawrence family, and in 1529 was held by Richard Lawrence and Agnes his wife and William Lawrence. (fn. 134) The latter, who was the son of John Lawrence, had a son William, (fn. 135) who died leaving four daughters—Susannah wife of John Darnell, Anne wife of John Jeve, Elizabeth wife of Rowland Hall, and Alice—between whom the property was divided. (fn. 136) Alice, who was a lunatic, and her three sisters were all living in 1606, (fn. 137) but it is not known to whom Epcombs afterwards descended. Susan Darnell had four daughters, of whom the eldest, Elizabeth, married Christopher Vernon, (fn. 138) lord of the manor of Hertingfordbury, and it is therefore possible that Epcombs thus became united with the main manor. In 1877 it was the residence of Mrs. Fenwick, (fn. 139) and is now occupied by Mr. Charles F. H. Leslie.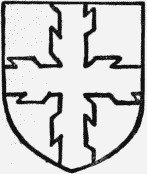 In 1086 there was a mill at 'Thepecampe.' (fn. 140)
Rectory Manor
The RECTORY MANOR has always been held by the rectors of the parish. (fn. 141) As a rule the records of only one court a year survive, held at various times; where the records of two survive they took place in May and October. In the reign of Edward III as many as four are recorded in a year, but this is exceptional. In 1638 the rents from the manor amounted to 9s. annually, besides six capons and various customary works. (fn. 142)
CHURCH
The church of ST. MARY, which stands at the south-east end of the village, consists of chancel 38 ft. 6 in. by 21 ft., north chapel 22 ft. by 13 ft., south vestry and organ chamber, nave 50 ft. 6 in. by 23 ft., north aisle 50 ft. 6 in. by 11 ft. 6 in., south porch and west tower. These measurements are all internal. The church is built of flint rubble with stone dressings. The roofs are tiled.
The church was extensively restored and altered in 1845, and in 1890 it was practically rebuilt. The chancel and possibly the nave walls were built in the 13th century, the north aisle and west tower being added in the 15th century.
The three 13th-century grouped windows in the east wall of the chancel consist each of a single lancet having moulded arches and shafted jambs with moulded capitals and bases. The moulded labels have head stops. The external stonework is modern. In the chancel is a double piscina, part of the eastern jamb of which is original; it is of 13th-century date and has moulded and shafted jambs enriched with the dog-tooth ornament. The head and jamb stones of two windows in the north aisle, which are each of two cinquefoiled lights with a quatrefoil opening in the head, are of 15th-century date, as are parts of another window in the same wall, of two lights under a square head; a similar window in the south wall opposite is probably a little later. (fn. 143) Two jamb stones of the south doorway and the lofty four-centred and moulded tower arch are also of 15th-century date. The buttressed tower is of three stages with embattled parapet and leaded spire. Some parts of the belfry windows may be original. All the other detail in the church is modern.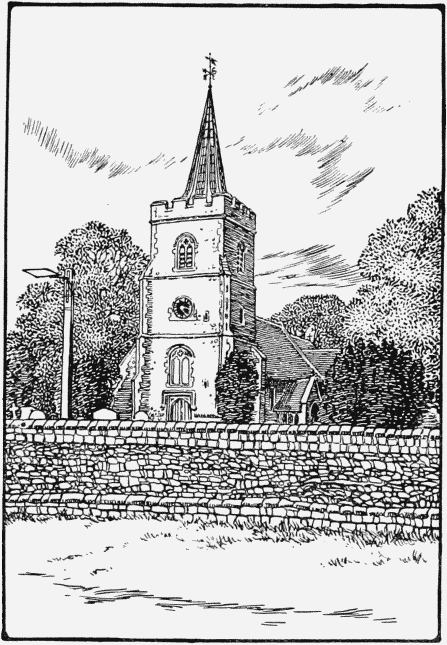 On the north side of the tower is an altar tomb to Anne wife of George Calvert, 1622. On the tomb is an alabaster effigy of a lady, with mural cornice above supporting three shields of arms. On the south side of the tower is an altar tomb to William Harrington and his wife; it is of early 17th-century work. On a black marble slab are two recumbent shrouded effigies of alabaster; an arched cornice above, supported on pilasters, bears the arms of Harrington, eighteen quarterings in all. In front is the kneeling figure of a child. Over the pulpit is a mural tablet to Christopher Vernon, 1652, with his arms above. In the north aisle is a mural slab to Thomas Keightley, 1662, and his wife, 1682; and in the chancel are floor slabs to Robert Mynne, 1656, and Helen Mynne, 1659. On the north wall of the tower is a brass with inscription and shield of arms to Thomas Ellis, 1608, and his wife, 1612.
There are five bells: the first by John Waylett, 1706; the second by T. Lester, 1750; the third by John Briant, 1823; the fourth and fifth by John Hodson dated 1656.
The plate includes a cup with cover, a standing paten, and a flagon of 1675.
The registers before 1812 are as follows: (i) baptisms, burials and marriages from 1679 to 1744; (ii) baptisms and burials from 1745 to 1767, marriages from 1745 to 1762; (iii) baptisms from 1767 to 1812; (iv) burials from 1768 to 1812; (v) marriages from 1763 to 1812.
ADVOWSON
The advowson of the church belonged to the lords of the manor (fn. 144) until Richard and Elizabeth Talbot surrendered the manor to the king in 1346, when they reserved the advowson. (fn. 145) Probably, however, they sold it to the king soon after, for they did not die seised of it, and it appears to have been granted to John of Gaunt Duke of Lancaster, and so passed to the Crown in the person of his son Henry IV. The presentation has ever since been made by the king in his capacity of Duke of Lancaster. (fn. 146)
In 1638 there was a 'parsonage house built of timber covered with Tile two storyes high, the lower storyes disposed into these roomes, a parlour, a hall, a kitchin, a milkhouse, a brewhouse, a mealehouse, a buttrye, and all these roomes are chambred over and boarded except the brewhouse and the mealehouse.' (fn. 147) The glebe lands amounted to 54½ acres.
A chapel of the Blessed Virgin Mary at Roxford is mentioned in 1304 (fn. 148) and in 1330. (fn. 149) The advowson belonged to the lord of the manor.
The chapel of ease of ST. JOHN BAPTIST at Letty Green, built in 1849–50 and enlarged in 1890, is served from the parish church.
Meeting-places for Protestant Dissenters in the parish were certified in 1788 and 1811. (fn. 150)
CHARITIES
In 1613 Grace Ellis, by her will proved in the P.C.C. 20 March, gave 40s. yearly for the poor, charged upon property in Norton Folgate, London. The annuity was redeemed in 1863 by the transfer to the official trustees of £66 13s. 4d. consols, now producing £1 13s. 4d. yearly, which is distributed in bread biennially to the value of 2s. to each recipient.
In 1708 Walter Wallinger by his will directed that £400 should be laid out in the purchase of a rent-charge to be applied in apprenticing sons and daughters of poor housekeepers not in receipt of parochial relief. The legacy, with interest, was laid out in the purchase of a fee-farm rent of £6 issuing out of Middle Mills, Colchester, a fee-farm rent of £5 out of Foxearth Hall Farm, Long Melford, Suffolk, and a fee-farm rent of £10 from Easthampstead Park, Berkshire. The last-mentioned was redeemed in 1904 by the transfer of £400 consols to the official trustees. The income has been found more than sufficient for the objects of the charity, and the surplus has from time to time been accumulated and invested in consols. The stock now amounts to £4,152 6s. 6d. consols with the official trustees and £115 19s. 6d. consols in the names of C. E. Wodehouse and two others, the annual dividends amounting together to £106 3s. 8d. The premiums usually amount to £12 10s.
In 1870 Thomas Newman, by his will proved 11 March, left a legacy, now represented by £582 4s. 2d. consols with the official trustees, the annual dividends, amounting to £14 11s., to be applied in aid of the schools.