Pages 468-472
A History of the County of Hertford: Volume 3. Originally published by Victoria County History, London, 1912.
This free content was digitised by double rekeying. All rights reserved.
ST. ANDREW RURAL
The civil parish of St. Andrew Rural is one of the outlying parts of the borough of Hertford and was separated from the urban parish of St. Andrew by the Local Government Act of 1894. It comprises an area of 1,040 acres, of which 1,022 acres are land and 18 water. The district is entirely rural, the western part being occupied by Panshanger Park, which covers an area of 900 acres and extends into the parish of Hertingfordbury. The southern boundary is formed by the River Mimram, which divides St. Andrew Rural from Hertingfordbury. The road from Bayford to Hertingfordbury, on which the village of Hertingfordbury is situated, is continued through this parish as Thieves Lane, and a little further north adjoins the main road from Hertford to Welwyn.
Sele Grange, now the residence of Miss E. Robertson, is situated on the extreme east of the parish, where it adjoins St. Andrew Urban. There is a wood called Selebroom at some distance to the north-west.
MANORS
Blakemere
The manor of BLAKEMERE (Blachemene, xi cent.; Blackmere, xv cent.) was held in chief in 1086 by Geoffrey de Bech. (fn. 1) It probably came with Eastwick (q.v.) (also held by Geoffrey de Bech in 1086) into the possession of the Clares, and through Emma daughter of Baldwin de Clare to the Wake family, for in 1282 Baldwin de Wake was found to have been overlord of the quarter of a knight's fee in Blakemere. (fn. 2) The descent of the overlordship then follows that of Gobions in Stapleford (fn. 3) (q.v.).
In the time of Edward the Confessor Blakemere constituted the holdings of two thegns who had the right to sell. It was held in 1086 under Geoffrey de Bech by a single mesne tenant Geoffrey Runevile, and was assessed at 1 hide. It was said to contain land for two ploughs; there was one upon the demesne and there could be another. There was sufficient meadow for two plough teams. The unfree tenants were one villein and two bordars. The pasture sufficed for the live stock and the woodland for the feeding of forty swine. (fn. 4)
The tenant of Blakemere in 1281–2 was Robert (?) de Blakemere (fn. 5) and in 1303 John de Blakemere. (fn. 6) Before 1326 Blakemere had come into the same hands as Panshanger, which was evidently the more important holding of the two. In that year William de Lodewyk received a grant of the manor of Panshanger and of 80 acres of arable land, 7 of meadow and 4 of wood in Blakemere. (fn. 7) Later conveyances of Panshanger mention these lands in Blakemere, (fn. 8) and the inquisition on Walter Chival (see Panshanger) gives the manor of Blakemere as well as that of Panshanger. (fn. 9) In 1474 the manor of Blakemere was conveyed with Panshanger, (fn. 10) but in 1492 lands only are mentioned, (fn. 11) and after this date it apparently became amalgamated with Panshanger.
Panshanger
The manor of PANSHANGER (Penneshanger, Paneshanger, Pensangre, xiii cent.; Peneshangre, xiv cent.; Pansangre, xiv and xv cent.; Passanger, Passhanger, Pansanger, xvi, xvii, and xviii cent.) is described in 1247 as 1 carucate of land. (fn. 12) In 1289 suit for it was owed every three weeks at the court of Robert de Hoo of Knebworth. (fn. 13) Robert de Hoo's rights in Blakemere descended with the manor of Knebworth, and had passed by 1428 to John Hotoft. (fn. 14) The latter's daughter and heir Idonea married Sir John Barre, kt., of Knebworth, of whom Panshanger was held in 1446, (fn. 15) and who died in 1483. His property descended to his daughter Isabel, (fn. 16) widow of Humphrey Stafford Earl of Devon, who was beheaded in 1469 and wife of Thomas Bourchier, kt., younger son of the Earl of Essex. She died childless in 1489, (fn. 17) and there is no later trace of rights in Panshanger which she had inherited.
Panshanger was held immediately in the first half of the 13th century by Walter de Gynney or Gisney, whose wife was Elizabeth. He made a feoffment thereof to his daughter Joan and her husband Philip de Mardley, who accordingly held in 1247–8 after his death. Walter had three other daughters, Eleanor, Nichola, and Philippa who married Robert Fitz William; and in 1247–8 John the son of Eleanor together with Philippa and her husband unsuccessfully claimed as their inheritance a moiety of 1 carucate of land in Panshanger. (fn. 18) Philip de Mardley was dead in 1274. In that year Joan his widow received from Philip his son a life grant of 1 carucate of arable land, 30 acres of meadow, 15 acres of wood and 32s. of rent in Panshanger. (fn. 19) In 1289 the younger Philip conveyed the manor of Panshanger to William de Burneton to be held for the rent of one clove gillyflower rendered to himself and his heirs and for all services due to the chief lords except suit at the court of Robert de Hoo at Knebworth which the grantor was to do during William's life. (fn. 20) William de Burneton in 1293 alienated the property, described at this date as a messuage, 300 acres of land and appurtenances in Panshanger, to William de Melksop and Maud his wife, (fn. 21) and this William in 1302 received a grant of free warren in his demesne lands of Panshanger. (fn. 22) He was succeeded by his son William about 1317. The latter was lord of the manor of Digswell in Broadwater Hundred, and it therefore seems probable that Stephen de Waltham, parson of the church of Digswell, and Ralph de St. Denis were acting for him when in 1326 they conveyed the manor of Panshanger to William de Lodewyk. (fn. 23) This William was succeeded by John de Lodewyk (see Ludwick Manor in Hatfield, Broadwater Hundred), who is given as the tenant of Blakemere in 1349 (fn. 24) and 1352. (fn. 25) Later the manor appears to have passed to Felicia de Brickendon. (fn. 26) Felicia's husband was Herman de Brickendon, and he had a son Philip (see Roxford), but whether Panshanger was held by Philip is not certain. It passed ultimately to female heirs, for in 1369 a fine was levied between Matthew Lety of Hertingfordbury and his wife Margaret, and William de Tyringham and his wife Joan, by which it was settled on Nicholas son of Joan and Alice daughter of Margaret and the heirs of their bodies, a life interest being reserved to Matthew and Margaret Lety. (fn. 27) In 1370 Matthew and Margaret received a quitclaim of a moiety of the manor from Simon Clerk and his wife Agnes, who probably had a right of dower. (fn. 28) In 1397–8 Margaret, who was then the wife of William Kilmyngton, granted her life interest in the manor of Panshanger and lands in Blakemere to Nicholas Chival, citizen and vestment maker of London, and his heirs, (fn. 29) who may have been the Nicholas son of Joan Tyringham mentioned above. The heir of Nicholas was his son Walter, who died in 1434. His heirs were his sisters Joan and Alice, the wives in 1446 of Edmund Wykes and of Thomas Walssh, then holders in their right. (fn. 30) Thomas Walssh made a feoffment of the manors of Panshanger and Blakemere to William Walssh, Roger Bere and William Canwyk of Stevenage, and in 1474 the latter conveyed them to Thomas Birch and Ellen his wife. (fn. 31) In 1492 Thomas and Ellen conveyed Panshanger Manor and lands in Blakemere to Simon Paxman and Nicholas Larwood, with warranty against themselves and the heirs of Ellen. (fn. 32) This was probably in trust for Sir William Say; for Gertrude granddaughter and heir of Sir William Say of Broxbourne, daughter of William Blount Lord Mountjoy by Elizabeth Say, and widow of Henry Courtenay Marquess of Exeter, who was beheaded in 1539, (fn. 33) was found at her attainder in the same year to have forfeited to the Crown her reversionary right after the death of William Bruer (fn. 34) to the manor of Panshanger, by which name the early holdings in Panshanger and Blakemere were at this date both known.
In 1546 the manor was granted by the king to the famous Nicholas Throckmorton, then sewer to Queen Katherine. (fn. 35) He in 1555 conveyed it as the manor, messuage or farm called Panshanger with its appurtenances to John Forster, (fn. 36) at whose death in 1558 it passed to his son Humphrey, a minor. (fn. 37) He alienated the manor in 1567 to Edward Skeggs, (fn. 38) who conveyed it in 1578 to John Matthew. (fn. 39) The latter in 1585 made conveyance of it to certain feoffees, (fn. 40) who granted it in 1587 to James Smyth. (fn. 41) He in 1588 conveyed to Humphrey Weld the manor and its appurtenances and five messuages, one dovecote, five gardens, 300 acres of arable land, 60 acres of meadow, 100 acres of pasture, 40 acres of wood and as much of furze and heath and of moor, in Panshanger, Swinhoe, Hertford St. Andrew and Hertingfordbury. (fn. 42) Humphrey was probably identical with the alderman of London of that name who was knighted in 1603 (fn. 43) and who married Mary the daughter of Sir Stephen Slaney, Lord Mayor of London in 1596. (fn. 44) He died as holder of Panshanger in 1610 and had for heir a son John, (fn. 45) who was knighted, and who, at his death in 1623, was succeeded by his son Humphrey, a minor. (fn. 46) The latter was holder in 1642, (fn. 47) but probably alienated the manor in that year or subsequently. A conveyance of it took place in 1693 from George Hitchcock and his wife Elizabeth to Sir Gervase Elwes, bart., and Sir John Elwes, kt., with warranty against the heirs of Elizabeth. (fn. 48) This was probably in trust for Sir John, (fn. 49) who may be identified with Sir John Elwes, younger brother of the baronet, who was knighted in 1665 and who was of Grove House, Fulham, where he died in 1702. His wife was Elizabeth daughter and co-heir of Sir Walter Raleigh of West Horsley. (fn. 50) In 1719 there was a conveyance of Panshanger from John Elwes to Thomas Woodford, (fn. 51) afterwards executor to the first Earl Cowper, (fn. 52) which was probably in trust for the earl or his son and heir.
The Lord Cowper in question was the distinguished Lord Chancellor who held office from 1707 to 1710 and from 1714 to 1718, and who since 1706 (fn. 53) or an earlier date had lived, when in the country, in the house which he had built at Cole Green in Hertingfordbury. This was for the remainder of the 18th century the mansion-house of Panshanger. It was sometimes the residence, while her husband was in London, of Mary Lady Cowper, second wife of the chancellor, Lady of the Bedchamber to the Princess of Wales, and author of a well-known diary. (fn. 54) Campbell states that the chancellor personally took no part in country affairs, yet there are extant certain of his instructions to his gardeners: 'The weeds in the orchard to be mowed. The little kitchen garden in the corner to be cleaned. The gooseberry and currant bushes trimmed. The fig-trees, mulberry-trees and such as seem decaying, but not desperate, watered. Stir and clean the borders. Remove trees which are to be removed.' (fn. 55) After his final retirement from office Lord Cowper spent much time at Cole Green and in this period acquired Panshanger. It seems that he did not find his rural leisure an unmixed blessing. 'It is cruelty in you to tantalize a poor countryman with the life of state and pleasure you describe,' he wrote in June 1720 to his wife, then in attendance on the Princess; 'I could be content as I am if I did not hear of such fine doings.' (fn. 56) And in a letter to her in April 1722 he says, 'The country is excessively pleasant, but I am sensible while it pleases it dulls me, and in these few days I have contracted a great degree of indolence and an aversion to all cares but the little ones of this place.' (fn. 57) He died at Cole Green in 1723. (fn. 58) His son William, the second earl, was a Lord of the Bedchamber from 1733 to 1747, became lord lieutenant and custos rotulorum for Hertfordshire in 1744, and was a Fellow of the Royal Society. He died at Cole Green in 1764 (fn. 59) and was succeeded by his son George Nassau, (fn. 60) who had been member for Hertford from 1759 to 1761. He spent much of his time in Florence, and through the influence of the Grand Duke of Tuscany was created a prince of the Holy Roman Empire by Joseph II, a title which George III empowered him to accept in 1785. (fn. 61) In his obituary notice in the Gentleman's Magazine it is stated, however, that the dignity was necessarily territorial, and that Lord Cowper was therefore correctly only prince of the Milanese in the empire. (fn. 62) He died in 1789 and was succeeded by his son George Augustus, who came of age in 1797. That event was celebrated in the traditional manner by the roasting of an ox whole at Cole Green:—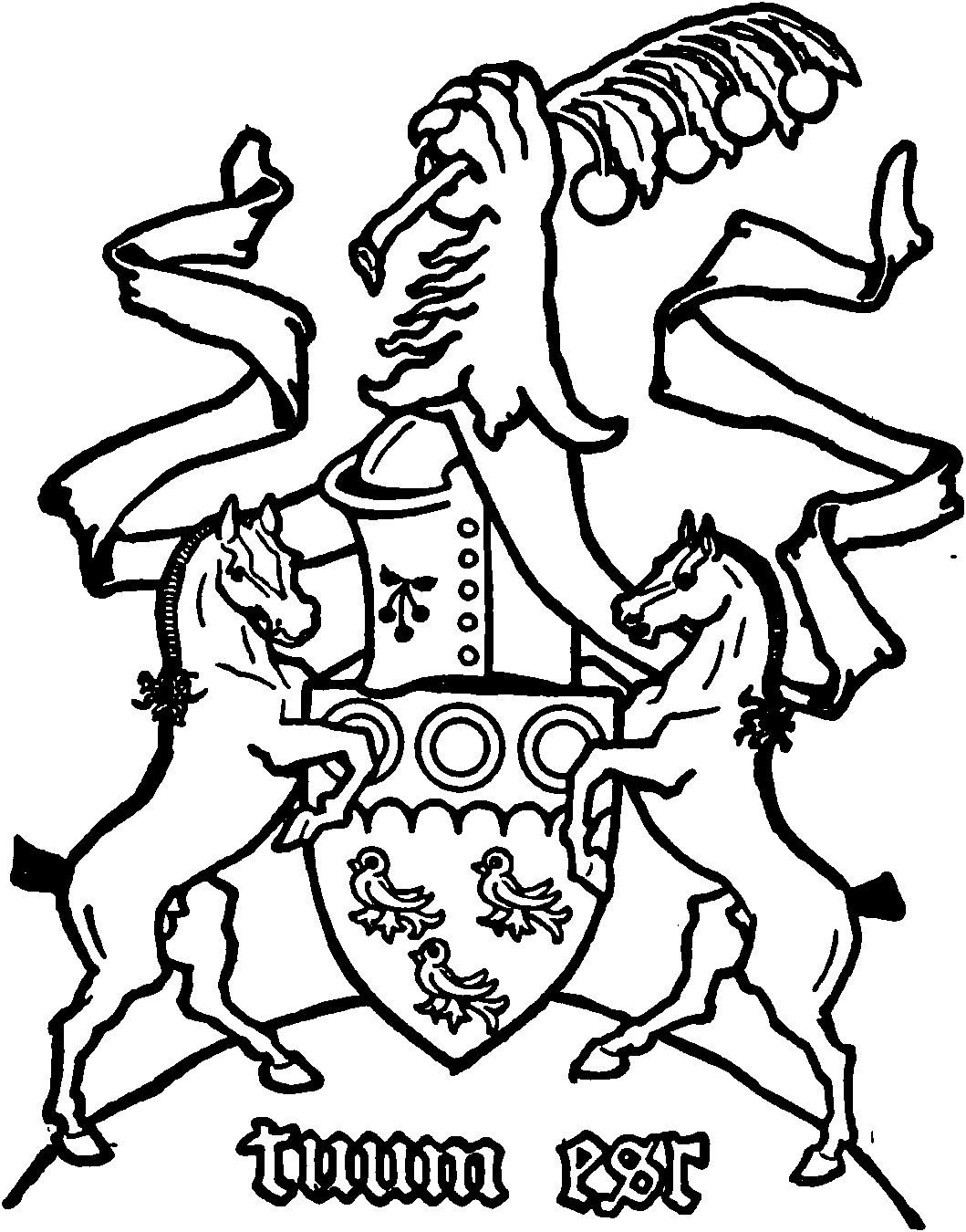 The beast was put down in a pit, fastened by an iron chain to a wooden axletree between two cart-wheels, before a large wood fire, at two in the morning, and after being turned by two men suitably habited and decorated with ribbons, who were the same that assisted at this ceremony on that day 21 years, being his lordship's birthday, was cut up and distributed, with a proportionable quantity of strong beer, to an innumerable crowd of spectators, at two in the afternoon; at which time his lordship, who had previously received the compliments of the neighbouring nobility and gentry at his steward's house on the edge of the green, was mounted on one of the beer buts, and received the homage of the multitude in nine successive cheers. . . . The whole festivity concluded with a display of fireworks from the front of the steward's house. (fn. 63)
In the following spring Lord Cowper, said to have been a young man of great promise, had a fall from his horse from which he never completely recovered. He caught cold while serving with the Hertfordshire militia, in which he was a captain, and died at Cole Green in 1799. (fn. 64) His heir was his brother Peter Leopold, (fn. 65) a student of the Middle Temple in 1794. (fn. 66) Of him Lord Campbell said: 'He had too much delicacy of sentiment to take a leading part in public life, but to the most exquisitely pleasing manner he joined a manly understanding and a playful wit. From him I received kind and encouraging notice when I was poor and obscure, and his benevolent and exhilarating smile is one of the most delightful images in my memory of pleasures to return no more.' (fn. 67)
This Lord Cowper in 1801 pulled down the house at Cole Green, and built that which is now at Panshanger, (fn. 68) and which had in 1808 recently undergone improvement and alteration. (fn. 69) He died in 1837, and had for heir a son George Augustus Frederick. In 1855 the house was considerably damaged by fire, and narrowly escaped destruction. (fn. 70) In the next year George Lord Cowper was succeeded by his son Francis Thomas de Grey, who in 1865 was envoy-extraordinary for the investiture of King Christian IX of Denmark with the order of the Garter, and from 1880 until 1882 Lord Lieutenant of Ireland. He died in 1905 at Panshanger, and left no children. The house is now the seat of his widow Katrine Cecilia Countess Cowper, who has in it a life interest. (fn. 71) It stands in a picturesque and wellwooded park, about 2½ miles due west of Hertford and 1½ miles to the north-east of Cole Green. It is a long stone and stucco building of two stories and attics, designed with battlements and angle turrets in the Gothic taste of the early years of the 19th century; a central tower of three stories projects slightly from the garden front. From the top of a slope it overlooks the park and the little River Mimram, at this point artificially enlarged into a small lake, and faces nearly south-west.
The main entrance is by a spacious porch, projecting from the north front and opening into a well-proportioned hall hung with some valuable ancient tapestries and several examples of the art of Burne-Jones. Here is a fine Italian mantelpiece of carved stone, and opposite to the entrance is the well-known bust of Clytie, by G. F. Watts. On the south-east of the entrance hall is the inner hall, whence rises the grand staircase; opening out of it is a lobby leading to the picture gallery, which occupies the south-east end of the house, and the north library. The picture gallery is a stately room, wherein are many treasures of furniture and china, together with the more important of the pictures collected by George Nassau, third Earl Cowper, during his long residence in Italy.
Next to the picture gallery, and entered from the lobby between it and the inner hall, is the library, lighted by windows on its south side, and giving beautiful views across the park. The most notable picture in this room is a grand portrait group, painted by Vandyck in 1634, of John Count of Nassau and his family; it formerly hung in the old house at Cole Green. West of this room and opening out of it is the ante-library, where are three fine Knellers, a portrait of Admiral van Tromp by Lely, and one of William Prince of Orange by Wissing. Beyond the ante-library is the drawing room, a pleasant room lighted by a great south bay window, and containing many choice examples of English, foreign and oriental porcelain. The pictures are mainly by English portraitists; among them three by Reynolds and a portrait of William Cowper the poet by Jackson are specially noteworthy.
Across a long corridor on the north side of the drawing room is the great dining room, which lies to the west of the entrance hall. This lofty room, lighted by windows in its north wall, is panelled in walnut, and has a great marble mantelpiece at either end. Here hang three portraits by Lely, two perfect Reynoldses of the Viscountess Melbourne with her son, and the children of the first Viscount Melbourne, and other notable pictures.
In the corridor stand several fine cabinets of European and oriental workmanship, and on the walls are portraits of Auverquerque and Nassau, ancestors of Henrietta Countess Cowper.
Beyond the drawing room on the south side of the house, and entered at the western end of the corridor, is the small dining room, which has on its south side a bay window similar to that in the drawing room. Its walls and ceiling are of good moulded plaster work. On the walls hang a few admirable Dutch paintings.
In the corridor leading westward from this part of the house to the late earl's study and the offices are many fine pieces of oriental china and Delft. The china cupboard near the garden entrance contains a valuable collection of dessert and dinner services, and other pieces of French, English and oriental porcelain.
The north-east corner of the house is occupied by the north library, a long room entered from the inner hall and hung with family portraits of Lambs, Cowpers and Auverquerques. An interesting portrait by Zoffani of the third Earl Cowper is to be seen outside the door in the inner hall.
On the grand staircase are a fine Tintoretto and a portrait of Queen Mary by an unknown hand. The Queen's Room, entered from the landing at the head of the stairs, with its dressing room next door, is furnished with a remarkable suite of rosewood inlaid with ivory. Next to it is the Japanese room, with wonderful hangings of embroidered silk, and westward of this is the Indian room, with blue silk hangings and furniture of ebony and ivory.
Hard by the house is the famous Panshanger oak, a tree of noble growth, though now somewhat past its prime. Many other oaks of grand proportions are standing at the Cole Green end of the park.
Sele
The manor of SELE (Sela, xi cent.; Sella, xiii cent.) was held in 1086, like Blakemere, of Geoffrey de Bech, and the overlordship passed with that of Blakemere. (fn. 72) The mesne tenant in the reign of Edward the Confessor and in 1086 was a certain Godwin, and he held half a hide. It contained land for one plough, which was there, and meadow enough for one plough team. There were two serfs, wood sufficient for the fences, and pasture for the live stock. The annual value in 1086 and before the Conquest was 10s. The tenant was able to sell. One-eighth of a fee was held in 1282 of Baldwin Wake by a certain tenant of the name of Sele, probably Hugh de la Sele, who in 1287 acknowledged that he had stopped up the way leading to Hertford, to the annoyance of the free tenants and of Peter, parson of St. Andrew's Church. (fn. 73) Rather later Sele seems to have come to the Peletots, for Eudo de Peletot was holding part of a fee in Blakemere of Joan Wake in 1303, (fn. 74) and in 1347 his son Philip Peletot (see Watton Woodhall) conveyed the manor to Ralph Boteler and his wife Katherine, Philip's daughter, with remainder to William and Thomas, the sons of Philip. (fn. 75) It descended in the line of the Botelers of Watton Woodhall, (fn. 76) and passed with that manor until it was bought in 1791, on the death of Sir Thomas Rumbold, by the second Marquess of Downshire. He in 1801 sold it to Peter Leopold Earl Cowper. (fn. 77)
There was in 1086 a mill in Sele, presumably a water-mill on the River Beane, which was of the annual value of 2s. (fn. 78) In the time of Henry VIII there was a paper-mill at Hertford, which belonged to John Tate, whose father was mayor of London. This is said to have been the first papermill in England, and to have been situated on Sele Manor. As late as 1785 a meadow in Sele and beside the Beane was known as Paper Mill Mead. A mill was erected on it in 1700, and was noted as the first in which the fine flour called Hertfordshire White was made. (fn. 79)
The church of St. Andrew is dealt with under the borough of Hertford.