Pages 379-383
A History of the County of Huntingdon: Volume 2. Originally published by Victoria County History, London, 1932.
This free content was digitised by double rekeying. All rights reserved.
YELLING
Gillinge, Gellinge, Ghellinge (xi cent.); Gillinges, Gylling (xii–xv cent.); Illyng (xvi cent.).
This small parish borders on Cambridgeshire on all sides but the west. It covers an area of 1,848 acres of heavy clay land producing cereals and beans. The land rises gently from about 100 ft. above ordnance datum in the north to about 200 ft. in the south of the parish. The population in 1921 was 225 persons.
The village lies in the north of the parish on a road branching westward from the main road from Potton to St. Ives. This branch road crosses a stream in the middle of the village by a bridge which underwent repairs in 1545–6. (fn. 1) The church is on the north side of the road towards the east end of the village. Opposite to it is Church Farm, (fn. 2) a 17th-century square building of brick with brick pilasters and a slate roof. It has been much altered in modern times and the only original wooden mullioned window is on the ground floor of the east front. Some original internal fittings still remain. A 17th-century barn belongs to the house, and the stables are of the same date but have been considerably altered later. A little to the east on the north side of the village street is Friends Farm and eastward again on the south side is Top Farm, a 17th-century timber-framed house with overhanging story on the west front. A great part of the house was recently destroyed by fire. West of the church on the south side of the road is the school, built in 1868, and the rectory on the north. At the Manor Farm, a little to the west, the road forks, the main road going to Toseland, having the Baptist chapel, built in 1850, and a windmill, mentioned in 1307, a little way along it and a road going north-west, which becomes a field path, to Graveley (co. Camb.). There are several 17th-century houses and cottages scattered about the village.
Among interesting personalities connected with the parish must be mentioned the Rev. Henry Venn (1725–97), one of the prominent leaders of the Evangelical revival in the Church of England, who accepted this small living in 1770 when completely broken down by his strenuous labours in various curacies. The friend of the Thorntons, he died at Clapham, where his son was rector. Jane, the second daughter of his son John, was mother of Sir Fitzjames Stephen and Sir Leslie Stephen.
MANORS
The manor later known as GREYS MANOR can be traced back to the gift of Hardecnut and his mother Ælfgiva or Emma to Ramsey Abbey of Hemingford Grey and 5 hides at Yelling. Both were leased by the abbey in 1041–2 to Wlfwin son of Alfwin for life. (fn. 3) Apparently after the death of Wlfwin the lands were granted for life to Aluric the sheriff who was killed at the Battle of Hastings, when instead of reverting to Ramsey Abbey they were seized by William the Conqueror and given to Aubrey de Vere or were seized by Aubrey himself. In 1086 Aubrey de Vere was holding 5 hides in Yelling, where there was a church and a priest. (fn. 4) His grandson Aubrey de Vere was created Earl of Oxford by the Empress Maud and the title confirmed to him by Henry II in 1155, from which date until the forfeiture of John de Vere twelfth Earl of Oxford in 1461 the overlordship passed with the title. Later, possibly by some confusion, it became attached in the 16th century to the Honour of Huntingdon. (fn. 5) The tenant in demesne in 1086 was Ralf son of Osmund, who also held Hemingford Grey (q.v.), with which manor Yelling passed until the beginning of the 14th century. In 1312 it was settled on John second Lord Grey of Wilton for life with remainder to Roger de Grey his younger son and the heirs of his body. To this settlement Henry, John's eldest son, put in a claim. (fn. 6) On the partition of John's lands after his death in 1323 Hemingford Grey went to Roger the younger son, later Lord Grey of Ruthyn, and Yelling was assigned in 1328 to Henry third Lord Grey of Wilton, who at his death in 1342 was seised of the manor. (fn. 7) This partition led to disputes between the two brothers and an appeal was made to a settlement of 1256 on their grandfather Reginald. (fn. 8) The extent taken after the death of Henry specifies a chief messuage and garden. The windmill (referred to also in 1307) (fn. 9) was in 1342 in a bad state. (fn. 10) Henry was succeeded by his son Reginald and Yelling seems to have continued in the possession of the elder branch, the lords Grey of Wilton. Henry fifth Lord Grey of Wilton, after settling 'Greyesmaner' in Yelling on his wife Elizabeth and their heirs, died in 1396, (fn. 11) leaving as his heir a son Richard, aged 3 years. Elizabeth, his widow, held the manor in dower and died in 1402. (fn. 12) Richard Lord Grey of Wilton settled the manor on his second wife Margaret Ferrers and died in 1442. (fn. 13) His son Reginald, with his wife Tacine, conveyed the manor of Yelling in 1447 to Sir Thomas Grey, kt., and his wife Margaret, for the life of Margaret. (fn. 14) In 1494 Reginald was succeeded by his son John Lord Grey of Wilton, who married as his second wife Elizabeth, widow of Sir Thomas Cokesey, and died in 1499. (fn. 15) Elizabeth died in 1515, when as Elizabeth Cokesey, wife of Sir Thomas Cokesey, kt., late wife of John Grey of Wilton, kt., and afterwards wife of Edward Stanley Lord Monteagle, she was seised of divers lands and tenements in Yelling with reversion to her stepson, Edmund Lord Grey of Wilton. (fn. 16) Edmund with his wife Florence had conveyed the manor in 1507 to Sir Robert Throckmorton, kt., Sir John St. John, kt., and others. (fn. 17) The manor was in 1528 in the hands of Sir George Throckmorton, kt., son and heir of Sir Robert (d. 1520), (fn. 18) who according to 'a remembrance for Mr. Cromwell to shew to my lord Cardinal's grace' was ready to exchange it for land of equal value in Warwickshire. (fn. 19) In the following year it was conveyed, with manors of Toseland, Hemingford and Paxton, by Sir George to Edward Peke and others, (fn. 20) and from them Greys Manor passed to John Gostwicke of London in the same year. (fn. 21) It was immediately sold by John Gostwicke to Sir Richard Gresham, kt., (fn. 22) and by Sir Richard in 1535 to Sir Richard Williams alias Cromwell, kt. (fn. 23) It was conveyed in 1540 by Sir Richard Williams alias Cromwell and his wife Frances to Sir Walter Luke, kt., Justice of the King's Bench, (fn. 24) who died seised of rents in Yelling in 1544, (fn. 25) leaving as his heir a son Nicholas, Baron of the Exchequer (fn. 26) (d. 1563). John, his son, died in 1566, (fn. 27) leaving as his heir his son, another Nicholas, (fn. 28) but Greys Manorpassed under his father's will to John his second son. (fn. 29) In 1634 Sir John Luke, kt., of Flamstead (co. Herts.), (fn. 30) and Henry Garton conveyed the manor of Yelling Greys, the inheritance of Sir John Luke, to Dame Dorothy Constable, widow, of Eyworth (co. Bed.), and to Edmund Anderson, also of Eyworth, and his wife Alice, (fn. 31) daughter and sole heir of Sir John Constable, kt. (fn. 32) By these ladies it was three years later sold to Sir Charles Adelmare alias Caesar, kt., a Master in Chancery, (fn. 33) who died in 1642 seised of both Yelling manors. (fn. 34) His son and heir Julius died in 1642 of the smallpox that had carried off his father six days earlier, his heir being his brother Henry. (fn. 35) Charles succeeded his father Henry and died in 1694. His son Charles Caesar settled the manors in the following year, (fn. 36) when they must have passed to Robert Piggott, who settled them on 15 May 1695 on his marriage with Frances Ward and made his will in 1724. His son Robert settled the manors on his marriage with Anne Peers in 1733. He was succeeded by a third Robert Piggott, who died in 1770, and either he or his son, a fourth Robert, settled the manors of Yelling, Toseland and Papworth St. Agnes in that year. (fn. 37) Shortly after this date the manor must have been conveyed to Jonathan Burnham, who with his wife Hannah sold it in 1786 to Edward Leeds, (fn. 38) who died in 1803 and was succeeded by Joseph Leeds. (fn. 39) In 1809 it was held by George William Leeds, of Croxton Park (co. Camb.), who was created a baronet in 1812. (fn. 40) In 1814 Sir George and his wife Maria were dealing with the manor, (fn. 41) of which Sir George was returned as lord at the Inclosure Act of 1819. (fn. 42) It was subsequently held with Croxton Park by George Onslow Newton, having presumably been purchased with Croxton in 1825 by Samuel Newton, his grandfather, whose eldest son George died in 1837 in his father's lifetime. Sir George Douglas Cochrane Newton, K.B.E., son of George Onslow Newton (d. 1900), is now lord. (fn. 43)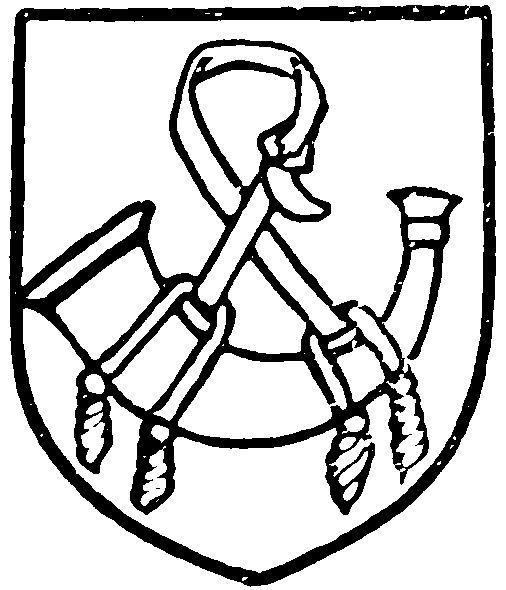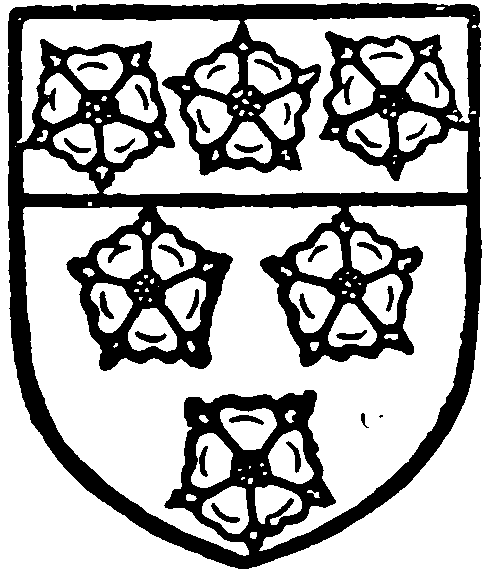 The abbey of Ramsey held 5 hides in Yelling by the gift of Liviwa, the widow, which was confirmed by King Edgar (959–975) and Edward the Confessor (1042–1066). (fn. 44) In 1086 the abbot was holding these 5 hides, (fn. 45) which became the manor of BUTLERS or ASHFIELDS, and continued to claim overlordship over them. The abbot claimed the service of a knight's fee, but the tenant only admitted the service of half a knight. (fn. 46) The overlordship of the abbot seems to have lapsed and before the Dissolution the manor is returned as being held in chief of the crown. (fn. 47)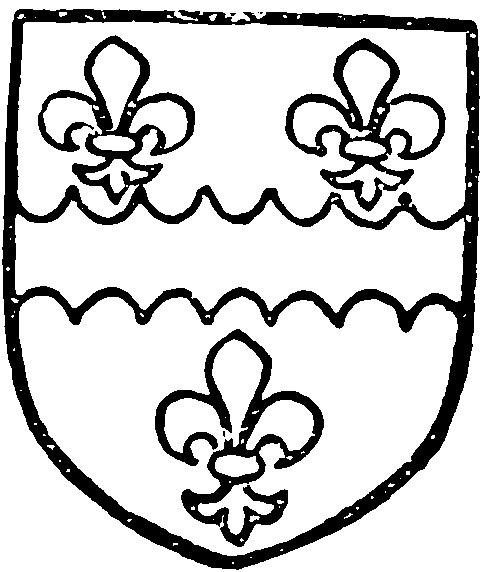 The subtenant in the Domesday Survey (1086) was Suin, who was succeeded by the family of Yelling which apparently had the alternative name of le Botiler (Butyler, Butler). Harold de Yelling was holding in 1166 (fn. 48) and in 1235 Theobald de Yelling was holding half a knight's fee which was claimed by John de Kent. (fn. 49) Roger le Botiler and Margaret his wife dealt with the manor in 1275 (fn. 50) and Roger owed military service for it in 1293–4. (fn. 51) Richard le Butler, possibly his son, was returned in 1316 as holding Yelling with John de Grey. (fn. 52) Roger and John, sons of William de Yelling and Margaret, late the wife of William de Yelling, suitors in 1327–8, (fn. 53) were possibly members of the Butler family, John being perhaps identical with the John Butler of Yelling in whose place a coroner for the county was elected in 1344, owing to his being insufficiently qualified. (fn. 54) In 1385 Robert Butler of Yelling appears as a collector of fifteenths in Huntingdonshire, (fn. 55) and in 1408 John Butler of Yelling was a feoffee for Sir William de Papworth, kt. (fn. 56) By 1506 the manor had passed to the Ashfield family, and was bequeathed by Florence Ashfield, widow, who died in that year, to her grandson George, son of her son John. (fn. 57) At his death in 1517 George was succeeded in the manor by his son and heir, Robert, (fn. 58) who, as Robert Ashfield of Stowelangtoft, co. Suffolk, sold it in 1545 as the manor of Ashfields in Yelling to Nicholas Luke, Baron of the Exchequer, for £180. (fn. 59) From Nicholas Luke it passed to his son John of Woodend (co. Beds.), who was holding it with Yelling Greys at his death in 1566, (fn. 60) when Greys Manor passed to his second son, John, and Butlers or Ashfields to his eldest son, Nicholas. Nicholas Luke died seised of Ashfields Manor in 1613, leaving a son and heir Sir Oliver Luke, (fn. 61) who before his death (fn. 62) had with his wife Maud conveyed Butlers in 1623 to Henry Adelmare or Caesar, S.T.P., Dean of Ely. (fn. 63) Next year the dean settled Butlers on his nephew, Sir Charles Adelmare alias Caesar, kt., son of his brother Julius, the Privy Councillor, and died in 1636, (fn. 64) his nephew and heir, Sir Charles, then becoming owner of both manors, which henceforward descended together. (fn. 65)
Theobald, son of Henry, in 1218 conveyed to Ralph, abbot of Sawtrey, a hide in Yelling (fn. 66) which had evidently been the property of Henry de Lek. Henry's widow Katherine, then remarried to Gerard de Cassell, in the same year levied with Theobald de Lek a fine of a third of 4 virgates of land and a windmill in Yelling claimed by Gerard and Katherine of the abbot of Sawtrey as appurtenant to her dower, in the free tenement of her former husband Henry de Lek, and also other property. (fn. 67) The abbot of Ramsey, in 1232, granted 2 acres in Yelling to John de Lek. (fn. 68) In 1242–3 the abbot of Sawtrey conveyed to John de Kent, Nicholas Meuerel, and Robert de Lockesle, 4 virgates of land in Yelling, (fn. 69) to which Ramsey put in a claim. Nicholas Meuerel and John de Kent were probably dealing with this property when in 1247–8 they conveyed a third of 200 acres to Thomas de Lockel. (fn. 70) The abbey of Sawtrey was returned in 1291 as owning £4 0s. 9d. in Yelling in lands, rents, meadows, and mill, (fn. 71) and had rents worth 72s. in Yelling at the Dissolution, (fn. 72) with 9s. 2d. from the courts of the lordship.
When Sawtrey was granted after the Dissolution in 1537 to Sir Richard Williams alias Cromwell, the grant included lands in Yelling, (fn. 73) which appeared in 1554–5 in the hands of William Dorceter (Docetour or Dossyter) at his death. (fn. 74) He was evidently succeeded by another William Dorceter, who in 1568–9 with his wife Alice conveyed messuages and lands in Yelling, Paxton Magna and Papworth Agnes to William and Henry Lawrence. (fn. 75) William Lawrence of St. Ives (q.v.) in 1570 settled a chief messuage in Yelling on his son Henry's marriage with Elizabeth Hagar or Huggar of Bourn (co. Camb.) and died in 1572. Henry his son and heir died in 1581 and was succeeded by his son John. (fn. 76) Henry's widow married Gilbert Pickering, who surrendered his interest to Sir John Lawrence, his stepson, in 1601. (fn. 77)
In 1285–6 the prior of the Hospital of St. John of Jerusalem claimed view of frankpledge from 3 tenants in the vill of Yelling. (fn. 78)
CHURCH
The Church of the HOLY CROSS consists of a chancel (30 ft. by 16¾ ft.), nave (35¼ ft. by 18 ft.), north aisle (8 ft. wide), south aisle (13¼ ft. wide), west tower (11¼ ft. by 11¼ ft.) and south porch. The walls are of rubble with stone and clunch dressings and the roofs are covered with slates and lead. The church is mentioned in the Domesday Survey (1086), but the oldest part extant is the north arcade of the nave, c. 1180–90, which probably indicates the addition of a north aisle to an already existing nave, and late in the 13th century a south aisle was added. A little later the chancel was rebuilt and doubtless enlarged. The end of the 14th century saw considerable alterations; the clearstory was added to the nave, the tower and south porch built, and the walls of the chancel altered and raised. The church was restored in 1730, (fn. 79) the north aisle was rebuilt in 1868–9, and the south aisle and porch in 1889.
The chancel, mainly of late 14th century date, has a five-light east window, much restored; and in the north wall two two-lights and a small doorway. The south wall has two similar windows, the inner sill of the easternmost being arranged to form two graded seats; and also a 13th-century piscina with two drains, one quatrefoiled and one octofoiled. The chancel arch, of the extreme end of the 13th century, is of two chamfered orders resting on responds of three grouped shafts with moulded capitals and bases; the arch appears to have been widened. The roof is modern.
The nave has a north arcade, c. 1180–90, of three bays having pointed arches of one square order resting on circular columns with scalloped caps, and square responds with chamfered imposts. The south arcade of late 13th century date is also of three bays, with pointed arches of two chamfered orders resting on octagonal columns with moulded capitals and bases. The late 14th-century clearstory has three square-headed two-light windows, much modernised on each side. The roof is modern.
The modern north aisle has a two-light east window, one single-light window, one two-light window and a plain doorway in the north wall; and a two-light window in the west wall. In the south wall, eastward of the arcade, is an early 14th-century trefoiled piscina with two drains, one circular and one sexfoiled. There is a plain chamfered bracket in the north-east angle of the aisle. (fn. 80)
The late 13th-century south aisle has a two-light east window; the south wall has two two-lights, a doorway of two chamfered orders, a piscina with quatrefoiled drain, and a plain rectangular locker; the west wall has a two-light window. In the south wall is an arched recess under which is a late 13thcentury coped stone with foliated cross rising from a calvary of three steps, and its head inclosed in a circle.
The late 14th-century west tower has a pointed tower-arch of three orders. There is no west doorway, but a three-light window mainly modern, and in the stage above is a narrow square-headed light. The belfry windows are of two lights. The tower is finished with an embattled parapet; formerly there was a tall octagonal spire, removed during the first half of the 19th century. (fn. 81)
The late 14th-century south porch has a pointed outer archway of two orders resting on moulded jambs; and a small single-light in each side wall.
The 13th-century font has a square bowl with splayed angles on an octagonal stem with moulded base.
There are four bells inscribed: (1) 'Christopher Graye made me. 1666.' (2) ditto. (3) 'Joseph Eayre, St. Neots, fecit. 1770. Thomas Rayston, Churchwarden.' (4) 'I: Eayre, St. Neots, Founder. Omnia fiant ad gloriam Dei. John Godhard, Churchwarden. 1739.'
There are the following monuments: in the chancel, to the Rev. John Pennington, Rector, and Prebendary of Lincoln, d. 1768, and Elizabeth his wife, d. 1791; and floor slab to Lawrence Wood, d. 1732–3; in the north aisle, window to the Rev. Philip Nevil Joddrell, Rector, d. 1850; and another to Sarah his widow, d. 1870; in south aisle, War Memorial 1914–18.
The registers are as follows: (i) Baptisms, marriages and burials, 11 July 1583 to 10 May 1713; (ii) ditto, 15 July 1717 to 28 Feb. 1742–3; (iii) ditto, 10 Oct. 1742 to 27 Dec. 1799; marriages end 24 Feb. 1754; (iv) baptisms and burials, 8 Jan. 1800 to 4 Oct. 1812; (v) the official marriage book, 16 June 1754 to 13 Oct. 1812; the usual modern books.
The church plate consists of: A silver chalice engraved 'Calicem salutaris accipiam et nomen Domini invocabo,' hall-marked at Birmingham, for 1860–61; a silver paten similarly hall-marked; a plated paten and plated flagon; two pewter plates inscribed on back 'Yelling, 1794.'
ADVOWSON
There were a church and a priest on the 5 hides entered as held in chief by Aubrey de Vere in the Domesday Survey, (fn. 82) which later took the name of Greys Manor. The advowson was at an early date granted to the priory of Merton (in Surrey), though no mention of this occurs in its charter of confirmation of 1121. The priory, which owned lands in the county, had a prior Ralph de Yelling in 1222. (fn. 83) It presented in 1226 (fn. 84) and until the dissolution of the monastery in 1538. (fn. 85) From this date the advowson has been the property of the crown. (fn. 86)
At the Dissolution the profits from the rectory, then leased to Anthony Malory, were £20, the pension of the prior of Merton £4, and that of the prior of Huntingdon £1. (fn. 87)
CHARITY
Town Land.
This charity consists of an allotment of about 13 acres of land awarded on an inclosure in lieu of certain lands formerly called the Town Land and the Town Close. The land is now let in allotments to various tenants and the rent amounting to about £13 per annum is carried to the churchwardens' account. Under the provisions of a scheme of the Charity Commissioners dated 30 July 1918 trustees were appointed consisting of the archdeacon and the rector and churchwardens (ex-officio trustees) and two co-optative trustees.