Pages 376-379
A History of the County of Huntingdon: Volume 2. Originally published by Victoria County History, London, 1932.
This free content was digitised by double rekeying. All rights reserved.
WARESLEY
Wedreslei (xi cent.), Wereslai, Werisleg (xii and xiii cents.), Werisley (xvi cent.).
The parish of Waresley contains 2,031 acres. (fn. 1) It is well wooded, the chief woods being Waresley Wood, Weavely Wood and Sand Wood. There is a deer park in Waresley Park, which is to the west of the village. The subsoil is Ampthill clay and lower green-sand, (fn. 2) and the soil a fertile clay growing chiefly cereals. The village lies on the main road from Biggleswade to St. Ives, two and a half miles from Gamlingay station on the London Midland and Scottish Railway. A skeleton with a small "Roman" jug in its hand was found in 1740 near Balls Bridge over Gransden Brook. (fn. 3) Parts of a homestead moat exist at Vicarage Farm. (fn. 4)
The parish was inclosed under a private Act of Parliament in 1808. (fn. 5)
Two vicars of Waresley deserve mention: John Pocklington, D.D., afterwards canon of Peterborough and of St. George's Chapel, Windsor, was the author of two works, 'Sunday no Sabbath' and 'Altare Christianum,' which brought him notoriety. He was charged with ritualistic practices and condemned in February 1640–1, by the House of Lords, to be deprived of his benefices. His books were to be publicly burnt. He died in 1642. (fn. 6) His successor, Gawen Nash (1605–58), was presented to the vicarage in 1642. He was ejected in 1646 and suffered imprisonment. (fn. 7)
MANORS
EARL'S MANOR in Waresley may be identified with the manor held in the reign of Edward the Confessor by Robert son of Wimarc. (fn. 8) In 1086 it had passed to the possession of Swain of Essex, (fn. 9) and subsequently was held by his successors the Mandevilles and Bohuns. (fn. 10) His under-tenant was named Turold and may be identified with Turold, the father of Robert Waste, (fn. 11) both of whom made grants in Waresley to the Priory of St. Neots. (fn. 12) Robert was succeeded by William de Rouen, grandson of Turold, and Gilbert, another descendant of Turold, (fn. 13) but before 1220 the manor seems to have escheated to Henry de Bohun, who married Maud, the heiress of William de Mandeville, Earl of Essex. (fn. 14) He and his descendants held it in demesne by military service. (fn. 15) In 1303 a sub-tenant named Thomas de la Sale appears, but he probably was only a tenant for life. (fn. 16) On the death of the last Earl of Hereford and Essex in 1372 his heirs were his two daughters, (fn. 17) who held the manor in 1389, (fn. 18) but before 1428 it came into the possession of William Druell or Drewell. (fn. 19) Druell in 1423 also bought Gaynes Manor (q.v.) and the two manors remained in the same ownership from that time. William Druell, probably his son, granted Earl's Manor to the use of his mother Joan Druell, alias Burne, for life. (fn. 20) She died seised of it in 1495, and it passed to her grandson, John Druell. (fn. 21) He died the same year and his heir was his brother Richard. (fn. 22) The latter settled it on his wife Grace for life. (fn. 23) On her death in 1510 it passed to their two daughters, (fn. 24) but the younger, Joan, died unmarried and the whole manor came to her sister Anne, wife of Thomas Peryent. (fn. 25) Anne died in 1546 (fn. 26) and left four daughters and heirs, and the Waresley manors came into the possession of one of them, Dorothy, wife of George Burgoyne. (fn. 27) In 1572 they sold it to Thomas Marsh, (fn. 28) whose grandson, another Thomas Marsh, sold it in 1635 to Sir John Hewett, bart. (fn. 29) The latter's lands were sequestrated under the Commonwealth, but he compounded for them for £3,000. (fn. 30) On the death of his grandson, another Sir John Hewett, the manor of Waresley passed to his daughter Anne, wife of John Hagar. (fn. 31) Their son John Hewett Hagar (fn. 32) sold it in 1765 to John March, (fn. 33) who assigned it, after 1788, to William Needham. (fn. 34) The latter left it, by will dated 1804, to the Hon. Francis Needham, (fn. 35) afterwards first Earl of Kilmorey. In 1807 Needham apparently settled it. Lord Kilmorey was still holding in 1808, (fn. 36) but it was sold by the Needham trustees in 1833. (fn. 37) It was afterwards bought by Charles Duncombe, 1st Baron Feversham. (fn. 38) He was succeeded at Waresley by his younger son, the Hon. Octavius Duncombe, M.P., on whose death in 1879 it passed to his son Col. Walter Duncombe. (fn. 39) In 1917 it came into the possession of the latter's sister, Miss E. C.Duncombe, and the Earl of Feversham is now the owner.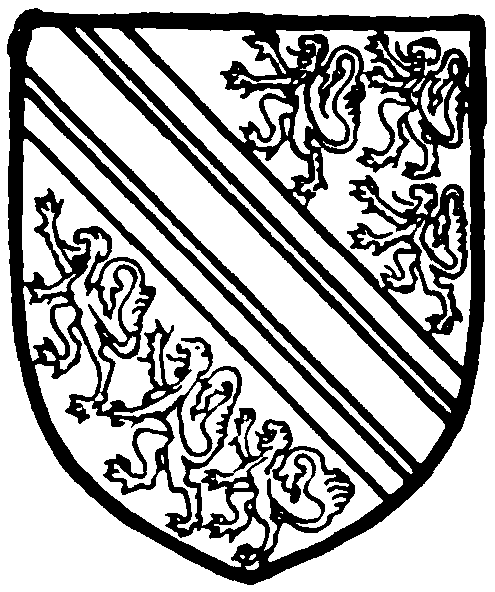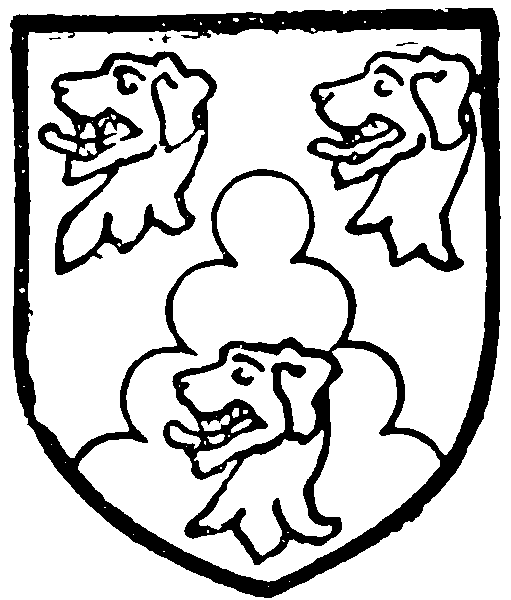 GAYNES or ENGEYNES MANOR was held in the reign of Edward the Confessor by two men named Magne and Lene. (fn. 40) In 1086 it had been granted to William son of Ansculf, (fn. 41) and the overlordship was held by the Paganells and de Somerys till the death of John de Somery in 1322. (fn. 42) On the partition of his lands between his sisters it was assigned to Joan, widow of Thomas Botetourt, (fn. 43) when this overlordship seems to have ceased. There seems, however, to have been another mesne lordship in the elder branch of the Engaine family (see Great Staughton), which appears in 1303 when Richard Engaine held half a fee in Waresley of John Engaine. John died in 1322 seised of the manor and advowson of Waresley held in dower by his widow Helen. He was succeeded by his nephew John son of his brother Nicholas, (fn. 44) who with his wife Joan settled the manor and advowson in 1339. (fn. 45) On the death of Thomas son of John in 1367 his estates were partitioned among his three sisters and coheirs, (fn. 46) but this overlordship then appears to have lapsed.
In 1086 the sub-tenant was Ralph, brother of Ilger, (fn. 47) probably the ancestor of the family of Engaine, a younger branch of which held the manor of the elder branch as of the honour of Beauchamp and gave its name to it. Richard Engaine of Great Staughton (q.v.) gave the manor and advowson to Robert Engaine (fn. 48) (living 1199, 1206 (fn. 49) ), said to be his younger son. Before 1224 Robert was succeeded by his son William. (fn. 50) It was probably this William who was holding in 1239 and 1243, (fn. 51) but in 1249 Robert his son presented to the church. (fn. 52) Robert died before 1271, leaving a son under age whose wardship was in dispute between Ida de Beauchamp, late the wife of Ralph de Somery, and Henry Engaine. (fn. 53) This son was probably William Engaine who was the tenant in 1272 and 1291, (fn. 54) and in 1301 and 1303 Richard Engaine held of John Engaine (fn. 55) as mentioned above. In 1316 the manor had passed to Petronilla Engaine (fn. 56) who was succeeded between 1322 and 1330 by John Engaine (fn. 57) who presented to the church in 1341 and 1349. (fn. 58) He or his successor of the same name held the manor in 1351, (fn. 59) when the reversion was settled on William Engaine, son of John, and his wife Alice and their heirs. In 1423 Thomas Engaine and his wife Margaret sold it to William Druell or Drewell, (fn. 60) who also obtained possession of Earl's Manor (q.v.). Joan Druell, alias Burne, in 1489 settled it, excepting Gayne's Wood, on her daughter-in-law, Mary, the widow of John Druell, (fn. 61) but after Mary's death, between 1510 and 1528, (fn. 62) the two manors followed the same descent.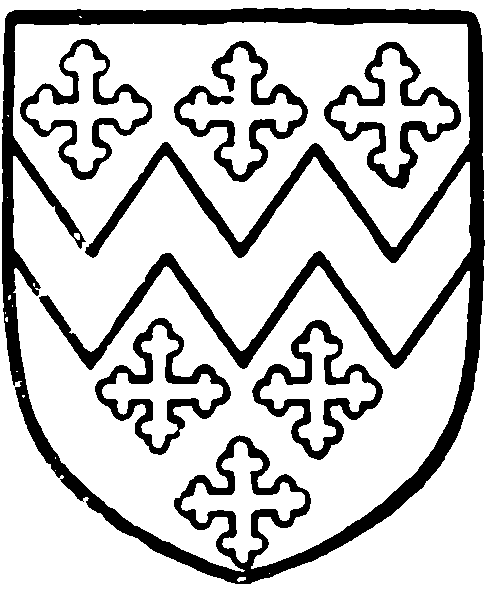 A small holding of half a hide was in the hands of Summerled in the reign of Edward the Confessor. (fn. 63) In 1086 it formed part of the fee of Eustace the Sheriff and was held of him by an under-tenant named Roger. (fn. 64) Its latter history does not appear.
No licence to impark appears to have been granted to the tenants of either manor in Waresley. Underwood to the extent of 21 acres is mentioned in Domesday Book (fn. 65) and the damage done to the woods of both manors by the afforestation carried out by Henry III is mentioned in 1300. (fn. 66) In 1206 Robert Engaine obtained a grant from his tenant Reinfrid de Brueria of the latter's land called Reddich in Waresley, in order that he might enclose it, (fn. 67) but the Park is not apparently mentioned till 1698–9. (fn. 68) The rights of free warren, a sheep-walk, and free foldage are mentioned in 1724. (fn. 69)
In 1279 John de Bohun, Earl of Hereford, held a view of frankpledge in Waresley. (fn. 70) Presumably the lords of Earl's Manor held it, but it is not mentioned in the conveyances of the manor until 1724. (fn. 71)
CHURCH
The ancient church which appears to have been dedicated to ST. ANDREW, but later was generally spoken of as St. James the Great, stood at the east end of the village. (fn. 72) It was destroyed by a storm in 1724, and in 1728 was rebuilt 'in humble imitation of the Chapel at Pembroke College; it had only one small bell, without a wheel.' (fn. 73)
This church was pulled down and a new church built on another site in 1856, but the ancient churchyard is still used as a burial ground. In the churchyard is a modern stone cross, inscribed:—
The Church of St. James the Great which was destroyed by a tempest A.D. 1724, and rebuilt A.D. 1728, was replaced by a new Church erected in the centre of the village, A.D. 1856.
This brass marks its former site.
At the foot of the cross lies a loose stone, now broken, inscribed as below in impossible Latin:—
E Idus Sept. A.D. MDCCXXIV
Tempìm D. Jacobi Waresliensis
Horribili Tempestatis us Euer Sum:
Uotiuis piorum Hominum Donis
Procurante Ejusdem Uicario Xtophoro Selbyam,
Ædinio Tho. Paine Iñstauratum
Revdo admodum in [Chris]to Patre Ricardo
Lincoln Episcopo Sacro obeunte munia
Deo O. M. Dicatum est
A.D. MDCCXXVIII
Letatus sum in his quae dicta sunt mihi
In Domum M O M N I Ibimus.
The present church of ST. JAMES consists of a chancel with vestry and organ chamber on the north, nave with north aisle and a large mortuary chapel on the south, and a tower and spire at the west end of the north aisle. The walls are of stone and the roof is covered with slate; the spire being of timber covered with oak shingles.
There are three bells inscribed: (1) Taylor Founder Loboro 1857, (2) Taylor Founder Loboro A.D. 1857, (3) Taylor Founder Loboro late of St. Neots 1857.
There are monuments: in the nave to Edward G. Duncombe, d. 1851, Henry C. Duncombe, d. 1903, Blanche E. C. Duncombe, d. 1917, and Walter H. O. Duncombe, d. 1917; and Lady E. Caroline Duncombe, d. 1911.
In the north aisle to Thomas Marshe, d. 1624; Elizabeth (Kimpton), wife of Thomas Marshe, d. 1632; Philladelphia (Johnson), wife of John Byng, d. 1685; William Needham, d. 1806; Ann, wife of General Needham, d. 1816; Francis Needham Offley, killed at the battle of Salamanca, 1812; the Rev. Thomas Jackson, Vicar, d. 1815; and two others; in the vestry, to the Rev. Christopher Wilson, Vicar, d. 1848.
The registers are as follows: (i) Baptisms, 19 Nov. 1647–18 Oct. 1781; marriages, 28 March 1664–30 Sept. 1750; burials, 20 March 1663–23 Dec. 1781; (ii) baptisms and burials, 19 July 1782–25 Dec. 1812; (iii) marriages, 10 June 1754–30 Nov. 1812.
The church plate consists of: A silver cup inscribed '✠ Waresley Church, Anno Dni. 1857' and hall-marked for 1856–7; a silver paten similarly inscribed and with the same hall-mark; a silver flagon engraved 'Glory be to God on high,' and inscribed similarly to the others, but hall-marked for 1857–8; a large pewter flagon unmarked.
ADVOWSON
The church and priest of Waresley are mentioned in Domesday Book (1086) and were attached to the land of William son of Ansculf. (fn. 74) The advowson was held by the tenants in demesne of Gaynes manor till 1351. (fn. 75) Turold, the Domesday tenant of Earl's manor, however, granted the tithes of his land in Waresley to the Priory of St. Neots, (fn. 76) and this presumably led to a claim to the advowson being made by Prior Geoffrey, but the prior relinquished his claim in 1199 to Robert Engaine. (fn. 77) In 1351 John Engaine alienated the advowson to Mary, Countess of Pembroke, (fn. 78) who in the following year obtained a licence to grant it in mortmain to Valence Marie Hall, now Pembroke College, Cambridge, and for the Warden and scholars to impropriate the church. (fn. 79) The College is still the owner of the advowson of the vicarage. (fn. 80)
There does not appear to have been a rectorial manor, but the rent payable from certain obit lands in 1550 to Edward Butler may have been payable to him as lessee of the rectory. (fn. 81) Shortly after this a manor of Waresley is mentioned, which is probably a wrong description of the rectory. George Butler and his wife Dorothy sold it in 1595 to Richard Buckland, (fn. 82) who two years later sold it to John and Christopher Whysson. (fn. 83) The impropriation seems to have been held under long leases from the College so that it was bought and sold. The lessee about 1660 was William Brittain, who sold it to Sir John Hewett and his brother Robert. (fn. 84) In 1689 the third Sir John Hewett was lessee of the impropriation. (fn. 85)
In 1309 Robert de Meleford, clerk, and William of Waresley, clerk, founded the chantry of the BLESSED MARY for celebrating divine service daily in the church of Waresley. They endowed it with a messuage and 23 acres of land in mortmain (fn. 86) and further endowments seem to have been made in 1331 (fn. 87) and in or before 1378. (fn. 88) The founders presented the first chantry priest, but in 1413 the presentation was made by the Bishop of Lincoln. (fn. 89) In 1550 a tenement of the yearly value of 4s., which had been the endowment of an obit, was in the hands of the Court of Augmentations. (fn. 90)
CHARITIES
Poor's Tenements. The origin of this charity is unknown. Certain tenements in St. Neots were appropriated to the use of the poor of the parish and in 1899 were sold under the authority of an Order of the Charity Commissioners dated 19 September 1899. The proceeds were invested in the purchase of £275 0s. 1d. 2½ per cent. Consols in the name of the Official Trustees producing £6 17s. 4d. annually in dividends which are distributed by the vicar in bread and coal to the poor.
Walter Henry Octavius Duncombe, by will proved 21 June 1917, bequeathed to the Vicar the sum of £100, the interest to be applied in the maintenance and upkeep of the Mortuary chapel in Waresley. (fn. 91) The endowment of the charity now consists of £105 10s. 6d. 5 per cent. War Stock held by the Official Trustees producing £5 5s. 6d. annually in dividends which are applied by the vicar towards the upkeep of the said chapel.