Pages 374-376
A History of the County of Huntingdon: Volume 2. Originally published by Victoria County History, London, 1932.
This free content was digitised by double rekeying. All rights reserved.
TOSELAND
Toleslund (xi cent.), Touleslund, Tholeslund, Toulislond (xiii cent.), Touseland (xiv cent.), Towesland (xvi cent.).
The parish of Toseland contains 1,342 acres of land. The soil is clay and the subsoil Oxford clay and Ampthill clay, growing cereal crops. The land is high and is mainly agricultural. Gallow Brook runs through the south of the parish. Various Roman remains have been found in the village and near Toseland Wood, (fn. 1) while the parish is crossed by a Roman road. The parish, it is supposed, takes its name from Earl Toglos or Toli, and gives it to the Hundred of Toseland. (fn. 2) A large, rough, irregularly shaped sarsen-stone (2 ft. 8 in. by 1 ft. 7 in. by 9 in. deep) in the churchyard against the south wall of the church is locally known as the ' Moot-stone,' and is said to have been the ancient hundred stone. A portion of the Roman road here is also known as Moats or Moots Way. (fn. 3) Any importance which may have been attached to the village as the meeting-place of the hundred had been lost by the 11th century, when in the time of Edward the Confessor it was one of three berewicks in Great Paxton (fn. 4) and is not mentioned by name in the Domesday Survey. (fn. 5) Its lands were intermixed with those of Great Paxton at the time of the inclosure of the two parishes under a private Act of Parliament in 1811. (fn. 6)
The village is composed of some scattered cottages and houses lying along the bye-road from Yelling which joins the St. Neots and Godmanchester road at Great Paxton. The church is in the middle of the village, which includes some 17th-century half-timber houses. At the west end of the village street is Toseland Hall, which was probably built by Sir Nicholas Luke, who succeeded his father John in 1566 and died in 1613. It is built of brick with a tiled roof, and is of two stories with attics. The south front facing the road is divided by plaster pilasters into three bays, each bay surmounted by a gable. In the middle bay is a porch over which is a four-light mullioned bay window. The bays on each side have similar windows, but with sloping sides on the ground and first floors. There is a series of four fine chimney stacks of ornamental bricks, and some of the old interior fittings still remain. To the west is a thatched barn contemporary with the house. The stables are of a little later date.
There is a village hall, built in 1895, which is used as a reading and recreation room.
The remains of a wide and deep moat are to be found in Toseland Wood. (fn. 7)
MANOR
The manor of TOSELAND is not mentioned by name in Domesday Book, but the township was then one of the berewicks belonging to Great Paxton. (fn. 8) It was, therefore, amongst the lands of the Countess Judith in 1086, (fn. 9) and afterwards was held by military service of the Honour of Huntingdon. (fn. 10)
The first subtenant who can be traced was Robert Taillebois. In 1202 his widow Alice de Trumpington successfully sued David Earl of Huntingdon for her dower in Toseland, from which his seneschal Philip le Moyne had unjustly deforced her. (fn. 11) Probably Robert's heir had also been similarly treated, since Robert Basset, in a charter confirming a grant to St. Neot's Priory, calls Robert Taillebois his predecessor. (fn. 12) Before 1231 the manor had been recovered by Cecilia, daughter of Elias Taillebois and wife of Imbert Hereford. (fn. 13) Cecilia was holding it alone, presumably as a widow, in 1242, (fn. 14) but it had passed to her son Robert Hereford before 1261. (fn. 15) His son Roger, a minor, had succeeded him in 1279, (fn. 16) and the whole vill belonged to his manor, except the tenement of one freeman, who held immediately of the Honour of Huntingdon. (fn. 17) For some reason which does not appear, Toseland did not pass to Roger's son and heir, (fn. 18) but came into the possession of Sir Reginald Grey of Wilton. (fn. 19) His direct descendants (fn. 20) held the manor until Edmund Grey, Lord of Wilton, sold it to Sir Robert Throckmorton in 1507. (fn. 21) Sir George Throckmorton, son and heir of Sir Robert, sold it in 1529 to John Gostwicke, (fn. 22) who in turn sold it to Richard Gresham. (fn. 23) Sir Richard Williams alias Cromwell bought it from Gresham, (fn. 24) but sold it in 1540 to Sir Walter Luke of Woodend in Cople parish (co. Bed.) (q.v.), justice of the King's Bench. (fn. 25) Sir Walter's descendants (fn. 26) held the manor till 1624, when Sir Oliver Luke sold it to Henry Adelmare alias Caesar, Dean of Ely. (fn. 27) The dean left it to his nephew Sir Charles Caesar, (fn. 28) Master of the Rolls, who died in 1642. (fn. 29) Julius, eldest son of Sir Charles, died six days after his father, and the manor passed by will to the second son Henry, then a minor. (fn. 30) He died in January 1667–8, and his son Sir Charles Caesar succeeded him. (fn. 31) The latter died in 1694 and the manor passed to his son Charles, (fn. 32) who seems to have sold it, probably to Robert Pigott, before 1733. (fn. 33) Robert Pigott died in 1770 and was succeeded by his son Robert, who sold or leased Toseland to Francis Chambre in that year. (fn. 34) In 1786 Jonathan Burnham and his wife Hannah sold it to Edward Leeds (fn. 35) of Croxton, Cambs., who died in 1803 (fn. 36) and was succeeded by Joseph Leeds. (fn. 37) In 1809 it was in the possession of George Leeds, (fn. 38) who was created a baronet in 1812. (fn. 39) He sold the manor, probably in 1820, to Samuel Newton, whose great-grandson Sir George Douglas C. Newton, K.B.E., is now lord of the manor. (fn. 40)
Roger Hereford in 1285 claimed to hold a view of frankpledge in his manor and to be quit of all tolls, the sheriff's turn, suit to the Hundred court (fn. 41) and successive lords of the manor held a view of frankpledge for their tenants. (fn. 42) In 1621 Sir Oliver Luke had a grant of free warren in Toseland manor. (fn. 43)
A windmill was appurtenant to the manor in 1323, and was worth 20s. a year. (fn. 44)
CHURCH
The Church of ST. MARY (fn. 45) consists of a chancel (21¼ ft. by 14 ft.) with vestry (10½ ft. by 8¼ ft.) on north, and nave (40¾ ft. by 17 ft.). The walls are of pebble-rubble except the north wall of the nave, which is of brick, and the roofs are covered with tiles. The church, which is a chapelry to Great Paxton, was apparently entirely of mid-12th-century date, but by the middle of the last century it had lost its chancel and consisted simply of a nave with a hipped roof surmounted by a wooden bell turret. The north wall of the nave appears to have been rebuilt in the 18th century. In 1873 it was thoroughly restored, and the chancel rebuilt. The vestry was added in 1897, and the nave seats in 1907–8.
The modern chancel has three single-light windows at the east end; a single and a double light in each of the side walls; and a small doorway into the vestry. The 12th-century chancel arch is of two plain square orders, very much restored, resting on responds with small detached shafts in the jambs and larger engaged shafts under the inner order of the arch; the capitals are of the volute type.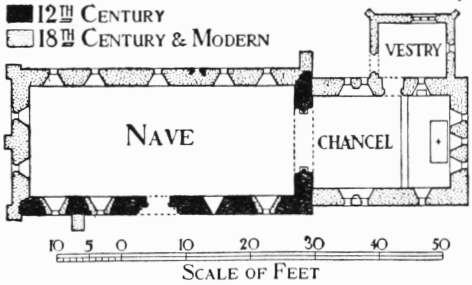 The nave has a north wall rebuilt in red brickwork and has five modern single-light windows. The head of a small 12th-century window has been reset between the second and third windows. Some old stones have been built in at the base of the wall. The south wall is largely of 12th-century date, but much restored; it has one small original window, three modern single-lights, and an original doorway with tympanum (largely modern) under a semicircular head enriched with beaded circles and cheveron ornament, and resting on jambs each having two detached shafts and ornamented with the curious pallets overlapping a roll and hollow. (fn. 46) The west wall is modern; it has two single-light windows, and is surmounted by a modern bell-cot.
There is one bell, inscribed Thomas Mears, Founder, London, 1840. (fn. 47)
There are two monuments in the nave, viz. to Griffin Fletcher, d. 1836, and a War Memorial 1914–18.
The registers are as follows: (i) Baptisms, marriages and burials from 9 Dec. 1702 to 29 Nov. 1812; marriages end 1 July 1752. Previous to 1702 baptisms and deaths were entered in the registers of Great Paxton and the marriages from 1567 at Little Paxton.
The church plate consists of: A silver cup inscribed 'Towsland Hundreth'; it appears to be of Elizabethan date, but has no hall-mark; a silver cover paten, engraved 'I.H.S.' and hall-marked for 1919–20; a plated salver, inscribed 'William Palmer, Rector, (fn. 48) Edward Peck, Joseph Howitt, Churchwardens, A.D. 1821.'
ADVOWSON
The Church of St. Mary (fn. 49) has been a chapelry attached to the church of the Holy Trinity, Great Paxton, since the first notices of its existence. In a charter of King David of Scotland, probably granted between 1124–28, he gave all the tithes of his demesne and of the land of his tenants in Toseland to the church of Great Paxton. (fn. 50) In 1235 a dispute between the rector and his parishioners in Toseland was settled by arbitration. (fn. 51) The parishioners in future were to go to the mother church on the feast of Holy Trinity and make their offerings there and not in the chapel of Toseland. For his part the rector was to provide a chaplain to serve the chapel three days a week as well as on all feast days except the feast of the Holy Trinity. The chapel is also mentioned in 1274, when the vicarage of Great Paxton was instituted. (fn. 52) In 1346 Sir Reginald Grey and John de Raveley granted a messuage and land in Toseland and Great Paxton to Eustace, vicar of Great Paxton, towards finding a chaplain to serve Toseland chapel on three days in the week, for the good of the souls of Reginald, of John and his wife Alice, and also to bestow 7d. for bread on the poor on the anniversary of John and Alice. (fn. 53)
There is a Wesleyan Chapel in the village.
CHARITY
Widows' Dole. A customary payment of 2s. 9d. is made by the lessee of lands belonging to the dean and chapter of Lincoln, and distributed to poor widows.