Pages 370-374
A History of the County of Huntingdon: Volume 2. Originally published by Victoria County History, London, 1932.
This free content was digitised by double rekeying. All rights reserved.
TETWORTH
Tethewurda (xii cent.), Tetteworth, Tettesworthe (xiii cent.).
Tetworth lies in the extreme south of the county with a detached portion in Everton (co. Bed.). The parish has an area of 2,235 acres of undulating land which rises gradually from the River Ouse until it approaches the eastern boundary, where the rise is more abrupt. The soil on the high land is sand and elsewhere a deep clay growing corn, beans and potatoes.
Everton or Everton - cum - Tetworth, partly in Huntingdonshire and partly in Bedfordshire, has always formed one ecclesiastical parish, but Everton and Tetworth are dealt with as two townships in the Inclosure Award of 1802 and have since been considered separate civil parishes. (fn. 1) When the Act for settling and describing the divisions of counties declared that the isolated portion of the parish of Everton, situated between Bedfordshire and Cambridgeshire and belonging to Huntingdonshire, was annexed to Huntingdonshire (fn. 2) it created no new position. It is in the Huntingdonshire portion of Everton, which is now said to form part of Tetworth, that the church which serves both Everton and Tetworth parishes, now described as forming ecclesiastically the parish of Everton-cum-Tetworth, is situated. Two moats which can still be traced in this isolated portion of Everton probably mark the site of the manor house of Everton or Everton Bury, the principal manor, and of that of the manor which was held of it. The moat at Biggin Wood, which with Little Biggin Wood lies on the western boundary of this portion of Everton, probably marks the site of the manor of Biggin or Everton Biggin. About half a mile to the east, and on the Roman Way which runs north and south through this detached portion of Everton, is Gibraltar Farm, an early 18th-century house, and a little farther south-east, and near the southern boundary, are Story Farm with Story Moats and Story Moat Spinney, still bearing the name of 17th and 18th century owners of the principal manor. The church stands in the southern corner of this portion, and near it are a few timber-framed cottages. Everton House, near the church, the home of the Astells, no longer exists. (fn. 3)
The village of Tetworth occupies the south-western angle of the parish and county. At its southern end is Tetworth Hall, the seat of Mrs. Orlebar. At the northern end is Manor Farm, probably once Tetworth Manor House, at present a house of two tenements and in an almost ruinous condition. It is a mid-17th-century house consisting of a main block with wings at each end with 18th-century additions. The lower story is of brick and the upper of timber framing plastered, and the roof is tiled. The moat is formed by a stream and some ponds.
Interesting personalities connected with the parish include the Rev. John Berridge, M.A., vicar 1755–93, the friend of Wesley and Whitefield. (fn. 4)
MANORS
Though Tetworth is not recorded in the Domesday Survey, a considerable manor of EVERTON, later EVERTON BURY or NETHERBURY, was then in the hands of Ranulf, brother of Ilger, who had in his keeping all the king's land in the county except Godmanchester. (fn. 5) He held 5 hides in Everton in Bedfordshire of the Countess Judith as part of her manor of Potton, (fn. 6) but in Huntingdonshire he held 7 hides in Everton in chief. This latter manor had been held in the time of the Confessor by Ingewar. There were a priest and a church, 19 villeins and 2 bordars in this Huntingdonshire estate, and it was valued at £7 (T.R.E. £10) as against £3 (T.R.E. £5) in the case of the Bedfordshire manor. From Ranulf and the Countess Judith the whole passed to the Earls of Pembroke, who appear as donors in numerous records of gifts of land in Everton to monastic houses. These monastic owners were entered under Bedfordshire assessments for feudal service, but held lands in both counties. The lands appurtenant to the Bedfordshire manor of Everton descended from the Pembrokes to the Talbots, whose overlordship was recorded as late as the 16th century. Ranulf's Huntingdonshire manor of Everton, with the Hertfordshire manor of Weston to which the hamlets of Everton and Tetworth were in 1286 described as appurtenant, evidently descended in 1245 with the office of marshal to Maud, the eldest of the five sisters and coheirs of William Marshal, Earl of Pembroke, (fn. 7) who was widow of Hugh le Bigod, Earl of Norfolk, and from her to her son Roger, at whose death in 1270 it came to Roger le Bigod, his nephew, fifth Earl of Norfolk, who was holding it in 1286. (fn. 8) The overlordship of Weston was recorded as late as 1626. (fn. 9)
In 1206 the tenant of the manor was probably Roger son of Nicholas, who levied a fine in that year of lands in Everton, Tetworth and Weston with Richard de Argentein (fn. 10) whose family held the manor of Weston Argentein in Weston. Roger confirmed to the monastery of Sawtrey a grant of 2 acres in Everton made by Walter Belmaistre. (fn. 11) Richard de Clifford had the custody of the manor during the minority of Nicholas son of Ralph, under-tenant of the manor. (fn. 12) The tenancy of Nicholas son of Ralph, who was born at Everton and came of age in 1281, (fn. 13) is referred to in 1293, when Ralph de Beauchamp died seised of a chief messuage and lands (described as sandy and poor) in Everton. Beauchamp had been enfeoffed of the manor jointly with his wife Sybil and son Roger (who both survived him) by Peter de Exton, to hold of the said Peter by service of the eighth part of a knight's fee to Nicholas son of Ralph. (fn. 14)
The manor of Everton had been granted to Walter de Langton, Bishop of Coventry and Lichfield, in 1306 for £100 by Nicholas son of Ralph, (fn. 15) and in 1307 the bishop received a grant of a weekly market in his manor of Everton in Huntingdonshire on Wednesdays with a yearly fair there on the Vigil, Feast, and Morrow of St. Bartholomew, with free warren in his demesne lands of Everton, Tetworth, Offord Daneys and Offord Cluny. (fn. 16) In 1312 the bishop received a grant of 12 oaks for repairing his houses at Everton and Offord Daneys. (fn. 17) The two manors descended together in the bishop's heirs (fn. 18) and were so held as late as 1428 by Sir John de Harpeden, who held in right of his wife Joan suo jure Baroness Cobham. (fn. 19) By the marriage of Elizabeth Brooke, the daughter and heir of her daughter Joan and of Sir Thomas Brooke, to Robert Tanfield, the manor of Everton passed to the Tanfields. (fn. 20) William Tanfield, the heir of Elizabeth Brooke at her death in 1503, (fn. 21) being the son of her son Robert, made a settlement of his manor of Everton alias Everton Bury on his wife Isabella in 1516–17 and 1520–1, (fn. 22) and as William Tanfield of Everton he confirmed it to her as jointure by his will dated 27 January 1528. He left directions for his burial in the precincts of the church or churchyard and for anniversary masses and obits and bequests to the poor of Everton, which were to be paid for out of lands lately bought of James Staunton and held of the manor, or if they did not suffice, out of the manor itself. He bequeathed an annuity out of lands lately bought by himself and his wife, and lying "within the village bounds and fields of Tetworth within the parish of Everton within the county of Huntingdon." (fn. 23) Isabella survived him at his death in 1529, and as Isabella Humphreys, widow, died in 1546. (fn. 24) His son Francis, who survived her, died seised of the manor in 1557 (fn. 25) and was succeeded by his son Clement, who in 1563 made a settlement of the manor at his marriage with Anne (who survived him), daughter of Lord Mordaunt. (fn. 26) Clement Tanfield granted an annuity out of the manor in 1570 (fn. 27) and died seised of it in 1585. By his son William it was conveyed to Sir Humphrey Winch, kt., a justice of the King's Bench, as the manor of Everton in Huntingdonshire with appurtenances in the county of Bedford. (fn. 28) Sir Humphrey bequeathed it in 1624 to his wife Cicely to hold so long as she remained unmarried (fn. 29) and died in 1625 at Sergeants' Inn in Chancery Lane. (fn. 30) Cicely Lady Winch, described at her death as of Everton, co. Huntingdon, died in 1629, when the manor, as the manor of Everton or Everton Bury, (fn. 31) passed to her son Onslow Winch. Onslow Winch was dealing with it in 1652. (fn. 32) His son Humphrey, one of the Commissioners of the Admiralty, married Rebecca, daughter of Martin Browne, alderman of London. (fn. 33) Humphrey Winch had succeeded to the manor by 1659 when he, as Humphrey Winch, of Little Berkhamstead in Hertfordshire, with his wife Rebecca and John Browne of Twickenham, sold it for £6,000 to Philip Story of Chesterton, co. Cambridge, as his manor of Everton and appurtenances in the counties of Huntingdon, Bedford, and Cambridge. (fn. 34)
The Restoration was followed by transfers and exchanges of lands within the manor. About 1662 Everton Netherbury seems to have been in the tenancy, apparently by lease, of Sir John Jacob of Bromley (co. Middlesex) and of Woodbury in Gamlinghay (co. Cambridge), one of the farmers of the Customs, who suffered great losses as a Royalist in the Civil War. (fn. 35) Sir John Jacob, who was made a baronet in 1665, died in 1666 and his son, another Sir John Jacob, made in 1668 an exchange of lands in the manor, as Sir John Jacob of Woodbury, bt., with Walter Cary of Everton in co. Huntingdon, by which lands in Everton and Gamlinghay in the occupation of Walter Cary were conveyed to Sir John Jacob, with lands belonging to the manor of Everton Biggin which had lately been taken in by Walter Cary with the consent of Sir John Jacob in lieu of pasture rights in the manors of Everton Netherbury and Everton Biggin; (fn. 36) Walter Cary evidently holding Everton Biggin and Sir John Jacob Everton Netherbury. By 1675 Sir John Jacob, being unable to pay the proportion of the sum owed by his father for the lease of the customs, the manor of Everton or Everton Netherbury was seized by the crown. It was purchased by William Manston and by William Wogan, sergeant-at-law, who in 1688 married Sir John Jacob's widow, the daughter and coheir of Sir John Ashburnham. (fn. 37) By their direction, and in trust for them, this manor was in 1675 conveyed to Sir Denny Ashburnham, of Broomham, co. Sussex, with view of frankpledge, court baron, and all other rights in the occupation of Sir John Jacob, the chief messuage and divers closes being in the occupation of John Bury. (fn. 38) The manor after this returned to the Storys, and Philip Story and Allen Story were dealing with it in 1693. (fn. 39) From this time we seem to lose sight of the chief manor of Everton, which appears to have become absorbed into the sub-manors of Everton Mosbury and Everton Biggin. These manors were held together by Walter Cary and his wife Annabella in 1690, (fn. 40) and were in 1713 sold by Walter Cary of Everton in the county of Huntingdon and Walter Cary, his son, to William Astell of London. (fn. 41) At his death in 1741 William Astell of Everton was succeeded by his only son Richard, who had already dealt with land in Everton and Tetworth in 1738, (fn. 42) and who died childless in 1777, and was buried at Everton. The Everton and other estates of the Astells passed to Richard Astell's nephew William, eldest son of his sister Margaret, wife of Godfrey Thornton of Clapham. (fn. 43) William Thornton assumed the name of Astell in compliance with the will of his grandfather William Astell, but died childless in 1801, and was buried at Everton. His younger brother Godfrey, like his father a director of the Bank of England, was lord of the manors of Everton Mosbury and Everton Biggin at the Inclosure Act passed in 1802. (fn. 44) His son William, who succeeded him in 1805, obtained leave in 1807 to assume the name of Astell, and died at Everton in 1847, when he was succeeded by his son Richard William. At the death (unmarried) of Richard William Astell, of Everton House, in 1864, he was followed by his brother John Harvey Astell (d. 1887), of Woodbury. His son William Harvey Astell died in 1896. Land in Everton appears to have been in the possession of Samuel Eyres, whose trustees were holding it in the 'eighties' after his death. The Duncombes also were large landowners. The manorial rights, however, seem to have been lost. From the beginning of this century until 1928 Francis Pym, of Hasells Hall, Sandy, was lord of the manor of Everton, in Bedfordshire. He was succeeded in that year by his brother, Mr. Frederick William Pym, the present owner.
The manor of MOSBURY in Everton, later known as EVERTON MOSBURY, originated in lands held in Everton in Bedfordshire of the Pembrokes by the abbey of Stratford, and which in 1346 John Morice was holding, in succession to the abbey, as two parts of a fee, of Richard Talbot. (fn. 45) John Morice received a grant of free warren in his demesne lands of Everton in the counties of Huntingdon and Bedford in 1331, (fn. 46) but this manor, to which he gave his name, appears to have been always accounted for in Bedfordshire, where its history will be found. (fn. 47)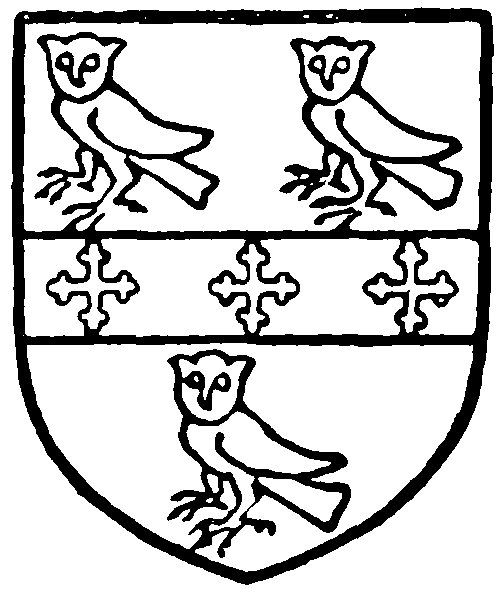 Land in Everton in Bedfordshire was held in 1316 by Thomas de la Dale, (fn. 48) ancestor of the John Dale of Tickencote who in 1480 was holding BIGGIN MANOR in the vill of Everton in the county of Huntingdon of Robert Tanfield as of his manor of Everton or Everton Bury or Netherbury. (fn. 49) The overlordship of the Tanfields', later the Winches', manor of Everton over Biggin was mentioned as late as 1640 when it was held of Onslow Winch. (fn. 50)
John Dale was the direct descendant of Thomas de la Dale, from whom the Bedfordshire manor of Little Barford (q.v.) had also descended to him with the Everton manors of Mosbury and Biggin. (fn. 51) His son William died in 1537, leavingasheirs Anne his daughter, married to Alexander Fetiplace; Joan, another daughter, wife of William Wollascott; and Margaret Lynne, daughter and heir of his daughter Elizabeth. (fn. 52) Biggin appears to have passed with Mosbury to his daughter Joan, wife of William Wollascott, whose son William died seised of both in 1618 and was succeeded by a son William, who also died seised in 1640 and was succeeded by a son again named William. (fn. 53) The latter with his son Martin was dealing with it in 1653, (fn. 54) after which date it passed to Walter Cary, and its history has been given in that of the principal manor (q.v.).
The manor of CANONS or TETWORTH apparently originated in lands in Tetworth (fn. 55) and Woodbury held of the manor of Weston by the prior of St. John of Jerusalem. William Babington, who left a son and heir John, died in 1475 seised jointly with his wife Elizabeth of a manor of Canons in Huntingdonshire held of the Duke of Norfolk as of his manor of Weston-by-Baldok. (fn. 56) This was evidently the manor of Canons which with the manor of Tetworth was in 1515 confirmed to Sir Robert Sheffield, kt., by his son and heir Robert, who appointed Thomas Sheffield and others, his attorneys, to deliver seisin. (fn. 57) Sir Robert Sheffield, kt., died in 1534 seised of a messuage and lands in Woodbury in co. Huntingdon called Canons, held of the prior of St. John of Jerusalem, and of a lease of other lands in Woodbury, held of the manor of Weston, and granted to him by Henry VIII with the monastery of Sawtrey, Canons being in the occupation of Thomas Cooper. (fn. 58) 'The manor or Grange of Cannones in Huntingdonshire' was held of the lord of the manor of Weston next Baldock by John Machell at his death in 1625, (fn. 59) when he was succeeded by a grandson and heir John. The manor appears to have passed to the Pedleys. James Pedley, jun., described as of Tetworth, Hunts., died in 1714. (fn. 60) It probably descended with the manor of Wistow (q.v.) from the Pedleys to the Foleys, and we find Henry Foley holding in 1829. (fn. 61) It was apparently purchased by Charles, first Lord Feversham of Waresley Park (q.v.), with which it has since passed. (fn. 62)
Lands in Tetworth were granted c. 1150 by Henry de Costentin, his son Geoffrey, and grandson Elias to the monastery of Sawtrey, (fn. 63) this gift being confirmed by Richard de Humet, Constable of England, with the assent of Agnes his wife, and William his son and heir. (fn. 64) About the same time John, son of Roger Hori, made a grant of his lands in Tetworth to the monastery, (fn. 65) and Gilbert 'miles de Tetteworthe' witnessed another grant of land in Gamlinghay. (fn. 66) Rents of £6 13s. 4d. in Tetworth and of 15s. in Everton were held by the monastery at the Dissolution. (fn. 67) It was probably these lands, or part of them, which were held with Canons by Sir Robert Sheffield, kt., in 1534 on lease, and which Richard Williams alias Cromwell held in 1538, part of Sawtrey possessions, when he received licence to alienate his manors and lands in Tetworth and Everton and elsewhere to John Burgoyne and Thomas, his son and heir. (fn. 68)
CHURCH
The Church of ST. MARY consists of a chancel (29¾ ft. by 14½ ft.), nave (47¼ ft. by 14¾ ft.), north aisle (7½ ft. wide), south aisle (7¼ ft. wide), west tower (12¼ ft. by 11½ ft.) and south porch. The walls are of stone rubble with stone and clunch dressings, but those of the tower are mostly of ironstone. The roofs are covered with tiles, slates and lead.
The church is mentioned in the Domesday Survey (1086), but this early church was rebuilt in the middle of the 12th century as a chancel and aisled nave, the greater part of which still exists. At the end of the 14th century the tower, south porch and clearstory were built, and about a hundred years later the chancel arch was rebuilt. A general restoration took place in 1865, when the north wall of the north aisle and the south-east corner of the south aisle were rebuilt.
The mid-12th-century chancel has a modern triple-lancet east window. The north wall has two original single lights slightly restored and a two-light window of c. 1400. The south wall has three windows similar to the north. The chancel arch, c. 1500, is two centred and of two orders, the lower one carried on semi-octagonal shafts with moulded capitals and bases.
The mid-12th-century nave has an arcade of three bays on each side, the north slightly later than the south; the semicircular arches have one square order resting on circular piers and semicircular responds with scalloped capitals and moulded bases. The late 14th-century clearstory has three windows on each side; on the north are quatrefoils, and on the south one two-light and two four-light windows of c. 1500, but the jamb of an earlier window remains at the west end. The roof is of 17th-century date, but much restored; its jack-legs rest on 14th-century carved corbels.
The north aisle, practically rebuilt in 1865, has a late 14th-century two-light window in the east wall. In the north wall is a modern three-light, a 15th-century three-light window and a 16th-century doorway. In the west wall is a 12th-century single-light window. The stairs to the rood loft are built into the south-east corner, but appear to be completely blocked.
The mid-12th-century south aisle has a late 14th-century two-light window in the rebuilt east wall. In the south wall are two 13th-century triplets (much restored), an original single-light window (now blocked) and an original doorway with semicircular head of two orders carried on attached shafts with two water-leaf and two scalloped capitals. The west wall has an original single-light window.
The late 14th-century west tower has a tower arch of two moulded orders on moulded responds with moulded capitals and bases. There is no west door, but an original three-light window; in the second stage is a small light in the south wall; and the belfry windows are of two-lights. The tower has diagonal buttresses at the north-west and south-west corners, and is finished with an embattled parapet. The stairs are in the south-west angle.
The late 14th-century south porch has a two-centred outer archway of two moulded orders resting on attached shafts with moulded capitals; on either side is a small niche. There is a plain two-light window in each of the side walls. The plinth is enriched with a band of cusped panelling.
The modern font is a plain octagon on a stem composed of a group of four clustered shafts.
There are five bells, inscribed (1) 1630. (2) I K. God save our King. 1630. (3) Sonoro sono meo sono Deo. 1611. Ricardus Holdfeld me fecit. (4) Johannes dier hanc campana fecit. (5) Christopher Graye made me. 1681. The first two are by James Keene, of Woodstock. The tenor, which was cracked, was recast by Mears and Stainbank in 1894.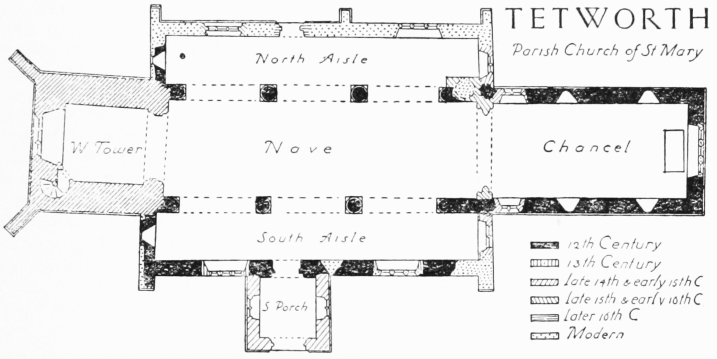 There are matrices of two brasses, (1) a priest, with inscription plate, 15th century; (2) a man in armour with wife in pedimental head-dress, two children, four shields and marginal inscription with roundels at angles, c. 1500.
There are the following monuments: In the chancel, to the Astell family, viz.: William, d. 1741; Frances his daughter, d. 1764; Sarah wife of William, d. 1841; and Richard William her son, d. 1864; Richard, d. 1777, and two wives, Sarah (Bagnall), d. 1767, and Hannah (Kennett), d. 1807; William Thornton (who assumed the name of Astell in 1807), d. 1847, and Sarah (Harvey) his wife, d. 1841; John Harvey, d. 1887, and Anne Emelia (Nisbet), d. 1907; William Harvey, d. 1896; and also to Sarah (Astell) widow of Sir Henry Fairfax, d. 1879; the Rev. T. H. Shaw, Vicar, d. 1903; Alice Caroline (Astell), wife of the 6th Baron Ellenborough, d. 1916; Somerset Charles Godfrey Fairfax Astell, d. 1917; floor slab to Richard William Astell, d. 1864; and window to Sir Henry Fairfax, Bart, d. 1860.
In the nave to Sir Humphrey Winche, d. 1624; and to Mary Pedley, d. 1827; Stanhope her brother, d. 1803, and Catherine her sister, d. 1796.
In the north aisle, window to William Kaye, d. 1864.
In the south aisle, to the Rev. C. A. Dwarris, d. 1830; and windows to the Rev. Joseph Horner, Vicar, d. 1875; Charlotte Anne, widow of Joseph Kaye, d. 1865; and the Rev. T. H. Shaw, Vicar, d. 1903, and Eliza his widow, d. 1925.
There are eight hatchments in the tower.
The registers are as follows: (i) Baptisms, marriages and burials, 6 Jan. 1653 to 3 April 1727; (ii) burials, in woollen, 8 Nov. 1678 to 4 March 1706/7; (iii) baptisms, marriages and burials, 23 April 1727 to 12 Nov. 1812; marriages end 3 Jan. 1753; (iv) (unbound) marriages, 3 Feb. 1755 to 17 Nov. 1768; (v) marriages, 3 April 1769 to 9 Nov. 1812.
The church plate consists of a silver cup with simple Elizabethan ornament, inscribed 'Everton'—no hall-mark; a silver standing paten, with no date letter; a silver flagon inscribed 'Deo et Ecclesiae Parochiali de Everton cum Tetworth in Agro Huntingtoniensi, Ano. 1695' hall-marked for 1694–5.
ADVOWSON
The church was granted temp. Henry II by Gilbert, son of Gilbert Earl of Pembroke, to the priory of St. Neots, who presented until the Dissolution. (fn. 69) It was valued in 1291 at £11 6s. 8d. (fn. 70) The vicarage of Everton, already in existence in 1237, (fn. 71) was valued as that of Everton-cum-Tetworth at £6 16s. 10d. in 1535. (fn. 72) In 1544 the rectory, church and advowson of the vicarage of Everton and Tetworth and lands in the tenure of Robert Hatley in Everton were granted to the Master and Scholars of Clare Hall in the University of Cambridge, (fn. 73) who still retain the advowson and lands in the parish. A lease of the rectory from Clare Hall was conveyed by the Carys to William Astell at their sale of the manor to him. (fn. 74)
There are no charities for this parish.