Pages 48-53
A History of the County of Huntingdon: Volume 3. Originally published by Victoria County History, London, 1936.
This free content was digitised by double rekeying. All rights reserved.
GREAT GIDDING
Redinges, Gedelinge (xi cent.); Gydding, Geddinge (xiii cent.); High Gyddyng, Gidding Prior (xv cent.); Much Gyddyng, Great Gidding (xvi cent.).
The parish of Great Gidding is bounded on the north-east by the Bullock Road with Glatton and Sawtry adjoining; on the south-east by Little Gidding and Winwick, and on the north-west and part of the south by the parish of Luddington in the Brook, Northants. The Alconbury Brook forms a small part of this latter boundary and then passes through the middle of the parish. The parish contains 2,348 acres of clay land. Its altitude at the brook is 125 ft. above the Ordnance datum, and it rises to about 205 in the north and to 225 in the south. The village is in the middle of the parish and on the north side of the brook. Some 17th-century houses of timber and thatch remained until recently, but they are rapidly disappearing. On the west side of the street was a 17th-century stone-built house with mullioned windows and a thatched roof, and bearing a stone inscribed 1629 i.h. above the doorway; but it has been partly pulled down. The church and vicarage house are at the south-west corner of the village; and at the north-east corner is the windmill, now disused.
Manors
At the time of the Domesday Survey (1086) the land of Gidding seems to have consisted of two parts—(1) 10 hides, now comprising Great and Little Gidding, held by William Engaine (4½ hides), Eustace the Sheriff (4½ hides) and the Abbot of Ramsey (1 hide), and (2) 7½ hides, now constituting Steeple Gidding (q.v.), held by the Abbot of Ramsey.
The 4½ hides held by William Engaine (fn. 1) had been held in the time of King Edward by Britheue. William Engaine also held, amongst other property, Laxton and Pytchley, in Northants, and a certain Richard Engaine held Abington and Benefield, Northants, and Stibbington, Hunts. It is generally supposed that William and Richard were brothers, but Viel son of Richard Engaine, (fn. 2) always considered as the grandson of William, seems to have held all the above-named properties, which suggests that William and Richard may have been father and son. Viel married Alice, daughter and heir of William de Lisures, and had two sons, Richard Engaine and Fulk, who took the name of Lisures. He probably had a third son, Warner, to whom he appears to have given a part of the manor of Gidding, to be held in chief of the king. (fn. 3) This portion became the separate manor and parish of Little Gidding (q.v.).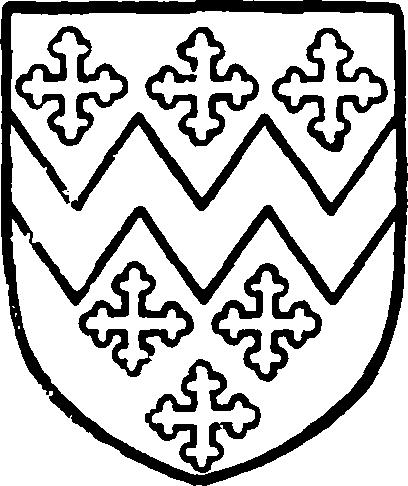 The remaining part, known as ENGAINE MANOR in GREAT GIDDING, went to his eldest son, Richard, who died about 1177, leaving by his wife Margery (daughter of Richard FitzUrse, and in 1185 wife of Geoffrey le Breton, who had married her without the king's leave (fn. 4) ) a son, Richard, who in 1198 was holding Gidding by serjeanty of hunting wolves, (fn. 5) and died in 1209. (fn. 6) By his wife Sara, daughter and co-heir of William de Chesney, he had two sons, Richard and Viel. The former died unmarried and is said to have been buried in Huntingdon Priory. Viel married Rohesia, whose surname does not seem to be known, and had four sons: Viel, who died young; Henry, who succeeded his father; William, who died childless after 1244; and John, who succeeded his brother Henry. (fn. 7) Viel himself died in October 1248, (fn. 8) and in 1261 his son Henry was holding two carucates in Gidding by the serjeanty of hunting. (fn. 9) Henry died childless in 1272, when his brother John (fn. 10) succeeded to the estates. John, who held Great Gidding by the service of taking the hare, fox, cat, wolf and badger in Huntingdonshire, Northamptonshire, Buckinghamshire, Oxfordshire and Rutland, married Joan, daughter and heir of Gilbert de Greinville, of Hallaton, (fn. 11) Leicestershire, and died in 1297. He was succeeded by his son John, (fn. 12) who married Elena, daughter of Robert FitzRoger of Clavering. John, who had summons to Parliament as a baron from 1299 to 1322, died, without issue, on 28 September 1322, and his brother Nicholas died in December of the same year, (fn. 13) before receiving livery of the estates, which passed to John the son of Nicholas. (fn. 14) This John married Joan, daughter of Sir Robert Peverel of Castle Ashby, Northants; he had summons to Councils from 1324 to 1350, and to Parliament from 1355 to 1357, and died in 1358. (fn. 15) His elder son John had predeceased him, leaving a widow, Joan, daughter of Sir William de St. Quintin, who married secondly Sir William Colville; (fn. 16) and he was succeeded by his second son Thomas, (fn. 17) who married Katharine, daughter of Hugh Courtenay, Earl of Devon. (fn. 18)
Thomas was summoned to a Council in 1358, and died without issue in 1367, (fn. 19) when his estates passed to his three sisters: Joyce, wife of John de Goldington, Elizabeth, wife of Sir Laurence de Pabenham, and Mary, wife of Sir William Bernak. (fn. 20) The manor was still held by the serjeanty of hunting 'vermin,' and the three co-heirs made provision among themselves for the performance of it. (fn. 21)
Gidding fell to the pourparty of Elizabeth and Sir Laurence de Pabenham. Elizabeth died in 1377, and Sir Laurence in 1400, (fn. 22) and Gidding passed to Elizabeth's daughter Katharine, wife firstly of Sir William Cheyne, of Fen Ditton, and secondly of Sir Thomas Aylesbury. (fn. 23) Katharine, as widow of Sir Thomas Aylesbury, was still holding the manor in 1428, (fn. 24) but in May 1449 it was granted to trustees on the marriage of John, son of Laurence Cheyne, to Elizabeth, daughter of Sir Thomas Rempston. (fn. 25) Sir Thomas Cheyne, the son of John and Elizabeth, had two wives: Elizabeth, daughter of Henry Huddleston, of Irthlingborough; and Anne Wanneford, daughter of William, Baron Parre of Kendal. He died in 1514, when his only daughter and heiress, Elizabeth, was only nine years old, (fn. 26) but had been married three years before to Thomas Vaux, son and heir of Nicholas, first Baron Vaux of Harrowden. (fn. 27) The manor passed to their son William, third Baron Vaux of Harrowden, who, in 1587, with his sons Henry and George, sold it to Lewis Lord Mordaunt and Edward Watson. (fn. 28)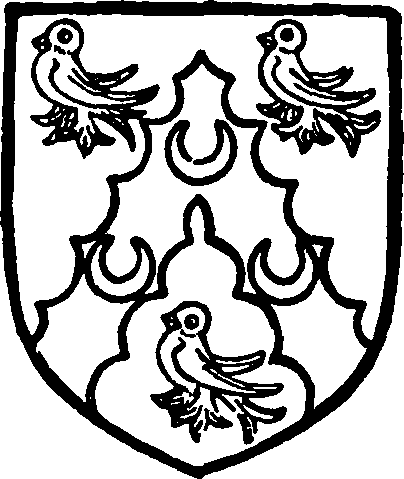 Edward Watson, who was already in possession of the rest of the parish, was knighted in 1603, and his wife was Ann, daughter of Kenelm Digby of Stoke Dry, Rutland. He died at Rockingham, in 1617, and was succeeded by his son, Sir Lewis Watson. (fn. 29) Sir Lewis, who had married firstly Catherine, only daughter of Peregrine Lord Willoughby de Eresby, who died in 1610, and secondly Eleanor, daughter of Sir George Manners, was created Baron Rockingham in 1645.
His son, Edward, second Baron Rockingham, married Lady Anne Wentworth, second daughter of the Earl of Strafford, and, dying in 1689, was succeeded by his son, Lewis, third Baron and first Earl of Rockingham. He married Catherine, daughter and ultimate heir of George Lord Sondes and Earl of Feversham. His eldest son, Edward, predeceased his father in 1722, leaving three sons, Lewis, Thomas and Edward. Lewis succeeded as second Earl of Rockingham, but died childless in 1745, being succeeded by his brother Thomas, who died unmarried in 1746. Edward also having died unmarried, the earldom became extinct. (fn. 30)
Thomas left his estates to his cousin, Lewis Monson, second son of John, Lord Monson, on condition that he assumed the surname and arms of Watson. (fn. 31) Lewis Watson (Monson) married, in 1752, Grace Pelham, daughter of Henry Pelham, brother of the Duke of Newcastle, and in 1760 was created Baron Sondes. (fn. 32)
He died in 1795, and was succeeded by his son Lewis Thomas, second Baron, who died in 1806.
His son, Richard Lewis, third Lord Sondes, sold Great Gidding in 1827 to William, fourth Earl Fitzwilliam (fn. 33) (son of the third Earl Fitzwilliam and Anne Watson Wentworth, daughter of the Marquess of Rockingham). William died in 1833. His son, Charles William, fifth Earl Fitzwilliam, who died in 1857, left his property to his second surviving son, the Hon. George Wentworth Fitzwilliam, who, dying in 1874, was succeeded by his son, Mr. George Charles Wentworth Fitzwilliam, who died in 1935, and whose executors are the present owners of the manors.
The Engaines of Great Gidding appear to have subinfeudated a portion of their property later known as the EMBERTON FEE. Nicholas de Emberton, son of William, son of Payn, was holding a mesne lordship in the middle of the 13th century. At his death his lands in Emberton, Bucks, passed to coheirs, Eleanor, the wife of Thomas Furneys, and Isabel, who claimed as daughter of William le Lord. These ladies were possibly sisters of Nicholas, whose father William, son of Payn, may have been known also as William le Lord. Eleanor's portion of Emberton went from the Furneys to the Tolthorps, and then to the Chamberlains; Isabel's part was acquired by the Tyringhams, who were holding in the 18th century. (fn. 34)
The property seems to have been in Gidding, Saleu (evidently Salom in Leighton Bromswold) and Luddington (Northants); part of it, a tenement in Great Gidding, was again subinfeudated by the Embertons to William, son of Roger de Saleu, and Joan his wife, for one-sixth of a knight's fee. When Henry Engaine, in 1252, claimed homage and suit of court from William and Joan, Nicholas de Emberton agreed to acquit them of it. (fn. 35) By 1322 the Embertons seem to have disappeared, although their name still remained, and a quarter of a knight's fee called Emberton fee was held of John Engaine by William de Salue, William Est of Lullington [i.e. Luddington], Helen his sister, and Robert Boveton of Gidding; and it is stated that John Engaine held it of Ralph Basset of Weldon. (fn. 36) It does not seem possible to trace this property any farther.
Some time before 1514, a certain John Stile bought a house, two cottages and 100 acres of land in Great Gidding from Thomas Collis. (fn. 37) John Stile left this property to his wife, Elizabeth, for life, and then to his daughter and heir, Alice, the wife of Avery Cowper. (fn. 38) Elizabeth married, as her second husband, one Robinson, but they neglected to pay the reliefs and fines due to Sir Thomas Cheyne, (fn. 39) and litigation followed, in the course of which Avery and Alice sued Sir Thomas's widow for detaining the deeds relating to the property. (fn. 40) In 1531, Thomas, Lord Vaux of Harrowden, took possession of the premises and expelled Avery and Alice and their two children, turning them and their goods into the street. (fn. 41)
The house at this time was known as Collis House or Collis Place, but it cannot now be identified.
The manor held by the Priory of St. Mary, Huntingdon, and known as GIDDING PRIORS, may be identified with the 4½ hides held in 1086 by Eustace the Sheriff, and of him by Ingelran de Auco; it had been held by a sokeman named Alwold, and his five brothers, as sokeland of the king's manor of Alconbury. Alwold and his brothers claimed that Eustace had unjustly taken their land from them, and the jurors said that they had seen neither a seal nor any giving of seisin to Eustace. At the same time, Ralph son of Ilger, the king's steward of the manor of Alconbury, claimed that the land was a berewick of that manor, and as to this, the jurors simply said that on the day that King Edward was alive and dead it was a berewick in Alconbury in the king's farm; (fn. 42) but they said nothing as to what had happened in the meantime. Of this land, William Engaine claimed half a virgate and 18 acres, 'with the witness of the whole hundred.' (fn. 43)
Eustace retained the land, and it is evident that it ceased to have any status as a berewick of Alconbury. The overlordship remained with Eustace's successors the Lovetots, the Earls of Gloucester and Stafford, and the Dukes of Buckingham until the attainder of the last Duke, in 1521, when it passed to the Crown. (fn. 44) Ingelran de Auco retained the under-tenancy for a time, but eventually granted it, as one knight's fee in Gidding and Lullington, to the Priory of St. Mary, Huntingdon, of which the Lovetots and their successors were patrons; and this grant was confirmed by King Henry and subsequent kings. (fn. 45) The priory continued to hold it until the Dissolution; and on 22 July 1546 King Henry VIII sold the manor and lordship, the rectory and the advowson of the vicarage of Great Gidding for £1,541 7s. 8d. to Edward Watson of Rockingham. (fn. 46)
Presumably William Engaine made good his claim to the half-virgate of land; and it was probably this land which his grandson, Viel Engaine, gave to the Priory of St. Mary, Huntingdon, and which Prior Robert, in his first year, granted to Robert de Lulyngton son of William the reeve (prepositus). (fn. 47)
The one hide held by the Abbot of Ramsey in 1086 was held from him by Lunen. (fn. 48) It afterwards became known as GIDDING MOYNES or CLAREV AUX MANOR.
An unidentified manor, called BRADENACHE, appears to have been in or near [Great] Gidding. It had been granted by Ramsey Abbey, before 1130, to William de Houghton, chamberlain to King Henry I, (fn. 49) and between 1133 and 1135 William granted it back to the abbey, together with one hide in Great Gidding, which had been held with it, and the grant was confirmed by King Henry I. (fn. 50) In 1139 and 1140 Pope Innocent III confirmed to the monks 'Bradenache, which the said King [Henry I] granted to you.' (fn. 51) Apparently the abbey lost this land in the time of King Stephen, for Abbot Walter is stated to have recovered it, (fn. 52) and King Henry II again confirmed it. (fn. 53)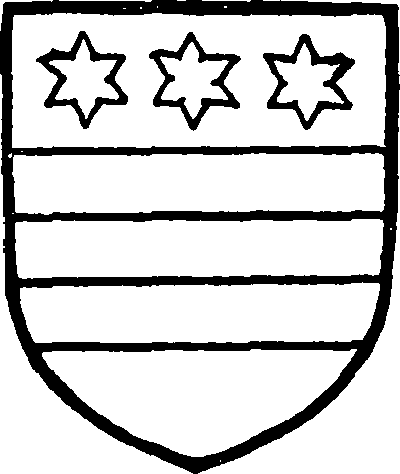 Abbot Reginald (1114–1130) had granted to Hervey le Moyne, Luddington, Gidding (except the part which Henry the Archdeacon had), Raveley, Sawtry, and one virgate at Upwood, (fn. 54) but excepting Bradenache, which was held by William de Houghton. Hervey's son, Oliver, must have made some claim to Bradenache, for about 1154–60 he and his sons quitclaimed all their rights in it to the abbey. (fn. 55) Abbot Walter is said to have alienated some 4 virgates and about 264 acres of land in Bradenache to various tenants, and one hide of land in Gidding to Oliver le Moyne, without the consent of the convent. (fn. 56) In 1221 Warin de Bradenache quitclaimed to the abbey 7 virgates of land in Bradenache. (fn. 57)
We hear no more of Bradenache, but the hide in Gidding remained in the Moyne family and followed the descent of Great Raveley (q.v.) (fn. 58) until 1404. It seems to have gone with some property in Luddington. In 1276 William le Moyne the elder, of Raveley, conveyed to William le Moyne the younger, of Raveley, the manors of Raveley, Rowey, Sawtry, Gidding and Luddington; (fn. 59) and in 1286 the son successfully maintained an action against his father for disseising him of his tenements in Gidding and Lullington. (fn. 60)
After being made the subject of numerous settlements by various members of the le Moyne family, (fn. 61) they were settled by Sir William le Moyne upon his wife for her life. (fn. 62) Sir William died in 1404, (fn. 63) and his wife enjoyed the estates until her death in 1411–12. The estates were then divided into three pourparties, but the names of the co-parceners do not seem to be definitely known. They were probably William Clarevaux, son or grandson of Sir William's aunt Juliana; Joan, wife of Thomas Priour; and Joan, wife firstly of John Tyndale and secondly of John Hore; (fn. 64) these two ladies being probably daughters or granddaughters of two other aunts of Sir William. In 1405 Gidding had been conveyed by Thomas Priour and Joan his wife, William Clarevaux the elder and Robert Langton to John Lucas, clerk, and Roger Louth, and the heirs of John Lucas, (fn. 65) no doubt as a family settlement. Gidding and Luddington, however, evidently became the property of the Clarevaux family, for in 1487 John Clarevaux was holding from the Abbot of Ramsey 'the lands and tenements formerly held by Hervey le Moyne in High Gidding.' (fn. 66)
The estate again fell to co-heirs and again they are not named. It seems possible that one was the wife of Richard Smith; that a second was Margaret Colthyrst, widow; while a third may have been Alice, wife of John Huke. (fn. 67) The shields of arms in the chancel of the church seem to suggest that one of the Watsons had married a Clarevaux, and this may have been the fourth co-heir; the Watsons certainly seem to have been in possession of the whole estate soon afterwards. Margaret Colthyrst, in 1512, sold her quarter part to Richard Smith. (fn. 68) Edward Watson married Emma, daughter and heir of Anthony Smith, (fn. 69) and apparently in her right obtained Richard's share of the estate. He died in 1530, seised of the manor of Much Gidding held of the king as of his court of Huntingdon. (fn. 70) His elder son, Henry, was in the Priory of Newstead, and his father left him only £20, the manor going to the second son, Edward, on attaining his majority. (fn. 71) Edward married Dorothy, daughter of Sir Edward Montagu of Boughton, (fn. 72) and, in 1546, purchased from the king the manor, etc., of Great Gidding which had belonged to the Priory of St. Mary, Huntingdon. (fn. 73) He died in 1584. His son and successor, another Edward, who was knighted in 1603, and married Ann, daughter of Kenelm Digby, (fn. 74) purchased the Engaine manor in Great Gidding in 1587 (fn. 75) (q.v.), and so became possessed of the whole parish.
Im 1303, the king granted to John Engaine, and his heirs, a weekly market at Gidding, on Wednesdays, and a yearly fair on the vigil, feast and morrow of the Nativity of St. Mary, (fn. 76) but neither of them is heard of again.
Church
The church of ST. MICHAEL consists of a chancel (29½ ft. by 15¾ ft.), nave (44½ ft. by 16½ ft.), north aisle (58½ ft. by 9½ ft.), south aisle (57½ ft. by 11½ ft.), west tower and spire (12 ft. by 10 ft.), and south porch. The walls are rubble with stone dressings, and the roofs are covered with slates and lead.
The church is not mentioned in the Domesday Survey (1086). There was, however, a stone church here before the middle of the 13th century, which is the date of the present south doorway, and the late 13th-century chancel is, doubtless, a rebuilding of part of that earlier church; a western tower was added to it in the first half of the 14th century, but the belfry was not built until about 1370. The nave and the chancel arch were rebuilt c. 1400; and, some sixty years later, the two aisles, the clearstory and the porch. The parapets of the tower and the spire were not built until the early years of the 16th century. The church was restored in 1870, (fn. 77) when the walls of the chancel were raised and a new roof put on, and the porch rebuilt. The tower and the chancel arch were restored in 1925.
The late 13th-century chancel has a three-light east window, nearly all modern; on either side of it is a rectangular locker. The side walls have wallarcades of two bays each, which, however, do not extend to the west wall; the arches are two-centred of one chamfered order continuous at the ends, but supported on a moulded corbel in the middle. Under the eastern arch on the north is an original two-light window with a 15th-century head and mullion, and under the western is an original triple lancet window; westward of the arcade is an original doorway with moulded jambs and a two-centred head, and an original single-light low-side window. The south wall is generally similar to the north, but there is no doorway, and the window west of the arcade is a mid 14th-century three-light with reticulated tracery; there is an original piscina with trefoiled head and projecting circular basin, and the sill of the easternmost window is carried down to form a seat. On the walls are six modern shields of arms, all of Watson impaling (1) Clarevaux, (2) Digby, (3) Bertie, Lord Willoughby de Eresby, (4) Manners, (5) Montagu quartering Monthermer, and (6) Smith. The chancel arch, c. 1400, is two-centred, of two chamfered orders on semicircular respond-shafts with moulded capitals and bases.
The nave, c. 1400, has an arcade of four bays on each side having two-centred arches of two chamfered orders resting on circular columns with moulded capitals having octagonal abaci and moulded bases, and similar attached half-columns as responds. The late 15th-century clearstory has four two-light windows with four-centred heads on each side. The contemporary roof has moulded beams, jack-legs and braces, all much restored, but the stone corbels below the jack-legs are ancient.
The late 15th-century north aisle has in the east wall an original three-light window and a semioctagonal bracket. The north wall has three similar windows, the westernmost modern; an early 14thcentury doorway with a two-centred head and continuous chamfered jambs; a blocked square-headed window, visible on the outside only; and a 14thcentury piscina with a two-centred head and a rectangular basin. (fn. 78)
The late 15th-century south aisle has in the east wall an original three-light window and a square bracket. In the south wall are two similar windows; a mid 14th-century three-light window with reticulated tracery; a mid 13th-century doorway with a two-centred head of two orders, the outer order moulded and resting on detached jamb-shafts with moulded capitals; and a 14th-century piscina with ogee head and rectangular basin. The lean-to roof has a few old beams at the west end, one being inscribed '1629 John Lamb Churchwarden'; and some of the corbels below the jack-legs are ancient.
The 14th-century west tower has a two-centred tower arch of two chamfered orders, the lower resting on semi-octagonal attached shafts with moulded capitals and plain plinths. The west window is a two-light with transom and a two-centred head. In the third stage is a spherical-triangular window with tracery formed of three quatrefoils. The belfry windows are double two-lights with embattled transoms and two-centred heads. The tower has diagonal buttresses which stop below the belfry windows, and is surmounted by an embattled parapet below which is a band of quatrefoiled square panels, and a stone spitter in the centre of each front. From behind the parapet rises a 15th-century octagonal stone spire having two tiers of spire-lights, both twolights and both on the cardinal faces.
The much restored 15th-century south porch has a two-centred outer archway of two continuous chamfered orders; the side walls each have a squareheaded single-light window, mostly modern. A triangular stone sundial, inscribed '1653 Richard Trewe Thomas Daniel C.W.,' now lying loose in the vicarage garden, is said to have come from the gable of this porch.
The modern font has a square bowl on a central and four smaller shafts, all octagonal.
There are five bells, inscribed: (1) T.C. [or T.G.] 1670. (2) Taylors bellfounders Oxford 1839. (3) Taylor . s founder . s Oxford: 1839. (4) J. Taylor & Co.: founders Loughborough 1873. (5) Conjugium partus mysteria festa decoro anno Domini 1756. The first is by Tobias Norris III and the fifth by Joseph Eayre. In 1709 there were six bells, (fn. 79) but by 1724 there were only five. (fn. 80)
The Communion table, c. 1640, has turned legs and simple carving on the rails. The early 17th-century Communion rails consist of an upper and lower series of turned balusters, the former alternated with turned pendants and having arches of thin boards from baluster to baluster. There is a 17th-century hutchshaped chest in the tower, with carved legs and panels and inlaid rails and muntins. An alms-box formed from a 15th-century post, found in a loft, has been refixed in the church. On the south wall of the chancel has been fixed a small octagonal piece of oak inscribed with the words 'Sator, Arepo, Tenet, Opera, Rotas,' with the initials and date 'E.R. 1614.' The screen was ordered, by the Archdeacon, to be removed and the king's arms to be set up in 1748, (fn. 81) but the latter are not there now.
In the vicarage garden is a large octagonal late 14thcentury capital with a hole through it, perhaps the head of a chimney.
There are the following monuments: in the chancel, to Edmund Salmon Bagshaw, d. 1890; the Rev. Wm. Salmon Bagshaw, formerly vicar, d. 1922, and Sarah Maria Hayley, his wife, d. 1928; Florence Louisa, d. 1918, and Ann Mary Frances Sarah, d. 1922, daughters of the Rev. W. S. Bagshaw; War Memorial, 1914–18; and glass window to R. B. Hatfield, 1869. In the north aisle, to the Rev. Benj. Johnson, vicar, d. 1843, and Catherine, his wife, d. 1835. In the tower, floor slab to C. J. 1843.
The registers are as follows: (i) baptisms 20 November 1579 to 15 January 1666/7, marriages 16 November 1574 to 10 October 1604 (the end of the book is missing), and burials 8 January 1581 to 20 December 1652; (ii) baptisms, marriages and burials 9 February 1669/70 to 18 January 173½; (iii) the same 28 May 1732 to 8 April 1787, marriages end 5 October 1772; (iv) baptisms and burials 7 May 1787 to 23 December 1812; (v) marriages 11 October 1772 to 29 December 1812.
The church plate consists of (fn. 82) a silver cup hallmarked for 1638–9; a silver cover paten similarly hall-marked; a silver-mounted glass flagon hallmarked for 1871–2; a pewter plate; a pewter dish; a large pewter alms-dish; a pewter jug.
Advowson
The church of Great Gidding was on the land held by the Priory of St. Mary, Huntingdon, and at an early date the rectory was appropriated to the priory and a vicarage was ordained.
In the time of Bishop Hugh de Welles (1209–35) it was ordered that the vicar should have a house next the church. (fn. 83)
The advowson of the vicarage followed the descent of the Priory manor to the present day. (fn. 84) When, however, the living was consolidated with that of Little Gidding, on 2 July 1875, the presentations were made in turn by Mr. George Charles Wentworth Fitzwilliam and the Lord Chancellor; and when, in 1925, the combined benefice was united to that of Steeple Gidding, the patron of that benefice took his turn with the others.
Charities
Doles or Little Gidding Annuity.— Nicholas Ferrar about 1635 gave to the poor of the parish a rentcharge of £1 per annum issuing out of the estate of Little Gidding. This sum is regularly received by the Parish Council and distributed to the poor in money.
The Almshouses.—The origin of this charity is unknown. The endowment consists of 6 acres 2 roods 36 poles of grass land, together with the four almshouses thereon. The land is let by public auction to the highest bidder and the rent applied towards the repair and upkeep of the almshouses. In the year 1925 the land was let for £11.
Unknown Donor.—A sum of £45, representing the endowment of the charity, was embezzled. The charity no longer exists.
The Recreation Ground.—This consists of a grass field containing 3 acres 3 roods 36 poles, which is let annually by public auction. The net rent is carried to the general account of the Parish Council. In 1926 the land was let for £10.
The Allotments.—Land consisting of two arable fields containing 9 acres 3 roods 8 poles is rented by the Parish Council from the lord of the manor, and sublet to poor parishioners at a low rent.
No profit is made on the allotments.