Pages 140-149
A History of the County of Lancaster: Volume 3. Originally published by Victoria County History, London, 1907.
This free content was digitised by double rekeying. All rights reserved.
HALE
Hales, 1176; Hale, 1201—the universal spelling from about 1250.
Hale is a riverside township, the southern and eastern limits being washed by the Mersey, which curves round Hale Point, the most southerly land in the county, whereon stands a lighthouse. The northern boundary is mainly formed by Rams Brook. The land is flat, interspersed with plantations and farms; rows of straight, tall Lombardy poplars being noticeable features of the open landscape.
The park and grounds of Hale Hall occupy a large portion of the river frontage. The village of Hale is a straggling one, with some pretty cottages set in flowery gardens. The surrounding country is entirely agricultural. Crops of barley, wheat, and turnips are grown, on loamy and sandy soil with a mixture of clay. It is said to be one of the best wheat-growing districts in Lancashire.
The geological formation is the same as in Speke, with alluvial deposits by the banks of Ramsbrook.
To the north is the hamlet of Ciss Green, and at the western corner, on the banks of the Mersey, is Dungeon, where a century ago there were considerable salt works, (fn. 1) long since discontinued. The village is much frequented in summer by pleasure parties. The population was 524 in 1901.
Roads spread out from the village in several directions, and a footpath leads north-west. The area is 1,651 acres. (fn. 2) The highest ground is but little over 80 ft.; the lowest is in the Decoy Marsh, so called from a decoy for wild fowl formed near Hale Point.
The celebrity of the place is the giant John Middleton, called the 'Child of Hale.' He was born in 1578, and buried in 1623 in the churchyard, where what is called his tombstone is shown. He was 9 ft. 3 in. in height, and was taken to London in 1617 to be shown to James I, who gave him £20. (fn. 3)
The cross upon the highway is mentioned in a charter of 1387. (fn. 4)
A ferry from Hale to Runcorn was established at an early period. It had been discontinued for want of a boat for two years in the time of King John, causing a loss of 20s. per annum to the revenue. (fn. 5)
Formerly there was a ford in general use. John Walley of Runcorn in 1423, in attempting to ride across to Weston by it with two horses laden with fish from Formby, was drowned, though the fish-laden horses crossed safely. In 1465 the court rolls record that a certain John Jackson of the north country and some companions crossed by it with horses, cattle, and sheep, and were stopped by the bailiff until they paid the toll called 'stallage.' (fn. 6) The ford was in constant use in the Civil War period and later, being mentioned in the deeds of the Halsall charity bequest in 1734.
M. Gregson in 1817 mentions a project for embanking the Mersey from the marsh at Ditton down to Garston or even to Knott's Hole at the Dingle. 'Opposite the Dungeon two miles of land in breadth might be enclosed before the present salt works, where the river is fordable at low water.' (fn. 7)
In the early part of the last century a fair for toys and pedlery was held on 19 November, when a large number of persons called freemen, chosen by the manor court, appointed a mayor. A wake was held on the Sunday next to 15 August. (fn. 8) The Great Court of Hale used to be held on the Wednesday before St. Andrew's Day, and a court-leet and courtbaron on Michaelmas Day, when constables, coroner (for Hale only), (fn. 9) water bailiffs, burleymen, aletasters, and house and fire lookers were chosen; (fn. 10) but courts have not been held for many years.
The lord had a toll (4d.) from every vessel casting anchor within the bounds. (fn. 11) It was the duty of the water bailiff to collect this due or to make distraint for it. From the old court rolls it appears that money found on a drowned man brought ashore at Hale, like other things cast up by the river, went to the lord as 'dower of the sea.' (fn. 12)
The township is governed by a parish council.
MANOR
HALE with HALEWOOD formed one of the six berewicks of King Edward's manor of West Derby in 1066. (fn. 13) By Roger the Poitevin its tithes were in 1094 granted to the abbey of St. Martin of Séez. The gift was confirmed by John when count of Mortain, and by Henry III in 1227. (fn. 14)
The manor remained in the king's hands during the twelfth century. (fn. 15) Henry II, after his first coronation, placed part of it—perhaps that afterwards known as Halewood—within the forest, viz. from the Flaxpool to the Quintbridge; but it was disafforested in Henry III's reign, according to the charter of the forest. (fn. 16) The assized rent of £4 10s. was increased in 1200 by £2 10s., so that in later years the sheriff of the county answered for £7 to the treasury. (fn. 17)
By charter, dated at Rouen, 9 November, 1203, King John granted to Richard de Meath (fn. 18) the vill of Hale in its entirety, rendering every Michaelmas for all service the increased rent of £7 above mentioned. The vill was to be held by Richard and his heirs by hereditary right. (fn. 19)
The words as to descent by hereditary right led to trouble. Richard de Meath was a clerk and beneficed, having been presented to Swineford church in 1203 and again in 1207, (fn. 20) so that he may have been in holy orders. Yet he allied himself with one Cecily de Columbers, (fn. 21) and had four sons and two daughters by her. In 1226–7 he granted to Cecily de Columbers and her children begotten by him and their heirs the vill of Hale and its appurtenances, to be held of Richard himself during his life, and after his death of his brother Henry de Walton and his heirs, 'who,' he declared, 'are my heirs.' The remainders were to Cecily's children in turn—Richard, Geoffrey, Adam, Henry, Emma, and Cecily; 'and so to all other children that the said Cecily may have by me.' The holder was to pay annually to Henry de Walton and his heirs the £7 due to the king and 12d., or a pound of pepper, in addition. (fn. 22) About the same time (viz. on 19 July, 1227) Henry III confirmed his father's grants to Richard, as well as the latter's charter granting Hale to Henry de Walton and his heirs. (fn. 23)
Richard de Meath lived for several years after this charter, (fn. 24) dying, it is supposed, about 1235. He was succeeded by Cecily de Columbers, (fn. 25) and then in turn by Richard, (fn. 26) Geoffrey, Adam, and Henry (fn. 27) her sons.
Henry was still living in October, 1260, when William son of Henry de Walton endeavoured to recover the manor of Hale, which, as he asserted, Cecily de Columbers had held of him, and which should have reverted to him as an escheat on her death, as she died without heirs, her children being ignored as illegitimate. Henry's defence was technical but successful; he did not hold the entire manor, as Herbert, rector of Childwall, had a messuage there with 3½ acres of land and the site of a chapel. (fn. 28) Henry retained the manor till his death, which occurred soon after, and was succeeded by his sister Cecily, wife of John de Wolfall. (fn. 29)
So far, the settlement made by Richard de Meath held good; the Walton family were overlords, and Cecily de Columbers and her children successively held under them. The threat of the Waltons to dispossess them for illegitimacy seems to have led to a compromise, for Cecily de Wolfall granted a third of the manor of Hale to her overlord William de Walton, who was satisfied with that concession. (fn. 30)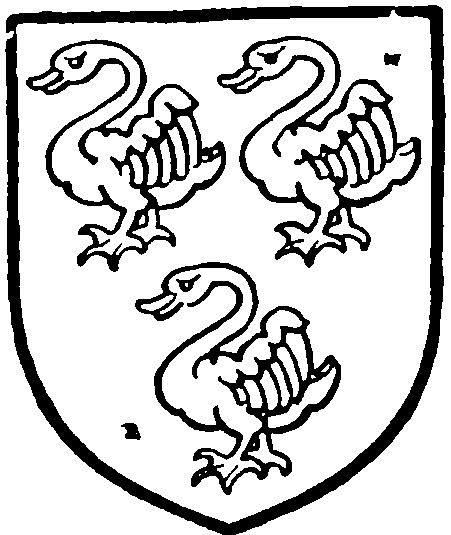 Other claims interfered. Robert de Ferrers, earl of Derby, between 1263 and 1266, granted to Nicholas de la Hose the wardship of Richard de Walton, and in addition, granted him the £7 rent due from the manor, and made him mesne lord of Hale, holding directly of the earl, and therefore superior to the Waltons, under whom were the descendants of Richard de Meath. Nicholas de la Hose (fn. 31) sold his rights to Robert de Holand, who thus became superior lord of Hale, with the Walton heir in wardship. (fn. 32)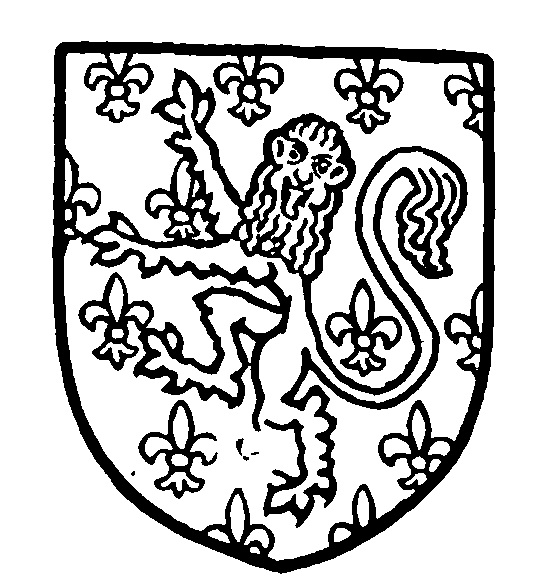 But at the beginning of Edward I's reign another claimant came forward, more important than any of the foregoing. This was Adam Austin or Adam de Ireland, son of Cecily de Wolfall's sister Edusa, (fn. 33) who had been living in Ireland, where her son Adam was born and brought up. They were in ignorance of the state of the succession in Hale, but Adam on coming into Lancashire claimed his mother's share of the two-thirds not alienated by Cecily, and then sought a writ against Richard de Walton for the other third. (fn. 34)
He first appears as a claimant in 1279, when, in conjunction with his aunt Cecily and her husband, he demanded land, meadow, wood, and the third part of a mill at Hale. For that he substituted a claim against John de Wolfall and Cecily his wife for the moiety of two parts of the manor of Hale as his portion of the inheritance of his uncle Henry de Hale, lately deceased. To this they agreed, and Adam accordingly had seisin. (fn. 35) His next suit was against Robert de Holand, Richard son of William de Walton, and others, to recover the third part of the manor, except one messuage. Robert de Holand said he claimed nothing except as guardian of Richard de Walton, a minor. Richard denied Adam's right, and the latter repeated his story, with the addition that his aunt Cecily in her old age and infirmity had desired it to be known that he was her heir, and had allowed him temporary possession 'for one day and one night,' in token of the same. (fn. 36)
The claim was unsuccessful, and the Waltons retained this part of the manor. In 1292 Richard de Walton was summoned to show his right to a third part of the manor of Hale, part of the ancient demesne of the crown, but stated that he held in fact only about a sixth of it. On adducing the grant to Richard de Meath, he was met by the statement that the hey of Hale with its hunting and other rights had been reserved by King John; (fn. 37) he could only reply that Richard de Meath had occupied the hey as well as the rest of the manor. In 1293 his portion of the manor was taken into the king's hands by default, (fn. 38) but four years later was restored to his son William de Walton. (fn. 39) The disputes between the various lords of the manor continued, (fn. 40) but in 1321 William de Walton sold his rights to Adam de Ireland and Robert his son. (fn. 41)
The lordship of Robert de Holand (fn. 42) descended like his other manors. His son Robert, afterwards Lord Holand, in 1304 procured a charter for a market and fair for Hale and free warren there. (fn. 43) The market was to be held every Tuesday, and the fair on the eve, day, and morrow of St. Mary Magdalene. Robert himself seems afterwards to have granted a charter for a borough. (fn. 44) Hale seems to have been assigned as part of the dower of his widow Maud, and soon afterwards she was defendant in a suit by Alan son of Henry le Norreys. (fn. 45) She died seised of the manor in 1349. It was held of Henry earl of Lancaster by fealty and suit to the wapentake of West Derby, and was worth £9 a year clear. (fn. 46) The second Lord Holand died in 1373, holding it of the duke of Lancaster by homage and fealty only; it was then worth £60 2s. 6d. (fn. 47) His daughter Maud, widow of Sir John Lord Lovel, died in 1423 seised of the manor of Halewood, held of the king in chief as of his duchy of Lancaster in socage by fealty only; it was worth £40 clear. (fn. 48) It was forfeited by the Lovels in 1487, and given to the first earl of Derby, (fn. 49) of whom the Irelands continued to hold the manors of Hale and Halewood by the tender of two roses on Midsummer Day.
A junior branch of the Holand family was established in Hale. (fn. 50)
The appearance of the Ireland family has already been narrated. Adam Austin, having established his claim to a portion of the lordship, in 1285 married Avina, daughter of Robert de Holand, his superior lord. The grant to Avina on her marriage (fn. 51) may be regarded as a settlement of the disputes between her father and her husband.
The Norris interest in Hale began with Alan, father of the Alan and John le Norreys who settled at Speke. In an undated charter, Alan le Norreys granted to Simon his son the Ditton half of the mill of Hale—that upon the pool between Hale and Ditton — which he had received from Henry de Walton, formerly the king's servant, with fishing and other rights. (fn. 52)
This will explain the position in 1292, when the tenants of Hale were summoned to prove their title to their holdings. Robert de Holand had 160 acres and his brother Richard 60; Adam de Ireland and Avina (fn. 53) his wife had 200 acres; Alan le Norreys had but 20. (fn. 54)
From this time the Irelands' position was secure. (fn. 55) Adam Austin de Ireland, in spite of his many lawsuits, lived until 1324, (fn. 56) and his wife Avina also. In 1292 he was non-suited in divers claims against Robert de Holand, Robert Erneys of Speke, and his wife Joan, and Roger de Culcheth. (fn. 57) In 1323 he was returned by the sheriff as one of those holding lands of the annual value of £15 and more; (fn. 58) and about the same time a claim was made against him and his wife Avina and their sons Robert and Adam, by Randle, son of Henry Malinson, respecting his free tenement in Hale, but it was unsuccessful. (fn. 59) Another claim was at the same time made against Adam and Avina, and Adam, their son, by Robert Grelley. (fn. 60) A charter exists of Adam de Ireland, lord of Hale, to Richard, son of Henry Malinson, another defendant in the former suit, granting him a messuage and lands upon the waste of Hale, near the Old Barn yard, and a fishery in the Mersey called 'the Heegh Yord,' for a rent of 5d. (fn. 61)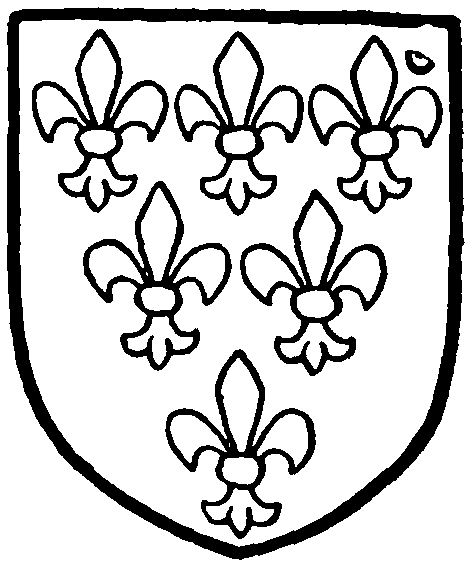 During Adam's lifetime John de Ireland, who succeeded to Hale, (fn. 62) had become possessed of lands in the place. (fn. 63) In 1331 he appears as son and heir of Adam. (fn. 64) At the beginning of 1336 Henry, son of Randle de Hale, sold to John, son of Adam de Ireland, and Agatha his wife, (fn. 65) certain lands which they held on lease from him. (fn. 66)
Some dispute appears to have arisen about this time with Simon de Walton; for Randle de Merton entered into a bond to him for the production by John de Ireland of two charters concerning Hale— the original one of King John to Richard de Meath and the confirmation by Henry III. A royal confirmation was secured, and the contest with the Walton family terminated. (fn. 67) John de Ireland continued to purchase lands in Hale, and his name occurs as witness to various deeds down to about 1358.
David de Ireland, his son, succeeded, and was lord of Hale for over twenty years, his name occurring in a receipt for 40 marks paid by him to Sir Richard de Bold as late as 1378. (fn. 68) In 1367 the bishop of Lichfield granted him a licence for an oratory in his mansion at Hale. (fn. 69)
John de Ireland succeeded his father David early in Richard II's reign; he was knighted at the beginning of Henry IV's. (fn. 70) In answer to a quo warranto from the king he claimed wrecks, fishes-royal, assize of bread and beer, amercements of offenders against the same, view of frankpledge and other liberties which had been enjoyed by himself and his ancestors from time beyond memory. (fn. 71) From a broken inscription in a window in the chapel, preserved by Challoner, he seems to have been a benefactor to the chantry. (fn. 72) His will dated 24 May, 1411, directs his burial in Hale chapel, and mentions his wife Margery and his daughters Joan and Katherine. (fn. 73)
His eldest son and successor was William de Ireland. (fn. 74) At the beginning of 1422 he enfeoffed a number of trustees, Thomas de Ireland being one, of the manors of Hale and Hutt, and all his other possessions. (fn. 75) He died in 1435. (fn. 76)
Another John de Ireland succeeded his father William. He acquired lands in Smerley in Halewood, in Fulshawfield, and in several other holdings; one of the latest being from Thomas Fulshaw, of Halebank, in August, 1461, of a piece of land next to Lord Lovel's holding. (fn. 77) A dispute between him and William Norris, of Speke, was referred to the award of Sir Thomas Stanley. (fn. 78) The inscription on his tomb is given by Challoner (or Holme) as follows:—Hic iacet Joh'es Yerlond armiger qui fuit dñs de Hale et dimid ville de Bebinton inferioris qui obijt sc'do die Maij año dñi M° CCCC° sexagessimo sc'do. … Cuius aīe propicietur deus. Amen. (fn. 79)
His son William succeeded, (fn. 80) and was followed by his son, Sir John Ireland, knighted by Lord Strange in Scotland, in 1497, during the expedition led by the earl of Surrey. (fn. 81) He made an exchange with Richard Crosse, of Liverpool, taking the latter's holding in Halewood in place of certain tenements in Wavertree and Liverpool. (fn. 82) Sir John died 29 July, 1525, seised of the manors of Hutt and Hale, held of the earl of Derby in socage by a rent of two roses, the value being £40. (fn. 83)
His son and heir was Thomas Ireland, then aged 22 years, whose mother is said to have been an illegitimate daughter of James Stanley, bishop of Ely. Thomas Ireland married (in 1508–9) Margaret, daughter of Sir Richard Bold, (fn. 84) by whom he had two sons—John, who left an only daughter Margaret—and George, who succeeded him. He died 27 August, 1545, leaving his possessions by will to his son George and his heirs, with remainder to the above-named Margaret. (fn. 85)
George Ireland married for his first wife Elizabeth, one of the two daughters and heirs of Ralph Birkenhead, of Crowton near Northwich, whereby he came into possession of considerable lands in Cheshire. He died 15 July, 1596. (fn. 86)
His eldest son, John, then aged 38, who succeeded, is said to have been lieutenant of the Isle of Man in 1611. He died 17 October, 1614, being buried at Hale on 15 November following. (fn. 87)
Gilbert Ireland, his younger brother, (fn. 88) succeeded him, being then about fifty-five years of age. He was made a knight at Lathom in 1617, during King James's stay there. (fn. 89) He served as sheriff of Lancashire in 1622, (fn. 90) and died at the Hutt in April, 1626. (fn. 91) John, the son and heir, said to have been aged 29 at his father's death, sold his share of the Crowton estates, and dying at the Hutt 5 May, 1633, (fn. 92) was buried at Hale. (fn. 93)
Gilbert, the eldest son of John Ireland, succeeded, He was born 8 April, 1624, and married Margaret, only child and heir of Thomas Ireland, of Bewsey, but there were no children. He took the side of the Parliament in the Civil War, with the rank of colonel, and was nominated upon the committee of the county in 1645; he was high sheriff of Lancashire in 1648, (fn. 94) governor of Liverpool Castle, governor of Chester, member for Lancashire in 1654 and 1656, and for Liverpool from 1658 till his death. (fn. 95) Like many of his Presbyterian brethren he aided the restoration of Charles II in 1660, when he received knighthood, and was appointed a deputy lieutenant of Lancashire in 1665. (fn. 96) He was a 'man of unbounded hospitality; . . . . his disposition, however, was haughty, and his demeanour stately. He was fond of elections, and maintained a contest for Liverpool on several occasions, the last of which, from excessive drinking and an extravagant expenditure of money, proved as fatal to his health as injurious to his purse.' (fn. 97) He assigned his estates to trustees for thirty years to pay his debts, and, it is said, to prevent his sister Elizabeth enjoying them. He died at Bewsey 30 April, 1675, and was buried at Hale; his widow following him two months later. (fn. 98)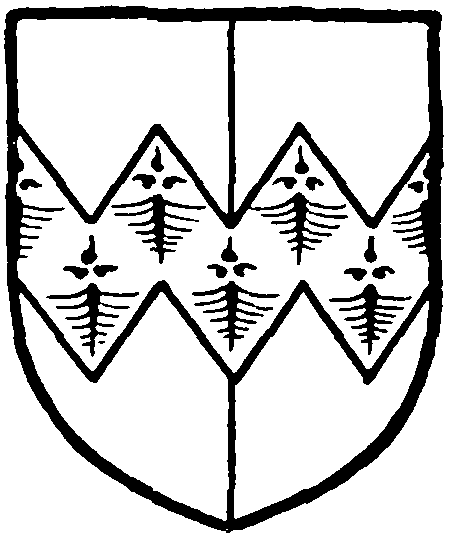 Hale then passed to his nephew Gilbert Aspinwall, who died in 1717, and whose son Edward (fn. 99) died two years later. Ireland Aspinwall, son of Edward, (fn. 100) died unmarried in 1733, and the Hale estate devolved on his sister Mary.
She married Isaac Greene of Childwall, and had three daughters. The eldest died unmarried; the youngest married Bamber Gascoyne; (fn. 101) while the second, Ireland Greene, in 1752 married Thomas Blackburne of Orford; and on a partition of the properties the last-named had Hale, which became the residence of the Blackburne family. The eldest son John, born in 1754, was high sheriff in 1781, (fn. 102) represented Lancashire in Parliament as a Tory from 1784 to 1830, (fn. 103) and died in 1833. In his time, says Gregson, 'the house at Hale underwent considerable alterations'; and 'the celebrated collection of plants which were formerly in the Botanic Gardens at Orford were removed to this favoured spot.' (fn. 104)
John Ireland Blackburne, who succeeded his father in 1833, was several times a member of Parliament as a Conservative—for Newton and Warrington. (fn. 105) He died in 1874, and was followed by his son, also named John Ireland Blackburne, who was for ten years a representative of Southwest Lancashire. (fn. 106) On his death in 1893, his son Col. Robert Ireland Blackburne became lord of Hale.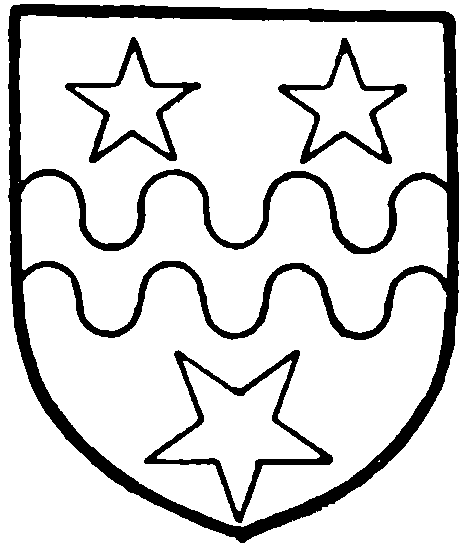 Hale Hall is a quadrangular building of c. 1600, altered in the latter part of the seventeenth century, with a large south front added in 1806.
The original house had a north front with five irregularly spaced projecting bays, with mullioned windows and gables. It was remodelled in 1674 by Sir Gilbert Ireland, the gables being masked by a panelled parapet, flush with the front of the projecting bays, and carried on semicircular arches springing from their angles, or from piers brought forward to the same line. At the same time a porch was built in front of the entrance doorway, and a second entrance porch added to the second bay from the west. This is now built up. The inner courtyard was very small, and is now roofed over, and filled up with an eighteenth-century staircase, a former stair dating from the middle of the seventeenth century, with good newels and balusters, having been moved from its original position near the south-west angle of the court and set up further to the west, near the kitchen and offices. On the south side of the court is a fine panelled room, which seems to have been fitted up by Sir G. Ireland in 1671. (fn. 107) It was designed as the hall of the original house, and may have had a projecting bay at the south-east angle of the court and screens at the west, where a door still communicates with the kitchen passage. On the first floor a gallery runs round all four sides overlooking the court, having in its windows some very interesting early seventeenth-century glass, with representations of the months, of various birds and beasts, and of Faith, Hope, &c., and in one of the bedrooms opening from the gallery on the north, known as Sir Gilbert Ireland's room, is a bay window with panels of heraldry, mostly c. 1670, with the arms of various local families.
The roof-timbers are those of the original house, and the roof space preserves the clay floor which was common in the older houses of Lancashire. A similar floor was found beneath the floorboards of Sir Gilbert Ireland's room on the occasion of a fire, and was undoubtedly of use in preventing the spread of the flames.
The south front of the house consists of a range of rooms with a tower at the west end, added in 1806, Nash being the architect. The design is copied from the north front, both the original features and the alterations of 1674 being imitated in a manner worthy of the time.
The house is not so rich in detail as many of the old Lancashire houses, but what there is is good of its kind, and there are some good pictures and furniture.
Part at least of the Norreys holding in Hale came into the possession of the West Derby branch, being regained by the marriage of Thomas Norris of Speke to the heiress of that branch about 1460. (fn. 108) Alan son of Henry le Norreys in 1325–30 claimed from John son of Alan le Norreys and Richard de Molyneux of Sefton three messuages, 20 acres of land, and other tenements, including a third of the mill; the plaintiff failed to appear and was nonsuited. (fn. 109) William son of John le Norreys claimed in 1346 a messuage and 40 acres from Maud widow of Sir Robert de Holand, (fn. 110) and this suit was continued by Thomas le Norreys of West Derby. The Speke branch continued to increase its holding in the township. In 1364 Sir Henry le Norreys acquired a messuage and 19 acres from John son of Roger Daukinson; (fn. 111) Sir John le Norreys, his successor, purchased the inheritance of John de Sutton in Halebank and Gervasefield, (fn. 112) and other like charters exist among the Norris deeds. (fn. 113)
As will have been noticed in some of the deeds already cited, Hale was used as a surname by some of the undertenants there. John son of John de Wolfall in 1318 released to Richard son of Thomas de Hale his right in 6 acres lying near Halepool in the Greve Riding, in accordance with a charter made between the respective fathers. (fn. 114) In 1327 Thomas de Lathom brought an accusation of breaking into his houses at Hale and carrying off his goods against a large number of the people of the neighbourhood, including William son of Ralph de Hale, Thomas son of Roger de Hale, Robert son of Thomas de Hale, Henry de Holland of Hale, and Adam de Gerstan. (fn. 115) Coldcotes gave its name to the holders; Adam de Coldcotes senior gave a house and the old garden to his son Henry in 1358. (fn. 116)
The Laghok family had land here. At the beginning of 1325 Richard de Laghok recovered in the Court of Hale from John de Grelley of Barton (or John de Barton) and Cecily his wife a toft and 30 acres of land. Seven years later Adam son of Richard de Lachog transferred the same tenement, said to lie in 'le Brerehevid' in Halewood, to Richard son of Robert de Lachog. The family acquired various other small properties by various titles, and in 1364 John son of Roger Daukinson de Lagog and Joan his wife sold a field called Hondfield to Sir Henry le Norreys of Speke. (fn. 117)
A little later there appears a John Layot (or Leyot), possibly of the same family, (fn. 118) whose career was noteworthy. He was baptized at Hale, and seems to have been much attached to this place. He was ordained deacon in Lent, 1382, on the title of his benefice, the vicarage at Huyton. (fn. 119) In later years he is described as a bachelor of decrees. (fn. 120) Yet he appears to have married early in life, perhaps before he started on an ecclesiastical career. He had at least two sons, Richard and Robert. Richard was not only a master of arts, but held the position of chancellor to the duke of Bedford in 1420, so that he may well have been forty years of age. (fn. 121)
It was in favour of this son that the father, according to the Irelands, endeavoured to settle his lands in Hale without their cognisance. He had acquired lands there in 1393, (fn. 122) and in order to overawe the lords of the manor he executed a feoffment to the duke of Bedford, who by deputy took seisin. (fn. 123) He died in 1427, and was buried in the middle of the chapel of Hale, where he had made provision for two chantry chaplains. (fn. 124)
Various settlements were made. In 1426–7 Master John Layot, rector of a mediety of the church of Malpas, granted land in Hopkinsyard to Robert his son, who duly took possession. (fn. 125) John Layot junior, who succeeded, had two sons, John and Robert, of whom Robert became rector of Chalke in Wiltshire and in 1460 made a settlement of the property; to his mother Joan Smerley, if she survived him; to his brother John Layot, chaplain, and to Thomas and William, the sons of John by Ellen, 'formerly his wife,' and Elizabeth the daughter; in case of failure of all heirs the lands must be sold, and the money delivered to the reeves of the chapel of Hale for its maintenance, repair, and emendation, for the souls of Robert himself and his parents, friends, and benefactors. (fn. 126) More than thirty years later still a John Layot, vicar of Chalke, appears as owner; and in 1497 he, then rector of Fyfield, at which place one of the Norris family was settled, appeared in St. John's, Chester, and made a statement to the effect that he had made no private settlement, and that after his death the properties must, by right of inheritance, pass to Sir William Norris of Speke. (fn. 127)
In the meantime the lord of Hale had not been idle. William Ireland had gathered evidence that the Layot land had been copyhold, and having been transferred from one to another by deeds without any appearance before his manor court they were forfeited to him; and at Lancaster in 1481 he had brought a writ of assize of novel disseisin against John Layot, priest, and Thomas Layot. The court rolls were produced, but the defendants had such 'great evident proofs' by original deeds and evidence of possession that they won their case easily. Hence there was no opposition when in 1493, on the death of John Layot, chaplain, Sir William Norris at the hallmote of the manor of Hale claimed certain lands there— though by what right was unknown—and they were delivered to him; relief 21d. (fn. 128)
The list of tenants in 1292 summoned to prove their title to their holdings has been mentioned above. There is also extant a rental of 1324, commencing with the name of Simon de Walton, lord of the manor of Walton. (fn. 129)
The Hospitallers had a rent of 12d. from lands in Hale. (fn. 130)
An Enclosure Act for Hale and Halewood was passed in 1800.
In 1343 there were serious disputes between Sir John de Molyneux and some of his tenants and neighbours at Hale. Richard del Doustes and others were found guilty of assaulting Sir John, and damages were assessed at 100s. Richard was afterwards assaulted himself, but he was charged with being a 'common evil doer,' it being among the accusations against him that he made various poor persons work for him against their will. He brought a certain Toya Robin to his house at Hale, bound his head with a rope, and perpetrated other enormities upon him to make him acknowledge that he was one of those who took evil reports to Sir John de Molyneux and so kept alive the latter's animosity. (fn. 131)
The recusant roll of 1641 shows that a large number of the inhabitants adhered to the Roman Catholic faith. (fn. 132)
CHURCH
The chapel of St. Mary is of ancient origin. It is mentioned in a suit of 1260, and in the feoffment of Robert de Ireland in 1322, already quoted. Master John de Layot's foundation, about 1381, was for a chantry with two chaplains, but there is no record of it at the time of the confiscation of such endowments. (fn. 133)
Roger was chaplain of Hale about 1270, (fn. 134) William Kendal in 1420, and John Cundliff in 1434; no doubt many of the 'chaplains' mentioned in the local charters also served there. The fourteenth-century tower is standing; but the church, said to have been a 'black and white' timbered building, was replaced in 1754 by the present one, which was in 1874 renovated and refitted by Colonel Ireland Blackburne. The peal of six bells was given by the agent to the estates; the inscription is 'Church and King—John Watkins, Ditton, 1814.' There were in the old building the tombs of John Layot (1428), John Ireland (1462), Sir Gilbert Ireland (1626), and Sir Gilbert Ireland (1675); only the latter, of black marble, has been preserved. (fn. 135)
The chapel continued in use after the Reformation. In 1592 the wardens were enjoined to provide a sufficient register book, &c. In the time of the Commonwealth the commissioners recommended that Hale should be made a parish church, because of the distance from Childwall, and 'because there is not any person hath any seat or burial place within Childwall church.' The tithes and Easter roll were the only revenues that could be assigned to it, for it had no endowment; Mr. Gilbert Ireland of the Hutt claimed to be patron. (fn. 136) Out of the rectory of Childwall, sequestered from James Anderton of Lostock, recusant and delinquent, £36 was allowed yearly to this chapel, afterwards increased to £40. (fn. 137) Bishop Gastrell about 1717 found the income of the chaplain to be £17 17s., including recent endowments. (fn. 138)
Hale was made a separate chapelry in 1828 (fn. 139) as a perpetual curacy. Mr. Ireland Blackburne is the patron. Among the later incumbents have been:—
| | | |
| --- | --- | --- |
| | | |
| | 1592–1598 | William Sherlock (fn. 140) |
| oc. | 1609 | Thomas Lydgate (fn. 141) |
| | 1635 | — Thompson (fn. 142) |
| | 1646 | Henry Bolton (fn. 143) |
| | 1651 | Samuel Crosby |
| | 1659 | Samuel Ellison (fn. 144) |
| oc. | 1671 | John Nickson |
| oc. | 1726 | — Langford |
| | 1750 | Francis Ellison |
| | 1773 | Joseph Airey |
| | 1805 | Samuel Norman |
| | 1813 | Joseph Hodgkinson, B.D. (fellow of Brasenose Coll. Oxon.) (fn. 145) |
| | 1818 | William Stewart, M.A. (Brasenose Coll. Oxon.) (fn. 146) |
| | 1856 | Richard Benson Stewart, M.A. (Caius Coll. Camb.) (fn. 147) |