Pages 191-197
A History of the County of Lancaster: Volume 3. Originally published by Victoria County History, London, 1907.
This free content was digitised by double rekeying. All rights reserved.
HALSALL
Heleshala, Herleshala, Dom. Bk.; Haleshal, 1224; Haleshale, 1275; Halsale, 1278 and usual; Halshale, 1292; Halleshale, 1332; Halsall, xv century.
This township had formerly a great moss on the west, covering about half the surface, and constituting an effectual boundary. Down to recent times there were also three large meres—Black Otter, White Otter, and Gettern. The fenland has now been reclaimed and converted into fertile fields under a mixed cultivation—corn, root crops, fodder, and hay. There is some pasture land, and occasional osier beds fill up odd corners. The soil is loamy, with clay beneath. The low-lying ground is apt to become flooded after wet weather or in winter-time, and deep ditches are necessary to carry away superfluous water. In summer these ditches are filled with a luxuriant fenland flora, which thus finds shelter in an exposed country. The scanty trees show by their inclination the prevalence of winds from the west laden with salt. The ground rises gently to the east; until on the boundary 95 ft. is reached. The total area of the township is 6,995 acres. (fn. 1) The population in 1901 was 1,236.
The principal road is that from Downholland to Scarisbrick and Southport; there are also cross-roads from Ormskirk to Birkdale. The Liverpool, Southport, and Preston Junction Railway, now taken over by the Lancashire and Yorkshire Company, formed a branch through the township with a station called Halsall, half a mile west of the church, and another at Shirdley Hill.
The scattered houses of the village stand on the higher ground near the church. To the south-east is the hamlet of Bangors Green; Four Lane Ends is to the north-east. From near the church an extensive and comprehensive view of the surrounding county is obtained. The northern arm of the Downholland Brook rises in and drains part of the district, running eventually into the River Alt, which is the natural receptacle for all the streams and ditches hereabouts. The Leeds and Liverpool Canal crosses the southeastern portion of the township, with the usual accompaniment of sett-laid roads and untidy wharfs. Renacres Hall and La Mancha are on the north.
The township is governed by a parish council.
The wakes are held the first Sunday in July.
The hall is to the south-west of the church; between them was a water-mill, taken down about 1880. North-east of the church are portions of the old rectory house, consisting of a wall 55 ft. long, with three doorways and three two-light windows, several traces of cross walls, and a turret at the north-west. Part is of fourteenth-century date. (fn. 2)
The roads having been diverted, the village green is now within the rectory park. A cross stood there. (fn. 3) The base of the churchyard cross (fn. 4) still remains. Two other crosses—North Moor and Morris Lane—are marked on the 1848 Ordnance map, but have disappeared. (fn. 5)
The turf is left uncut, in order to diminish the danger of floods.
A natural curiosity of the district is the bituminous turf, formerly used for lighting instead of candles. (fn. 6)
MANORS
HALSALL was held by Chetel in 1066; its assessment was two plough-lands, and the value 8s. It was in the privileged three hides, and from the manner in which it is named was evidently one of the principal manors of the district. (fn. 7)
It was granted to the lord of Warrington for the service of a pound of cummin, and the various inquisitions and surveys recognize its dependence on Warrington. (fn. 8)
Pain de Vilers gave Halsall to Vivian Gernet in marriage with his daughter Emma; it was to be held by the service of one-tenth of a knight's fee. In 1212 Robert de Vilers was the lord of Halsall, and Alan son of Simon held of him. (fn. 9) Alan de Halsall, otherwise called 'de Lydiate,' (fn. 10) was probably the husband of the heiress of Vivian Gernet, for his wife Alice is joined with him in Halsall charters. (fn. 11)
To Alan his son Simon (fn. 12) succeeded. A charter by Robert de Vilers, his immediate lord, quitclaimed the rent of 13s. of silver which Robert and his predecessors had annually received from Simon son of Alan and his predecessors in respect of the vill of Halsall, commuting the service into a pound of pepper. (fn. 13)
Simon, still living in 1242–3, (fn. 14) was a little later succeeded by his son Gilbert, who in 1256 acknowledged the suit he owed to William le Boteler's court of Warrington, promising that he would do suit there from three weeks to three weeks. William, on the other hand, remitted all right to claim from Gilbert or his heirs 'bode' or 'witness' or puture for any of his serjeants. (fn. 15) Gilbert's name occurs as a witness and otherwise, (fn. 16) but he seems to have been very soon succeeded by his son Richard de Halsall, who is frequently mentioned about the end of the reign of Henry III. (fn. 17)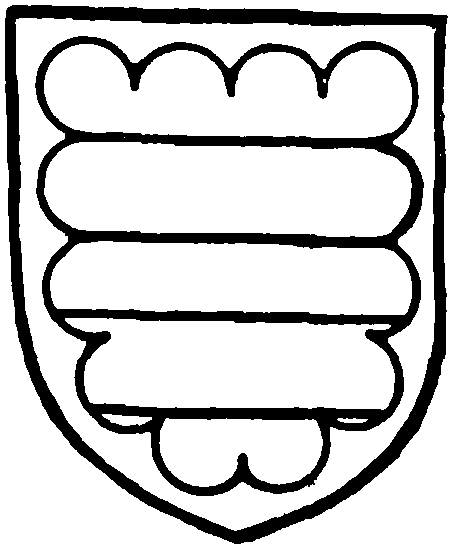 Richard died about 1275, in which year his son Gilbert had to answer Robert de Vilers respecting his tenure of a messuage and plough-land in Halsall; the services due from Gilbert were alleged to be homage, doing suit for Robert at the Warrington court, and paying 1 mark a year, and they had been rendered in the late king's reign by Gilbert's father Richard to Robert's father Robert. (fn. 18) Gilbert denied that he held land of Robert; and in reply to a later suit (1278) he showed that there was an error in the writ; for he had only two-thirds of the tenement, Denise, widow of Richard, having the other third in dower. (fn. 19) She afterwards married Hugh de Worthington, and in 1280 the suit by Robert de Vilers was continued, Gilbert de Halsall warranting the third part to her and her husband. The dispute ended by Robert's acknowledging the manor to be Gilbert's right and quitclaiming to him and his heirs in perpetuity; for which release Gilbert gave him 10 marks of silver. (fn. 20) From this time no more is heard of the mesne lordship of Vilers. (fn. 21)
Gilbert's wife was another Denise; by her he had a son Gilbert, who succeeded to Halsall some time before 1296, in which year, as Gilbert son of Gilbert de Halsall he received from William de Cowdray, rector, all the meadow by the mill which had been in the possession of Robert de Halsall. (fn. 22) Two years later he came to an agreement with Sir William le Boteler of Warrington and others as to a diversion of the watercourse in Lydiate near Eggergarth mill. (fn. 23) The succession had been rapid, and Gilbert was no doubt very young at this time; he was still in possession in 1346. (fn. 24) He secured the land called the Edge in Halsall from its owners, Robert and his son Richard, in 1317, (fn. 25) and acquired Ainsdale from Nicholas Blundell of Crosby. (fn. 26) As early as 1325 he made an agreement with Henry de Atherton as to the marriage of his son Otes (fn. 27) with Henry's sister Margaret, and settled upon this son and his wife lands in Halsall and Barton; and Robert de Parr granted them an annual rent of 40s. (fn. 28)
Otes succeeded his father about 1346. (fn. 29) The marriage arranged for him in infancy did not prove altogether satisfactory; and his wife Margaret afterwards sought maintenance before the bishop of Lichfield, her husband having unlawfully allied himself with Katherine de Cowdray. Katherine was the name of his wife in 1354. (fn. 30)
His son and heir was Gilbert, made a knight in 1388. In 1367 Otes de Halsall gave land in Barton to Gilbert his son and Elizabeth his wife, probably on the occasion of their marriage. (fn. 31) Some dispute occurred about 1379 as to the title of David Hulme of Maghull in the manor of Halsall, and this was settled by Gilbert. (fn. 32) He was escheator for the county in 22 Richard II. After his death two inquisitions were made (1404), one of which states that 'on the day of his forfeiture' he had no estates save those found and appraised in an inquisition taken in August, 1403. (fn. 33) The other recites the gifts of Robert de Parr of the manors of Halsall and Downholland and lands there; also Argar Meols and Birkdale, with remainder to Otes son of Gilbert; these had descended to Henry de Halsall, clerk, as son and heir of Sir Gilbert, son of Otes; the grant by the last-named to his son and his wife is also recorded, with the statement that Gilbert died seised thereof, and Elizabeth his wife was still living. (fn. 34)
Henry de Halsall, the heir, had embraced an ecclesiastical career, and was in 1395 presented by his father to the rectory of Halsall, which in 1413 he exchanged for the archdeaconry of Chester. He retained his various preferments till his death on 7 March, 1422–3. (fn. 35) He wished to interfere as little as possible with secular business, for one of his earliest acts was to make a settlement on the marriage of his brother Robert with Ellen daughter of Henry de Scarisbrick; and then to arrange the dower of his mother. (fn. 36)
His brother and successor Robert does not seem to have survived him long, for from 1429 the name of his son Henry frequently occurs. (fn. 37) The inquisitions taken after the death of Henry Halsall in July, 1471, give many details of the family history and property. Otes, his great-grandfather, had acquired a messuage and 24 acres from Emma wife of Thomas the clerk of Edge, and some similar properties. His father Robert appears to have acquired other lands in Halsall and the neighbouring villages—including Thornfield Clerk, Blakehey, Dudleyhey and Branderth in Halsall; and these he had given to Henry in 1426–7 on his marriage with Katherine, daughter of Sir James Harrington, and they had descended to his daughters and heirs, Margaret and Elizabeth (wife of Lambert Stodagh), whose ages were forty and thirty-eight years respectively. Most (or all) of the lands, however, went to the heir male, his brother Richard's son Hugh, who was of full age in 1472. (fn. 38)
Hugh's father Richard had been married at the end of 1448 to Grace daughter of Sir John Tempest. (fn. 39) Of Hugh himself nothing seems known; he was still lord of Halsall in 1483. (fn. 40) His son (fn. 41) Henry, who was made a knight by Lord Strange in Scotland in the autumn of 1497, (fn. 42) married Margaret Stanley, daughter of James Stanley, clerk. (fn. 43) Sir Henry died in June, 1522. At the inquisition taken after his death it was found he had held the manors of Halsall, Renacres, Lydiate, and Barton, and lands in Scarisbrick and elsewhere; also the manors of Downholland and Westleigh. (fn. 44) These had been assigned to trustees to perform his will, made in 1518. (fn. 45) The manor of Halsall was held of Thomas Butler by the twentieth part of a knight's fee; the manor of Renacres of the prior of St. John by the free rent of 12d. yearly, being worth 40s. clear; the manor of Barton of the heirs of Peter Holland by the service of 6d. yearly, its clear value being 40s.; the premises of Downholland were held of the same. (fn. 46)
Of his sons, Thomas the eldest succeeded him; he was knighted in 1533 at the coronation of Anne Boleyn. (fn. 47) His wife was Jane Stanley, daughter and coheir of John Stanley, son and heir of John Stanley of Weaver. (fn. 48) She brought him the manor of Melling and other lands. Sir Thomas died in 1539, and in the subsequent inquisition are recited the dispositions he made of the estates. (fn. 49) The manors and services correspond generally with those recorded in the previous inquisition. Henry his son and heir was eighteen years of age. (fn. 50)
Henry Halsall lived till 1574. (fn. 51) He married Anne, daughter of Sir William Molyneux of Sefton by his second wife Elizabeth, the heiress of Clifton, and this daughter herself, by the death of her brothers without issue, became heiress of the same. There was only one son, Richard Halsall, who died before his father, leaving an illegitimate son Cuthbert.
The inquisition after Henry's death, (fn. 52) which happened on 21 December, 1574, states that he held the manor of Melling in right of his mother; the paternal manors of Halsall, Downholland, and Formby, and various lands; also the advowson of the church of Halsall; in addition, there was his wife's manor of Clifton, with various lands and rights north of the Ribble. A settlement was made of this great estate in the spring of 1572, securing the wife's dower; (fn. 53) the residue going to the following, in successive remainders: To Edward Halsall, bastard son of Sir Henry Halsall, for life; to Cuthbert Halsall, bastard son of Richard, and his lawful male issue; to Thomas Halsall of Melling and heirs male; to James Halsall of Altcar and heirs male; to Thomas Halsall, brother of James, and to his first, second, and third sons and their heirs male; to Gilbert Halsall, bastard son of Sir Thomas, and lawful heirs male; to Thomas Halsall, of Barton, bastard son of Sir Thomas Halsall and lawful heirs male; to Silvester Halsall, bastard son of Henry Halsall of Prescot, and heirs male. (fn. 54) His lawful heirs were his nephew Bartholomew Hesketh (son of his sister Jane), aged twenty-eight, and his sister Maud Osbaldestone, aged forty. (fn. 55) Anne Halsall, the widow of Henry, died in June or July, 1589. (fn. 56)
Edward Halsall, after coming into possession of Halsall, occasionally resided there; he was a member of commissions of array in 1577 and 1580, (fn. 57) and held various public offices. His religious leanings are thus described in the report of 1590: 'Conformable, but otherwise of no good note.' (fn. 58) He died in 1594, having founded the school at Halsall. He was twice married, but his son predeceased him. (fn. 59)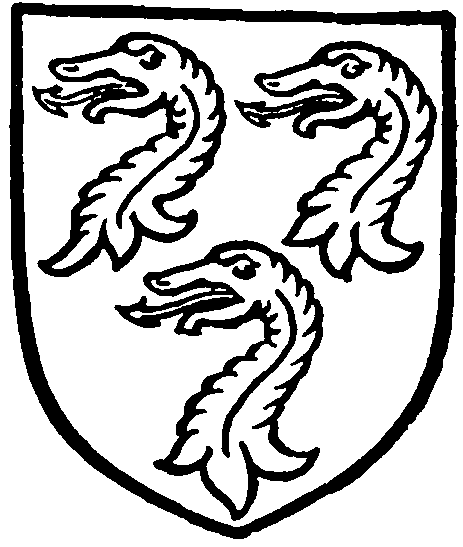 After his death Cuthbert Halsall succeeded, under the disposition made by his grandfather Henry. (fn. 60) He was made a knight in Dublin, 22 July, 1599, being apparently in the suite of the earl of Essex. (fn. 61) He was a recusant in 1605, and the profits of his forfeitures as such were assigned to Sir Thomas Mounson. (fn. 62) He was one of the knights of the shire in 1614 (fn. 63) and sheriff in 1601 and 1612. (fn. 64) Within thirty years he had dissipated his inheritance, and in 1631 was in prison for debt. Halsall was sold in 1625, along with the advowson, to Sir Charles Gerard, grandson of Sir Gilbert, who was Master of the Rolls in Queen Elizabeth's time. (fn. 65)
Sir Charles Gerard married Penelope, daughter of Sir Edward Fitton of Gawsworth, and one of the heirs of her brother Sir Edward. Sir Charles, who died at York about 1640, was buried at Halsall. (fn. 66) He built a windmill there; and there was also a watermill. (fn. 67) His eldest son, Charles, was born about 1618, and took the royal side in the Civil War, as did his two brothers. He greatly distinguished himself, and was in 1645 created Baron Gerard of Brandon in Suffolk. He was obliged to quit England during the rule of Cromwell, and was reported to be scheming the assassination of the Protector. Returning at the Restoration he had various promotions, and in 1678–9 he was created Viscount Brandon and earl of Macclesfield. Afterwards he intrigued with the duke of Monmouth, and in the time of James II was obliged again to seek a refuge abroad, returning with William prince of Orange, by whom he was rewarded with offices of honour. He died in January, 1693–4, and was buried at Westminster. (fn. 68) So far as the Halsall estate was concerned, Lord Gerard went on with the disputes with Robert Blundell of Ince as to the boundaries of the adjacent manors of Birkdale and Ainsdale and Renacres. These disputes lasted till 1719. (fn. 69)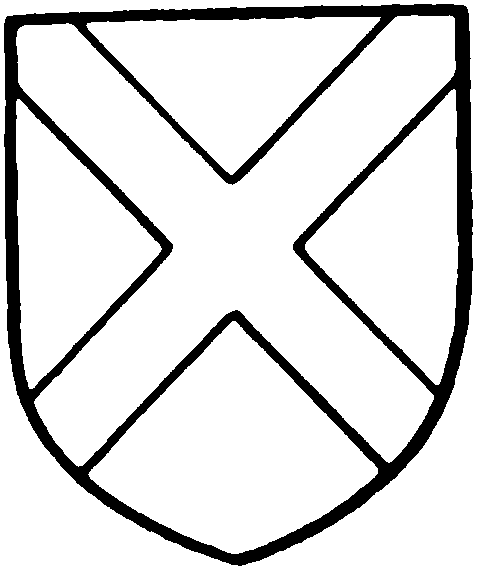 His son Charles, born in Paris about 1659, was knight of the shire (Lord Brandon) 1679–85 and 1689–94, and made lord lieutenant on the Revolution. He had been convicted of high treason in connexion with the Rye House Plot, but pardoned. (fn. 70) He died without legitimate issue in November, 1701, and was succeeded in the titles by his brother Fitton, who died unmarried in December, 1702, when the earldom, &c., became extinct. (fn. 71)
Two sisters were co-heirs of the properties: Elizabeth, who married a distant cousin, Digby, fifth Lord Gerard of Bromley, and died in 1700, leaving a daughter and heiress Elizabeth, who married James duke of Hamilton; and Charlotte, wife of Thomas Mainwaring, who left a daughter and heiress Charlotte, who married Lord Mohun, and died in or before 1709. Lord Mohun, by the will of the second Lord Macclesfield, became owner of his wife's share of the Gerard estates, and the duel between him and the duke of Hamilton, in which both were killed (15 November, 1712), originated in a dispute about the division. (fn. 72) His widow was made the heir to his part of the estates, which included Halsall, and carried them to her third husband, Colonel Charles Mordaunt. (fn. 73) Though Colonel Mordaunt had no issue by her, he remained in possession of the Gerard and Fitton properties, and Halsall descended to his son by a second wife, (fn. 74) Charles Lewis Mordaunt, who at one time resided in the hall at Halsall. (fn. 75) Eventually he sold the manor to Thomas Eccleston, lord of the adjoining manor of Scarisbrick, and the advowson of the rectory to Jonathan Blundell of Liverpool. He died at Ormskirk on 15 January, 1808, aged seventyeight. (fn. 76)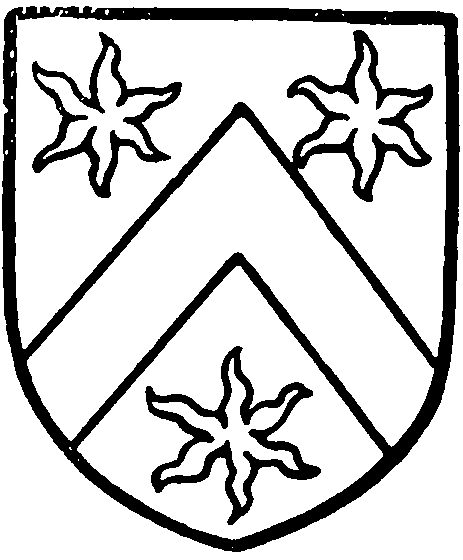 The manor has since descended with Scarisbrick.
Courts used to be held in July and October; (fn. 77) there is still one kept in November.
The grant of RENACRES (fn. 78) to the Hospitallers has been related, and the Halsall family held it under them. (fn. 79) On the sale of their estates early in the seventeenth century it was acquired by Robert Blundell of Ince, (fn. 80) and became involved in the dispute between the latter and the earl of Macclesfield. In depositions taken at the trial (1664) it was stated that Sir Cuthbert had improved the lands belonging to Renacres and let them in common with the demesne lands of Halsall; and the tenants of Halsall had 'done boon' in Renacres. (fn. 81) The owners or tenants of Renacres had generally been called as suitors at the courts of the manor of Halsall, though none of them seem to have appeared there; and they paid lays to the constable of Halsall. (fn. 82) So far as Renacres was concerned, the cause was decided in favour of the Blundells' claim in 1719, and it has since descended with Ince Blundell. (fn. 83)
Renacres gave its name to one or more families in the neighbourhood. (fn. 84)
SNAPE, as may be implied in its name, was a border farm or hamlet. (fn. 85) Thomas son of Alan de Snape granted (about 1300) certain land in Halsall to Thomas the clerk of North Meols and Emma his wife. After the death of Thomas de Snape, his widow Alice taking her third as dower, this land was claimed by his heiresses—Margery wife of Robert del Riding of Sefton (Roger their son), Goditha wife of Paulinus del Edge of Halsall, Avice wife of Adam de Molyneux, Anabil wife of Robert the Tailor of Lathom—in right of their sister Denise, who, they said, died in possession. The jury found that Thomas the clerk and his wife had been unjustly disseised by force and arms, and must recover, the damages being taxed at 34s. (fn. 86)