Pages 377-382
A History of the County of Lancaster: Volume 3. Originally published by Victoria County History, London, 1907.
This free content was digitised by double rekeying. All rights reserved.
PARR
Par, 1246; Parr and Parre, xvth century.
Parr is a township unpleasing to the eye, where the natural amenities have been replaced by everything unlovely that man could devise. Scarcely a green tree is to be seen, whilst collieries, chemical and iron works, huge banks and heaps of refuse, take the place of woods and fields and green meadows. Clouds of smoke and the fumes of chemical works hang continually over the district. On the south-east some waste mossland still remains, but altogether bereft of the vegetation which so often lends beauty to these undisturbed tracts.
The township has an area of 1,633 acres and is divided by the Sankey Brook into two nearly equal portions. It is bounded on the east by the Black Brook, while the moss on the south originally formed a physical division for Sutton, Parr, and Burtonwood. The ground rises gradually north and south of the bisecting brook, attaining nearly one hundred and fifty feet at the northern boundary. With the exception of a small area of lower mottled sandstone of the bunter series (new red sandstone) at Parr Moss, the coal measures are in evidence throughout the township.
The principal road is that from St. Helens north-eastwardly through Blackbrook to Ashton in Makerfield, the hamlet of Pocket Nook being situated next to St. Helens. (fn. 1) From this point another road takes a winding course to Earlestown in the east; passing Parr Stocks, Broad Oak, and Havannah. To the south is Ashton's Green.
A branch of the London and North Western Company's system, from St. Helens to Wigan, has a station on the northern boundary, Carr Mill; and the Great Central's St. Helens and South Lancashire line passes east and west through the township. There are also a number of railways for the service of the collieries, as Parr is a colliery district, the whole township being undermined. The St. Helens Canal crosses, alongside the Sankey Brook.
A local board was formed in 1865, (fn. 2) but dissolved in 1869 on the absorption of the township into St. Helens.
MANOR
The manor formed part of the Master Forester's fee, being held with Whiston by the Gernets, and then by the Dacres, of whom it was held by Travers of Whiston. (fn. 3) Under the latter an inferior or mesne manor was formed, held by the Lathoms (fn. 4) and Stanleys in succession. (fn. 5)
In the thirteenth century there appear to have been one or more families here bearing the local name, but the manor was held in moieties before 1290, Alan de Halsall of Parr being then lord of one moiety and Henry de Parr of the other. (fn. 6) Alan was the son of Richard de Halsall by Denise, afterwards the wife of Hugh de Worthington, (fn. 7) and it will be convenient to distinguish the two parts as the Halsall and Parr moieties.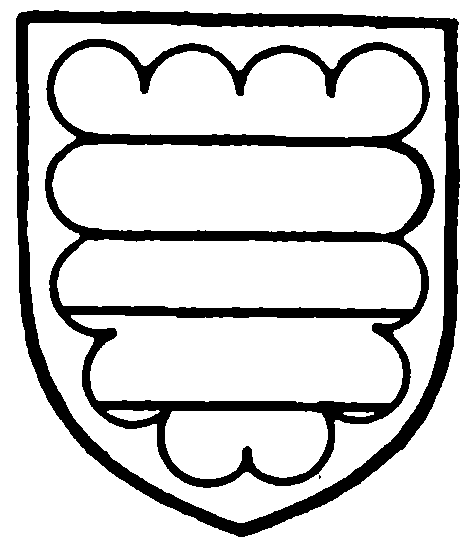 I. The Halsall moiety was held by Alan until 1301, (fn. 8) about which time probably he died. His son Richard succeeded, and occurs down to 1335; he was known as Richard de Parr. (fn. 9) His son Alan de Parr was in possession in 1345, but died in or before 1367, (fn. 10) when his son Robert followed him, and held this part of the manor for forty years and more. (fn. 11) The succession is somewhat uncertain; the next to be mentioned is a John de Parr, (fn. 12) whose widow Ellen, daughter and coheir of Henry son of John de Parr, one of the lords of the other moiety of the manor, had dower in 1421. (fn. 13) Then came one or perhaps two Henrys in succession; (fn. 14) the later of them, if there were two, resumed Halsall as a surname and was known as Henry Halsall alias Parr. (fn. 15) His son John followed; (fn. 16) and then Bryan Parr, son and heir of John—the surname Halsall having been dropped again—was in possession in 1497. (fn. 17)
Bryan Parr died early in 1528, the heir being his son Thomas, twelve years of age. (fn. 18) Thomas died in 1559, leaving a son and heir William, nineteen years of age, and nine younger children. (fn. 19) This William Parr it was who, it is said, disposed of the manor to John Byrom of Byrom in Makerfield. (fn. 20) It remained in the latter family for a century and a half, and they seem to have made the hall their principal residence. (fn. 21) It was sold, with the other Byrom estates, in the time of George I, and became very much subdivided. (fn. 22) The manorial rights have been lost.
A fourth part of the Halsall moiety appears to have been early formed into a separate estate or mesne manor, but the evidence regarding it is defective. An Adam de Parr had a share of the lordship in 1313, (fn. 23) but somewhat earlier a Simon de Parr held or claimed two oxgangs of land in the manor. (fn. 24) He was followed by a son Alan and a grandson Richard; the latter, who died about 1350, left a young son also named Richard, whose wardship was claimed by Katherine de Lathom. (fn. 25)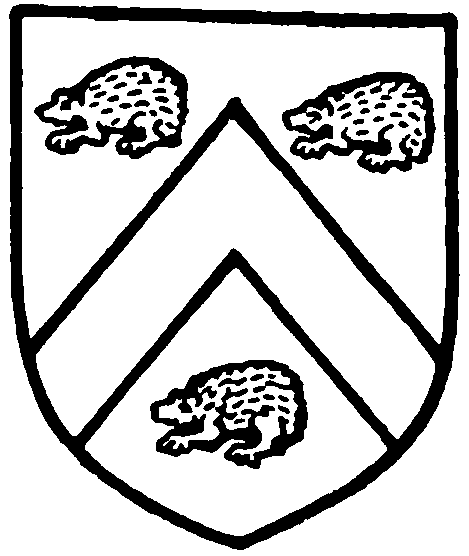 The next in possession was, perhaps, the William de Parr who held an eighth part of the vill about 1370. (fn. 26) He appears to be the Sir William who in right of his wife became lord of Kendal. (fn. 27) From him descended Sir Thomas Parr of Kendal, who died in November, 1517, seised of various lands in Parr and Sutton, and a toft in Wigan, one parcel being held of Thomas, earl of Derby, by knight's service and the yearly rent of 15d., being thus identified with the quarter of a moiety held by the above-named William in 1370; another part was held of the Prior of St. John of Jerusalem by the rent of 12d.; and a third, of Bryan Parr, by the rent of 17d. (fn. 28) One of his daughters, Katherine, was the last consort of Henry VIII. His son and heir, William, aged five at his father's death, became marquis of Northampton, and after a chequered career died without acknowledged issue in 1570, his various manors falling to the crown. (fn. 29)
II. The Parr moiety was in 1291 held by Henry de Parr. (fn. 30) One Henry, son of Lawrence de Parr, in 1246 recovered from Roger son of Hugh half an oxgang of land there. (fn. 31) Henry's widow, Alice, in 1301 brought a suit against the lords of Parr, Henry son of Henry, and Alan. (fn. 32)
This Henry son of Henry de Parr, who may have succeeded much earlier than 1301, lived till 1332. (fn. 33) He seems, however, practically to have resigned the manor to his sons Robert and Richard. The former was of some prominence in the district, but his descendants had only a quarter of this moiety, held of Richard and his descendants, who were lords of the moiety. (fn. 34) In 1326–7 Richard de Parr married Ellen daughter of Adam de Tyldesley, by whom he had five sons. (fn. 35)
Richard was succeeded in or before 1351 by his son John, sometimes described as a knight, (fn. 36) who in turn, about 1390, was followed by his son Henry. (fn. 37) This last left two daughters his coheirs; one of them, Ellen, married John de Parr, heir to the Halsall moiety of the manor, and afterwards Richard de Holt; the other, Lucy, married Henry de Byrom, whose descendants, as already narrated, ultimately acquired the greater part of the manor by purchase. (fn. 38)
Something has already been said of Robert de Parr, son of Henry, who claimed this moiety as his right, (fn. 39) whose descendants, however, are found to have held but a quarter of it. His son Henry (fn. 40) and grandson Robert (fn. 41) have also been mentioned. The last-named had a son Nicholas, who married Agnes daughter of Robert, son of Alan de Parr, of the Halsall family; (fn. 42) Nicholas died in or before 1415, but his son Robert lived on until about 1482, (fn. 43) and was succeeded by a son John, who also must have been a very aged man when he died in 1512 or 1513. (fn. 44) The generations now follow rapidly; Robert the son of John was living in 1520, (fn. 45) but he and his son Robert were both dead in 1527, (fn. 46) and the latter's son and heir John died in May, 1530. (fn. 47) The heir was a daughter Grace, about eighteen months old at her father's death; she was made the king's ward, but the estate was claimed by her uncle Bryan as heir male. (fn. 48) The result does not appear, but Grace afterwards married Henry Eccleston, a younger son of the local family. (fn. 49) Although this branch of the Parrs appears to have been entitled to a fourth part of their moiety, no claim to a manor was made in the sixteenth century. The estate was known as Broad Oak.
Other Parr families occur. Richard de Parr of the Shaw is named in 1375; (fn. 50) Adam son of John de Parr in 1301; (fn. 51) John de Parr in 1321, (fn. 52) and a later Adam in 1347. (fn. 53)
The Hospitallers held land (fn. 54) now called Leafog or LAFFOG, (fn. 55) which they granted to a member of one of the Parr families, Sir Thomas Parr of Kendal and William his son holding it in the sixteenth century. (fn. 56) On the latter's death in 1570 it was granted by Queen Elizabeth to John Dudley, (fn. 57) from whom Thomas Norris of Orford acquired it, and by his daughter it passed to Thomas Tyldesley. (fn. 58) A resident family took surname from this place. (fn. 59)
The Hindleys of Aspull were concerned in various suits as to lands in Parr in the fifteenth and sixteenth centuries. (fn. 60)
The Orrells of BLACKBROOK are said to be derived from those of Pemberton, Humphrey Orrell removing to this place about the end of the seventeenth century. (fn. 61) Humphrey Orrell of Parr, yeoman and tanner, registered a freehold estate there and at Windle in 1717. (fn. 62) He was succeeded by his son and grandson, both named James; the latter's son, Charles, died unmarried in 1843; his two brothers, James and Philip, were priests; and his sisters all died unmarried at Blackbrook. The whole of their property was given to various ecclesiastical purposes, Blackbrook House becoming a convent of the Sisters of Mercy.
Some neighbouring landholders had estates in Parr. (fn. 63) The only freeholder recorded in 1600 was Edward Travis; (fn. 64) the subsidy list of 1628 does not name any. Under the Parliament the properties sequestrated were those of Bryan Howard and Emma Mather, both for recusancy. (fn. 65) The hearth tax list of 1666 includes twelve houses here having three hearths and more. (fn. 66) The land tax return for 1785 shows that the assigns of Sarah Clayton paid £18 for Parr Hall estate, and John Orrell £5 for Blackbrook out of a total of £50.
The Established Church has two places of worship in Parr; St. Peter's, built in 1844, and Holy Trinity, (fn. 67) Parr Mount, in 1863. The vicar of St. Helens presents to them.
There is a Free Gospel chapel at Blackbrook.
The Roman Catholic church of Blessed Mary Immaculate, Blackbrook, was consecrated in 1845. The mission is supposed to have been founded at the end of the seventeenth century, when Bryan Orrell, alias John Martin, an alumnus of Douay, 1686, came to serve at Blackbrook House, where, as stated above, his elder brother had settled. In 1754 a room to serve as a chapel was built, James Orrell, the owner, granting a 500 years' lease at a rent of 1s. (fn. 68) St. Vincent's, Derbyshire Hill, was opened in 1905.