Pages 394-395
A History of the County of Lancaster: Volume 3. Originally published by Victoria County History, London, 1907.
This free content was digitised by double rekeying. All rights reserved.
CUERDLEY
Kyueredeleye, 1275; Keuerdele, Kyuyrdele, 1292; Kyrdeleye, 1295; Keuerdelegh, 1328—a frequent spelling.
This township has an area of 1,573½ acres. (fn. 1) A considerable portion of it lying by the Mersey is marshy. It is situated in extremely unpicturesque flat country between the manufacturing towns of Widnes and Warrington, and presents little of interest so far as its natural features are concerned.
The soil is a stiff clay, and the chief produce wheat and oats, and many acres afford good pasturage. The geological formation consists of the upper mottled sandstone of the bunter series of the new red sandstone or trias, which is covered by alluvium in Cuerdley Marsh. The principal road is that from Widnes to Penketh. The Cheshire Lines Committee's Liverpool to Manchester railway crosses the northern angle, where it is joined by a branch line from Widnes. The St. Helens Canal passes through the southern part of the township.
Cromwell's Bank is the name given to an ancient dyke in the marsh. In this marsh the Bold Dragon is said to have been slain.
MANOR
Only the name seems to survive of Cuerdley Cross. (fn. 2)
Early in the twelfth century CUERDLEY formed part of the demesne of the Widnes fee, and before 1117 right of common in the woods and pasture was granted by William Fitz Nigel to the priory of Runcorn; which right continued to be enjoyed by the canons of this house after their removal to Norton. (fn. 3) By the marriage of William's daughter Maud to Albert Grelley II, the manor came into the possession of the barons of Manchester, (fn. 4) and is usually stated in the extents of the barony of Manchester to be held of the honour of Halton by the eighth part of a knight's fee. (fn. 5)
Early in the fifteenth century it seems to have been granted to the Cistercian abbey of Jervaulx in Yorkshire. (fn. 6) A few years after the dissolution of that house it was sold by the crown to Richard Brooke, (fn. 7) said to have been a Hospitaller, who after the suppression renounced his vows, married, conformed to the new religious system, and founded the house of Brooke of Norton Priory. (fn. 8) Cuerdley manor, with practically all the land in the township, has descended regularly to the present head of the family, Sir Richard Marcus Brooke, baronet. (fn. 9) Manor courts were still regularly held about 1830. (fn. 10)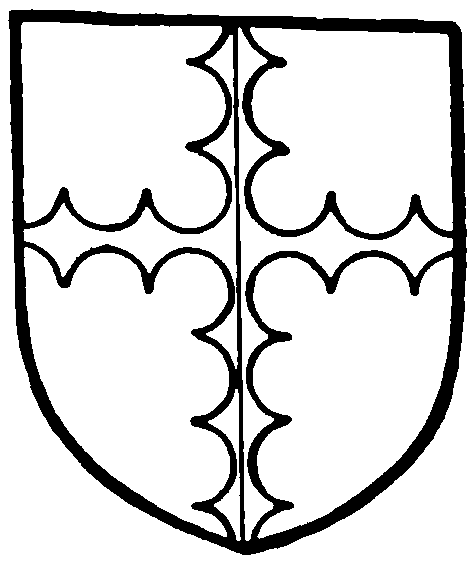 Apart from occasional disputes between members of the Grelley family, (fn. 11) or between the lords of the manor and their tenants, (fn. 12) the history of the township has been obscure and uneventful.
Among the freeholders whose names occur at different times are Holand and Ireland, (fn. 13) Bury, (fn. 14) and Smith. (fn. 15) To this last family belonged William Smith, bishop of Lincoln, 1495 to 1515, the founder of Farnworth Grammar School, and co-founder of Brasenose College, Oxford. (fn. 16)
The hearth-tax list of 1662 shows that John Houghton and John Rutter were the principal residents. (fn. 17)