Pages 435-439
A History of the County of Lancaster: Volume 3. Originally published by Victoria County History, London, 1907.
This free content was digitised by double rekeying. All rights reserved.
ATHERTON
Aderton, 1212, 1242; Atherton, 1259, and common since.
This name, derived from A.S. Adre, a watercourse, and tun, a farmstead or village, aptly describes the character of this well-watered township, which is bounded on the west and south by streams and traversed by two others. Beginning on the south-west at the town of Leigh the ground rises in gentle elevations from under 100 ft. above sea-level to over 250 ft. on the northern side.
The township has an area of 2,426 acres, (fn. 1) and in shape somewhat resembles a pear, the demesne of Atherton Hall occupying the end towards the stalk at the outskirts of Leigh. The town of Atherton, including Chowbent, the name of that part of the town which surrounds the parish church, stands on the high road from Bolton to Leigh with branches westward to Wigan and eastward to Tyldesley. It is the centre of a district of collieries, cotton-mills, and iron-works, which cover the surface of the country with their inartistic buildings and surroundings, and are linked together by the equally unlovely dwellings of the people. There are three railway stations—Atherton Central Station on the Manchester and Wigan branch of the Lancashire and Yorkshire Railway, which passes close to the north of the town; Atherton Station on the Bolton and Kenyon section of the London and North Western Railway, half a mile to the west; and Howe Bridge, formerly Chowbent, Station on the Manchester, Eccles, and Wigan section of the same line, to the south-west of the town. The township was formed into a district chapelry in 1859 from the civil parish of Leigh, (fn. 2) and portions were assigned in 1878 to form the ecclesiastical parish of Howe Bridge, (fn. 3) and in 1884 the district parish of St. Anne's, Hindsford. In 1894 a portion of the township was transferred to Leigh.
The Local Government Act, 1858, was adopted by the township 22 December, 1863, (fn. 4) which was governed by a local board of fifteen members, but under the Act of 1894 is now controlled by an urban district council of fifteen members, elected from five wards—Central, North, East, South, and West. The district is supplied with gas from works belonging to the urban council, and with water obtained partly from the Bolton and partly from the Manchester corporations.
The geological formation consists almost entirely of the coal measures, with a trifling area of the permian rocks and new red sandstone in the south-western angle of the township. The soil is clayey, the land mainly pasture and meadow, but some wheat and vegetables are grown.
Silk-weaving was formerly carried on extensively in the village houses, but owing to foreign competition has now entirely disappeared. The first cotton-mill was erected in 1776. The manufacture of bolts and nails (fn. 5) and the spindles and flyers of spinning machinery is also carried on here. The population of the township, including Howe Bridge, in 1901 was 16,211 persons. A cattle fair was formerly held yearly on the last Thursday in March, but has been discontinued. A pleasure fair is held on the third Monday in September.
The cemetery, formed in 1857 and enlarged to about nine acres in 1888, is under the control of a burial board of fifteen members. It contains two mortuary chapels. The Volunteer Hall in Mealhouse Lane, used for public meetings and concerts, was erected in 1883 and will seat about 1,000 persons. The Public Hall in Bolton New Road is used for ratepayers' meetings and the meetings of the urban council. There is a Public Free Library, containing about 8,000 volumes; the building, erected in 1904, was the gift of Mr. Carnegie; also two political clubs, and a village club for the use of the colliers employed in the Atherton collieries, containing a small free library of about 300 volumes. Atherton Parish Church-house in Tyldesley Road serves as a restaurant and club, and contains also a gymnasium and rooms for arts and crafts work. There are athletic grounds belonging to the club in Flapper Fold Lane. A technical school was erected in 1893.
Saxton's map shows that there was a deer park here in the time of Elizabeth.
Adam Twaite of Chowbent issued a token about 1664. (fn. 6)
MANOR
Dependent before the Conquest on the chief manor of Warrington, of which it was one of the thirty-four berewicks or dependent manors held by drengs, ATHERTON was included in the Warrington fee upon the creation of that barony by Henry I, being held by the ancestor of de Atherton as one plough-land by the service of one mark yearly, and by knight's service, where ten ploughlands made the fee of one knight. (fn. 7) At the taking of the Inquest of Service in 1212, Henry son of William de Atherton held the manor of William le Boteler. (fn. 8) In 1243 he was succeeded by another William, (fn. 9) supposed to be the son of Henry, who was living in 1259, (fn. 10) and probably the father of another William, who was amerced before the justices at Lancaster in 1292 with his sons Alexander and Hugh (fn. 11) for not appearing to answer a plea, (fn. 12) and with another son William attested a charter of Henry, lord of Tyldesley, about the year 1300. (fn. 13) In 1298 he was enfeoffed of the manors of Haigh and Blackrod, apparently owing to some connexion by marriage with the Bradshagh family. (fn. 14)
William de Atherton, son and heir of William, married Agnes, before 1305, (fn. 15) and died before 1315–16, when his son Henry is named lord of Atherton. (fn. 16) The latter was summoned in 1324 to attend the Great Council at Westminster on Wednesday after Ascension Day, having been returned as holding lands of £15 yearly value. (fn. 17) In 1332 he settled the manor upon himself for life with remainder to his eldest and other sons successively in tail male. (fn. 18) In 1342, being very infirm, he had exemption from knighthood. (fn. 19) Subsequently in 1352, having been returned as possessing £40 worth of land, although he averred that he had but 40 marks' worth, he paid a fine and had exemption. (fn. 20)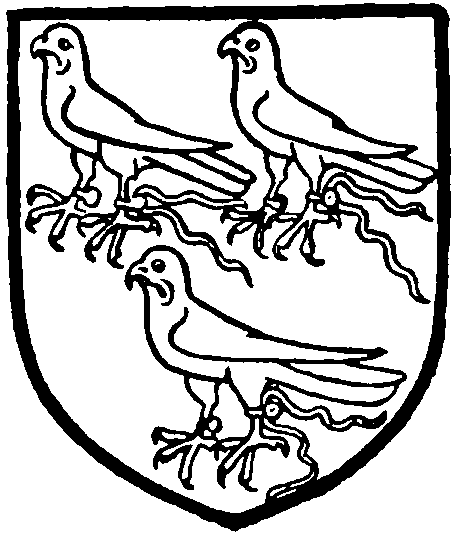 Sir William de Atherton, chr., son of Henry, had a licence for an oratory in his manors of Atherton and Garswood in Ashton in Makerfield in 1360. (fn. 21) He and his son were deponents in 1386 in the Scrope and Grosvenor trial. (fn. 22) He was twice married and died in 1389, having been one of the knights of the shire in the Parliaments held in 1373, 1379, and 1381. (fn. 23) By his first wife Joan, sister and coheir of Ralph de Mobberley, lord of Mobberley, Cheshire, (fn. 24) he had issue, Sir William Atherton, chr., who succeeded him, and Sir Nicholas Atherton, knt., lord of Bickerstaffe in right of his wife Joan, daughter and heir of Adam de Bickerstath.
Sir William married Agnes, daughter and heir of Ralph Vernon of Shipbrook, Cheshire, and had livery of her inheritance in 1397. (fn. 25) He died 29 December, 1414, seised of this and other manors and lands in the county. (fn. 26) His successor, Sir William Atherton, knt., (fn. 27) aged thirty years at his father's death, married first Elizabeth daughter of Sir John Pilkington, knt., by whom he had issue, and secondly Eleanor, by whom he had no issue. (fn. 28) His son Sir William Atherton, chr., married Margaret daughter of Sir John Byron, knt., who survived her husband and married before 1443 Sir Robert Harcourt, knt., (fn. 29) and was living in 1479. (fn. 30)
Sir William died in 1440, leaving issue, William, Nicholas, and John. (fn. 31) William, his eldest son, was under age at the date of his marriage in 1444 to Isabella daughter of Richard Balderston, esq., (fn. 32) and died without issue before 1461. In 1479 his feoffees delivered to his widow certain lands in Ashton in Makerfield to hold for her life, the reversion of which belonged to John Atherton, esq., his surviving brother and heir. (fn. 33) The latter was sheriff of Durham in 1461, (fn. 34) married late in life, and died in 1488, (fn. 35) leaving George his son and heir, then aged twenty-one years and more. George Atherton married three times; first, to Anne daughter of Sir Richard Assheton of Middleton, knt., the mother of his heir, from whom he was divorced in 1506 on the grounds of consanguinity, being related to her in the third degree; (fn. 36) secondly to Eleanor, from whom he was also divorced before 1507, she being afterwards the wife of Bartholomew Hesketh of Aughton, esq.; (fn. 37) and thirdly to Anne daughter of Sir Thomas Butler, of Bewsey, knt. (fn. 38) He died in 1518. (fn. 39)
His son Sir John Atherton, (fn. 40) who was knighted in 1544, was high sheriff in 1550, 1554, and 1560, and represented the county in the Parliament of 1559. (fn. 41) He was married in his father's lifetime to Elizabeth, daughter of Sir Alexander Radcliffe, knt., (fn. 42) from whom he was divorced. He afterwards married Margaret, daughter and coheir of Thomas Catterall of Little Mitton, esq. (fn. 43) He was buried at Leigh 8 July, 1573. By his will dated 18 April, 1573, he gave his manors of Atherton, Lancashire, Slingsby, Fryton, and Hovingham, Yorkshire, (fn. 44) after his death, to his eldest son and heir John, whom he had agreed to marry to Elizabeth, daughter of Sir John Byron of Newstead, knt. (fn. 45)
John the son, was aged sixteen at his father's death, was high sheriff in 1582, (fn. 46) and one of the Parliamentary representatives of the county in 1586, and for Lancaster in 1588–9. (fn. 47) He married secondly, Katherine, daughter and coheiress of John, Lord Conyers, of Hornby Castle, (fn. 48) Yorkshire, and was buried at Leigh 23 May, 1617. By his first wife he had issue John, his heir, who was buried at Leigh, 23 July, 1628, and by his second wife another John, of Skelton, who was heir to his mother. (fn. 49) The former was father of John Atherton, esq., (fn. 50) who died in 1646, having married Eleanor, daughter of Sir Thomas Ireland of Bewsey, knt. This lady was eventually heir to her cousin, Dame Margaret, wife of Sir Gilbert Ireland of Bewsey and granddaughter of Sir Thomas. Surviving her husband, Dame Margaret devised her Bewsey estate to Sir Richard Atherton, grandson of her cousin Eleanor, and died two months after her husband.
John Atherton, third but eldest surviving son of John Atherton by his wife Eleanor, was a Presbyterian, a captain in the Parliamentary army, a justice of the peace and high sheriff of the county in 1654, and at his death early in 1656. (fn. 51) His posthumous son Richard Atherton took an active part in politics and was knighted by Charles II at Windsor in 1684. (fn. 52) He died two years later. His only son, John, married Elizabeth, daughter and heiress of Robert Cholmondeley of Vale Royal, and died in 1707 at the age of 29. His son, Richard Atherton, was the last direct male representative of the family. By Elizabeth his wife, daughter of William Farington of Shaw Hall, he had issue an only daughter, Elizabeth, who married Robert Gwillym of Langston and Walford, Herefordshire. They had issue two sons: William, who died at Atherton in 1771, and Robert Vernon Atherton, who at the age of twenty-two succeeded to the family estates and assumed the name and arms of Atherton. From 1774 to 1780 he represented the borough of Newton in Parliament. He died 9 July, 1783, aged 42 years. In 1763 he married Henrietta Maria, eldest daughter and coheir of Peter Legh of Lyme, by whom he had, besides other children who died young, a son, Atherton Legh Atherton, who died in his minority and unmarried in 1789, and three daughters, Henrietta Maria, married to Thomas Powys, second Baron Lilford; (fn. 53) Elizabeth, married to George Anthony Legh-Keck of Stoughton Grange, Leicestershire; and Esther, married to the Rev. James John Hornby, rector of Winwick, whose only children, two sons, died respectively in 1818 and 1857 without issue. Thomas Littleton Powys, who succeeded his father as fourth Baron Lilford in 1861, inherited in 1860 the estates of George Anthony Legh-Keck at Bank Hall in this county. John, second but eldest surviving son of the fourth baron, succeeded his father in 1896 as fifth Baron Lilford, and is now lord of the manor. No courts for the manor of Atherton have been held for many years. (fn. 54)
Chanters, now a farm house standing near the brook of that name, formerly a fine stone-built house with mullioned windows, was built in 1678 on the site of an older building or incorporated with part of an older structure. The initials W.A., which appear over the door of the porch above the date 1678, are possibly those of William Atherton, younger brother of John Atherton, the Parliamentarian who died in 1646. The house is now falling to decay owing to subsidence caused by old coal workings.
CHOWBENT
Chollebynt, Shollebent, c. 1350. (fn. 55) In 1385 Thomas Smith, 'nayller' of Cholle, was sued for debt at the sessions at Lancaster. (fn. 56) In 1535 William, George, Richard, and Gilbert Cholle were indicted for taking part in a riot at Leigh church, caused by the unseemly arrest of three persons by the under-sheriff in the church immediately after the celebration of high mass. (fn. 57) Chowe's tenement, which appears to have been held by the Cholle or Chowe family (fn. 58) under a lease from the Athertons in the sixteenth century, was sold in 1616–17, together with the Green Hall and Carrbank tenements, by John Atherton, esq., under a yearly quit-rent of £5 1s. 10d. The two latter tenements were afterwards repurchased by the Atherton family, but Chowe's tenement remains alienated from their representatives' estates, subject to a quit-rent of £1 13s. 10d. Down to 1705 it remained in the possession of the Chowe family, but in that year it passed by mortgage and eventually by sale to Mr. Nathan Mort, son of Robert Mort of Wharton Hall and cousin of Thomas Mort of Dam House, by whose descendants the estate was divided and sold. (fn. 59) An interesting description of this place, written in the year 1787 by Dorning Rasbotham, esq., is given by Baines in his History of Lancashire. (fn. 60)
Previous to the American War of Independence, indeed as far back as 1385, the manufacture of nails was carried on to a considerable extent in this place. Subsequently a great part of the industry was transferred to Staffordshire, but did not become entirely extinct here. After the introduction of machinery into the cotton trade this place became noted for the manufacture of carding and spinning machinery, some of the earlier improvementst being due to the ingenuity of the mechanics of Chowbent. Improvements in the finishing of certain kinds of cotton fabric are said to have been accidentally discovered by a small local manufacturer in the early part of the century. (fn. 61)
Alder House, erected by Ralph Astley, gent., in 1697 upon the Alder Fold estate, which, as it existed in the eighteenth century, included Chowe's tenement, was sold by the Astleys in 1724 in moieties to Adam Mort, eldest son of Nathan Mort, esq., sometime of Wharton Hall, and to Roger Rigby of Atherton, whose executors sold this moiety to Adam Mort in 1730. (fn. 62)
The principal landowners here in 1787 were A. L. Atherton, holding about one-fifth of the township, Thomas Wrightington, James Ashworth, and Samuel Charlson. (fn. 63)
CHURCH
The parochial chapel of St. John the Baptist at Chowbent was a small brick edifice erected in 1645 by John Atherton, esq., and his tenants, the one erecting the chancel, the others the body of the chapel. (fn. 64) Down to 1717 it had never been consecrated, and had always been used by the Presbyterians, who quitted the place when the vicar of Leigh came to officiate, leaving him the Bible and Book of Common Prayer ready for use. (fn. 65) In 1721 Richard Atherton, upon political grounds, took it from the dissenters and offered it for consecration in 1723, giving £200 towards the augmentation of the living. It was consecrated the same year by the bishop of Sodor and Man. (fn. 66) A new chapel was consecrated by the bishop of Chester in 1814. The present church, the third to be erected upon the site, was consecrated in 1879, and is now described as the parish church of St. John the Baptist in Atherton. The plate consists of a flagon, a chalice, and two patens. The flagon was given by Samuel Hilton of Bedford, gent., in 1723.
The registers commence in the year 1778. The living is a vicarage, average tithe-rent charge £44, net yearly value £215, including 23 acres of glebe with residence, and is in the gift of Lord Lilford.
The following have been incumbents:—
The original church of St. Anne's at Hindsford was a temporary building of brick, formerly a barn, but in 1901 a new church, from designs by Messrs. Austin and Paley, was erected upon a site given by Lord Lilford. The register of baptisms commences in 1871. The living is a vicarage, gross yearly value £150, in the gift of the bishop of Manchester. A non-sectarian mission church was erected in Laburnum Street in 1904. The church of St. Michael and All Angels at Howe Bridge is a building in the Early English style, erected in 1877, and consisting of chancel, nave, transepts, north porch, and a central turret containing one bell. The register commences in the year 1873. The living is a vicarage, gross yearly value £198, in the gift of three trustees.
There are chapels of the Wesleyan, Baptist, Independent Methodist, and Primitive Methodist denominations. The last-named was built in 1884.
The Chowbent Unitarian chapel was the earliest Nonconformist one in the township, and represents the oldest religious society therein. The chapel was erected by the Presbyterian congregation at the time (1721) when the ancient Chowbent chapel, built in 1645, was transferred to the Episcopal Church. It is a curious and interesting building, enlarged in 1901, and contains high-backed dark oak pews, and a three-decker pulpit in an excellent state of preservation. The Communion table and plate came from the old chapel. (fn. 76)
A new Congregational church at Howe Bridge was opened in 1904.
The Roman Catholic school chapel of St. Richard was opened in 1890, the mission having formerly been served from Tyldesley. (fn. 77)
A grammar school existed at Chowbent in 1655, of which Mr. Richard Jollie was master. Nathaniel Lommax of Gonville and Caius College, Cambridge, 1674–5, was partly educated here under Mr. Taylor. (fn. 78) Edward Sedgwick was appointed master in 1733.
CHARITIES
Bequests yielding £26 per annum in 1900 were made between 1865 and 1899 in favour of Chowbent Unitarian chapel. (fn. 79)