Pages 66-74
A History of the County of Lancaster: Volume 3. Originally published by Victoria County History, London, 1907.
This free content was digitised by double rekeying. All rights reserved.
SEFTON
Sextone, Dom. Bk.; Ceffton, 1242; Sefton, 1292, and afterwards general; but Shefton (1300) appears at times. Sephton became a common spelling in the xvii cent.
This township has an area of 1,233½ acres, (fn. 1) with a population of 343 in 1901. The eastern boundary is formed by the River Alt, except where the present course of the stream has been restricted to the centre of Sefton meadows, the whole of these lying within the township. In time of frost they are flooded for the amusement of skaters. The church and the mill stand at the western edge. A few dwellings amid a clump of trees cluster round the church; there are also hamlets called Sefton Town, Buckley Hill, and Windle's Green. The moated site of the ancient house of the Molyneux family (fn. 2) lies to the south-east of the church, but nothing remains above the ground of the buildings finally dismantled in 1720. Part of it was standing till 1817. Close to the site, on the south, is a farmhouse, known as The Grange, retaining some seventeenth-century details, and a barn of late sixteenth-century date, though much patched with later work. The mill over the Alt is said to have been built in 1595, and has a four-centred doorway and chimney-piece which may well be of that date.
The geological formation consists of the lower keuper sandstone of the new red sandstone or trias, overlaid by sand and thick boulder clay and by alluvial deposit between the village and the River Alt. The soil varies; the subsoil is sand and clay. Wheat, barley, oats, and rye are grown, as well as potatoes; but cabbages are now the chief crop.
The principal road is that from Liverpool to Ormskirk; at Sefton Town the road to Thornton and Great Crosby branches off. The Leeds and Liverpool Canal crosses the southern part of the township.
Thomas Pennant, who visited the place in 1773, appears to have been pleased with its aspect, 'placed on a vast range of fine meadows, that reach almost to the sea and in a great measure supply Liverpool with hay. It is watered by the Alt, a small trout stream; but after the first winter flood is covered with water the whole season, by reason of want of fall to carry it away.' (fn. 3)
John Sadler of Liverpool, the inventor of a process of transferring patterns to earthenware, was buried here. (fn. 4)
The flail was till recently used in threshing. (fn. 5)
The township is governed by a parish council.
The churchyard cross has disappeared, but there are pedestals of others. The pinfold stood in Brickwall Lane; the stocks were renewed in 1725 and 1791; the ducking-stool is mentioned in 1728. (fn. 6)
About 1760 Sefton became the head quarters of a social club calling itself the Ancient and Loyal Corporation of Sefton. The members were in the main merchants and tradesmen of Liverpool, who assembled at the Punch Bowl Inn at Sefton every Sunday and regulated their proceedings after the customs of the borough corporation, the chairman being called the mayor and elected in October for a year, other officers being called bailiffs, recorder, town clerk, &c., while there were aldermen, common council men, and free burgesses. For a number of the members mock offices were provided, as: An African Committee Man, Governor of the Tantum Quarry on the Gold Coast, Prince of Anamaboe or Palaver Settler, Poet Laureate, Butter Weigher, and Contractor for Gunpowder. A lady patroness was also duly elected. They had their regalia, long preserved at the Punch Bowl Inn, consisting of two large maces and two small ones, a sword, wands, cocked hats, and gowns, and at one time a silver oar; the earliest mace bears the inscription, 'The gift of F. Cust, Esq., 1764.' They are now in the Liverpool Museum. (fn. 7)
MANOR
At the death of Edward the Confessor five thegns held SEFTON, which was assessed at one hide, and was worth 16s. beyond the customary rent. (fn. 8) It appears to have been granted about 1100 by Roger of Poitou to the ancestor of Richard de Molyneux (living in 1212), and was the chief place of a fee consisting of ten and a half ploughlands held by this family by the service of half a knight. (fn. 9) The family of Molyneux, the head of which may perhaps be considered to have been one of the 'barones comitatus,' have continued to hold the manor without interruption to the present day, and from it are derived the titles of Earl of Sefton and Baron Sefton borne by the head of the family.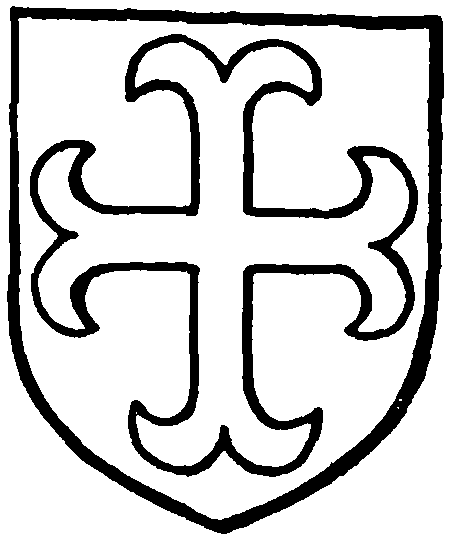 The ancestor mentioned was probably Robert de Molyneux, to whom about 1125 Stephen, count of Boulogne and Mortain, granted land in Down Litherland. (fn. 10) In the latter half of the century Richard de Molyneux, (fn. 11) sometimes called Richard son of Robert, held the estates; from him the descent of the manor is clearly established. (fn. 12)
His son and successor was Adam, who held the manors for about thirty-five years, and appears to have been one of the most prominent men in the district in his time. (fn. 13) He is sometimes described as a knight. (fn. 14) William his son followed; a number of his grants have been preserved, (fn. 15) and his name occurs as a witness down to 1275; (fn. 16) some traditional verses say that he was made a banneret in Gascony and died in 1289. (fn. 17) He certainly died before 1292, when his son Richard was in possession of Sefton, and concerned in various suits. (fn. 18) Richard died about 1320, having shortly before made a number of grants to his younger children by Emma, who was perhaps a second wife. (fn. 19)
William, the eldest son, succeeded. (fn. 20) In 1327 he was one of those charged to engage men in this hundred to serve in the Scottish war. (fn. 21) He died before 29 June, 1336, when the manor of Sefton was released to his son Richard, (fn. 22) who held it for nearly thirty years, dying on 6 April, 1363, (fn. 23) his son William having predeceased him in 1358. (fn. 24) The new lord of Sefton was William's son William, aged about eighteen years at his grandfather's death. (fn. 25) His tenure, however, was but short, for he died in 1372 after distinguishing himself in the wars in France and Spain. (fn. 26) There was again a minority, this time a long one, the son and heir Richard being in 1388 still a minor, (fn. 27) whose wardship was granted to a relative, Thomas de Molyneux of Cuerdale. (fn. 28)
Again there was a short tenure of the manors and a long minority, for Richard died 27 December, 1397, leaving a son and heir Richard, not quite fifteen months old. (fn. 29) The latter fought under Henry V in the French wars and was made a knight; (fn. 30) in 1424 occurred his quarrel with the Stanleys, which threatened to become a private war. (fn. 31) Henry VI, for services rendered and expected, granted him and his heirs the offices of master forester of the forest and parks of West Derbyshire, steward of this wapentake and of Salfordshire, and constable of the castle of Liverpool. (fn. 32) By his first wife, Joan, daughter and heir of Sir Gilbert Haydock, (fn. 33) he had several sons. (fn. 34)
Richard, the eldest son and heir, notwithstanding the feud with Stanley, had been married before 1432 to Elizabeth, daughter of Sir Thomas Stanley, (fn. 35) by whom he had several children. (fn. 36) He is stated to have been killed at the battle of Blore Heath, 23 September, 1459, fighting on the Lancastrian side, (fn. 37) and was succeeded by his eldest son Thomas, who married Anne, a daughter and co-heir of Sir Thomas Dutton of Dutton, another of those who fell at Blore Heath. (fn. 38) Thomas Molyneux was sheriff in 1473 and later years, (fn. 39) and in 1475 accompanied Edward IV on his expedition to France; (fn. 40) in 1481 he received from the king a grant of the manor of Ulnes Walton, moieties of Eccleston, Leyland, Heskin and Kellamergh, and various other lands and rents in Lancashire for the service of one knight's fee and £100 rent. (fn. 41) He also purchased the advowson of Walton. (fn. 42) In 1482 he joined the expedition to Scotland, and was knighted at the recovery of Berwick. (fn. 43) He died 12 July, 1483, leaving as his heir his son Richard, then five years of age, (fn. 44) and other children.
There was once more a long minority, during which, as the Croxteth Deeds show, the widow, Dame Anne Molyneux, was a vigilant guardian, bent on increasing the family possessions. (fn. 45) William, a younger brother of Richard, became heir on the latter's death, attaining his majority about 1502. (fn. 46) He took part in three expeditions to Scotland, capturing two banners at Flodden, and receiving a letter of thanks from Henry VIII. (fn. 47) It was perhaps in his time that Croxteth became the principal residence of the family, as Leyland found it in 1535: 'Mr. Molyneux, a knight of great lands, two miles from Prescot, dwelleth at a place called Croxteth.' (fn. 48) In 1545 William Molyneux assigned certain lands to his son Richard to enable the latter to maintain hospitality within the manor place of Sefton. (fn. 49) He died in 1548. (fn. 50)
His son and heir Richard had special livery of his lands on 13 June in that year. (fn. 51) He was made a knight at the coronation of Queen Mary in 1553, (fn. 52) and was sheriff of Lancashire in 1566. (fn. 53) Before his death on 3 January, 1568–9, (fn. 54) having apparently shown some conformity to the established religion, 'he received absolution and did vow that he would take the pope to be supreme head of the Church.' (fn. 55)
The heir was his grandson Richard, son of William Molyneux, only ten years of age. (fn. 56) He was given into the guardianship of Sir Gilbert Gerard, Master of the Rolls, one of the stricter Protestants of the time, and eventually married his guardian's eldest daughter. (fn. 57) He was made a knight in 1586, (fn. 58) twice served as sheriff, (fn. 59) became receiver of the duchy, (fn. 60) and in 1611 was created a baronet, the second to hold the new dignity. (fn. 61) Although, as might be expected from his training, he remained outwardly a Protestant, and joined in the persecution of the Blundells of Crosby, (fn. 62) it was in 1590 reported that while he 'made show of good conformity,' many of his company were 'of evil note' in religion. (fn. 63) Consequently it is not surprising to find that his descendants in the freer time of the Stuarts reverted openly to the Roman Catholic faith. (fn. 64) He died 24 February, 1622–3, (fn. 65) and was succeeded by his eldest son, Richard, who five years later was raised to the peerage of Ireland as Viscount Molyneux of Maryborough. (fn. 66) He did not long enjoy his new honour, dying 8 May, 1636, at Croxteth, holding the hereditary offices of forester of West Derbyshire, steward within the wapentakes of Salford and West Derby, and constable of the castle of Liverpool; and possessed of the manors of Sefton, Netherton, and Lunt, with many other manors and lands. (fn. 67) His son and heir, Richard, seventeen years of age, was entrusted to the guardianship of James, Lord Strange, his father-in-law. (fn. 68) Lord Molyneux, with his brother Caryll, zealously espoused the king's side on the outbreak of the Civil War, taking part in the siege of Manchester in 1642, the capture of Lancaster and Preston, the battle of Newbury in the following year, and that of Ormskirk in August, 1644, (fn. 69) when he and Lord Byron, being forced to forsake their horses, hid themselves in the cornfields. (fn. 70) In May 1646, after the surrender of Ludlow, he came in, sent his petition to the Parliament, and took the National Covenant and Negative Oath on 20 August. (fn. 71) His estates were of course under sequestration, and from this time he appears to have lived at the mercy of the Parliament, with but a scanty allowance. He died early in July 1654, without issue. (fn. 72)
His brother Caryll succeeded as third viscount. By James II he was made lord lieutenant of Lancashire and admiral of the high seas, a grant which, on religious grounds, gave great offence and had to be revoked. (fn. 73) At the Revolution he was faithful to the king, seizing Chester Castle on his behalf; (fn. 74) in 1694 he was put on trial for participation in the 'Lancashire Plot.' (fn. 75) He died 2 February, 1699–1700, and was buried at Sefton. (fn. 76) He was succeeded by his third son, William, who in 1717, shortly before his death, as a 'Papist' registered his estate in the manors of Sefton, &c. as worth £2,352 a year. (fn. 77) He does not seem to have had any share in the rising of 1715. (fn. 78) His eldest son, Richard, succeeded and, leaving only two daughters, (fn. 79) was at his death in 1738 followed in turn by his brothers Caryll (fn. 80) and William. The latter, being a priest and a Jesuit, in charge of the mission at Scholes, near Prescot, on succeeding in 1745, resigned to his younger brother Thomas all his estates, the reason put forward being that he was 'old and had no intention to marry.' (fn. 81) It is said that on Thomas's death in 1756 Lord Molyneux was ordered to 'cease parish duty and appear in his own rank,' and that he accordingly did so until his death in 1759. (fn. 82)
His nephew, Charles William, son of the Thomas Molyneux just named, succeeded as eighth viscount. He was then only ten years of age. He conformed to the established religion on 5 March, 1769, (fn. 83) probably under the influence of his wife, Isabella, daughter of the earl of Harrington, a step which was rewarded by the grant of an earldom in the peerage of Ireland in 1771. (fn. 84) His son, William Philip, succeeded in 1794. He took an active part in politics on the Whig or popular side, and though unsuccessful at Liverpool was returned as member for Droitwich in 1816. Retaining his seat until 1831 he was by William IV created a baron of the United Kingdom, as Lord Sefton of Croxteth. (fn. 85) He died in 1838. (fn. 86)
His son Charles William, who died in 1855, (fn. 87) succeeded, and was followed by his eldest son William Philip (died 1897), (fn. 88) who in turn was succeeded by his eldest son Charles William Hylton (died 1901), and by his second son Sir Osbert Cecil Molyneux, the sixth earl, and present lord of the manor of Sefton. (fn. 89) See Pedigree next page.
No manorial courts are now held. Several fifteenth-century court rolls are preserved at Croxteth; the officers appointed were the constables, 'birelagh' men, ale-tasters, afferers, and layers of the mise. A 'view of the houses' taken in December, 1411, has also been preserved, recording the various dilapidations which had to be made good under penalties set forth.
The Pepperfield in Sefton, comprising 6 acres of land lying next to the Hanecroft, was in 1294 given by Richard de Molyneux to his son Peter. (fn. 90) By Peter it was granted to Richard the Judge or Doomsman of Down Litherland in 1335; (fn. 91) and from Richard 'the Demand' of Ince—no doubt the same person— it passed by charter in 1344 to Robert his son and heir and Emma his wife. (fn. 92) The next step is unknown; but in 1395–6 Richard de Eves of Thornton gave to Henry Boys the 6 acres called Pepperfield, (fn. 93) and about fourteen years afterwards Richard de Eves and Maud his wife sold it to Nicholas Blundell of Little Crosby, Henry Boys, son of William Highson, releasing all his right therein. (fn. 94) Next Henry Blundell gave to Robert, son of John Molyneux of Melling, in 1454–5 a pound of pepper with the field called Pepperfield. (fn. 95)
The EDGE in Sefton is in one charter called a manor. (fn. 96) An estate here was granted in 1315 by Richard de Molyneux to his son Thomas, (fn. 97) whose mother Emma in 1334 made him steward of all her lands and commanded her tenants to render account of all matters to him; (fn. 98) two years later he released to her all his right to the marsh of Sefton and the heys and meadows there. (fn. 99) He died shortly after, for at the beginning of 1337, Cecily, widow of Thomas de Molyneux, acquired a lease of lands in Great Crosby. (fn. 100) His son Thomas appears to have acquired the manor of Cuerdale, and took his distinguishing title from it; (fn. 101) his widow Joan was at the beginning of 1388 put in possession of various lands of his, including the Edge in Sefton. (fn. 102) After her death his lands descended in the Osbaldestons of Osbaldeston, (fn. 103) until in 1589 the Edge and others were sold by Edward Osbaldeston and John his son to Sir Richard Molyneux, (fn. 104) since which time they have formed part of the Sefton estate of the Molyneux family.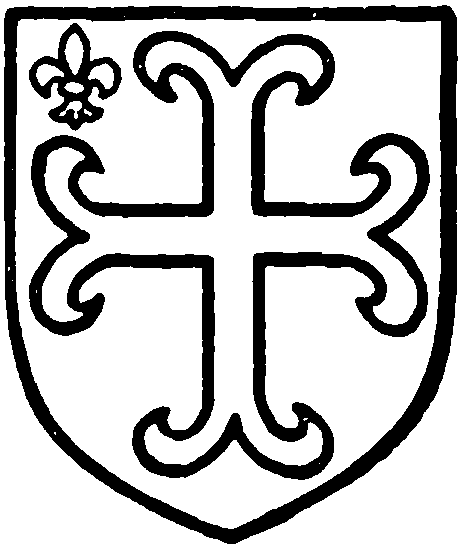 In the seventeenth century a family named Baron held it of them. Lawrence Baron in 1652 petitioned for the restoration to him of a portion of the tenement, two-thirds of his late grandfather's estate having been sequestered for recusancy. (fn. 105) 'Mr. Baron of the Edge' is mentioned several times in Nicholas Blundell's Diary of the early part of the following century. (fn. 106)
Gorsthill and the family named from it have been mentioned; like the Edge it became the property of Thomas de Molyneux of Cuerdale. (fn. 107)
Some of the inhabitants seem to have taken Sefton as a surname; (fn. 108) but this was perhaps more commonly applied after they had left the township. (fn. 109)
Besides Lord Molyneux two other 'Papists' registered estates here in 1717, viz. Robert Shepherd, a leaseholder, and Mary Cornwallis of St. Giles in the Fields, London, daughter of Francis Cornwallis, who had an annuity of 100£. purchased from Caryll, Lord Molyneux. (fn. 110)
The parish church has already been described.
After the Reformation there are no records of the existence of the Roman Catholic worship in the township until the middle of the seventeenth century, when a chapel in the old hall was served by Benedictines or Carmelites down to 1792. In this year Dom Vincent Gregson, who had been there for nearly forty years, persuaded the earl of Sefton to grant him land at Netherton for a chapel and presbytery; the chapel, St. Bennet's, was opened in the following year, and is still served by a Benedictine father. (fn. 111)