Pages 115-118
A History of the County of Lancaster: Volume 4. Originally published by Victoria County History, London, 1911.
This free content was digitised by double rekeying. All rights reserved.
HAIGH
Hage, 1193; Hagh, 1298, and common, with Haghe; Ha, Haw, xvi cent.; also Haigh.
This township forms the north-eastern corner of the parish. On the west it is bounded by the Douglas, and on the north a small brook running into the Douglas divides it from Blackrod. The ground rises towards the east and north, and the village of Haigh, near the middle of the Aspull boundary and 2½ miles north-east of Wigan, is one of its highest points, about 520 ft. above sea level. The Hall is on the slope of the hill to the west of the village. The area is 2,135½ acres. (fn. 1) The population in 1901 was 1,164. (fn. 2)
Roads lead from the village, north to Blackrod, west to Standish, and south to Wigan and Aspull. The London and North Western and Lancashire and Yorkshire Companies' joint railway passes through the township on the western side, where it is joined by a short connecting line from the Wigan and Preston Railway; there is a station called Red Rock. The Lancaster Canal also winds through the western part of the township, near the Douglas.
The woods and grounds of Haigh Hall, occupying 500 acres, clothe the south-western slopes with pleasant scenery in contrast with the surrounding collieries of a black country. It is a common sight to see the gaunt and black coal-shafts rising from the midst of corn fields and plantations. For Haigh has its agriculture, as well as mining and manufacturing industries, wheat, oats, and potatoes being grown in spite of an exposed situation and smoke from neighbouring factories &c., the soil being clay upon a shaley rock. The Hall itself commands a fine panorama of the district around Wigan. Haigh has long been celebrated for its cannel coal; (fn. 3) this is almost exhausted, but coal-mining is the great industry of the place. There are also a brewery, and dyeing and bleaching works.
The township is governed by a parish council.
William Roby, 1766 to 1830, a Congregational divine of note, was a native of Haigh. (fn. 4)
MANOR
The early history of the manor of HAIGH cannot be traced. About 1220–1230 it belonged to the Marsey fee, sold to Ranulf, Earl of Chester. (fn. 5) A Hugh de Haigh, most probably Hugh le Norreys, to whom the adjacent Blackrod was granted, paid 3 marks in 1193–4 for having the king's good will. (fn. 6) Richard de Orrell granted to Cockersand Abbey land in Haigh, adjacent to Hugh's ridding, about 1220; (fn. 7) and as a century later Sir Robert de Holland held it of the Earl of Lancaster, (fn. 8) together with other manors which had belonged to Richard de Orrell, it might be supposed that Haigh was part of the Orrell family's holding. (fn. 9) In 1282, however, Hugh son of Alan le Norreys was lord of Haigh. (fn. 10)
In 1298 William son of Richard de Bradshagh and Mabel his wife were in possession of the manors of Haigh and Blackrod, (fn. 11) which were Mabel's right as heir of the last-named Hugh le Norreys. Her husband from his name is supposed to have been a descendant of the Bradshaghs of Bradshaw, near Turton.
In 1302 William de Bradshagh held the twelfth part of a knight's fee in Haigh of the Earl of Lancaster; (fn. 12) ten years later the title of William and Mabel was assured by a fine. (fn. 13) For his share in Adam Banastre's rebellion in 1315 and the death of Henry de Bury, (fn. 14) Sir William de Bradshagh was outlawed for felony and by 1317 his manors of Haigh and Blackrod had been taken into the king's hands and demised to Peter de Limesey, but Mabel de Haigh intruded herself. (fn. 15) Sir William was living in 1328, (fn. 16) and appears to have been killed at Winwick in August 1333. (fn. 17)
Mabel's title to the Norreys lands must have been recognized, for in 1336 and 1337, when a widow and childless, she arranged for the succession to the manors as absolute owner, granting them to her husband's nephews; Haigh to William, a son of John de Bradshagh, and Blackrod to Roger son of Richard, who was another son. (fn. 18) In 1338 she founded a chantry in Wigan Church for her husband's soul and her own, as also for the soul of Edward II. (fn. 19) In 1346 Mabel de Bradshagh, heir of Hugh le Norreys, held the manor of Haigh for the twelfth part of a knight's fee and by the service of 10d. yearly. (fn. 20) She was living two years later. (fn. 21)
Early in 1365 Roger de Bradshagh of Westleigh demanded the manor of Haigh from William de Bradshagh and Sir Henry de Trafford, in virtue of the settlement of 1312. (fn. 22) There may have been two Williams in succession, for William de Bradshagh, who died in 1380 seised of the manor of Haigh, left a son and heir Thomas only twelve years of age. (fn. 23) Thomas de Bradshagh took part in the Percy rising of 1403 and was present at the battle of Shrewsbury; afterwards he received a pardon from Henry IV. (fn. 24) He was living in 1425. (fn. 25)
His son and heir was James Bradshagh, (fn. 26) who, with many others, was accused of the death of John Tailor; he appears to have been released from attendance at the trial, but died in the summer of 1442 before it came to an end. (fn. 27) He had held lands in Wigan called Rudgatehurst of the rector, and the manor of Haigh of the king, as Duke of Lancaster, for the twelfth part of a knight's fee and by the service of 10d. yearly. His son and heir was William Bradshagh, aged twenty-three. (fn. 28)
William Bradshagh was accuser and accused in various pleas of the next succeeding years. (fn. 29) He had several children, but the manor descended to his son James, (fn. 30) who died in May 1491, leaving as heir his son Roger, then twenty-three years of age and more. There were also two younger sons, Ralph and William, and a daughter Constance. (fn. 31) Roger, who was made a knight, had no children, and died in December 1537, the heir being his brother Ralph, then about sixty years of age. (fn. 32) Ralph died early in 1554, his heir being his brother William's son Roger, aged about thirty-six. (fn. 33)
Roger Bradshaw of Haigh died 20 February 1598–9. (fn. 34) To the religious system established by Elizabeth he showed 'some degree of conformity,' but was of 'general note of evil affection in religion, and a non-communicant.' (fn. 35) In temporal matters the time was one of prosperity for the family, the cannel-coal of Haigh being famous already, and bringing wealth to the lord of the manor. (fn. 36)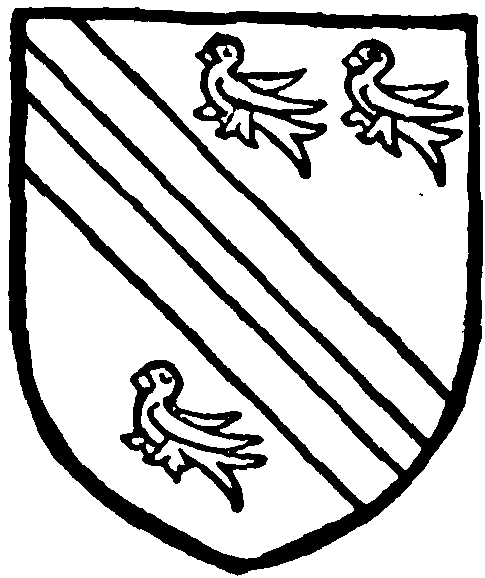 His son James having died before him he was succeeded by his grandson Roger, twenty-one years of age in 1599. (fn. 37) He also, after some wavering, adhered to the ancient religion, (fn. 38) but died in May 1641, before the outbreak of the Civil War. (fn. 39) His grandson and heir Roger, being then only thirteen years of age, took no part in the war, and the estates escaped the sequestration and forfeiture which would no doubt have overtaken them under the Commonwealth. (fn. 40) The minority, however, involved the placing of the heir under a Protestant guardian; he changed his religion and conformed to that established by law. (fn. 41) In 1679 he was made a baronet (fn. 42); he was knight of the shire in 1660, (fn. 43) showing himself an opponent of the Presbyterians (fn. 44) and also of the adherents of Monmouth. (fn. 45) He died in 1684, and his son Roger three years later, (fn. 46) when the third Sir Roger Bradshaw, his son, succeeded. (fn. 47) His son Sir Roger, the last baronet, died in 1787 without issue, (fn. 48) the heir to the manor and estates being his sister Elizabeth. (fn. 49)
She married John son of Sir Humphrey Edwin, (fn. 50) and her daughter and heir, Elizabeth, married Charles Dalrymple of North Berwick, whose daughter and heir, Elizabeth Bradshaigh, (fn. 51) married Alexander Lindsay, sixth Earl of Balcarres. He thus became lord of the manor of Haigh, (fn. 52) which has descended regularly (fn. 53) with the title to James Ludovic Lindsay, Earl of Crawford and Balcarres, who succeeded in 1880. (fn. 54) His son, Lord Balcarres, is the member of Parliament for the Chorley division of the county. At the Hall is a valuable library, including a Mazarin Bible among the printed books. (fn. 55)
Apart from the Bradshaw family there do not seem to have been any important landowners (fn. 56) in the township, though in 1600 Ralph Charnock was also returned as a freeholder. (fn. 57)
A poor man named John Rycroft was in trouble with the Commonwealth authorities during the Civil War; he explained that he had assembled with the king's men on Westhoughton Common but had not joined them later. (fn. 58)
In connexion with the Established Church St. David's, Haigh, was consecrated in 1833 as a chapel of ease to Wigan; a district was assigned five years later. The rector of Wigan is patron. (fn. 59) At New Springs, St. John Baptist's, an iron church, was licensed in 1871; and rebuilt in brick in 1897.
A school was founded here about 1660 by the township. (fn. 60)