Pages 150-154
A History of the County of Lancaster: Volume 4. Originally published by Victoria County History, London, 1911.
This free content was digitised by double rekeying. All rights reserved.
LOWTON
Laitton (? Lauton), 1201; Lauton, 1202.
Lowton is situated in flat uninteresting country, covered for the most part with bricks and mortar, for the very scattered town of Lowton spreads itself in every direction, leaving spaces only for pastures between the streets or groups of dwellings. Lowton is a residential suburban retreat, easily reached by electric car from the industrial town of Leigh. Such a description is enough to indicate that what natural features once existed have long ago been superseded. In the extreme south a little patch of unreclaimed ground, known as Highfield Moss, represents the last relic of undisturbed nature. The Pebble Beds of the New Red Sandstone (Bunter Series) cover the entire township. The area is 1,830 (fn. 1) acres. The population in 1901 was 2,964.
The principal road is that from Newton to Leigh; entering at the south-west corner, and keeping near to the eastern boundary, it passes through the hamlets known as the town of Lowton, Lane Head, Lowton St. Mary's, and Lowton Common. Another road to Leigh branches off from it, keeping near the western boundary, and passing through Lowton village, Byrom, and Mossley. A cross road, lined with dwellings, passes through Lowton village and Lane Head. The London and North-Western Company's Liverpool and Manchester line crosses the southern end of the township, where it is joined by a loop line connecting with the same company's main line to the north; there is a station called Lowton. The Great Central Company's line from Manchester to Wigan passes through the northern half of the township, and at Lowton Common is joined by the line from St. Helens (Liverpool, St. Helens, and South Lancashire Railway); a station at this point is called Lowton St. Mary's.
Cotton-spinning and fustian-making were formerly carried on here. (fn. 2) Some silk-weaving is done as a cottage industry. Glue is made.
On 27 November 1642 Lord Derby's levies were routed on Lowton Common by the people of the district. (fn. 3)
A stone cross formerly stood at Four Lane Ends, near the present parish church. (fn. 4)
There is a parish council.
MANOR
Before the Conquest LOWTON, which then no doubt included Kenyon, was one of the berewicks of the royal manor of Newton; and in later times it formed one of the members of the fee or barony of Makerfield. (fn. 5) In 1212 William de Lawton held a manor assessed at 6½ plough-lands, and comprising not only two-thirds of Lowton and the whole of Kenyon, but half of Golborne and the small manor of Arbury. (fn. 6) His father Adam, who was living in 1200, (fn. 7) had made a number of infeudations, (fn. 8) and William himself granted Kenyon to a younger son. (fn. 9) Robert de Lawton succeeded him about 1260. (fn. 10) From this time, however, though the local surname frequently appears, (fn. 11) it does not seem that anyone claimed the lordship of the manor except the barons of Makerfield. (fn. 12) It is probable, therefore, that direct heirs failed, the manor reverting to the chief lord. It has since descended in the same way as Newton. (fn. 13)
The manor of BYROM in the northern portion of Lowton may reasonably be identified as the whole or chief part of the plough-land held in 1212 by Richard de Winwick of Thomas de Golborne. (fn. 14)
About 1270 Robert Banastre, lord of Newton, granted the Golborne lands to Thurstan de Holland. (fn. 15) The descent is not clear, but Byrom came by inheri tance to Alice, who married Henry son of Henry son of Richard de Glazebrook, whereupon he obtained the surname of Byrom. (fn. 16) The family improved its position by later marriages, and about 1420 Henry de Byrom married Lucy a daughter and co-heir of Henry son of John de Parr. (fn. 17) His grandson Henry married Constance daughter and co-heir of Gilbert Abram, and one of the heirs of the Boydells of Grappenhall; by this considerable lands in Cheshire were acquired, together with the advowson of Grappenhall. (fn. 18)
The family continued to prosper. Henry Byrom, living in 1553, (fn. 19) married successively daughters of Ralph Langton and Sir Richard Bold, and his eldest son Thomas (fn. 20) married a daughter of Sir Thomas Langton, but dying without issue the manor of Byrom passed to his younger brother John, who about 1559 married Margaret widow of Thomas Parr. (fn. 21) He acquired much of the Parr inheritance, and Parr Hall became the chief seat of the Byroms.
John Byrom was in 1590 among the 'more usual comers to church,' but not a communicant; (fn. 22) Mary the wife of his son and heir Henry was at the same time a 'recusant and indicted thereof.' (fn. 23)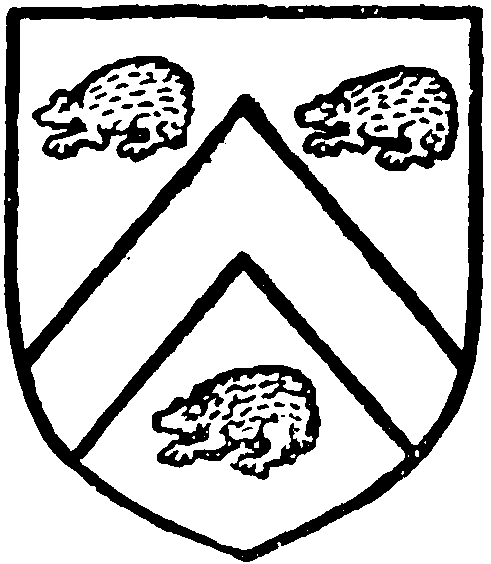 John Byrom died in 1592 or 1593, holding the manor of Byrom and various lands, windmills, &c., in Lowton, Golborne, and Abram, of Thomas Langton, in socage, by a rent of 4s. 7½d.; he also held the manor of Parr, and lands there and in other townships. (fn. 24) Henry Byrom of Parr, his son and heir, who was then thirty years of age, died in 1613, holding Byrom by a rent of 3s. 7½d. His son John had died in 1611, and the heir was John's eldest son Henry Byrom, born in 1608. (fn. 25) He espoused the royal side in the Civil War, and is said to have been killed at the battle of Edgehill in 1642. (fn. 26) He had seven children, the eventual heir being the fifth son, Samuel, born in 1634. (fn. 27) His son John succeeded him in infancy, and died in 1696, (fn. 28) the heir (his son Samuel) being once again a minor. In 1706, having attained his majority, he came to an agreement with his sisters, mother, and grandmother, and obtained possession of the manors and lands. (fn. 29) He was, however, a spendthrift, and four years later was negotiating the sale of 'the royalty, manor, and demesne of Byrom.' (fn. 30) The purchaser was Joseph Byrom, a wealthy Manchester mercer. (fn. 31) His daughter Elizabeth carried it by marriage to her cousin, the celebrated John Byrom of Kersal, and it descended to their great-granddaughter Eleonora Atherton of Byrom and Kersal, who died in 1870, having bequeathed this and most of her estate to Mr. Edward Fox, her godson. He took the name and arms of Byrom. (fn. 32)
The Hospitallers had land here by the grant of Pain and Adam de Kenyon. (fn. 33)
The Mathers of Lowton are said to have been the parent stock of a celebrated Puritan family. (fn. 34)
In 1600 James Lowe was a freeholder. (fn. 35) The heirs of John Byrom, John Lowe, and the heirs of John Baxter contributed as landowners to the subsidy of 1628. (fn. 36) John Widdows of Lowton compounded for his 'delinquency' in 1649; as he had not 'engaged in the latter war' he had possibly joined the king's forces at the opening of the conflict. (fn. 37) Richard Holcroft, as a recusant, asked leave to compound for the sequestered two-thirds of his estate in 1653. (fn. 38)
An Inclosure Award was made in 1765. (fn. 39)
The Commonwealth surveyors in 1650 recommended that a church should be built in the township, but nothing was done. (fn. 40)
St. Luke's Church was erected for the worship of the Established Church in 1732. By the Winwick Rectory Act of 1845 it became a parish church, the incumbent being rector; the Earl of Derby is patron. (fn. 41) St. Mary's Church was built in 1861; the benefice is a perpetual curacy in the gift of Mrs. Leach. (fn. 42)
A Methodist chapel is said to have been erected in 1788; (fn. 43) there are now Primitive and Independent Methodist chapels.