Pages 154-155
A History of the County of Lancaster: Volume 4. Originally published by Victoria County History, London, 1911.
This free content was digitised by double rekeying. All rights reserved.
KENYON
Kenien, 1212; Kenian, 1258; Keynan, 1259. Kenylow is at the border of Kenyon and Croft.
This township has an area of 1,685 (fn. 1) acres and stretches north-west from the boundary of Newton to the Carr Brook, a distance of 2½ miles. The geological formation consists mainly of the Bunter series of the New Red Sandstone. To the north-east of Twist Green the Pebble Beds give place to the Upper Mottled Sandstone of this series. The surface of the country is level, with an upper soil of clay, beneath which a stiffer red clay lies. Meadow lands alternate with fields of potatoes and corn, and a fair number of trees are sprinkled about the country. Hedges appear well-grown and trimly kept. The district is deficient in water-courses. The population numbered 329 in 1901.
The principal road is that from Lowton to Culcheth, a branch of it passing south through Kenyon village. The Liverpool and Manchester Railway of the London and North Western Company crosses the township and has a station at Kenyon Junction, whence a branch goes off to Leigh. The Great Central Company's Manchester and Wigan line also passes through the township.
Pocket Nook, Diggle Green, and Broseley occupy the north-east corner, Sandy Brow the south-west.
Bricks are manufactured.
The bronze tongue of a Roman fibula was found here. (fn. 2) There is a Bronze-age barrow. (fn. 3)
MANOR
KENYON was originally part of Lowton, but about the end of the reign of Henry III William de Lawton granted to his son Jordan 'the whole vill of Kenyon,' at the rent of 1d. a year or a pair of white gloves. (fn. 4) This was confirmed shortly afterwards by Robert, lord of Lowton, son of William. (fn. 5) Jordan de Kenyon lived on until about 1300, (fn. 6) when he was succeeded by his son Adam. (fn. 7) This Adam, who was living in 1330, was followed regularly by a son (fn. 8) and grandson of the same name. The third Adam de Kenyon came into his inheritance about 1346, when a number of settlements were made. (fn. 9) Three years later his son John was contracted in marriage to Joan daughter of Gilbert de Southworth, (fn. 10) but probably died soon afterwards, as the manor descended with Adam's daughter Amery, who in 1358 was married to Richard son of Thurstan de Holland of Denton. (fn. 11) Subsequently it descended, (fn. 12) like Denton, Heaton, and the other estates of the family, to the Earl of Wilton. Lord Grey de Wilton in 1787 contributed £23 to the land tax of £29.
William son of Henry de Sankey had a grant of Windycroft and Snapecroft in Kenyon from William de Lawton; (fn. 13) he had sons William and Robert. The former died before his father, leaving a daughter Margery, who married successively Robert de Risley and William Gillibrand. (fn. 14) The Risleys appear to have secured most or all of the inheritance, but William de Sankey endowed his younger son Robert with a portion. (fn. 15)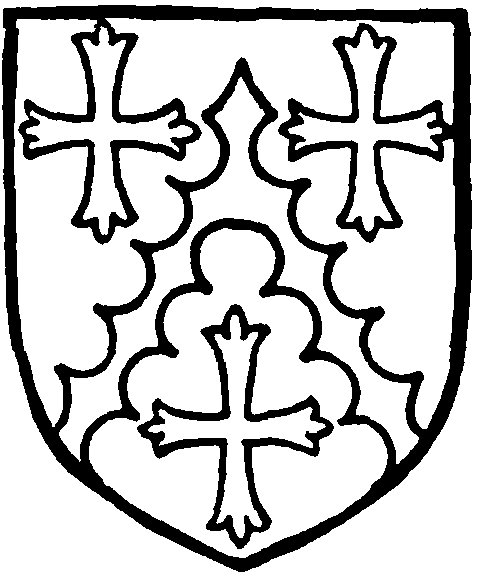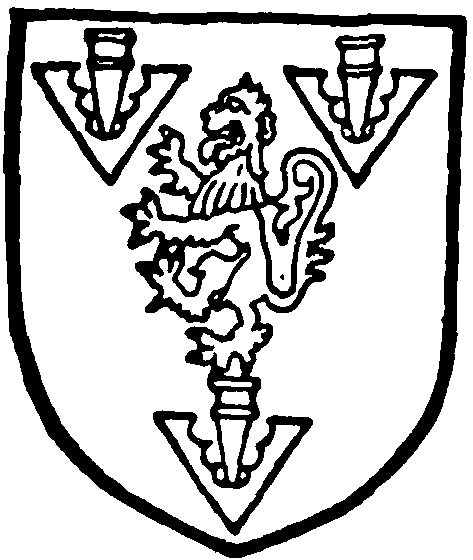 In the 14th and 15th centuries a minor Kenyon family had lands in this and the neighbouring parishes. Katherine daughter of Adam son of Matthew de Kenyon was in 1366 the wife of John Amoryson of Wigan. (fn. 16) A Matthew de Kenyon left three children, William, who died early; Agnes, who married John Eccleston; and Ellen, who married Oliver Anderton. The two daughters divided the inheritance. (fn. 17)
The Hospitallers had lands in Kenyon. (fn. 18)
A family named Woodhouse was seated here in the 14th century. (fn. 19) The Morleys of Billington long held lands here. (fn. 20)
Richard Thompson petitioned in 1653 to be allowed to compound for the two-thirds of his estate sequestered for recusancy. (fn. 21) Robert son of Richard Speakman in 1717 registered an estate as a 'papist.' (fn. 22)