Pages 156-166
A History of the County of Lancaster: Volume 4. Originally published by Victoria County History, London, 1911.
This free content was digitised by double rekeying. All rights reserved.
CULCHETH
Culchet, 1201; Kulchit, 1242; Culchith, Kilchiche, Kylchiz, 1292. The usual spelling is Culcheth or Culchith; the local pronunciation is shown by the surnames Culshaw and Kilshaw, derived from it.
Peasfurlong, Holcroft, and Risley: there has been no material change in the spellings.
This large township, with an area of 5,369 (fn. 1) acres, has long been divided into four quarters, though the boundaries are not always clearly defined, viz.: Culcheth proper in the north; Holcroft and Peasfurlong, the eastern and western parts of the centre; and Risley in the south. The eastern and northern boundaries are formed by the Glazebrook and its tributary the Carr Brook; another brook on the west divides Peasfurlong from Croft. The southern boundary appears to be drawn chiefly through moss-land.
The surface of the country is flat, the highest elevation at Twiss Green being but 107ft. above sea level. In the north is agricultural country, fairly well timbered. In the south the land is but sparsely inhabited, and consists of reclaimed moss-land; some patches still exist where peat is cut for fuel and moss litter.
The characteristic vegetation of the moss-land is still in evidence here and there, where birch and bracken and nodding cotton sedges flourish. Potatoes and corn, more particularly oats, thrive in a clayey soil, where the land has been cleared of the bulk of the peat. The geological formation is represented by the Bunter series of the New Red Sandstone, and consists mainly of the Upper Mottled Sandstone of that series. Between Risley and Holcroft Mosses the pebble beds extending from the north-west almost touch an area of the Lower Keuper Basement Beds, which juts into this county from south of the Mersey.
The population in 1901 numbered 2,294.
Cotton is manufactured, and bricks and tiles are made. In the 17th and 18th centuries many of the inhabitants followed the occupation of linen weaving.
Culcheth proper has Carr, Hurst, Fowley and Twiss Green in the north-west, north-east, south-east, and south-west corners; the village of Glazebury (fn. 2) has sprung up in the last thirty years by Hurst, on the banks of the Glazebrook. The hall is to the east of Twiss Green. The area measures 1,310½ acres.
Holcroft Hall is near the Glazebrook; to the north is Eshot Lane, and a mile to the south Schole-field. The chapel was built in this division, at the corner where the boundaries of Holcroft, Peasfurlong, and Culcheth meet. The area of this quarter is 1,206½ acres.
Peasfurlong, which measures 1,296 acres, has Kingnall, or Kinknall, and Wigshaw in the northwest corner and Flitcroft near the centre.
Risley Old Hall is near the northern boundary of the quarter; the area is 1,556 acres. In Risley Moss pre-Roman and Roman remains have been discovered.
The principal road is that leading north and north-east from Warrington to Leigh. It is joined near the church by the road from Winwick through Croft. The Wigan Junction Railway of the Great Central system crosses the township, having a station (Culcheth) near Kinknall.
Culcheth Wake ceased in 1822. (fn. 3)
The township is governed by a parish council, and has been divided into three wards: Newchurch, Glazebury, and Risley.
MANORS
The first notice by name of the manor of CULCHETH is that in the survey of 1212, when it was within the fee or barony of Warrington. (fn. 4) It so continued with some modification of tenure (fn. 5) until 1601, when Thomas Ireland of Bewsey, in consideration of 100 marks, released all his rights in the tenures, suits and services, ward, homage and reliefs in Culcheth held of the barony of Warrington. (fn. 6)
In 1212 Hugh son of Gilbert held the manor, by knight's service, of William le Boteler, as four plough-lands paying 4 marks a year. A certain Reynold had held it of Pain de Vilers, and as nothing is said as to the origin of his tenure, he may have been in possession when the Warrington fee was granted to Pain. (fn. 7)
Gilbert de Culcheth, probably a son or grandson of Hugh son of Gilbert, held the manor in 1242. (fn. 8) He was killed in 1246 by unknown malefactors, and the township was fined because it made no pursuit. (fn. 9) He left four infant daughters as co-heirs, Margery, Elizabeth, Ellen, and Joan, who became wards of the lord of Warrington; and in course of time William le Boteler granted their marriage to Hugh de Hindley. (fn. 10) Hugh married them to his own four sons, and Culcheth was divided among them, (fn. 11) its four quarters becoming the manors of Richard de Hindley, who took the name of Culcheth; Adam, called de Peasfurlong, and later de Hindley; Robert, called de Risley; and Thomas, called de Holcroft.
I.—Margery, the wife of Richard de Culcheth, was dead in 1276 when Richard son of John de Haydock complained that he had been disseised of his common of pasture in CULCHETH. Richard de Culcheth replied that the land had been divided, and that the tenement for which common rights were claimed was in his late wife's portion, and Thomas, their son, should have been joined as defendant. (fn. 12) Thomas probably died soon after, for he is not mentioned again, later suits involving either Richard or Gilbert, sons of Richard and Margery. (fn. 13) Gilbert seems to have been the elder, and in 1291, that is, no doubt, as soon as he came of age, he brought a suit against his father respecting houses and land in Culcheth, which had been exchanged by his mother Margery with her mother Cecily. (fn. 14) In the following year he had entered into possession of his share of the dower of his grandmother Cecily, who was then dead. (fn. 15) Richard his father was still living in 1292, he and his son Richard being involved in several suits with the other parceners, as also with tenants and others. (fn. 16) The father, however, died in or before 1298, (fn. 17) and Gilbert seems to have been lord of Culcheth until about 1342. (fn. 18)
He was succeeded by his son Gilbert, (fn. 19) who, by his first wife, had a son and heir Gilbert, married in 1345 to Joan daughter of Adam de Kenyon, (fn. 20) their son Gilbert being born about a year afterwards. (fn. 21) There were thus four Gilberts in succession, lords of Culcheth. (fn. 22) The last of them, who died between 1393 and 1402, had several children. His eldest son Thurstan dying about 1430 without male issue, (fn. 23) a younger son, Thomas, succeeded, (fn. 24) and had four sons, Gilbert, (fn. 25) Nicholas, Oliver, and George. Gilbert's two sons, John (fn. 26) and Randle, (fn. 27) successively held the manor, which, on failure of male issue, reverted about 1495 to their uncle Nicholas, rector of East Bridgeford, (fn. 28) whose youngest brother Oliver thus became heir. In the year named he married Douce daughter of Gilbert Langton of Hindley, (fn. 29) but died in or before 1512, leaving Gilbert his heir, born in 1496, a minor. (fn. 30) Gilbert died in 1559 (fn. 31) leaving several children by his wife Margaret daughter of John Holcroft. (fn. 32)
John, the eldest of these, married Cecily daughter of Thomas Southworth, and died in 1593. (fn. 33) He adhered in heart to the ancient faith, and in 1590 was reckoned among the 'more usual comers to church,' though not a communicant. (fn. 34) His son John succeeded him, (fn. 35) and was followed by another son also named John in 1626. The latter died in 1640, just before the outbreak of the Civil War. (fn. 36) His eldest son, John, a 'papist delinquent,' had his estates sequestered by the Parliamentary authorities, (fn. 37) and died without issue in 1647, soon after attaining his majority, of wounds received in fighting for the king. (fn. 38) His brother Thomas, (fn. 39) admitting recusancy, petitioned the Commonwealth authorities to be allowed a third of his estate; he was also admitted as lessee of the sequestered two-thirds, agreeing to pay £86 a year for it. (fn. 40) His two brothers became Jesuit priests. (fn. 41) He married Anne daughter of James Bradshaw of Haigh, and by her had a numerous offspring; (fn. 42) two of his three sons became Jesuits, one being a priest, and four of his six daughters were nuns. (fn. 43) The descendants of the other daughters, Anne and Catherine, ultimately inherited the manor. He died in 1683, (fn. 44) and was succeeded by his grandson Thomas, whose father had died a year or two previously. (fn. 45)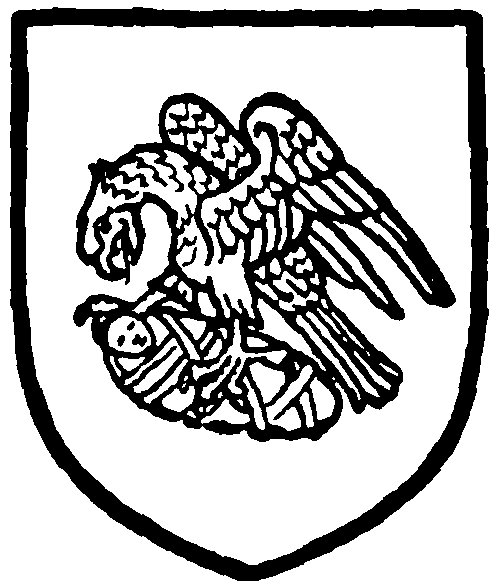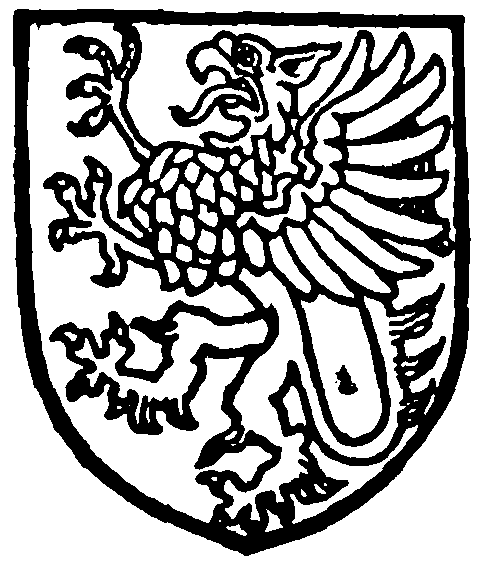 Thomas Culcheth, the last of the male line, died childless in 1747, (fn. 46) and in accordance with his dispositions the manor passed to his cousin Thomas Stanley of Eccleston in the Fylde, son of Richard Stanley by his wife Anne Culcheth. (fn. 47) Thomas Stanley enjoyed the estate only two years; (fn. 48) his son Richard was declared a lunatic, and on the death of the daughter Meliora, wife of William Dicconson, (fn. 49) the manor went in 1794 to John Trafford of Trafford, grandson of John Trafford of Croston, who had married Catherine Culcheth. (fn. 50) The new possessor died in 1815, and about ten years later the manor and lands were sold, Peter Withington being the purchaser; from him the estate has descended to his grandson, the present owner, Mr. Thomas Ellames Withington. (fn. 51)
II.— To Elizabeth, the second daughter of Gilbert de Culcheth, was assigned PEASFURLONG. (fn. 52) By her husband, Adam de Peasfurlong, she had two daughters, Margery (fn. 53) and Beatrice, (fn. 54) the former of whom carried this quarter of Culcheth to her husband, William son of Richard de Radcliffe of Radcliffe. (fn. 55) It descended regularly in this family until the time of Henry VIII, (fn. 56) when on a failure of male issue it passed to a junior branch represented by Robert Radcliffe, Lord FitzWalter, created Earl of Sussex in 1529. (fn. 57) This and other Lancashire estates were sold to provide his daughters' dowries. Sir John Holcroft purchased it, (fn. 58) and it descended to a younger son Hamlet, (fn. 59) whose son, John Holcroft, sold it in 1605 to Ralph Calveley. (fn. 60) It appears afterwards to have reverted to the Holcroft family (fn. 61) and to have descended with their principal manor, until the division of their estates, when it was assigned to the Standishes.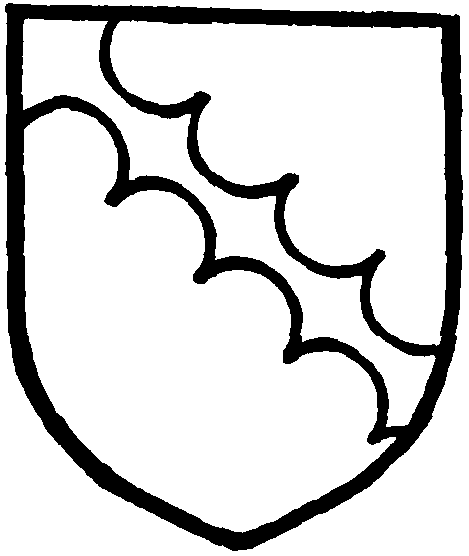 III.—HOLCROFT was the share of Joan, the daughter of Gilbert de Culcheth who married Thomas de Hindley. (fn. 62) William le Boteler conceded to them that they should in future provide puture for one bedell instead of two, when doing the services pertaining to the court and fee of Warrington; he also acquitted them of 'bode and witness.' (fn. 63) From Thomas the manor descended to his son Adam, (fn. 64) after whom no satisfactory account can be given till the beginning of the 16th century, (fn. 65) when Sir John Holcroft was lord of it. (fn. 66) He was elder brother of Sir Thomas Holcroft, who shared largely in the plunder of the religious houses, (fn. 67) and Sir John himself had a grant of Upholland Monastery and its lands. (fn. 68) His son, another Sir John, succeeded him, (fn. 69) and left an only daughter Alice as heir, who married Sir Edward Fitton of Gawsworth. (fn. 70) Shortly afterwards Holcroft came into the hands of Ralph Calveley of Saighton, Cheshire. (fn. 71) In 1642, as previously stated, the manors of Holcroft and Peasfurlong were in the possession of Sampson Erdwick and Anne Erdwick, (fn. 72) widow. Ten years later John Holcroft and Margaret his wife were in possession. (fn. 73) Of his son Thomas's children two daughters became coheirs; (fn. 74) Eleanor married Thomas Tyldesley of Myerscough and Morleys, and Margaret married Sir Richard Standish of Duxbury, (fn. 75) and afterwards Sir Thomas Stanley of Bickerstaffe. The manors were divided; Peasfurlong went to the Standish family and Holcroft descended with the Tyldesleys until 1761, after which there is no trace of them in the records. (fn. 76)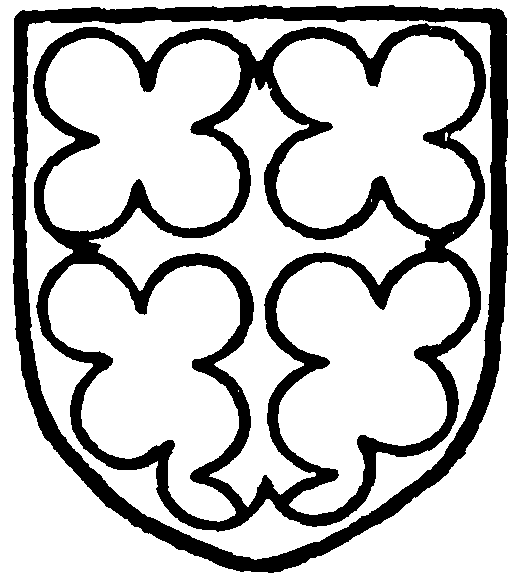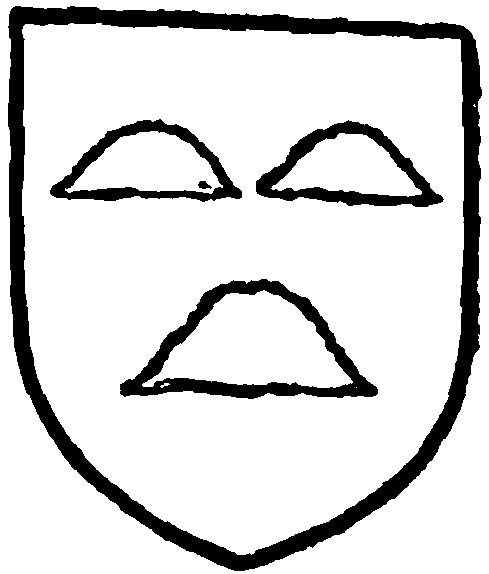 IV.—To Ellen, the remaining daughter of Gilbert de Culcheth, and her husband was assigned RISLEY, (fn. 77) and the family descended from them retained possession until the 18th century. Robert de Risley and Ellen his wife were among the defendants in pleas already cited of the time of Edward I. (fn. 78) The next steps in the descent are not quite certain, (fn. 79) but in 1324 Robert de Risley and Isabel his wife made a settlement of their fourth part of the manor of Culcheth, three daughters only being mentioned. (fn. 80) Robert was still living in 1365, (fn. 81) and had a son Henry, (fn. 82) whose sons were William and Nicholas. William in 1397 released to his brother and his heirs all his right to his father's lands in Risley, Culcheth, Kenyon, Croft, Lowton, Warrington, and Penketh, except a messuage and 20 acres; and his daughter Katherine in 1422 gave a similar release. (fn. 83)
Nicholas Risley remained in possession till the year 1454 or later. (fn. 84) He had a dispute with Richard de Radcliffe concerning a certain moor and moss which had been reclaimed and on which a dwelling-house had been built. The evidence adduced contains one of the rare allusions to the 'foreign death' or plague of 1348. (fn. 85) He was succeeded by his son Gilbert, (fn. 86) his grandson Richard, (fn. 87) and his great — grandson Henry. The last-named did homage for his lands to the lord of Warrington in 1492. (fn. 88) He had a son Robert, (fn. 89) who succeeded about 1509, and died in 1516, leaving a son and heir, Richard, then eighteen years of age. (fn. 90) The guardianship was granted to Sir John Ireland, who married the ward to his daughter Alice. The union was not permanent, for in 1536 Alice sought a divorce on the ground that her previous husband, Thomas Stanley, was still living, and her plea being successful, her son Thomas Risley was declared illegitimate, and the manor of Risley and other estates were in 1543 adjudged to be the right of John, the younger brother of Richard. (fn. 91)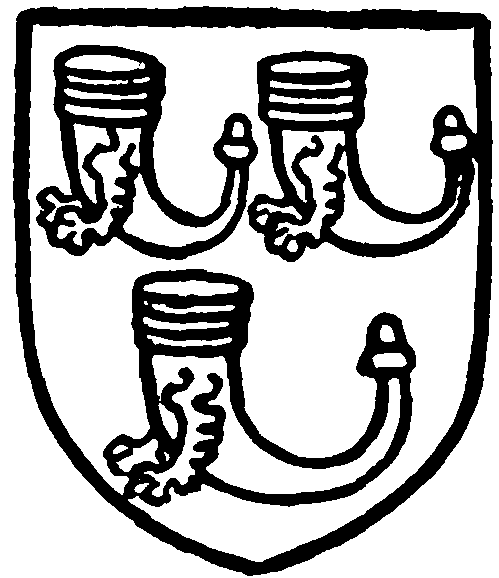 John Risley and his descendants held the manor from this time. (fn. 92) His son John (fn. 93) had 'conformed' to the established religion before 1590, and was then reported to be 'soundly affected' in the matter. (fn. 94) The family do not appear to have taken any prominent part in public affairs, (fn. 95) and Captain John Risley, who died in 1702, without issue, (fn. 96) was succeeded by his uncle Thomas, and he by his sister Elizabeth, wife of Hamlet Woods of Risley. She died in 1736; the manor was acquired by the Blackburnes and descended with Orford and Hale until about 1850, when it was sold to Richard Watson Marshall Dewhurst, at whose death it was sold to — Ainscough.
An agreement for inclosing and dividing the commons and waste grounds in Culcheth was made in 1749 and confirmed next year by a private Act of Parliament. (fn. 97) The lords of the manors were Richard Stanley of Culcheth, Sir Thomas Standish of Peasfurlong, John Blackburne of Risley, and James Tyldesley of Holcroft. (fn. 98)
The estate of HURST, sometimes called a manor, was for a long period held by a branch of the Holcroft family. (fn. 99) Geoffrey Holcroft in 1577 made a settlement of his 'manor' called Hurst and lands in Culcheth. (fn. 100) He died in or before 1591, holding Hurst and other lands of John Culcheth by a rent of 2s. His son and heir was Geoffrey. (fn. 101) A settlement of the 'manor' was made by Geoffrey Holcroft in 1613. (fn. 102) Thomas Holcroft son of Geoffrey died 31 March 1637, holding the Hurst, a water-mill, and lands in Culcheth of John Culcheth; also lands in Bedford, Pennington, and Kenyon; Geoffrey his son and heir was twenty-three years of age. (fn. 103)
KINGNALL
KINGNALL or Kinknall was another quasi-manorial estate, which in the 16th and 17th centuries was the seat of an Urmston family. William Urmston died in 1600, holding the capital messuage and lands of John Culcheth by the hundredth part of a knight's fee. Richard his son and heir was ten years old. (fn. 104)
Some minor families occur in early times, deriving their surnames from the Twiss, (fn. 105) the Hurst, (fn. 106) the Shaw, (fn. 107) and Kinknall. (fn. 108)
In 1600 the freeholders not already named were William Lewis and Thomas Richardson. (fn. 109) Those who paid to the subsidy in 1628 were John Calveley, John Culcheth, Geoffrey Holcroft, Richard Risley, Richard Thomasson, and Richard Urmston; of these the last, as a convicted recusant, paid double. (fn. 110) Besides Thomas Culcheth, Robert Guest of Culcheth in 1653 petitioned to compound for two-thirds of his estate, sequestered for recusancy. (fn. 111) In addition to the Culcheths, a considerable number of persons, as 'papists,' registered estates in 1717. (fn. 112)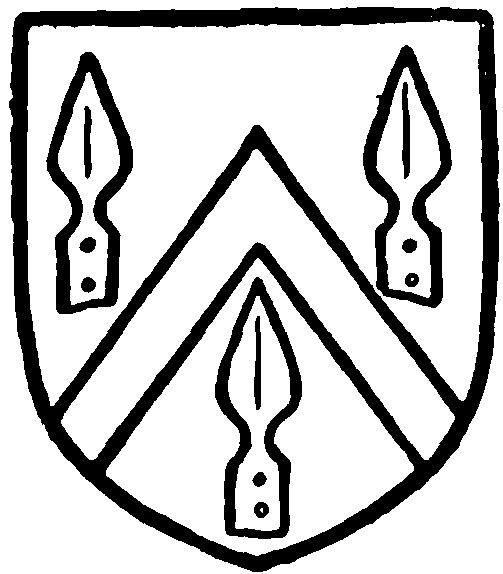 A number of extracts from the Culcheth town books of the 17th and 18th centuries have been printed. (fn. 113)
The land tax returns of 1787 show the principal proprietors at that date to have been John Blackburne, Sir Frank Standish, John Trafford, and Samuel Pool, these contributing about two-thirds of the total sum levied. (fn. 114)
CHURCH
Before the Reformation there was at Culcheth a chapel of ease known as Trinity Church. (fn. 115) It was perhaps not then very old, and the name NEWCHURCH has remained attached to it till the present time. After the changes of the reigns of Edward VI and Mary, the building probably ceased to be used for a time at Culcheth on Elizabeth's revival of the Edwardine services. (fn. 116) Sir John Holcroft by his will of 1559 left his chain of gold or £10 towards the payment of a priest and clerk if the other inhabitants of the township could be induced to subscribe. (fn. 117) The service was probably read occasionally, but in 1592 there was neither surplice nor 'table cloth.' (fn. 118) In 1612 this chapel had 'seldom a curate,' (fn. 119) but ten years later there was one who contributed £1 to the subsidy. (fn. 120)
The Commonwealth Surveyors in 1650 recommended that Newchurch should be made into a parish; the endowment was less than £4 a year, but £10 was added by the rector of Winwick, and £40 out of the sequestered property of Royalists. (fn. 121) After the Restoration, with some exceptions, there was no curate (fn. 122) specially appointed to Newchurch until 1749, when a grant was about to be made from Queen Anne's Bounty. The church was rebuilt in 1743, a plain brick structure. This was burnt down in April 1903, and has been rebuilt in the Norman style. A communion cup is believed to be an old chalice altered. (fn. 123) The registers 1599–1812 have been printed by the Lancashire Parish Register Society, 1905.
In 1845, under the Winwick Rectory Act, a separate parish was created for Culcheth and Kenyon, the incumbent being styled rector of Newchurch and receiving the tithes. (fn. 124) The Earl of Derby is patron.
The following is a list of the curates in charge—the most noteworthy being Thomas Wilson, afterwards Bishop of Sodor and Man—and the rectors:— (fn. 125)
oc.
1563
Henry Abram
oc.
1599
William Pennington (fn. 126)
oc.
1611
Richard Mallory
oc.
1617
James Whitworth
oc.
1622
— Hopwood
oc.
1627
John Burtonwood (fn. 127)
oc.
1630
H. Atherton
oc.
1635
Thomas Hall, 'incumbent'
oc.
1636
Richard Wilson, 'curate of Newchurch'
oc.
1639–40
Robert Gee (fn. 128)
oc.
1645–54
William Leigh (fn. 129)
oc.
1654
John Bird
Jan. 1657–8
Thomas Potter (fn. 130)
Feb. 1686–7
Thomas Wilson, B.A. (T.C.D.) (fn. 131)
Perpetual Curates
Jan. 1748–9
John Hilton, B.A. (Brasenose College, Oxford) (fn. 132)
Aug. 1772
Hugh Grimshaw
Apr. 1783
Robert Barker
Feb. 1785
Thomas Heyes, M.A. (Oxford) (fn. 133)
Aug. 1816
Joseph Jones, M.A.
June 1841
John Healy
Apr. 1842
Joseph Wilding Twist, B.A. (Queen's College, Oxford)
Rectors
Feb. 1845
Frederick Augustus Bartlett (fn. 134)
Sept. 1855
Wm. Henry Strong, B.A. (T.C.D.)
June 1862
Robert William Burton, M.A.
Mar. 1864
Wm. Faussett Black, D.D. (T.C.D.)
May 1897
Eugene Walter Whittenbury Kaye
The church of All Saints, Glazebury, was erected in 1851, and had a district assigned to it in 1878. (fn. 135) The Earl of Derby is the patron.
There are Wesleyan and Primitive Methodist chapels at Glazebury, and an Independent Methodist one at Twiss Green.
After 1662 those who were attached to the Presbyterian worship (fn. 136) were ministered to by one Thomas Risley, of the local family. He was fellow of Pembroke College, Oxford, and though he was, on the Restoration, ordained according to the Anglican rite, he refused to conform further, and was ejected in 1662. A chapel was built by him at Risley in 1707, (fn. 137) and has continued in use to the present time. As in most other cases, Unitarian tenets prevailed in the latter part of the 18th century; but in 1836, after appeal to the Court of Chancery, the Unitarian minister and congregation were ejected, building a new chapel for themselves at Croft, and Risley was given to the Scottish Presbyterians, who still use it. (fn. 138)
After the Elizabethan settlement of religion a large number of the people remained steadfast to the ancient faith, (fn. 139) and with the connivance and assistance of the Culcheths and Urmstons it is probable that the missionary priests were able to minister here from time to time, but no records exist until 1670, when Fr. John Penketh, S.J., was resident. (fn. 140) The succession can be traced for over a century, when, owing probably to the failure of the Culcheth line, the hall ceased to have a chapel, Rixton and Croft sufficing.
A schoolhouse on the common was built before 1720. (fn. 141)
The Salford Guardians' Cottage Homes for children are built in Culcheth.