Pages 166-168
A History of the County of Lancaster: Volume 4. Originally published by Victoria County History, London, 1911.
This free content was digitised by double rekeying. All rights reserved.
HOUGHTON, MIDDLETON, AND ARBURY
Hoghton, 1420; Houghton, 1608. Midelton, 1212. Herbury, 1242; Erthbury, 1246; Erbury, 1420; Arbury, xvi cent.
This township has resulted from the combination of Middleton and Houghton, originally united, with Arbury. This last is a narrow strip of land along the eastern boundary of Winwick; the rest of the area is divided unequally between Middleton on the north, and Houghton on the south, there being no defined boundary between them. The total area is 853½ acres, made up thus: Houghton, 336; Middleton 244¼ Arbury, 273¼. (fn. 1) It is situated on gently sloping ground, rising from south to north to about 100 ft. above sea level. The country is open, portioned out into fields of light sandy loam, with clay in places, producing good potatoes, wheat, oats, clover, and turnips. The land is divided by low hawthorn hedges, and contains a little timber, seldom extending beyond small clumps. The geological formation consists of the Bunter series of the New Red Sandstone, the Pebble Beds in the northern part, the Upper Mottled Sandstone in the southern. Some of the roads are little better than cart-tracks, and badly metalled. Houghton Green is the only village; Middleton has a hall of that name, and Arbury is only a farm-house. In 1901 the population was 214.
A road from Winwick Church leads through Arbury to Croft and Culcheth; it is joined by another from the south, coming from Warrington and Fearnhead through Houghton and Middleton.
In the north of Middleton there is a tumulus, near the Arbury boundary. (fn. 2) A spa well is also used.
Blackbrook divides Houghton from Fearnhead.
In 1852 a number of Civil War notices were found concealed in a cavity in an old farm-house at Houghton Green. (fn. 3)
Manors
The manor of MIDDLETON, from which HOUGHTON became separate in later times, was included in the fee of Makerfield. (fn. 4) It was assessed as a plough-land and a half, and in 1212 was held in thegnage by a total rent of 20s. in four equal shares, each of which appears to have been responsible in turn for providing a judge at the court of Newton. (fn. 5) The manor, thus early divided, was further partitioned later, and as the shares are not usually recorded in the deeds, nor the services due to the chief lord, it is impossible to trace the separate parts. (fn. 6) The greater part was early acquired by the Southworth family, (fn. 7) and their lordship is the only one appearing in the later records, apart from that of the barons of Makerfield.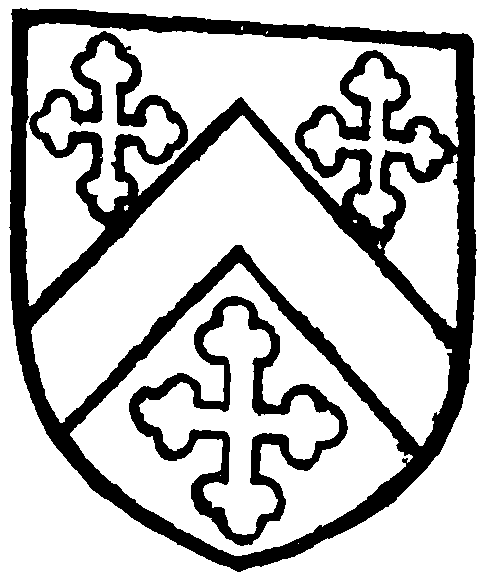 Two junior branches of the dominant family were seated at Middleton and at HOUGHTON PEEL. They seem to have descended from Matthew de Southworth, (fn. 8) a brother of Gilbert de Southworth, living in the early part of the reign of Edward III. Their possessions were acquired by the Southworths of Samlesbury in the 16th century. (fn. 9) Middleton appears to have been retained with Southworth, and to have descended like it to the present time. Houghton (fn. 10) was sold in 1605 to James Bankes of Winstanley, (fn. 11) and descended like Winstanley till the end of the 18th century, when it was sold; (fn. 12) Maire, Claughton, Greenall, (fn. 13) and Comber being successively owners. (fn. 14)
Henry Brookfield of Longbarrow in Knowsley had some land here in 1530 and 1547. (fn. 15)
The manor of ARBURY was held in 1212 by the lord of Lowton by knight's service, its rating being half a plough-land. It had been granted by Adam de Lawton to Geoffrey Gernet, who in turn had enfeoffed Thurstan Banastre. (fn. 16) Half of it was given by Thurstan to Cockersand Abbey in alms. (fn. 17) Afterwards the manor came into the possession of the Southworths, (fn. 18) and has descended exactly like Southworth, to the Brooks family. There is practically nothing on record concerning it. John Corless of Arbury as a 'papist' registered his house in 1717. (fn. 19)