Pages 50-56
A History of the County of Lancaster: Volume 5. Originally published by Victoria County History, London, 1911.
This free content was digitised by double rekeying. All rights reserved.
URMSTON
Wermeston, 1194; Urmeston, 1212; Urmestone, 1302.
This township, measuring about a mile from north to south and a mile and a half across, has an area of 993 acres. (fn. 1) The land slopes gently from north to south, where the Mersey forms the boundary. The village lies in the centre of the township. The population in 1901 numbered 6,594. (fn. 2)
From the village a road leads east to Stretford and Manchester; to the west two roads diverge, one to Irlam, the other to the village of Flixton. The Cheshire Lines Railway from Manchester to Liverpool crosses the township, with a station at Urmston, opened in 1873.
'Tim Bobbin,' the Lancashire dialect writer, whose true name was John Collier, is said to have been born here, but is more closely associated with Milnrow in Rochdale. (fn. 3)
Urmston is governed by an Urban District Council formed in 1894.; there are twelve members. (fn. 4)
The cemetery was formed in 1892. The Manchester Jews have three separate cemeteries—for the Spanish and Portuguese synagogue, the New synagogue, and the Polish Jews.
The field-names (fn. 5) include Hillam, Barrowfield, Blakewell Meadow, Twinose, Treeley, Rant, and Woefield. (fn. 6)
Manors
The manor of URMSTON was originally part of the Marsey fee, and held of the lord as one plough-land by a family using the local surname. It was held by the eighth part of a knight's fee, rents of 8s. and 2s. being paid for castle ward and sake fee. (fn. 7) The earliest known holder of it is Richard de Urmston, who in 1193–4 gave 40s. for having the king's good will after the rebellion of John Count of Mortain. (fn. 8) Adam de Urmston held it in 1212. (fn. 9) After this there is a period of uncertainty. The superior lordship was acquired by the Trafford family, (fn. 10) who continued to hold it, at least nominally, down to the 16th century, though their mesne tenancy is often ignored. (fn. 11) The Urmston family and the lordship also appear to have been divided, (fn. 12) one branch settling in Westleigh. (fn. 13) In 1305 Adam de Urmston conferred all his lands in Urmston, together with the lordship of the whole town, upon Gilbert de Ashton. (fn. 14) The latter had several daughters, and Urmston became the portion of Hawise wife of Henry son of John de Trafford. Her heir was again a daughter, Aline, who married Ralph son of John de Hyde of Hyde in Cheshire. (fn. 15) In this family and its descendants the manor continued till the 18th century.
From a suit of 1317, in which Isabel widow of Adam de Urmston claimed dower, it appears that the land was then divided thus: Gilbert de Ashton held 3 oxgangs; Richard, son of Adam de Urmston, 3; and William son of William the Serjeant, 1; leaving an oxgang not accounted for. (fn. 16) The manor, however, appears always to have descended with the Ashton share.
Henry de Trafford was in possession in 1324 in right of his wife. (fn. 17) She afterwards married John Venables, of Ashton-on-Mersey, by whom she had the daughter and heir Aline mentioned above. From 1343 onward Ralph de Hyde and Aline his wife were engaged in suits respecting her inheritance. (fn. 18) Ralph and Aline were living in 1360, when they and their son William successfully defended their title to half the mill. (fn. 19) By 1370 Thomas son of Ralph appears to have succeeded his father, (fn. 20) and he is no doubt the same Thomas de Hyde who died in 1433, leaving as heir his son George's child Thomas, then fourteen years of age. (fn. 21)
The younger Thomas died in 1444, holding the manor of Urmston of Sir Edmund Trafford by knight's service; the clear value was 100s. George the son and heir was about three months old. (fn. 22) Margaret the widow had certain messuages and lands assigned to her as dower in 1445. (fn. 23) George died in or before 1500, in which year his widow Isabel claimed dower, Thomas Hyde being then in possession. (fn. 24) In I 517 John the son and heir of Thomas was contracted to marry Elizabeth daughter of Sir John Booth of Barton. (fn. 25) Thomas died early in 1534, holding the manor of Urmston of Edmund Trafford by knight's service and a rent of 8s. He had made provision for his wife and younger sons, and the heir was his grandson William, son of the above-named John, then about fourteen years of age. (fn. 26)
William Hyde in 1548 arranged for the marriage of his son and heir William with Margaret daughter of John Arderne; she was to have a jointure out of the Urmston lands of £4 clear value. (fn. 27) He died in 1574, holding the manor of Edmund Trafford by the eighth part of a knight's fee and 8s. rent; the clear annual value was £5. The heir was his said son William, then twenty-nine years of age. (fn. 28) A pedigree was recorded in 1567, but some of the earlier steps are omitted or wrongly given. (fn. 29).
William Hyde died 26 August 1587, holding the manor, with messuages, windmill, and lands in Urmston of the queen, as of her Duchy of Lancaster, by the eighth part of a knight's fee and a rent of 8s. 2d.; he also held a burgage in Stockport and lands in Cheshire. John his son and heir was ten years of age. (fn. 30) John Hyde was married in 1598–9, his wife, Susan daughter of William Ashton of Clegg, bringing him a portion of £400. (fn. 31) A pedigree was recorded in 1613, the eldest son George being then six years of age. (fn. 32) A settlement of the manor had been made the year before. (fn. 33) A further settlement was made in 1642, by John Hyde, Susan his wife, George Hyde and Margaret his wife. (fn. 34) John Hyde died in 1644, his wife having died the year before; and George died two years after his father. (fn. 35).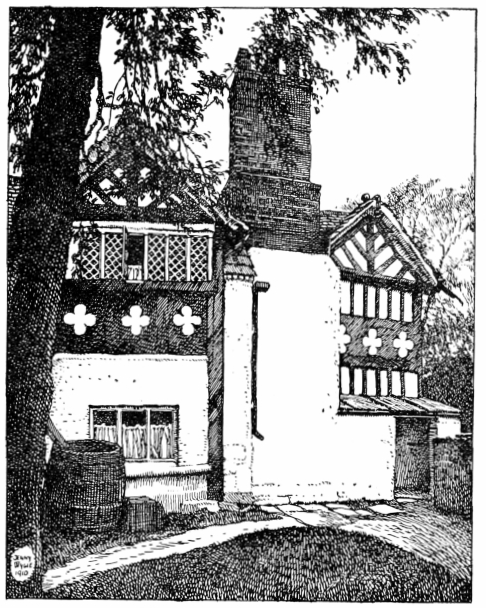 In 1642 Susan the daughter and heir of George Hyde married Richard Hulme of Davyhulme, (fn. 36) by whom she had a son William, the heir of Urmston. She afterwards married Richard Starkie, (fn. 37) and in 1670 a settlement was made by Richard Starkie and Susan his wife, William Hulme, Thomas Lucas, and Hannah his wife. (fn. 38) William Hulme, high sheriff in 1701, (fn. 39) died in November 1708, (fn. 40) and his mother followed him in February. (fn. 41) John, the eldest surviving son of William Hulme, succeeded, (fn. 42) and left a daughter Anne, who as 'heiress of Davyhulme and of the lordship and manor of Urmston,' was married at Flixton 3 September 1735 to Thomas eldest son of the celebrated antiquary Browne Willis of Bletchley. (fn. 43) Thomas Willis, perhaps the son, was lord of the manor in 1765, (fn. 44) but soon afterwards it was sold, together with Davyhulme, and has since passed through several hands. (fn. 45) It was in March 1822 purchased from William Marsden's trustees by John Miller, who bequeathed it for life to George Lewis Ridehalgh. The last-named was succeeded by his son, Colonel George John Miller Ridehalgh; after his death in 1892 his widow held it, and on her death recently it passed to Mr. George Ridehalgh, the present lord of the manor. (fn. 46).
A rental of 1779 shows that the Duchy of Lancaster then received 10s. 4d. from Urmston; of this sum 8s. 3d. was paid by William Allen and 9d. by the owner of Newcroft. (fn. 47).
Manor courts were held up to about the time of Colonel Ridehalgh's death, but had degenerated into an annual dinner. (fn. 48)
Urmston Hall stands a little to the west of the church and is a two-story timber and plaster building on a stone base, now used as a farm-house. The principal front, which faces north, is entirely of wood and plaster under a single gable about 21 ft. wide, and on the east side are two timber gables with a good brick chimney between. The whole of the west and south fronts, together with an addition at the southeast, are built of brick. The house is probably of late 16th-century date, but has been a good deal altered since, and is in only a moderate state of repair. Two windows, each of seven lights, in one of the side gables are now made up, and all the windows have lost their original glazing, or are otherwise modernized. The gables are without barge-boards, but that on the north front his a good hip knob on which is the date 1721 and the initials I H E. Probably a good deal of repair and renovation was done at this time, and the south-west sides rebuilt in brick. From the northeast the house, which stands back from the road amid trees, has a very picturesque appearance, the two fronts being well broken up with gables and chimneys. The quatrefoils along the front elevation and other portions of the black and white work, however, are only painted on the plaster, but the main timber construction of the building remains, and what restoration there has been follows the original lines. The half-timber work consists of a simple design with horizontal pieces and straight uprights and a central band of ornament. The entrance door on the north side is the original one of thick oak, nail-studded, and with good ornamental hinges and ring handle.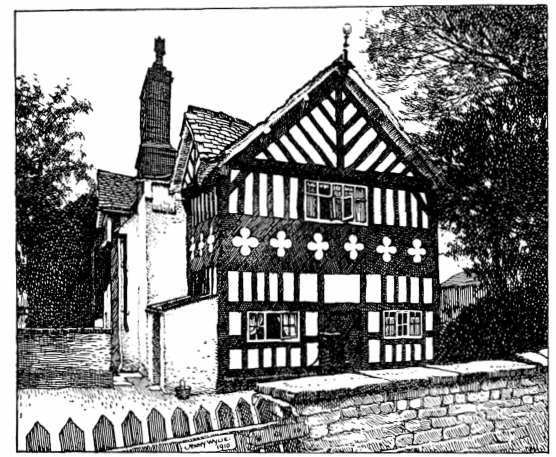 Of the other portions of the manor no proper account can be given. The Urmston family continued to hold theirs for some time. (fn. 49) The principal estate was NEW CROFT, regarded as a manor, held at one time by the Traffords, (fn. 50) then by the Warburtons, (fn. 51) and in the 16th and 17th centuries by the Radcliffes of Ordsall. (fn. 52) Sir Alexander Radcliffe of Ordsall, who died in 1549, held three-fourths of the manor of Newcroft and 100 acres of land, &, there of the king (as duke) in socage by a rent of 9d. for all services. (fn. 53) By the end of the 18th century it had come into the possession of William Allen, then lord of the manor of Urmston, (fn. 54) and on his bankruptcy in 1788 was purchased by the Taylors of Hulme in Reddish, and remained in their possession nearly a century, being sold in 1888 by the trustee of Samuel Taylor to Herbert Bannister. The estate was then supposed to be subject to some charitable rent-charges and also to a duchy rent of 9d., but it was stated that none of them had been demanded or paid for many years. (fn. 55) Newcroft is a plain brick building once surrounded by a moat, of no architectural beauty whatever. (fn. 56) Roger Rogers of Newcroft was summoned by the heralds to attend the visitation of 1664.; no pedigree appears. (fn. 57)
Hillam, (fn. 58) the Lodge, (fn. 59) and Brook House (fn. 60) represent old estates. A ghost story was told of Gamershaw, a house at the east side of the township. (fn. 61) The Newton, (fn. 62) Gregory, (fn. 63) and Hey (fn. 64) families were freeholders.
The most considerable contributor to the land tax of 1796 was William Marsden; after him came John Gregory, Stevenson's trustees, and Patten; these in all paid about a third of the tax. (fn. 65)
Robert Barlow of Urmston joined Prince Rupert when he invaded the county—in 1644—took part in the battle at York, and continued in arms with that force; his property seems to have been confiscated. (fn. 66)
In connexion with the Established Church a schoolchapel was opened in 1858; this was followed within ten years by St. Clement's Church, consecrated in January 1868. The site of church and churchyard was the gift of Colonel Ridehalgh. A separate district was assigned to it, and the patronage is vested in the Bishop of Manchester. (fn. 67)
The Wesleyan Methodists have had a meetingplace here since about 1813, but services were discontinued for some years after 1850. They were resumed about 1868, and in 1872 the present church was opened. The Primitive Methodists had a chapel in 1825, but the present one dates from 1873. The Independent Methodists have had services since 1838. (fn. 68)
A Congregationalist minister preached occasionally in Urmston about 1840, but the present church dates only from 1880, services having begun in a schoolroom the previous year. (fn. 69) The Baptists have a church.
The Unitarians have held services since 1894. (fn. 70)
The Roman Catholic church of the English Martyrs was opened in 1891. (fn. 71)