Pages 220-222
A History of the County of Lancaster: Volume 6. Originally published by Victoria County History, London, 1911.
This free content was digitised by double rekeying. All rights reserved.
ANDERTON
Anderton, Andertone, 1292; Andreton, 1324.
The southern boundary of Anderton is formed by a bend of the Douglas, the northern touches the course of the Yarrow, and the eastern is one of the Rivington reservoirs formed from these rivers and their tributaries. The surface rises mainly to the north-east, but falls again towards the reservoir; a height of 525 ft. is attained at Roscoe Low. The area is 1,229½ acres, (fn. 1) and the population in 1901 was 819.
The principal road is that from Bolton through Horwich to Adlington and Chorley. This is joined by Grimeford Lane, coming from Blackrod. Headless Cross lies to the south of Anderton Park.
The soil is clayey. The chief crops are grass and roots.
There were forty-two hearths chargeable to the tax in 1666, but the only house of any size was the Andertons', with eleven hearths. (fn. 2)
The township is governed by a parish council.
It is said that British muslins were first manufactured at Anderton in 1764, and that there in 1782 were for the first time in England produced 'the Balasore handkerchiefs, the jaconet and japanned muslins in the style of India.' (fn. 3)
Manor
The Penwortham fee included ANDERTON, which was together with Brindle granted to the Grelleys, lords of Manchester, and in 1212 both were held by Robert Grelley, who performed no service for them. (fn. 4) Of the Grelleys they were held by the Burnhull (fn. 5) and Gerard families, whose lordship continued to be recognized in the inquisitions down to the 17th century. Of them the manor of Anderton appears to have been held in moieties from an early time by families named Anderton and Cunliffe, a rent of 9s. 6d. being payable to Manchester, with puture of the serjeants and suit of court. (fn. 6)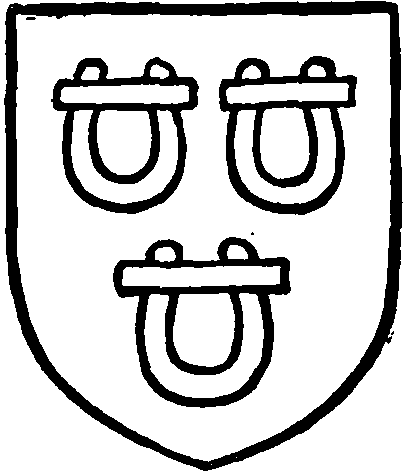 Of the Anderton family but a meagre account can be given. In 1281 Avice widow of Adam son of William de Anderton claimed dower in a moiety of Anderton and a fourth part of Rivington from William de Anderton. (fn. 7) Adam left a son and heir Thomas, who in 1292 claimed certain lands which had been given to William and Thomas sons of William de Anderton by their father. (fn. 8) Thomas died before 1310, (fn. 9) leaving a son William, under age, though Thomas de Anderton is in 1320 named as the recent tenant. (fn. 10) William de Anderton was engaged in various disputes with the Atherton family. (fn. 11) He died in or before 1370, when his widow Joan is mentioned. (fn. 12)
For the next few years the descent is unknown. Thurstan de Anderton was lord in 1420 (fn. 13); his son Oliver and Ellen his wife were living in 1441. (fn. 14) From later pleadings (fn. 15) it appears that Ellen was daughter and co-heir of Matthew de Kenyon, that she procured the murder of her husband in 1466 and died soon afterwards, having tried to make a younger son Christopher her heir. William, the eldest son, probably died before his father, and his son Thurstan, the tenant of Anderton in 1473, (fn. 16) lived till about 1516, (fn. 17) being followed by his son Oliver, aged sixtynine in 1538. (fn. 18) Peter the son of Oliver died in 1559 holding the manor or capital messuage called Anderton Hall, with various messuages, lands, a watermill and half another mill in Anderton and Healey, the Anderton estate being held of Sir Thomas Gerard in socage by the rent of a pound of cummin. William Anderton, the son and heir of Peter, was only a year old. (fn. 19)
William Anderton made a settlement or mortgage of his estate in 1593. (fn. 20) He appears among the freeholders in 1600 (fn. 21); as a convicted recusant he suffered the sequestration of two-thirds of his estates in 1593, which still continued in force in 1607, (fn. 22) and he is named again among the contributors to the subsidy in 1628. (fn. 23) He died without issue in August 1634 holding the manor of Anderton with messuages, lands, water corn-mill, &c., in the same place, of William Cavendish Earl of Devon by the rent of a pound of cummin. His brother Peter, then seventy years of age, was his heir and had a son William. (fn. 24)
Peter Anderton died about April 1640, (fn. 25) and his son William had his estates confiscated by the Parliament and ordered in 1652 to be sold (fn. 26); for what particular treason or delinquency does not appear. He was allowed to compound at a fine of £924. (fn. 27) He was still living in 1664, when a pedigree was recorded. (fn. 28) In the same year he made a settlement of the manor, the final remainder, in default, being to Francis Anderton of Lostock, (fn. 29) and four years later the said Francis purchased the estate from Peter Anderton and Roger his brother, the surviving sons of William. (fn. 30) From this time the manor descended in the same way as Lostock—from Anderton to Blundell (fn. 31) and Stonor. It was sold by Mr. Charles Joseph Stonor in 1897 to Messrs. Richard Bond, George T. Brown and Augustine Bond for £45,000. Two years later the hall and 237 acres of land were sold to the Liverpool Corporation for the protection of the Rivington water supply and the remainder was divided between the purchasers, the manorial rights being included in the share of Mr. Richard Bond. No courts are held. (fn. 32)
Of the origin of LADYHALGHor Ladyhall, the Cunliffe portion of the manor, nothing is known. (fn. 33) About 1400 a moiety of the vill of Anderton together with Cunliffe in Billington and Wilpshire and other lands came into the possession of Adam de Lever of Great Lever in right of his wife Margaret sister of Roger de Cunliffe. (fn. 34) It was sold in 1629, together with Great Lever, to Bishop Bridgeman, (fn. 35) whose son Sir Orlando in 1663 sold it to Francis Anderton of Lostock. (fn. 36) The moieties were thus reunited in the one lordship.
The Roman Catholic church of St. Joseph, on the border of Adlington, was built in 1863–6. (fn. 37)