Pages 29-32
A History of the County of Lancaster: Volume 6. Originally published by Victoria County History, London, 1911.
This free content was digitised by double rekeying. All rights reserved.
CLAYTON-LE-WOODS
Claiton, 1212; Claytun, 1288; Clayton in Laylondschire, 1301.
This township has an area of 1,430½ acres, (fn. 1) with a population of 1,002 in 1901. It is divided by the Lostock, here flowing north through a rich valley between hills rising to over 300 ft. on the east and to 250 ft. on the west.
The principal road is that from Chorley to Preston, which passes along near the eastern border, going through Clayton Green, the chief hamlet, and Clayton Brook; while the road from Wigan to Preston goes north through the western part of the township. These roads are connected by a cross-road through Clayton Green to Brindle and Blackburn.
The soil is a dark loam, with subsoil of sand; grass is the chief crop. There are large bleach and calicoprinting works.
The township is governed by a parish council.
There are remains of an ancient cross. (fn. 2)
In 1666 the only considerable house was that of James Anderton, with fourteen hearths; no other had as many as six. The total number was fifty-five. (fn. 3)
A native of the township was John Clayton (born 1778), a Nonconformist minister of note, being pastor of the Weighhouse Chapel from 1778 to 1826. He died in 1843. (fn. 4)
Manor
The manor of CLAYTON was a member of the fee of Penwortham, and having been about 1160 granted by Richard Bussel to Richard Fitton, (fn. 5) descended through Lea to Hoghton, (fn. 6) the mesne lordship long remaining in the latter family. (fn. 7)
Of the Clayton family, the immediate lords, but an imperfect account can be rendered. The earliest of whom anything is known, Gerald de Clayton, (fn. 8) died in or about 1213, and was succeeded by his son Robert, (fn. 9) who was in possession as late as 1242. (fn. 10) Next occurs John de Clayton, (fn. 11) living in 1288, when it was found that he paid 12d. yearly to the lord of Leylandshire for castle-guard. (fn. 12) His son Warine appears to have succeeded in or about that year (fn. 13); and then followed Robert de Clayton (1302), (fn. 14) and John, (fn. 15) who died in 1312, holding lands, &c., in Clayton of Sir Henry de Lea by knights' service and the payment of 6d. a year in the name of 'sake, bode, and fode,' and 12d. for castle-guard. (fn. 16)
Adam the son and heir of John was only six years of age, and became the ward of Sir Henry. (fn. 17) He lived many years, (fn. 18) and left a son John, who at his death in 1401 held the manor of Clayton of Sir Richard de Hoghton as heir of Sir Henry de Lea by the service of the eighth part of a knight's fee and the above-named payment of 6d. (fn. 19) Ralph the son and heir of John was forty years of age, and died in 1421 holding the manor by the same tenure and leaving as heir his son Adam, thirty years of age. (fn. 20)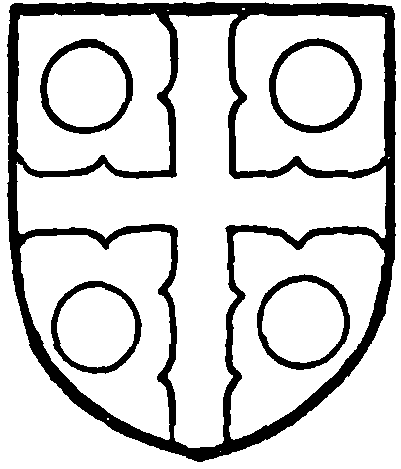 The succession is again uncertain until the 16th century. (fn. 21) James Clayton was followed by John Clayton, (fn. 22) who by his wife Elizabeth Langton left two daughters as co-heirs, Isabel and Ellen; the former married William Farington and then Nicholas Butler, leaving daughters Joan by the former and Elizabeth and Ellen by the latter; Ellen, sister of Isabel, married Christopher Lister, and had a son William. Joan Farington first married Henry Beconsaw, leaving a daughter Dorothy, and then Sir Anthony Browne; while Elizabeth Butler married John Orrell of Turton, and her sister Ellen died without issue. (fn. 23)
Numerous disputes between the heirs occurred from 1550 to 1600. William Lister in 1557 sold his moiety of the manor to Hugh Anderton of Euxton, (fn. 24) and it descended to his eldest son James, (fn. 25) who is described as 'of Clayton' in 1573 and later, (fn. 26) and had a long and active career as an official and magistrate. (fn. 27) As to the other moiety John Orrell contended that it should be divided into three parts, and that his wife should have two of them, one as her own share and the other as sole heir of her sister Ellen. (fn. 28) This claim was rejected, and the Orrell fourth part of the manor was in 1598 sold to James son of James Anderton, (fn. 29) but the sale was rescinded or redeemed by William Orrell in 1600, (fn. 30) and James Anderton the father purchased it from John Orrell, son of William, in 1610. (fn. 31) This sale was confirmed in 1613. James Anderton the son in 1608 acquired Dorothy Huddleston's portion, (fn. 32) becoming sole lord in 1630 when he succeeded his father. (fn. 33)
In religion the Andertons in Elizabeth's reign were temporizers, (fn. 34) but eventually openly avowed their Catholicism. (fn. 35) They took the king's side in the Civil War, and James Anderton, who seems to have been in command, was captured at Preston in 1643, (fn. 36) his lands being sequestered and at last sold by the Parliament to Richard Bell. (fn. 37) Practically the whole was recovered by 1661, (fn. 38) but at the cost of a great burden of debt necessitating sales and mortgages. Eventually in 1683 the manor and estates were acquired by Lord Molyneux, (fn. 39) and in 1717 were sold to John Wright. (fn. 40) The manor was afterwards acquired by the Bootles of Lathom, (fn. 41) and has descended in the same way as Lathom to the present lord, the Earl of Lathom.
Clayton Hall, now a farm-house, is a picturesque 17th-century two-story brick building on a high stone base with low mullioned windows and stone slated roof. The front, which faces east, is 50 ft. in length with a wide gable at the north end projecting 5 ft. 9 in. and a gabled porch going up the height of both stories in the middle of the main wing projecting 8 ft. 9 in. The south end of the house appears to have been rebuilt, the windows being modern with wood frames and brick heads, and there being no stone quoins as in the rest of the house. The hall window is of six lights with hood mould over, and the other windows are of four and two lights, the lower one at the north end being placed out of the centre. The old windows have all round chamfered mullions and hood moulds. The bricks are 2¼ in. thick and have weathered a warm dark red, and the greater part of the front being covered with ivy the colour effect is very good. The windows are glazed with square quarries and the porch has a four-centred arched doorway with hood mould and old oak nail-studded door.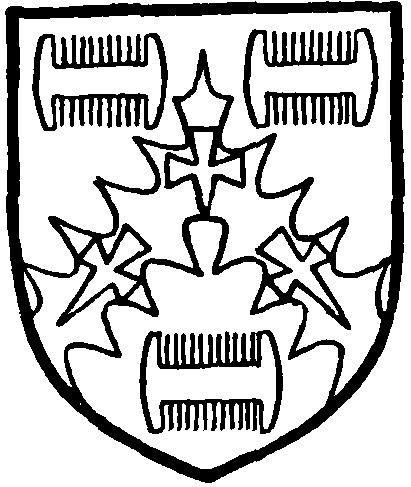 The Hospitallers had land in Clayton in 1292. (fn. 42) The names of few of the ancient freeholders of Clayton are known. Robert Werden or Warden in 1580 held a messuage in Clayton of Sir Edmund Huddleston and Dorothy his wife (fn. 43); and a few other names occur. (fn. 44) Under the Commonwealth the estates of Matthew Martin (fn. 45) and John Critchlow of Clayton were sequestered. (fn. 46) Henry Harrison, Thomas Hoghton, and several Woodcocks in 1717 registered estates as 'Papists.' (fn. 47) In 1788 the chief landowner was Wilbraham Bootle, contributing nearly a third of the land tax. (fn. 48)
There was formerly a Methodist chapel, built in 1830. (fn. 49)
The Roman Catholic church of St. Bede, Clayton Green, opened in 1822, is an offshoot of Brownedge. It is served by the Benedictines. (fn. 50)