Pages 404-409
A History of the County of Lancaster: Volume 6. Originally published by Victoria County History, London, 1911.
This free content was digitised by double rekeying. All rights reserved.
OSWALDTWISTLE
Oswaldtuisil, Oswaldtwisil, 1241. There are unimportant variants as Osewaldewysel, 1275; Osewaldestwysel, 1292. Oswaldtwistle is recent.
Ducworth, 1241.
This large township, having an acreage of 4,883, (fn. 1) occupies the northern slope of a moorland height attaining 1,236 ft. above sea level. The urban portion is in the north-west corner along the road leading south-west from Church. On the western side is Duckworth, and on the south-west boundary stand Belthorn and Rann. The population in 1901 was 14,192.
A number of important roads cross the township. Along the northern boundary goes the direct one from Blackburn to Church. Further south is a winding road between the same places, leading through Knuzden or Knuzden Brook, Stanhill and the town of Oswaldtwistle. Whitebirk is a hamlet near Knuzden. A road from Blackburn to Haslingden, by way of Duckworth and Cocker Brook, crosses the township diagonally, and in the south-west corner is part of another road between the same places. From the town a road leads south-east through Broadfield and Gaulkthorn to join the Haslingden road, while another goes south and west by Sough Lane Ends towards Darwen. The Blackburn and Accrington railway and the Leeds and Liverpool Canal pass through the north-east corner.
Though in 1666 there were 128 hearths liable to the hearth tax, only five houses had as many as four hearths and the next largest had two. (fn. 2)
James Hargreaves, the inventor, was born at Stanhill about 1741. By trade he was a weaver and carpenter, and without education. He invented a carding machine about 1760 and the spinning jenny about 1764. His machines were destroyed by his fellow spinners in 1768 and he then removed to Nottingham. He died in that town in 1778. (fn. 3)
A local board was constituted in 1863 (fn. 4) and became an urban district council in 1894; it has fifteen members chosen by the following wards: Foxhill Bank, Immanuel. St. Michael's, St. Oswald's, St. Paul's. The gas and water works belong to the council. The town hall was built in 1891.
Cotton spinning and printing have long been the chief industries. Coal-mines are worked, and there are also potteries and quarries. The soil is a loam, with clay or peat subsoil; the agricultural land is practically all in permanent grass, viz. 3,454½ acres, only 5 acres being returned as arable and 19½ as occupied by woods and plantations. (fn. 5)
Near White Ash was a cross called Hippings Cross. (fn. 6)
Manors
The whole of OSWALDTWISTLE, which with Duckworth was assessed as two plough-lands, was within the honor of Clitheroe, and in 1258 was held of Edmund de Lacy by a rent of 10s. (fn. 7) It was granted to the Radcliffes of Radcliffe at an early time, but the charter has not been preserved, (fn. 8) and in 1340 it was recorded that Richard de Radcliffe held two ploughlands in Oswaldtwistle and Duckworth of Queen Isabel as of the castle and honor of Clitheroe by knight's service and a payment of 15d. a year for ward of Clitheroe Castle. (fn. 9) In 1485 John Radcliffe of Radcliffe held the manor of the king by knight's service and a payment of 10s. (fn. 10) The manor was sold by Henry Radcliffe Earl of Sussex to Andrew Barton of Smithills in 1548, (fn. 11) and descended to Lord Fauconberg, (fn. 12) who in 1722 sold it to James Whalley of Sparth and Christopher Baron of Knuzden, after which it was held in moieties. (fn. 13) The former moiety, or perhaps the whole, was acquired by the first Sir Robert Peel, and descended to his son the more famous Sir Robert (fn. 14); but it does not appear that any manor is now claimed, and the land is held by a number of proprietors.
The Peels are said to have come to Blackburn from Craven (fn. 15) about 1600 and engaged in the cloth trade. (fn. 16) Robert Peel in 1731 purchased an estate in Oswaldtwistle, known then as Oldham's Cross, (fn. 17) and since as Peel Fold. His grandson Robert (1723–95), while farming in Blackburn, was led to join a calico-printing business, and invented a process of block-printing; he made other improvements and greatly extended his business. Riots and factory-wrecking caused him to move to Burtonon-Trent, but on retiring he lived at Ardwick. The descendants of his eldest son William still own Peel Fold. The third son was the above-named Sir Robert Peel, created a baronet in 1800. (fn. 18)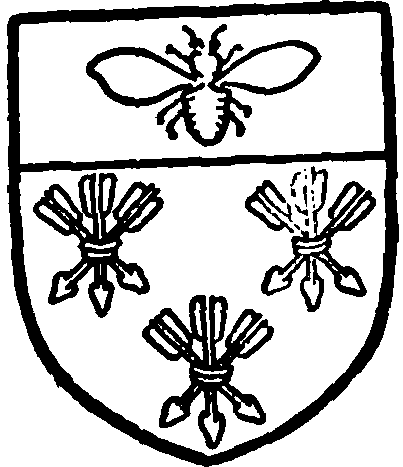 The Barons had long had an estate in the township and neighbourhood. (fn. 19) William son and heir of George Baron of Aspden is named in a lease of 1601. (fn. 20) William Baron died in 1618 holding messuages and lands in Oswaldtwistle and Church and leaving a son and heir George, aged forty. (fn. 21) Christopher Baron, the purchaser of a moiety of the manor, died in 1733, (fn. 22) and was succeeded by a son Henry. (fn. 23)
A minor Radcliffe family had land in Oswaldtwistle as in Church about the end of the 13th century. Richard son of Roger de Oswaldtwistle granted to Adam de Radcliffe for 15 marks an oxgang of land in Oswaldtwistle and three quarters of an oxgang in Duckworth. (fn. 24) Peter son of Adam de Radcliffe granted to Richard son of Robert de Radcliffe all right in the Boothroyds in the vill of Oswaldtwistle together with the homage of John son of Richard de Whitaker, who held a moiety. (fn. 25) Roger son of Adam de Radcliffe gave his brother Robert land called Hall in return for a pair of white gloves yearly. (fn. 26) Robert de Radcliffe by exchange with Alexander son of Ellis de Church obtained land in Haworth. (fn. 27) Alan de Kenyon and Alice his wife in 1301 and later claimed various tenements in Alice's right, she being a daughter of the above-named Roger de Radcliffe. (fn. 28)
The Radcliffes of Winmarleigh (fn. 29) and Todmorden also had lands in Oswaldtwistle; in 1563 Charles Radcliffe of Todmorden and Henry his son and heir sold lands in the township to Ottwell and Alexander Hindle. (fn. 30)
Adam de Clitheroe in 1333 had land in Oswaldtwistle occupied by Adam de Haworth (fn. 31); it descended to Sir Henry de Hoghton in right of his wife Joan (fn. 32) and then to Talbot of Salesbury. (fn. 33)
A family named Parker was of importance in the 15th century, (fn. 34) but in 1482 Thurstan son of Edmund Parker (fn. 35) sold his lands to John Radcliffe of Radcliffe. Oliver Parker, who had lands in Knuzden and elsewhere, (fn. 36) in 1478 gave Jack Place in Aspden to his son Gilbert. (fn. 37)
ASPDEN gave a surname to a family noticed in the account of Church. In 1276 Richard de Radcliffe and Adam de Aspden claimed a tenement in Oswaldtwistle against Henry de Lacy and others. (fn. 38) Later a family named Grimshaw were in possession. Elizabeth widow of John Grimshaw received lands in Oswaldtwistle in 1408 with remainder to their son Roger (fn. 39); and Roger Grimshaw died in or before 1434 (fn. 40) holding Aspden of Richard Radcliffe and having for heir his sister Alice widow of Peter Marsden. (fn. 41)
CATLOW (fn. 42) was probably the half oxgang of land granted by Roger de Oswaldtwistle to William son of Richard de Rishton at a rent of 2s. (fn. 43) The Cattlow or Catlow family appears from time to time in this township (fn. 44) and in Church. The estate about 1500 became divisible among a number of co-heirs—Riding or Ridding, Cunliffe, Greenwood, Rishton and others. (fn. 45) One Catlow Hall was in 1538 sold by Peter Fielden and Margaret his wife to Charles Towneley, (fn. 46) and John Towneley of Cornfield in 1566 sold it to John Woodroff of Bank Top in Burnley. It descended to the Shireburnes and was sold in the 18th century. (fn. 47) Robert Riding died in 1631 holding a messuage, &c., of Thomas Barton by knight's service; his heir was a sister Ellen, aged forty. (fn. 48) Thomas Greenwood of Foxhole Bank was a freeholder in 1600. (fn. 49) He died in 1618 holding a messuage of Sir Thomas Barton by knight's service, suit of court and mill and 1d. rent. His heir, a daughter Susan, aged twenty-five, was wife of Nicholas Rishton. (fn. 50) Gilbert Rishton of Dunnyshope had a Catlow Hall in 1556. (fn. 51)
Other branches of the Rishton family also had estates in Oswaldtwistle (fn. 52); thus in 1619 Ralph Rishton of Ponthalgh had the messuage called White Ash, occupied by William Rishton. (fn. 53) Nicholas son of one Ralph Rishton died in 1596 holding two messuages, &c., which descended to his son William, then fourteen years of age. (fn. 54) Ralph Rishton of Oswaldtwistle about 1630 compounded for the part of his estate liable to sequestration for recusancy by an annual fine of £5. (fn. 55) Ralph Rishton the elder of Stanhill and Ralph Rishton the younger in the time of the Commonwealth had their estate of White Ash sequestered for recusancy. The elder Ralph was a 'delinquent' also and his estate was finally confiscated in 1652 and sold; the younger Ralph was allowed to compound for his recusancy by a fine of £57 10s. (fn. 56)
John Ainsworth (of Knuzden), who had lands also in Pleasington and Livesey, died in 1607 holding his messuages, dove-house, &c., in Oswaldtwistle of Randle Barton by the fortieth part of a knight's fee. His son George, the heir, was ten years of age. (fn. 57) George Ainsworth was a 'delinquent' in the Civil War. (fn. 58)
A few other families occur in pleadings and inquisitions. (fn. 59)
The following contributed for their lands to various subsidies: 1524—George Ainsworth, William Oldham, Hugh Baron and John Riding; 1543—the widow of Hugh Baron and John Riding; 1600— William Oldham, George Ainsworth, Thomas Greenwood, William Baron and William Rishton (in ward). (fn. 60) The roll of 1626 records William Rishton, George Ainsworth, George Baron, William Oldham and Robert Riding; James Feilden and four others were non-communicants. (fn. 61)
An inclosure award made in 1774 is preserved at Lancaster. (fn. 62)
The chief landowners in 1787 were Thomas Baron, Mr. Whalley and Dr. Starkie. (fn. 63)
DUCKWORTH was once considered a separate vill. (fn. 64) It was in part the property of the Knights Hospitallers and in part held of the lords of Oswaldtwistle. The former estate is named in the list of the Hospitallers' lands in 1292, (fn. 65) and Ralph Holden of Holden in Haslingden died in 1571 holding lands in Duckworth of the queen as of her manor of Staincliff, parcel of the possessions of the late priory of St. John of Jerusalem in England, by a rent of 2s. (fn. 66) The Holden estate appears to have been acquired in the time of Edward II by the marriage of Adam son of Robert de Holden with Alice de Holland, (fn. 67) releases being obtained from her sister Margery daughter of William son of Margery de Duckworth (fn. 68) and others. (fn. 69) Other parts were purchased in 1328–31 from members of the Duckworth family, (fn. 70) and perhaps other acquisitions were made, for the abovenamed Ralph Holden in 1571 held lands in Duckworth and Oswaldtwistle of Robert Barton by a rent of 2s. 9d. (fn. 71) His grandson and heir, Thomas Holden, in 1582 sold his estate in Duckworth, Oswaldtwistle and Eccleshill, including a water-mill, dovecote, &c., to Randle Barton. (fn. 72) There had been various disputes concerning the Holden land in Duckworth and Oswaldtwistle. (fn. 73)
Richard son of Robert de Radcliffe obtained from Roger son of William de Duckworth three-fourths of an oxgang of land held by Hawise the widow, (fn. 74) and he granted to Adam and Robert sons of William de Radcliffe 2 oxgangs in Duckworth at a rent of 2s., together with part of his land in Oswaldtwistle. (fn. 75) This may have been the origin of the estate of the Radcliffes of Todmorden in the township (fn. 76); Charles Radcliffe died in 1536 holding lands in Duckworth of the king as duke by knight's service and a rent of 12d. (fn. 77); but though the same statement appears in the inquisition after the death of his son Edward in 1557, (fn. 78) Edward Radcliffe had in 1546 sold his lands there to Gilbert Holden, (fn. 79) and so they became merged in the Holden estate. In 1553 Gilbert Holden was said to hold the 'manor' of Duckworth of the queen by a rent of 2s., (fn. 80) but this probably refers to the Hospitallers' share.
Keeping pace with the growth of the population a number of places of worship have been erected during the last century. In connexion with the Church of England, Emmanuel, (fn. 81) centrally placed on the eastern side of Duckworth, was built in 1837, and a district was then assigned; it has three chapels of ease: St. Mary's, Cocker Brook; St. Andrew's, Hippings; and St. Michael's, Belthorn. The patronage is vested in five trustees. St. Paul's, Foxhill Bank, was built in 1884, and a district was assigned to it in the following year; in this case also five trustees present to the benefice. St. Oswald's, Knuzden, was built in 1878, a district being assigned to it in 1879 (fn. 82); it has a school chapel, St. Matthew's, at Stanhill. The Bishop of Manchester collates to it.
There is also a Free Church of England called Holy Trinity. (fn. 83)
The Wesleyan Methodists have two churches; that at Mount Pleasant was built in 1845–6. The Primitive Methodists had a chapel at Foxhill Bank as early as 1836, and have now a second one in the township. The Methodist Free Church are also doubly represented.
The Congregational chapel at the remote hamlet of Belthorn was opened in 1818 and rebuilt in 1848 and again in 1884–5. (fn. 84) In Oswaldtwistle itself services were begun from Accrington in 1870 and a church was formed, the chapel in Albert Street being opened in 1877. (fn. 85)
The Baptist chapel in New Lane was opened in 1820 and rebuilt in 1851; more recently a mission chapel has been built at Cocker Brook.
The Swedenborgians or New Church have long been represented.
For Roman Catholics St. Oswald's school-chapel, served from Accrington, was used till the present church of St. Mary was founded in 1894–8.