Pages 409-411
A History of the County of Lancaster: Volume 6. Originally published by Victoria County History, London, 1911.
This free content was digitised by double rekeying. All rights reserved.
HUNCOAT
Hunnicot, Dom. Bk.; Hunecotes, Hunnecotes, 1241; Honkotes, 1311; Huntcotes, 1322; Huncote, 1324.
This township occupies the north-western slope of Great Hameldon Hill, the altitudes ranging from about 1,200 to 450 ft. above sea level. The hamlet of Huncoat lies in the lower land in the northern part of the township. The area is 990 acres, (fn. 1) and in 1901 the population numbered 1,281.
The road from Accrington to Burnley goes northeast through the hamlet of Hillock Vale and the centre of the township, and has a branch north through the hamlet towards Altham. The Accrington and Burnley line of the Lancashire and Yorkshire Railway Company crosses the township parallel to the north-west boundary, and has a station called Huncoat. The Leeds and Liverpool Canal passes through the north end of the township.
Near the Accrington border are reservoirs for the water supply of that town, also the cemetery.
The soil is light, overlying rock, and the land is almost entirely in pasture, there being 802 acres in permanent grass; there is no arable land, but 22 acres are devoted to woods and plantations. The cotton manufacture has long been carried on. A colliery is worked and bricks and fire-clay goods are made.
There is a parish council.
Manor
In 1066 King Edward held two plough-lands in HUNCOAT. (fn. 2) The later Huncoat may have been but a part of it, for it was assessed as one plough-land only. It was included in the honor of Clitheroe, and a large part was granted out to free tenants; these gave part of their holdings to the Abbot of Kirkstall, (fn. 3) and on his surrendering them to Henry de Lacy in 1287 (fn. 4) only 2 oxgangs of land remained to the free tenants, who in 1311 were John de Shuttleworth and John de Clayton. (fn. 5) The remainder has continued to descend with the honor of Clitheroe. (fn. 6) Huncoat was considered a member of the manor of Accrington. (fn. 7)
Both the free tenancies of 1311 are traceable to Ellis de Pleasington, who in 1241 held 2 oxgangs of land in the township. (fn. 8) He granted one of them to Henry de Clayton, who was to pay a rent of 12d. at St. Oswald's Feast. (fn. 9) Henry de Clayton gave the oxgang to James his son for the same service. (fn. 10) The gift may have failed, for Henry son of Henry de Clayton gave to Richard de Birtwisle all his lands in Huncoat. (fn. 11)
Ellis de Pleasington also gave an oxgang of land to Henry de Shuttleworth, rendering the same rent of 12d. on St. Oswald's Day, and the service of the fortieth part of a knight's fee. (fn. 12) Henry son of Henry de Clayton gave part of his land to John de Shuttleworth for the rent of a pair of white gloves. (fn. 13) This tenement descended in the same way as Shuttleworth in Hapton. (fn. 14)
The John de Clayton of 1311 was no doubt the mesne lord between Birtwisle and the Earl of Lincoln, for in 1316 William de Birtwisle obtained land in Huncoat from John de Huncoat in exchange for Bradley in Hapton, (fn. 15) and in 1330 William gave his son Richard all his lands in Huncoat and Hapton. (fn. 16) The descent can be traced only imperfectly (fn. 17) to Oliver Birtwisle, who died in 1509 holding three messuages, 40 acres of land, &c., in Huncoat of Richard Rishton and Thomas Grimshaw in socage by a rent of 1d. yearly. Richard Birtwisle, his son and heir, was forty years of age. (fn. 18) Richard and Agnes Birtwisle in 1527 held Huncote Hall, paying 14s. rent. (fn. 19) Richard Birtwisle in 1531 gave his son Oliver a rent of 8s. (fn. 20) Richard was living in 1540, when he agreed to an arbitration regarding a claim for Hancock field by Edmund Ashton of Shuttleworth, (fn. 21) but Oliver had succeeded by 1545, (fn. 22) and in 1560 obtained a grant of arms. (fn. 23) He recorded a pedigree in 1567, showing that his son James, who had married Agnes daughter and heir of George Ormerod, had a son John and other children. (fn. 24)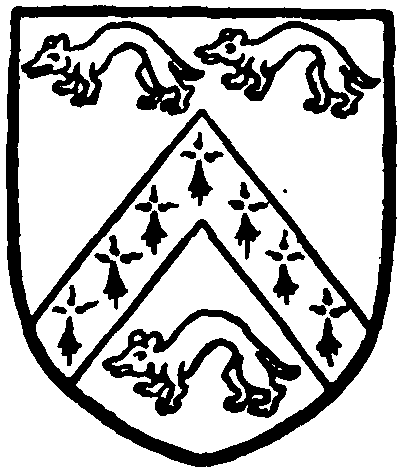 James Birtwisle made a settlement in 1594 (fn. 25) and died in 1597 holding his estate in Huncoat as before, and leaving his son John to inherit, he being then forty years of age. (fn. 26) John Birtwisle had married Dorothy sister of Thomas Worthington of Blainscough, (fn. 27) a union which probably explains the religion of their descendants if it does not show that of John himself. (fn. 28) John Birtwisle in 1614 made a settlement of his capital messuage in Huncoat, with remainder to his son and heir Thomas and four daughters. (fn. 29) He died in 1617, leaving Thomas, then nineteen years of age, to inherit the family estate. (fn. 30) Thomas Birtwisle in or about 1621 married Margaret daughter of Thomas Clayton, late of Church, (fn. 31) and about 1630 compounded by an annual fine of £10 for the two-thirds of his estate liable to sequestration for recusancy; his mother Dorothy at the same time compounded for £4. (fn. 32) His lands were, however, sequestered under the Commonwealth for his recusancy and delinquency, (fn. 33) and though he protested that he had never borne arms against the Parliament (fn. 34) they were at last declared forfeit and sold. (fn. 35) He survived his troubles and recorded a pedigree in 1664, (fn. 36) but the Birtwisles afterwards disappear from view, (fn. 37) and it is not clear what became of their estate. Huncoat Hall was in 1825 the property of Mr. Foot, but before 1839 had been acquired by the Towneleys, from whom it came to the present owner, the Earl of Abingdon. (fn. 38)
The Banastres of Altham held land in Huncoat of the king in socage. (fn. 39) Edmund Townley of Greenfield held half a messuage in 1598, but the tenure was not recorded. (fn. 40) John Ormerod of Huncoat in 1631 paid £10 for having refused knighthood. (fn. 41) Only a few other references to the township have been noticed. (fn. 42)
The Subsidy Rolls show the following owners of land: 1524, Matthew Jackson and the wife of Oliver Birtwisle; 1543, George Birtwisle, Christopher Jackson and the widow of Nicholas Grimshaw; 1600, John Birtwisle, John Jackson and Janet his mother; 1626, Thomas Birtwisle and his mother (both convicted recusants) and Christopher Jackson. (fn. 43) Thomas Birtwisle's house had seven hearths liable to the tax in 1666, another house had four and two had three; the total number for the township was thirty-seven hearths. (fn. 44) The chief contributors to the land tax in 1787 were Mrs. Chadwick and Messrs. Brewer and Carus. (fn. 45)
St. Augustine's mission church was built in 1886 as a chapel of ease to Church.
The Wesleyan Methodists have a chapel, built in 1844 and rebuilt 1869, (fn. 46) and the Baptists also have one, dating from 1817–18, and rebuilt in 1871. (fn. 47)