Pages 503-507
A History of the County of Lancaster: Volume 6. Originally published by Victoria County History, London, 1911.
This free content was digitised by double rekeying. All rights reserved.
READ
Reuet, 1202; Reuid, 1259; Reued, 1269.
Read lies in the tongue or promontory between the Calder on the south and Sabden Brook on the north; a small part, on the bank of the former stream, is level, but the greater part consists of the western termination of the long ridge already spoken of as extending for more than 7 miles on the south side of Pendle Hill. In Read, at the eastern boundary, this ridge attains 860 ft. above sea level. A Roman road runs along part of the ridge. The village of Read stands at the foot of the southern slope; the hall and park lie to the west of it. The scenery is picturesque. Sabden occupies part of the north corner. The population in 1901 was 1,346; the area measures 1,548½ acres. (fn. 1)
The principal road is that from Whalley to Padiham and Burnley. A minor road from the west goes along the top of the ridge. The Great Harwood loop line of the Lancashire and Yorkshire Railway Company crosses the southern corner of the township, but there is no station.
There are now cotton-mills near the eastern boundary and at Sabden. The land is mostly used for pasture. The soil is loam and clay, overlying shale.
This township has a parish council. In 1904 part of the area was taken into the new township of Sabden.
There is a reading room in the village, with a small library.
Manors
Included in the honor of Clitheroe, READ seems to have been assessed as 8 oxgangs of land, which were demised to free tenants or thegns at the rent of 1s. 6d. an oxgang. In 1201–2 Henry de Read obtained a writ concerning 5½ oxgangs of land in Read held by John de Read and Gamel his brother, Henry son of William and Alexander son of Richard. (fn. 2) In 1258 the township paid 12s. to the lord of Clitheroe, (fn. 3) but the details recorded in 1311 are either imperfect or show that the tenements and services had become confused, for Henry de Lacy then had the following tenants: John del Holt, 1 oxgang of land, paying 2s. 3d.; John son of Simon, the same and a parcel called Leysinglands, 2s. 3d. and 9d.; Adam del Clough, 3½ oxgangs, 4s. 6d.; Williamson of Henry de Clitheroe, 1 oxgang, 2s. 3d.—12s. in all from 6½ oxgangs of land and another piece. (fn. 4) The Church's land is not mentioned.
Adam del Clough, the principal tenant in 1311, was probably the son of a John del Clough who occurs in 1292. (fn. 5) Adam (fn. 6) left a son John, (fn. 7) whose heirs appear to have been two daughters—Katherine, who married Lawrence Nowell of Great Mearley, and Joan, who married Sir Richard de Greenacres. (fn. 8) The latter pair in 1364 released their right in the moiety of Read to the Nowells, in return for Great Mearley and an annuity of £20. (fn. 9)
The Nowells, who were thenceforward described as 'of Read,' though they had lands near Wakefield in Yorkshire also, (fn. 10) acquired all but one of the other tenements in the township. Lawrence Nowell was dead in 1375. (fn. 11) His son John Nowell of Read died in 1433 holding 'the manor' of the king as Duke of Lancaster by a rent of 9s. 9d.; his heir was a grandson Alexander (son of Nicholas) Nowell, aged twenty. (fn. 12) Roger Nowell son and heir of Alexander was in 1468 to marry Grace daughter of John Towneley. (fn. 13) Described as of Arksey, he died in 1486 (fn. 14); his son John, who obtained a royal charter for imparking land in Read, (fn. 15) died in 1525 holding the manor with various messuages, &c., of the king as duke by the old rent of 9s. 9d. His son Roger, over thirty years of age, was his heir. (fn. 16) Roger died in 1566 holding the same estate, and leaving a son Thomas, aged forty, to succeed him. (fn. 17) A pedigree was recorded in 1567. (fn. 18)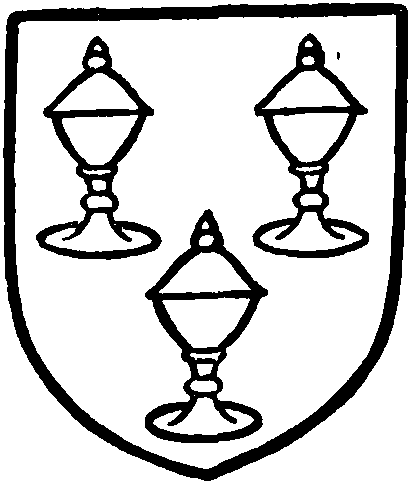 Roger's half-brother was the celebrated Dr. Alexander Nowell, Dean of St. Paul's. Educated at Middleton School and Brasenose College, Oxford (M.A. 1540), he became a strenuous Protestant. He was appointed prebendary of Westminster in 1551, and was head master of the school from 1543; he was also in October 1553 member of Parliament for Looe in Cornwall. Soon after the accession of Mary he went into exile at Strasburg and Frankfort, returning to London immediately after the accession of Elizabeth and being at once employed by her in the re-establishment of Protestantism. He was of note as a preacher, and was sent into Lancashire in 1568 and 1580 to reduce the recusants of the county into some degree of conformity to the established religion. He was appointed to the deanery of St. Paul's in 1560, and held it till his death in 1602. (fn. 19) His brother Lawrence, also a Protestant exile in Mary's reign, was by her successor in 1560 rewarded with the deanery of Lichfield; he died in 1576. He compiled an Anglo-Saxon Vocabulary and made other antiquarian collections. (fn. 20)
Thomas Nowell of Read did not survive his father many years, dying in 1575, and leaving a daughter Grace, wife of Thomas Proctor, as heir. (fn. 21) Roger the brother of Thomas Nowell succeeded and on his death in 1591 was followed by a son Roger. (fn. 22) The family prospered; the estates were augmented by the purchase of lands formerly belonging to Whalley Abbey and of the fifth or remaining part of the manor. Roger Nowell thus became sole lord. (fn. 23) He was sheriff in 1609–10, (fn. 24) and was later a zealous witch-hunter. (fn. 25) A pedigree was recorded in 1613. (fn. 26) In 1615–16 he obtained from the Crown a charter for view of frankpledge, &c., in his manors of Read and Simonstone. (fn. 27) Roger Nowell died 1624, and his son Roger having died before him, the heir was his grandson Roger, eighteen years of age. The manor of Read was held of the king as duke by the old rent of 9s. 9d.; the Lower Hall was held of the king in chief by knight's service and 2s. 4d. rent. (fn. 28) The heir in 1631 paid £15 for having declined knighthood. (fn. 29)
Though the family had long been Protestant, Roger Nowell at the outbreak of the Civil War took the king's side. In face of the sequestration of his estates he did not long persevere, surrendering before December 1645, and soon afterwards petitioning for 'a favourable composition.' His fine was in 1649 fixed at £736 4s. 6d. (fn. 30) After the Restoration he showed himself an active persecutor of Thomas Jollie, whom he had at first been inclined to favour, and his nonconforming adherents. (fn. 31) He recorded a pedigree in 1664, (fn. 32) and lived on till 1695, surviving his son Alexander by a few months. Thus his grandson Roger succeeded to the estates. His grandson Alexander Nowell was the last of the line; largely by his extravagance the estates became much involved, and after his death in 1772 were sold by order of the Court of Chancery. (fn. 33)
The manor of Read was purchased by James Hilton of Pennington, who sold it in 1799 to the Oakenshaw Printing Company. The estate, which included also Parkhead and Moreton in Whalley, was divided among the partners, Messrs. Taylor, Fort and Hargreaves, and thus in 1801 Richard Fort became lord of the manor. (fn. 34) He died in 1829, and has been succeeded by his son John (d. 1842), grandson Richard (d. 1868) and great-grandson Richard. The last-named in 1896 sold the estate to Mr. Henry Harrison Stuttard, now lord of the manor. No rights of lordship are now in exercise. (fn. 35)
READ HALL is a plain two-story stone building of classic type, reconstructed from an older house by Mr. Fort between 1818 and 1825. (fn. 36) The south or principal front has a central semicircular domed projection, with a colonnade of Ionic columns on the ground floor supporting a railed balcony above. The entrance is at the west under a portico of four columns. (fn. 37) The original building was an interesting house with central hall and projecting end wings, (fn. 38) but it had been almost ruined by injudicious alterations carried out by Alexander Nowell prior to 1772.
In the time of Elizabeth there were a number of disputes as to the right to dig stone and slate and take turf on Read Moor, (fn. 39) but the Nowells appear to have gained decisions in their favour. (fn. 40) It was found by inquiry in 1598 that Read was not copyhold. (fn. 41)
The fifth part of the manor (fn. 42) held in 1311 by John de Holt (fn. 43) passed to his son John in 1324, (fn. 44) and about 1410 by Katherine daughter of a later John to her husband Richard Holker. (fn. 45) In 1416 Katherine Holker widow of Richard held the fifth part of the vill in thegnage, and had a son and heir William. (fn. 46) The Holker family continued to hold land in the township, (fn. 47) though in 1595 Roger Nowell purchased the fifth part of the vill from Thomas Goodale. (fn. 48)
Whalley Church about 1217 received land in Read from Henry son of William (fn. 49) and Hugh son of Siward. (fn. 50) Afterwards Luke the Harper by grant of Geoffrey the Dean obtained this church land, (fn. 51) and had a confirmation from John de Lacy. (fn. 52) It descended in the Harpers family till 1333, (fn. 53) when it was recovered by the monks of Whalley in right of the rectory. (fn. 54) Ten years later they obtained from John del Clough a messuage and the tenth part of the manor (fn. 55); they were to pay to Queen Isabel, then lady of the honor of Clitheroe, a rent of 1s. 1½d., and perform half a suit of court. (fn. 56) After the Suppression the abbey's estate was sold by the Crown to John Braddyll and others, (fn. 57) but seems in the main to have been acquired by the Nowells. (fn. 58)
The other ancient estates cannot long be traced. (fn. 59)
The Subsidy Rolls give the following landowners in Read: 1524, Alexander Nowell and Nicholas Holker; 1543, Roger Nowell, John Holker and the widow of Nicholas Holker; 1600, Roger Nowell and John Holker; 1626, Roger Nowell (in ward) and Ralph Holker. (fn. 60)
Roger Nowell's house had twelve hearths liable to the tax in 1666 and John Holker's four. The total of hearths recorded was forty-nine. (fn. 61)
In 1788 James Hilton seems to have owned the whole township. (fn. 62)
St. John the Evangelist's, in connexion with the Church of England, was built in 1884, and the vicars are presented by the vicar of Whalley. A district was assigned to it in 1893.
Mass is said once a month at St. Mary's, Sabden, by one of the Jesuits stationed at Clitheroe.