Pages 138-141
A History of the County of Lancaster: Volume 7. Originally published by Victoria County History, London, 1912.
This free content was digitised by double rekeying. All rights reserved.
MYERSCOUGH
Mirscho, 1258; Miresco, 1265; Mirescowe, 1297. It is pronounced locally Masca.
This township, lying between the parishes of Preston, Garstang and St. Michael-on-Wyre, has an area of 2,707 acres, (fn. 1) and the population in 1901 numbered 423. The surface slopes from east to west from about 120 ft. above sea level on the border of Barton to between 30 and 40 ft. at the other side. The Brock crosses the northern end on its way west to the Wyre; north of it are Myerscough House Light Ash and Stanzaker; to the south is Myerscough Hall, between the Brock and another brook flowing west. The latter is a two-story 18thcentury building with barred sash windows, hipped roof and deeply overhanging eaves, erected by William Greenhalgh, high sheriff in 1729, in the place of an older building of the same name. On the brook is the mill; near it is the Lodge, the former home of Sir Thomas Tyldesley. Badsberry is near the centre, and Midghalgh at the southern end of the township.
The great highway from Preston to Lancaster passes along the eastern boundary. There are several minor roads, including one passing westward near the hall, towards St. Michael's. The London and North-Western Railway crosses the south-east corner, and the Preston and Kendal Canal winds northward through the centre.
The population is agricultural. The soil is heavy, with subsoil of clay. Wheat is grown, and much of the land is in pasture.
The township has a parish council.
Henry Borron Fielding, son of Henry Fielding of Myerscough House, was a botanist of some note. He lived at Bolton near Ulverston and then at Lancaster, dying in 1851. (fn. 2)
Forest
MYERSCOUGH seems to have been part of one of the forests, possibly that of Amounderness, and then to have been joined to the forest of Lancaster. (fn. 3) The name does not occur in Domesday Book (fn. 4), and it is uncertain which of the neighbouring townships then contained it. (fn. 5) Unlike Fulwood it does not appear to have been styled a manor at any time. In 1297 the forest of Myerscough was worth 20s. a year to the Earl of Lancaster. (fn. 6) The Earls of Derby were once keepers of the park, (fn. 7) and the Tyldesleys of Wardley and then of Morleys were under-keepers. (fn. 8) About 1620 the latter had licence to inclose 90 acres of the Outwood of Myerscough. (fn. 9) James I stayed at their house, known as the Lodge, in 1617, (fn. 10) and Charles II in 1651. (fn. 11) Various grants were made by the Crown. (fn. 12) A survey is extant made in the Commonwealth time, (fn. 13) and a plan of the park in 1769. (fn. 14) There are 16thcentury Court Rolls at the Record Office, (fn. 15) and an old plan has been preserved. (fn. 16)
Leland, writing about 1536, thus refers to it: 'Ere I came to Garstang by a mile and a half I left Myerscough, a great park partly enclosed with a hedge, partly (all on the moor side) with a pale. On the right it is replenished with red deer. The Earl of Derby hath it in farm of the king.' (fn. 17)
But few of the inhabitants occur in the records, (fn. 18) apart from the Tyldesley family, who made it their chief residence, probably for religious reasons. (fn. 19) The family have been noticed in the accounts of Morleys in Astley and Wardley in Worsley. Edward Tyldesley, the first of Morleys, was in 1587 (fn. 20) succeeded by his infant grandson and namesake, who died at Myerscough in 1621, when his son Thomas was about nine years of age. (fn. 21) The heir, the typical Lancashire Cavalier, (fn. 22) was about thirty years of age when the Civil War broke out; he at once took sides with the king (fn. 23) and was advanced to the rank of colonel, (fn. 24) and to knighthood in 1643. (fn. 25) He took part in the leading events of the conflict in the county, assisting in the siege of Manchester, (fn. 26) the capture of Lancaster, (fn. 27) and the storming of Bolton (fn. 28); he was defeated at Wigan (fn. 29) and Ormskirk, (fn. 30) and compelled to surrender Liverpool, (fn. 31) and Lichfield afterwards (fn. 32); still later he joined in the Duke of Hamilton's invasion of Lancashire, (fn. 33) and then in the Earl of Derby's attempt to lead reinforcements to Charles II at Worcester. In this attempt he fell, being killed in the battle at Wigan Lanc 25 August 1651 (fn. 34); he was buried in Leigh Church. (fn. 35) His grandson Thomas, a strong Jacobite, died early in 1715, (fn. 36) and his son Edward joined the insurrection at the end of that year, but was acquitted on trial; 'his sword had a silver handle.' (fn. 37) He seems to have been the last Tyldesley of Myerscough, and his son James, who served in the Young Pretender's army in 1745, sold Morleys. (fn. 38)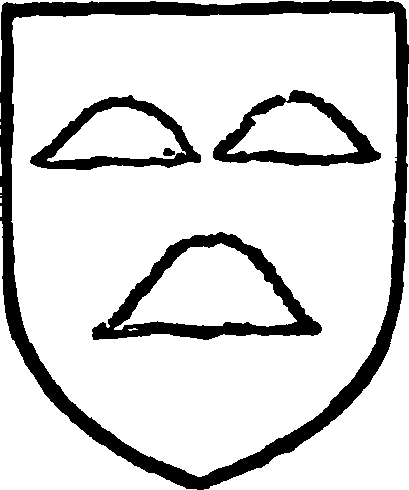 MYERSCOUGH LODGE was pulled down in 1888. It had long been used as a farm-house, and was described in 1848 (fn. 39) as containing an oak stair, case of spacious dimensions, the 'railing' of which was 'very beautiful.' In one of the rooms on the ground floor was an elaborately carved oak chimneypiece with eight panels, the four upper ones having the armorial bearings of the Tyldesley and Derby families together with the initials T. T., and those below medallion heads in strong relief. Two of the walls in the same room were panelled in oak, and at the east end of the house on the upper floor was a small semi-hexagonally roofed apartment called 'The King's Room,' (fn. 40) where according to tradition James I and Charles II slept during their respective visits here in 1617 and 1651. Over the stable door was a stone with the inscription 'Old Dog Lad 1714.' (fn. 41) The Lodge was in a dilapidated state immediately prior to its demolition, and the old oak had been removed some years before and taken to London. The modern house now called Myerscough Lodge stands about 40 yds. to the east of the site of the original building. (fn. 42)
The estates of William and Edward Butler (fn. 43) and some others were sequestered under the Common wealth, (fn. 44) and in 1715–17 other estates seem to have been confiscated or threatened. (fn. 45) William Butler was executed for taking part in the rebellion of 1715. (fn. 46)
The Old House at Badsberry was in 1718 bequeathed by John Cross to endow a school at Bilsborrow. (fn. 47) Mary Cross of Myerscough in 1889 founded a charity for the poor. (fn. 48) Midghalgh was early in the I8th century owned by a family named Lund, (fn. 49) and was a Roman Catholic mission station. (fn. 50) Anthony Lund, the heir of the family, was a Douay priest; he built the present chapel at Fernyhalgh. (fn. 51)